Disclaimer: This post contains affiliate links to handpicked partners, including tours, gear and booking sites. If you click through or buy something via one of them, I may receive a small commission. This is at no extra cost to you and allows this site to keep running.
Bloom Microventures Vietnam Tours doesn't just support the community – it's part of a microloan dispersed to an entrepreneurial villager. Here's how tourism and microfinance go hand-in-hand.
What if your tourism dollars in Vietnam didn't just support the local community, but were destined for something more personal? What if that tour money became part of a microloan, dispersed to the entrepreneurial villager you just met? "Bloom Microventures offers innovative rural adventures that focus on building personal connections between visitors and locals and leaving the visited community better off," according to Ly Tran, Operations Coordinator for the tour company.
If you're not well-versed in the world of microfinance, here's a quick lesson. The concept of Bloom Microventures was started by Muhammad Yunus from Bangladesh who won the Nobel Peace Prize in 2006. Microfinance fills the gap between traditional bank loans, which the poor are ineligible for, and loan sharks who charge exorbitant rates.
The loans, as the name suggests, are small; typically a few hundred US dollars which the borrower may repay over the course of a year. Borrowing just $100 could help someone buy livestock or start a tailoring business. When you're earning less than $2/day this is a significant amount of capital, and according to the World Bank, that accounted for 2.2 billion people in 2011.
"We believe that microfinance goes beyond lending and borrowing money, it entails an empowerment process. Also, giving back through the operations of a well thought out microfinance program maintains a gift that keeps on giving", Ms Tran added.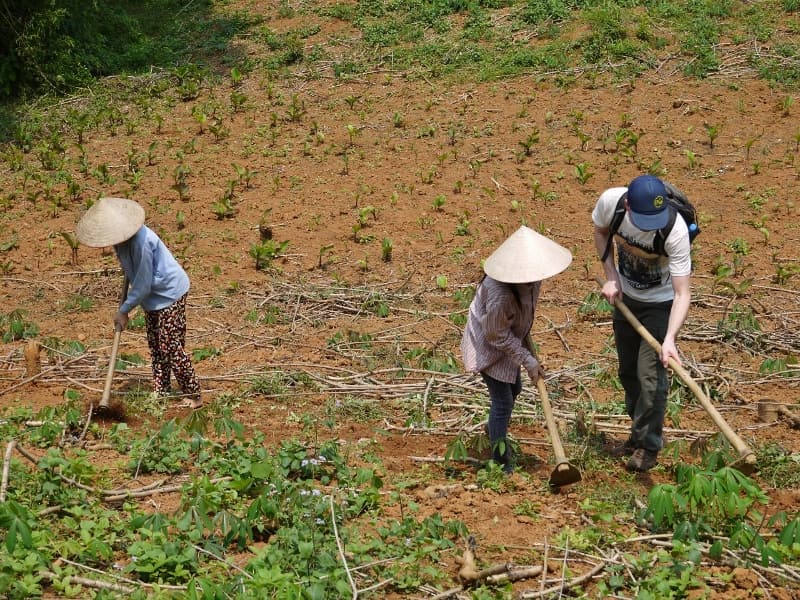 While travelling in Hanoi, Vietnam earlier this year I came across Bloom Microventures on TripAdvisor. As a former Kiva fellow, I have seen firsthand how much these loans change lives. I was curious about how the people at Bloom were able to merge microfinance with tourism, so I paid my $75 to find out.
The Hanoi Tour
We met at the Hanoi Opera House at 8 am on a steamy April morning and were taken by bus to an ethnic minority community in Hoa Binh province, about 70km away. Our first stop was to meet Ms Phung, the loan recipient that our tour fees were supporting. She welcomed the six of us and our guide into her home for tea. As she poured we sat in a circle on the floor and learned how the money would be used.
"For the purchase of chickens," our guide said. "She will buy chicks to raise and sell at the local market." Ms Phung and her husband have a 14-year-old son and 9-year-old daughter, both in school. Her husband works odd construction jobs, but it's not enough to make ends meet, so Ms. Phung decided to take on chicken-raising to supplement their income. Like many of the borrowers I encountered through my Kiva experience, Ms Phung dreams of a better life for her children.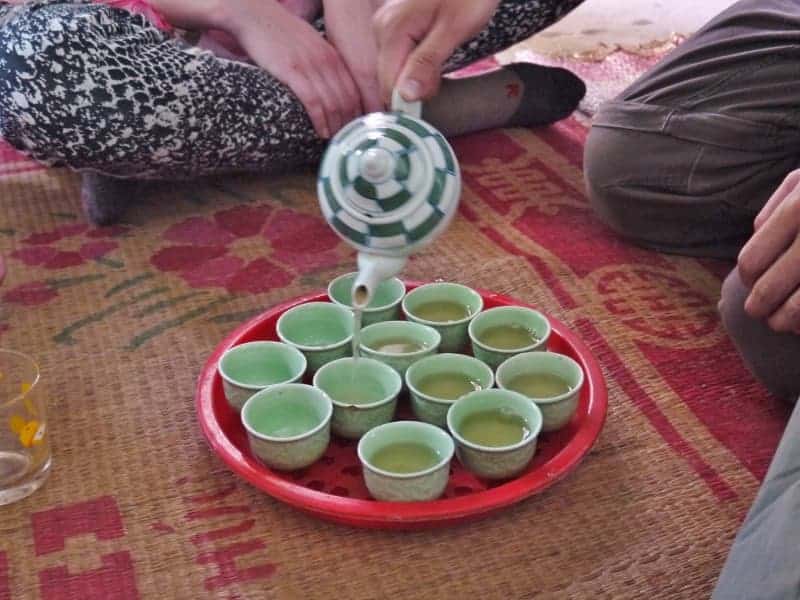 Honestly, it was a little odd at first. Here we were, a bunch of relatively rich Westerners in the home of the local woman whose loan we were funding, listening to our tour guide tell her story. The balance felt off and she seemed a bit nervous – as would I if I had a bunch of strangers in my home. But after more tea, some tension-breaking smiles and questions from our group, it started to feel more interactive.
Following tea, we joined our borrower and her neighbour in a nearby cassava field. Cassava is a starchy root vegetable used in Vietnamese dishes. They chuckled as our group members picked up tools to "help". Farming under the relentless sun is no joke, and the pendulum started to swing the other direction. I was humbled by their hard work and it became clear our money was an investment. This was no roadside attraction.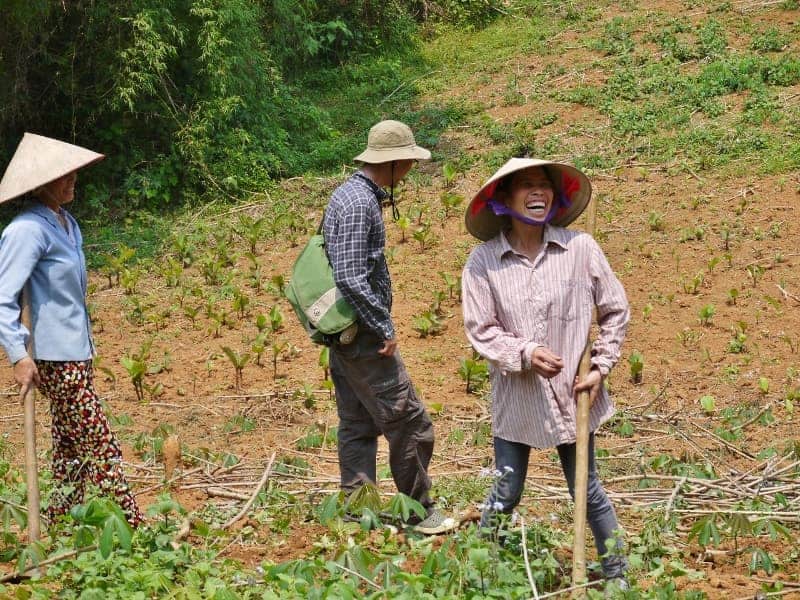 Just as I felt myself melting into a pool of sweat, we moved inside for lunch prepared by the women. We stuffed our mouths until they could be stuffed no more… and then we were commissioned to help with dessert. Assembled on the floor, we dropped pieces of hardened brown sugar in the middle of a glutinous rice mixture and rolled it between our palms. The little balls were boiled before being presented to us again: sweet, sticky and delicious.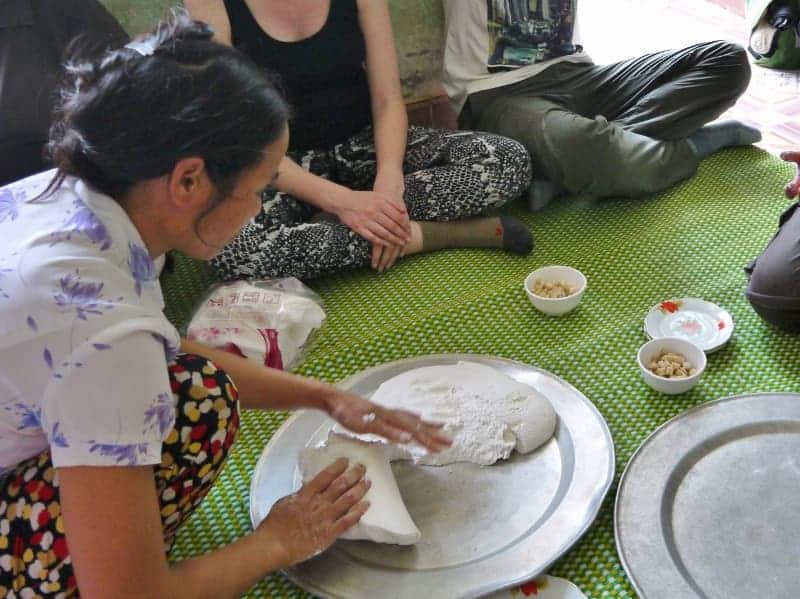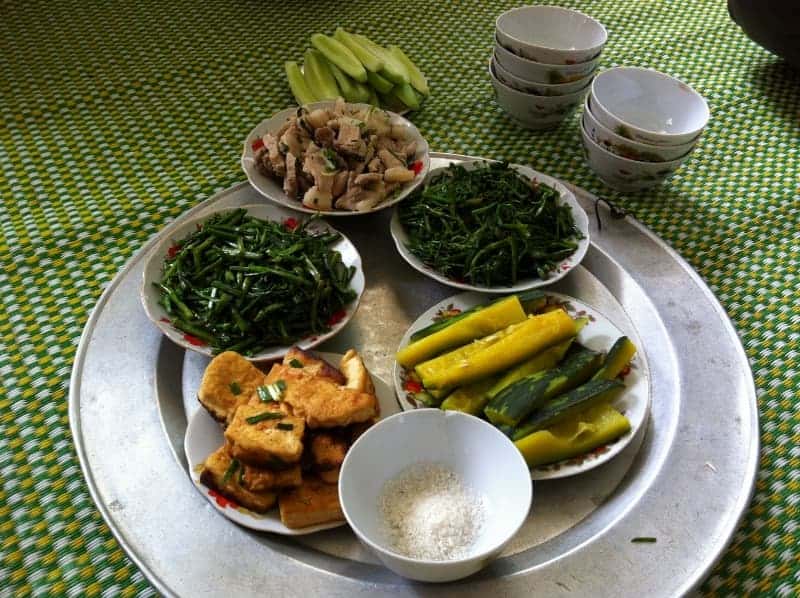 The rest of the day was rounded out with a visit to a broom-making centre, health clinic and lakeside fishing. At the co-op, about 20 women sang while gathering brush bundles and wrapping handles with a colourful ribbon. Not long after watching them, they pointed at us with mischievous grins. Apparently, it was our turn. One brave woman belted out the Canadian national anthem and the crowd went wild. They clapped and cheered, providing a beautiful moment of cultural exchange.
We were delivered back to Hanoi at nearly 6 pm and my energy was zapped but in a satisfying way. I think the tour could be tightened up a bit (the fishing felt superfluous), but overall it was well organised and gave us an inside look at Vietnamese village life. More importantly, it provided a very personal connection between lender and borrower, and I hope to see more tours like this in the future.
How Bloom Microventures Got Started
Lain Heringman, one of the founders (along with Malte Hoepfner, Felix Baden-Powell, and Elena Rodriguez Blanco) got the idea while working with investors in Mexico. He and his team initially set up a pilot program in Costa Rica, but due to numerous challenges, they moved it to Vietnam where it has been successful due to the growing tourism industry and lack of microcredit opportunities among ethnic minorities.
Where does your money go?
70% of your tour fee goes directly to the loan, and one tour supports one borrower. They need a minimum of four people to join but will take a maximum of 10 (5-6 is typical). Any additional money, after the loan has been fully funded, goes towards other community projects such as agricultural training, budgeting and market access. They implement escalating loan sizes so first-time borrowers receive $100. If they demonstrate an ability to pay back on time, their next loan is increased to $200. Regardless of the amount, they are only charged 0.5% interest monthly, an extremely low rate.
Who is eligible?
They have a rigorous screening process, working with the extremely poor who are often unreachable by traditional microfinance. They also loan exclusively to women. From my experience, I learned that women are generally more reliable on repayments, and especially in non-egalitarian societies, providing a loan demonstrates confidence in a woman's abilities. It's one of the most powerful tools you can give.
How do locals feel about the Bloom Microventures program?
Members of the community, hospitable by nature, are usually excited to have people from different backgrounds visit. It gives them a break from their daily routines, and of course, they benefit from the tours.
Bloom Microventures Vietnam Tour Details
Join-in tours are currently only available on Saturdays from 8 am to 5 or 6 pm, although they are looking to offer additional tours during the week. Private tours can also be arranged.
Price is $75 for adults, $60 for students and $30 for children under 7. They prefer US dollars or Vietnamese dong, but can also accept bank transfers (no credit cards).
For more information: Enquire about Bloom Microventures when you are on the ground in Hanoi. The website is currently not available.
This guest post is by Shelley Graner of Plans Subject to Change – who likes to travel slowly, soaking up a country's culture. Monuments and attractions are great, but the best experiences come from meeting local people and sharing a meal. She also supports local communities whenever possible, whether it be donating goods to an orphanage, buying handicrafts from village artisans or eating at restaurants that train disadvantaged youth.