Disclaimer: This post contains affiliate links to handpicked partners, including tours, gear and booking sites. If you click through or buy something via one of them, I may receive a small commission. This is at no extra cost to you and allows this site to keep running.
In 30 minutes you are transformed into a Cambodian traditional dress ready for the photoshoot. Here's where to do it and how it works.
Traditional Cambodian dress is dazzling, and while reserved for special occasions, is the source of admiration from visitors. You will also see Cambodians dress up and have a photoshoot in these shimmery, beaded, intricate, and colourful garments. The wonderful thing is, you can too.
While I had initial apprehension of cultural appropriation, my Khmer friends encouraged it, as they do if you attend a celebration with them. Locals at the photoshoot love sharing their traditional Khmer dress and making sure you understand each component of it. Friends adore it when you join them in the delicate attire at weddings.
At the photo studio, you begin with a layer of bold, heavy makeup, fake eyelashes, and huge hair.
Khmer Dress
At these sessions, you are transformed into 'Khmer Boran' (traditional costume), ready for the photographer to place you in set poses and snap away. It's the chance to experience what it feels like to dress up in traditional Khmer outfits normally reserved for weddings and other formal functions. This is in stark contrast to a Khmer funeral, though, when the traditional attire is all white.
What are Traditional Cambodian Photoshoots For?
Typically, Khmer couples attend a photoshoot before their wedding day and display the colourful images at the ceremony, although many now do it just for fun and as a keepsake.
In both Siem Reap and Phnom Penh, you will pass many photo stores advertising these photoshoots, and although they are aimed at locals, Westerners are welcome to come and embrace the culture. Where else would you get to wear such a beautiful and elaborate outfit?
How the Traditional Photoshoot Works
The photo session lasts approximately one hour to 90 minutes, which includes the makeup session (only for the girls!) and two or three photos in one outfit.
If you want extra images or an outfit change you will be charged around $7 per photo. Without a specific time limit ('Khmer time'- moving slowly – is the norm here), you may be tempted!
Once I had arrived in Siem Reap, I was bombarded by the huge billboards displaying the elaborate images and I wanted to try it. My friend's traditional parents were also in town and pushing for him to go since the rest of the family had it done and his brother was getting married (and therefore had it done).
It was a win-win situation for us both, plus we would get those much wanted Cambodian shots, just like those cutesy billboards.
The first thing you do is choose your outfit from a rail that sparkles with a rainbow of colours and bejewelled fabrics! The clothing isn't matched to your skin tone or hair colour, but instead, you can choose whatever traditional Cambodian outfits and styles you like.
For women, this includes the most beautifully decorated tops that glisten with gemstones and sequins, and a matching Sampot (a delicately folded skirt). The outfit is later finished off with striking jewellery and beautiful headpieces. You can read more about traditional Khmer textiles and garments here.
Guys will be presented with the option of a long jacket and black trousers or (if you choose gold as your colour of choice) a number of fancy layers, pointy Khmer 'King' shoes, and the ultimate accessory – a sword!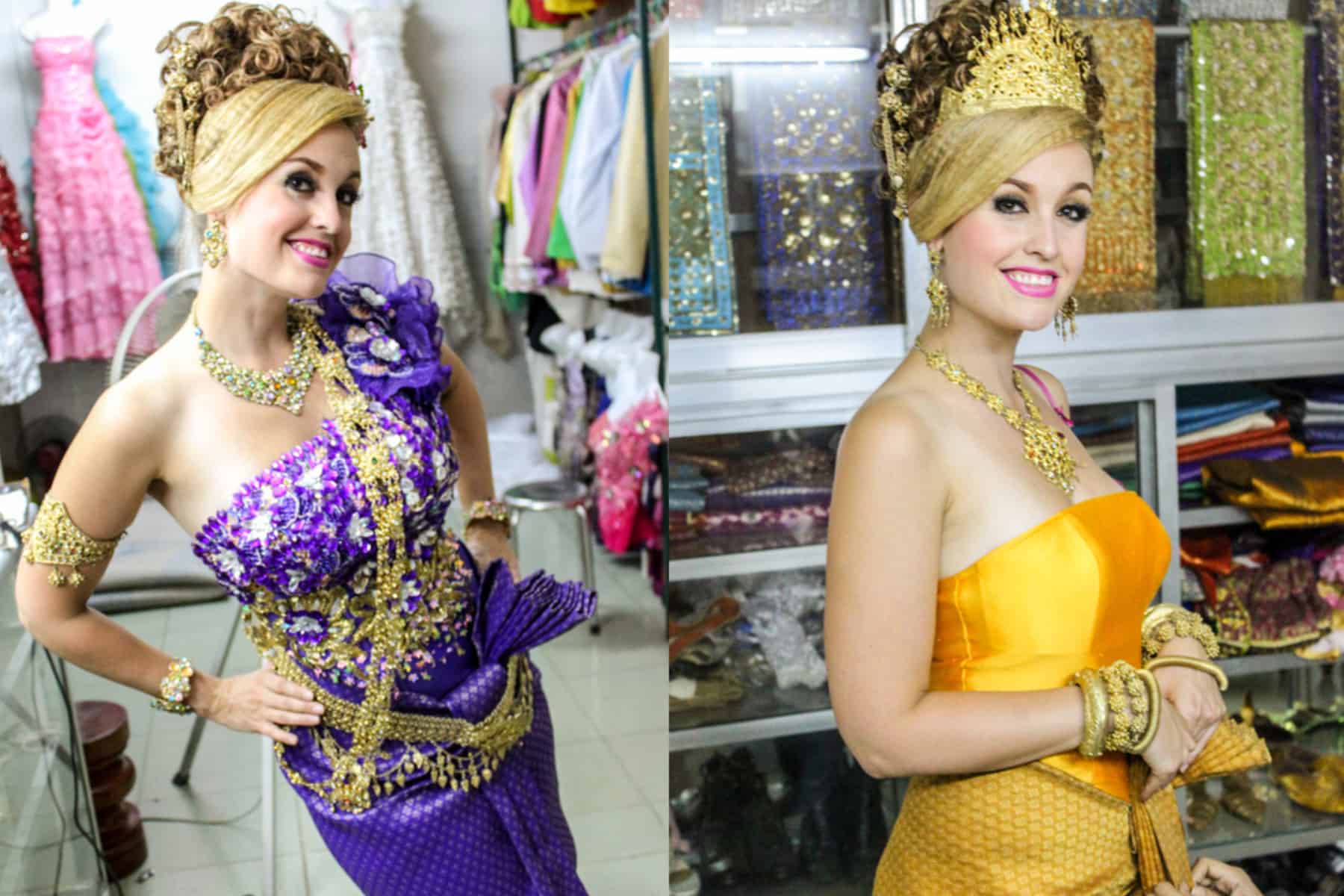 Cambodian Wedding Style Hair & Makeup
No Cambodian photo shoot is complete without experiencing the work that goes into it.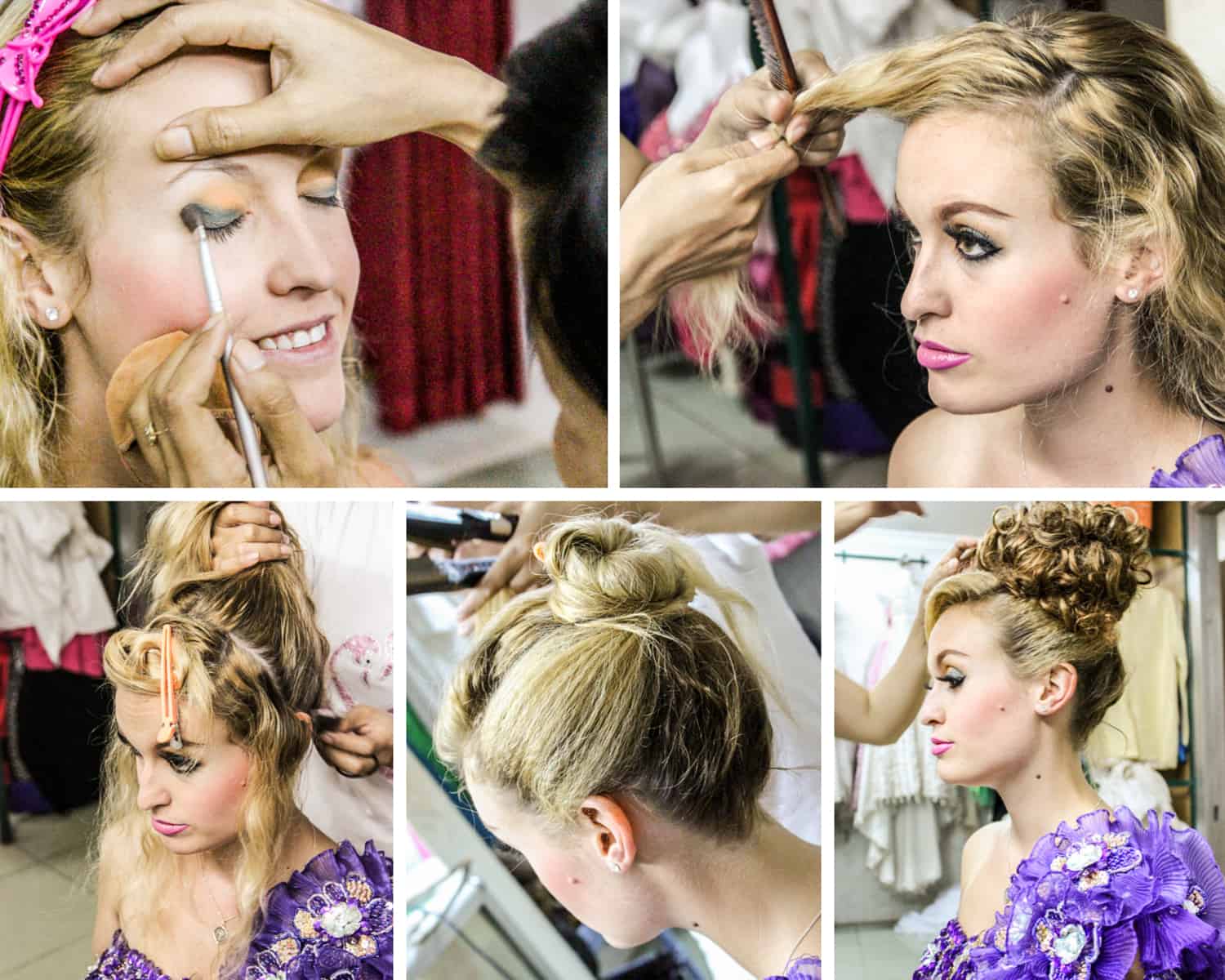 After choosing my outfit the women got straight to work on my hair and makeup. A pale powder was applied to my face which was followed by a thick layer of bright pink blusher and the need to accentuate ALL my facial features – thicker eyebrows, dark eye shadow (which included an orange base layer), three layers of various pink lip-glosses, black liquid and pencil eyeliners and HUGE fake eyelashes.
As for your hair, be prepared to go back to the '80s when the crimpers come out. The front section of your hair is crimped, backcombed and layered to create the volume needed for the intense amount of fake curls that are then applied to your head.
Looking in the mirror was a little overwhelming. However, once I put on the outfit the makeup appeared to complement the excessive amount of bling I was rocking.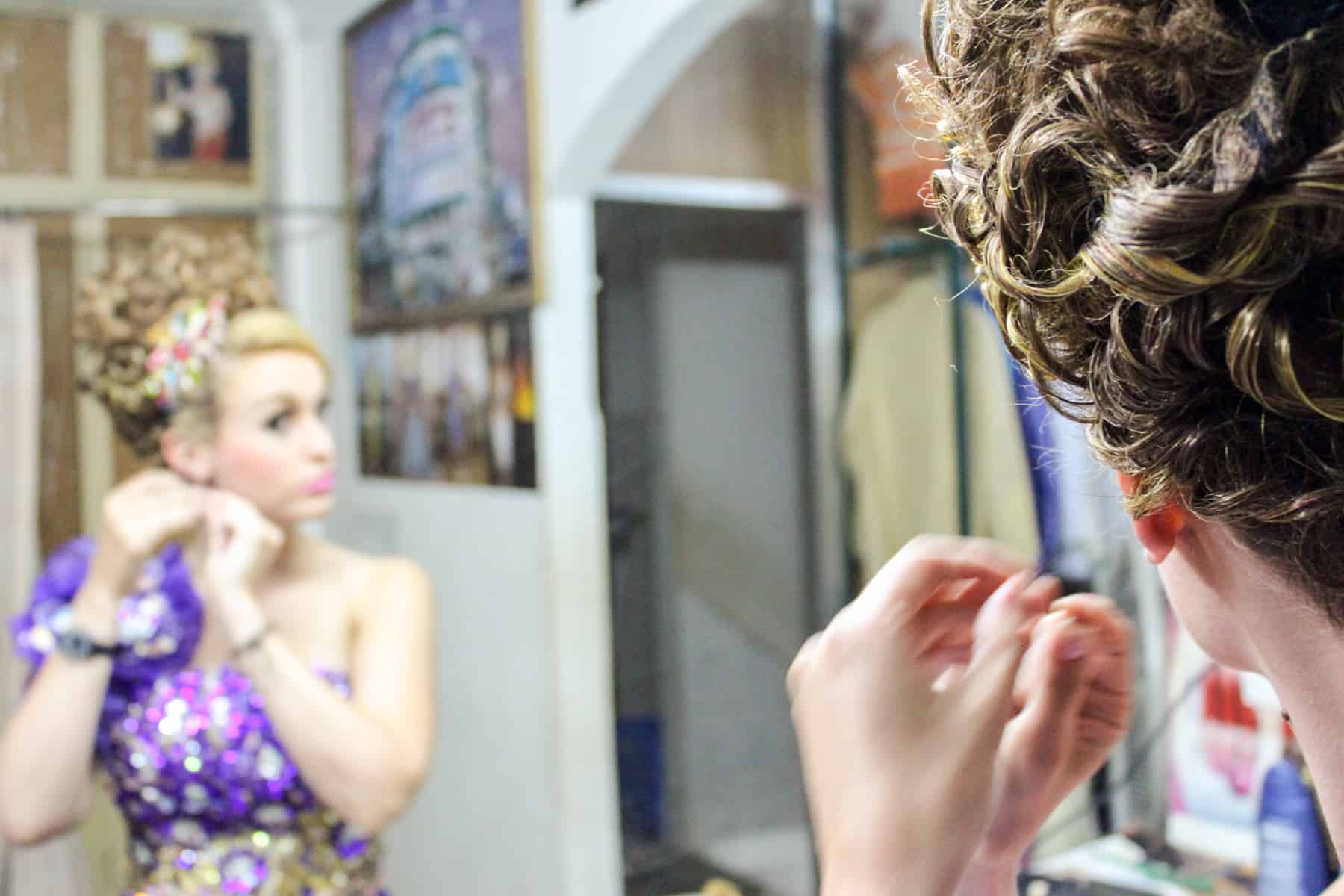 Traditional Cambodian Dress Photoshoot – The Results
You only have to wait four or five days to collect the photographs. In that time they are retouched to give you the much loved pale skin look and transformed with all manner of interesting backgrounds such as Angkor Wat or an extremely opulent room.
You look nothing like your true self, but it sure creates some moments of happiness.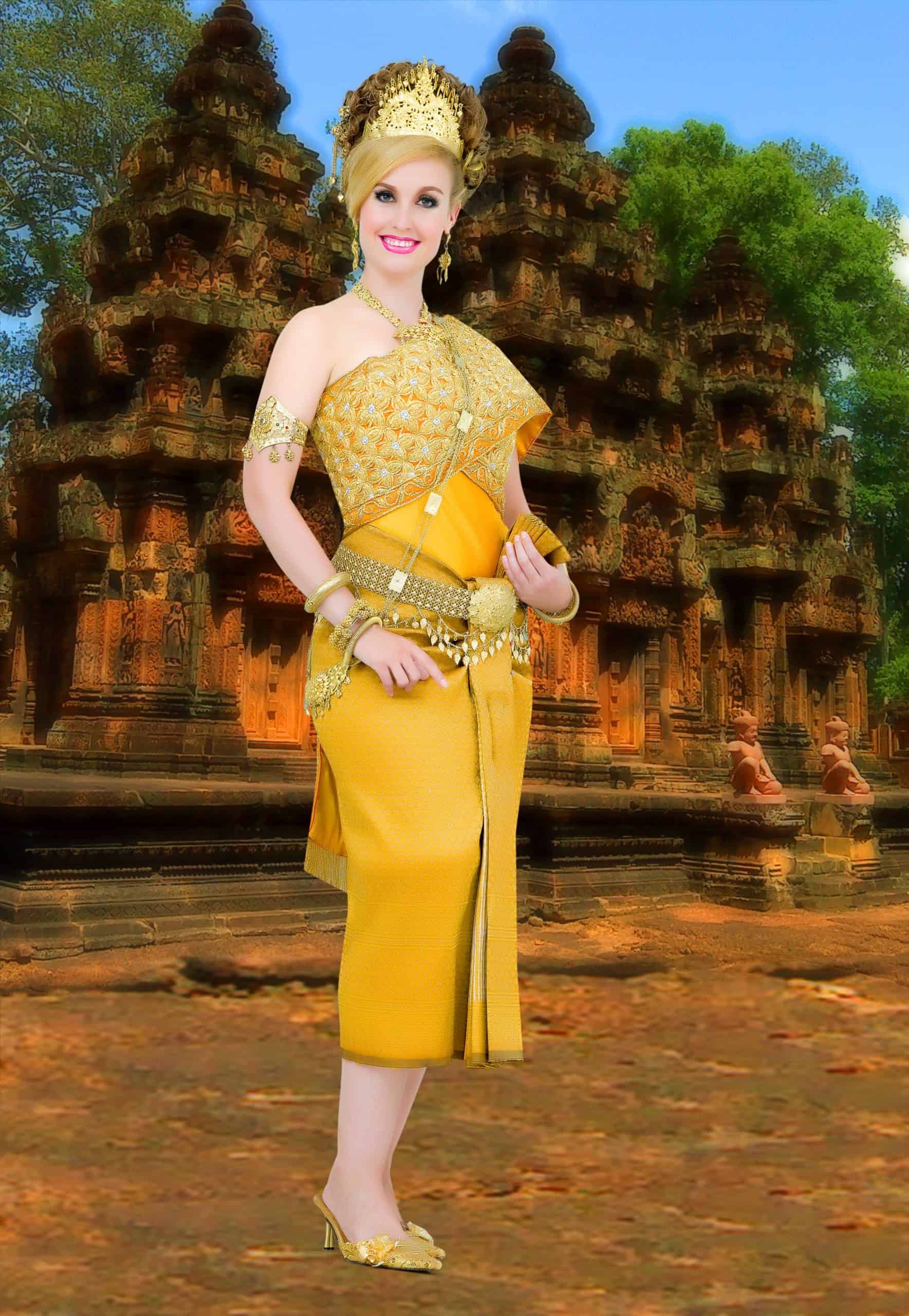 Not only do you come away from the Cambodian photoshoot having had a very unique experience, but you will have experienced a slice of Khmer culture that is still very much in place today.
Travelling to Cambodia?
From jungle hikes to lesser-known towns and cities, read more about my time living and travelling in Cambodia. Everything you need to know about when and where to go and how to visit responsibly.