Disclaimer: This post contains affiliate links to handpicked partners, including tours, gear and booking sites. If you click through or buy something via one of them, I may receive a small commission. This is at no extra cost to you and allows this site to keep running.
Adrenalin-fuelled and frightfully fun, canyoning Tirol shows you the beauty of the Austrian Alps beneath the surface and beyond the pictures of its famous alpine hikes.
It's certainly one way to experience the postcard-perfect landscape with a twist.
On the surface, rolling fields of green flanked by yellow flowers and flanked by the snow-capped the Kitzbühel Alpen mountain range; beneath it, a rocky assault course, whose narrow gorges and waterfalls form another, unruly world.
Canyoning Tirol – A Tour to the Devil's Gorge in Kitzbühel
The rugged setting of the Teufelsklamm in Kitzbühel – otherwise known as the Devil's Gorge – is a scene of snaking clear, rumbling white waters flanked by high cliff faces. It's classed as a 'beginners course' here, forming a great introduction to a wilderness that requires only a little technical guidance to navigate through.
Of course, you will have an expert with you – a guy who knows his rope knots from his whatnots. The region's only outdoors adventure company, Fun Connection fully briefs you and kits you out with all the attractive waterproof gear, including a climbing harness that makes you feel like a true explorer of the deep.
It began with a steep 20-minute uphill, woodland climb – a group of us clad in wetsuits trying to trek gracefully in the sun. We longed for those cold icy waters.
The Devil himself sits in a cave smirking as you approach the first bridge following your climb. The adventure of canyoning Tirol officially starts here with a 10-metre drop, each of you lowered from the wooden beams in a rope drop that lasts a matter of heart-pumping seconds.
From there, you begin a series of abseils (rappels), small waterfall slides and air glides through narrow gorges on a makeshift zip line. It's fast-paced adrenalin at its best, and the ultimate in teamwork – relying on the morale of your friends to make you take that first step, while you cheer on the rest of the team as they follow behind you.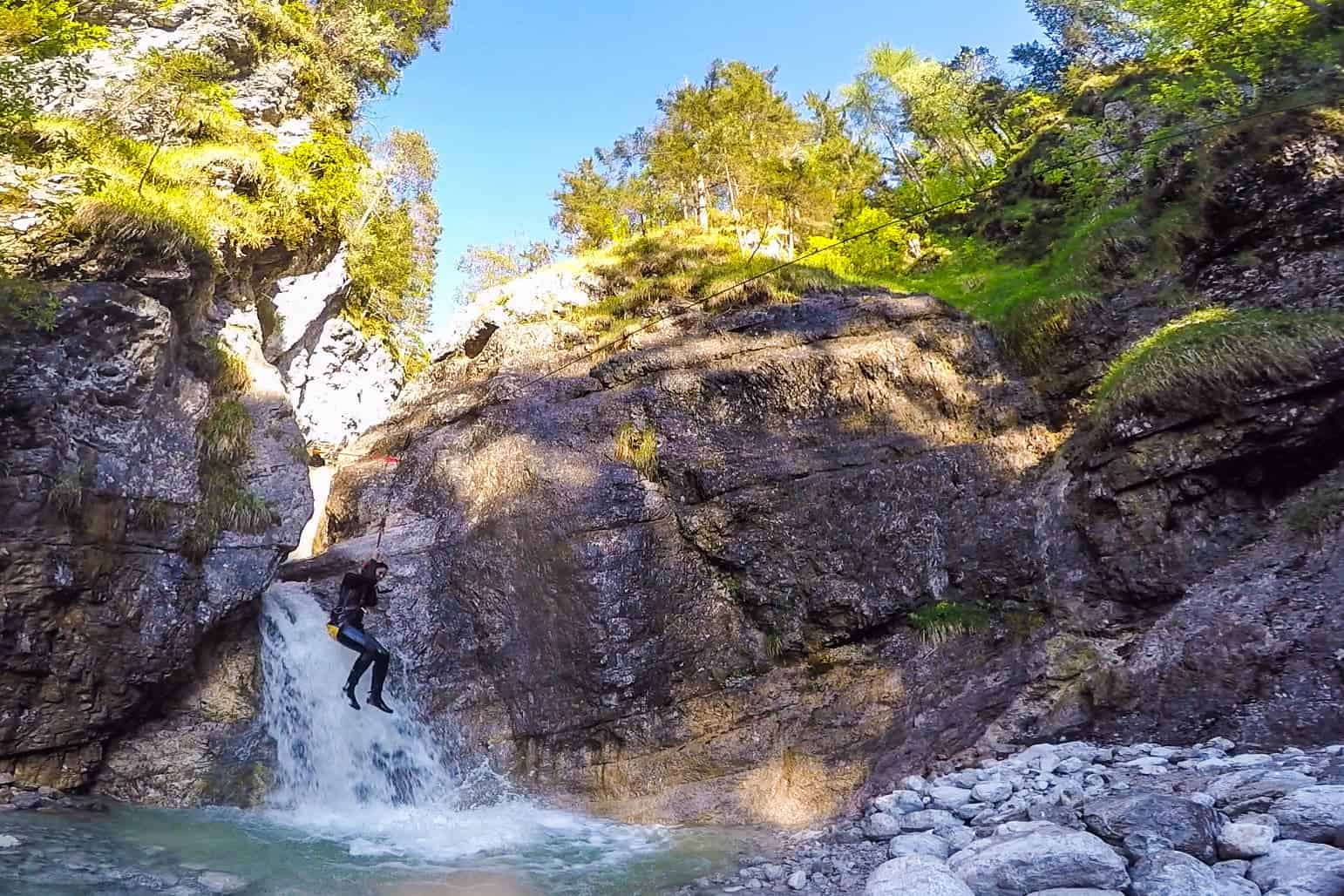 You scream.
You laugh, nervously as you slide and tumble.
You want more.
It's the addiction to nature. Where we should not tread, we do so knowing she controls our every step.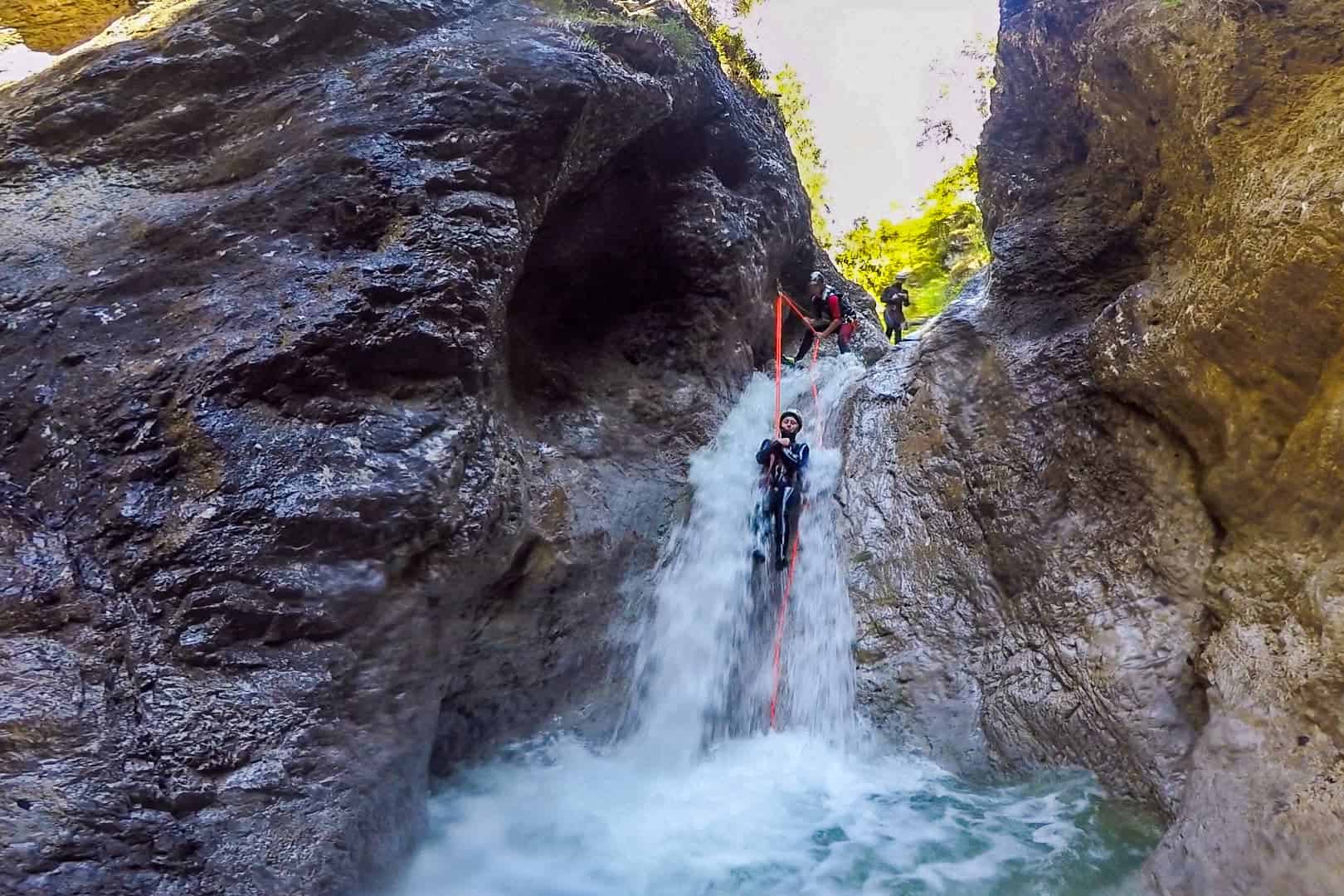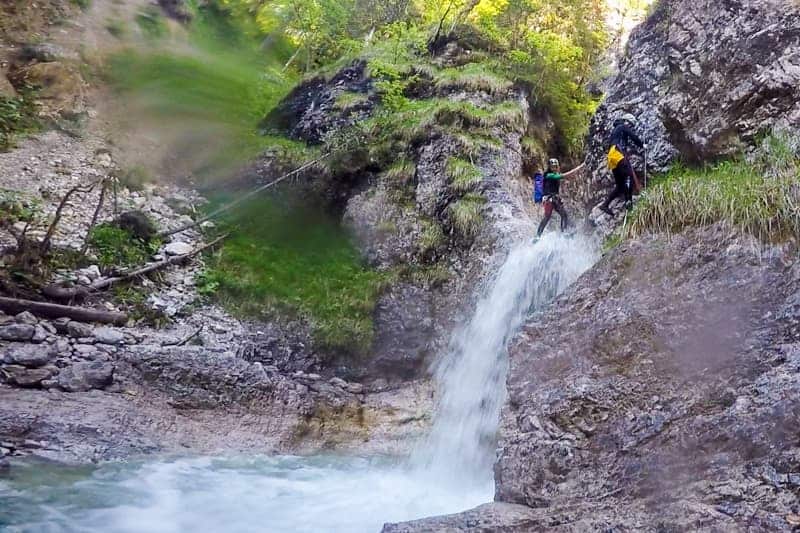 As time passes, the techniques become more challenging. The rope swings get longer, the slides deeper and the mini Via-Ferrata becoming the only means to pass by the rocky walls of Tirol's lower ground.
Eventually, we came to a wall, overflowing with a mass of water – a constructed waterfall of sorts. We knew it was a long way down – the gushing waters below heed the sounds of what is to come.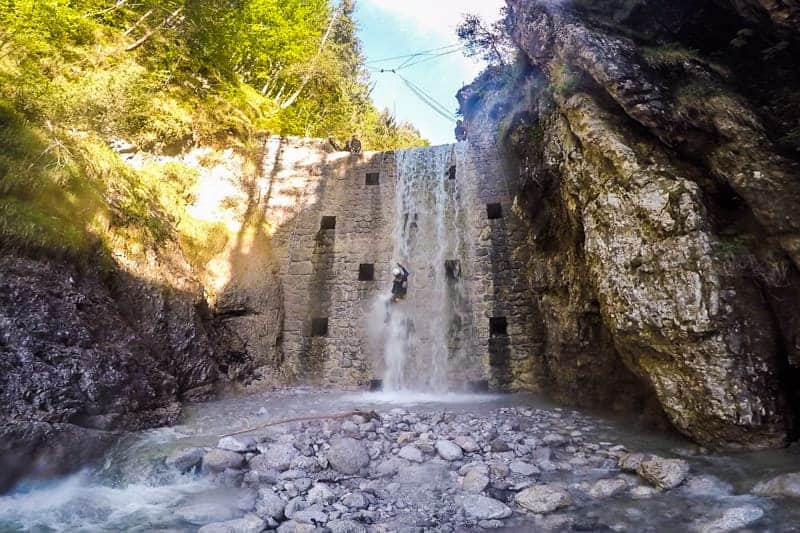 Listen to nature. She lures you in.
Without getting too close, you peek and give a signal to your team.
"How are we going to get down there?" we all asked one another. We could neither see hooks or any kind or a zip line mechanism in the answer.
"Are… we… jumping… this… one?" We question what we got ourselves in for.
"I mean, is it… deep enough?"
Our lead navigator begins to rope up from a hook only he knows, as we sigh in relief. The leader; he who controls every rope you descend. We've trusted him thus far, so it would be fine, right?
"We are dropping ALL the way down there?"
There's only one way with canyoning – forward. There is no way back, and you line up, ready to take the final plunge, with the bravery only human adrenalin can muster. We are all excited. It's the biggest one yet, and by this point, we are all masters of our adventurous destiny.
"I can take on anything in Austria," you think as you are dipped, deliberately, into the massive waterfall, your body resting against the wall as you catch your breath before you enter the fresh waters again. Slowly coming to rest at the bottom of the ravine in a fit of glorious 'I survived' giggles.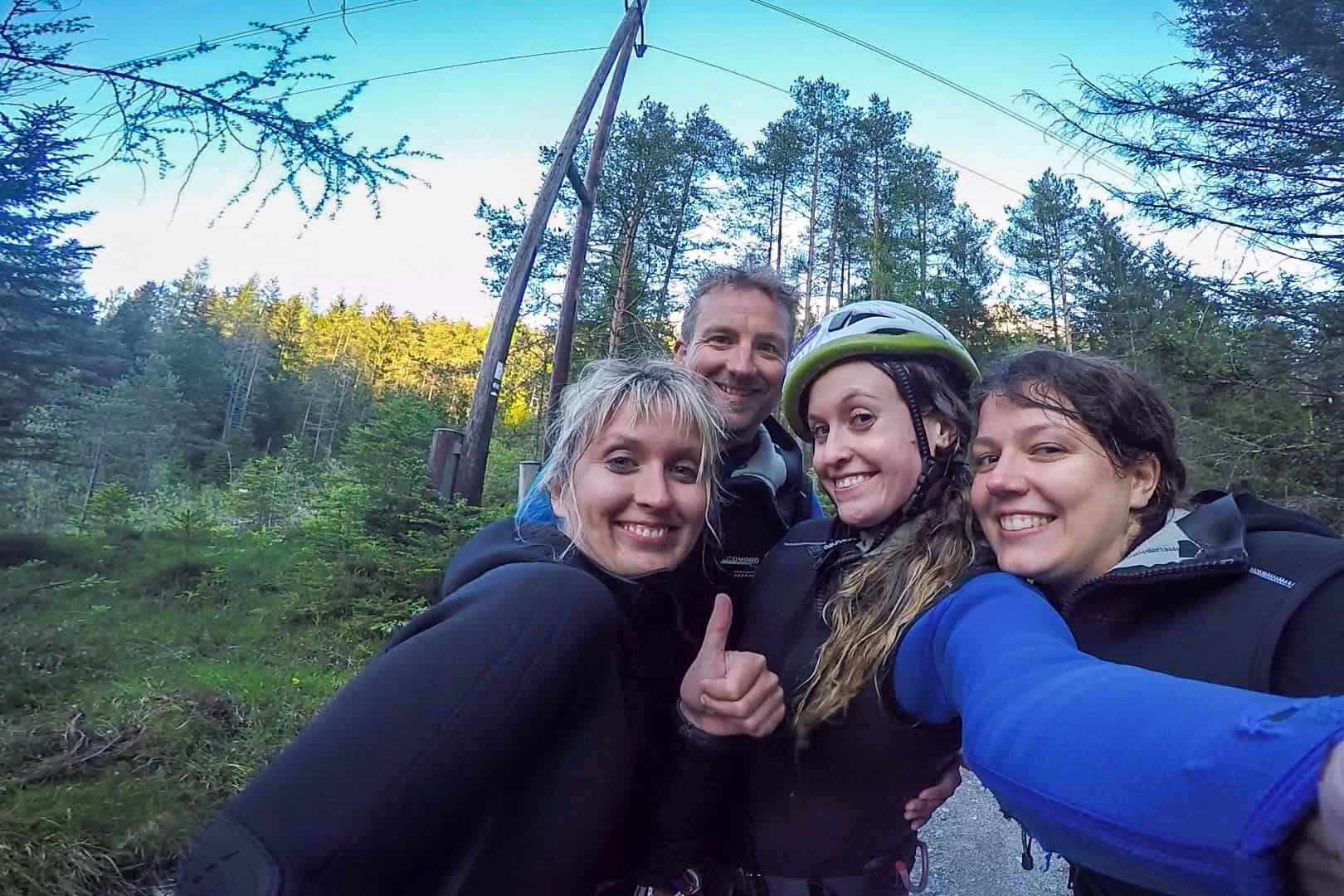 Being dishevelled means nothing in a devilish world. It's all part of the experience – in Austria, where you didn't think you knew beyond the pictures of its famous alpine hikes.
Canyoning Tour in Tirol – More Information
A canyoning tour in Tirol with Fun Connection starts from €60.
The duration of the tour is approximately 2h 30min
No strong swimming skills are required, although it might make you feel more comfortable. However, the guide is with you every step of the way.
The minimum age for tour participation is 10 years.
A wetsuit and footwear are provided.
Want to Go Canyoning in Austria? Pin It!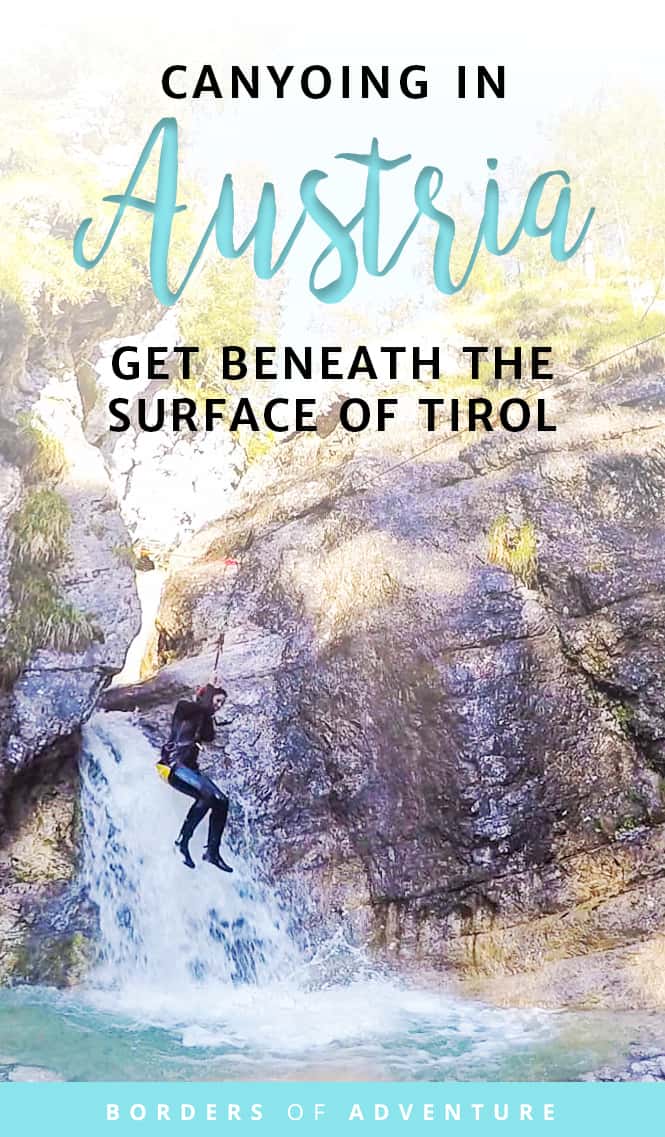 Editorial Disclosure – The #InAustria blog trip was created and managed by iambassador in association with the Austrian National Tourist Office, Tirol Tourist Board and the Kitzbüheler Alpen Marketing GmbH. Borders of Adventure maintains full editorial control of the content published on the site.