Disclaimer: This post contains affiliate links to handpicked partners, including tours, gear and booking sites. If you click through or buy something via one of them, I may receive a small commission. This is at no extra cost to you and allows this site to keep running.
Climbing in Achensee, Tirol by Via Ferrata and Rock Climbing is a way to see the lakeside landscape as an alternative to hiking.
In the region of Achensee, home to Tirol's largest lake encased by mountain ranges, it was most certainly worth the muscle power and the effort to see this unparalleled Austrian beauty differently.
Considering Tirol has 600 mountains, interspersed with alpine green and craggy hills, it is not hard to find routes and rocky walls in Austria to satisfy my inner-climber, even as a beginner.
In Achensee, the dark blue lake and surrounding valley form the border between the two major mountain ranges of Rofan and Karwendal. It was on the Rofan that I took on two new challenges: a full-route Via Ferrata and my first introduction to Rock Climbing.
For those like myself with a passion for clambering and climbing, Tirol couldn't be more perfect a place to step up the game.
Climbing in Achensee: The Challenge
The Achensee' 5-Peaks Via Ferrata' in the Rofan Mountains is a two-kilometre route that guides you through the craggy landscapes of the five mountains that surround Achensee lake: Haidachstellwand, Rosskopf, Spieljoch, Seekarspitze and Hochiss. Split into five sections of varying difficultly levels; everyone from beginners to climbing veterans can enjoy it. I spent the day tackling the mid-range to slightly more challenging Grade C sections.
It was a mix of heart-racing nerves (and swearing) and adrenalin-fuelled exhilaration (with fist pumps to the air). And while there were times I wondered what I had become, with no prospect of getting down, I loved every second of the euphoria that comes from being pushed to your limit.
Starting with the 1,800-metre climb in the cable car from Maurach, the adventure begins with a short one-hour hike to the Via Ferrata starting point. The completion of this route would mark my first full Via Ferrata challenge since I had only tried a tiny section of a path in St. Johann, Tirol two years ago. It was exciting to finally get to grips with a more challenging trail and push myself to climb higher.
The Via Ferrata in Achensee isn't a walk in the park. It's a sport that expends a constant burst of adrenalin when you know you are hanging on a rock face and balancing on small surface areas by your feet, fingertips and trusty carabiners and rope harness. It's a real workout for the arm and leg muscles (and mentally) as you work out where to step, stretch and pull yourself up into a new platform of the mountains. It's even harder when you have slightly more slippery surfaces than expected because of the light rain as I had.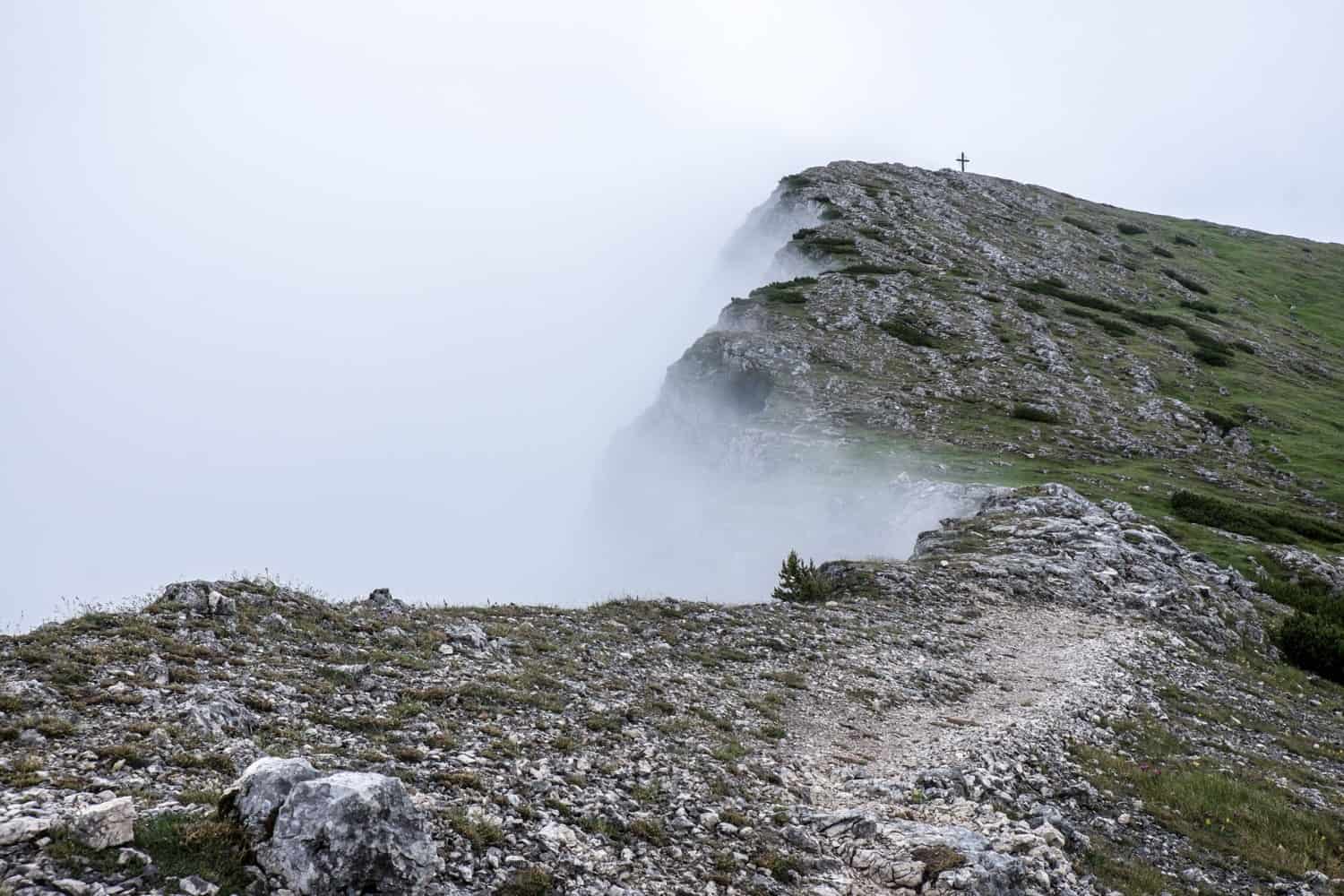 My instructor Mike was not only guiding me but also teaching me step-by-step techniques. It takes some getting used to, mixing elements of rock climbing with the training of the mind to have consistent awareness of always clipping in and switching to the next carabiner line. I often had to step back down to un-clip from the last line, which was a little frightening. But that is the lesson you have to learn quickly to move towards onwards to being pro.
At more difficult points, Mike had me attached with rope should he need to give me a little tug for a boost where my short legs wouldn't always suffice. You are, at all times, in the safe hands of the expert, and I liked to joke that I was like a mountain goat led around the pasture.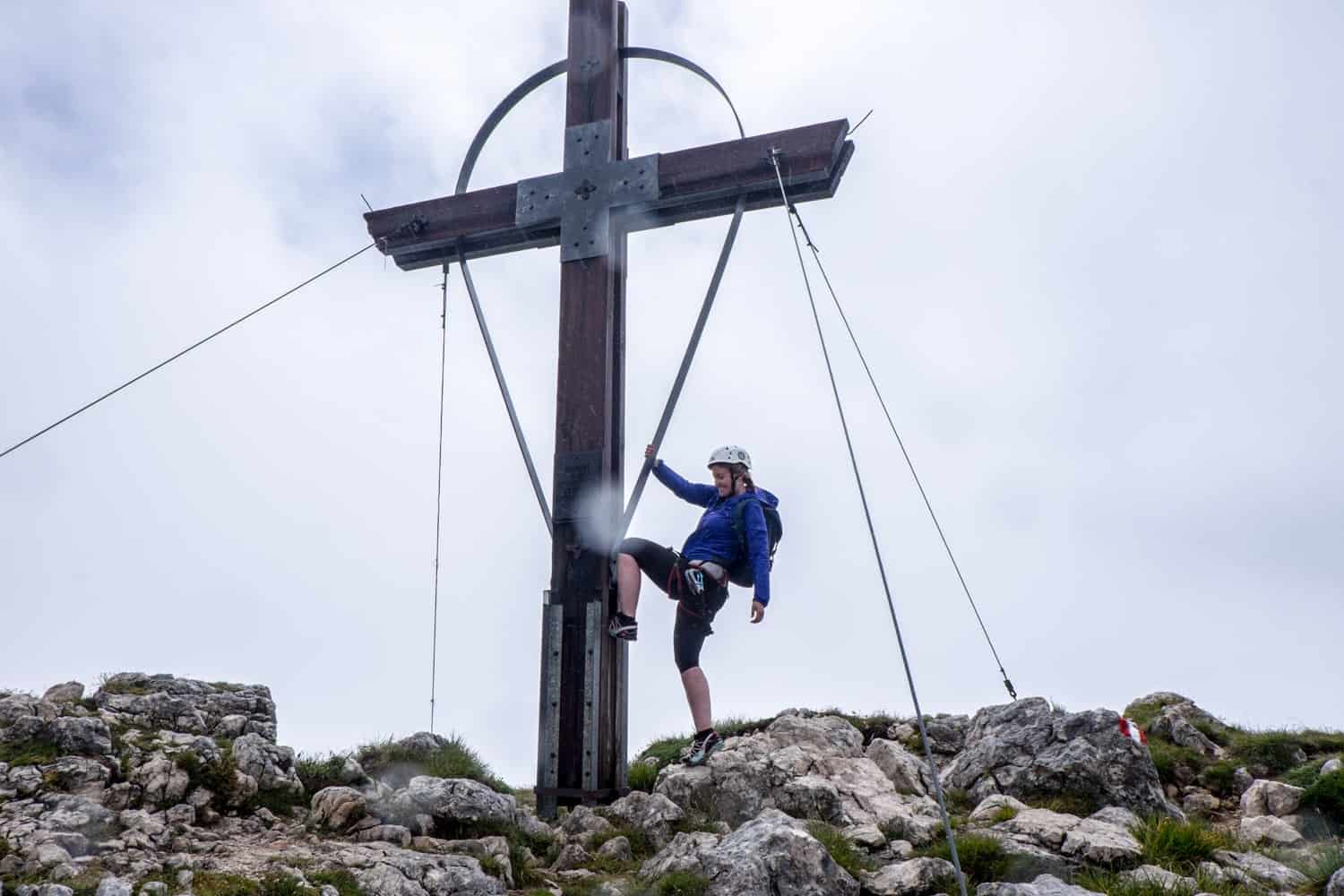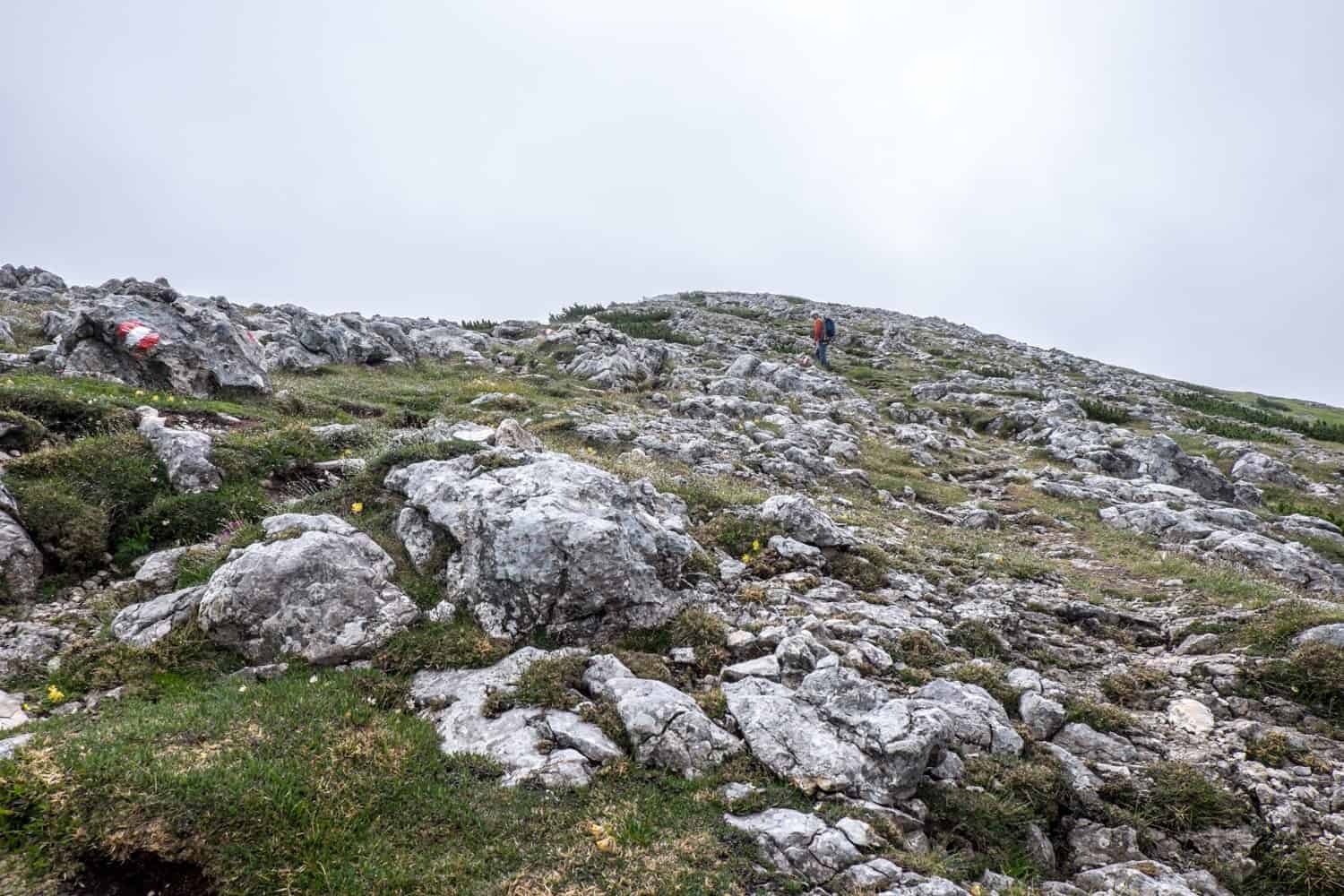 Reaching the cross markers on each peak is an exhilarating feeling, rewarded with panoramic views of the valleys below and the mountains opposite. It's at this point that you absolutely must take a photo of your achievement – hugging that cross for dear life or in pride – before you start the rocky and slightly steep hike back down, which eases into flatter lands over time.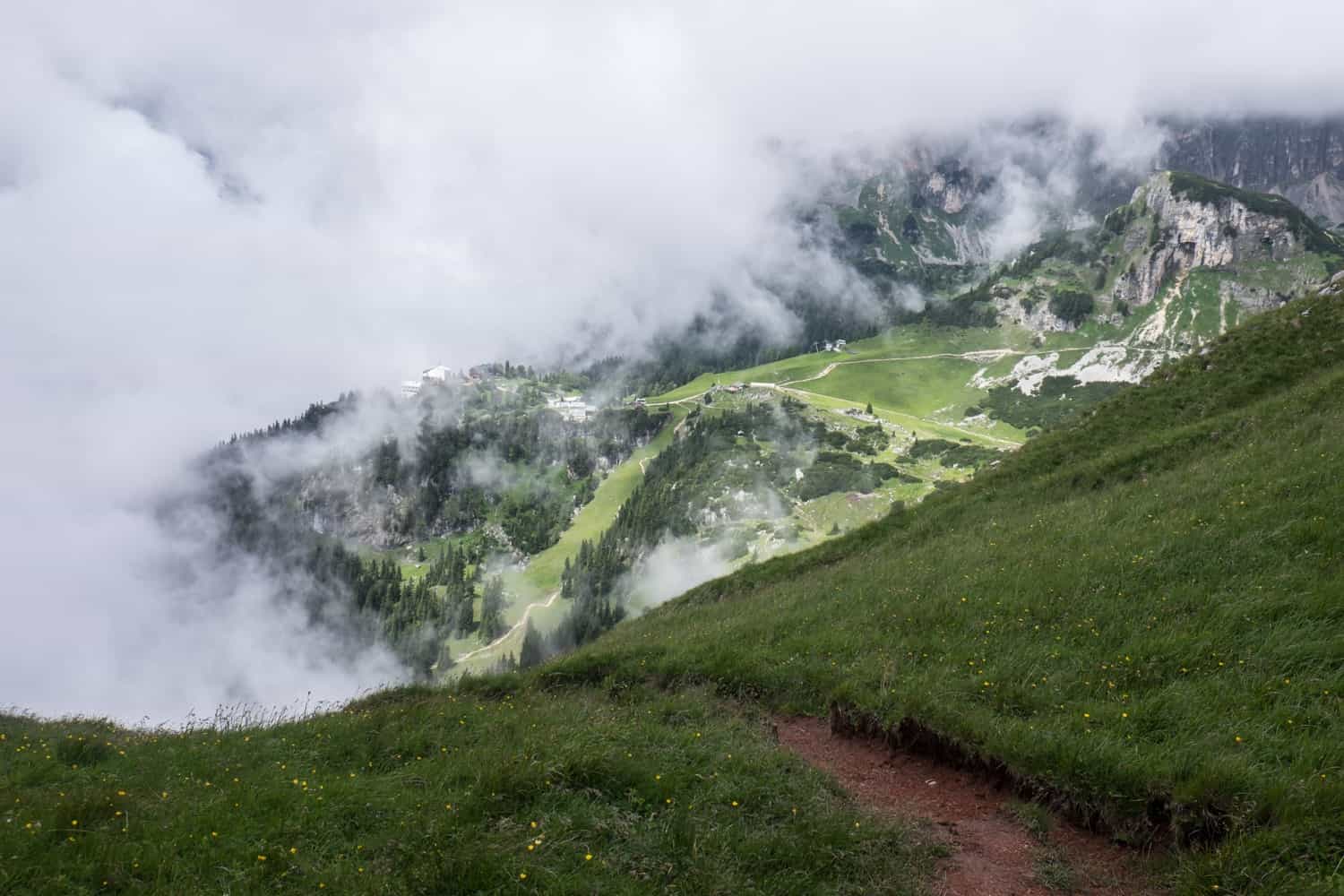 Climbing in Achensee: Rock Climbing Lessons on the Rofan
After trying indoor bouldering in the Salzburg mountain region, I've been eager to put the necessary skills to the test outside. The Rofan and Karwendel) mountains attract climbers of all levels, from beginners like me to the more experienced who often have secluded crags to themselves, including rock faces around the Lamsenjoch up to 400 metres in height.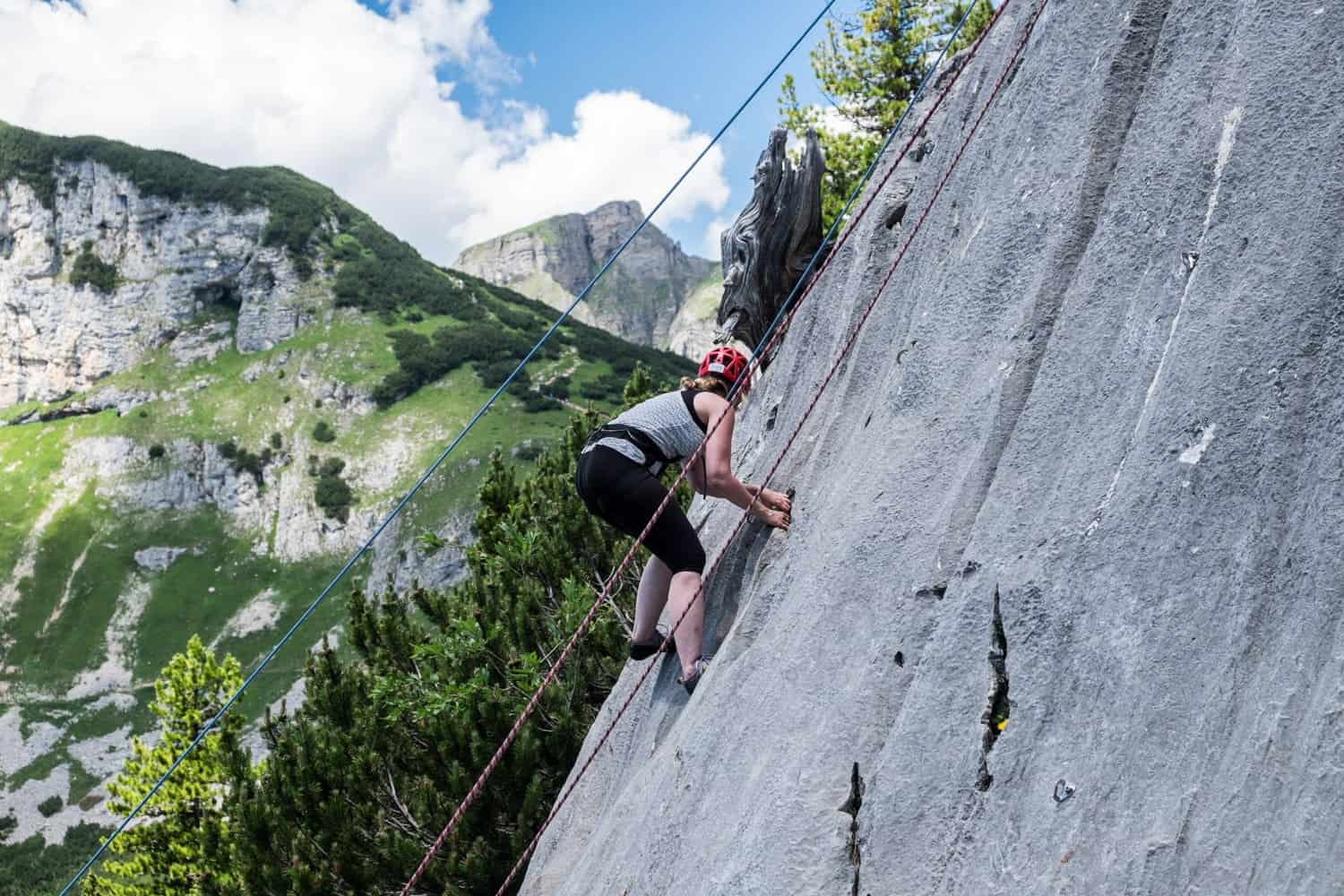 My mountain guide and I first went through the basics, including how to tie the ropes and the main harness knot, before practising the abseiling and balancing manoeuvres and body positioning to get back down. This sequence is essential, especially for someone like myself, who has slightly poor balance and who needs extra tension during the belay to step down more slowly. I even slipped and hit my head on one descent, proving how important it is that you also wear a helmet!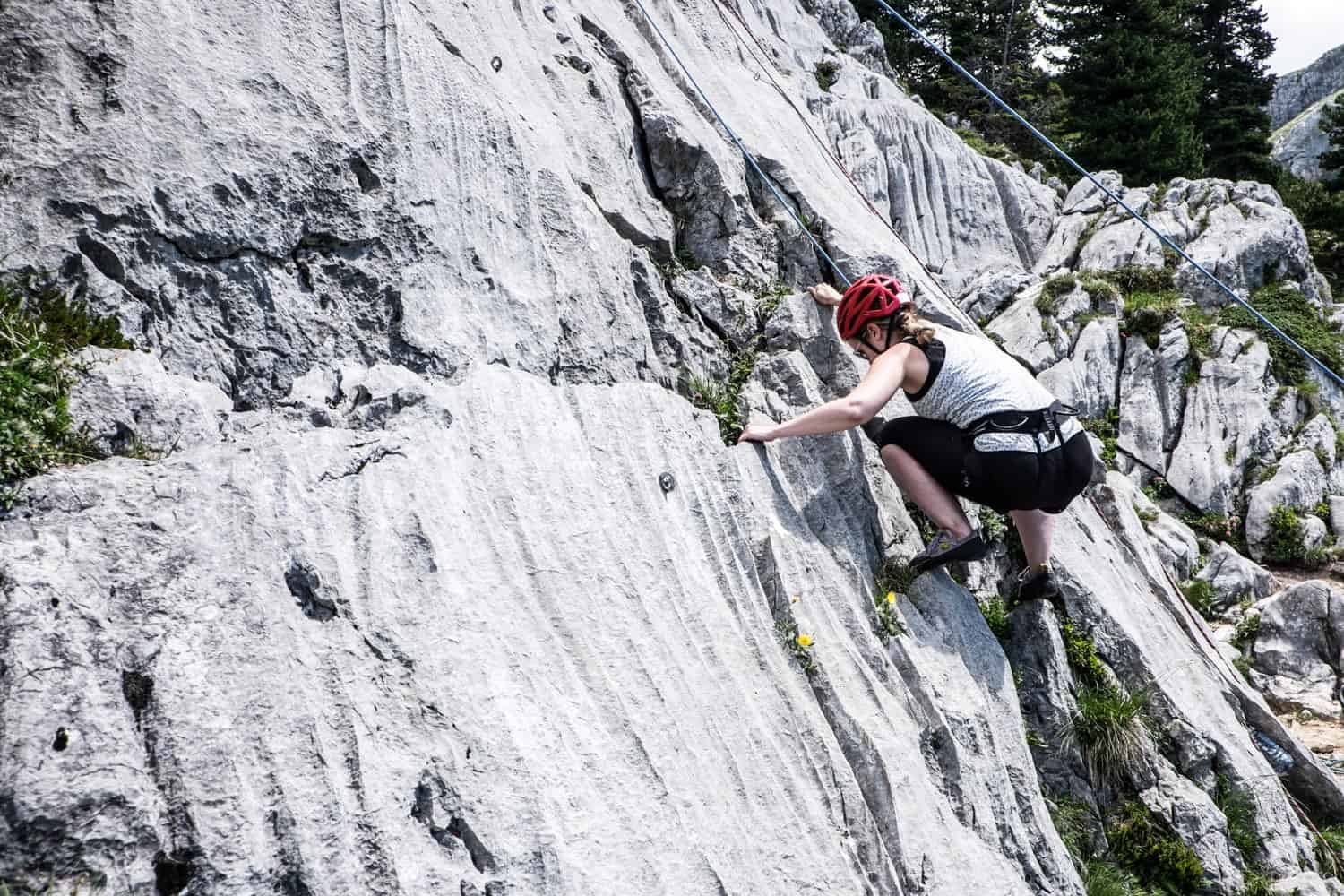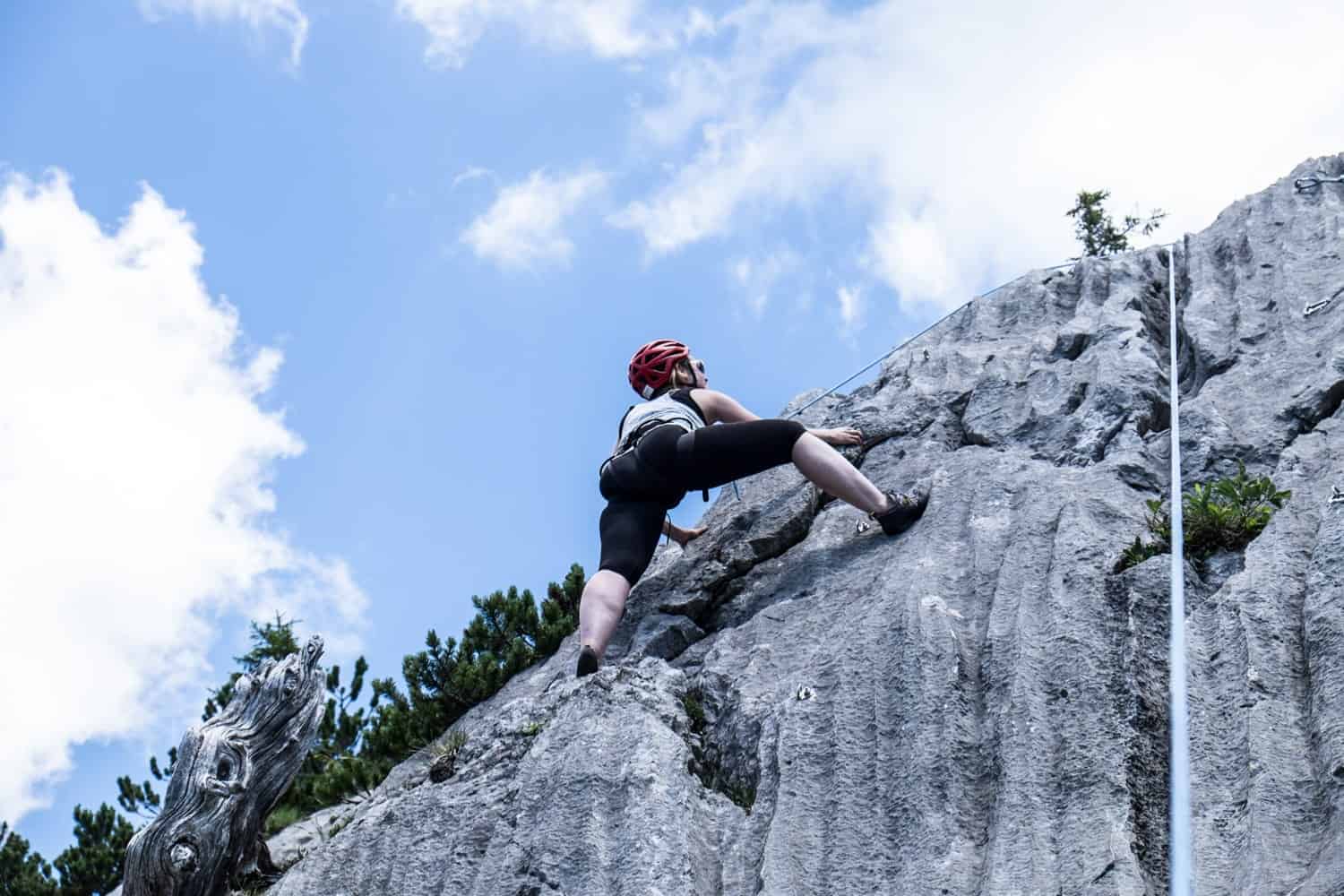 Rock climbing has fast become my new obsession, as I seek out places to practice and improve in Vienna. During this session, where each climb was set with a new goal to get just a little higher or tackle a slightly different route with feet and hand placement, I learnt how to better position my body to balance and climb more safety. It significantly pushed my determination, especially when it comes to taking that one giant stride that gets you further and, to have trust in yourself and your body. My instructor kept telling me that climbing shoes grip more than you think, your instinct is often right and altogether, go for it.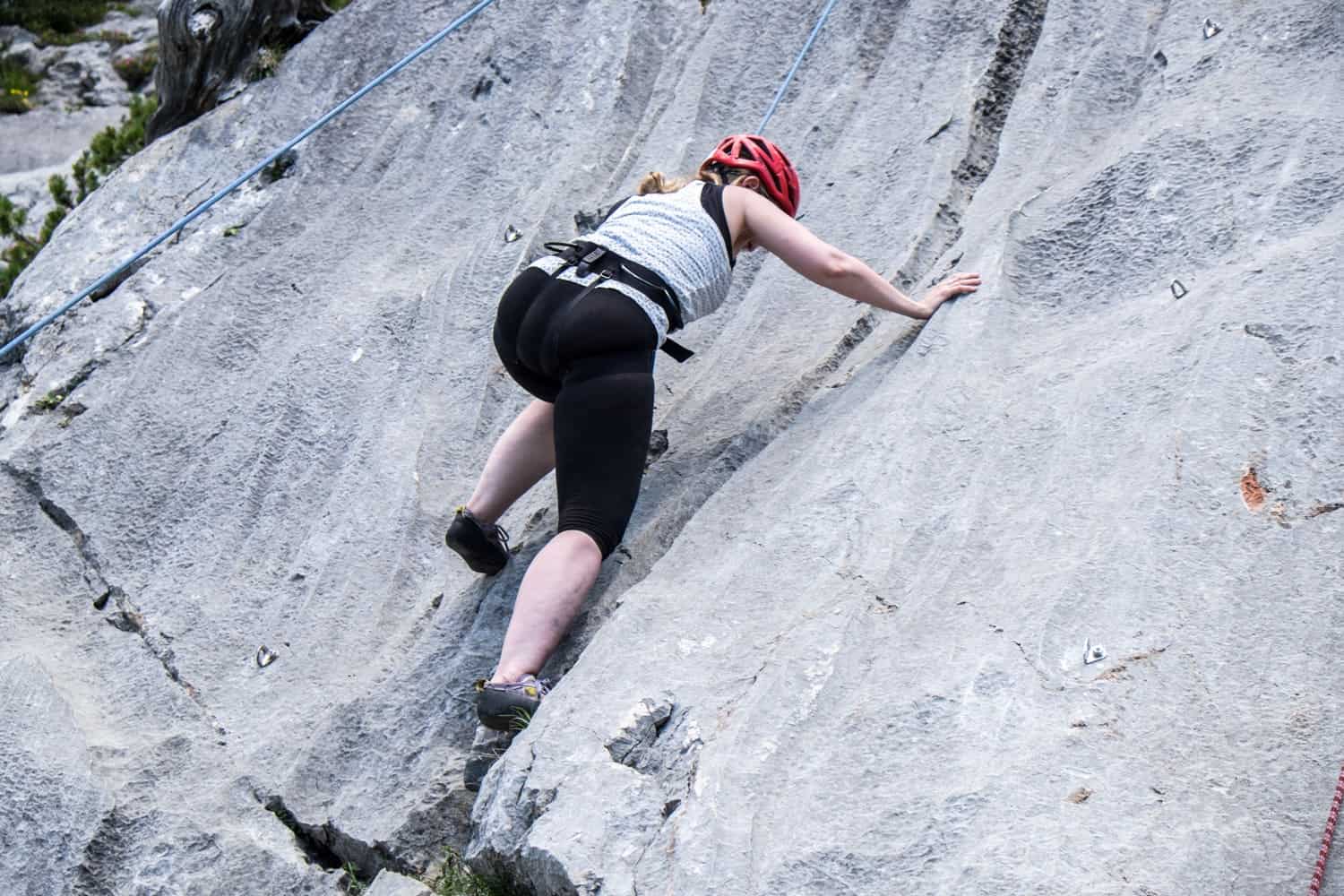 Being a mountain-loving girl, I love nothing more than hiking and biking large patches of nature to reach dizzying heights of the peaks and be rewarded with views, fresh air and the isolation of landscape.
Climbing in Achensee in Tirol is simply another way of reaching panoramic heights from a completely different viewpoint and with an added adrenalin boost.
There's no way I will ever say no to that.
Things to Know About Rock Climbing in Tirol and Achensee:
Getting Around Achensee, Tirol
The Achensee Holiday Card is a 7-day all-inclusive card for use on both the Maurach and Karwendel cable cars, the lake ferry steamer, the steam railway ride from Jenbach to Maurach and for entrance to nine attractions in the area. The inclusive price of 69 Euros (available from local tourism offices) also includes access to the public wifi system and local buses.
The Rofan cable car, in Maurach, is open in both summer and winter. Because of its location next to the lake, this area is incredibly popular with sports enthusiasts.
Where to stay in Achensee, Tirol
As I was in a small group, we shared an apartment in the village of Achenkirch (30-minutes drive from main train station Jenbach). A village of little over 2,000 people, it has everything you need for a relaxing stay in a more tucked away setting. The Tiroler Madl Chalet became our cosy mountain home and it just a few minutes walk from the northern end of the Lake Achensee and the very centre where you will find all the stores and restaurants. Fully equipped with all amenities, each of the five-room can sleep up to four people (a double bed and bunk beds). That's one fun chalet with a group of friends!
This trip was a part of the #Blogville Europe campaign showcasing the Emilia Romagna region of Italy and two regions of Tirol (one being Achensee). I took a train from Emilia Romagna to Tirol, which was a beautiful adventure in itself. All opinions of my crazy climbing endeavours remain my own because I'm just a wild adventure kind of girl.