Disclaimer: This post contains affiliate links to handpicked partners, including tours, gear and booking sites. If you click through or buy something via one of them, I may receive a small commission. This is at no extra cost to you and allows this site to keep running.
After strolling the UNESCO World Heritage Historical Centre, marvelling the artistry of the UNESCO City of Design and feasting your way around Austria's Culinary Capital, what do you do? There's a lot to uncover on the fringes of the city, as this selection of active, cultural and historical day trips from Graz shows.
Whether you plan a day trip in addition to your first city visit or are heading back because you got hooked on that Mediterranean charm, the things to see in Graz within a 30-minute radius might entice you to stay a little longer.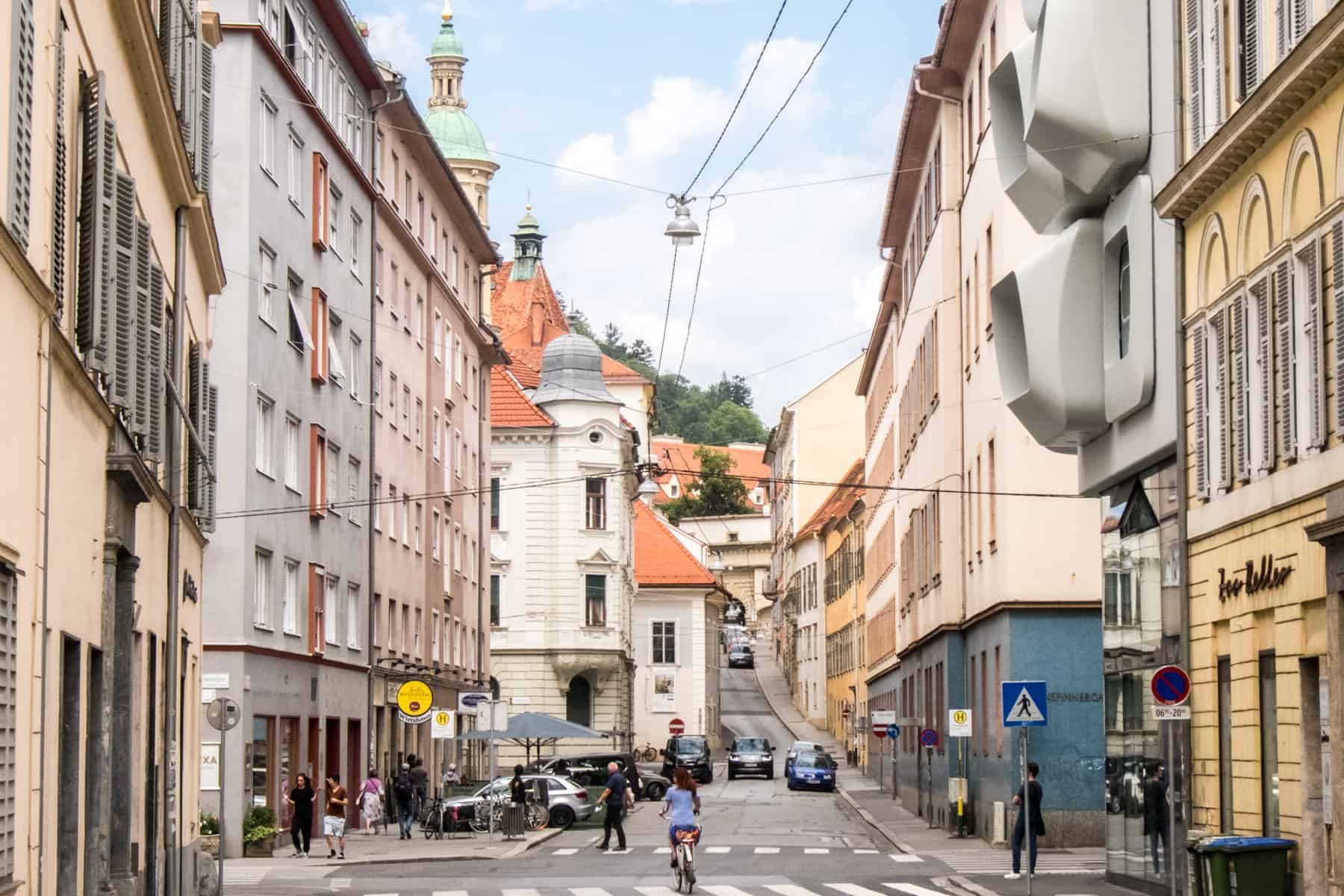 On our fourth visit to Graz, we were aching to see further beyond the city itself – along the Mur River, into the surrounding Steiermark countryside, upon a Styrian summit, within cultural monuments, and to pay homage to one of Austria's most famous faces.
Using the Graz as a base, and staying in the local neighbourhood of Lend at the invitation of Graz Tourism, we had five days of exploration to hand. The mission was to uncover what lies on the perimeter of city life, with the opportunity to return and enjoy it.
Choosing the Best Day Trips from Graz
Kesselfallklamm in Wild Countryside
25 minutes from Graz (accessible by car and local bus services) | Free entry
The Bãrenschützklamm takes centre stage for those looking for a mighty gorge, but the wild countryside surrounding Graz shelters the smaller Kesselfallklamm, whose narrow canyons are appealing for those seeking rugged, off-beat exploration without the crowds. It's a lesser-known pathway that's been welcoming the curious since 1904.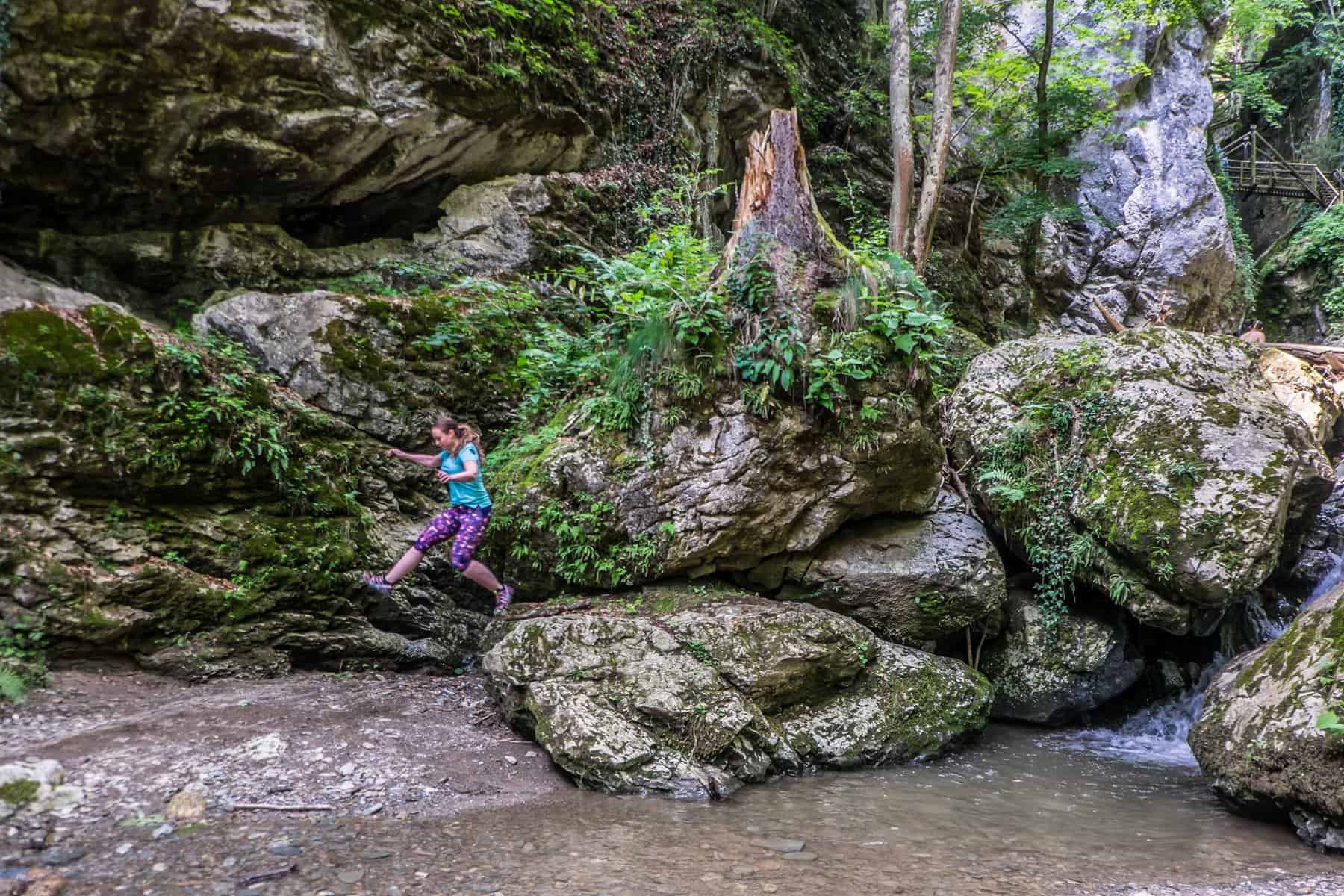 On a leisurely 90-minute walk covering 2.5 kilometres, we crossed a craggy and forested basin, on a trail through narrow gorges lined by the trickling of spring-fresh water, the gurgling waters of the Rötschbach stream and bathing pools at the foot of giant rock formations. The focal site is the cascade of the Kesselfall – the highest waterfall standing at 38 meters.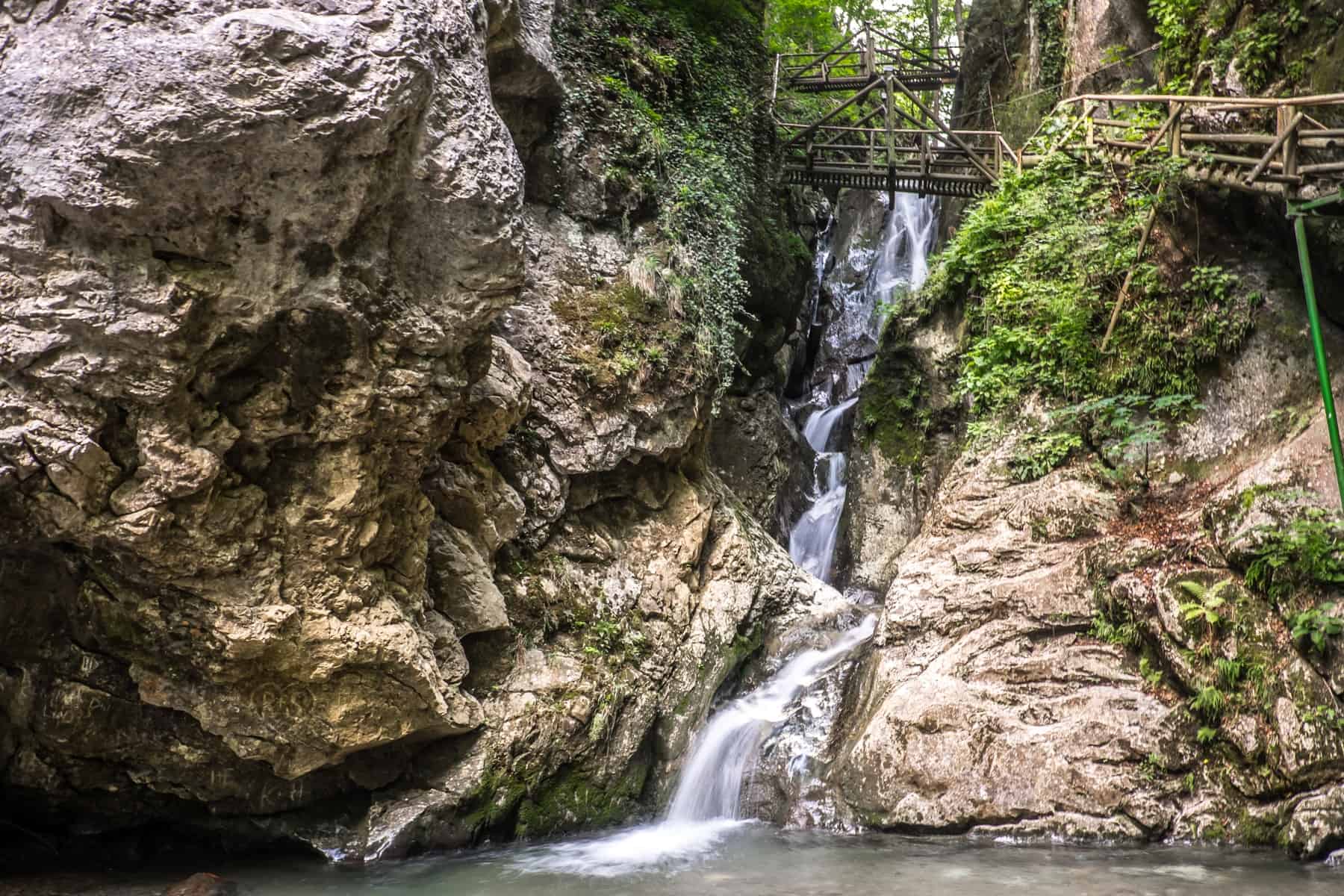 The Kesselfallrundweg (R3) circular route from the Sandwirt Gasthaus in Augraben is formulated like an obstacle course to aid the safe trek through the park and the clambering 200 meters in altitude.
Fifty wooden ladders and bridges with over 2800 step planks lead the way, getting you up close, around and through the gorge. Spaces in between make for spectacular viewing points or designated 'positive energy' areas, often close to the gully walls where you can stop and feel the power of nature.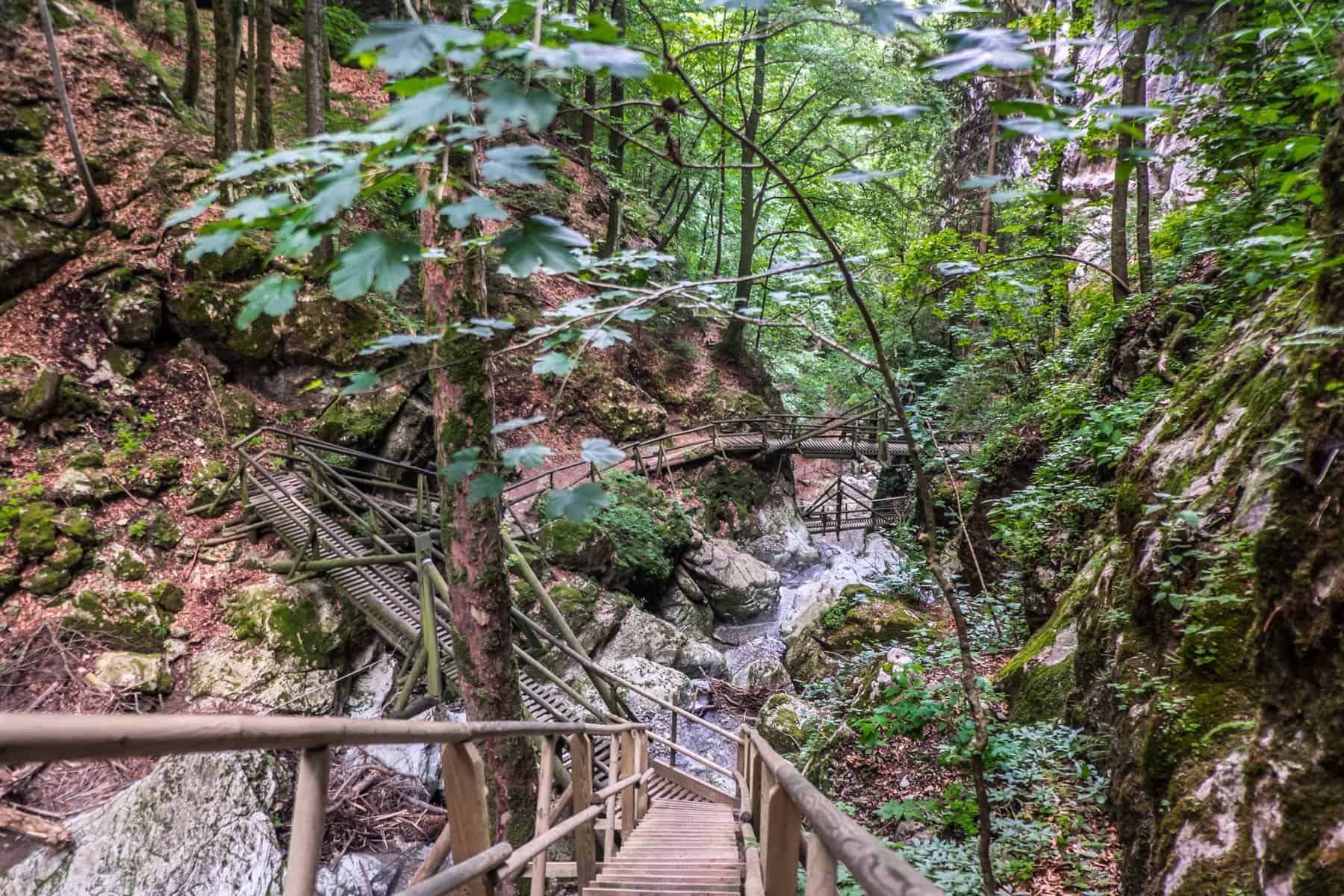 As you near the end of the gorge, the water quietly tapers, and you pass a crumbling archway stone gate on a marked path that curves to the right – the last look at the gorge and the final stretch of the elevation before descending back down to the Sandwirt.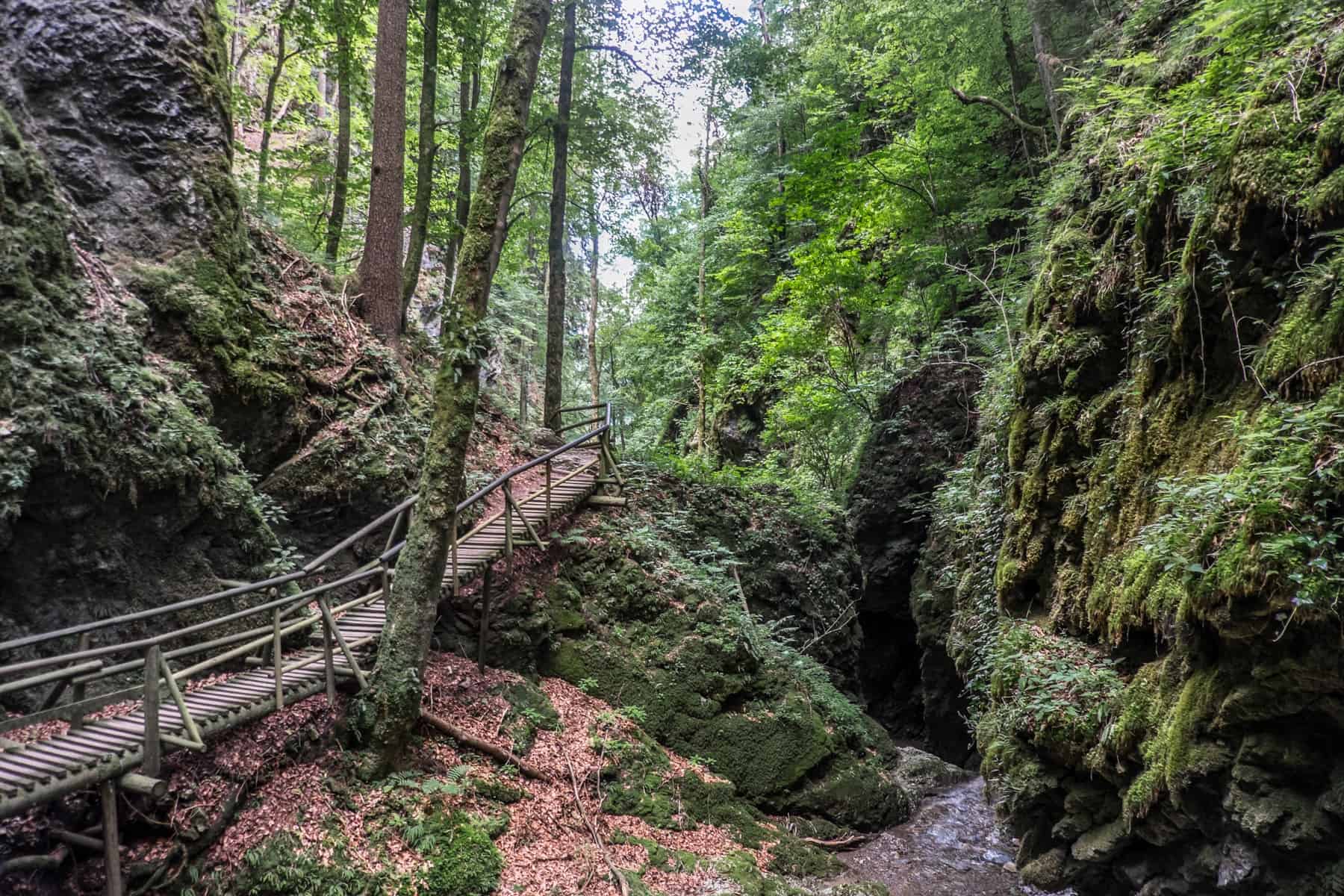 Hiking Schöckl Mountain
30 minutes from Graz (accessible by car and local bus services) | Free entry or Cable Car €7.70 one-way
Graz might not be immediately surrounded by the highest mountain peaks, but don't underestimate the local Schöckl Mountain's 1,445 meters. This local recreational spot is a much-loved nature haven, hiked many times over, and frequented by mountain bikers tackling the downhill trail, which is known as one of Austria's most challenging. The town at the mountain's foot, Sankt Radegund bei Graz, is one of the oldest health resorts in Styria, gleaning good air and vitality from its natural source.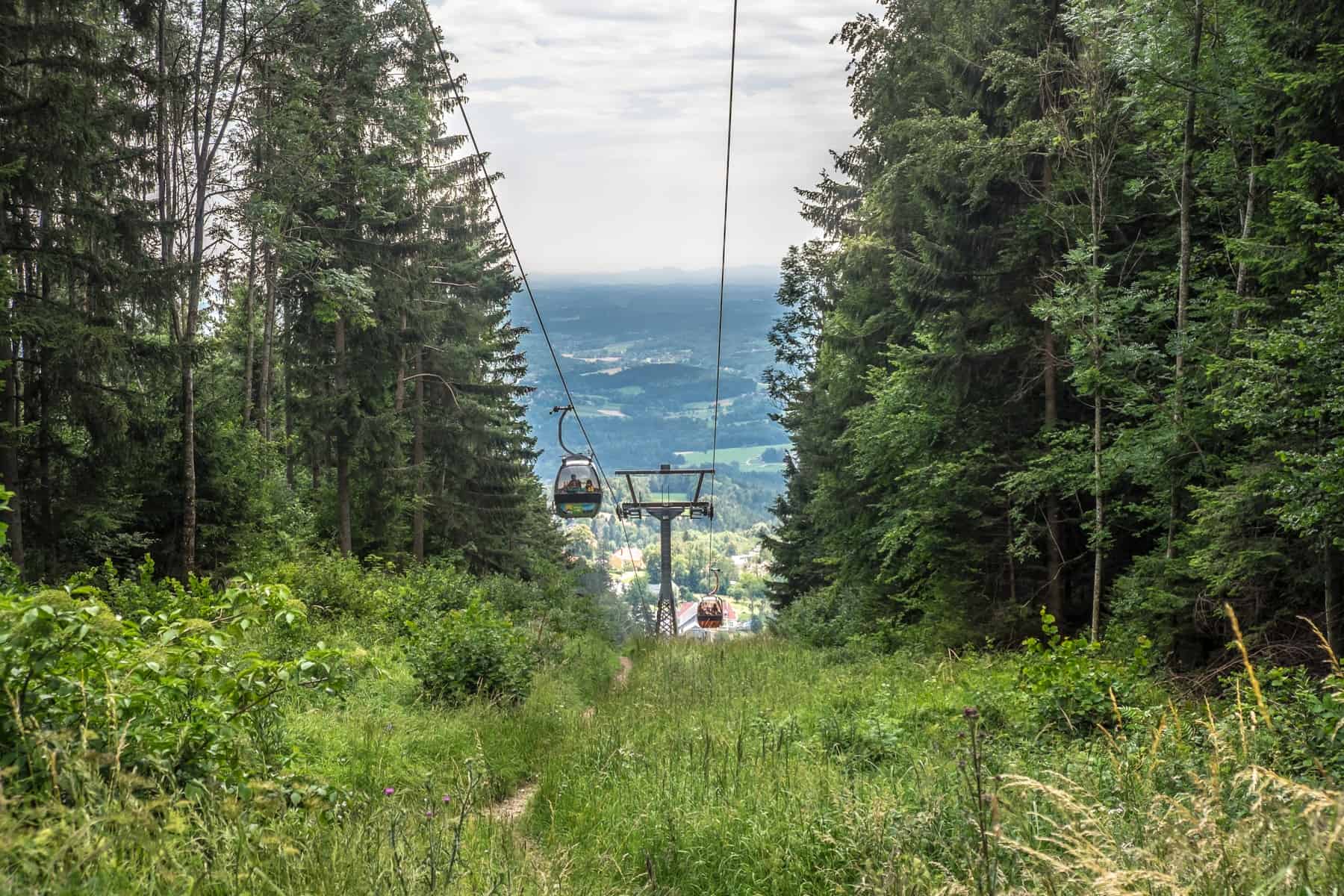 An easy hike up with moderately challenging incline, the rocky road up through the thick forest of this limestone mound eventually opens up to a magnificent panoramic reward. It took us two hours, including the small rests stops to admire our surroundings while the cable car lightly hummed onward above us.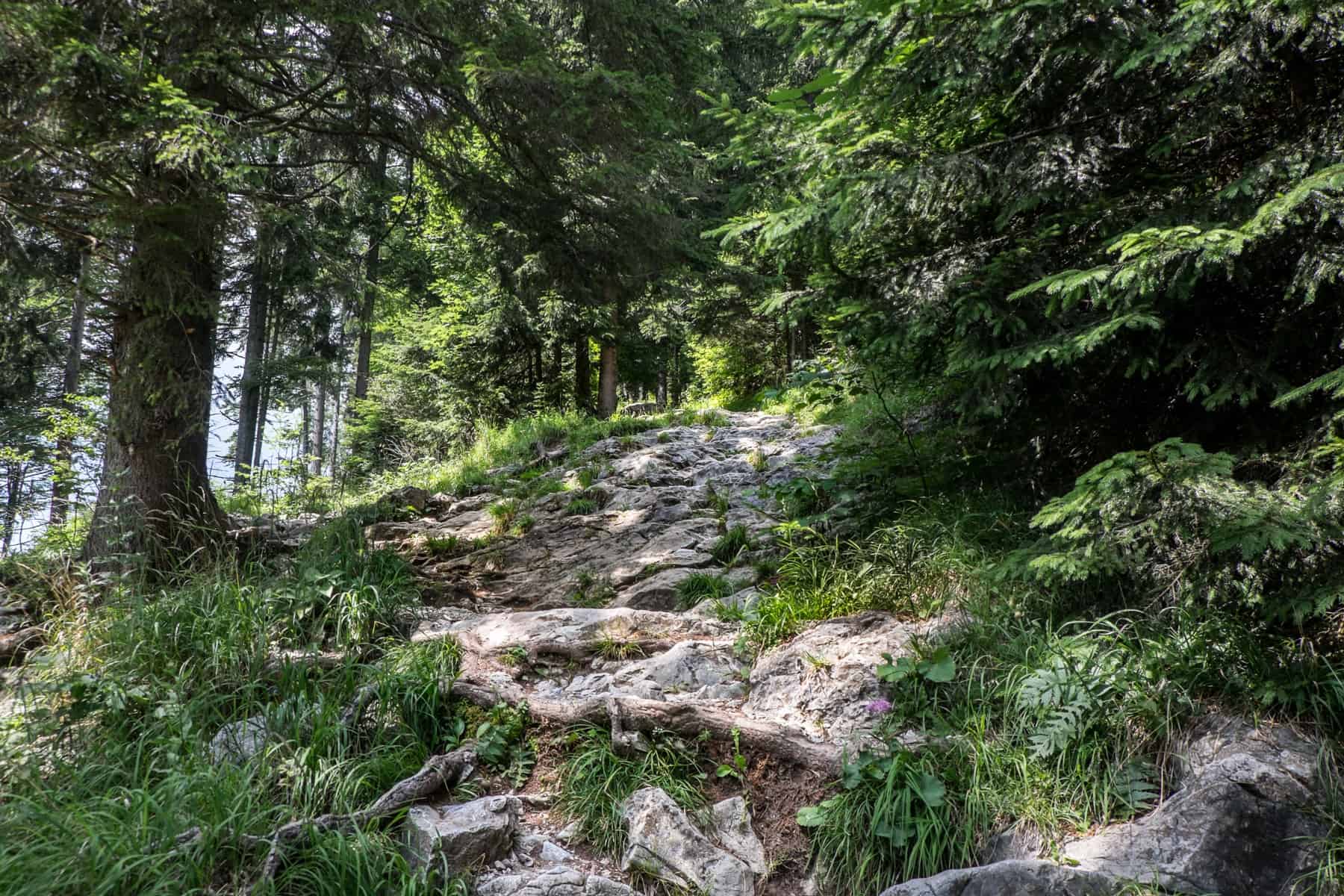 Once you emerge from the undergrowth, you'll be looking out across Croatia, Slovenia and Hungary – a patchwork of green, dotted with urban pockets and a plateau of peaks including the Triglav, Rax and Hochschwab.
The top of Schöckl Mountain, best enjoyed at the decks of the mountain hut, is also your viewing platform across southern Styria and Graz – the symbolic starting point of this adventure. Even from here, the hilltop clock tower dominates and keeps its iconic presence.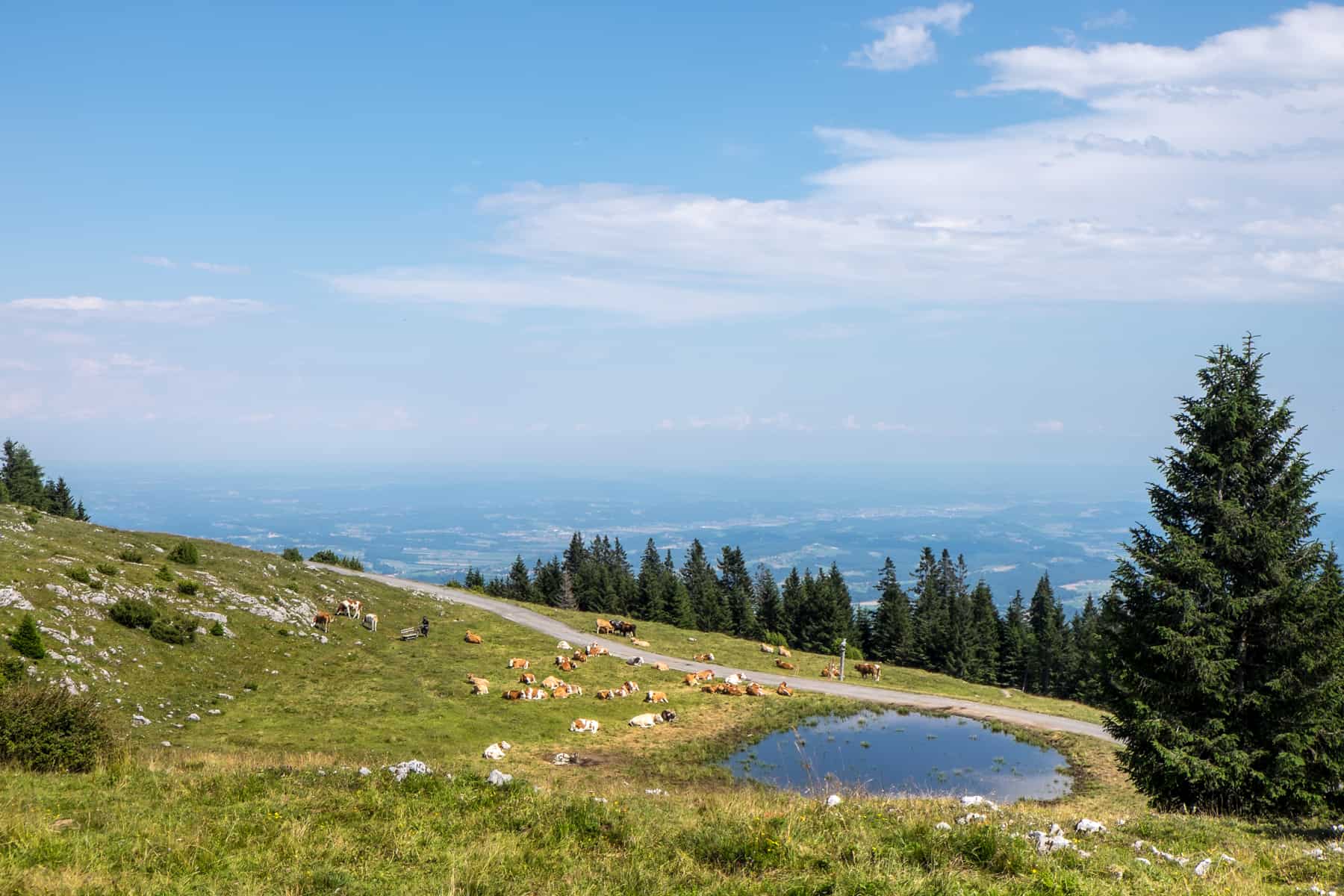 An extra 30-minute walk brings you to the mountain cross, through the fields of green pasture and white rocks that cut a trail through this part of the Almenland Nature Park to further elevation that completes the panoramic sweep. We ended our time whirling down the 'Hexenexpress' summer toboggan run, before descending back to St. Radegund via the seven-minute-long cable car line.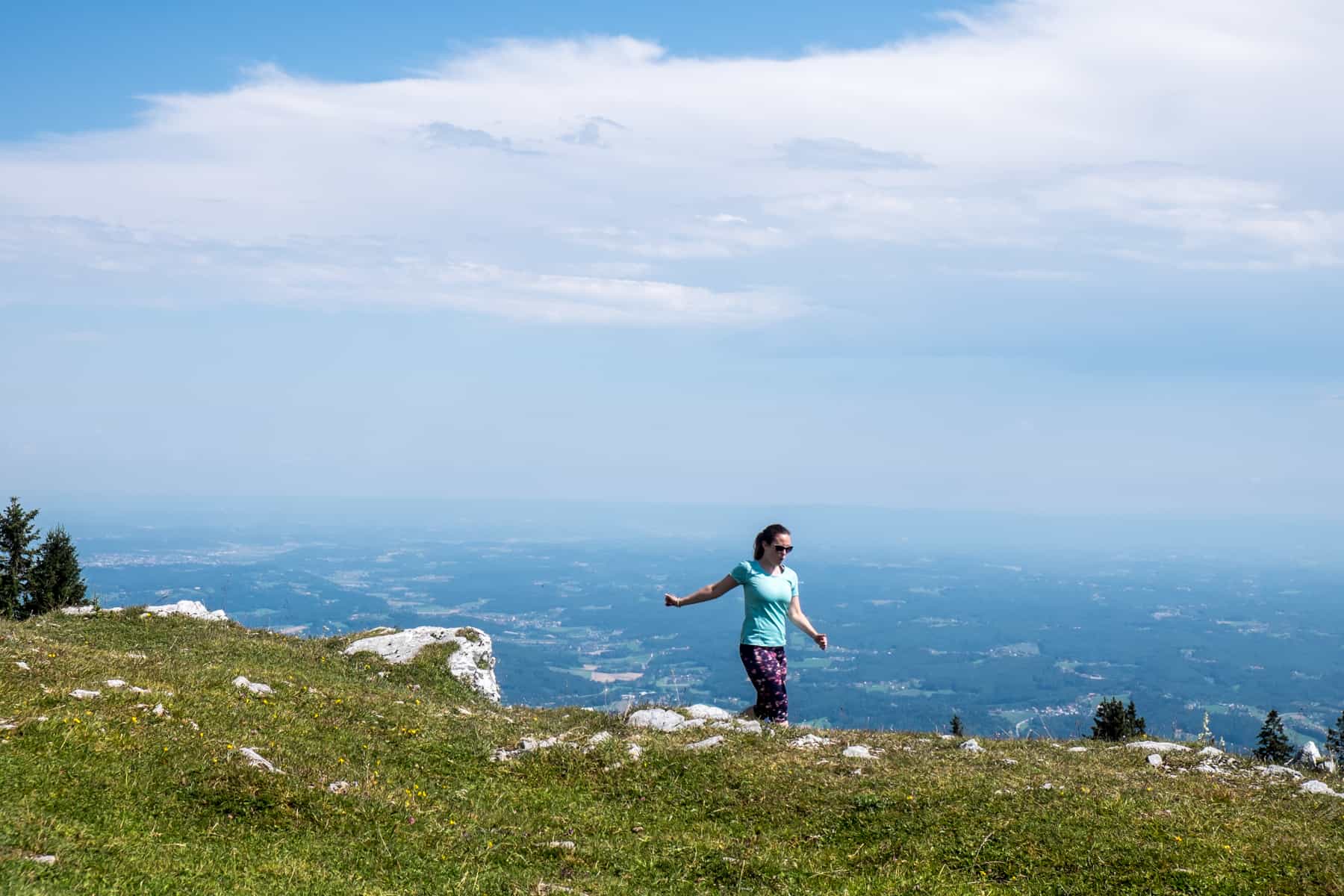 Stift Rein – Oldest Cistercian Monastery in the World
20 minutes from Graz (accessible by car and local bus services) | Free entry
In a valley north of Graz sits the picturesque yellow complex of the Cistercian Abbey of Rein, elevated and grand within the quiet valley green and forested surrounds that mark the start of hiking trails.
Stepping onto the ground of Stift Rein (Rein Abbey) is to visit the oldest Cistercian monastery in the world. The monks of Rein have been praying and working here since 1129.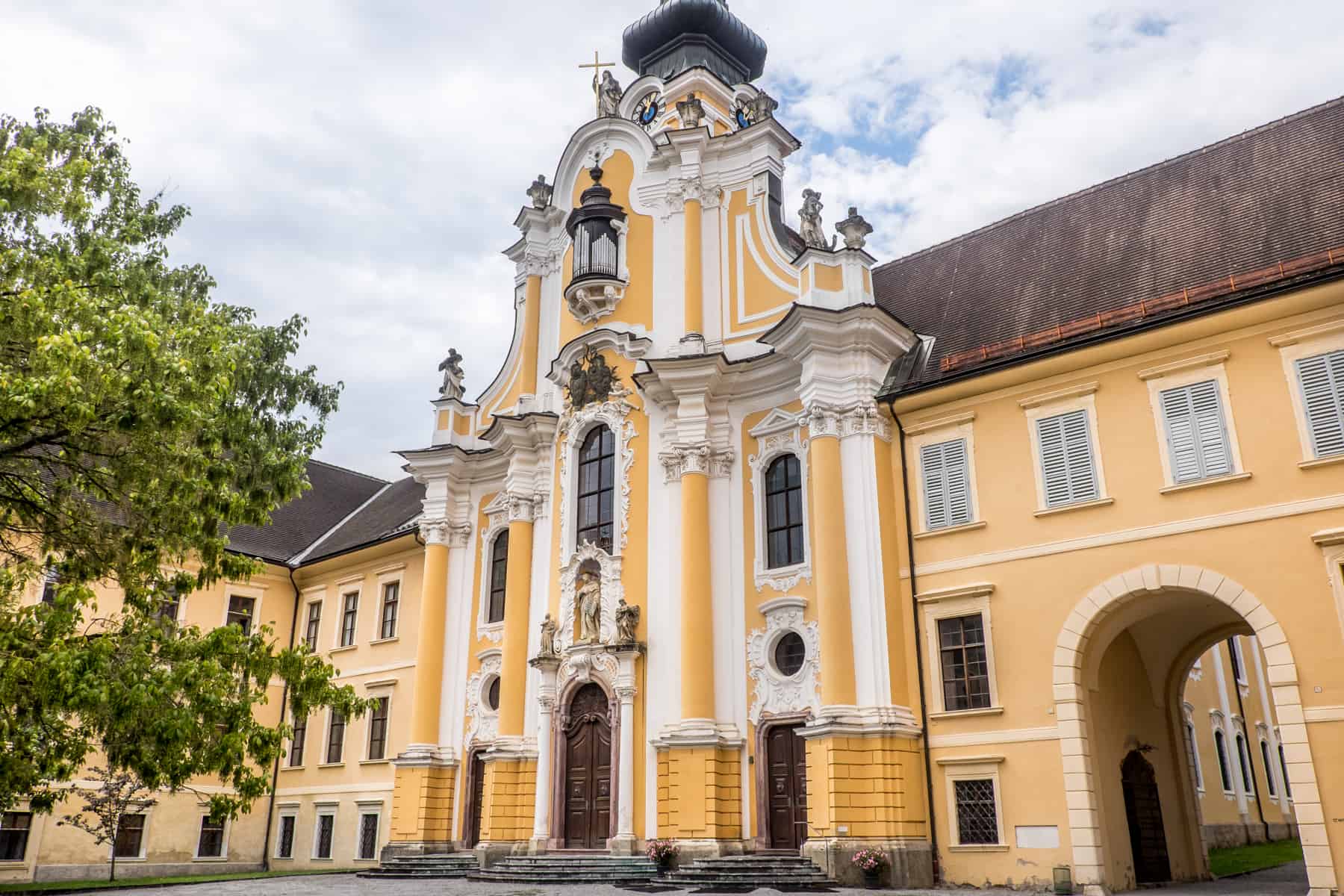 Sadly our timings didn't align for the insider tour – a way of getting a historical look behind the Romanesque monastery walls and a glimpse into the life of Styria's famous monks over the past 800 years. It's also the only opportunity to visit the Abbey Library, delicately filled with over 100,000 texts and 400 ancient medieval manuscripts, and the chance to view the newly unearthed grave of the founder and first sovereign of the Abbey, Margrave Leopold, found during excavations in 2006.
The 18th century completed baroque basilica, however, always keeps its doors open and this is what we initially came to see. The 18-meter broad, 17-meter high pillared church gleams in gold and warm, chocolaty brown, and every space, panel and surface from floor to ceiling covered with the colourful murals and sculptures from the vision of Baroque era artists.
The adorned 76-meter-long hall is a marvel to wonder at and is considered one of the largest and most beautiful places of worship in Styria.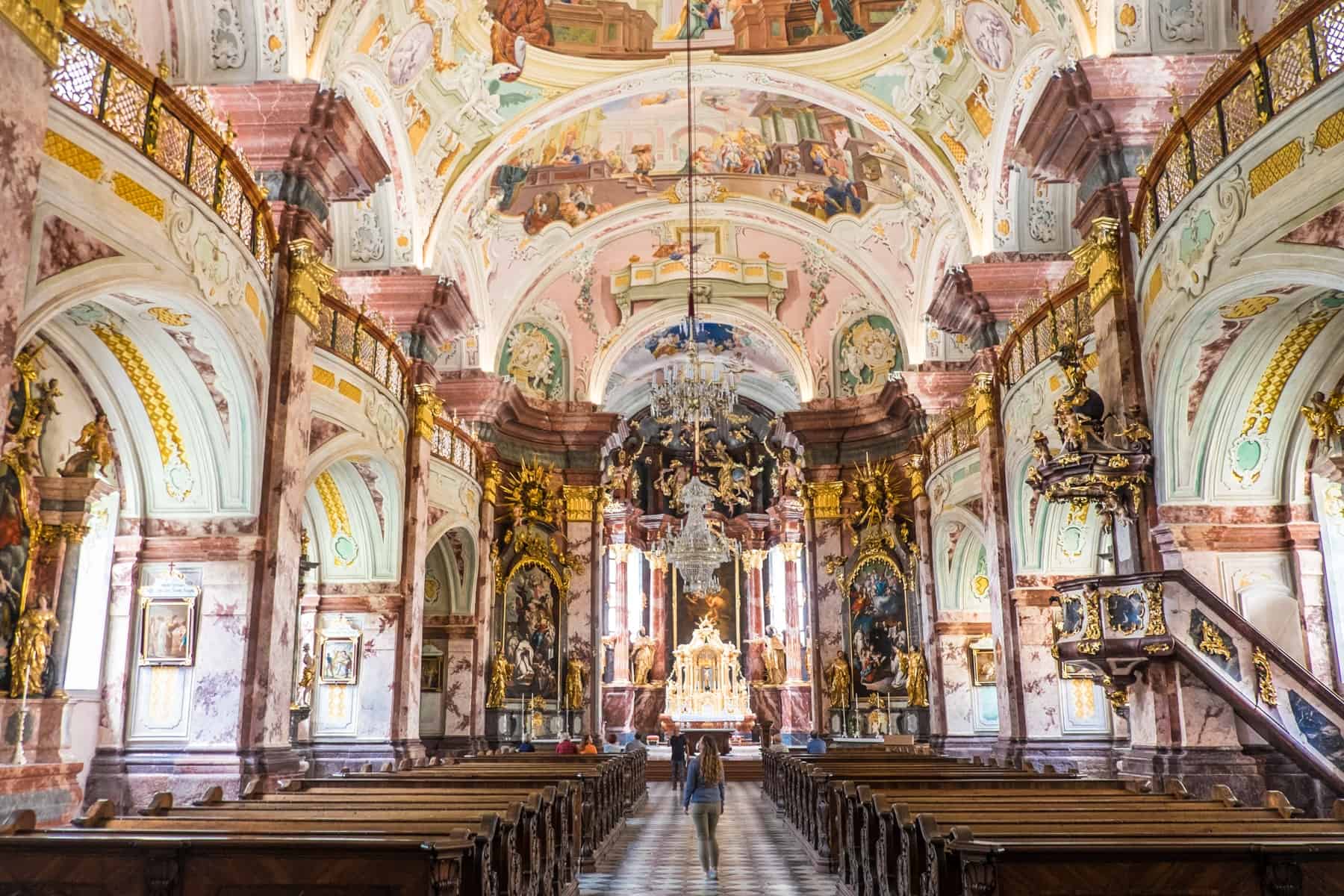 Arnold Schwarzenegger Museum and Birth House
15 minutes from Graz (accessible by) | Entry: €8
Graz's tourism slogan, "I'll be back", gives a vital clue as to who its most famous resident is. And while not specifically from the city of Graz, Arnold Schwarzenegger grew up on the outskirts in neighbouring Thal, just 15 minutes away. I grew up watching his movies and love looking around people's houses, so this was high on the day trips from Graz list.
Thal's most famous landmark is Schwarzenegger's birthplace; a beautiful former forester's lodge of Count Herberstein and nearby Eggenberg constructed in 1806. It's now home to the Arnold Schwarzenegger Museum – the only museum in the world officially endorsed by him.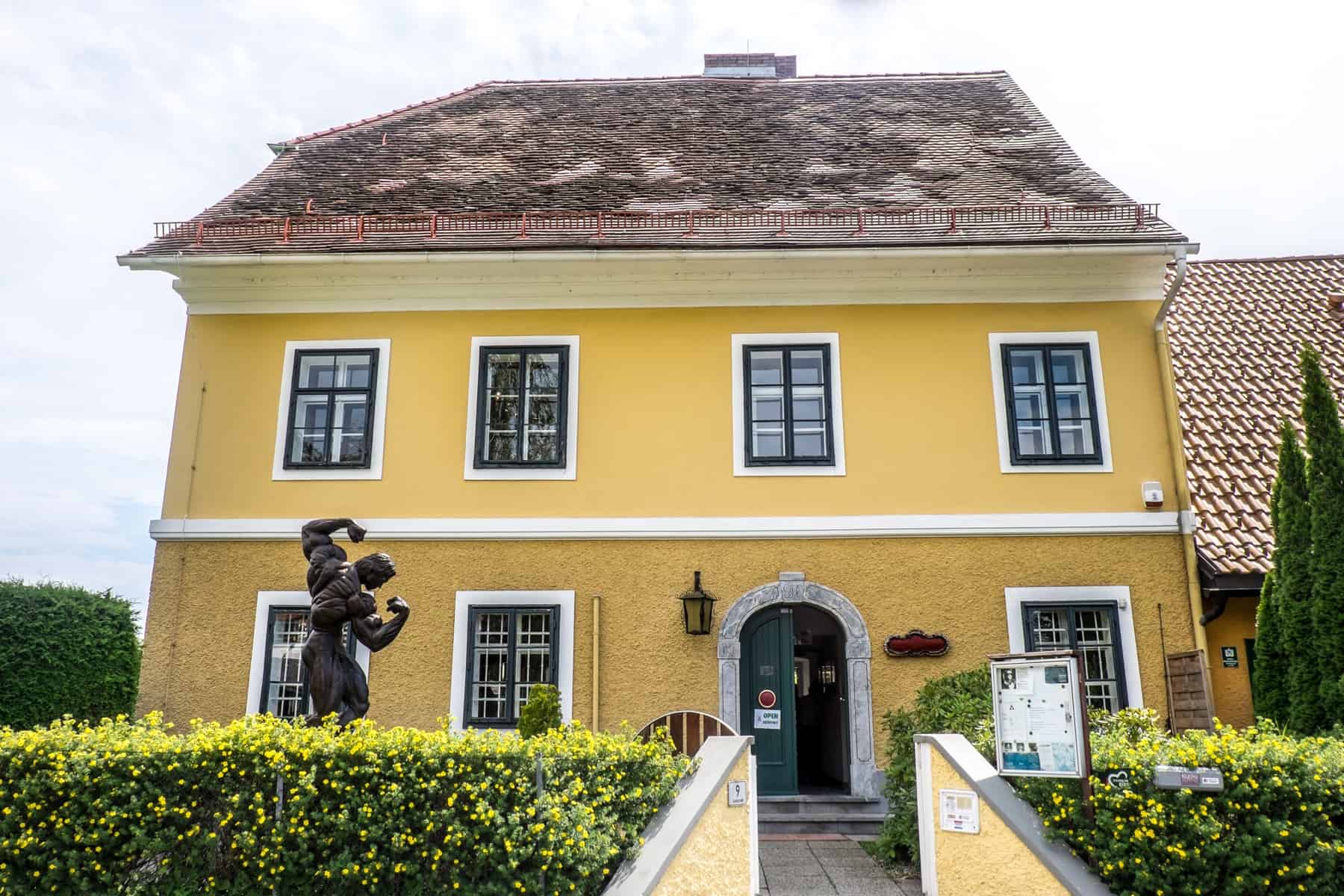 It's a little bit kitsch, but that's how we know and love Arnie, yet it's intimate enough that it's not over-commercialised and contrived. With original furniture and décor from the 1950s, it's a quirky walk through the childhood and upbringing of Arnold Schwarzenegger.
With images, videos, film set props and lifelike figures, the museum charts his rise to fame from world-renowned bodybuilder to movie star to Governor of California.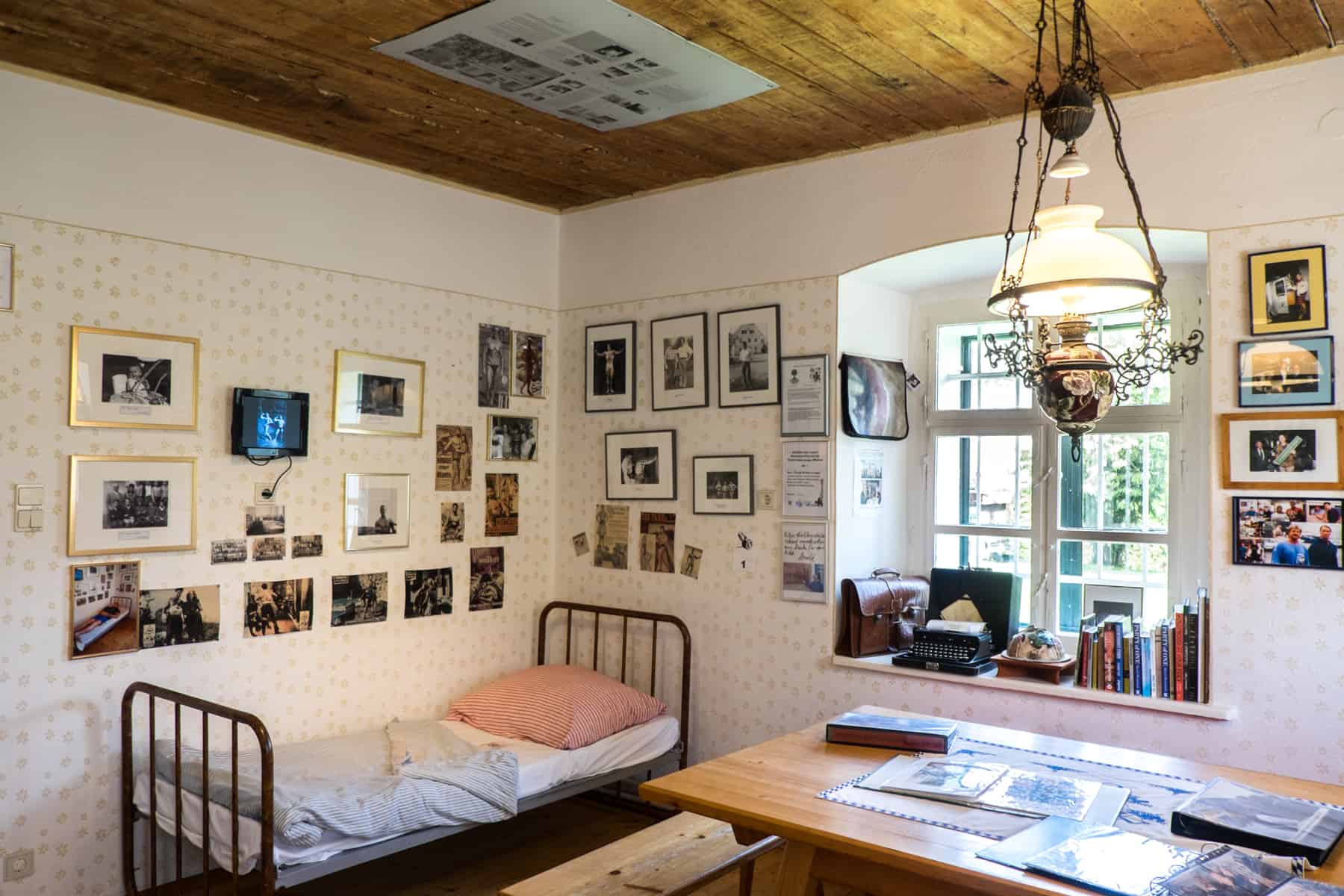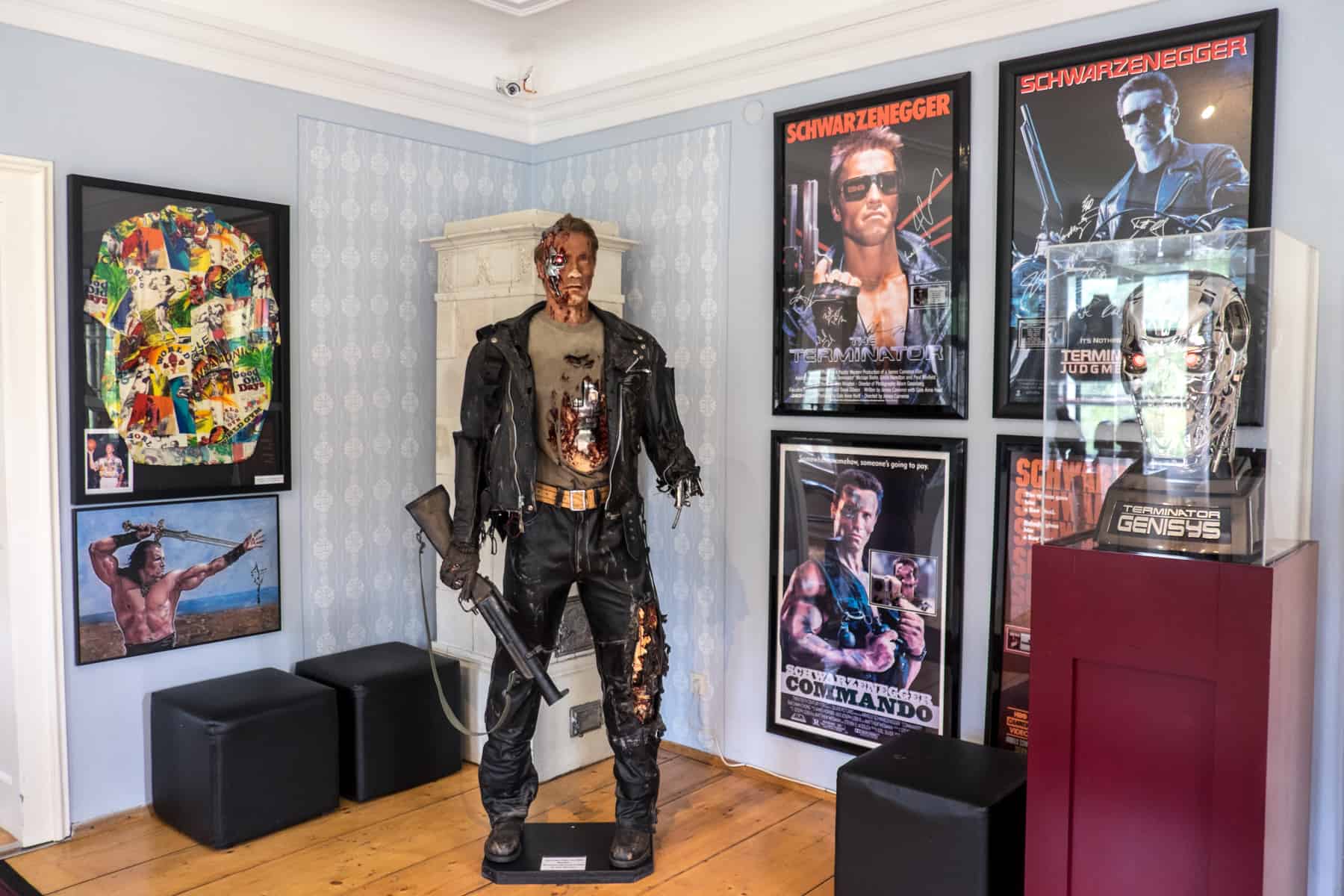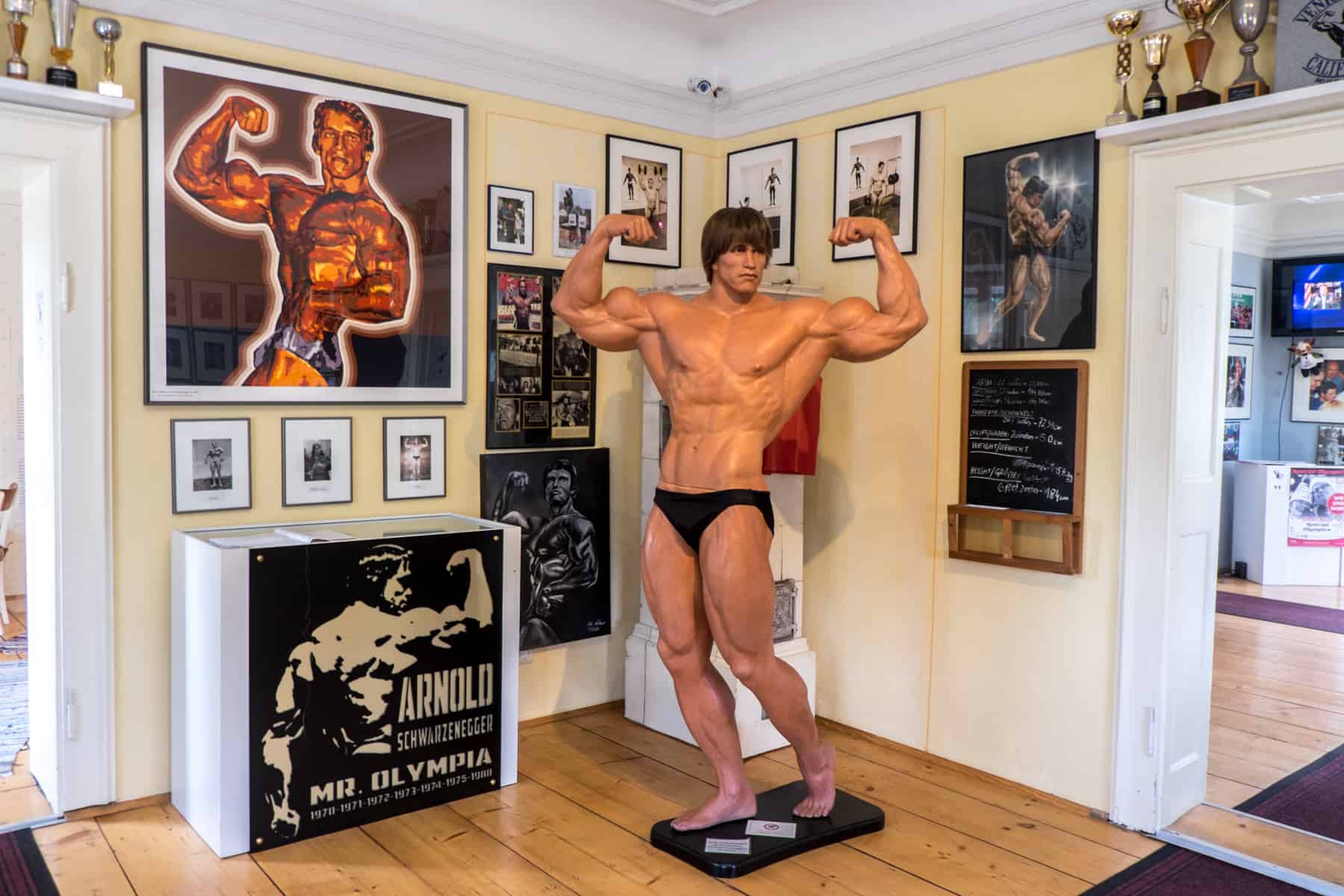 Afterwards, we stopped at Thalersee, the area's green lake Arnie trained at in his youth. You take a short stroll and relax at the lake café with a view, hire a boat, or enjoy the 9-kilometre, three-hour Arnold Schwarzenegger Hiking Trail.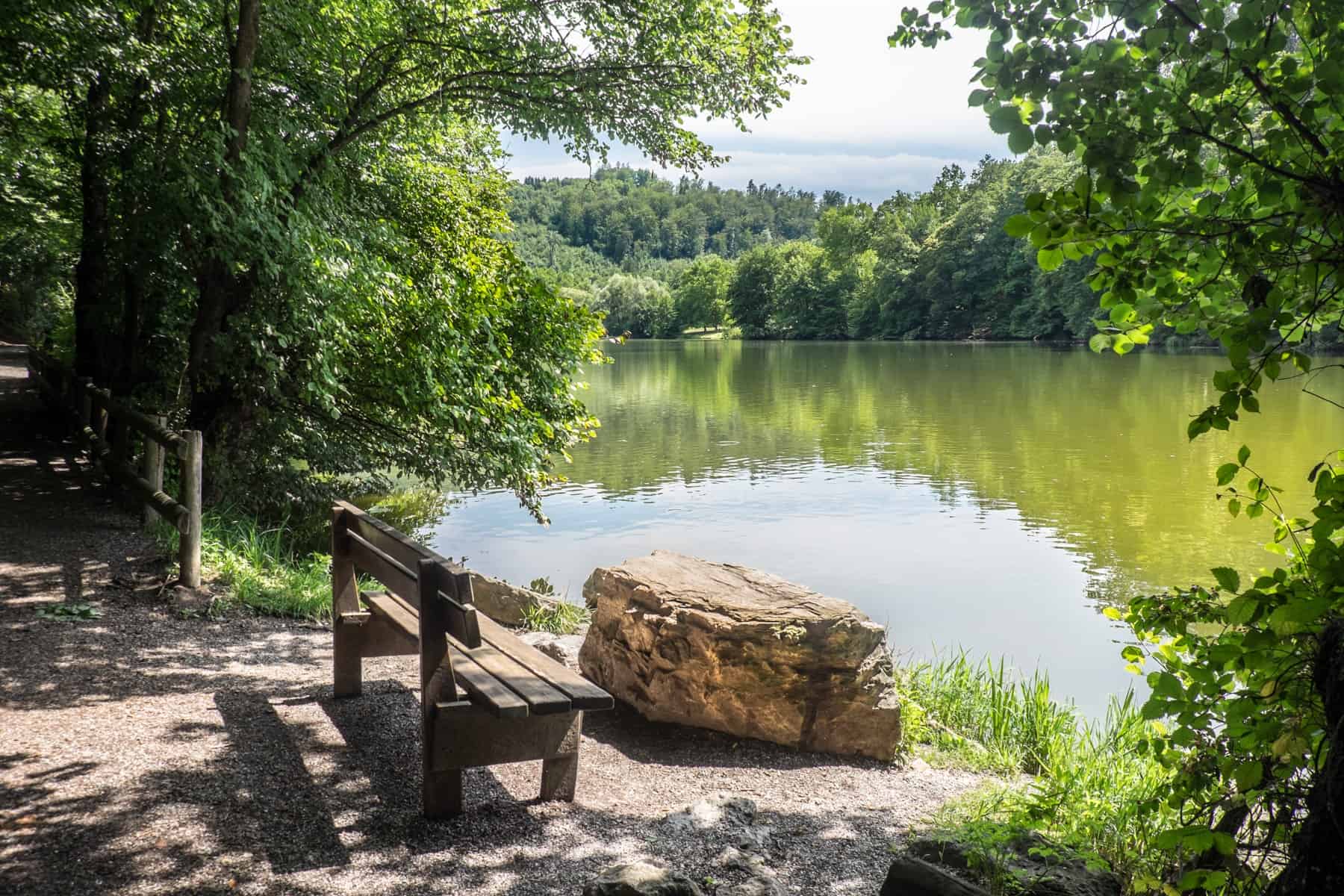 Schloss Eggenberg – UNESCO World Heritage Site
10 minutes from Graz (accessible by car and local bus services) | Admission to State Rooms, €15 | Admission to Park and Gardens, €2
The centre of Graz is far from being chaotic, but Schloss Eggenberg (Eggenberg Palace) is a place of calm and serenity right on the far boundaries of the city. Designed with a focus on harmonious architecture, it's no wonder a visit here is a chance to slow down and relax.
The historical gardens and innovative architecture of this stand-alone monument complement the UNESCO City of Design Graz, so much so that it's seen as an extension to it, with its own UNESCO World Heritage Site stamp since 2010.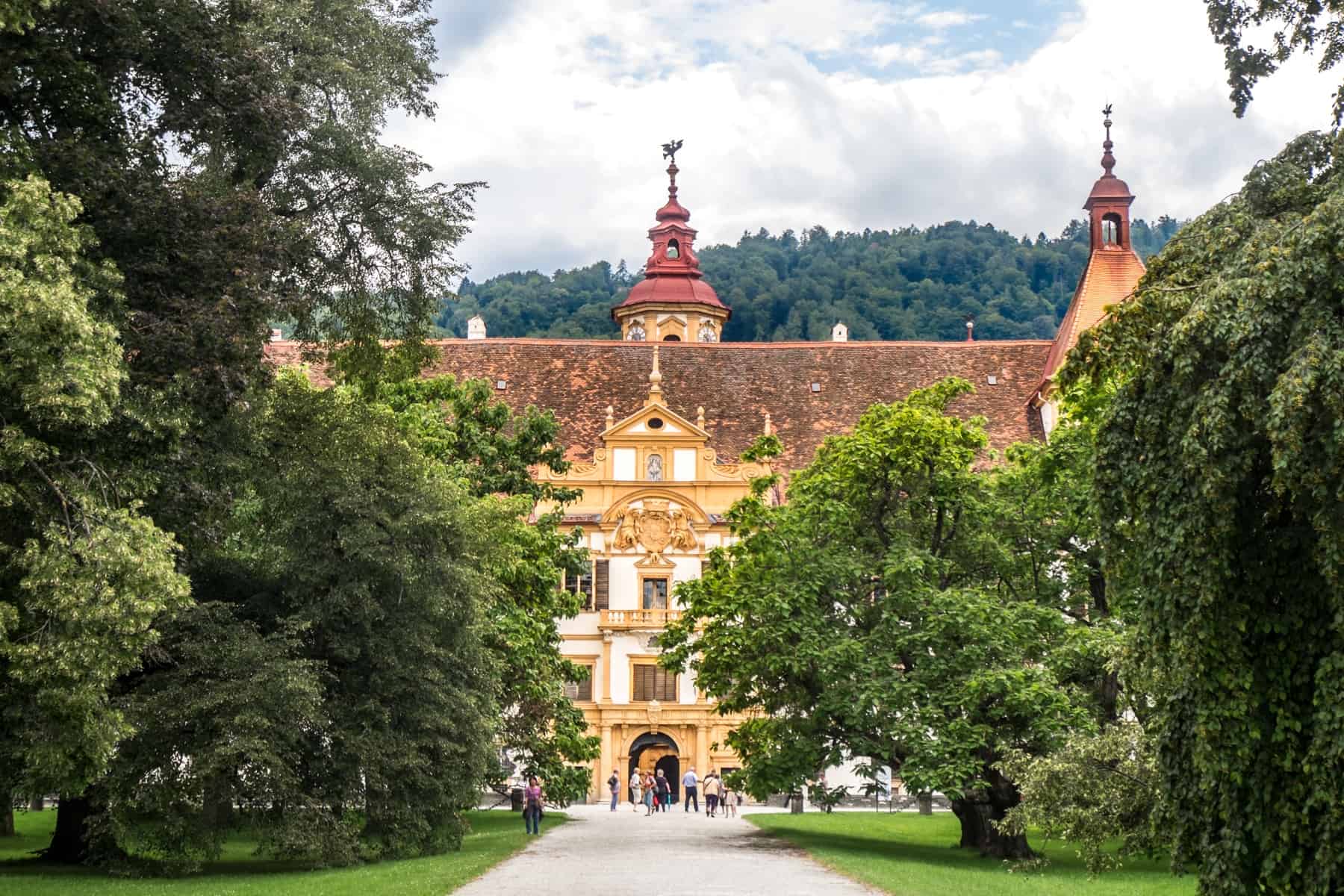 One of Austria's most significant cultural monuments, Eggenberg was eventually restored to its iconic stature after the last male heir of the Eggenberg family died in 1717, and the property's importance diminished. It passed through the hands of various noble families who expanded, rebuilt and renovated it and was taken over by the Austrian state of Styria (Steiermark) after WWII.
Today, the palace, the castle grounds and incumbent museums are part of the Universalmuseum Joanneum collective. We didn't have time to tour the palace rooms on this occasion but did pay a separate entrance fee to visit the gardens.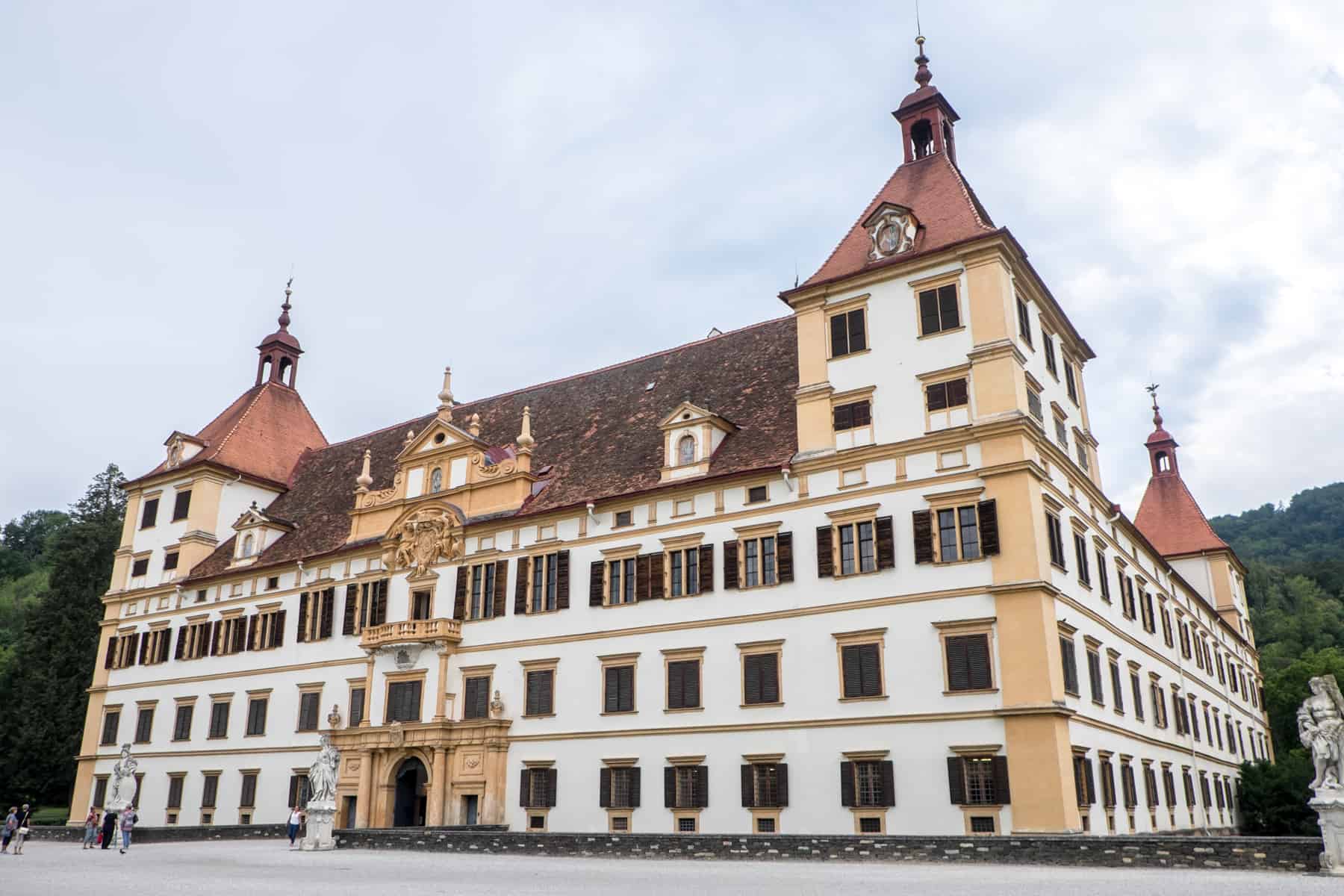 Tours of Schloss Eggenberg's 24 staterooms unveil some of Austria's best-preserved historical interiors from the 17th and 18th centuries and the precise design of the commissioned in the 16th century by Prince Hans Ulrich von Eggenberg who wanted to overturn the chaos of the 16th century.
The castle's structure was designed to align with the harmony of the universe and the precision of minutes, hours, days, weeks and seasons. You'll find four castle towers, 365 windows, and 24 staterooms on each floor. The rooms on each floor have a combined amount of 52 doors and 60 windows, and the planetary hall features the 12 signs of the zodiac.
The park connects to this palace harmony, most notably with the Planetary Garden, whose differing blooms represent the planets and their cosmic order. The era of romanticism saw additions to the gardens with water features, relaxing walking paths and today's iconic peacocks that rule the park with their majestic striding.
The new archaeology museum is the latest park addition, continuing the curation of centuries-old art and relics from the medieval period of this stately structure and beyond.
The Austrian Sculpture Park and Bathing Lake
20 minutes from Graz (accessible by free local bus services) | Free entry | Schwarzlsee lake day ticket, € 7
The Austrian Sculpture Park to the south of Graz was established in 2003 to encourage human interaction with contemporary art in an outdoor setting, away from a museum set-up.
More than 70 sculptures by international artists fill the park, showing objects outside of their everyday settings and how textures, materials and colours can evoke different meanings. The garden is manicured and moulded to complement the artworks and show a variety of perspectives.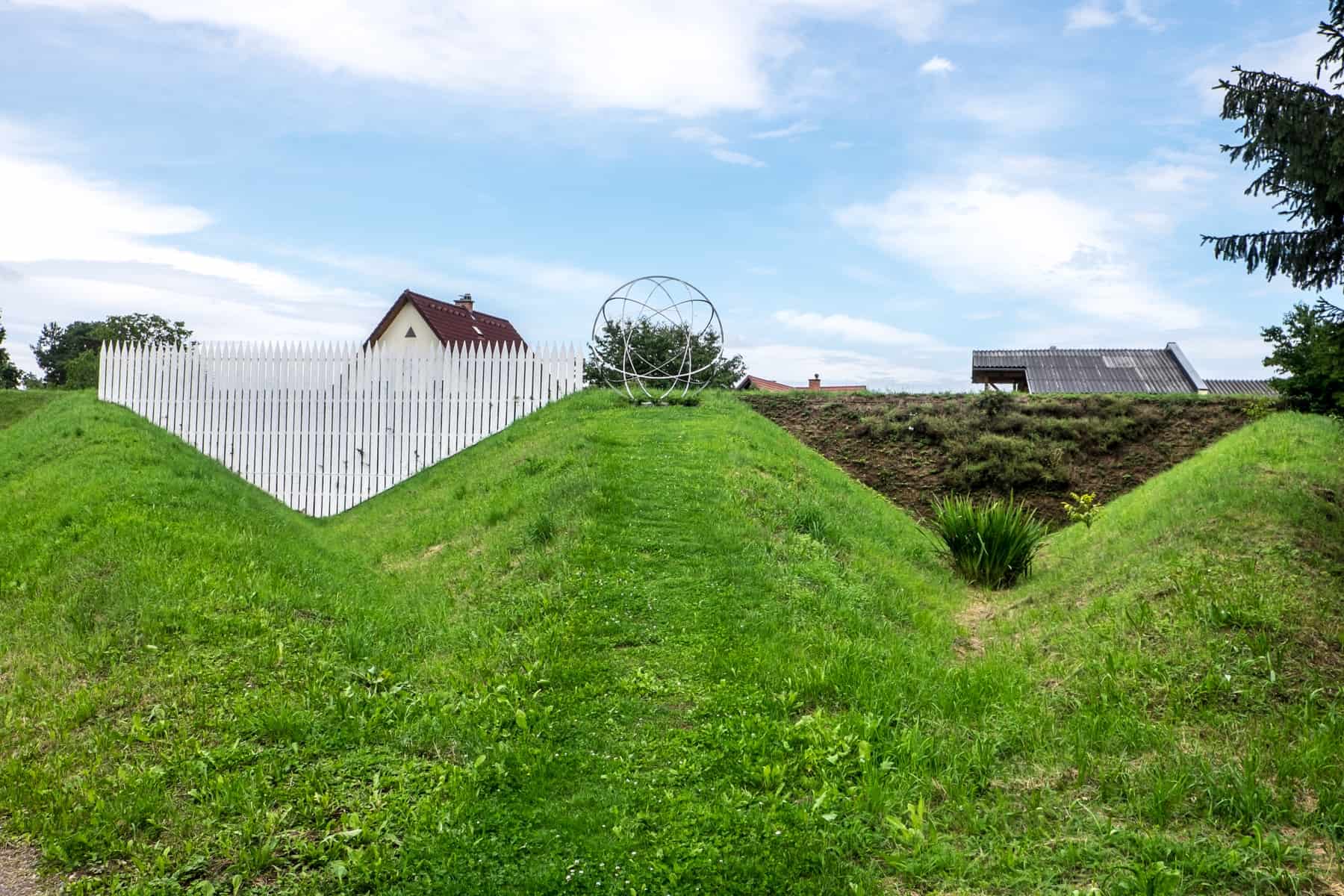 You could spend an hour or even three here. With art being subjective, there are pieces you might find confusing and others, bold and impressionable. It's all a part of the exploration. My favourites included the fat house, the concrete boat and the sculpture made from airplane parts – all of which are relatable objects, but reformulated in a different texture or repurposed to make a statement.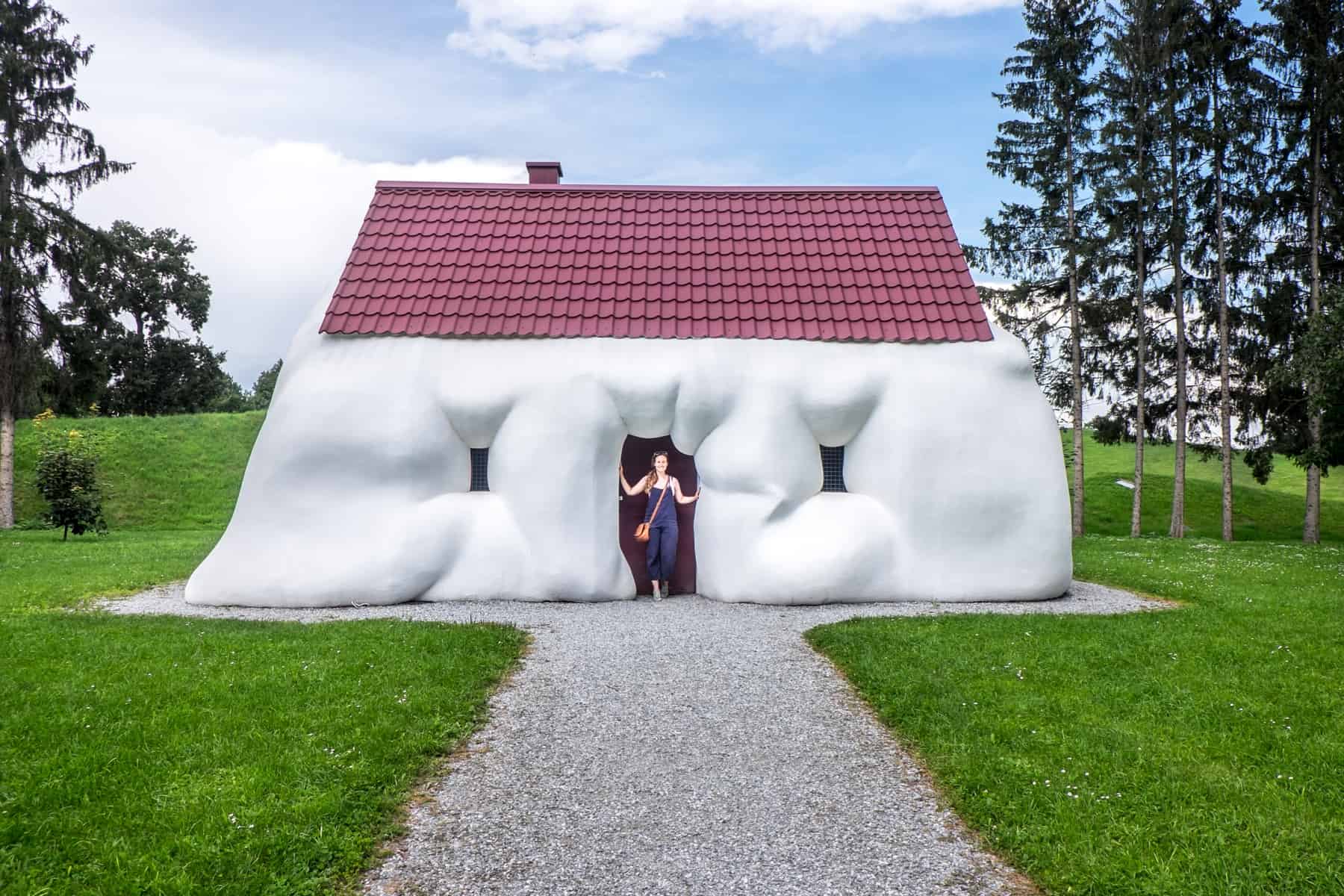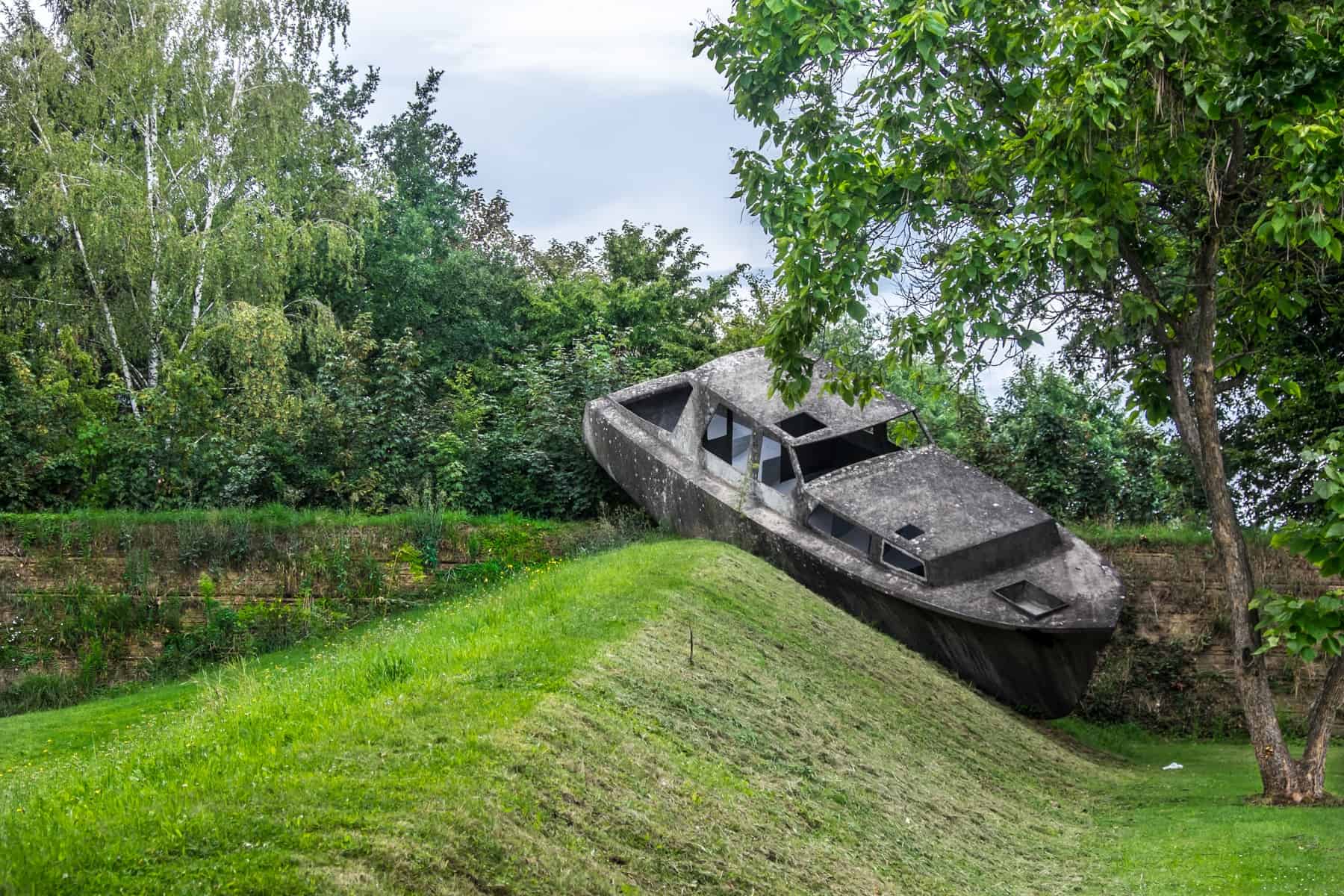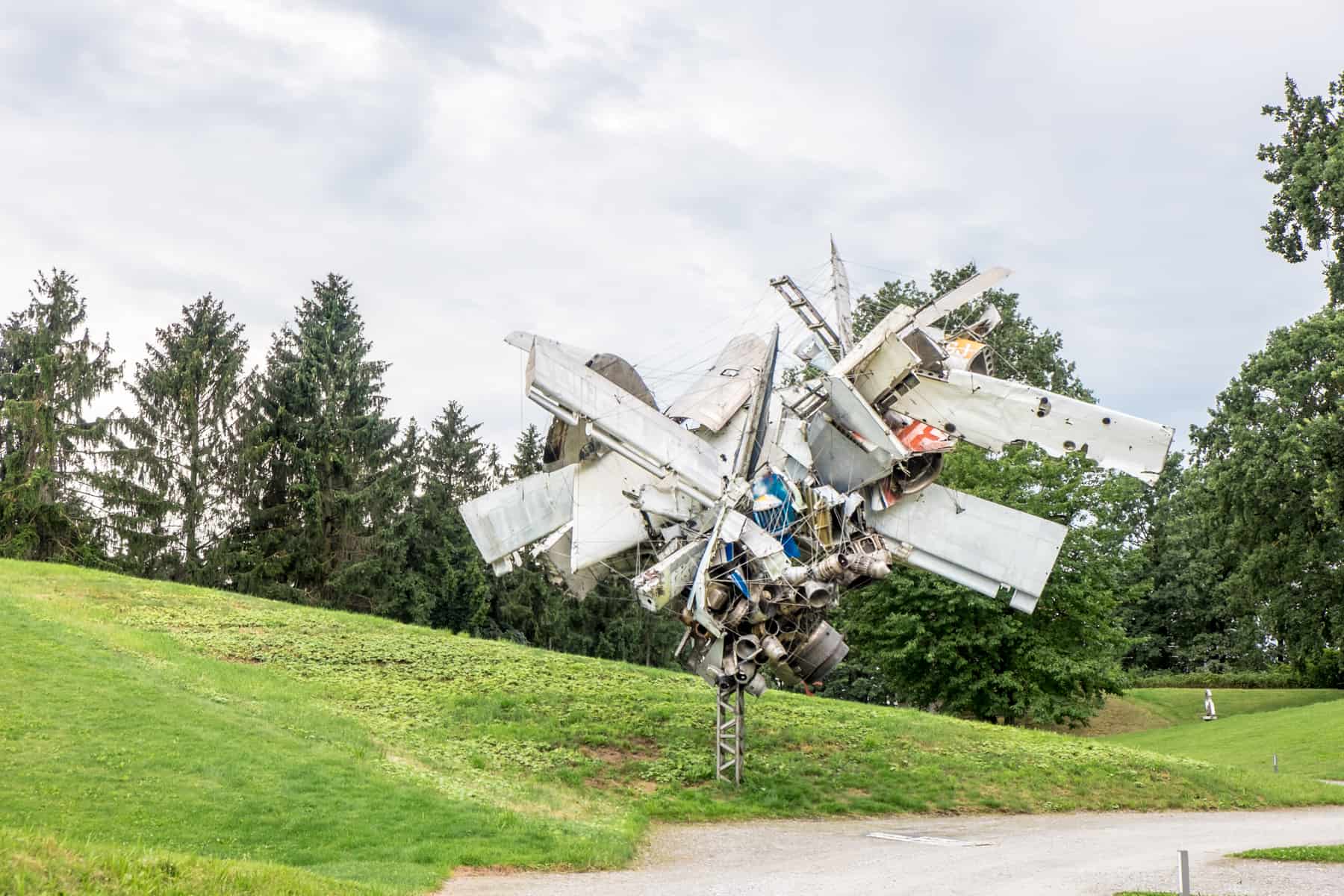 Part of the Universalmuseum Joanneum museums, the Austrian Sculpture Park is accessible via a free shuttle bus service from Graz Jakominiplatz.
Situated right next to the leisure sports and waterpark at Schwarzlsee bathing lake with pedal boats, surfing, sailing, water skiing and more, it is a perfect culture and nature combination for a Graz day trip.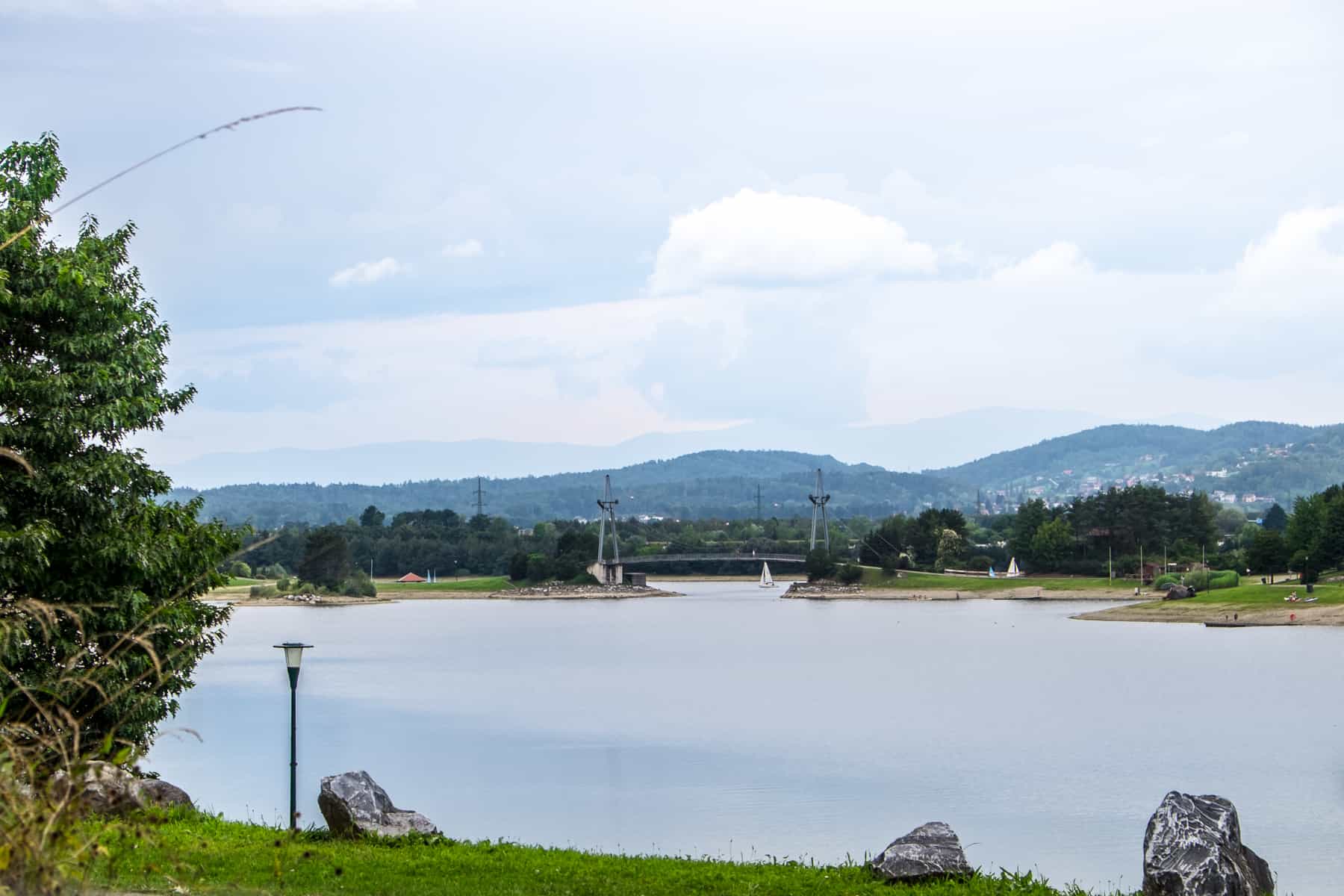 Graz Day Trips With Extra Time
Biking the South Styrian Wine Route (Die Südsteirische Weinstraße)
50 minutes from Graz (accessible by car and local train services) | Cost of e-bike: €34 per day
I've been to South Styria before, for one of those wine-filled lunches at a Buschenschank (wine tavern) with a view to a perfectly sloping vineyard valley that looks like an oil painting of a dreamy countryside. This time, I wanted to return and cycle up, down and around the hills lined with perfect rows of vines that form a gorgeous trail known as the South Styrian Wine Road (Die Südsteirische Weinstraße).
The South Styrian Wine Road is a scenic vineyard-lined route between Ehrenhausen to Leutschach, with part of it sitting on the border to Slovenia. You pass endless swaths of vineyards and their perched hilltop wineries with a proud display of product, fields of immaculate green and patchwork alpine meadows, villages and historical towns as it winds through Platsch and Berghausen and in a loop through Gamlitz and Sulztal.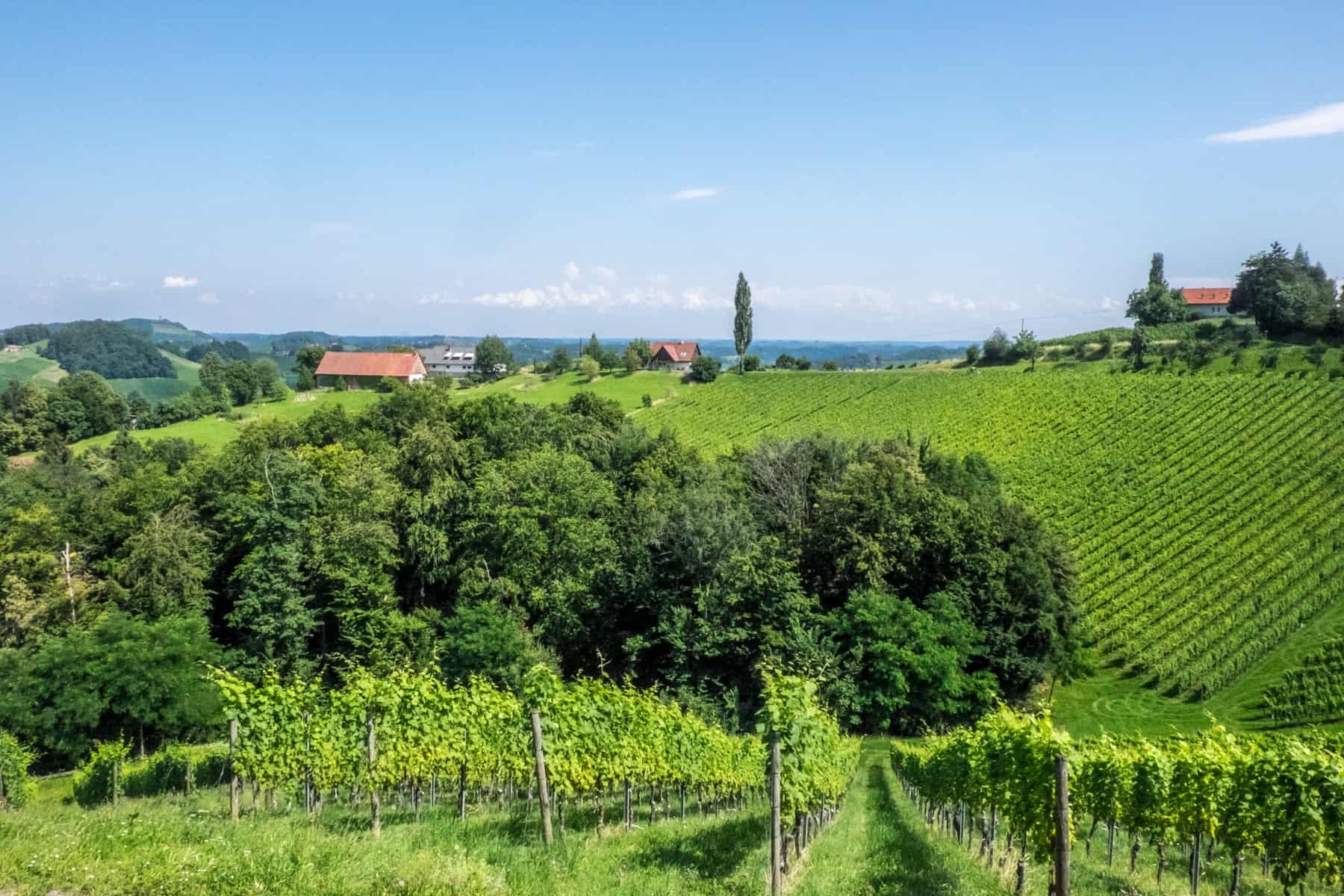 Biking in South Styria is one of the more active day trips from Graz, and therefore somewhere you may also consider as a stopover or a multi-night destination. Choosing to stay overnight to savour more of our surroundings, we checked in at Weingut Dreisiebner Stammhaus in Gamlitz, got our e-bikes and set out on the six-hour-long signposted cycle route through the Styrian Wine Country. Such exploration is encouraged here, with e-bike reservations easily made at the Tourism office in Leutschach on a day-rate basis.
We basked in crisp sunlight and flew through the breeze as we picked up speed, winding around pristine nature, passing through historical old towns and rewarding ourselves for our leisurely efforts with the natural produce – delicious, award-winning local wines.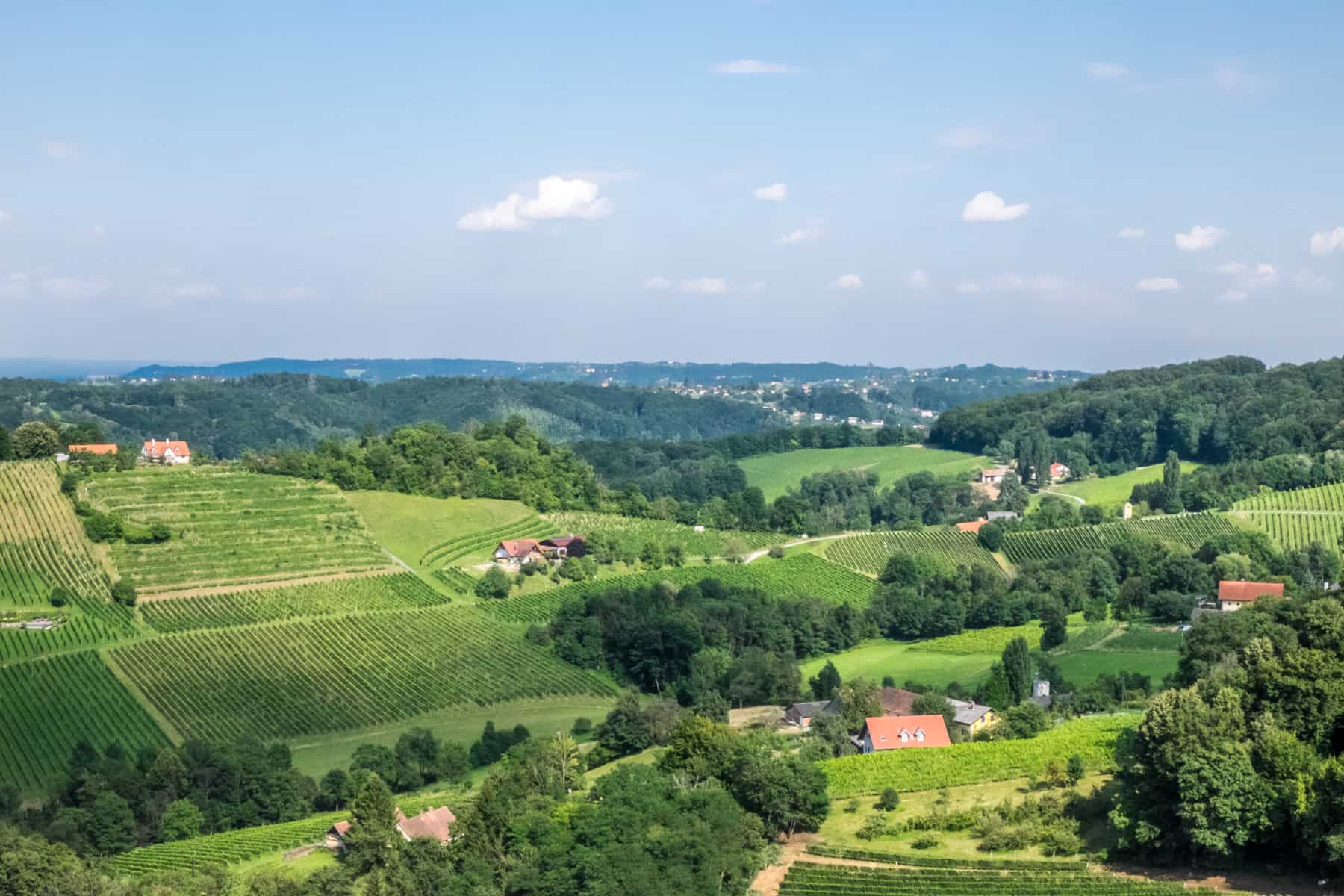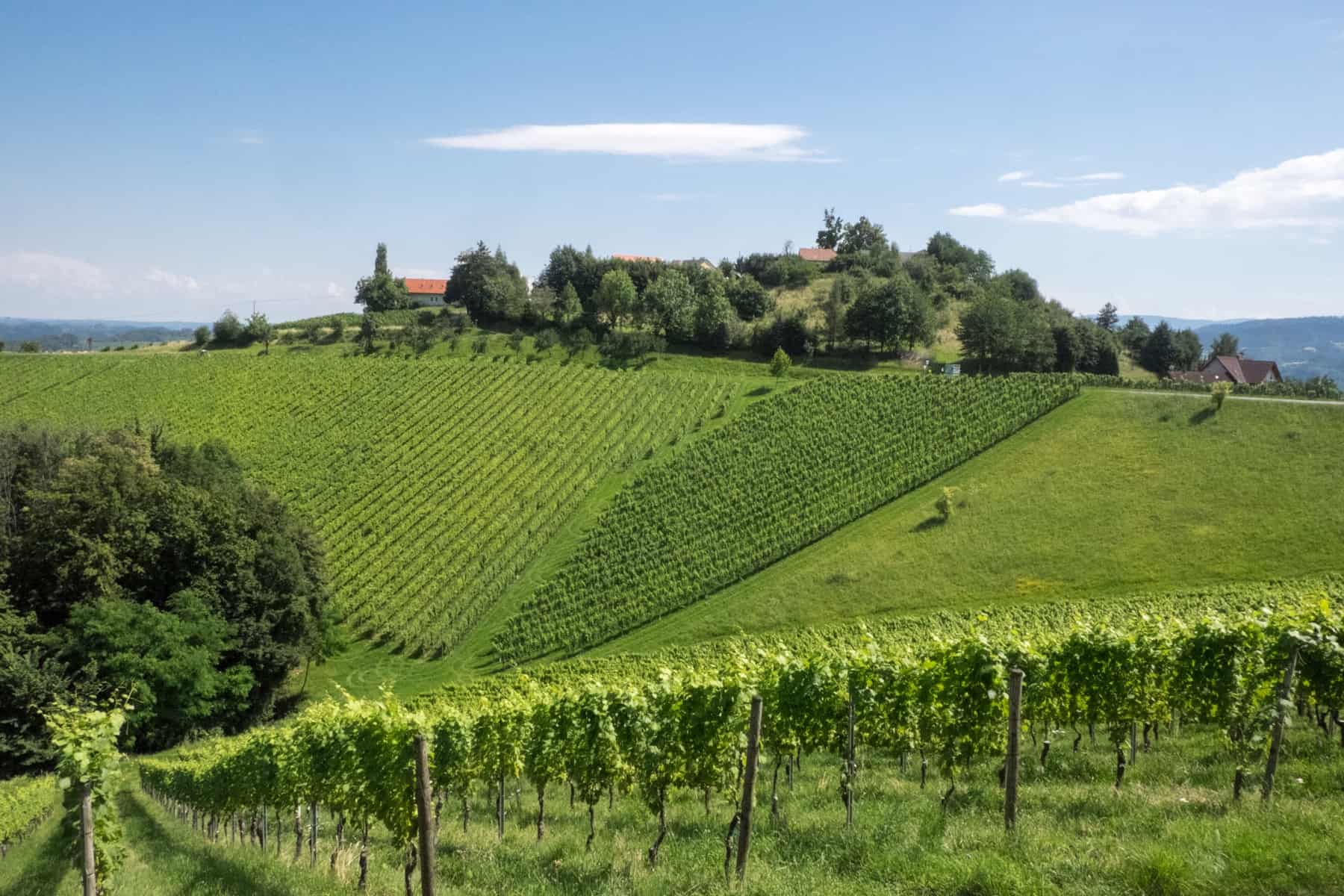 You can choose to complete the full loop on and around the South Styrian Wine Road and adapt your route to suit your timings and tastings. We cycled for around four hours and ended our exploration back at our guesthouse, indulging in the Buschenschank feast of cold cuts and local cheeses, salad drizzled with famed Styria pumpkin seed oil and complemented by a 5-glass wine tasting. Ready to put our full bellies and tired bodies straight to bed.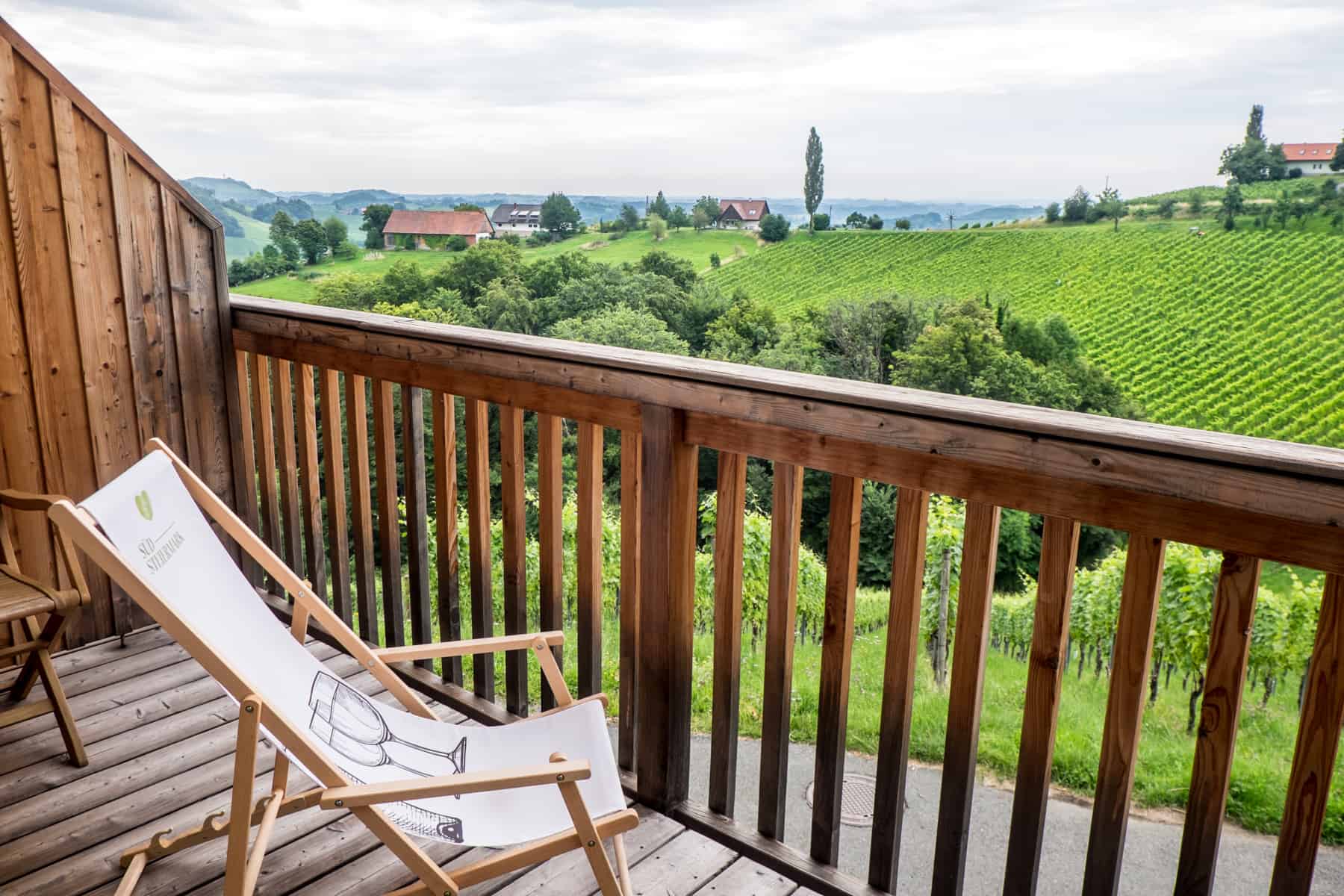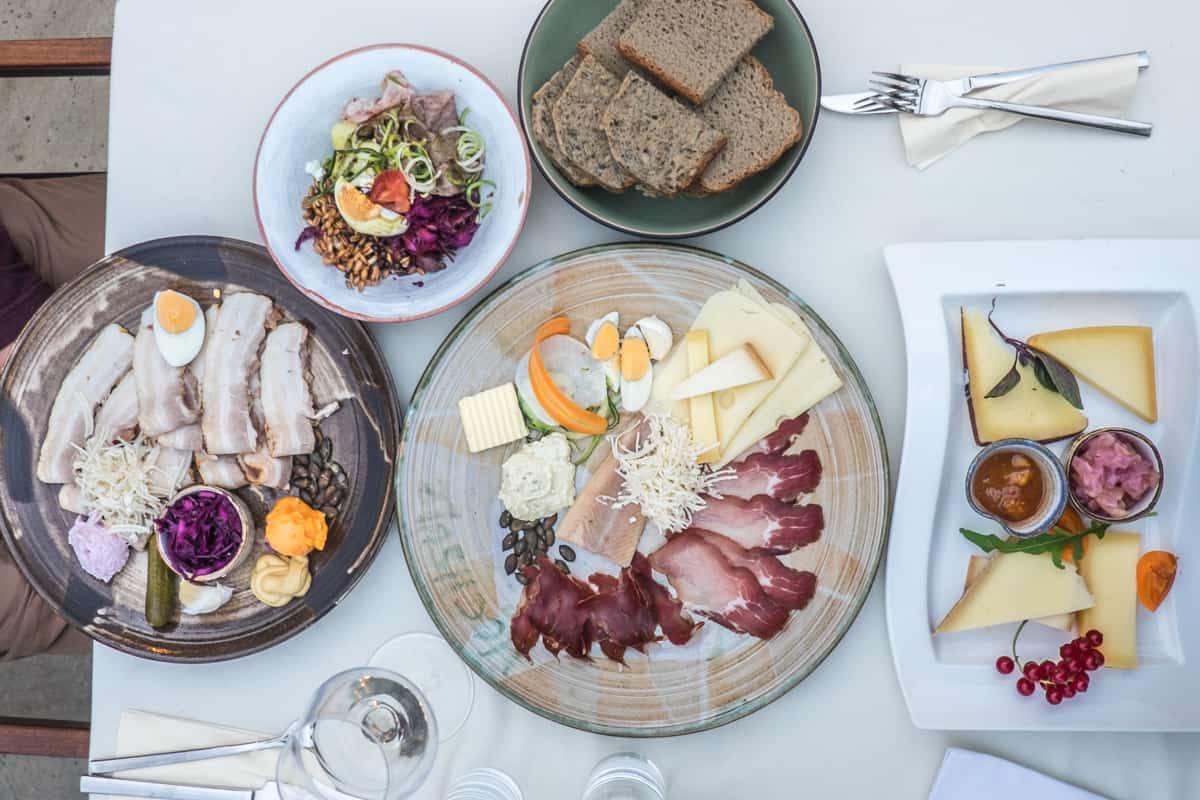 The culture here is to visit various wine taverns, taste and purchase and keep the green heart of wine tradition beating. Travelling the South Styrian Wine Road is a rite of passage on that cultural journey, as is leaving with a few bottles.
Leibnitz and Flavia Solva Roman City
40 minutes from Graz (accessible by car and local train services) | Free entry
While you could combine Leibnitz with a longer cycle route, we chose to visit separately on our way back to Vienna as it's north of the South Styrian Wine Road and more comfortable to treat as a separate city excursion.
Having seen the old roman city of Carnuntum in Lower Austria, we come to Leibnitz to visit the nearby excavations of the former Roman town of Flavia Solva – the only Roman town in Styria.
After the abandonment of Flavia Solva, most of the structural materials got reused, leaving the foundations we see today. It took until the 17th century for a city of this size to emerge again in Styria. That city was Graz.
Today, red blocks mark the wall foundations of Flavia Solva, preserving and protecting the remains. Parts of the complex are still being uncovered and studied.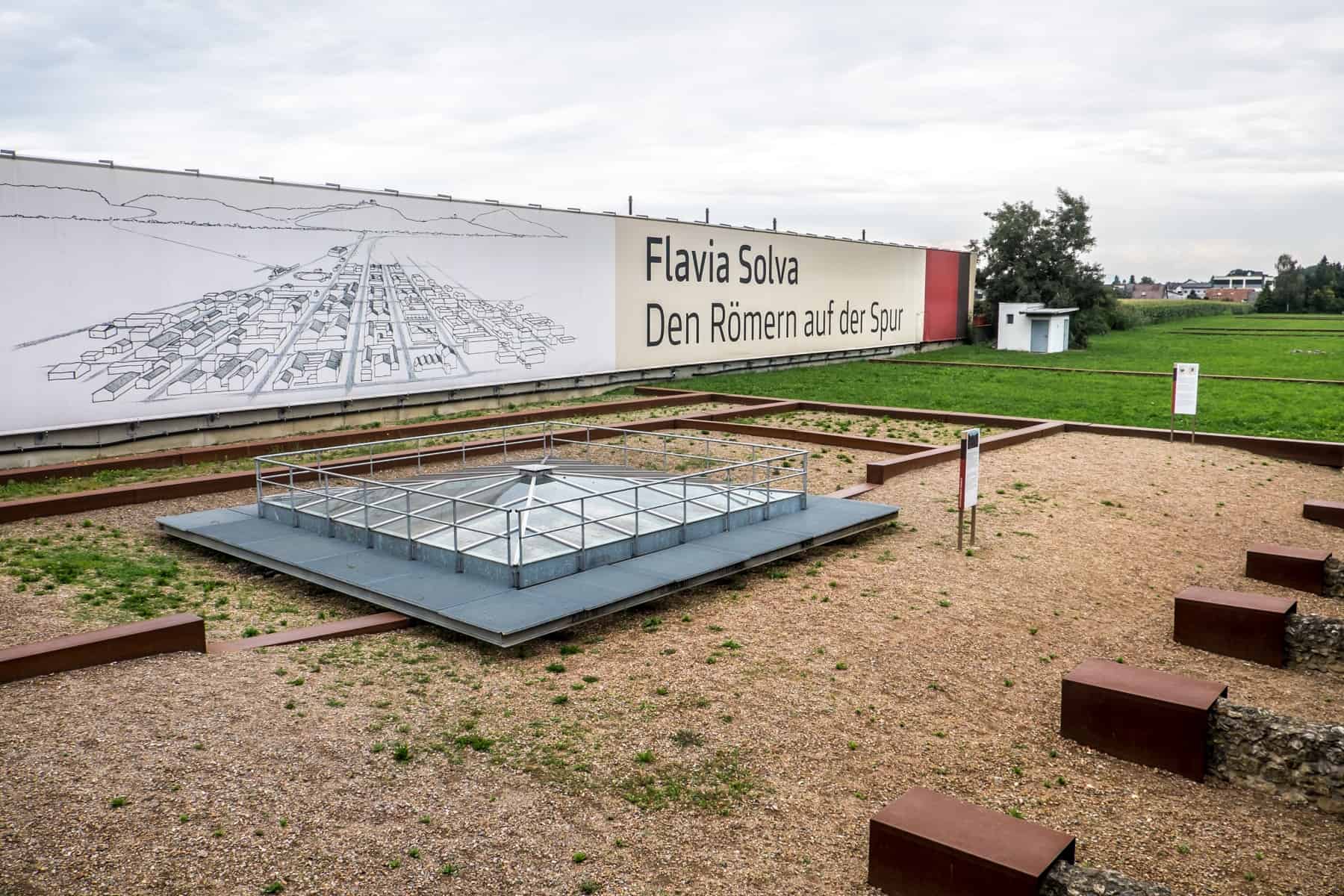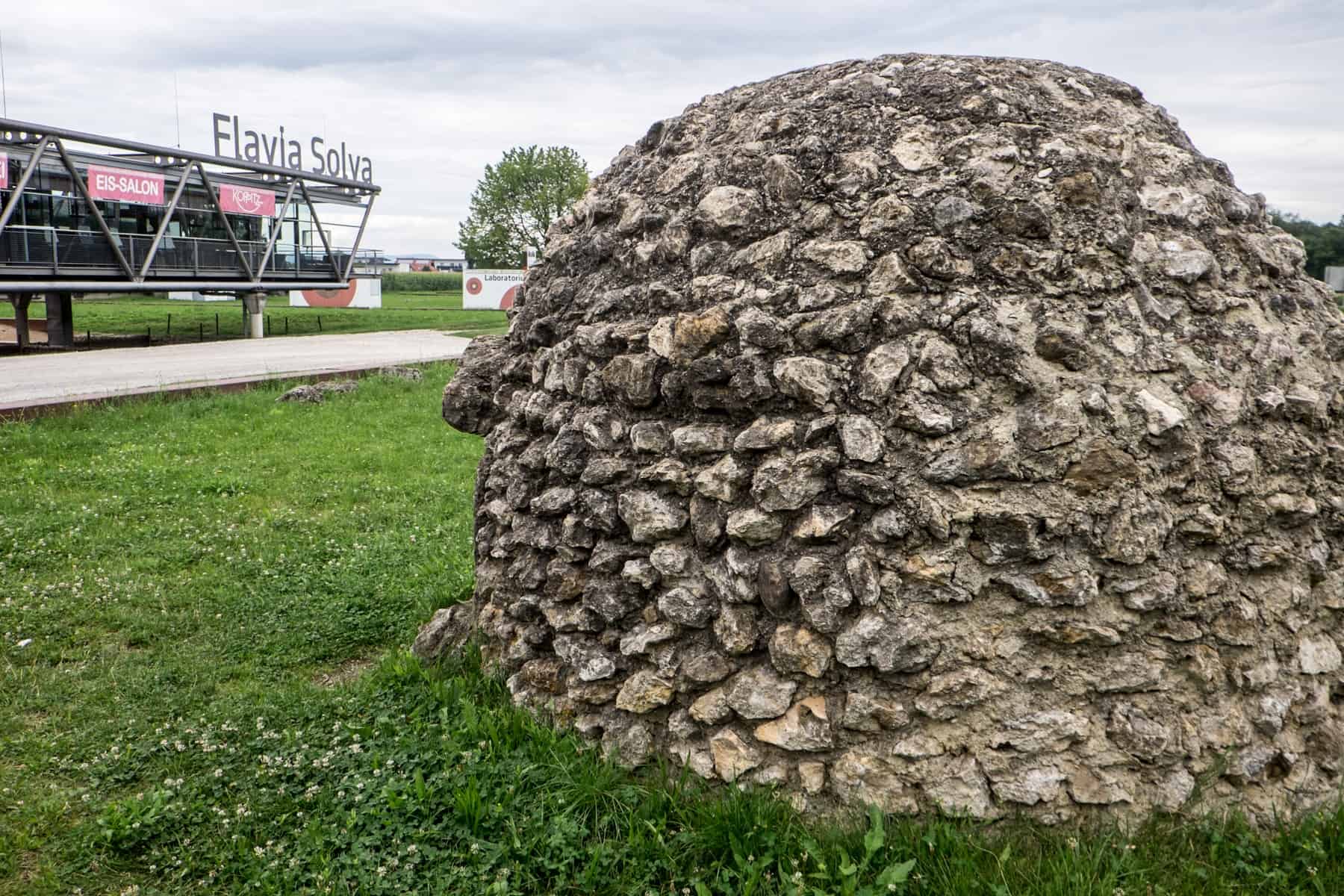 The glass structure that sits above the ruins is both a café and viewing platform and a small exhibition, showcasing archaeological finds from recent excavations including pottery, glassware, floor tiling and a tombstone.
The discovery of the Amphitheatre is an exciting historical addition to the area around Leibnitz. However, it is inaccessible because of the modern structures above it.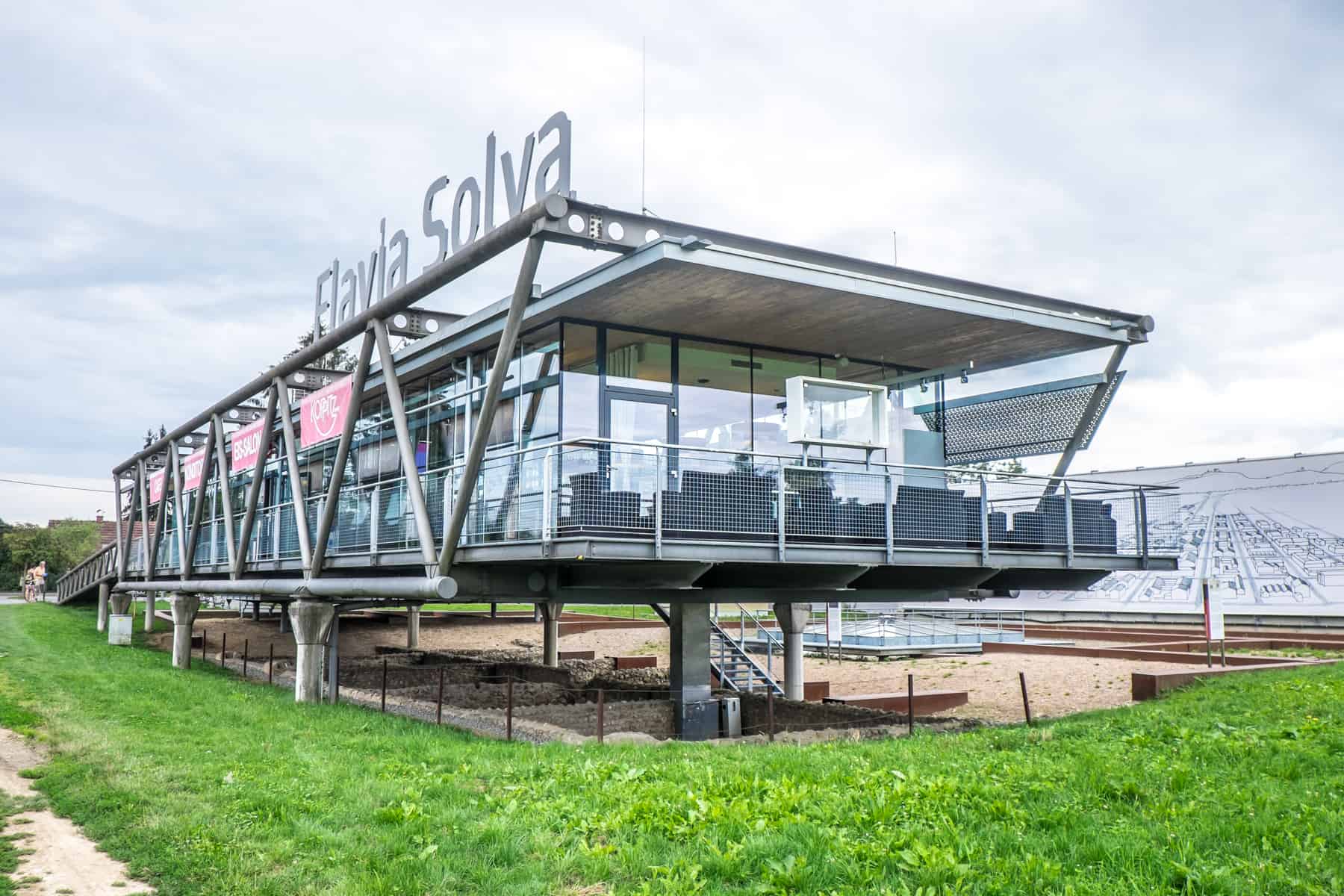 Planning a Day Trip from Graz
Why Use the City of Graz as a Base?
With cities being particularly struck during the pandemic, as people seek more isolated places, booking city-based accommodation (even if as a base for broader exploration) helps small and local businesses that are a part of the tourism economy.
Where to Stay in Graz
On this visit, we chose to stay right in the heart of the trendy, local Lend neighbourhood – an area I've always enjoyed being within, especially around Lendplatz, where the locals come together and the atmosphere is more energetic.
Lend is the kind of locale with enough boutique and upcycle stores, new-gen coffee shops, bohemian to swank restaurants, and edgy, casual bars that you could easily spend a day in without stepping foot in Graz old town.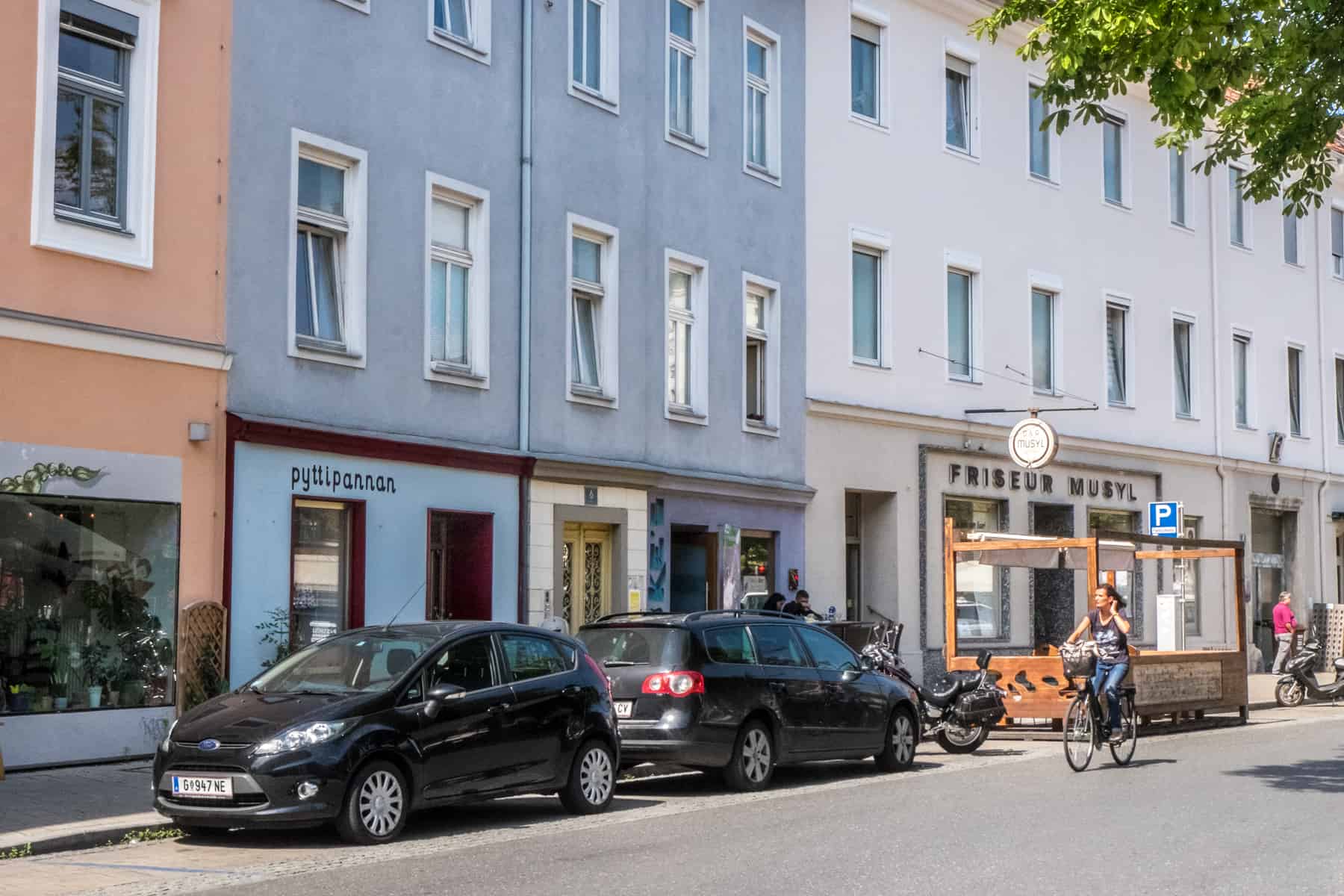 The Lend Hotel
We stayed in the Lend hotel – a stylish art hotel that's as hip as the neighbourhood and only minutes away from the main square. Rooms are smart and minimal, while every hallway wall is flush with artworks from paintings to sculptures and furniture. Breakfast is extensive and beyond the standard buffet fare, and the lounge and restaurant area is a hangout in its own right rather than just an extension to the lobby.
If you are staying there, head to the Lend hotel rooftop for an alternative view of the fringes of the historical city centre.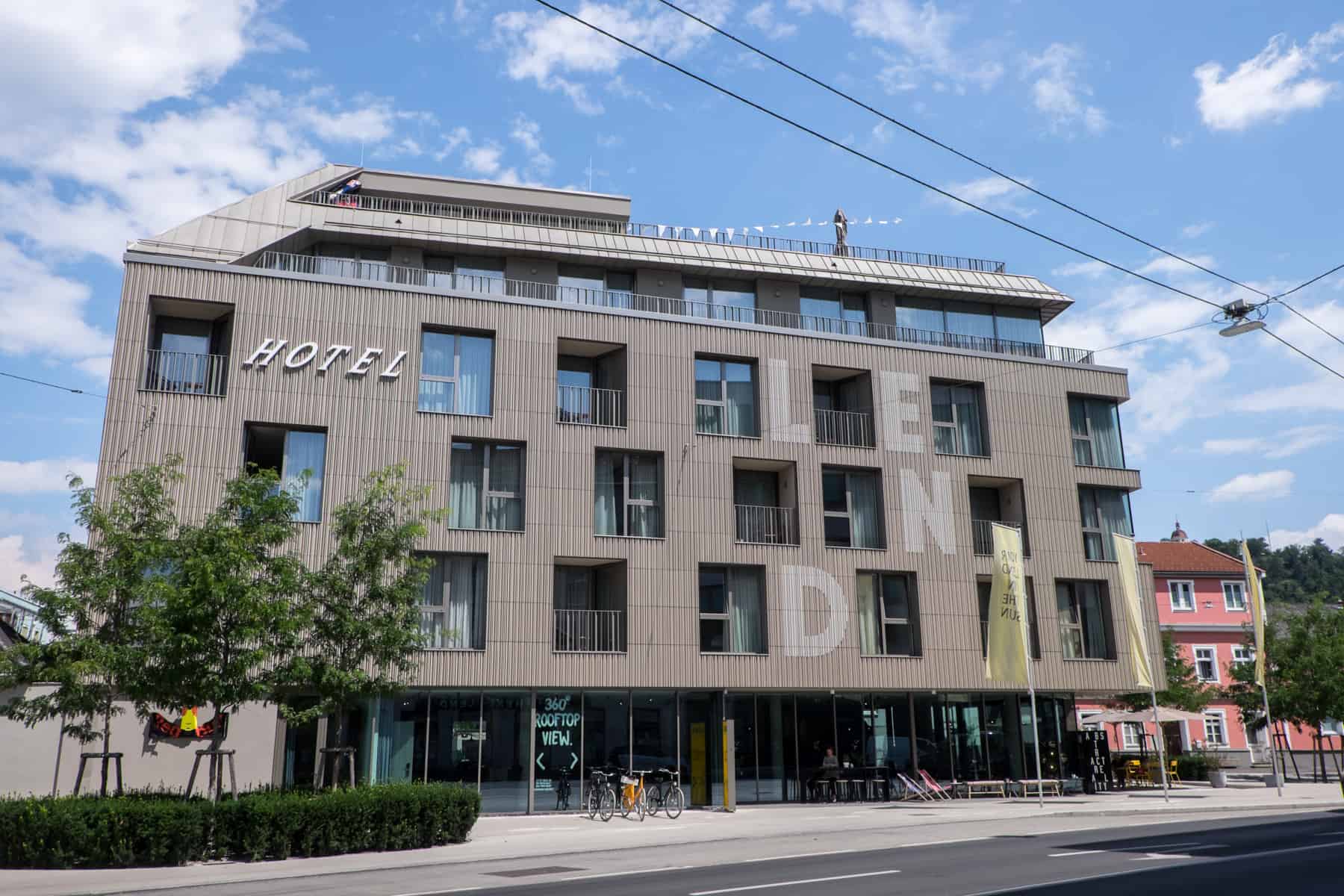 Wiesler Hotel
On my previous trips to Graz, I have stayed in the stylish, Mur Riverside Grand Hotel Wiesler Hotel that backs onto Lend and overlooks the historical old town. The Tribeca coffee shop next door is one of the best coffee shops in the city, and the in-house Salon Marie restaurant has recently had a glamorous renovation with an upgraded, internationally-inspired menu to match.
Graz Museum Tickets – Universalmusuem Joanneum
The Joanneum 24-hour and 48-hour ticket grants admission to all exhibitions under the 'Universalmusuem Joanneum', which includes all 19 Joanneum museums in Graz and Styria, including those listed in this article.
Local Transport in Graz
Those without a car and wanting to use public transport, a 1-hour ticket (valid from the tram and bus) is €2.20 and a 24 hours ticket is €5.50, which is better value for more extended exploration. The Graz-72-hour ticket for € 12.90 is the most cost-effective since it also includes the Schlossberg funicular.
Further Information on Graz
After multiple visits to the city, read my Graz travel guides to plan your city adventure.
For further insight into planning a day trip from Graz, visit the Graz Tourism website, and the Steiermark (Styria) information website.
This day trips from Graz guide was researched and compiled as part of a long-standing relationship with Graz tourism. All research, opinions and admiration of Arnold Schwarzenegger are my own.