Disclaimer: This post contains affiliate links to handpicked partners, including tours, gear and booking sites. If you click through or buy something via one of them, I may receive a small commission. This is at no extra cost to you and allows this site to keep running.
Travel to Myanmar isn't possible right now.
Military Coup – February 2021
As of 1st February 2021, Myanmar's military staged a coup d'etat after the National League for Democracy (NLD) party won the election for the second time. Senior party members, including Aung San Suu Kyi and President Win Myint, were detained in the capital, Naypyidaw. Tanks are on the streets, and lines of communication across the country are down. Civilians are being murdered every day.
This is not the time to visit Myanmar when the country is in a state of emergency.
Other ways to keep up to date on the situation:
Cost of Travel in Myanmar
One of the main questions I am asked about my time living, working and travelling around Southeast Asia is, "How much does it cost to travel in Myanmar?" and exactly how much money I ended up spending there in one month. It's something that seems to be one of the main concerns about travelling here, there since it's not as trodden as other areas in the region.
In reality, those who shout grand figures are scaremongering (or living in luxury) since Myanmar is not as expensive as you may think.
Myanmar Daily Budget for Travel
Average Daily Costs in Myanmar
Myanmar costs on average of $35 per day, including food and drink.
Travel in Myanmar does depend on the type of traveller you are. Whilst I was happy to crash in a dorm or share a room with a random traveller I met on the bus to split the cost, many preferred the comfort of having a room to themselves or the indulgence that came with the more premium hotels. However, as the latter are government military-owned, it brings in the whole other debate of responsible travel.
Costs of Accommodation in Myanmar
The average cost of a low-budget hotel room in Myanmar is $25.
A bed in a dorm is approximately $10.
Food and drink costs will obviously vary from person to person, and whether you can split the costs amongst a group, and it's likely your alcohol budget will decrease here seeing as there is a distinct lack of night-life in the towns and cities. However, should you wish to unwind, beer is relatively cheap at approximately $2 a bottle.
Cost of Food and Drink in Myanmar
Food and drink in Myanmar can fall within a reasonable $10 per day budget.
Myanmar Cost Planning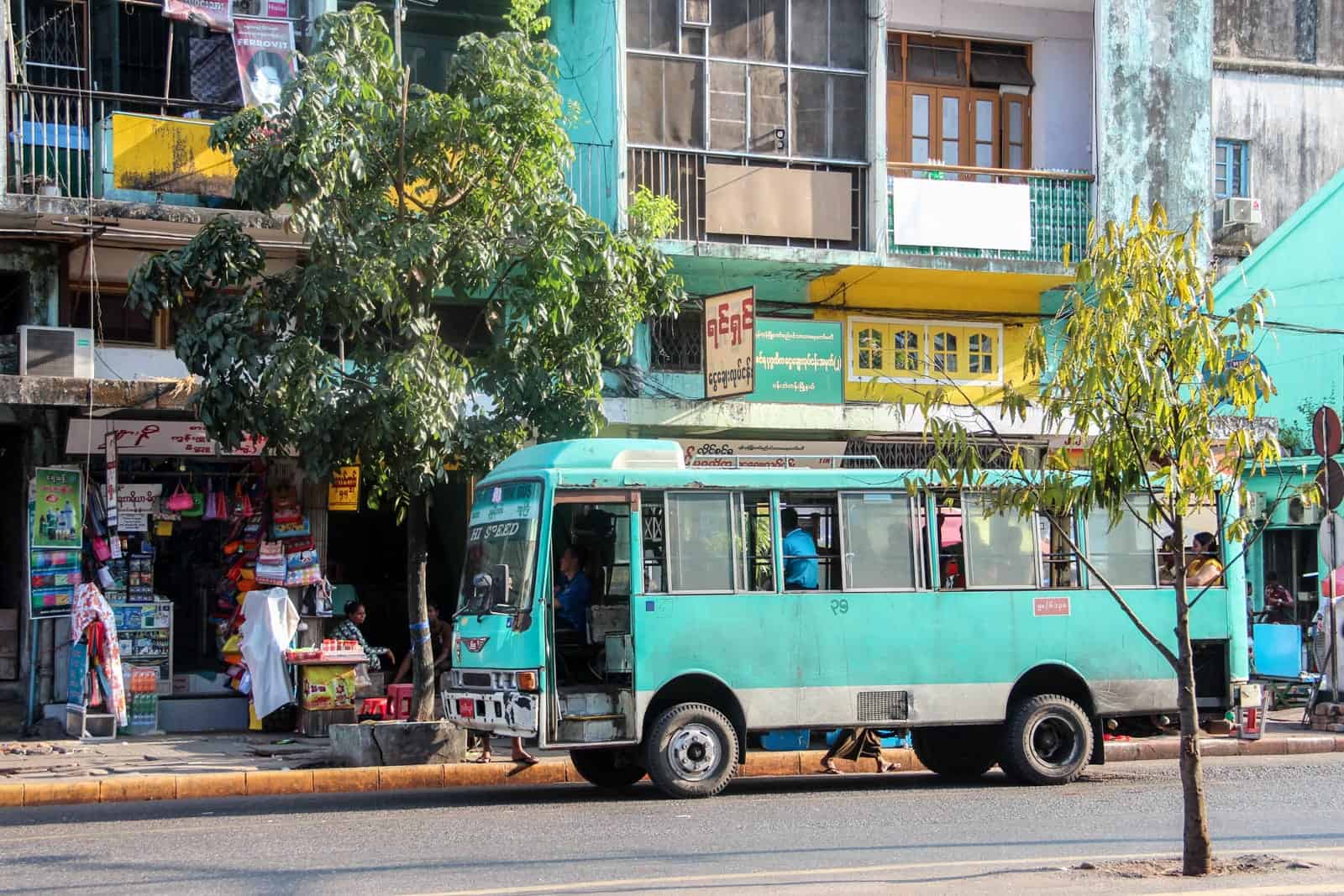 Myanmar costs can be low when you spend local and your money is also in better hands. As a budget guide to Myanmar, I have listed my main daily costs below to highlight how backpacking travel here can be done just as cheaply as in any other country in South East Asia.
Rough conversations for the Kyat to the dollar when dealing with a transport or tour related transaction is around 1,600 kyat to the dollar (as of the last quarter of 2018). When I was travelling, the exchange rate was around 800-900 kyat to the dollar, and they rounded the conversion to 1 dollar = 1,000 kyat. So, when a room for the night was $25, they typically asked for 25,000 kyats, rather than working to an official exchange rate. I was losing a small chunk each time but 'rounding up' is typically the way things are calculated here.
Most locals are happy to accept kyat instead of dollars if you are running low, but you will be paying more – so if the current exchange rate is approximately just under 1600 kyat to the dollar, many will simply round your dollar up to a straight 1,600 kyat.
Generally, all accommodation rates and buses (if booked from your hotel) are paid in dollars, which is the best means to pay where possible. Local transport links and the hire of guides and motos are paid for in Kyat, as is food, drink and local purchases such as street food and at the markets.
For ease of reference, I have converted all Kyat transactions below to dollars. I have also included the names of the guesthouses and hotels I used, all of which I recommend and would use again – single room rates are listed, unless otherwise stated.
The Lonely Planet Myanmar is one of the best guidebooks for Myanmar and was my go-to aid, serving as a good resource for planning and for contacts details to pre-arrange accommodations etc.
READ MORE: A Comprehensive Guide to Travelling in Myanmar: What You Should Know Before You Arrive
How Much Does it Cost to Travel in Each Myanmar Destination?
Yangon
Taxi from airport to city centre
Motherland Inn guesthouse per night
Taxi within the city centre – the average journey
Mawlamyine
Bus from Yangon to Mawlamyine
Tuk tuk to the guesthouse
Breeze Guesthouse per night
Moto driver guide/moto hire
Dawei
Bus from Malaymine to Dawei
Tuk tuk to the guesthouse
Coconut Bungalows Guesthouse per night
Hire of moto for a day tour
Myeik
Tuk tuk to town centre/guesthouse
Kyal Pyan Hotel per night
Flight from Myeik to Yangon
Kalaw
Golden Lily Guesthouse per night
Three days, two-night trek to Inle Lake
Inle Lake
Aquarius Inn Guesthouse per night
Find hostels in Inle Lake (Nyaung Shwe)
Book a hotel in Inle Lake (Nyaung Shwe)
Bagan
Bus from Inle Lake to Bagan
New Park Guesthouse per night
Mandalay
Bus from Bagan to Mandalay
Nylon Hotel

$20 (shared by 2)
$15 (single rate)
Bus from Pyin Oo Lywn to Mandalay
Transfer bus to Mandalay airport
Hsipaw
Bus from Mandalay to Hsipaw
Mr Charles Guesthouse

$10 (single) $7 (shared by 2)
Half-day trek/half-day boat trip
Pyin Oo Lywn
Train from Hsipaw to Pyin Oo Lywn
Bus from Pyin Oo Lywn to Mandalay
The cost of travelling in Myanmar is only as expensive as you make it.
If you are happy to relinquish the need for home comforts, ultimate luxury and grand meals for a few days or weeks, and are willing to embrace living more simply and locally, then travel in the country is not out of reach of the average traveller's budget.
Some of my best experiences were on local transport and residential street food stalls, and I can't wait to go back, even if the prices do slightly increase.
Myanmar Tour Costs
Due to time or the fact you want a little more organisation in a country that can be more difficult to navigate in comparison to Thailand, Cambodia, Laos and Vietnam on the more trodden Southeast Asia Path, then you may be considering a small group tour in Myanmar or which includes Myanmar on a longer Asia itinerary.
I have been travelling with G Adventures for over 15 years, and am also one of their travel ambassadors, so can highly vouch for their services and ethics when it comes to travelling for social good and with a positive social impact on people and place.
Myanmar tour costs can vary depending on how many days, and what extra activities you factor in (on top of what is already included in the itinerary).
The G Adventures tour is a two-week exploration that takes you in a loop between Mandalay and Yangon, including all the major highlights. Keeping money in local hands and supporting community initiatives, this trip includes riding local slow trains and boat trips and experiencing a hill-tribe trek.
This extensive Myanmar trip costs around $1800 and includes all accommodation, some meals, all transportation between each destination, including the internal flight, site visits and guided tours, as well as the hill-tribe trek.
A budget to factor in if you want extra peace of mind.
Myanmar Travel Cost Budget Tips – Pin It!