"Swing the bar across!" Tini shouts over and over from the chair ahead as I scramble at my first attempt on a ski lift – one of the first memories from learning to ski in Tirol, Austria.
My safety bar has been open a few seconds too long as the chair gently eases its way up the slopes in Tirol's St. Johann. I'm alone on this simple apparatus, clutching my heavy skis for dear life while trying to work out where to place my arms and legs and lock myself in.
Despite instruction, the ski lift seems like a daunting machine as you master the bars and foot placement, and all its metal angles and wobbles. My instructor is the kind of woman who would push you on it if she had to, her dry humour and infectious laughter engulfing you in a hilarious baptism of ski lesson fire. She knew that making a pro out of me would mean not holding my hand, and that also meant not scratching the surface of this sport on a flat patch of land at the very bottom of the mountain, as many resorts would normally suggest doing.
Instead, I would get to see much of what lies up ahead in this landscape I've come to call the 'Narnia of Europe', and the ski lift journey was only the teaser to a day of tumbles and funny mishaps on my ski journey.
Why Choose Austria for Ski Lessons?
If I was going to learn how to ski, it had to be here in Austria, on what is considered some of the best slopes in the world.
Here I was, back in the beautiful Kitzbüheler Alpen region, where I had previously spent a very adventurous summer – in winter, home to two of Austria's largest ski areas that rate among the top ten globally.
St. Johann in Tirol, a new location on for my second visit, is located at the centre of this huge area that stretches to Salzburg, and it's 42km of slopes are known as an ideal spot for beginners.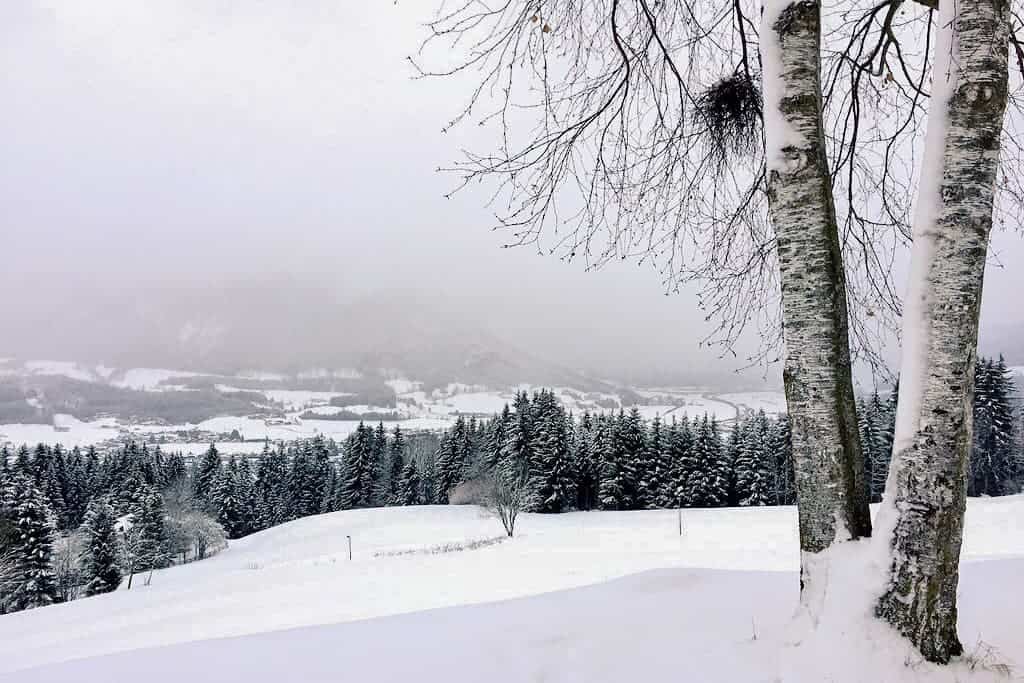 "What did I tell you about which way to hold your skis?" Tini remarks with a cheeky grin as soon as I am off the lift, trudging haphazardly over the crunchy snow as others are gracefully swooping off, before rounding the corner to start their descent. She taught us the correct way to balance the skis over your shoulder, with the front curved edge facing forward and the heal-binding on your shoulder. I'm an amateur.
"Remember, you won't look like a beginner if you carry them the right way."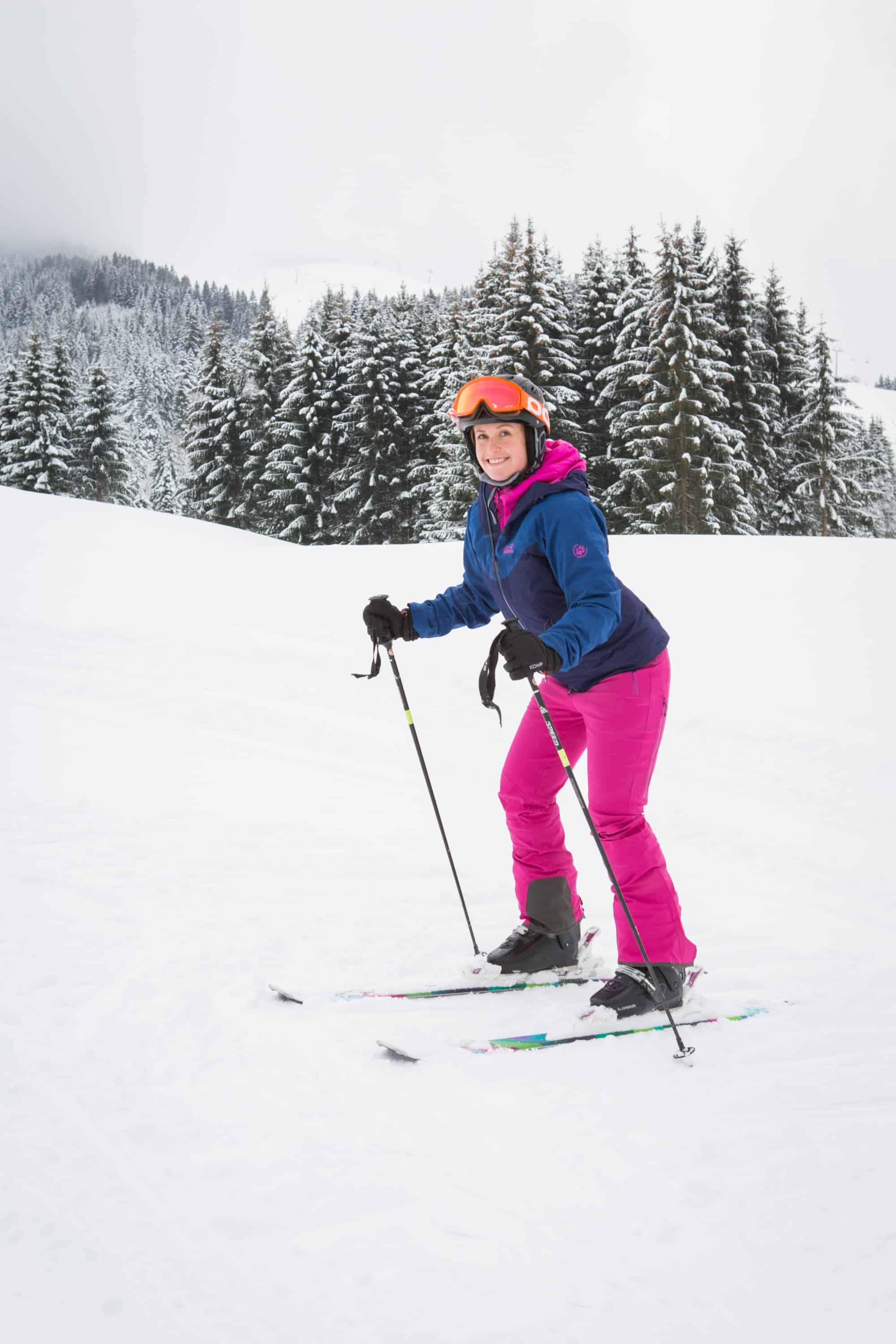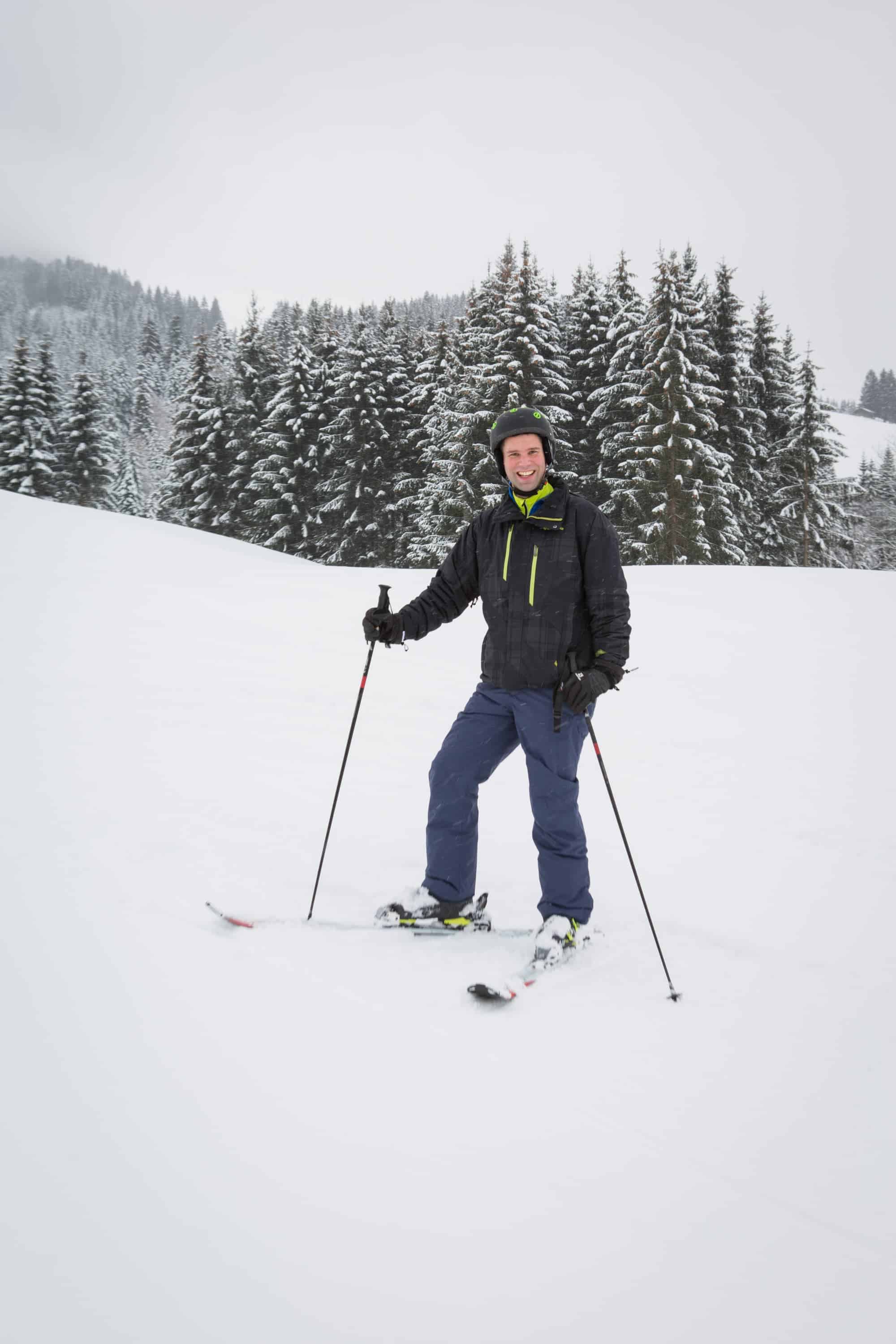 We were taken to a spot with a gentle incline, next to a traditional Austrian hut. It was calming and beautifully still – a patch of sugary white-coated space that belonged to us almost exclusively for those two short hours before a sporadic run of colourful bodies glided down for their hearty lunch.
The slope wasn't large, but I knew immediately that I wanted to be halfway up it and gracefully descending by the end of my two-hour lesson. We were taught how to clip in and out of our skis and how to balance, before starting the real workout – climbing up the slope sideways, cutting the bottom ski in the snow at an angle to ensure you had a grip while inching up.
It was Tini's sole purpose for us to achieve one main goal, aside from having fun – to make the shape of an A with our skis. In essence, we needed to learn how to stop and for that we had to glide towards her, knowing that we would get a hug for our efforts (rather than knock her over).
"Up again!" you hear after joyous high fives. There are no excuses, for laziness does not make an athlete. It's painful and wearing, but you have to mentally push yourself knowing that the fun part is getting back down.
Tini forms a makeshift finish line with her sticks and asks me to stop dead on them with my plough (the 'A') on my way down. I'm getting good now and I need to up the ante, yet I fail many times and glide past, still happy I was moving at speed.
"Good, but you didn't stop on the line. Up! Up!" She points in the direction of the hill; an indicator to begin another climb, while my friend Erik glides down and is continuously told, "Where was your A?" He begins his next ascent as I poise myself to fly down, sticks out to the side, like a slalom skier ready for a quick turn.
Aim high.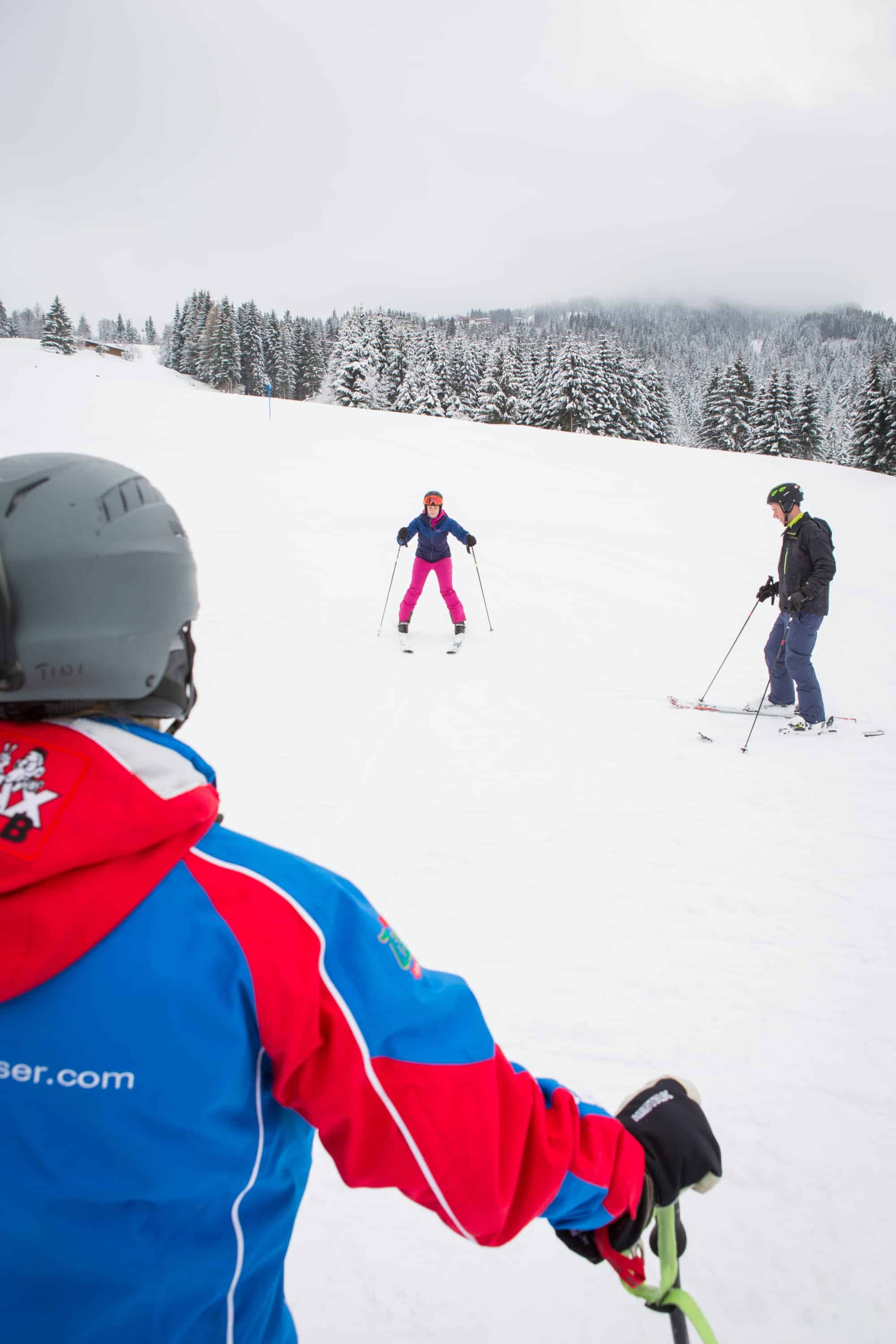 Then it suddenly all clicks. The initial falls and tumbles at the beginning are forgotten about now that I had acquired the balance, the control, and the basic technique, all combined with the thrill of cutting through a small patch of land. I climbed and glided over and over until I no longer made any mistakes.
The two hours came to a close, and I asked Tini how long it would take me before I could go and play with the bigger kids out there. She had landed herself quite the over-achiever who was already feeling very left out.
Being told that, with a private instructor and another full day of lessons (two sets of two-hour slots) I should be straight on the 'blue slopes', was a dream. For someone who has failed miserably at snowboarding (despite enjoying it) and who has so desperately wanted to experience the thrill of winter sports for many years, I couldn't have been happier.
"Tini, so can I go higher now?" I said with a huge grin, knowing I was pushing the boundaries, brimming with confidence. I'd always asked if I go as far as the blue flag pole in the distance at the start of every climb like it was the winning line.
She had always said no. Not now. Not yet.
"You can go as high as you like," she finally said. "Because I know that you can get down here with no problem at all."
The blue pole was much further than I had anticipated, and I climbed as high as I could without exhausting myself, calling out to her to watch, like a child needing a mother's validation of a new skill.
All I've ever wanted was to explore a mountain just like this and while I had to take the scenic ski lift ride down, I watched the swerving dots of colour whoosh through the stunning landscape, speckled with flag markers, trees and pretty wooden huts.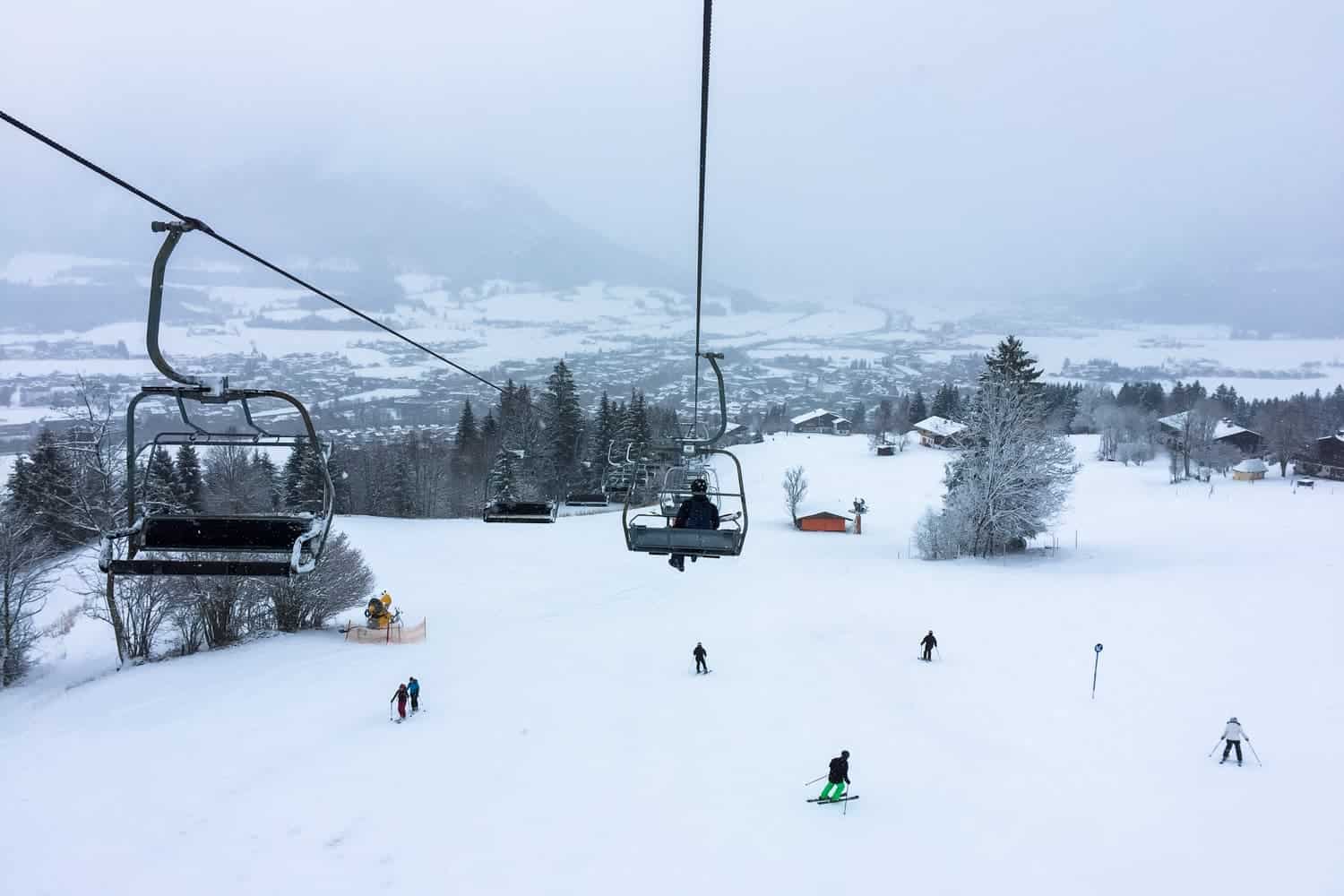 "That will be me next year," I keep telling myself, over and over.
The Kitzbuheler Alpen was my new winter playground; Austria my new crazy love affair.
And I'll conquer it, no matter what. Even if I have to wait another year.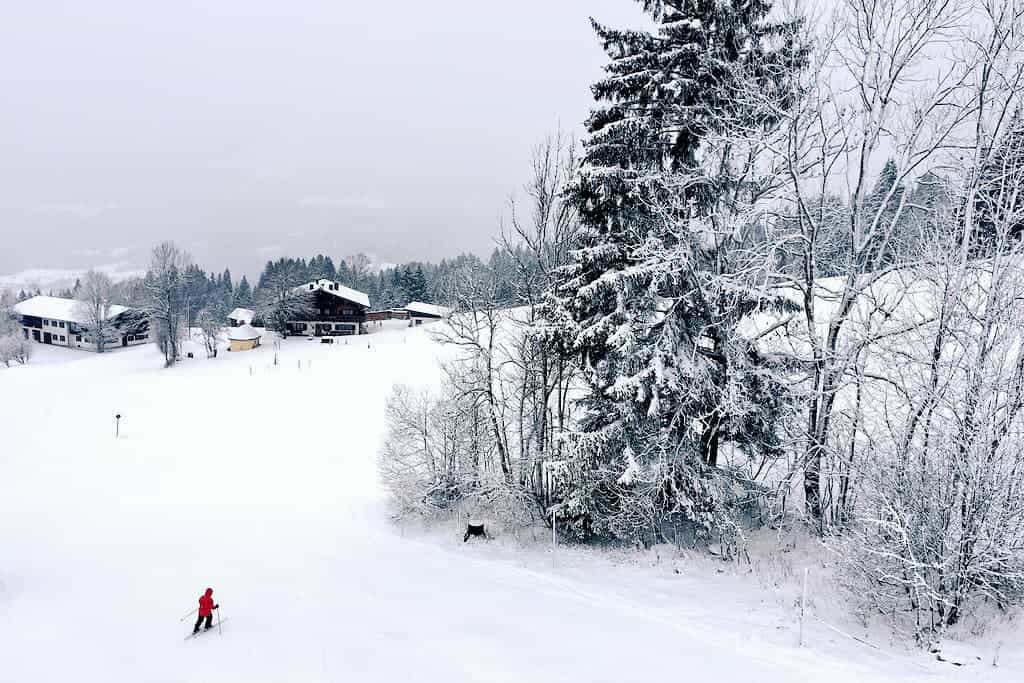 Things To Know About Skiing in Tirol Kitzbulher Alpen:
Want to Learn to Ski in Tirol? Pin It!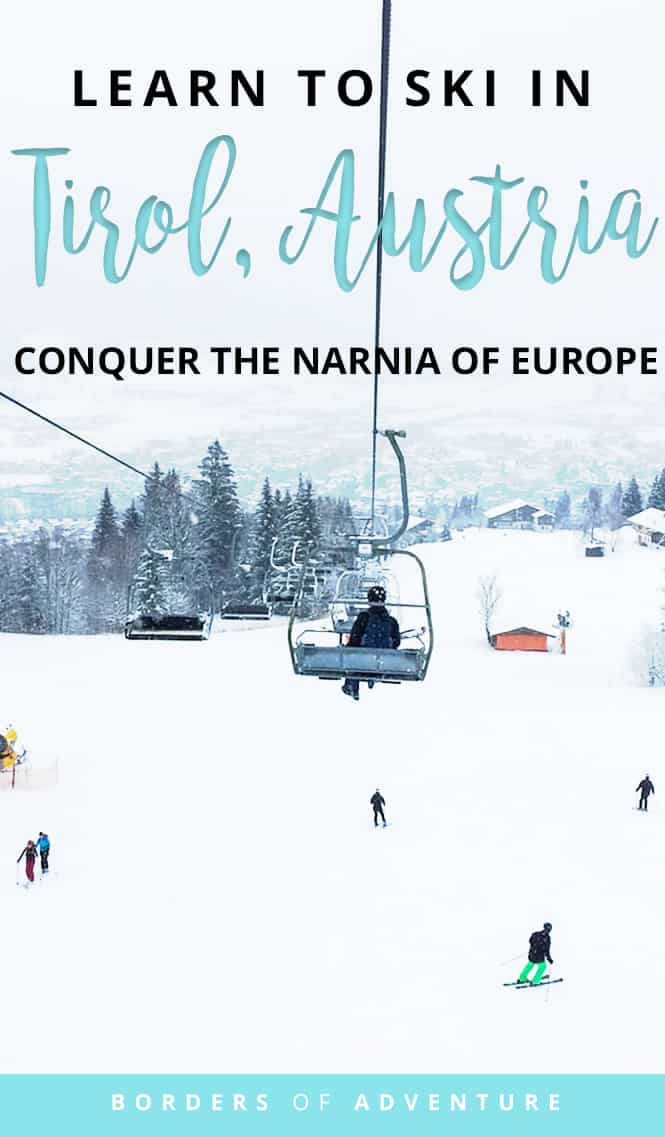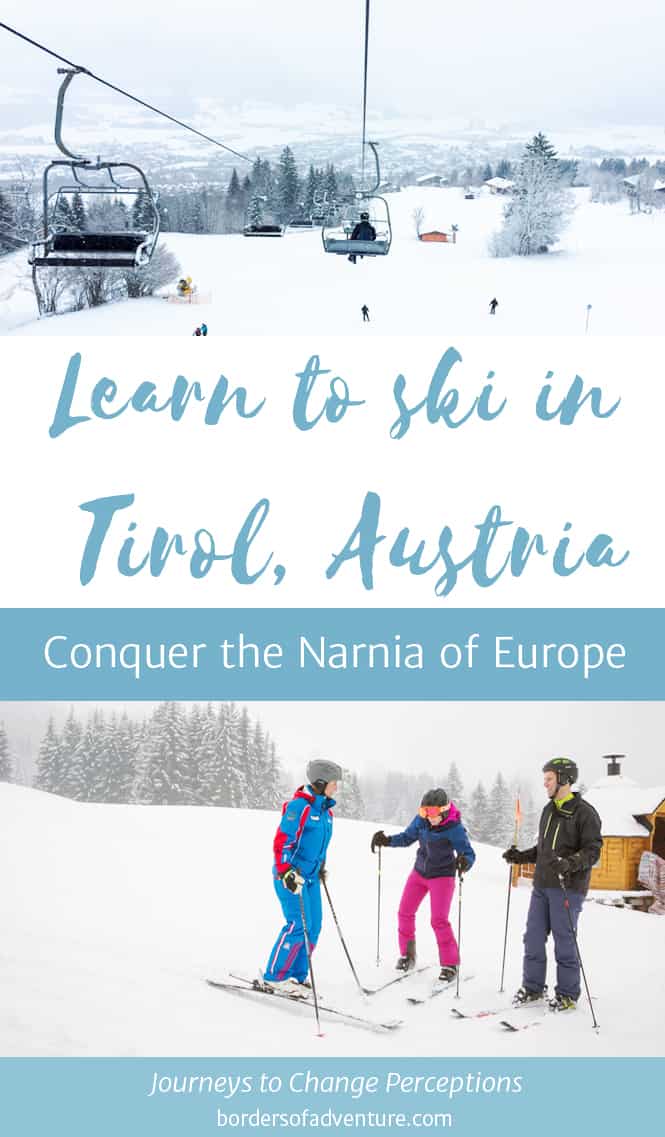 Many thanks to Austrian photographer, Chris Wisser for the action shots.
Editorial Disclosure – The #InAustria blog trip was created and managed by iambassador in association with the Austrian National Tourist Office, Tirol Tourist Board and the Kitzbüheler Alpen Marketing GmbH. Borders of Adventure maintains full editorial control of the content published on the site.