Disclaimer: This post contains affiliate links to handpicked partners, including tours, gear and booking sites. If you click through or buy something via one of them, I may receive a small commission. This is at no extra cost to you and allows this site to keep running.
Knowing what to buy and what to wear for skiing and snowboarding can be overwhelming. Here's the best ski clothing for beginners on a budget.
Before I left for my very first winter snow sports trip snowboarding in Mont Tremblant, Canada to trips years later skiing in the Alps, I stressed about purchasing adequate clothing. It's important to have adequate gear to protect you from the cold, that's easy to layer, comfortable to move around is and also looks good.
But what if you are new to skiing and snowboarding or someone who doesn't regularly go on this type of holiday? How do you go about finding ski clothing without the hefty price tag?
As a person who climbs mountains, wanders dusty cities and generally roughs it around the world in basic clothing, I admit I knew very little about how to go about kitting out for ski sports and snowy adventures at first. I was also reluctant to invest a lot of money on gear if I was potentially not going to use it again. Luckily I did, and good gear is a brilliant investment.
Ski / Snowboarding clothing doesn't have to be expensive when you look hard enough, and if you are not too vain.
I may not be the funkiest, edgy and coolest skier out there, but I managed to get the basic gear – a waterproof ski jacket and waterproof ski trousers – for around £100.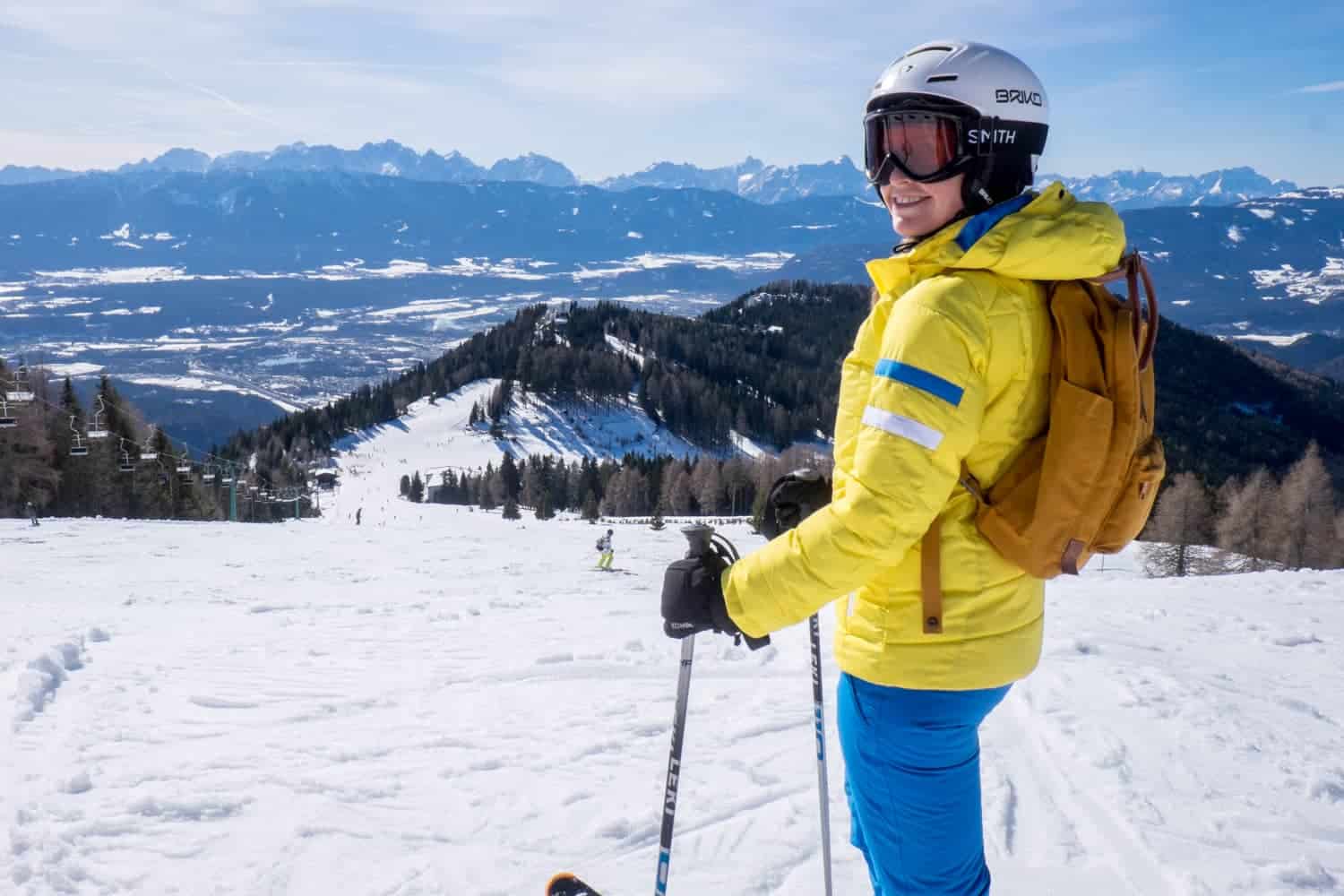 It all came down to finding brands that are known for a budget offering while retaining durability. Mountain Warehouse (mainly the store in Covent Garden, London) was my go-to for years. As an outlet for travel clothing and equipment aimed at the more budget-conscious, I naturally gravitated back there to source a bargain for a first-time ski and snowboarding trip.
Using their online catalogue to browse through a wider selection, they kindly let me test out three of their items.
Staple Item One: Ski Jacket
While I initially leant towards my favourite shade of navy blue, I chose a bright colour in order to get into the spirit… and be seen! An Extreme waterproof jacket was a great fit (with handy thumb loop sleeves), kept me warm, was waterproof and folded down to a good size without taking up too much space in my backpack. It also featured lots of zipped pockets, especially tucked away ones which were handy for protecting my iPhone.
I liked it so much that I used it a lot during my two weeks in Canada, outside of the ski resort, where I battled daily with the minus temperatures! Therefore, choose your jacket wisely, because this was the one item you will no doubt use over and over again. I have this packed away for future cold spells, even in England.
Staple Item Two: Ski Pants
My first choice of colour for ski pants was another bold colour like pink or purple, except with colour came a lack of practicality – they were not waterproof. As a beginner, where you are likely to fall over a lot, waterproof is the better option and so I chose Ski Pants in white, which were also cheaper.
The warm fleece inner-lining and the handy ankle zips, which made getting the snowboarding shoes on and off a lot easier, was an added bonus, but like most of my gripes with trousers, these were not the most flattering fit and were slightly bulky because of the waterproof layer. However, no one is looking that closely and nor do you wear these out in the evening. They did the job and for £40, you can't really complain, especially when you are wearing them out more quickly as a beginner.
Other Ski Clothing and Gear
The Must-Haves: Thermals and Fleece
Invest in great thermal layers (including socks), a decent fleece and ski gloves. I have a long-sleeved thermal vest and leggings, which have lasted for four years to date, enduring all kinds of mountain treks and other adventures.
I never thought I would use a fleece as much as I do on my travels, but it's become one of my must-pack items, especially for those slightly chilly evenings and public transport which blasts out the air conditioning!
These are all investments you can use outside of ski and snowboarding trips, making them better value for money.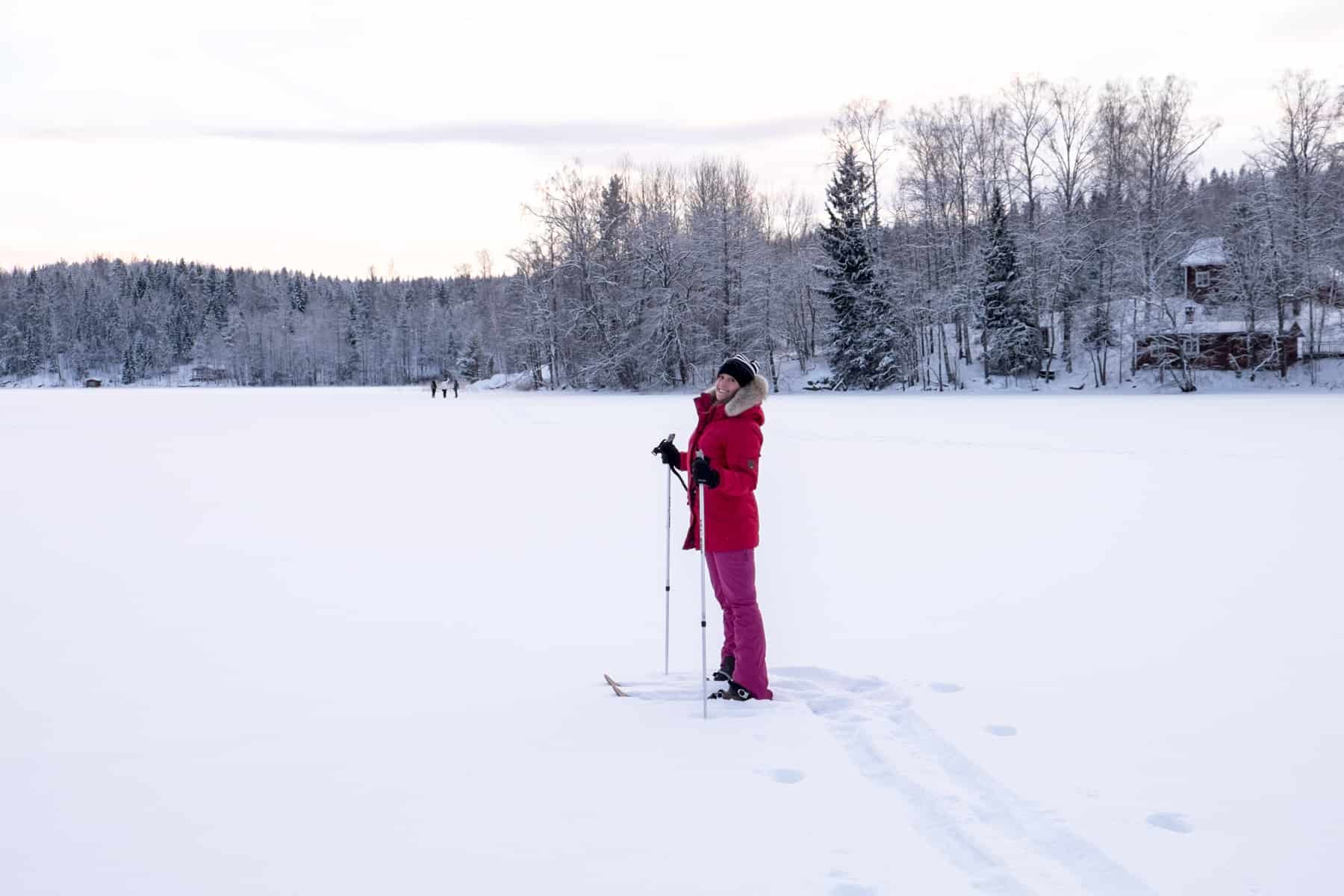 Rent Ski Clothes
Check What Clothing You Can Rent At Ski Resorts
Aside from renting skis and ski boots at a ski resort, I've rented extras like snowboarding shoes, a helmet and goggles.
Check to see what you can hire at your chosen resort before you leave for your trip, in order to help conserve your funds. Some winter sport areas rent jackets and pants and that can save you a lot of cash if you are trying ski and other activities for the first time.
Check Charity Stores and Thrift Shops
It's all about getting lucky, but scour second-hand stores and thrift shops for ski wear and winter sports clothing. You can find items for around a third of their original price, and if you are into vintage styles, land yourself a retro onesie ski suit.
Budget Ski Clothing: Takeaways
I soon learnt that budget ski clothing doesn't mean bad ski clothing, and for three days learning how to snowboard, my staple clothing items were ideal.
You may not look like a true pro, but you can still look stylish. And for those who haven't ruled out the possibility but who have no immediate plans to return to the slopes, this is an investment that won't hurt your pocket.