Disclaimer: This post contains affiliate links to handpicked partners, including tours, gear and booking sites. If you click through or buy something via one of them, I may receive a small commission. This is at no extra cost to you and allows this site to keep running.
I went straight into the minus degree heart of winter in Banff National Park in Alberta, Canada, to take in a minuscule portion of their 3,000-mile North American stretch. I've wanted to visit and stand before the incredible Rocky Mountains for as long as I can remember. Although this mighty cluster of peaks is beautiful all year round, the sheer amount of things to do in Banff in winter via a host of adventure activities is certainly the season to see its raw beauty.
From travelling for weeks in Nepal and trekking Everest Base Camp in the Himalayas, to moving to Austria and living amongst the mighty Alps, the affectionately known Canadian 'Rockies' would complete the desired peak trio of my mountain-loving heart.
It's a mere 90-minute drive from Calgary airport before you are reduced to being a tiny spectator looking towards the grand stage of Banff National Park, where winter puts on its finest show. A seemingly never-ending showcase of snow-capped peaks with unbeatable panoramas from over 2,000m high, corridors of glacier walls, frozen lakes and waterfalls that become a canvas for play, and a dense wilderness full of diverse wildlife.
What's more, the window of time with which to experience this season isn't short. The winter season in Banff is one where snowfall and crystallised layers can last for up to seven months of the year.
One of the world's most stunning mountain destinations, Banff is famous for good reason. Aside from being a spectacular hinterland mass of 6,641 square kilometres, it is Canada's first designated National Park after some locals stumbled upon a hot spring in a cave and decided that beauty needed to be shared and saved.
That was back in 1885, with Banff now a highly protected ecosystem (one that runs from the Yukon to Yellowstone National Park in the US). While we must not forget that the First Nations people long occupied the area for over 10 thousand years prior to this, the dedication given to Banff today for it to survive for thousands of more years to come means experiencing a real adventure into one of the planet's best wilderness areas.
Winter might just well be the best time to visit Banff National Park, which becomes full of pure adventure and the adrenalin of nature. It's about seeing Alberta outside of its capital, Edmonton and the wild hinterlands that compliment the flat prairies of the province.
Winter in Banff in Canada is seeing nature in one of its most magnificent and unfiltered forms. Even if the bears are sleeping.
NOTE: A National Park Pass is required to enter Banff National Park, with a one-day pass costing 9.80 CAD per adult. This money goes towards the protection and conservation efforts of the park.
Adventure Activities and Things to Do in Banff in Winter
Ice Climbing in Banff – Climbing Frozen Waterfalls
The Canadian Rockies are considered by many to be the ice climbing capital of the world with this high adrenalin rush deemed to be one of the top Banff winter activities. So I went straight out into the adrenalin action the morning after arriving for some beginner lessons. Armed with a pair of ice axes and fixed into some ultra-sturdy crampons, it was time to tackle nature's best wintertime climbing wall – a frozen waterfall.
It was a short 15 to 20 minute climb up a short forest track to a waterfall that stands just outside of Canmore – the neighbouring town to Banff. Here I was taught the basic skills for ice climbing, with the help of the accomplished climbers from Yamnuska Mountain Adventures.
It's exhausting in the way that is exhilarating for the two hours you try and mercy with the strength of nature, but you soon get into a groove of how to swing your ice axe with a momentum that comes from the lower arm and elbow in a swift motion.
The crunch and clunk of gripping your feet into the ice using the toe spikes of your crampons become second nature as you find a way to scramble up a jagged veil of thick, glistening blue toned ice. All before lowering yourself down it with the top rope belay.
If you can, while taking a few seconds of rest balancing in a small ice grove, take the time to look behind you a little. The panorama of the Rocky Mountains in Banff is always hugging you while you absorb these mighty details that are burrowed within its basin.
Skiing in Banff in the Rocky Mountains – Banff Sunshine Village Ski Resort
To finally say, "I've skied in Canada" is a dream come true, since it's all a part of the mountain obsession. To say you've skied in the Rocky Mountains is an even bigger dream. Banff Sunshine Village Resort is one of the main Banff ski areas, located a short drive from Banff town where you have three mountains with the freshest, powder-soft snow and incredible views at your disposal.
Not only that but by staying in the Sunshine Mountain Lodge at the top of the main cable car line, you can step out of the door and STRAIGHT into the ski action. It really adds to the excitement, being one of the first to makes some S's in the now, as well as shaving time off the ground-village-to-higher-altitude hop.
The three peaks are easy to navigate when it comes to knowing your skillsets and what level of the slopes you want to take on. Skiing in Banff means being to take on 3,358 acres of skiable terrain in the Sunshine Village resort alone. That meant being able to get back to basics after some ski trauma with a bad instructor, and Ellen from Sweden (who, of course, has winter sports skills in her blood) had me back to my ski-pro-in-training self in no time at all. I can't recommend her enough for beginner training here.
Every ski pro country has it's set ways of layout and difficulty and Banff skiing is no exception. Canada works differently from Europe where a Green run is European Blue, Blue is a European Red, and here Black is split into two levels (Double Black is the most extreme). Sunshine Village resort has 137 runs (longest is 8km), 12 lifts and is split into a rough terrain of 20% beginner (green), 55% intermediate (blue), 25% advanced (black).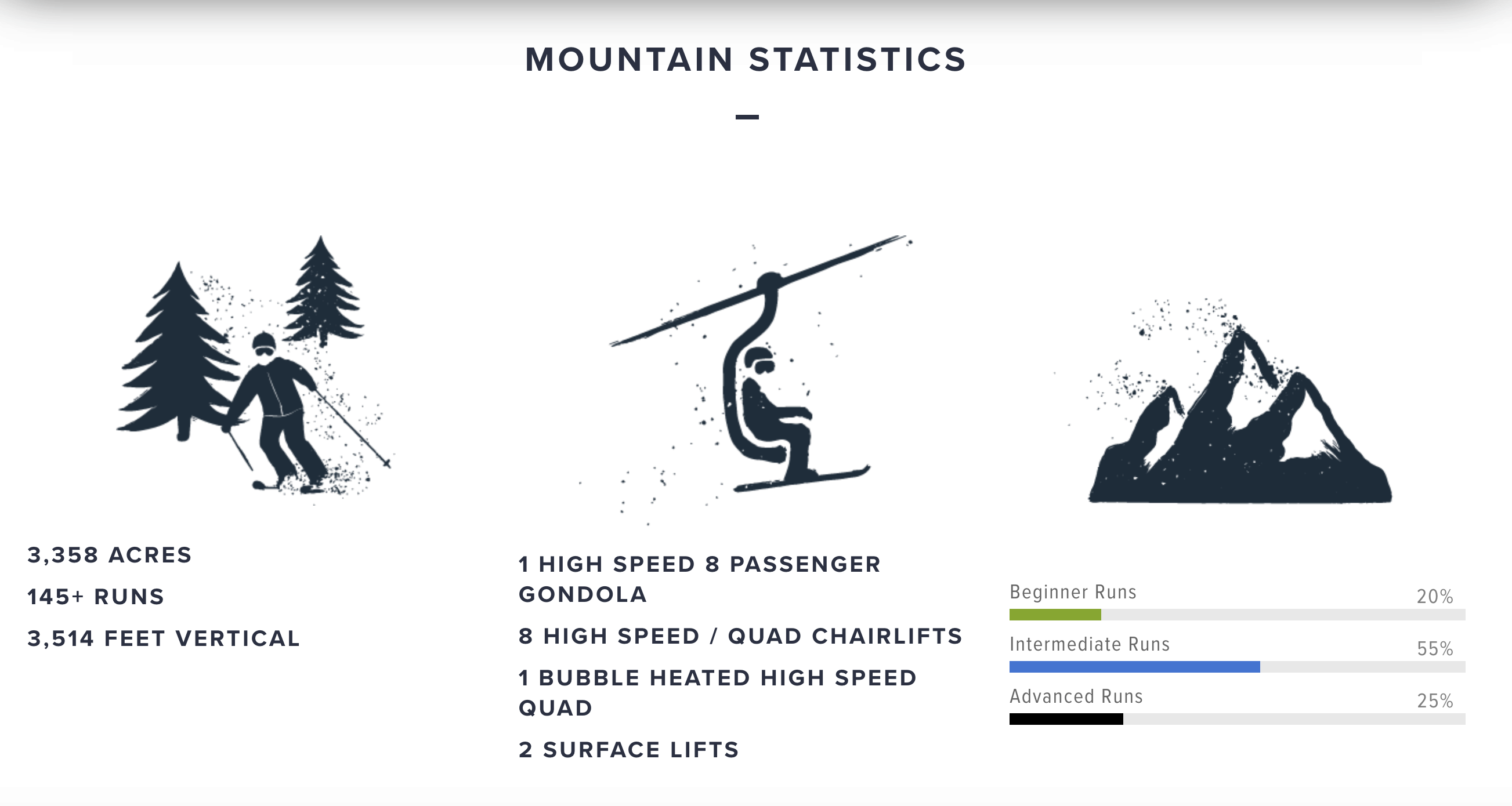 As a beginner skier looking to move to intermediate level, a winter in Banff spent exploring Lookout Mountain was great for both gentle, scenic runs and steeper slopes to carve out some better technique. On one side of the mountain, I practised on the wider and steeper inclines (like the long Green run: 34) where you were nothing but a speak on white with a wide-open view, before moving on the forest-lined and wilderness runs on the other side, with names like 'Miss Gratz', 'Pilgrims' and 'Cottontail'.
'The Eagles' is the peak between Lookout mountain and Goat's Eye Mountain, and is home to the Eagle Basin and the 'Delirium Dive' extreme freeride zone where it mandatory for all riders to be equipped with an Avalanche Pack. Goat's Eye, while sporting a long Blue Run (71), is the place for those seeking Black and double Black adrenalin routes. However, the runs from Lookout mountain eventually connect with the basin of Goat's Eye, so not all is lost when taking on lighter runs since you will get to sample it in some form. For more Green and blue runs aside from Lookout Mountain, Mount Standish is the area to enjoy.
Banff Town and Banff National Historic Sites
Spending winter in Banff doesn't mean being limited to just high impact sports and crazy adrenalin. As the point of the initial 'discovery' of what became Canada's first national park, the Banff Cave & Basin is one of the National Historic Sites worth visiting. It may be a tiny cave hole with a strong sulphur stench that radiates from the aqua pool of water, but it has huge significance.
You can learn more about the history of the region in the neighbouring exhibition space of the Banff Park Museum, before continuing to the other hot spring and layers of woodland outside.
I even had the chance to practice curling and help build an ice palace during the setting up of the winter festival that is held here.
Banff town is small enough to be navigated on foot, or a scenic drive where you can reach tucked away viewpoints such as 'Surprise Corner' that looks over the Fairmont Banff Springs Hotel – the first hotel to be built in Banff that almost looks like the town's very own Hogwarts.
Other National Historic Sites of Banff, including the Cosmic Ray Station on Sanson Peak, Skoki Lodge, Abbot Pass Hut and Howse Pass, require varying degrees of hiking and backcountry access, which is all a part of the wilderness fun and pristine seclusion.
For all the things to do in Banff in Winter, you certainly need more than one season to experience it all. Maybe a lifetime. Banff is a playground that serves to reminds us that as much as we try and dominate nature, it will always be mightier than us. And in its protection, we are shown how this patch of the earth once existed, long before we did.
Things to Know:
About Banff
Banff town: It is located in Alberta's Rockies along the Trans-Canada Highway, approximately 126 km west of Calgary. It extends to Lake Louise and eventually connects to Jasper National Park further north.
About Banff in Winter
Banff Sunshine Village Resort >The Sunshine Village Resort in Banff boasts the longest non-glacial ski season in all of Canada – open for around seven months from November until May.
At an altitude of 7,200 feet, fresh powder snow is guaranteed almost daily. The resort is open from 9 am until 4 pm, with gondola hours from 8 am until 5:30 pm with extended weekend hours.
For more information on planning your ski trip pre-arrival and on the day at the slopes, download the Banff Sunshine Village App for iPhone.
Want to Join a Small Group Tour to enjoy winter in Banff? Travel with Discover Banff Tours!
I was whisked around this incredible space by Discover Banff Tours, who specialise in private and small group tours to get you right into the very heart, history and culture in Banff in every season. That means avoiding the crowded tour buses and masses of people when exploring the Banff landscape, instead of being one-on-one with the guide or in a small setting.
Bannf is so large that it may be hard for you to find things on your own, or navigate the enormous space, long drives and in my case, what could be treacherous winter conditions I am not used to. Plus, Discover Banff Tours know the secrets, the best viewpoints, and where is best to visit at a particular time. A special shout out to my guide, Noam, who is also a chief wildlife spotter!
You can book packages from single to multi-day excursions for all manner of Banff winter tours including wildlife spotting, Lake Louise trips, tackle the Johnson Canyon Ice walk in the narrow ice-laden canyon, snowshoe in the Vermilion River Valley or to the 40-meter deep gorge of the Marble Canyon, get your crampons some action on the frozen creek bed of the Grotto Canyon Ice walk, or book stunning heli-sightseeing and heli-skiing days.
Visiting Multiple Sites in Banff? Winter Time Day Trip Suggestions
Short on Time? Want to Include Jasper National Park?
Banff to Jasper: One-Way Sightseeing Tour – A 10-hour journey with a guide through the incredible mountainous scenery to capture the best of everything. Prices from €179, including pick up. This tour also runs from Lake Louise to Jasper.
Gondola Views
Banff Gondola to Sulphur Mountain – Including the 2,900ft ridgetop boardwalk.
Banff Sunshine Village Sightseeing Gondola – Banff's longest and biggest gondola up to 2,164m and from the village ride up to over 2,400, for a 360 view of the Rockies.
Sightseeing Tours and Walks
Banff Johnson Canyon Ice Walk – Choose to go in the morning or afternoon.
Banff Guided Walking Tour – A 1-hour and 15-minute small group, guided walking tour.
Banff Hot Springs – For a relaxation day, including the spa.
Buffalo Nations Museum and Whyte Museum of the Canadian Rockies.
Cave and Basin National Historic Site – The birthplace of Canada's National Park system with Banff being the first.
Mt Norquay sightseeing chairlift for sightseeing at 2090m.
Lake Louise
Lake Louise Sightseeing Gondola and heritage walk from Fairmont Chateau Lake Louise.
Lake Louise and Moraine Lake sightseeing tour.
Where to Stay in Banff in Winter Time
Hotels in Banff Town:
I stayed at the 4-Star Moose Hotel in Banff Town, located right in the very heart of Banff town on Banff Avenue. Located on one of the main roads, you'll be just a short five minutes walk away from downtown Banff and all the amenities including restaurants and bars. A cool coffee shop, the Whitebark Café, is located right next door for coffee enthusiasts like me (it's hard to find good coffee in these parts!).
Using timber and stone throughout, Moose has the design philosophy to bring nature and the outdoors in. Facilities include a Spa and various pools including private outdoor hot pools with a prime view of the Rocky Mountains.
Where to Stay When Skiing in Banff:
The Sunshine Mountain Lodge at Banff Sunshine Village Resort stands 7,000 feet high, up away from everything, and ensures you are the first to ski on fresh snow every morning. Mountain views, warm interiors, a spa and games room, alongside and a selection of upscale and casual dining onsite like Eagle's nest and Chimney Corner for breakfast, ski-day lunches and dinners means having everything you need up in the wilderness.
Quick eats, café and grill bars can also be found in other on-site lodges such as Goat's Eye Grill, The Lookout and Alpine Grill.
Further information on Planning a Winter in Banff
Visit the dedicated Banff and Lake Louise website for more details on planning your activities, accommodations, where to eat and general park planning in winter and all year-round. The Travel Alberta tourism website is also a helpful resource.
I undertook this trip with the help of Banff and Lake Louise Tourism and Travel Alberta in the hope to inspire you to visit Banff in winter and be inspired by this absolutely incredible and pristine part of Canada.
All opinions remain my own; all images required very little edits, and this landscape really is the dream it appears. Mountain lovers – this really is one for your list.
Thinking of Visiting Banff in Winter? Pin It!