Disclaimer: This post contains affiliate links to handpicked partners, including tours, gear and booking sites. If you click through or buy something via one of them, I may receive a small commission. This is at no extra cost to you and allows this site to keep running.
All the things to do in Winter in Lake Louise, including snowshoeing, dog-sledding and ice skating in the Canadian Rocky Mountains.
Winter in Lake Louise is vastly different to the famous image we see of its sunlight-reflecting turquoise blue glacial waters, on which people glide through on canoes. But that doesn't mean there's not as much fun to be had in this part of Banff National Park during the subarctic season.
The 2.5-kilometre-long emerald spectacle that is Lake Louise is just one of the handful of hamlets that make up Banff National Park's humongous 6,641 square kilometres of hinterland at the base of the Canadian Rocky Mountains.
The UNESCO World Heritage Site can be easily broken down into sizable exploration patches of adventure, connected by the Trans-Canada Highway (Highway 1): the area surrounding Banff town, Mount Norquay and Lake Louise, which all connect eventually to Jasper National Park in the north.
In winter, Lake Louise becomes a giant ice-skating rink and hockey pitch when its 90 metre deep waters freeze over to match the white cloak of the rocky wall formations and the Mount Victoria backdrop. The surroundings are home to one of Banff's biggest ski resorts and a snow-laden basin for some adrenalin adventure.
After a seven-month-long winter chill, it thaws out in June where the colours re-emerge as the lake basin fills once again from the meltwaters of the Victoria Glacier. Since the snow season is my favourite of all, I was excited to put a couple of the winter activities in Lake Louise to the test.
Hiking in Lake Louise – Snowshoeing the Peaks of Lake Louise Ski Resort
I've tried snowshoeing a handful of times and it usually involved getting off-track and into the forest. At Lake Louise, it's a little different. The beauty of Banff National Park is its pristine nature and absolute serenity, making it perfect for a snowshoe hike up to some of the Rocky Mountain peaks where you walk along open pathways, warmed by the blue skies, and with the most incredible panoramic views including a glimpse of the royally loved Skoki Lodge, located in the Lake Louise backcountry.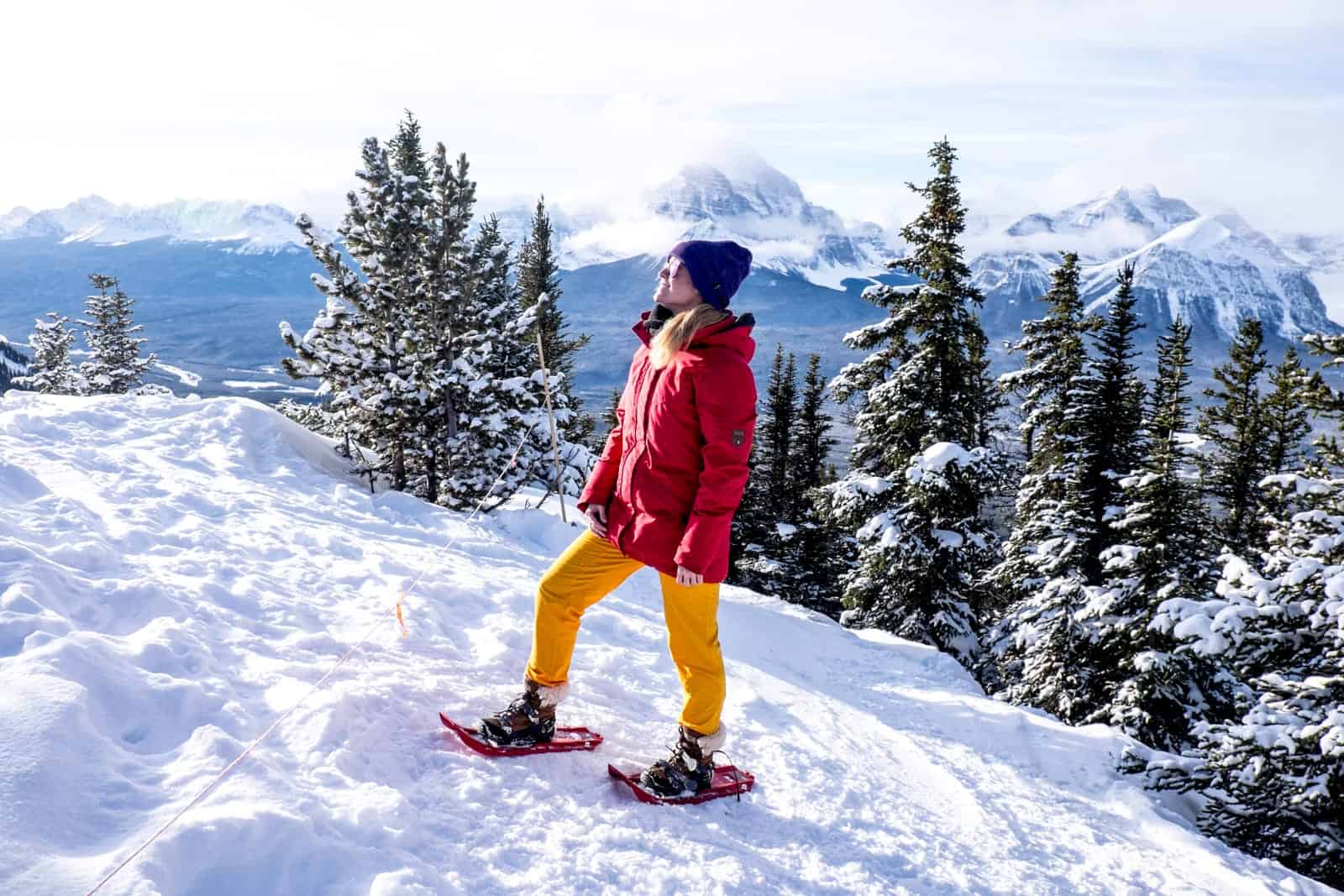 Banff National Park prides itself on its conservation efforts, and this is apparent at Ski Louise Ski Resort, whose passionate guides point out wildlife footprints, tell you about the nature and preservation efforts, as well as make sure you do not venture off the dedicated hiking path (since it has been carved out to preserve the wider area as a whole).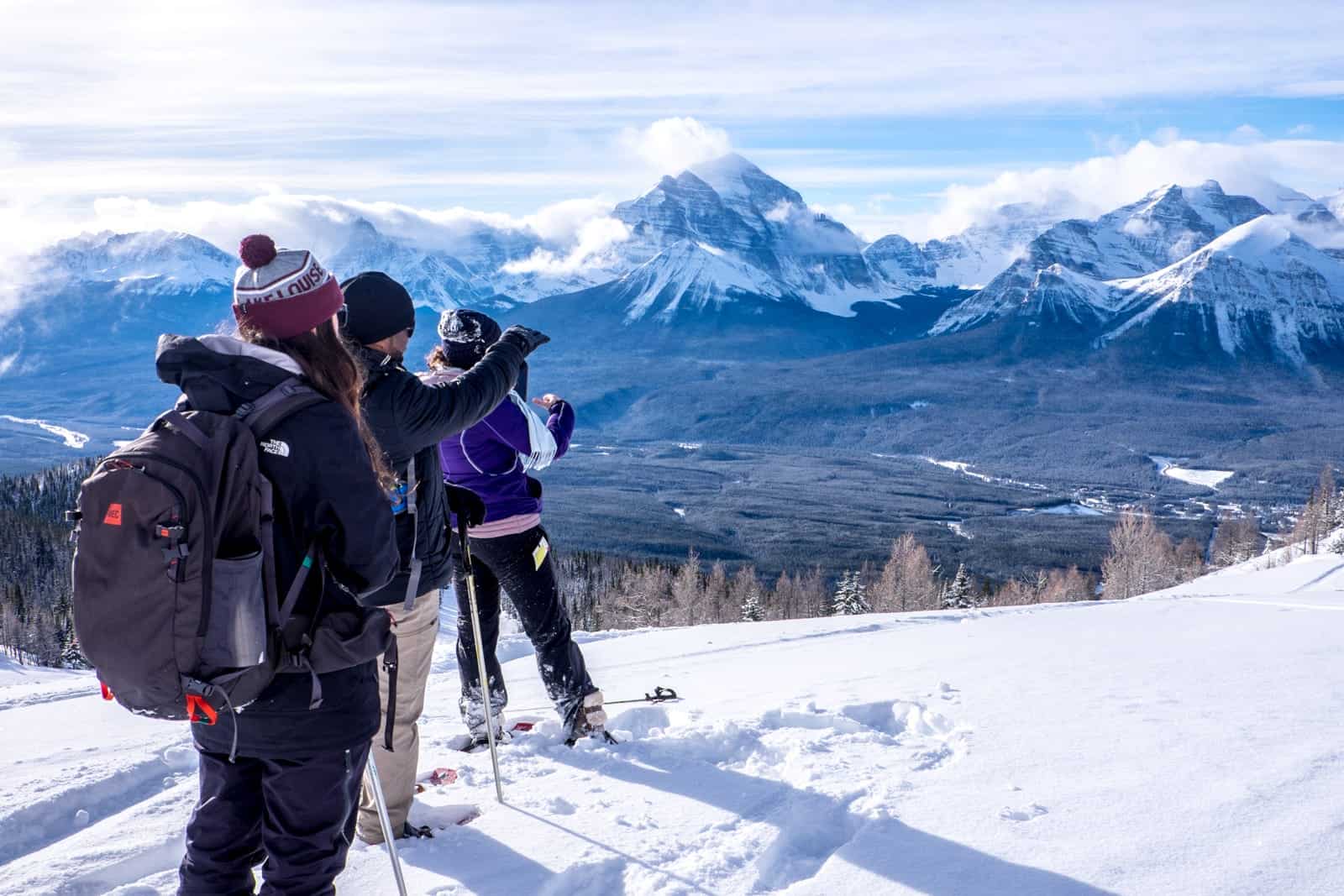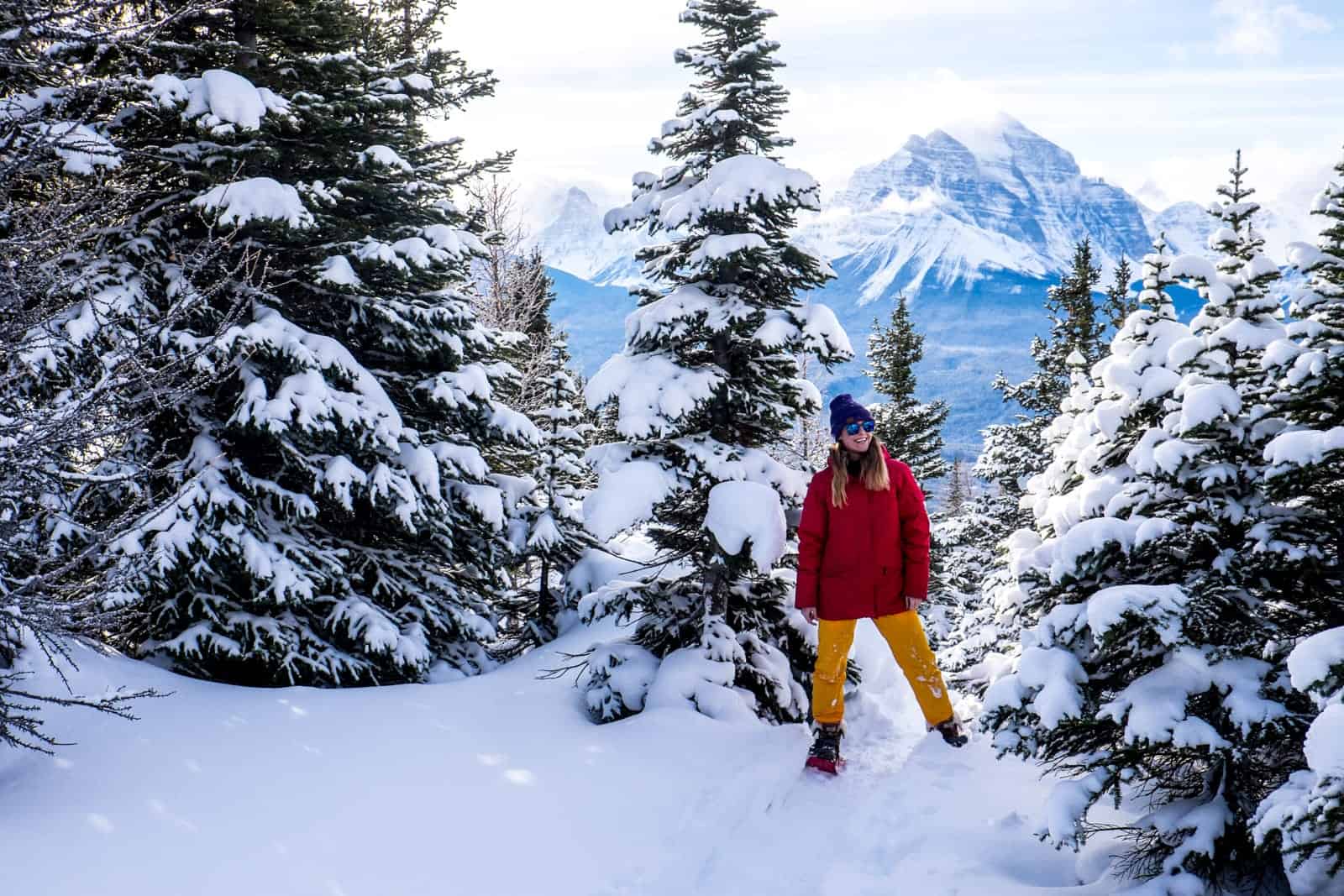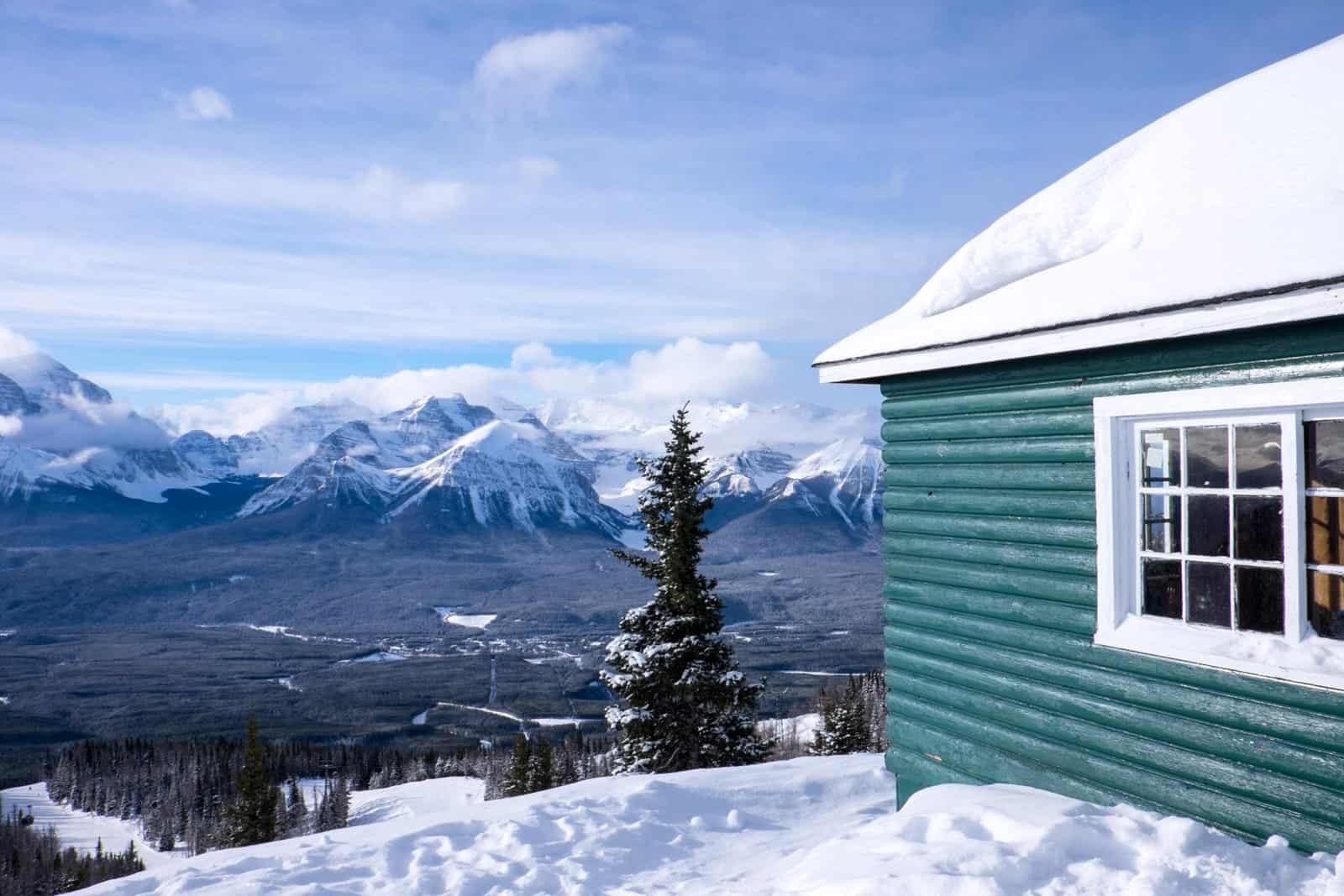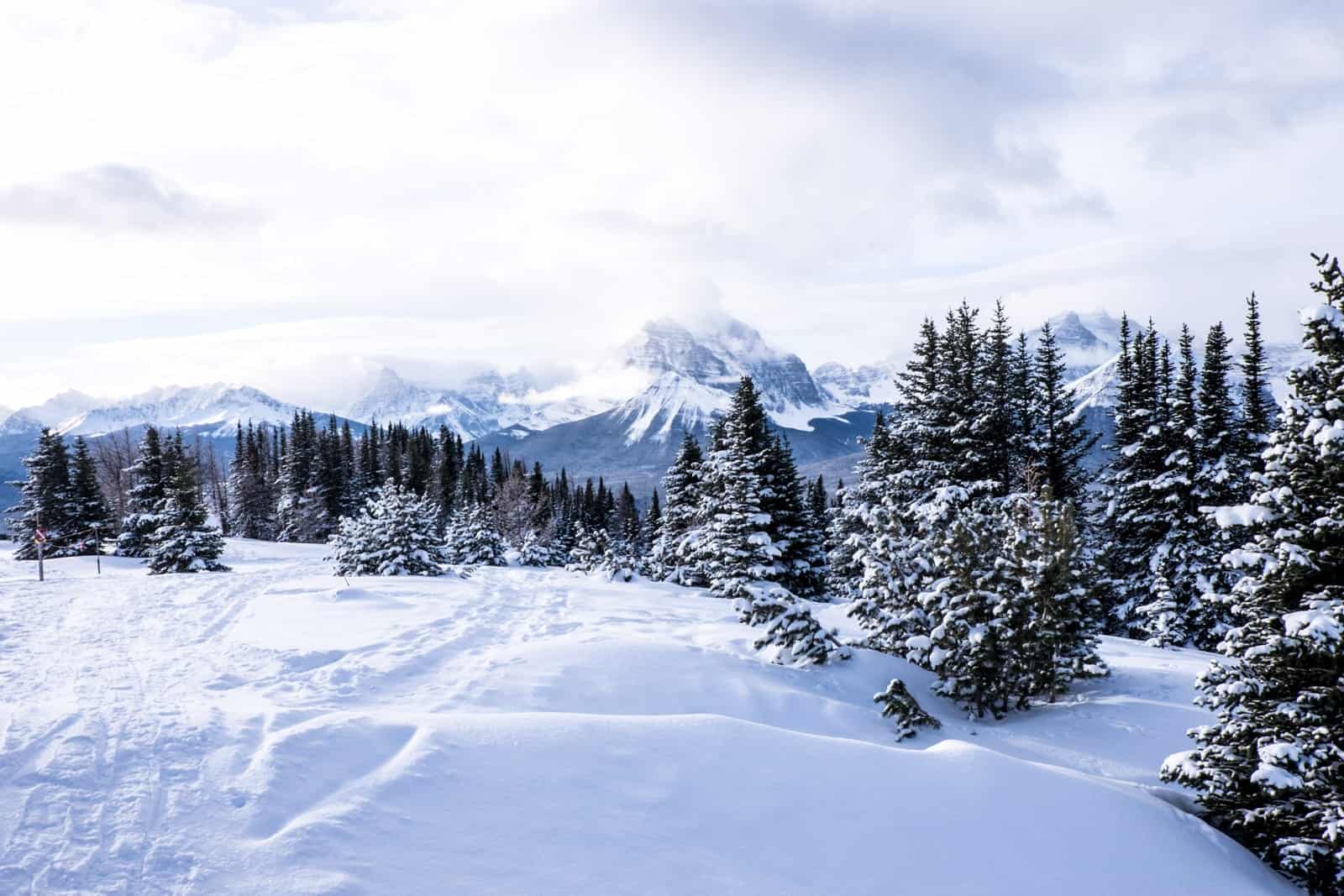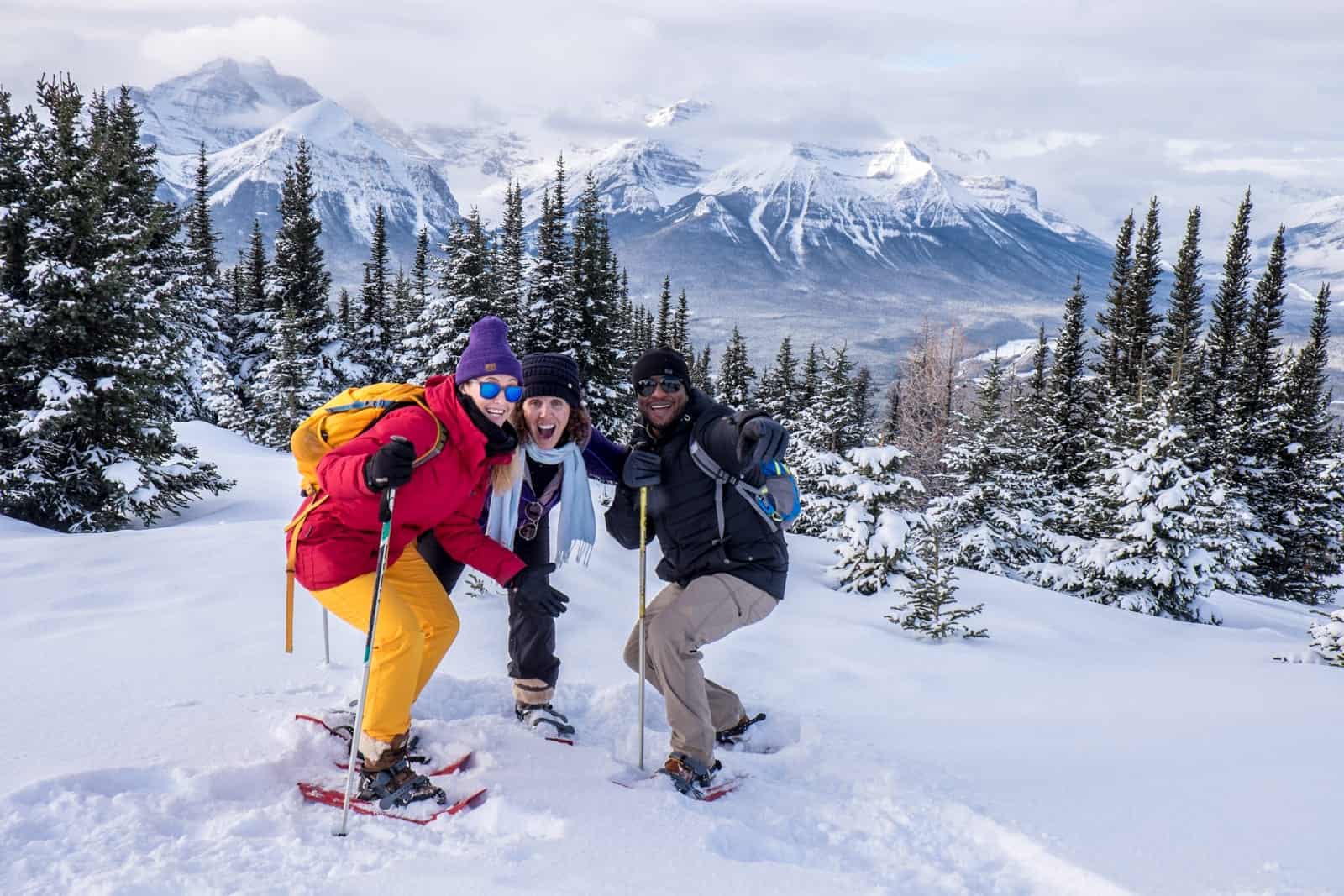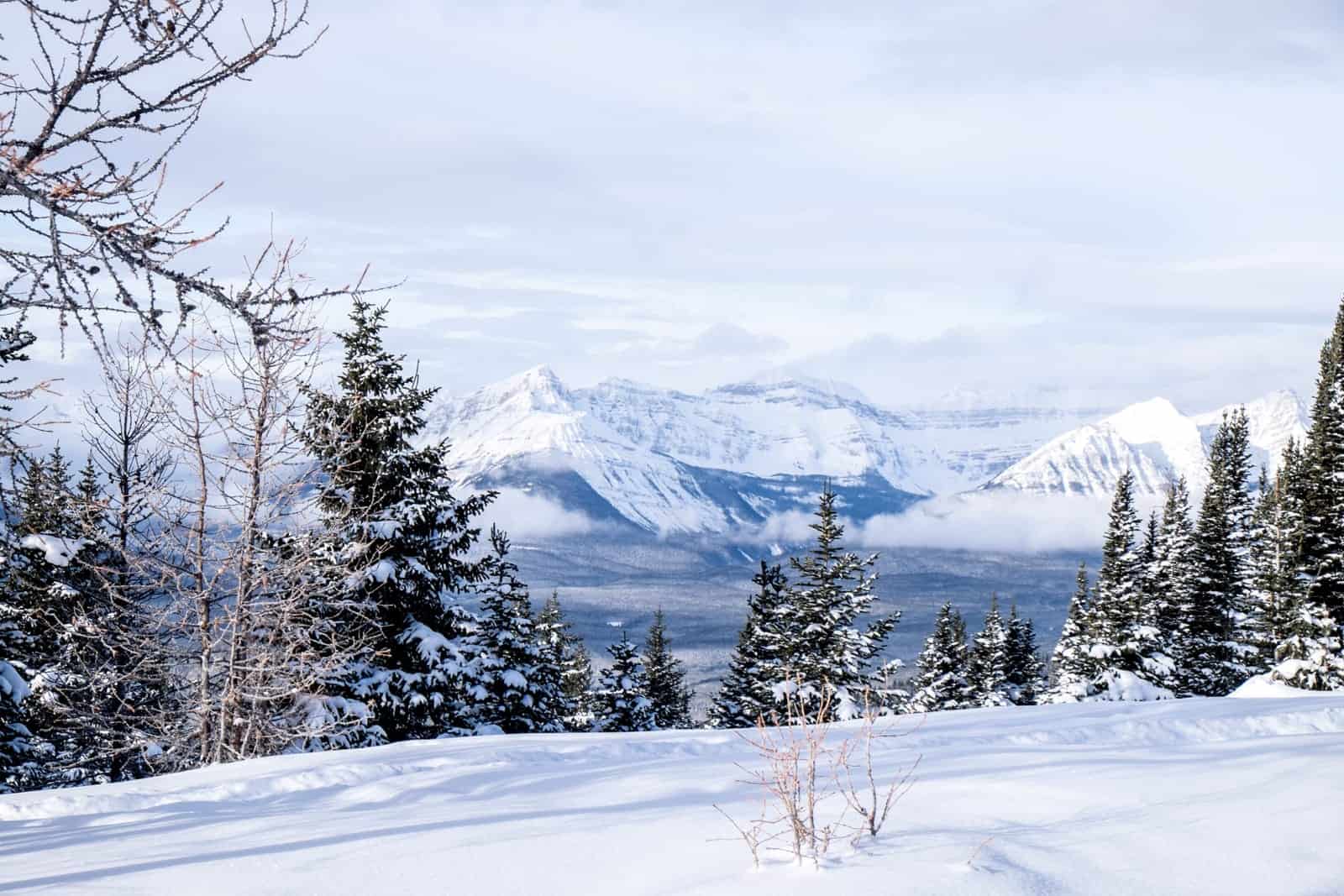 I wish I had the time to sample the slopes here, after carving a few S-shapes on the fresh snow at Banff's Sunshine Village Resort. There are four mountain faces with over 4200 acres of ski terrain, and 145 runs to choose from beginner to advanced. Massive wide-open space, perfect light, dry powder and the chance to be in one of North America's biggest ski areas, is all the more reason for return. While snowshoeing we crossed some ski trails of this protected wilderness, so it's a good opportunity to get a 'taster' of the ski scene up here.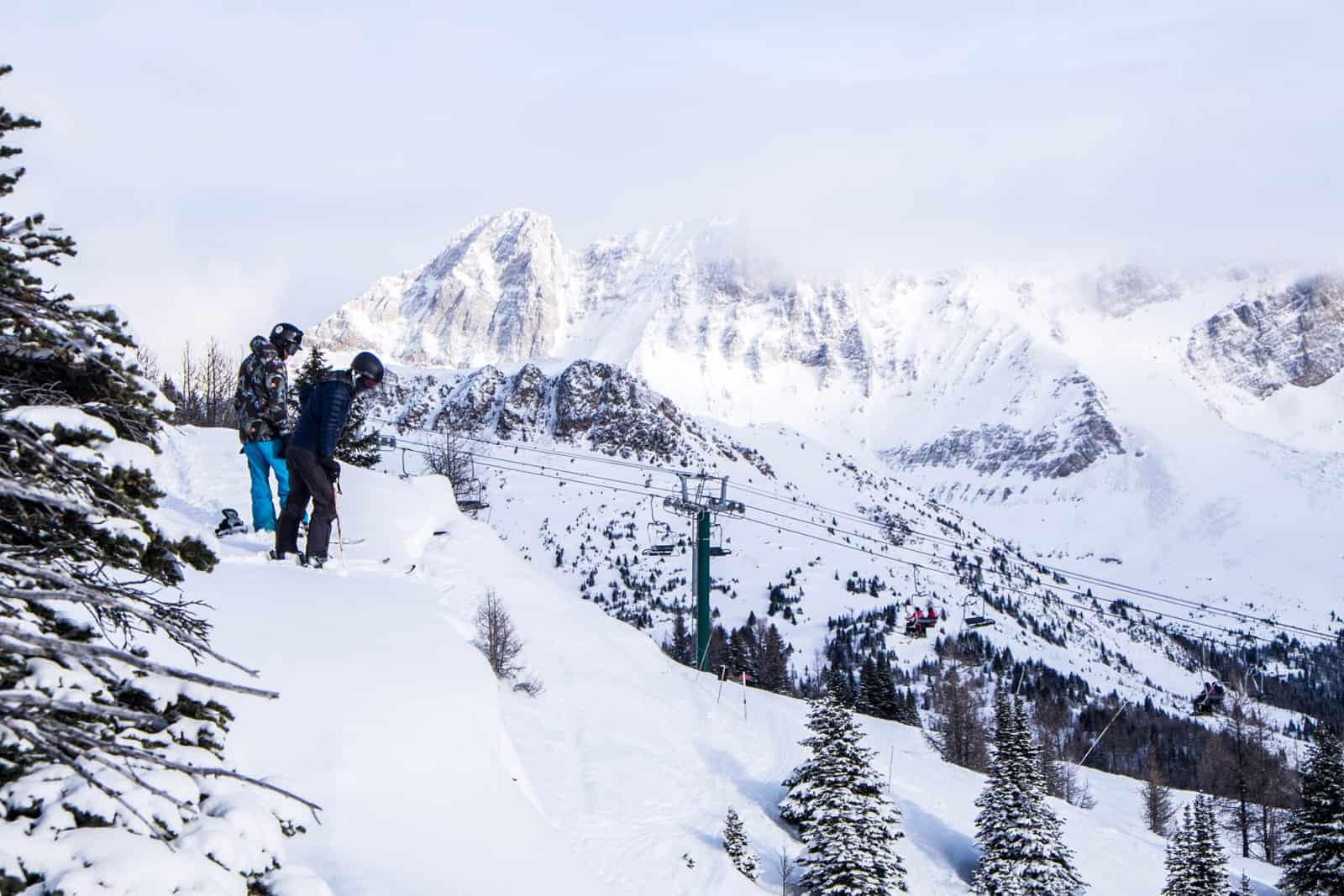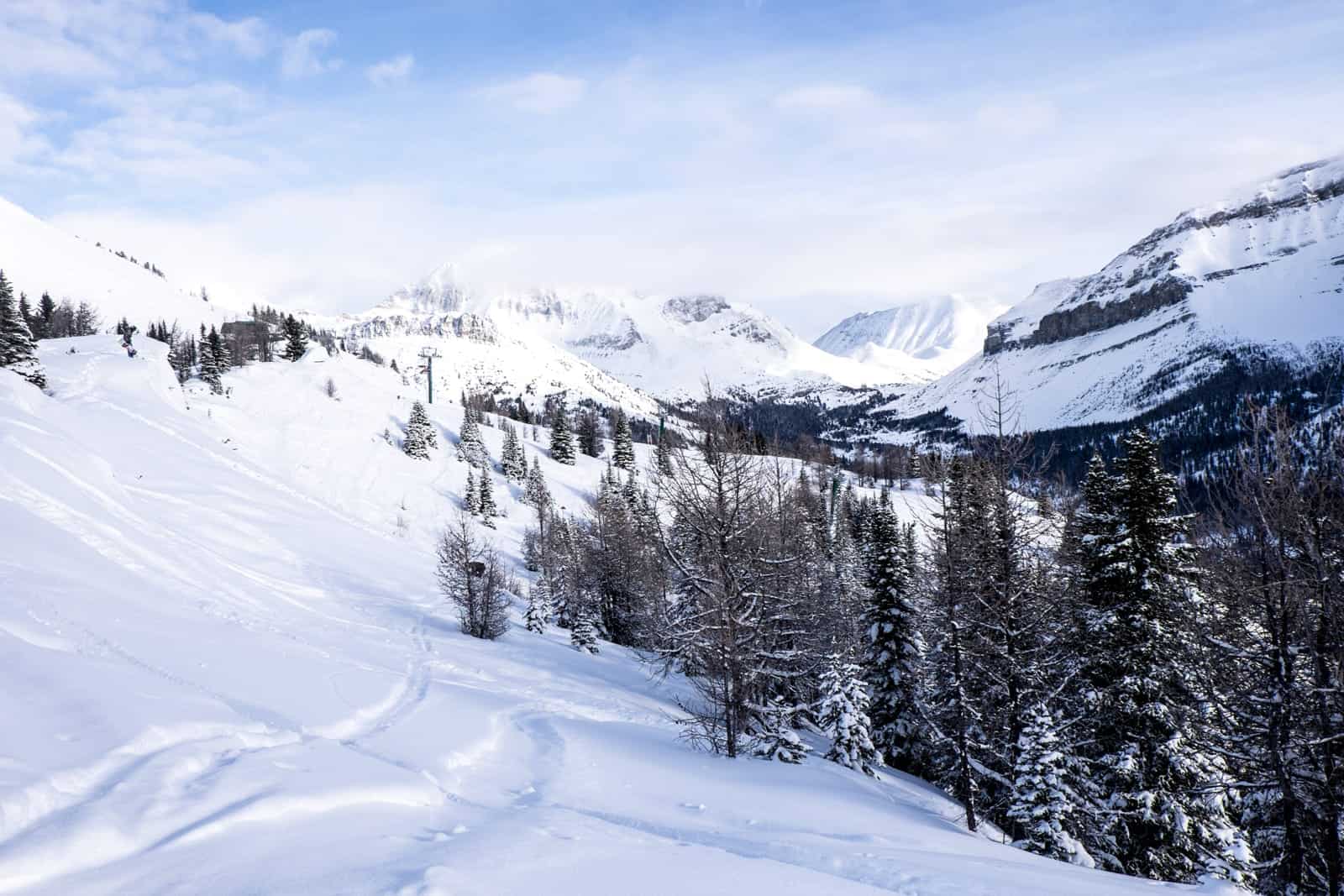 Dog-Sledding the Lake Louise Basin
Winter activities in Canada's Alberta don't always require strength and stamina to be an adventure. You can always relax and let six of the cutest and most excitable of all employees of the Lake Louise region of Banff take control, whooshing you around a basin of the Rocky Mountain Peaks.
The dogs howl and bark in excitement, undeterred by the snow and minus temperatures. It's important to know the genetic makeup of these dogs, and how they have to release the incredibly high levels of intense horsepower energy us humans could only dream of having. It's why they were once used by the Inuit people of the Canadian Arctic as the main means of transport.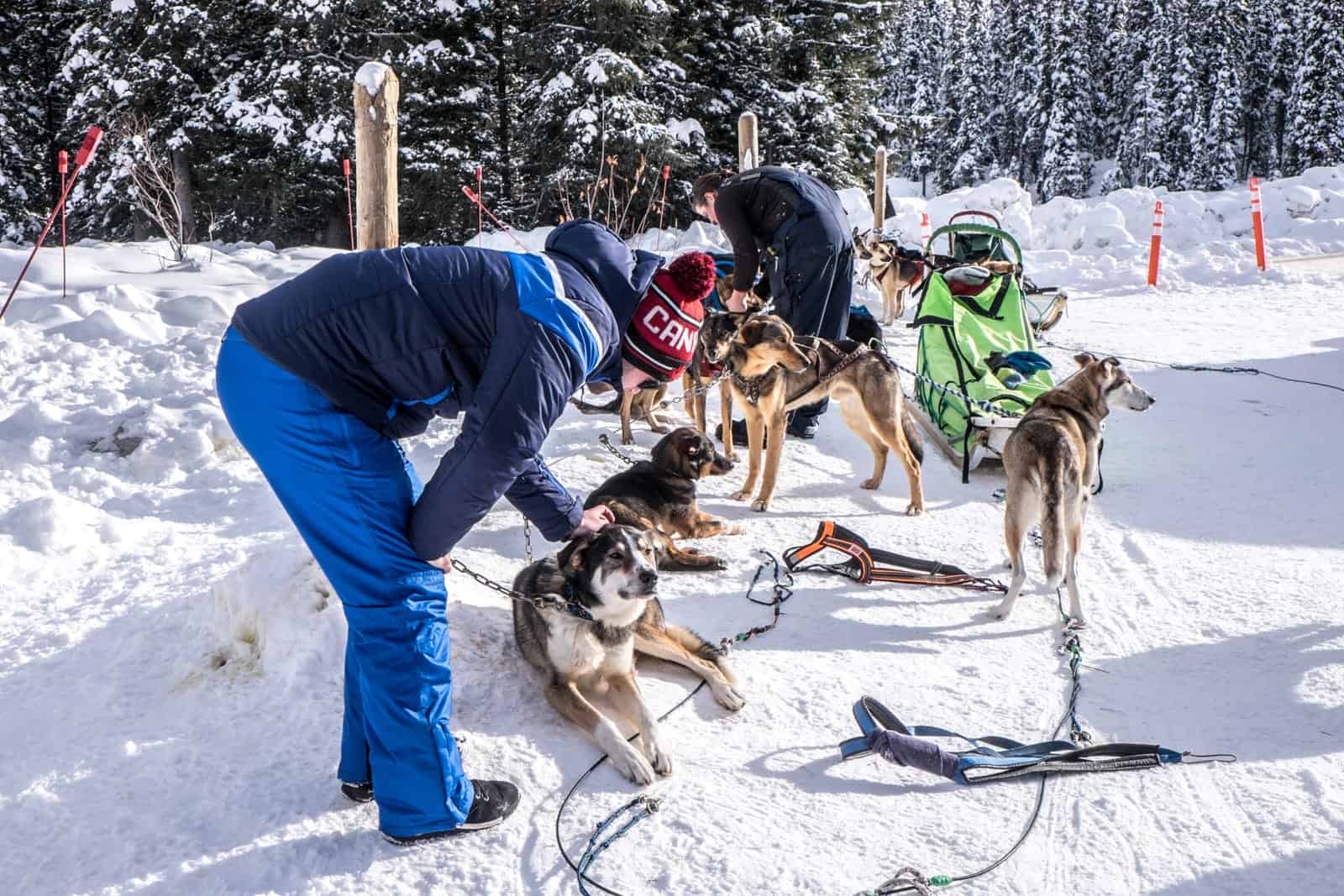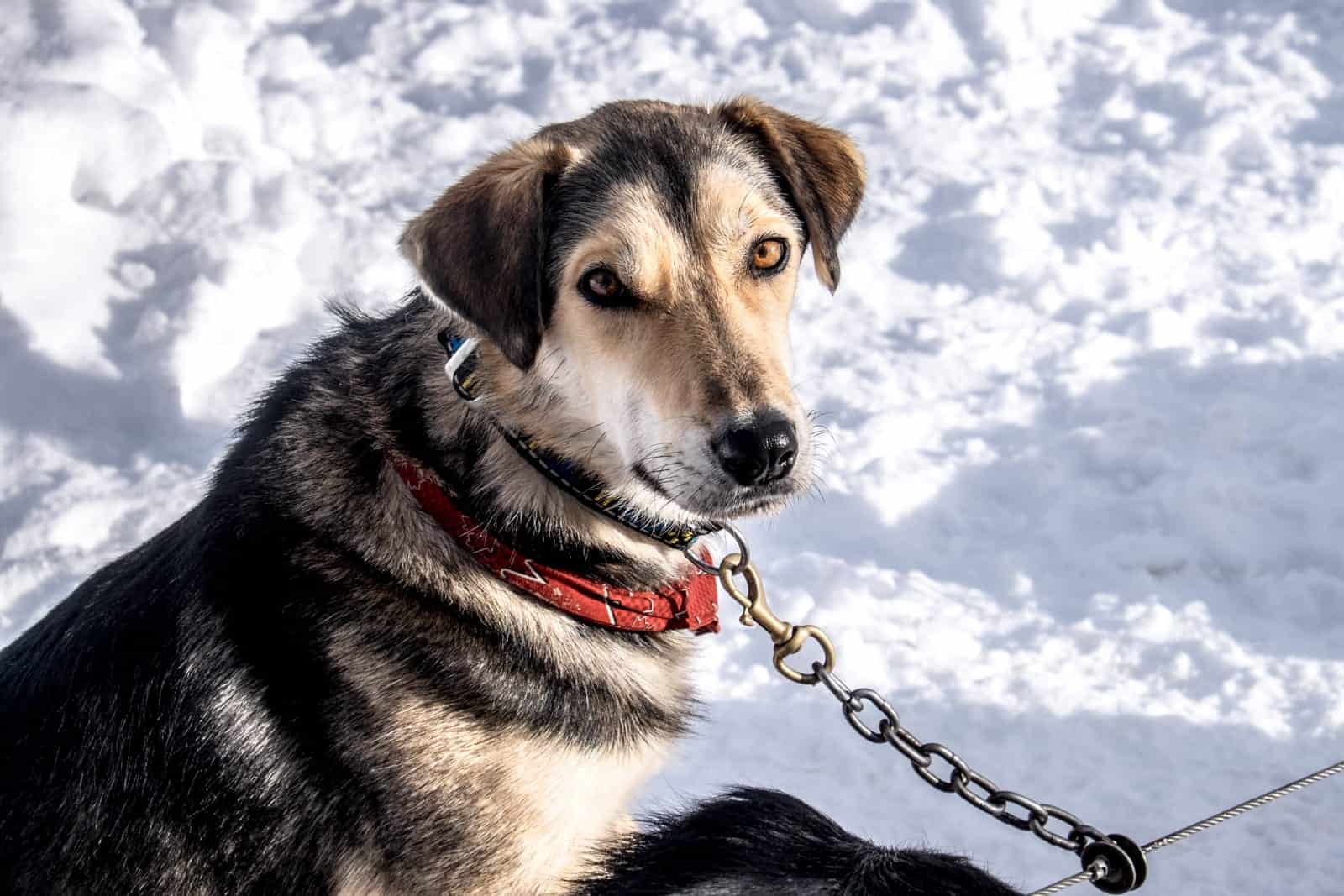 These dogs are incredibly loved and cared by the people who work at Kingmik Dogsled Tours, and it's important to know that (especially in light of a story that came out of Canada about a dog-sledding company that wasn't wholly reported on). They know every dog by name, what excites them, what run position they are best for and when they are raring to go (and ultimately, when not).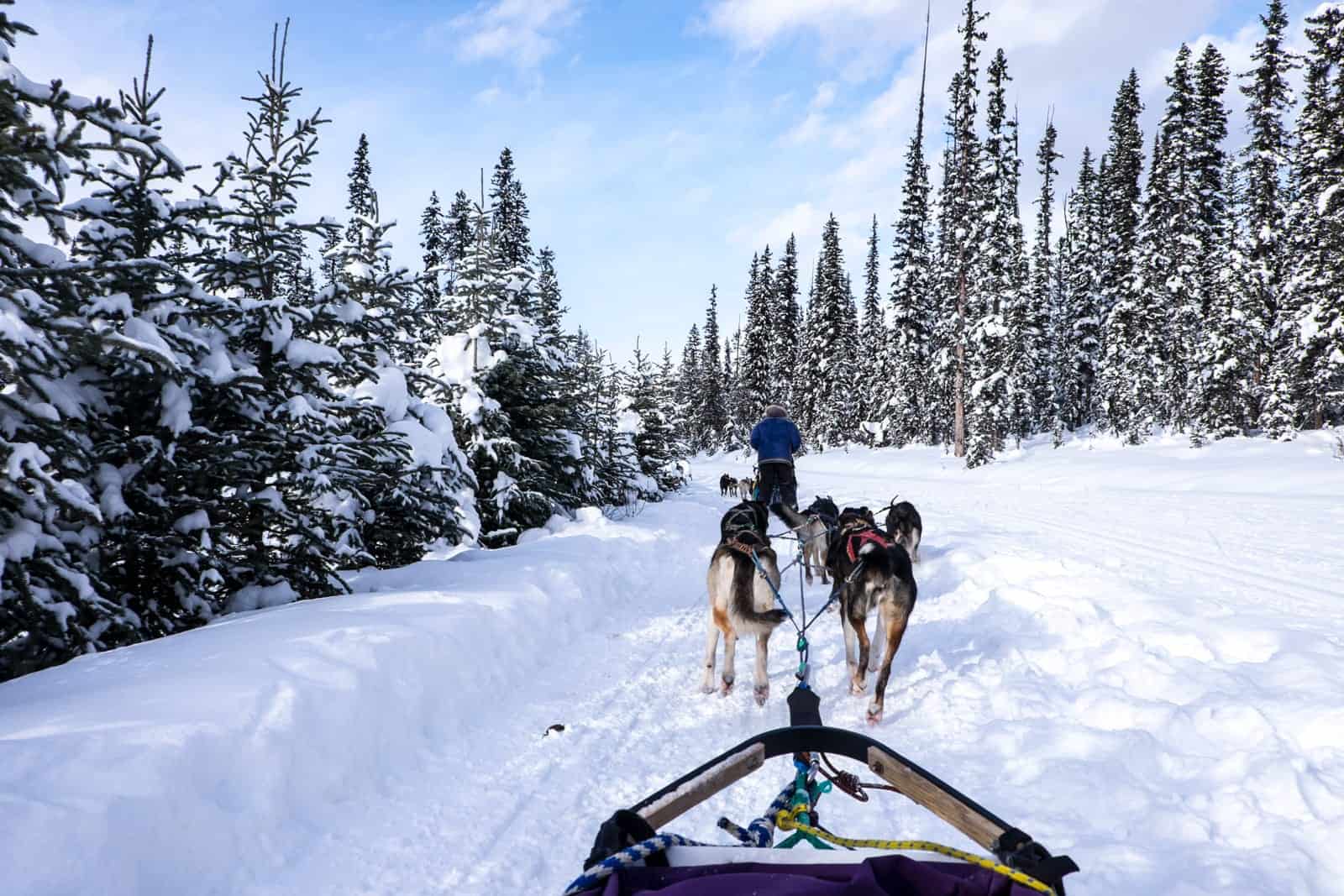 It was a joy to have pre-ride cuddles with Skoki, McFuzz, Chips, Nunchuck, Paisley and Lacey they got hyped up for their run. During the dog-sledding ride, I was told about their individual personalities and got to feed them afterwards (which they are just as excited for).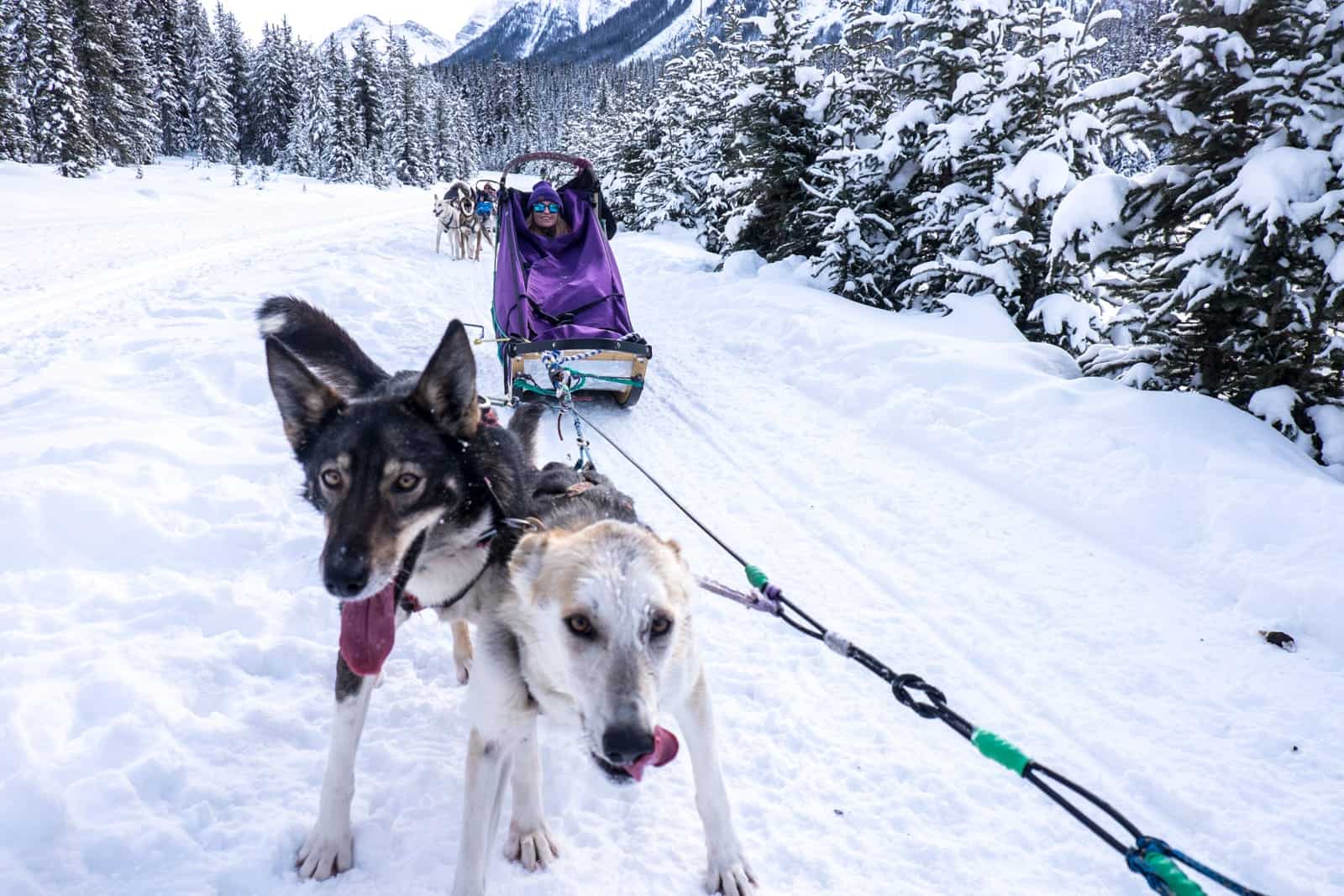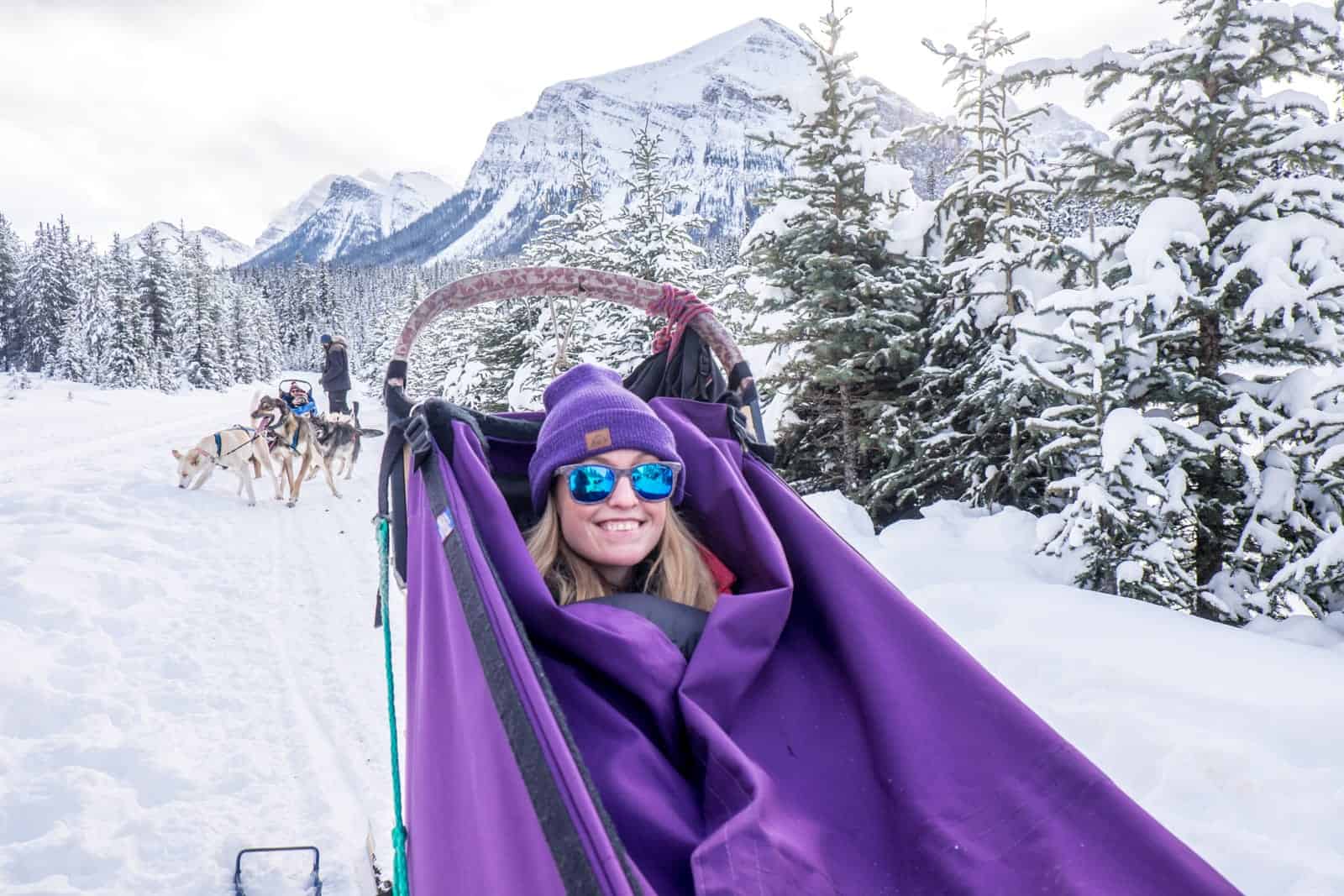 Today, in making a tradition as a recreational activity, the dogs swiftly guide you around this wild landscape, as you stare in wondrous awe, tucked under the cosy blanket of your sledge. Open pathways turn into forest wilderness, and for the geeky border enthusiasts, you even get to turn around in the neighbouring Province of British Columbia at the 'Great Divide'.
Chateau Lake Louise
Each main area of Banff is flanked by grand hotels, originally built by the Canadian Pacific Railway to lure in visitors on their journey through the country. Like its predecessor, the Fairmont Banff Springs Hotel, the Fairmont Chateau Lake Louise hotel – once built as a base for outdoors enthusiasts before turning into more of a luxury mountain resort – stands proud at one end of Lake Louise, and is as much as part of Banff National Park and its natural surroundings.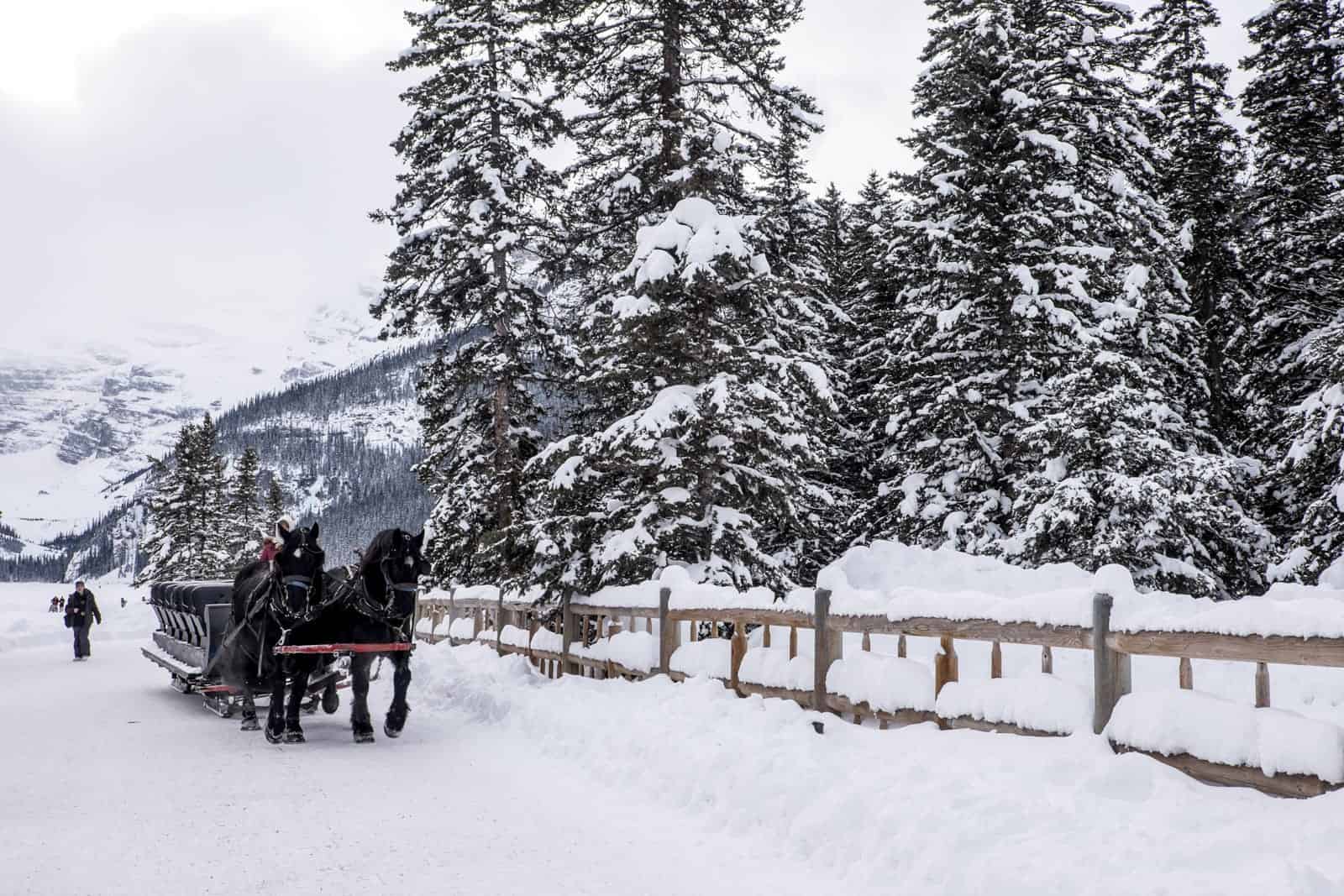 Ice carvers from around the world compete annually in the Ice Magic Festival held at Lake Louise, turning blocks of ice into magnificent pieces of art. I was lucky to catch the festival in its last days, and while I couldn't catch the artists in action, I was able to view the final ice masterpieces and see which ones made the prize status (although I had a few favourites of my own). This art festival has been running here for over 20 years and is a firm fixture on the calendar for winter in Lake Louise.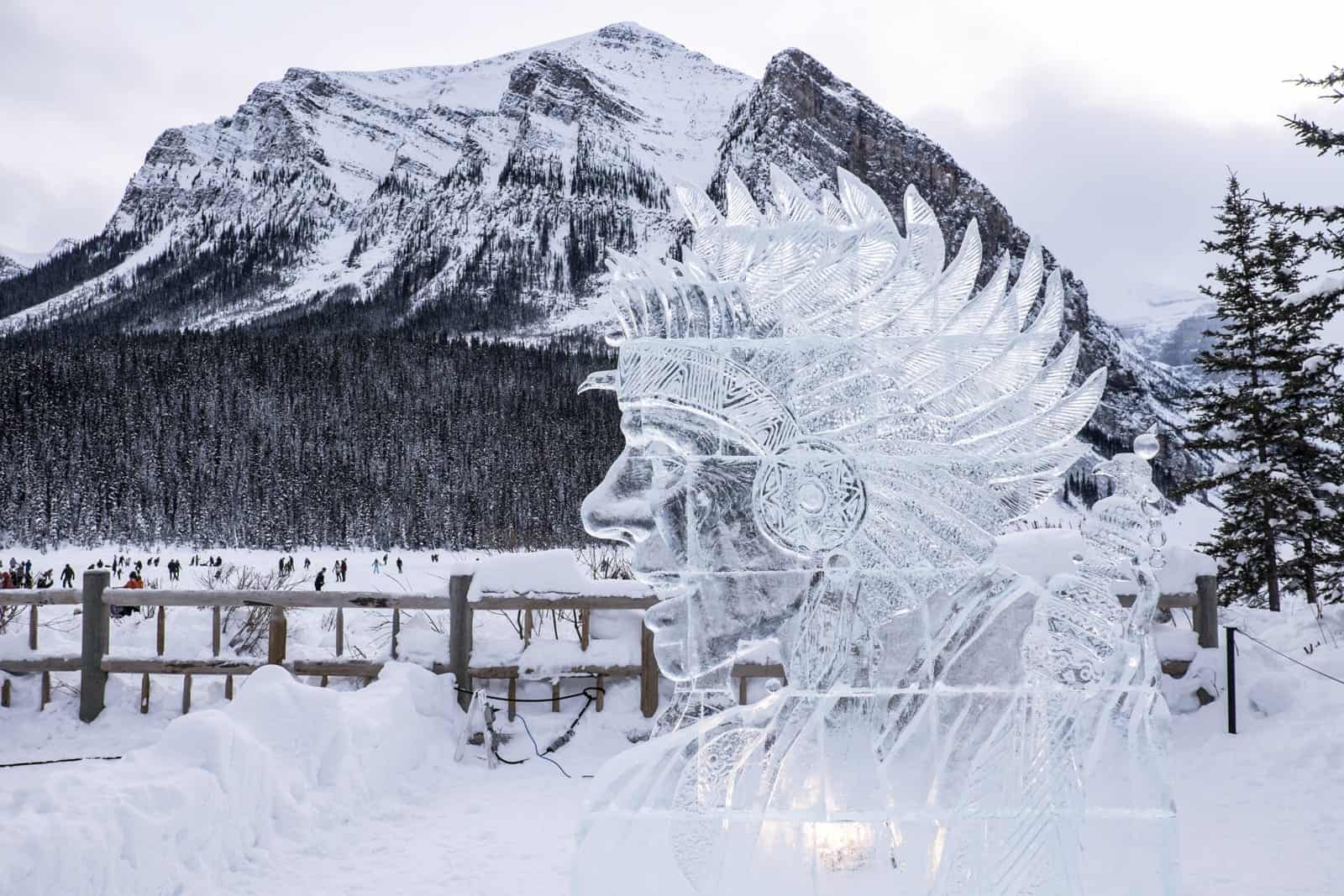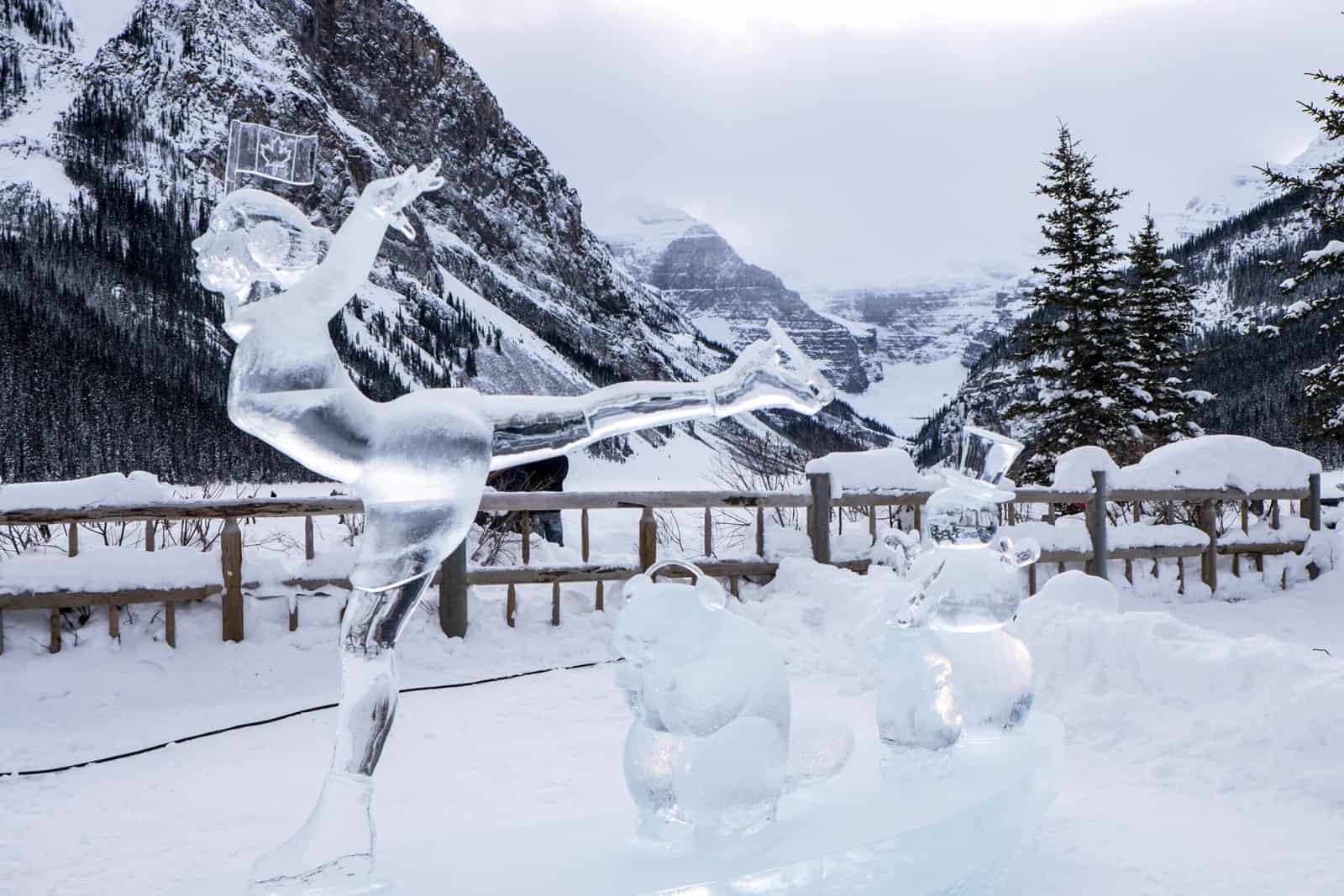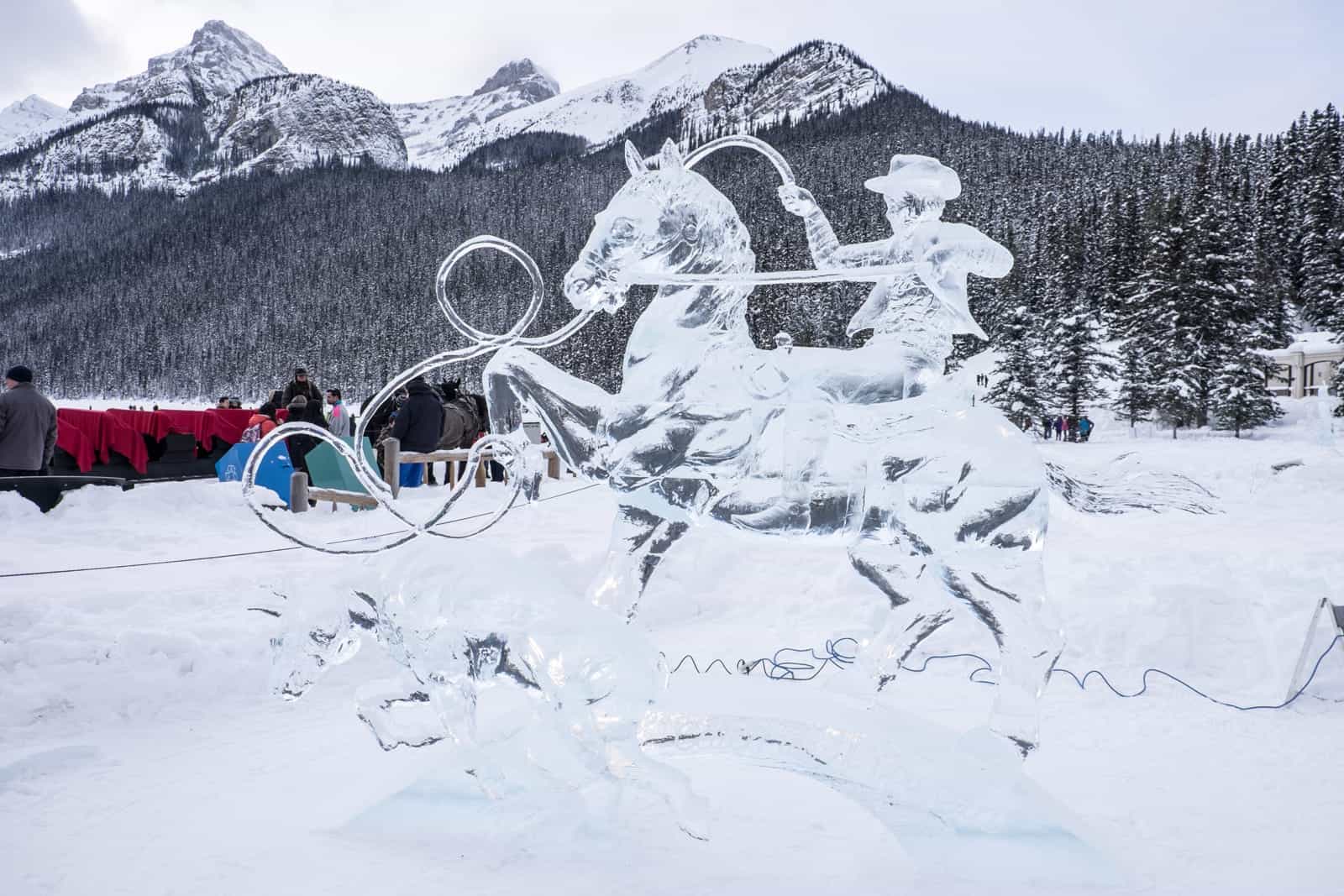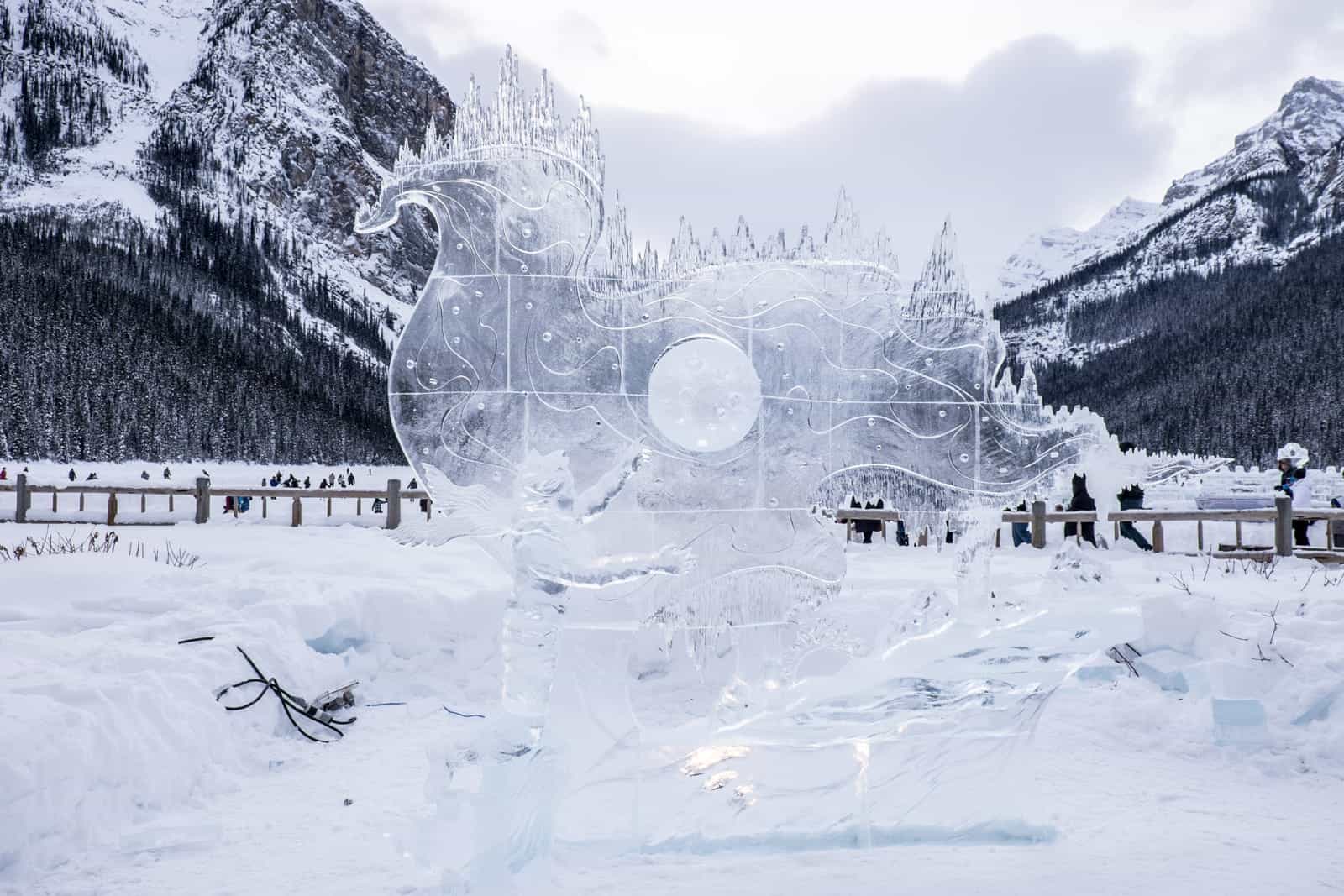 Things to Know About Winter in Lake Louise:
About Lake Louise and Lake Louise Ski Resort
The area of Lake Louise is located just off the Trans-Canada Highway (Highway 1). People choose to stay here as a quiet alternative to the town of Banff and for those wishing to spend more time closer to the glacial lake, which is only five kilometres from the small town of Lake Louise.
While the lake was named in honour of Queen Victoria's fourth daughter, its first name was Ho-Run-Num-Nay (the Lake of Lake of Little Fishes) – a name given to it by the Stoney Nakoda First Nations people.
Winter in Banff typically lasts from November to May, and Lake Louise normally thaws out by June. Daily, fresh snow and some of the best dry powder in North America make Lake Louise Ski Resort a world-renowned snow-laden wonderland. Here's where you can plan your ski packages and accommodation options.
Responsible Tourism in Banff and Lake Louise
The Mountain Institute was established to help educate and raise awareness amongst visitors about how to explore and Banff National Park responsibly. This is an interactive platform of videos that make up a variety of fun quizzes and knowledge tests about wildlife, adventure exploration, camping and more. Once you have completed the modules you will get a certificate to prove your commitment to the preservation of Banff National Park.
READ MORE: Things to Do in Banff in Winter – Seven Months of Snow and Ice Adventure
Want to Join a Small Group Tour in Banff?
I was whisked around this incredible space by Discover Banff Tours, who specialise in private and small group tours to get you right into the very heart, history and culture in Banff. That means avoiding the crowded tour buses and masses of people when exploring the Banff landscape, instead, being one-on-one with the guide or in a small setting. Banff is so large that it may be hard for you to find things on your own, or navigate the enormous space and long drives. Plus, Discover Banff Tours know the secrets, the best viewpoints, and where is best to visit at a particular time. A special shout out to my guide, Noam, who is also a chief wildlife spotter!
You can book packages from single to multi-day excursions for wildlife tours, to go and discover Lake Louise, tackle the Johnson Canyon Ice walk in the narrow ice-laden canyon, snowshoe in the Vermilion River Valley or to the 40-meter deep gorge of the Marble Canyon, get your crampons some action on the frozen creek bed of the Grotto Canyon Ice Walk, or book stunning heli-sightseeing and heli-skiing days.
Further information on planning an Adventure Filled Winter in Banff
Visit the dedicated Banff and Lake Louise website for more details on planning your activities, accommodations, where to eat and general park planning in winter and all year-round.
I undertook this trip with the help of Banff and Lake Louise Tourism and Travel Alberta Tourism, in the hope to inspire you to visit Banff in winter and be inspired by this absolutely incredible and pristine part of Canada.
Want to Visit Lake Louise in Winter? Pin It!