Disclaimer: This post contains affiliate links to handpicked partners, including tours, gear and booking sites. If you click through or buy something via one of them, I may receive a small commission. This is at no extra cost to you and allows this site to keep running.
The biggest Salzburg ski resort known as Skicircus is a wintertime stage to toboggan, zipline, hike and more, beyond the tradition of skiing.
The glory and panoramic beauty of Salzburg ski resorts and shredding the slopes of the Austrian Alps is a rite of passage for every visitor who passes through the country in winter.
Alpine pursuits are quite the thing to show off about here, but that's not the only winter pastime to enjoy.
Experiencing the Biggest Salzburg Ski Resort
The biggest ski resort in Salzburg is born from the combination of the four regions of Saalbach, Hinterglemm, Leogang and Fieberbrunn into one, known as the Skcircus.
A four-hour train journey from Vienna to Saalfelden, with a halfway change at Salzburg city station, brought me straight into the heart of this gigantic winter production
Now that this enormous sugar bowl of the Austrian Alps has become one of the largest ski areas in Austria, where do you even begin?
Salzburg Ski Views – The Cable Car Ascent
After checking into my rustic alpine Hotel Bäckerwirt in Leogang, I went straight out to catch a cable car up into the peaks for the last few hours of blue-tinged daylight. The winter arena of Skicircus Saalbach-Hinterglemm-Leogang-Fieberbrunn is so big, it now has 70 of these mountain lifts to take you up into altitudes reaching 1,914 meters, and 270km of powered slopes that can get you back down.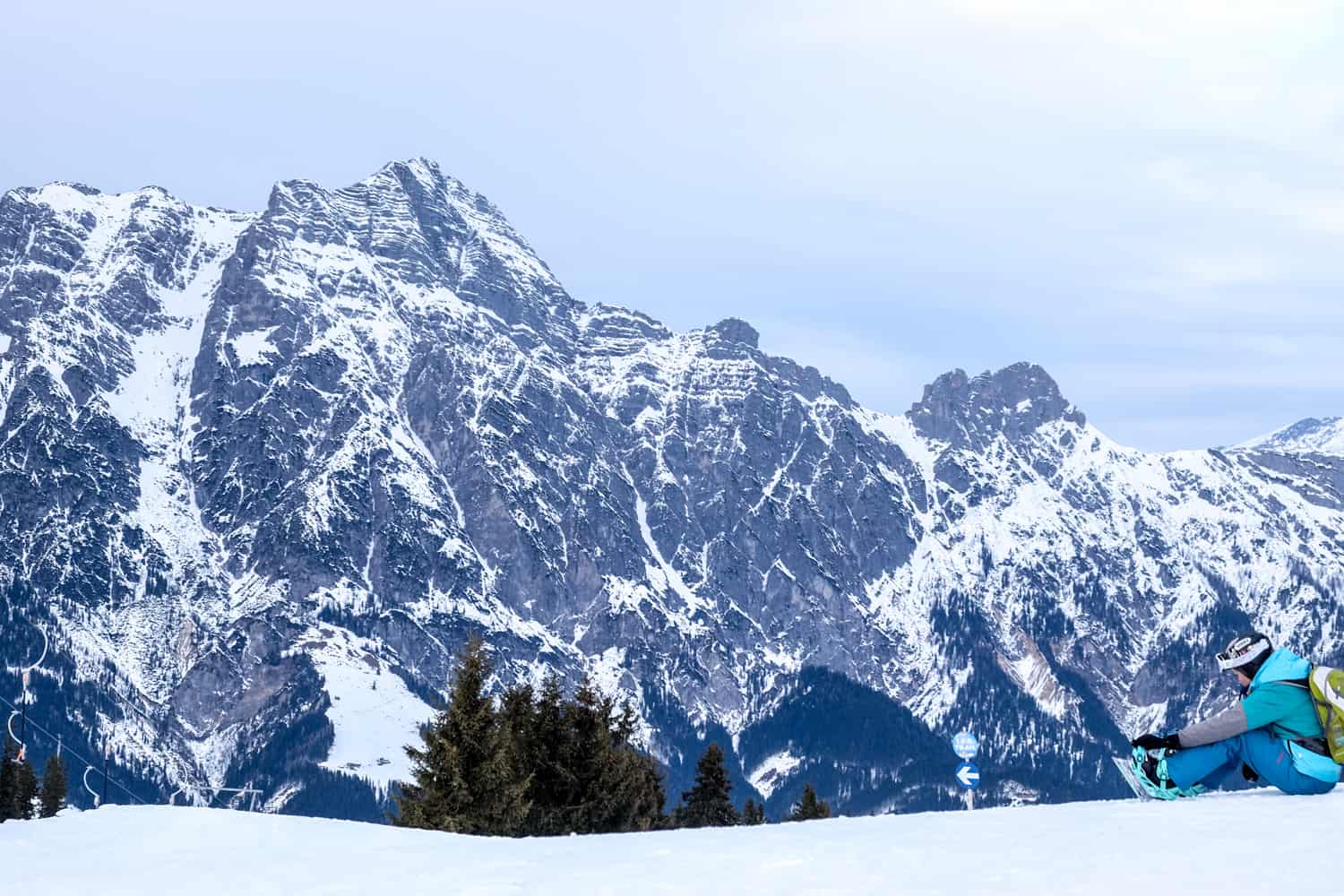 Descend by Toboggan or Zipline on the Asitz Mountain
The pivotal place for all the fun is the Asitz Mountain, and arriving in the early afternoon meant my first activity would be an alternative to ski. And so I took to a toboggan for a seven-minute adrenaline-pumped whirl down to one of the middle cable car station, admiring the panorama of distant jagged peaks on the way.
People often seek more thrills away from the piste, and in the Saalfelden Leogang Skicircus area, there are plenty of options. Aside from the vintage wooden sledge fun, Asitz has now added an even faster option that incorporates the endorphin addiction of flight.
The new Flying Fox is one of the longest and fastest ziplines in the world at 1,600 metres and 130km/h that soars you between two peaks and over the vast expanse of the valley floor. It hadn't officially opened when I was there, so I didn't get to try it. The demand for adrenalin addictions other than ski means more activities get added to the winter mix, tempted to come back.
Salzburg Ski Lessons in Skicircus
My first full morning was designated solely for private ski lessons, where I spent three solid hours on a beginner slope before a celebratory beer with lunch. With 140km of blue slopes, Skicircus is welcoming to beginner skiers, with a variety of leisurely routes to tackle once your confidence kicks in.
While my first lesson a year before concentrated on the technical perfection of the snowplough and speed control, my one-on-one lesson here built upon that, where I learnt how to turn and put that snowplough into action. I sometimes lost my control (as is expected), although would often venture into a few seconds of adventurous speed freestyle by accident, before realising I'm no Olympian. It's terrifying and exhilarating all at the same time, and all a part of the learning process.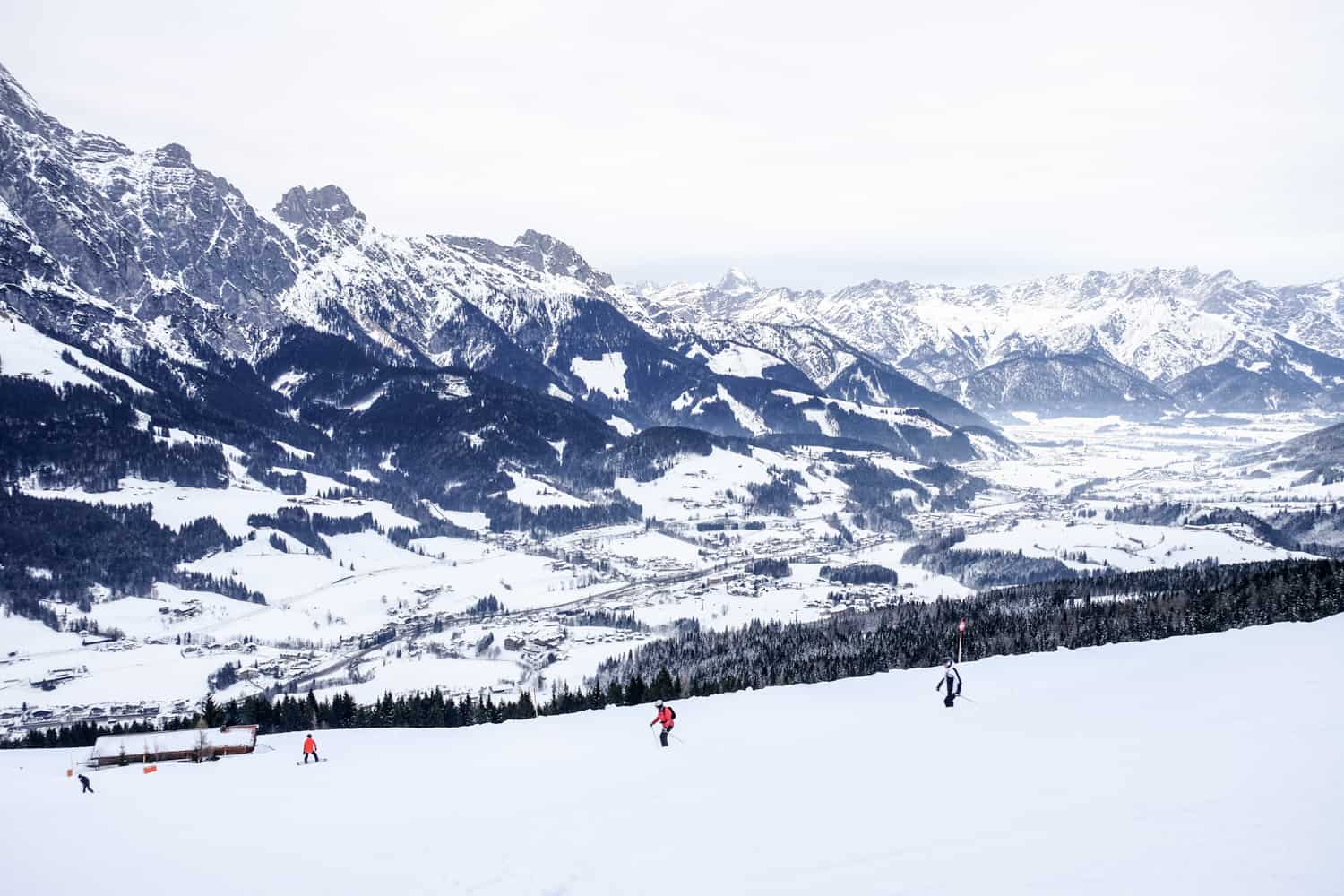 However, if you are aching for an adrenalin-charge, there's also enough incline to tempt the more advanced, with 110km of red slopes and 20km of black. I'm aiming high, literally.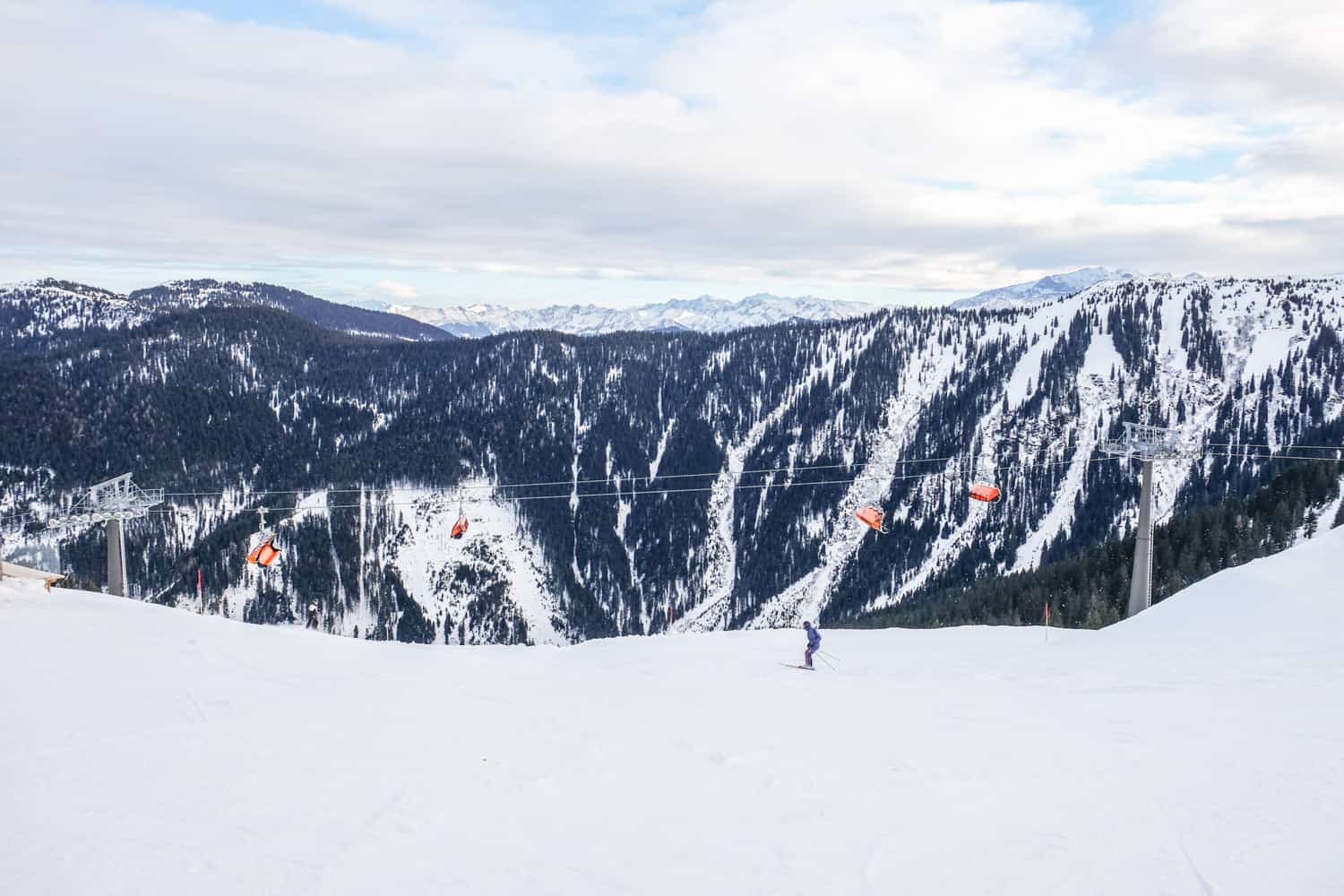 More Than Ski in the Austrian Alps
Aside from the ski Austria humble brag, the Salzburg mountain range lays claim to 150km of cross-country and racing trails, seven ski-touring routes and snow parks, two free ride parks, five toboggan runs and a dedicated 'Nordic Park'. You can even learn how to ski-jump, which is one of my adventure goals.
The new Saalfelden Nordic Park is a winter sports facility where alternative ski activities come together in one colossal arena. You can slow down and ice-skate on Lake Ritzensee, take a horse-drawn sleigh ride around the area or build an igloo, or you can continue with the athletics.
There's 150km of cross-country forest trails and racing routes, where you can hike challenging paths such as the Haid Trail and the winter wonderland of the Kolling Forest or take a light 30-minute meander on the Ritzensee Trail. You can also book snowshoeing tours and torchlight hikes to reach the Salzburg mountain panoramas via nature's forest bound fresh tracks.

If like me, you find yourself wanting to take on one of these options and are held back by a snow flurry while nature decides to re-load the slopes and valley walls, there's always the chance to climb up, Spiderman style, on one of the indoor bouldering walls. This last-minute change of plan was a good thing – leading me towards a new sport I will soon be taking up back home in Vienna.
As the name suggests, Skicircus is quite the stage for wintertime in Austria, where you circuit the mountain slopes and valley walls of a massive patch of the Austrian Alps by alternative means, while keeping up with the ski traditions it's always been known for.
My guide to skiing in Salzburg is a part of my 'Year in Austria' project, where I was the official UK ambassador for the Austrian National Tourist Office, travelling all around the country (using my home of Vienna as the starting point) over 12 months.
Things to Know About the Salzburg Skicircus in Austria
Getting to Saalfelden Leogang for the Salzburg Skicircus
By Train. The closest railway stations are Saalfelden and Leogang, which has taxi stands and a bus to get you to your resort areas/accommodation. The ÖBB network is exceptionally well connected. I took a train from Vienna Hauptbahnhof to Salzburg Hauptbahnhof and changed from there to Saalfelden.
By Plane. The nearest international airport is Salzburg, which has good connections with many of the major airlines. There is now a 'Holiday Shuttle' that travels non-stop eight times daily between the airport to Saalfelden Leogang.
By Car. From eastern Austria, use the westautobahn Vienna – Salzburg (A1) and exit at Wals-Lofer. Saalfelden Leogang is 400km from Vienna. From Germany take the autobahn Munich Salzburg (A8). Saalfelden Leogang is 200km from Munich.
Book Ski Lessons in Salzburg (Saalbach-Hinterglemm-Leogang-Fieberbrunn)
Saalfelden Leogang Skicircus has five ski schools with approximately 250 ski instructors, including snowboarding, cross-country and children's ski instruction.
Private ski lessons start from €65 for one hour in the morning and €55 for one hour in the afternoon. A full day of instruction is €230.
Group lessons start from €50 for a half-day, €100 for 2.5 days and €145 for 3.5 days.
How much does it cost to Ski in Salzburg Skicircus?
Costs for the Skicircus area start from €35-42 for a half-day pass and €52 for a full day pass.
A ski bus operates in Leogang and Fiberbrunn to particular cable cars. Check your local timetable for scheduled stops, time and routes.
Further Information and Research
Further Reading on the Winter Season in Austria