When the freshly green alpine meadows and the trail paths of the Tirolean mountain peaks become coated in snow, winter in Austria becomes an entirely different landscape to play on.
The most popular winter attraction in the Kitzbulher Alpen region in Tirol is undoubtedly ski, yet what many do not realise is the scope of other activities that you can engage in throughout your time here. Over 15 regions have established environmentally friendly activities that get visitors closer to nature, proving that there is more than ski during winter in Austria and its many snowy months. Even smaller ski resorts such as St. Johann where I learnt how to ski, include active exploration activities outside of the traditional red and blue ski runs.
Whether you are a hiker, an outdoors adrenalin enthusiast, or a small town explorer, here you really can get it all. You certainly won't be bored, when winter in Austria and its alpine arena of Tirol involves…
Winter in Austria: Fast-Paced Alpine Action
Fatbiking
A fatbike is a specially designed 'winter bike' with over-sized tyres up to four inches wide, giving adrenalin junkies access to some of the Kitzbüheler Alpen's 400km of biking tracks. I sampled the Fatbike monster machine in Kirchberg, cutting through fresh snow, gliding downhill in the alpine forests and grappling with multi-inclined and curling tracks that landed me right into the heart of the wilderness away from the slopes.
Toboggan Slide
Many Austrians will attest to tobogganing being as much a part of their winter escapades and in their blood, as ski. Everyone has tried it and everyone knows it because a winter in Austria is not complete without another go at this much-loved tradition. You will see children as young as five jump on the wooden sleigh chairs ready to whirl down the mountain in a speedy spiral.
As an adrenalin junkie, I must admit I found it both exhilarating and at times completely frightening. It takes a while to learn how to control your toboggan, especially around the very precarious mountain track edges. Be prepared to take a tumble, and for your feet to be put to the test as your only form of breaking. I sampled this heart-racing activity in the evening at Gaisberg, where the yellowing lights guided us down the 3.5km track, stopping for dinner at a traditional Austrian mountain hut, Gasthof Obergalsberg, halfway between.
You will never forget this traditional way of getting down the mountain.
Segway in the Snow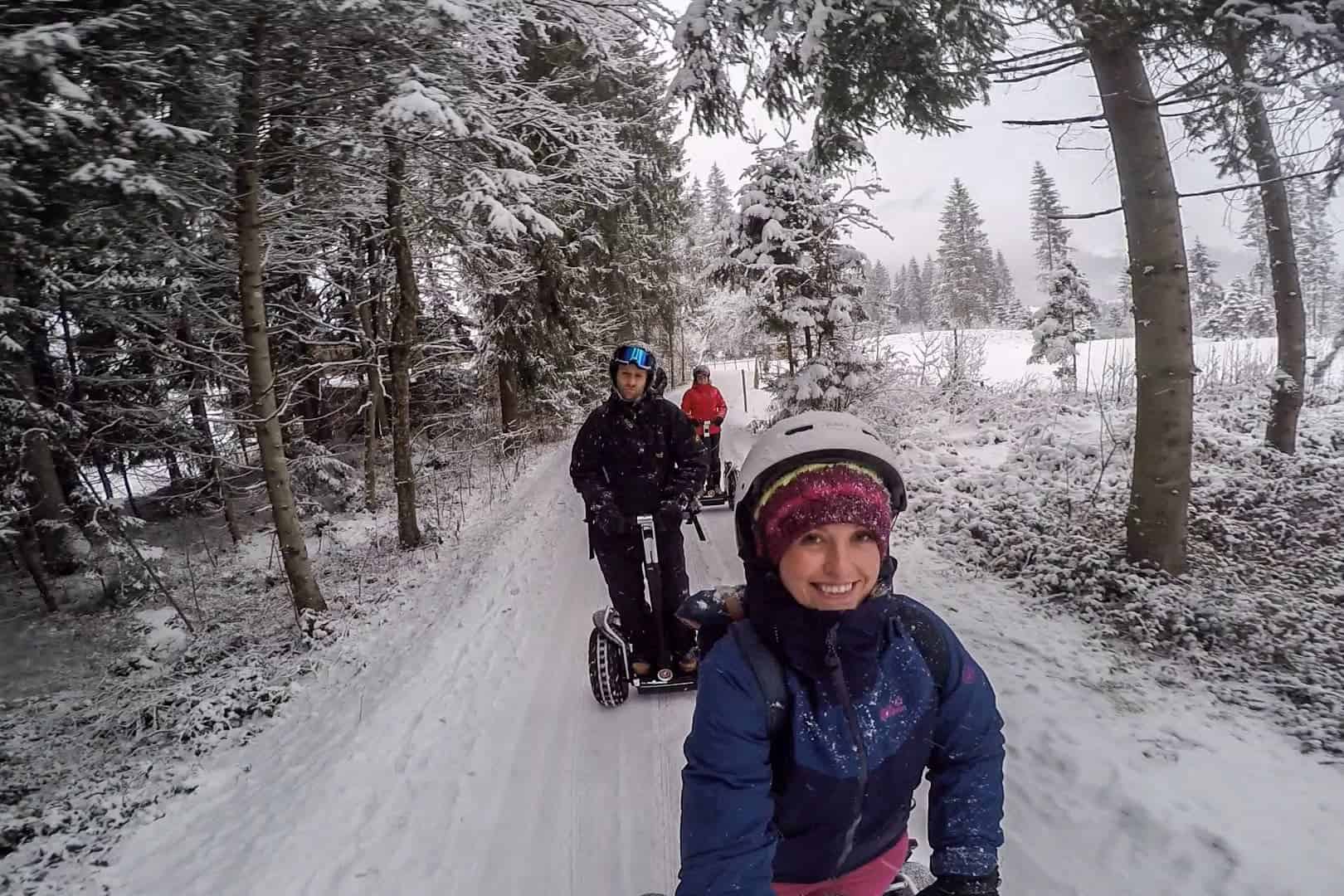 You might not have heard of it or seen it in a winter context, but with chained tyres, you can Segway in the snow.
Following the pathways through woodland, a one hour Segway tour in the area of Westendorf near St. Johaan, gets you completely off-track away from the skiers who are curving the mountain edges around you. We were the only ones within the Narnia-like hideaway, rolling carefree through untouched snow, and rattling up and down small slants in the woodlands.
Winter in Austria: Slow and Relaxing
Exploring St. Johann on a Horse-drawn Carriage
The slow and romantic lull of a horse-drawn carriage takes you on a journey past the colours of St.Johann's building murals and the traditional Austrian architectural features that poke through the coating of fresh daily snow. This is certainly a relaxing way to see a slice of Tirol, tucked beneath a blanket as you clip-clop through the scenic town and the surrounding valley.
Meeting and Petting Huskies in Hole Salve
Some like the thrill and the chase of Huskie dog sledding, but here you can indulge in a cuddly meet and greet session with these beautiful animals. In the area of Angerberg in the Hole Salve ski resort, Martin Eigentler invites you to come and meet his husky dog pack – all 27 of them. In fact you can come and play with them during summer and winter in Austria. They are free to roam and interact, although after a couple of hours rest time for the dogs is respected, despite their infectious excitement.
You can read more from CreativeElena, who documents her experience at Martin's husky farm.
Winter in Austria: Nature Walks and Treks
Biathlon the Austrian Way
The Kitzbulher Alpen attracts athletes from all over the world, who converge on the lands of Tirol for a Biathlon (a skiing event that combines cross-country skiing and rifle shooting). But outside of the Championships that have been held here, it doesn't mean you can't try a taster Biathlon in Austria too.
With 700km of cross-country tracks and 750km of prepared-cross-country ski trails, Tirol is scattered with different gradients of ground from flat to challenging. It's ideal for classic and skating style and has a network of ploughed and secured trails for those wanting to embark on winter hiking. I got a short course in cross-country skiing and introduction to the Biathlon sport in Hochfilzen.
We set up a small circuit for a lighthearted competition, skating in teams back and forth in a relay before testing our skills at the target range (shooting small metal targets with pellet guns). In the afternoon, we leisurely hiked through inches and inches of pure white, powdery snow and up some light hills, which involved a few soft and giggle-induced tumbles. It's much harder to try and pull the cross-country skis through knee-deep snow AND climb.
Snowshoeing Kirchberg
Snowshoes were once the tool of hunter-gatherers during the cold season, and over time have been adapted to become a means for rambling through snowy forests. Snowshoes (which you strap onto your winter boots) have a large surface area to enable you to walk through thick snow and explore completely off-track – a more relaxed means of getting out the secluded corners of Tirol, where you can explore the area of Kirchberg.
Trekking with Llamas
Llamas in Austria? Sun and snow, these animals reside all year round in the PillerseeTal region and you can head out on a light trekking route with them as your trusty guide. Native to South America, the llamas can be found feeling very at home in the Kitzbulher Alpen, wandering the slanting alpine meadows and tiny villages. It is said they make great hiking companions – with distinct intelligent and funny personality traits, which can sense and therefore counteract stress – and you can spend everything from a few hours to a full day with them in the Fieberbrunner mountains.
It might appear gimmicky, but everyone enjoys getting up close to some of nature's cutest creatures. For more insight into how it feels to have a llama as your trekking friend, I thoroughly enjoyed (and laughed at loud) reading this witty read on llama trekking in Tirol in the Guardian.
Winter in Austria: Food and Drink
Schnapps Tasting
Schnapps is a long-standing tradition in Tirol since the 1700's – of family recipes handed down from generation to generation. Five million kilograms of farm-fresh fruit are used each year to produce the handcrafted schnapps that comes from the thousands of craft distilleries scattered all across the region. It's what gives Tirol its stamp of quality.
Schnapps lovers can head to one of 41 distilleries open to visitors in Tirol, and while I'm not a huge fan, I still enjoy trying it in the hope that one day the taste just resonates with me. In the meantime, one can still enjoy the science behind its manufacture. This year, I got to experience schnapps tasting with the Edelbrandsommelier, Leo Trixl in the Boutique Lodge of S4 Alm in Fieberbrunn.
In this case, we were not standing in front of a vat that looked like a time machine (as you would normally do), but presented with a box of tiny vials of liquid, each with a very different and distinct scent. From this, you could work out which you liked and the corresponding schnapps flavor would be given to you to try, which we later accompanied with tasty spare ribs.
Traditional Austrian Mountain Hut Dining
The outdoors life during winter in Austria is as much about relaxing in a traditional hut for a mountain pit stop, as it is about being active and at one with nature. To replenish the calories from strenuous nature exploration, hearty food is always the order of the day, accompanied by the alpine view.
My favourites are Tiroler Gröstl (a hearty dish of potatoes and pork, known as a traditional way of 'eating the leftovers') and Kaiserschmarn (a type of pancake served with an apple sauce and cranberry jam), all washed down with a favourite Austrian soft drink called Almdudler or specifically in winter, a good warming mug of Gluhwein (mulled wine).
Other top choices include Käsespätzle (an Austrian take on macaroni and cheese),
Griessnockerl (Austrian style dumplings in soup) and the classic Wiener Schnitzel Further inspiration for dishes to try, we well as recipes, can be found here.
There's always time to ski during winter in Austria, but when Tirol during this powdery season is a Narnia playground, what activities will you choose to try away from the traditional pastime?
Things To Know:
Where to spend winter in Austria: The Kitzbulher Alpen, with over 1,000km of slopes and activity areas, covers the four regions of Brixental, St.Johann in Tirol, Hohe Salve and Pullersee Tal in the Kitzbuhel area, including 20 traditional Tyrolean villages. St Johann is located in the middle, with readily accessible train and bus links to surrounding areas
Photo Credits
Fatbiking: © Chris Wasser
Tobogaan, Biathlon: © Traveldudes
Horse and cart ride in St. Johann and huskies: © Mela Mörtenbäck – Tirol Tourism
Snowshoeing: © Christian Lendl
Llama trekking: © Black Dots White Spots
Editorial Disclosure – I didn't get to try every single activity listed (all in good time). However, they all come from high recommendation of friends involved in the #InAustria blog trip, created and managed by iambassador in association with the Austrian National Tourist Office, Tirol Tourist Board and the Kitzbüheler Alpen Marketing GmbH. Borders of Adventure maintains full editorial control of the content published on the site, including all ridiculous excitement about the snow.