To ski in Austria means being faced with a multitude of options, but skiing in the Gerlitzen Alpe in Carinthia is one to consider for a taster of the trails in the sun-drenched Southern Alps. It's otherwise dubbed the "sunny side of winter" with around 100 hours more sunshine per year than in areas north of the Alps. It was time to swap alpine sides and give it a try.
In the alpine of the Villach region, the power of the mountains soars over 1900m high where 25 perfectly groomed slopes await. While not as densely snow-drenched as the resorts in the northern Alps, the snow machines add extra coatings to accompany the warm rays.
The mountains in Carinthia are also where they say three cultures meet since you can ski right in the peak pocket where Austria, Italy and Slovenia border one another. A border marked only by nature's profound ledges that make for some spectacular scenery while skiing.
With 44 kilometres of ski runs that have an audited seal of approval as being suitable for all abilities, it was at the Gerlitzen Alpe where I was able to step up my game. There's 13 km of blue runs, 28 km of red and 3 km of black to play on.
Gerlitzen Ski – Perfect Practice for All Abilities
Skiing in the Gerlitzen is ideal for beginners who need to be challenged. There was plenty of blue runs to mix both relaxing routes with those slightly more challenging to carve, since as I was crossing the line after a couple of years towards intermediate.
For those who want to really explore the Gerlitzen mountain's winter offering, one tip that's put out there is to follow sign for the Stella Ronda which forms a great combination of long downhill runs and ski lifts that enable you to cover most of the entire ski area. Daredevils and off-piste enthusiasts have 15 kilometres of untouched ski runs to take on.
Before long, I was able to criss-cross from blue to red in combination as well as test out some of the mighty long red runs that needed some stamina – those which combined long wide, slopes along with some tucked away corners for panoramic views and a few minutes of rest bite and more gentle red run cruising.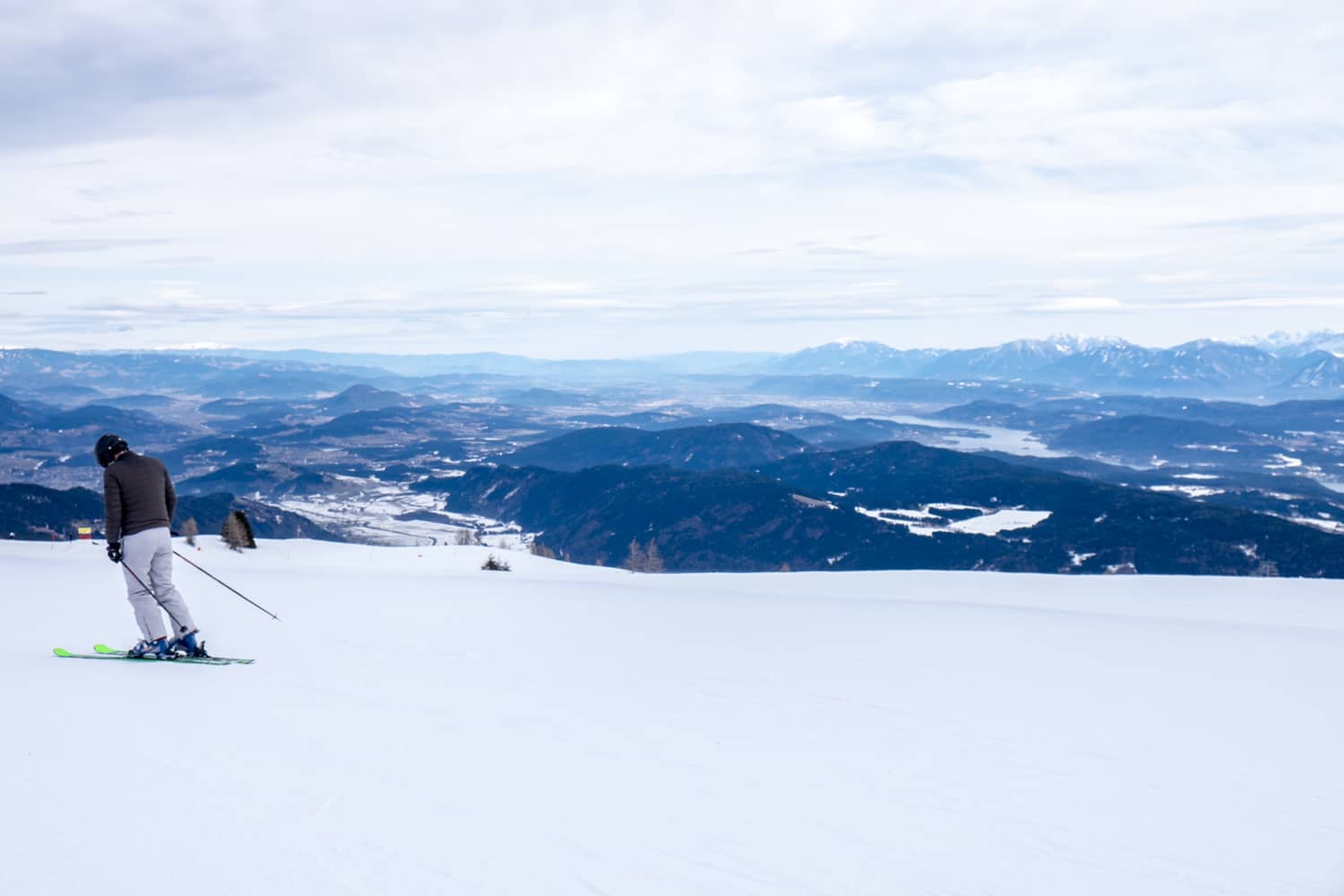 How High is the Gerlitzen Mountain?
The Gerlitzen Peak and top cable car station are at 1911m and from here you can ski down to the areas of Kanzelhöle at 1500m and Klösterlebahnen at 1000m – both areas with rest areas, eateries and other amenities with Kanzelhöle being home to a small cluster of accommodations as the 'middle station'.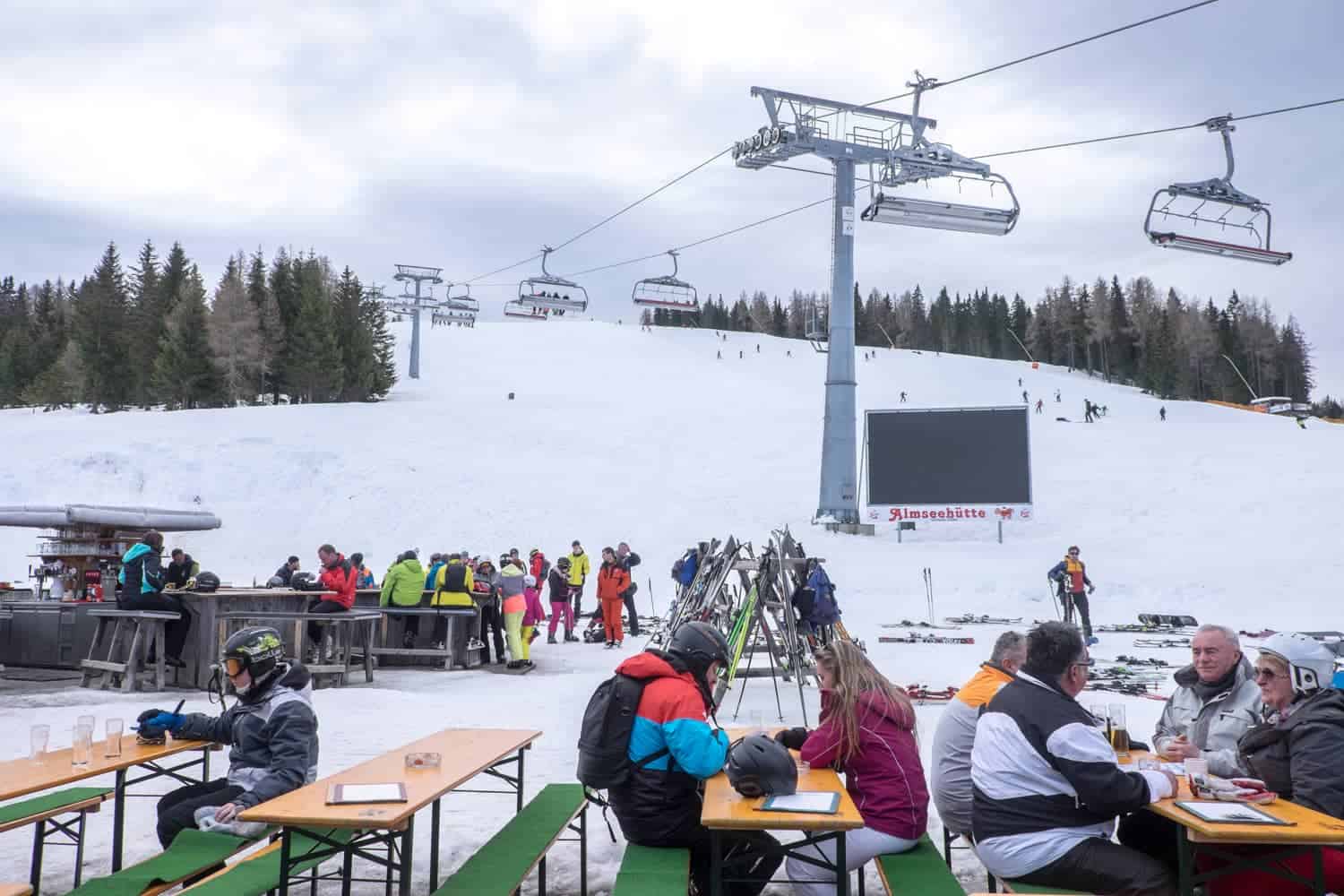 Rarely was it over-crowded, which is great for managing your technique and a good sign in the management of tourism here. Early morning runs were not packed with people, and the four and six-seater chair lifts ease the queues so you never feel as if you are hanging around for very long.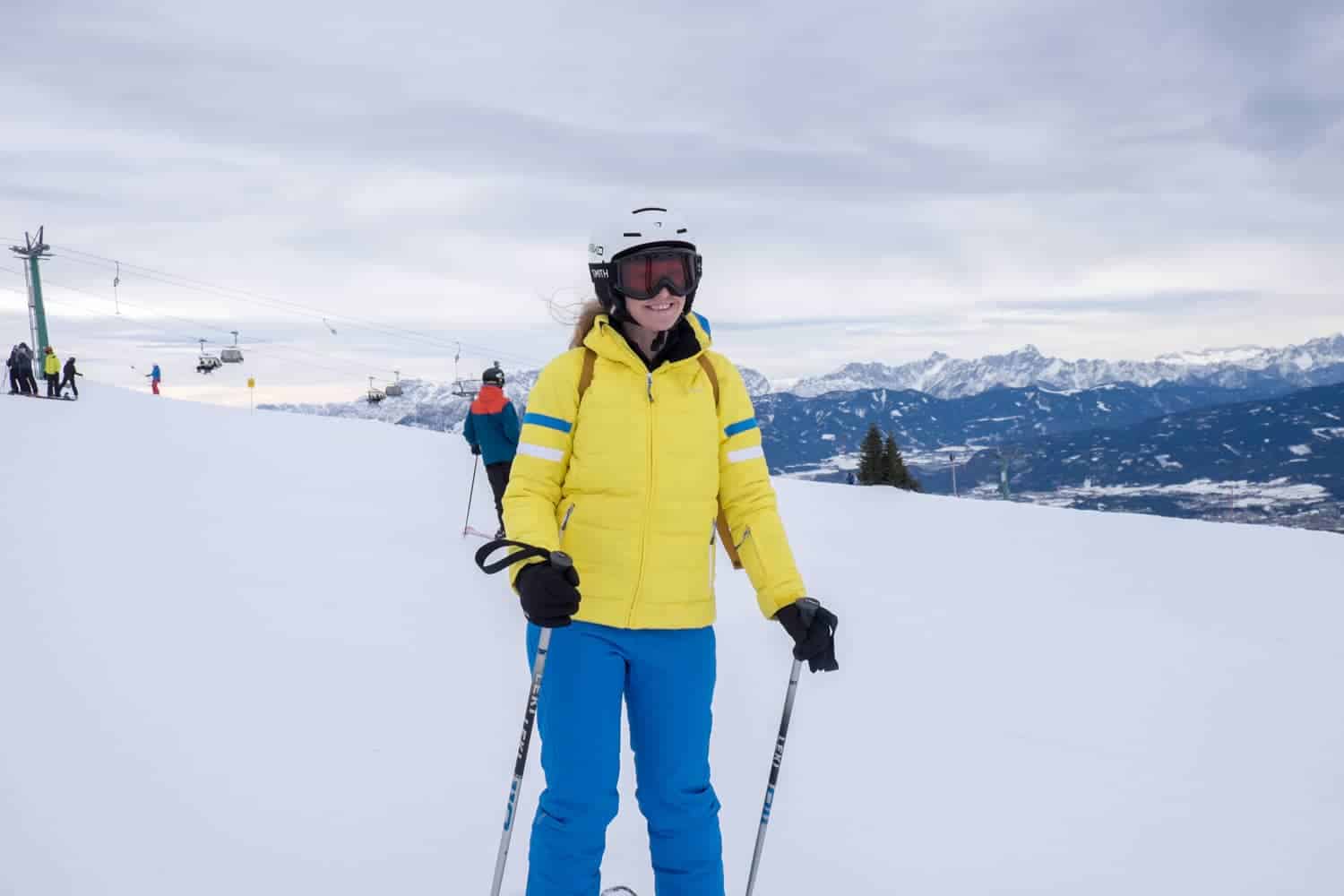 However, if you are like me and obsessed with the mountains and always feeling that the ski run times end too soon, there is a perfect solution. It is easy to feel as if you have the mountain (almost) all to yourself until the new day of carving powder dawns by staying overnight on top of it.
The Alpinhotel Pacheiner is the only Gerlitzen hotel at this highest point. I took the train from Vienna to Villach and from there took a winding 40-minute drive up to the hotel.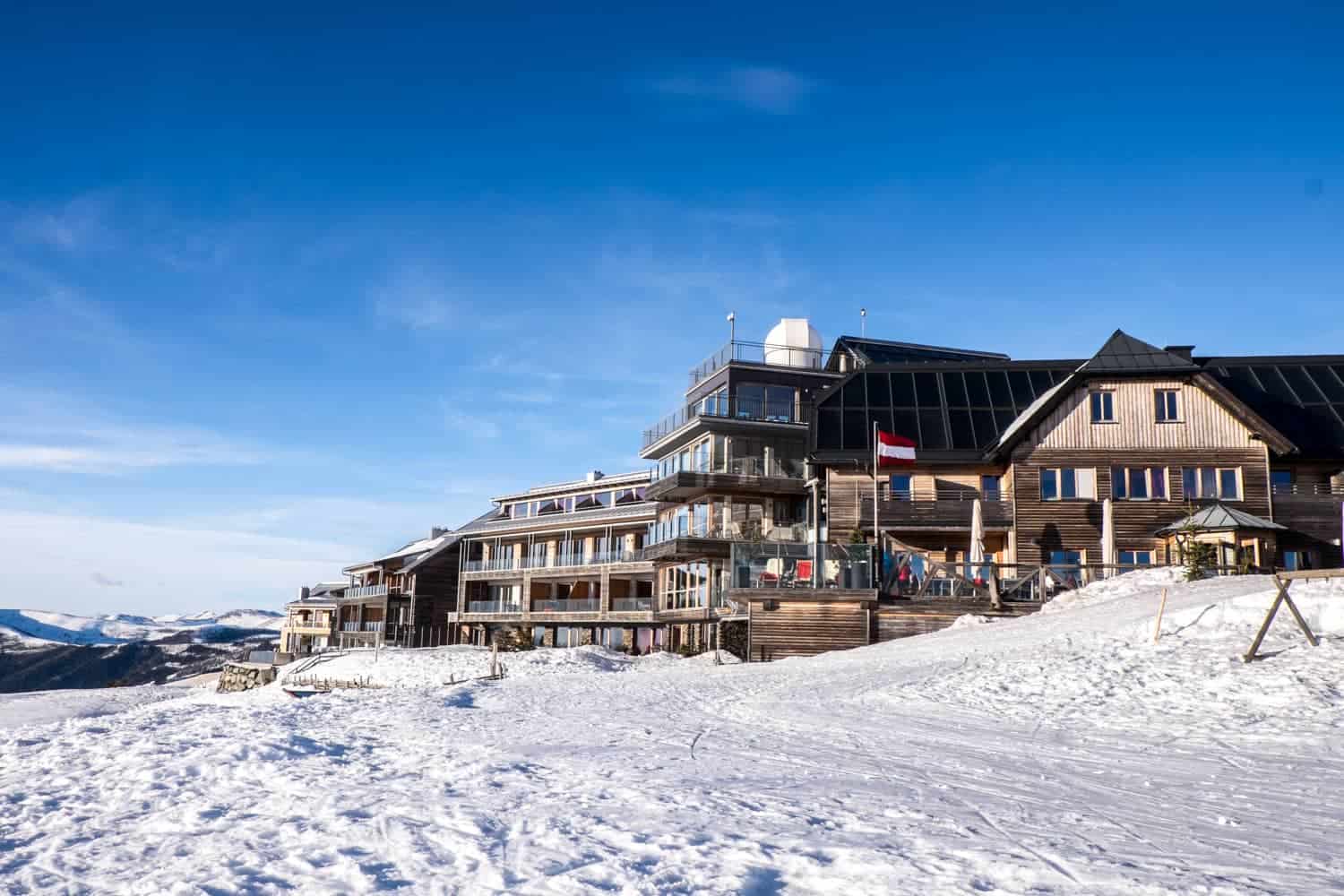 You not only watch the sun go down from elevated heights after an afternoon spent in the spa and an evening indulging in a multi-course meal, but you get to wake up to a panorama peak view, layered in hues of blue that melt into the sky.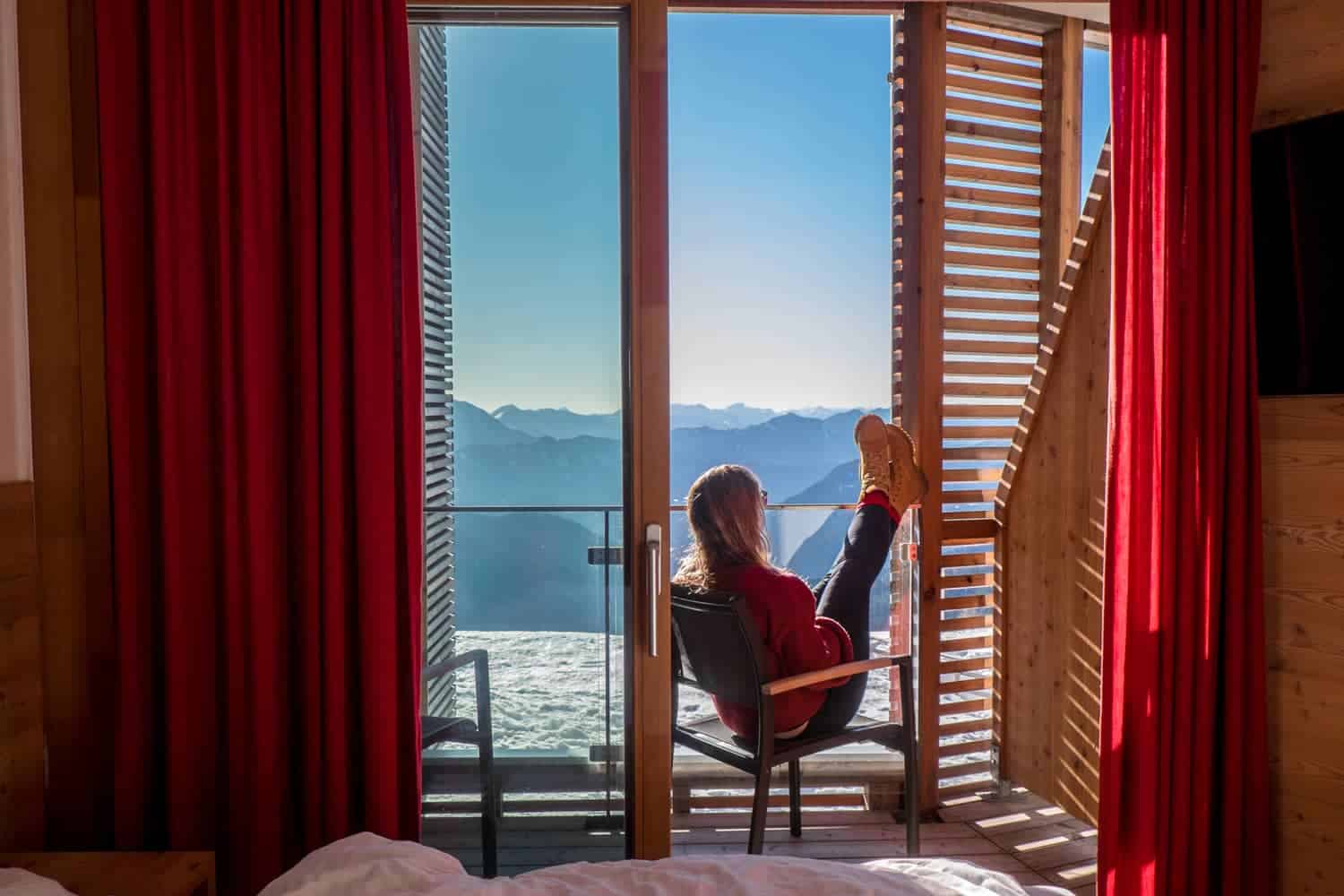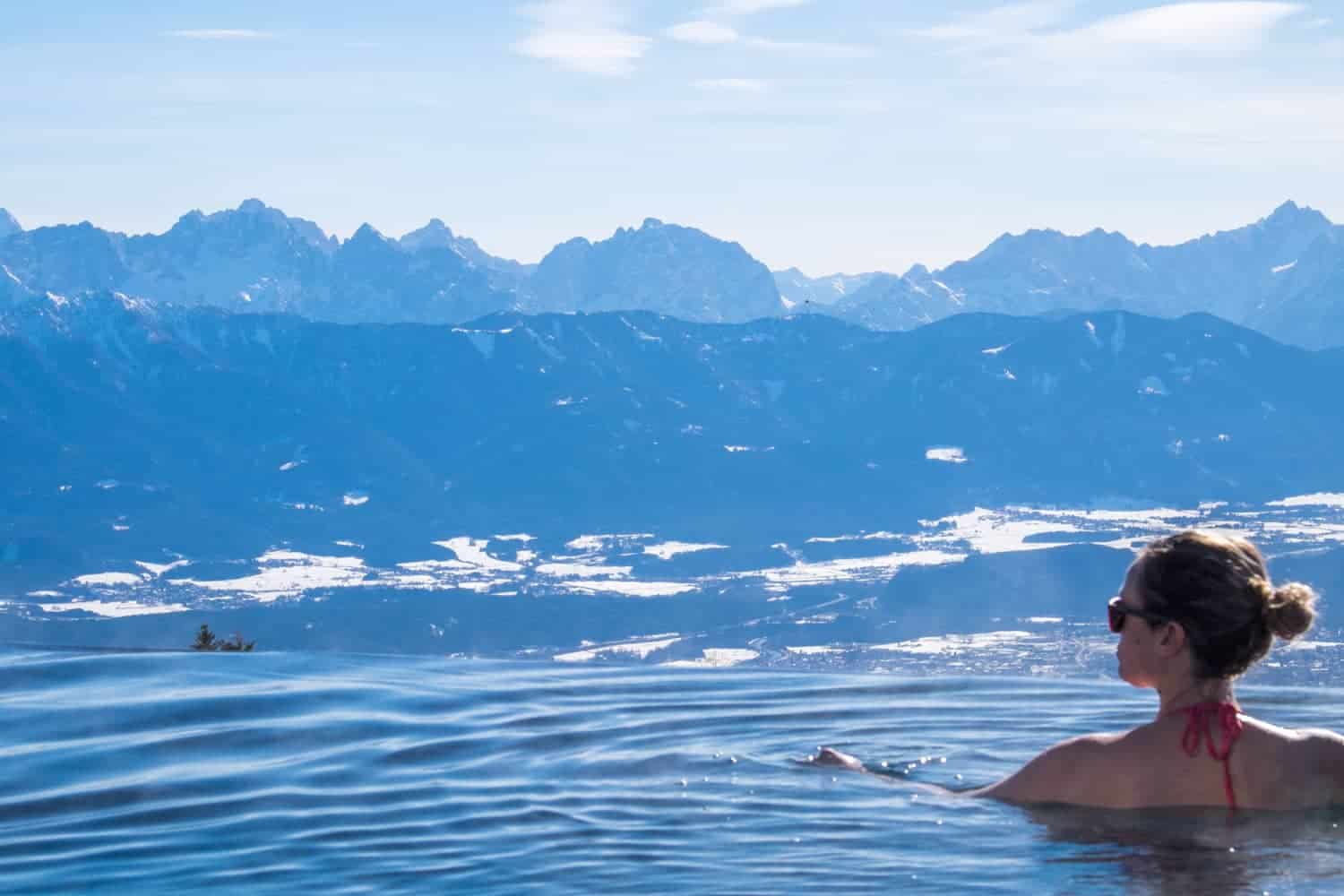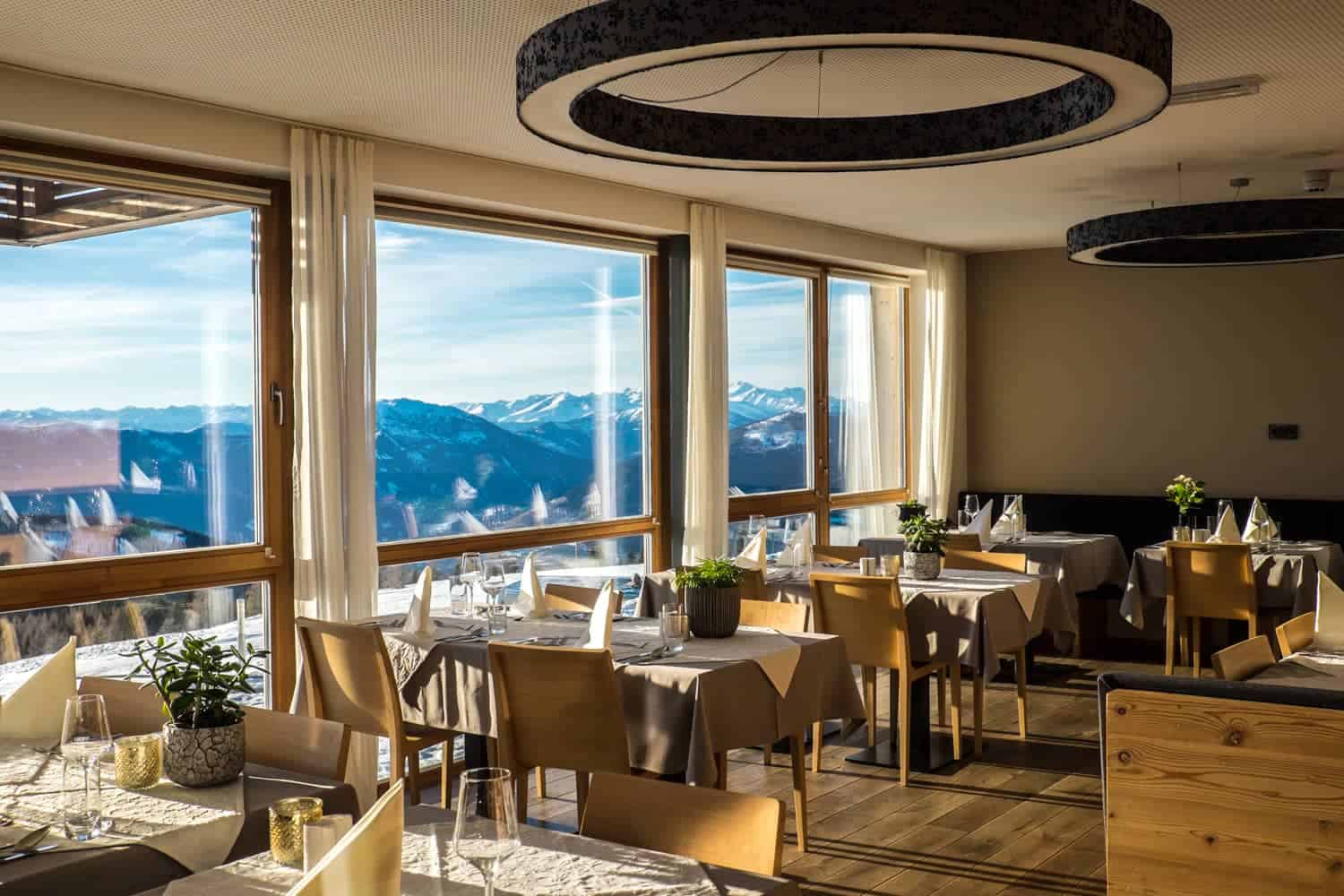 Here, you can keep your head in the alpine clouds after a day spent on the slopes, and then be the very first back out on them after the early morning snow machines have perfected the cover, with more time to enjoy.
Carinthia Ski Time Combined With Urban Exploration
Carinthia is a state surrounded by mountains and full of lakes, so you can expect such nature views from the 360-degree mountaintop vistas – the jagged layers of peaks above and the swaths of water and poking green below in the valley bed.
It's a different kind of scenery to the more marshmallow pit with a completely white coat you would expect in the northern alpine, yet beautiful none the less.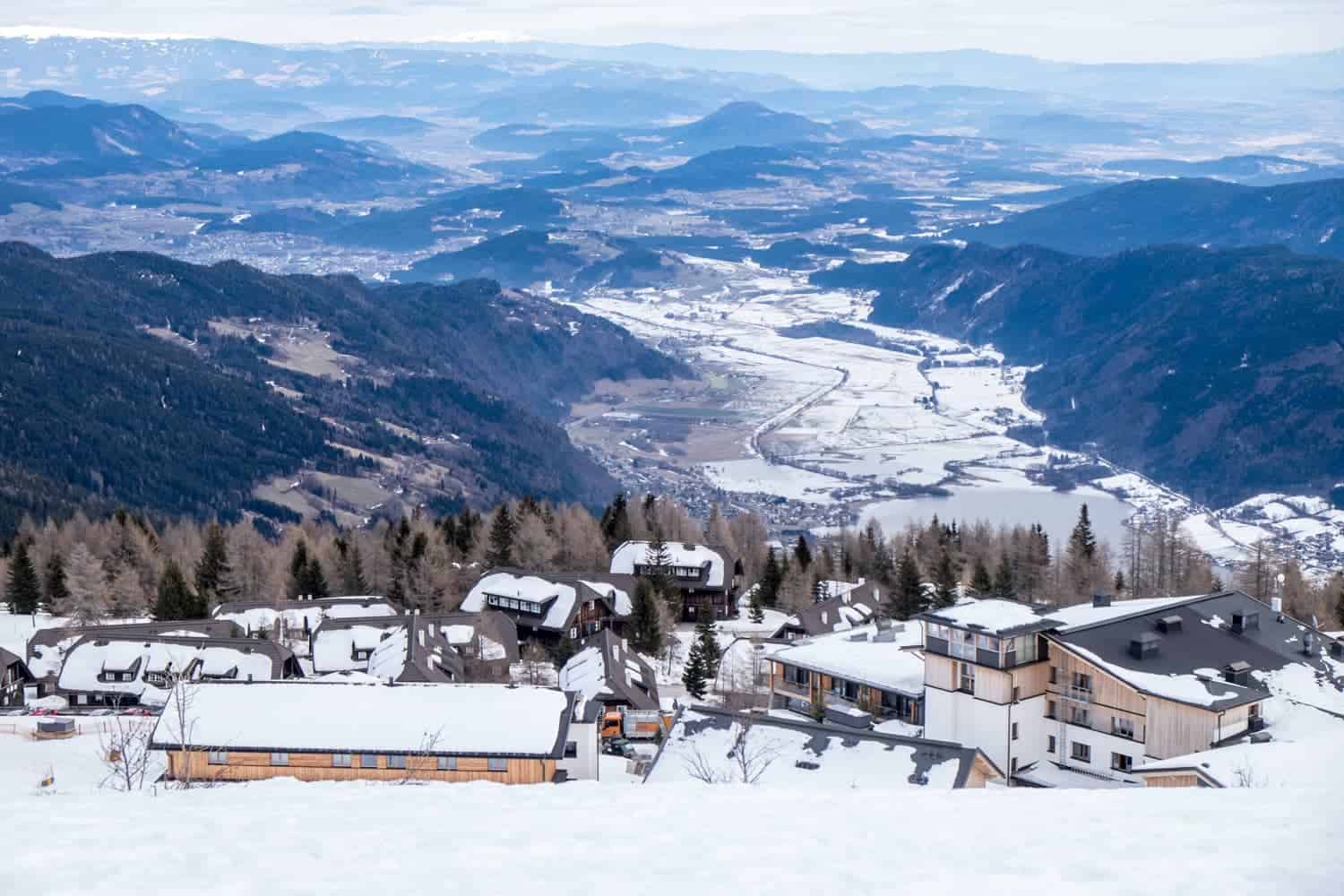 Such mix of nature and warmer weather also means being able to combine ski time with urban exploration down in historical Villach, Carinthia's second largest city, with many staying in the village and around the lake and making their daily commute up the snowy mountain.
This area is also known for its natural hot springs, with the KärtenTherme Water Park and spa in Warmbad-Villach attracting those wanting to revive aching muscles in nature's thermal spring pools. It's what locals have been doing for hundreds of years.
Skiing in Carinthia is certainly one to tick off the list, flipping the usual northern alpine for an alternative vista on the sunny side.
The question now is: where to ski in Austria next?
Things to Know About Skiing the Gerlitzen Alpe, Austria
Gerlitzen Ski Pass, Season Times and Costs
The ski season runs from end of November/beginning of December to the end of March.
One day ski ticket costs start from around €31 with the afternoon being cheaper. Day passes with first-run morning entry cost up to €47. Here you can find a full list of day ticket prices.
Ski passes start from €84 per adult, €66 for youth, €42 for children and €70 for seniors. Check here for an overview of multi-day ticket costs.
Private ski lesson costs start from €50 for one person for one hour. Full ski equipment rental costs start from €30 per day. A five-day group course costs €149.
The Kanzelbahn lift opens at 8 am and the Gerlitzen cable car starts operating at 8:15 am, with the last lifts down around 4:30 pm. Lift and slope information can be found here.
There are 13 chalet restaurants and ski bars at the Gerlitzen resort area, each with its own atmosphere and menu ranging from traditional Austrian dishes and international specialities. When staying at the Alpinhotel Pacheiner you can enjoy a six-course meal every evening.
If you have a Gerlitzen lift pass you can use it get a 20% discount at KärtenTherme water park after 5 pm.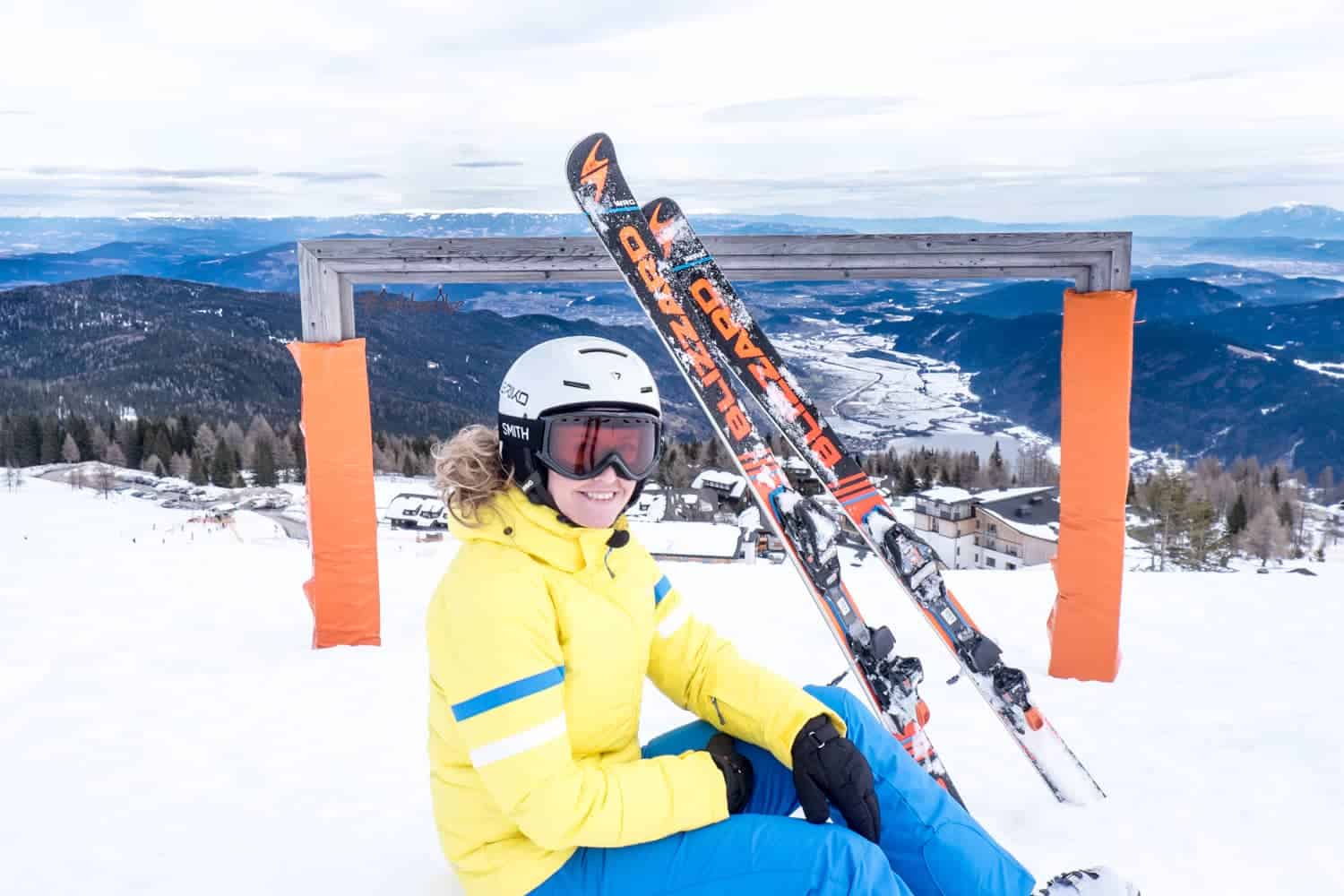 More winter activities in Villach region, Carinthia
The second ski area nearby, Dreiländereck is a smaller area in the southernmost Karawanken Range that is perfect for families and recreational skiers with 17 kilometres of runs, a three-seater chair lift and seven T-bars. The ski runs sit between 680-1,600m.
A ski-jumping centre can be found in Villach's Alpen Arena with a 15, 30, 60 and 90-metre jump for those wanting to train as flying heroes. This area also has a Nordic ski centre complete with a 5km cross-country ski trail.
Those wanting a break from ski yet who still want to enjoy the peak pleasures can go snowshoeing with guides and rangers in Gerlitzen Alpe, Dreiländereck and Dobratsch nature park, Carinthia's oldest nature park. Those wanting to up the ante can also go ski touring in the same areas.
For those wanting to indulge more in après-ski spa time, check out nearby Bad Bleiberg – a former mining town turned spa resort built upon a valley of thermal springs.
Get the Winter Kärnten Card – Extra Adventure
New to the Carinthia tourism offering, the Winter Kärnten Card was released for the first time during the 2018/2019 season. Whether you want to relax in a spa, going on a guided winter hike, take a scenic round-trip on a cable car, enjoy the water park or climb the observation tower, the Kärnten Card provides free activities or discounts for all manner of adventures aside from skiing.
It costs €59 for adults, €32 for children and €55 for seniors for unlimited use during the season, and you can purchase online and numerous tourism and sales office throughout Carinthia.
There are also combo ski and thermal spa ticket passes available from four days or more if this is more of your dual activity focus.
This trip was sponsored by the Austrian Tourism Office and Kärnten Tourism. In my two years of lessons, I finally managed this time to get on the red runs – reaching my personal goal I set on my Year in Austria project. It's also a pride thing living in Austria too. All opinions remain my own.