Disclaimer: This post contains affiliate links to handpicked partners, including tours, gear and booking sites. If you click through or buy something via one of them, I may receive a small commission. This is at no extra cost to you and allows this site to keep running.
At the Alpbach ski resort in Austria's Most Beautiful Village, ski one of Tirol's Top 10 ski areas – the Ski Juwel Alpbachtal Wildschönau.
Skiing in Alpbachtal, Austria means skiing in one of the country's award-winning destinations – the valleys of Alpbachtal and Wildschönau.
The winter wonder of the Alpbach ski resort area known as Ski Juwel is as dazzling as the name suggests, where you can stay in Austria's awarded 'Most Beautiful Village' filled with gingerbread houses while skiing on the trails that made national champions in one of Tirol's Top 10 Ski Resorts.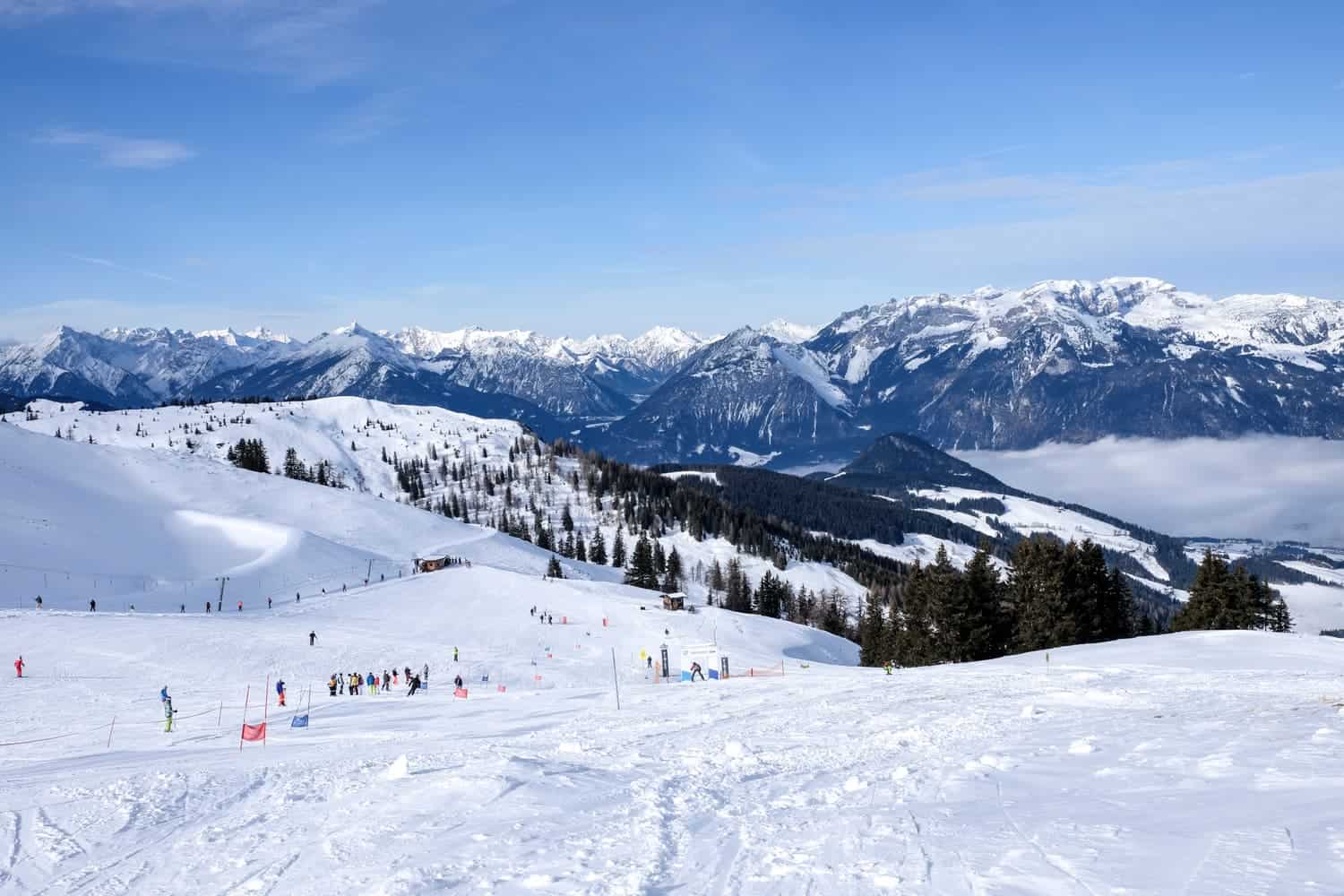 Alpbach Ski Resort, Austria – Skiing Alpine Trails of Champions and Gingerbread Villages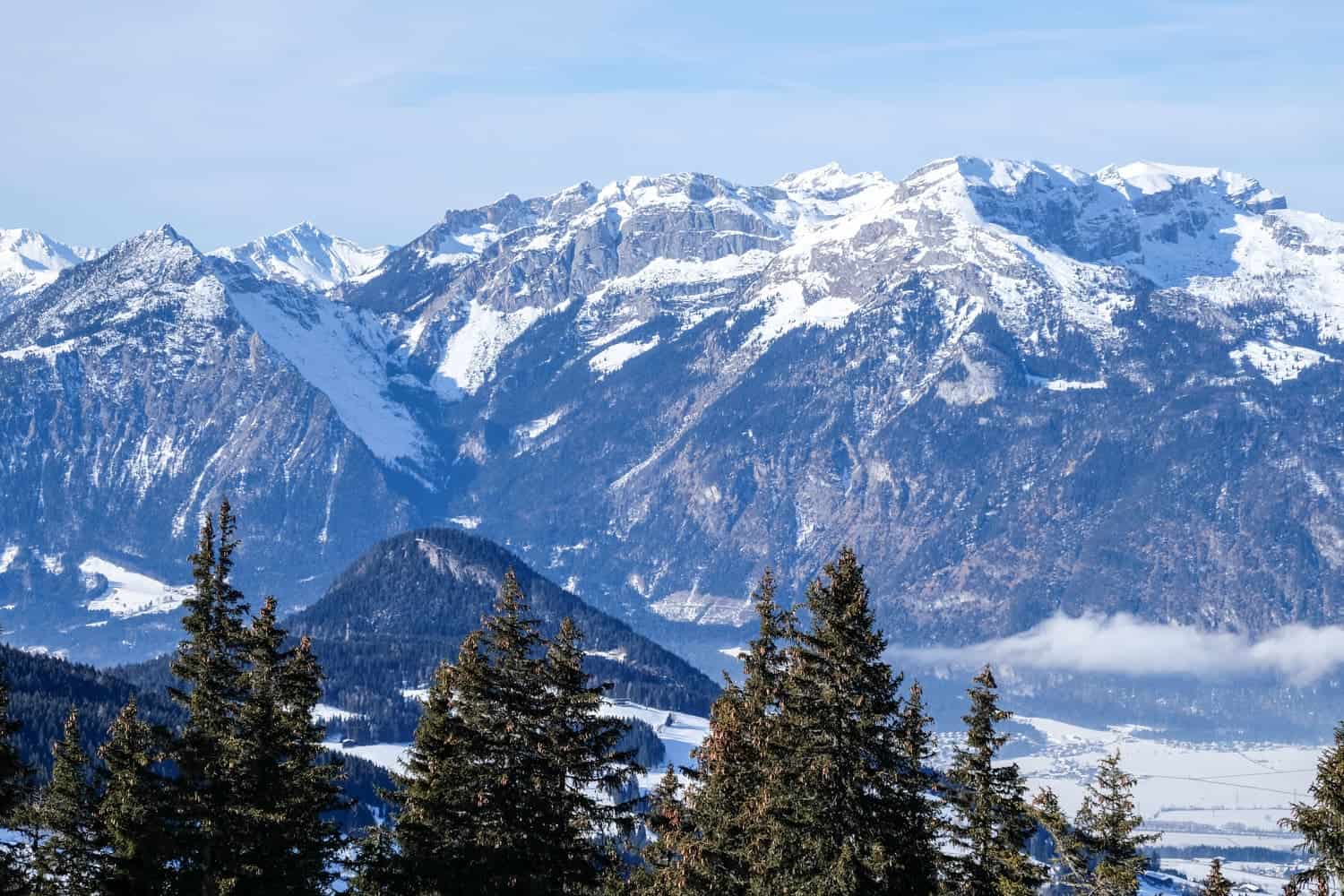 Staying in Alpbach – Austria's Most Beautiful Village
There are nine villages to choose from in the region, but Alpbach – rated the most beautiful in all of Austria – is the most popular. When I wasn't inside the cosy confines of my spa hotel, Alpbacherhof for post-sporting revival and the seven-course meal re-fuelling, I could see how this historical town got its accolade.
For a winter holiday, the ski season opening dates for the Alpbach Ski Resorts are usually around the end of November/beginning of December.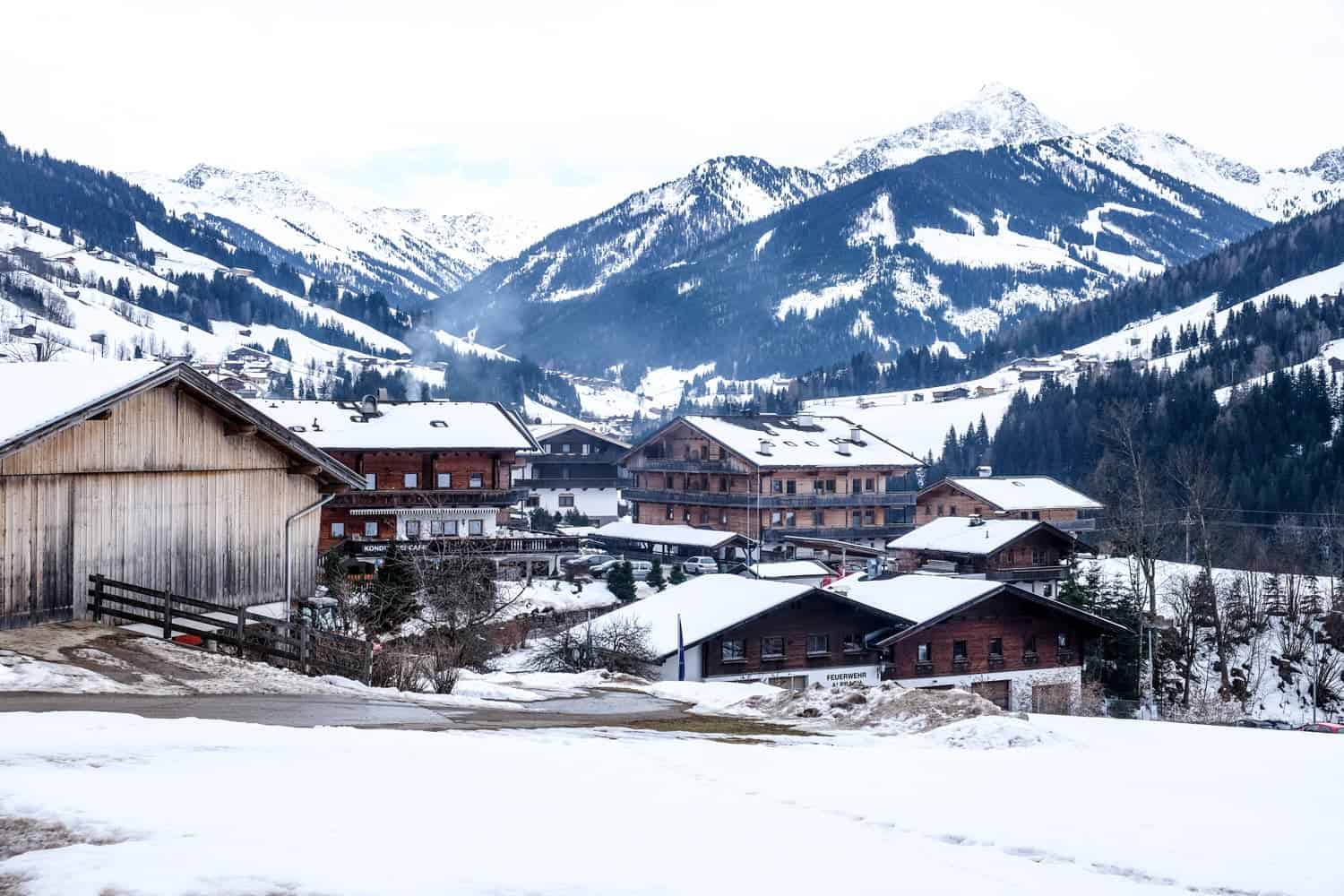 It's relatively unchanged, having once been so isolated before a road connected it in 1926. Boutique hotels, restaurants, and stores, to the more delicate farmhouses on the hillside, retain the tiny decorative frame details. All the buildings proudly wear their alpine timber architectural style.
Former Mayor Alfons Moser declared a law in 1953 that all buildings needed to be built using only wood from the second floor up to retain the original and traditional look. This homogenous style creates a beautiful gingerbread house effect when looking down over the valley from the forest pathways and mountain slopes.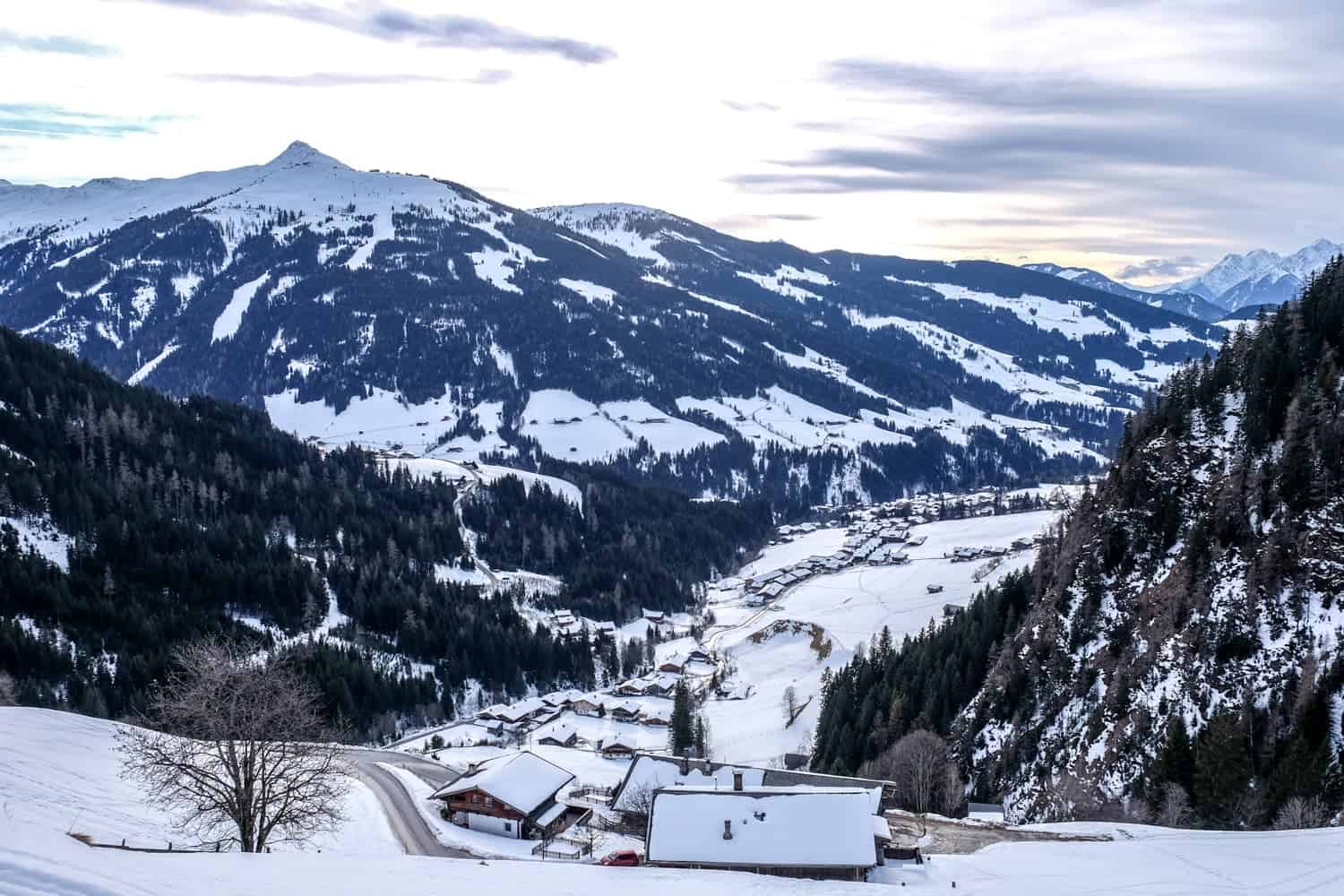 For a better view of the sugar-dusted rooftops, I went on a private snowshoeing tour, testing one of the four tracks around the valley after a morning of skiing.
From Alpbach, there are 19 winter panoramic walking routes, circling the village with 250km of trails for multi-hour adventures and 14 cross-country trails. It was a little challenging on the ski legs, but the lure of the powered hinterland is the gain from the pain.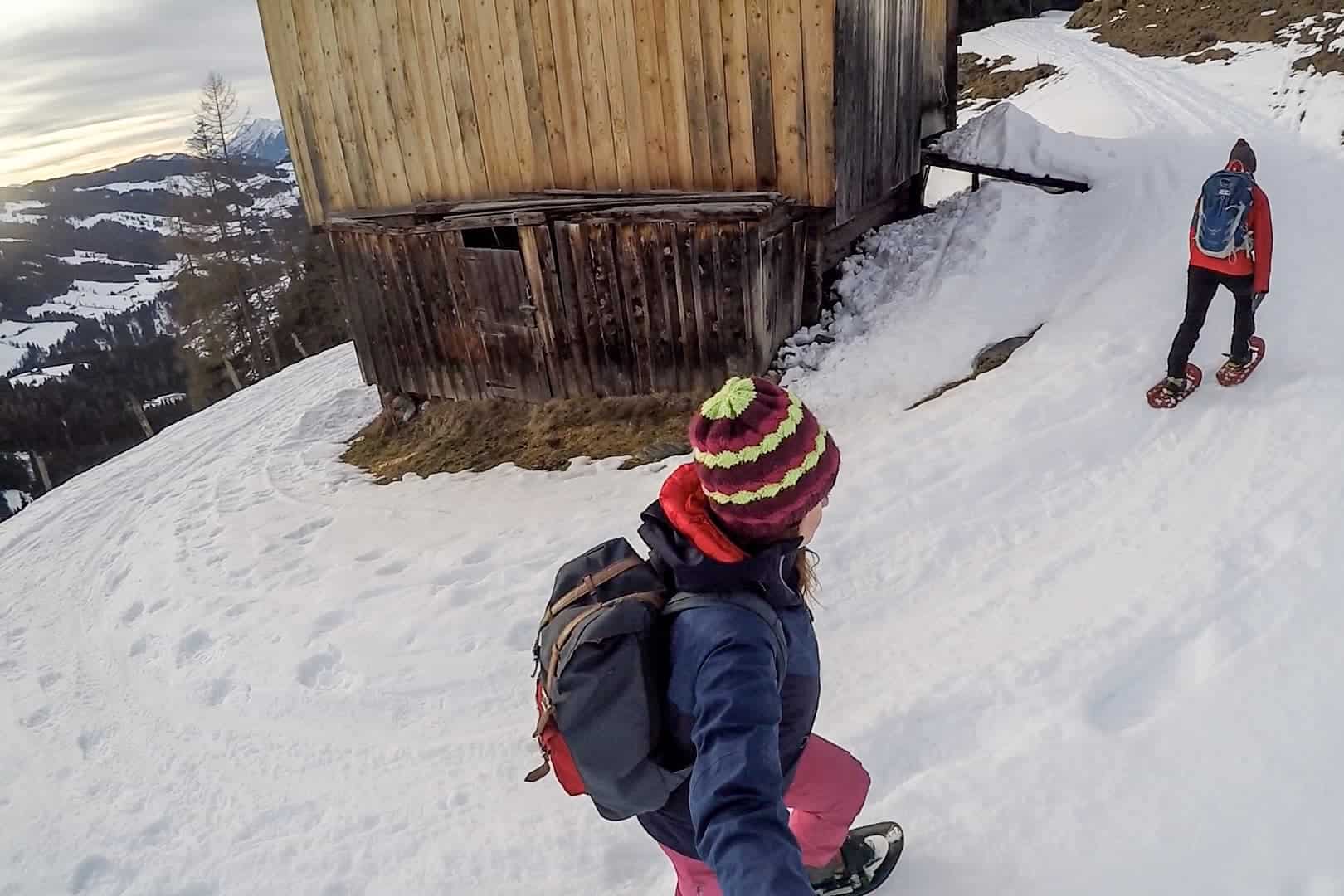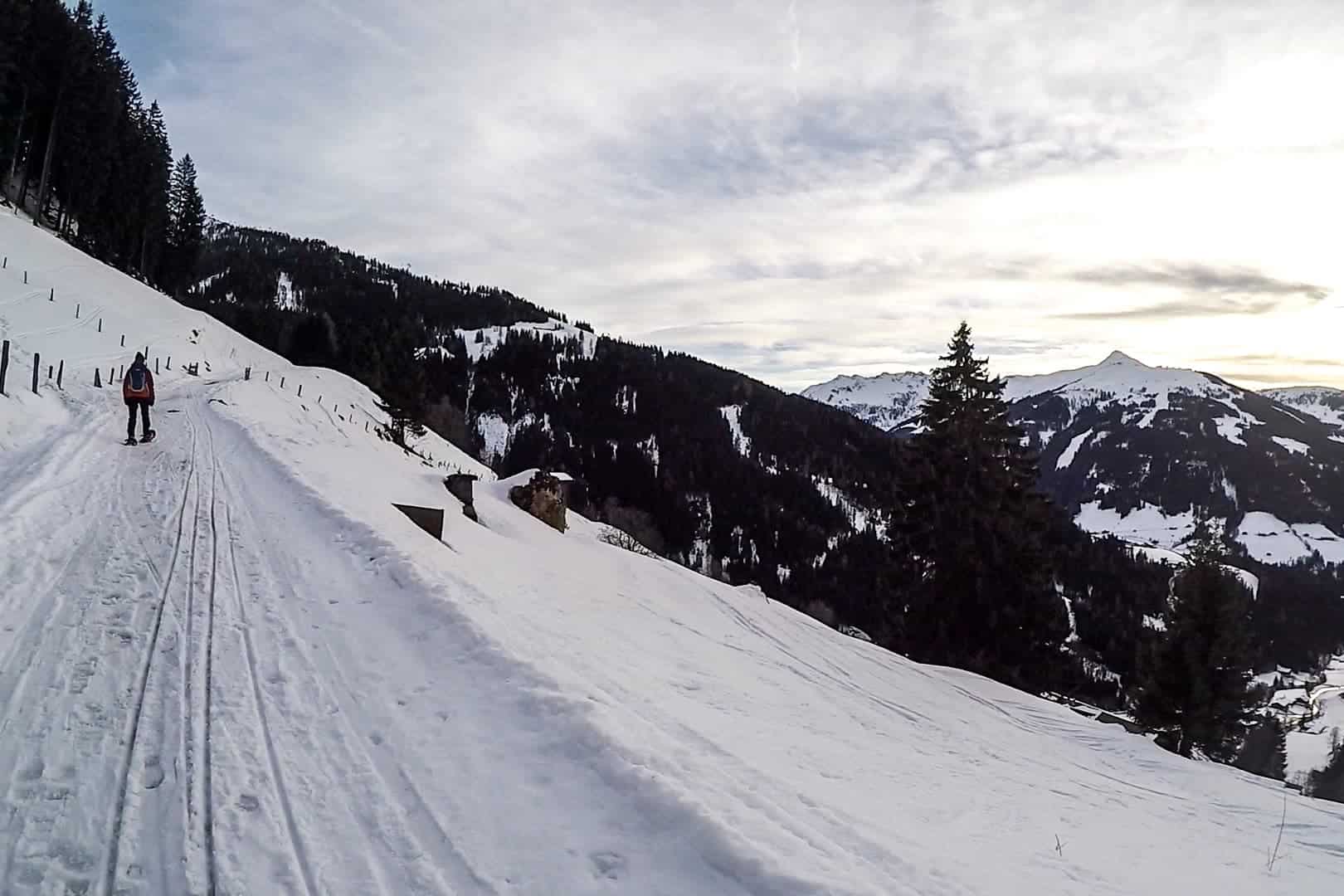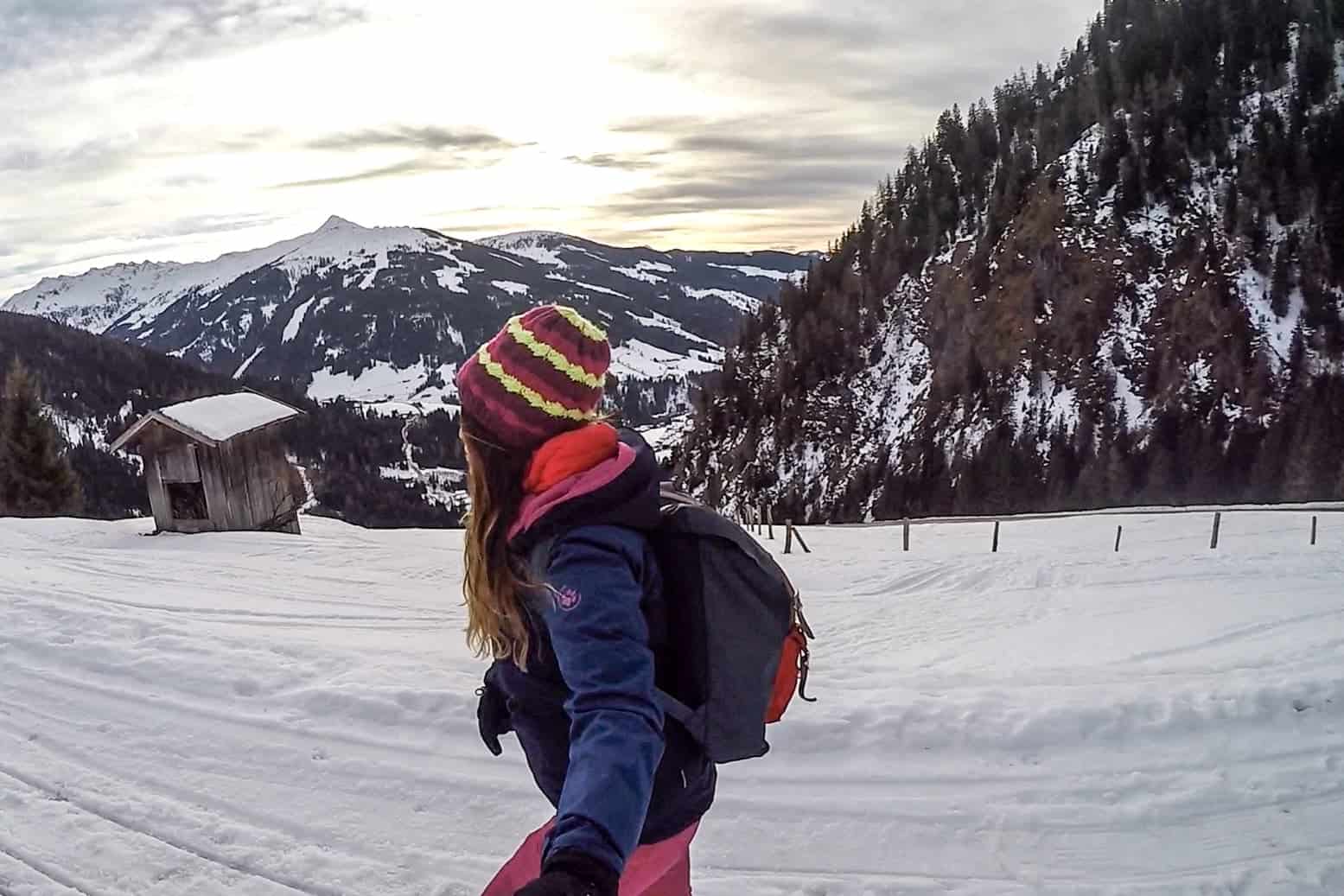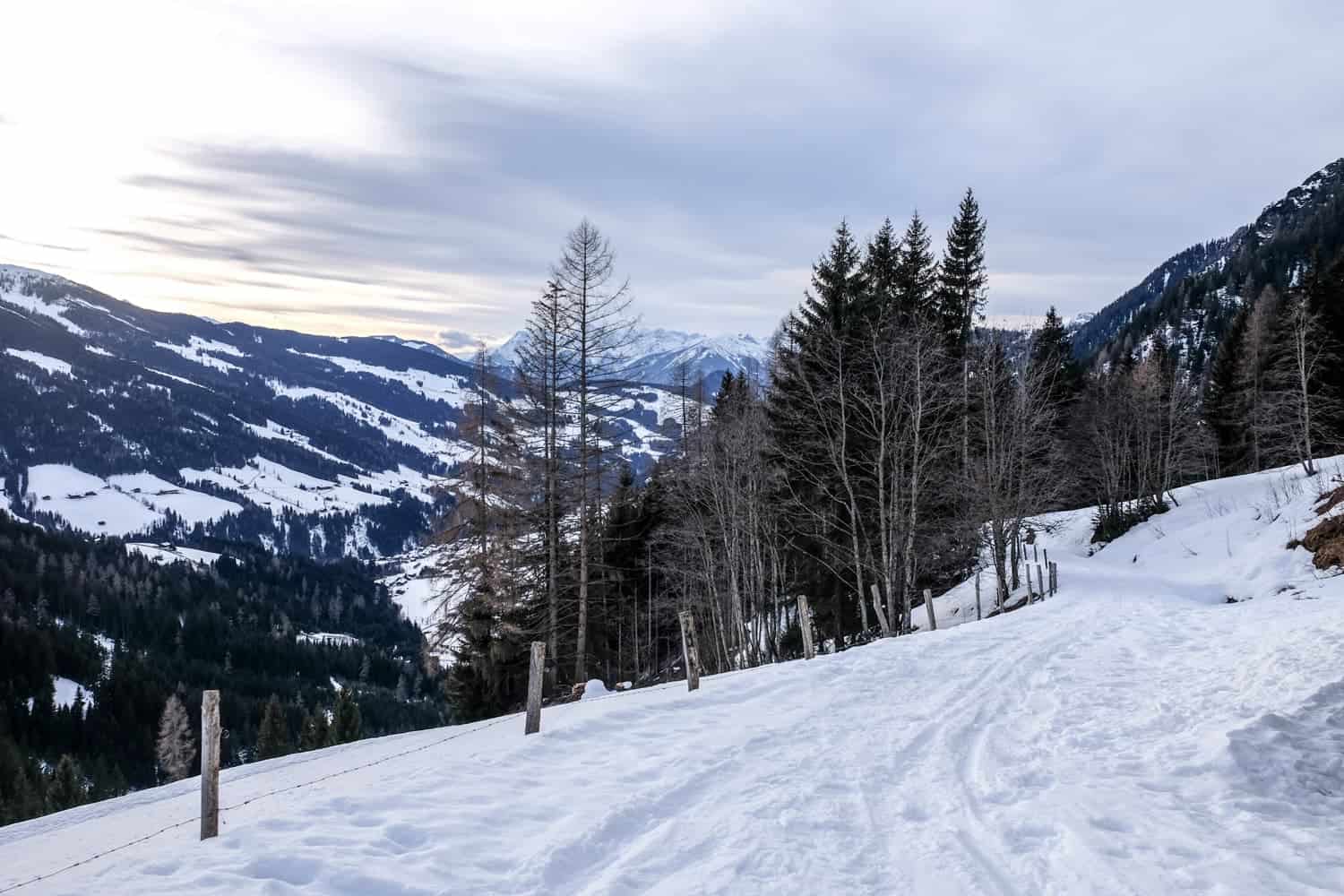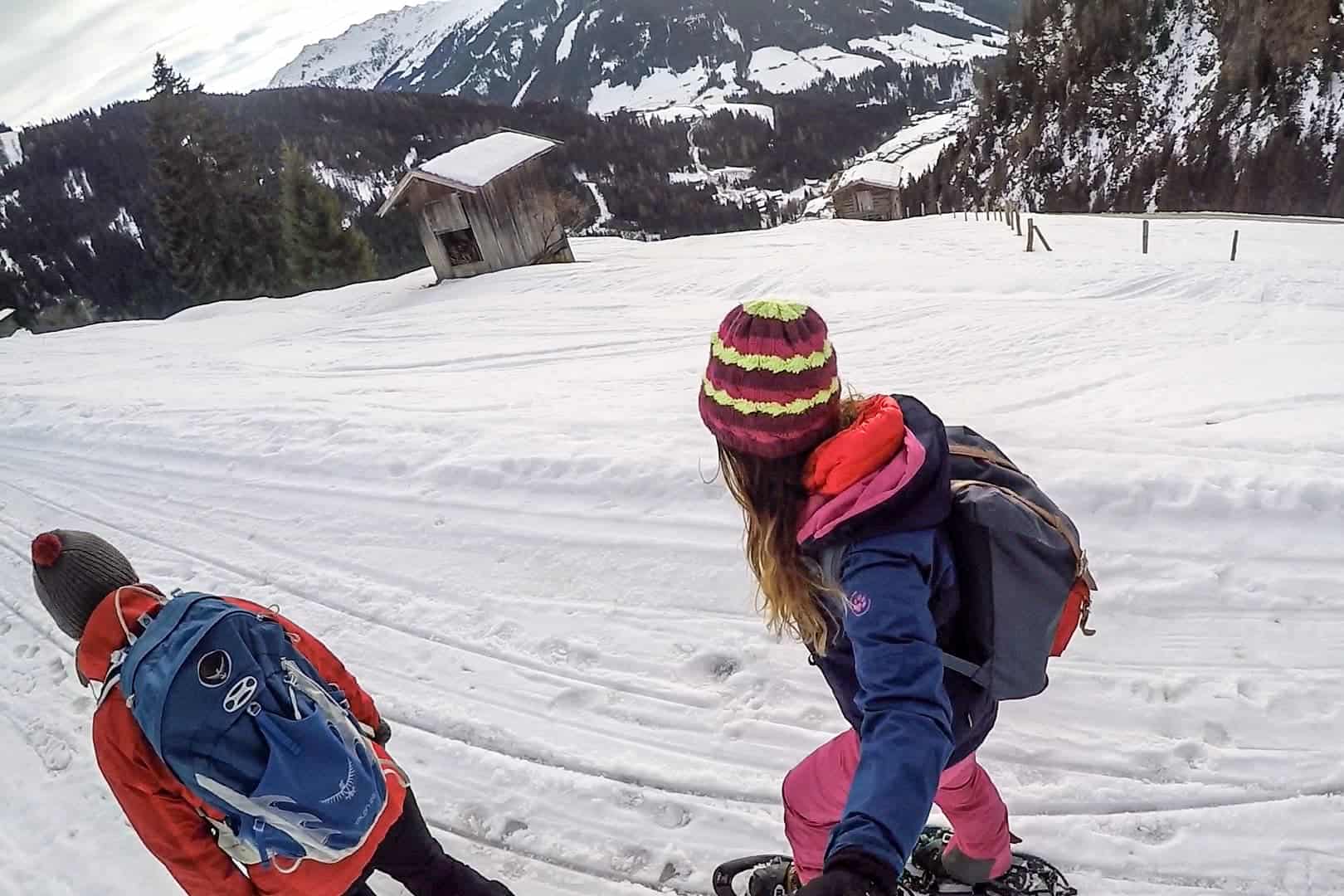 The rest stop at the Alpine farmhouse perfectly summed up Austrian alpine life – the wooden house, the stillness of nature and the front-seat row to the mountain panorama. I had circled up the valley slopes to watch the candy floss coloured sunset, knowing I had already spent a blue-skied morning upon the very peaks I was looking at.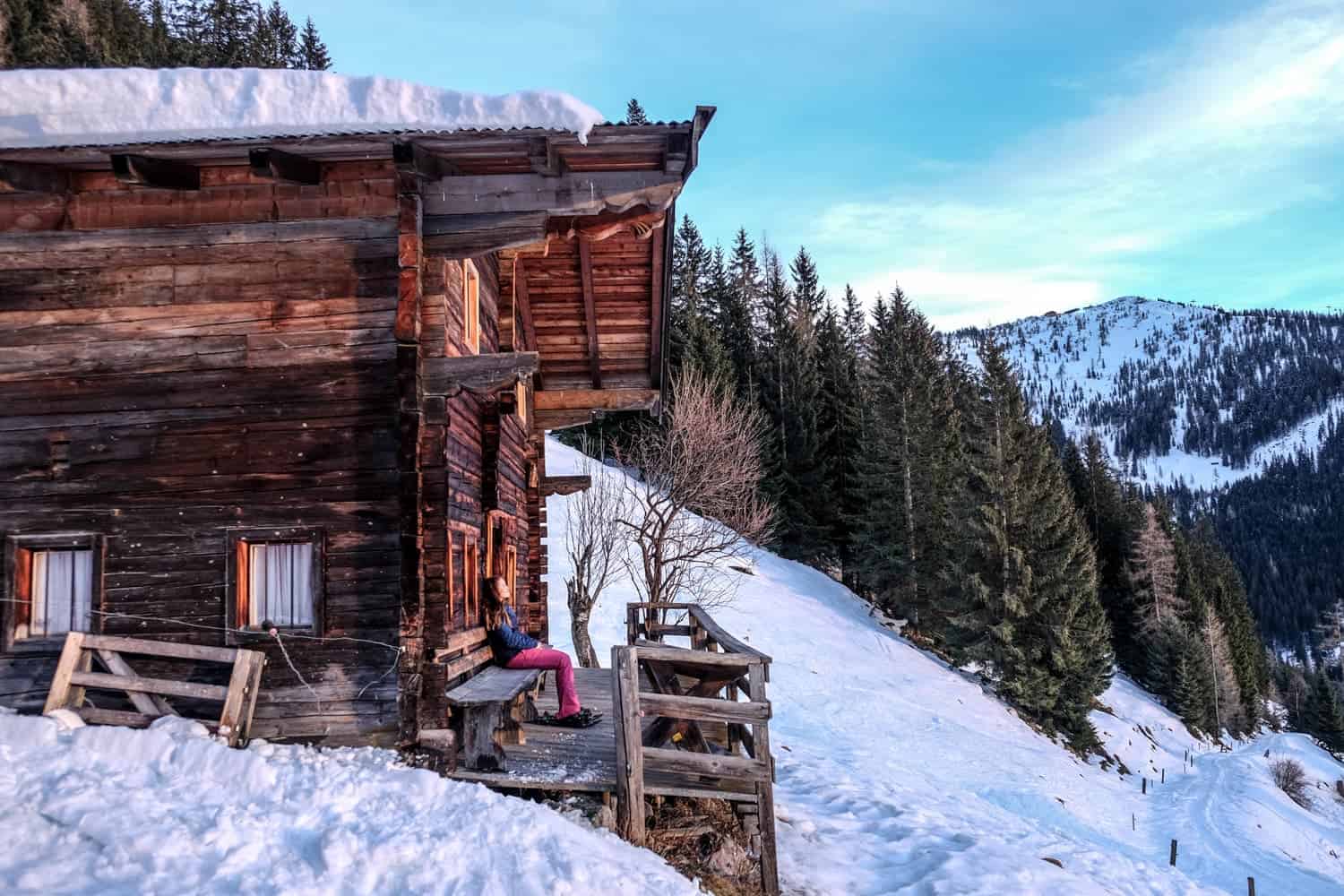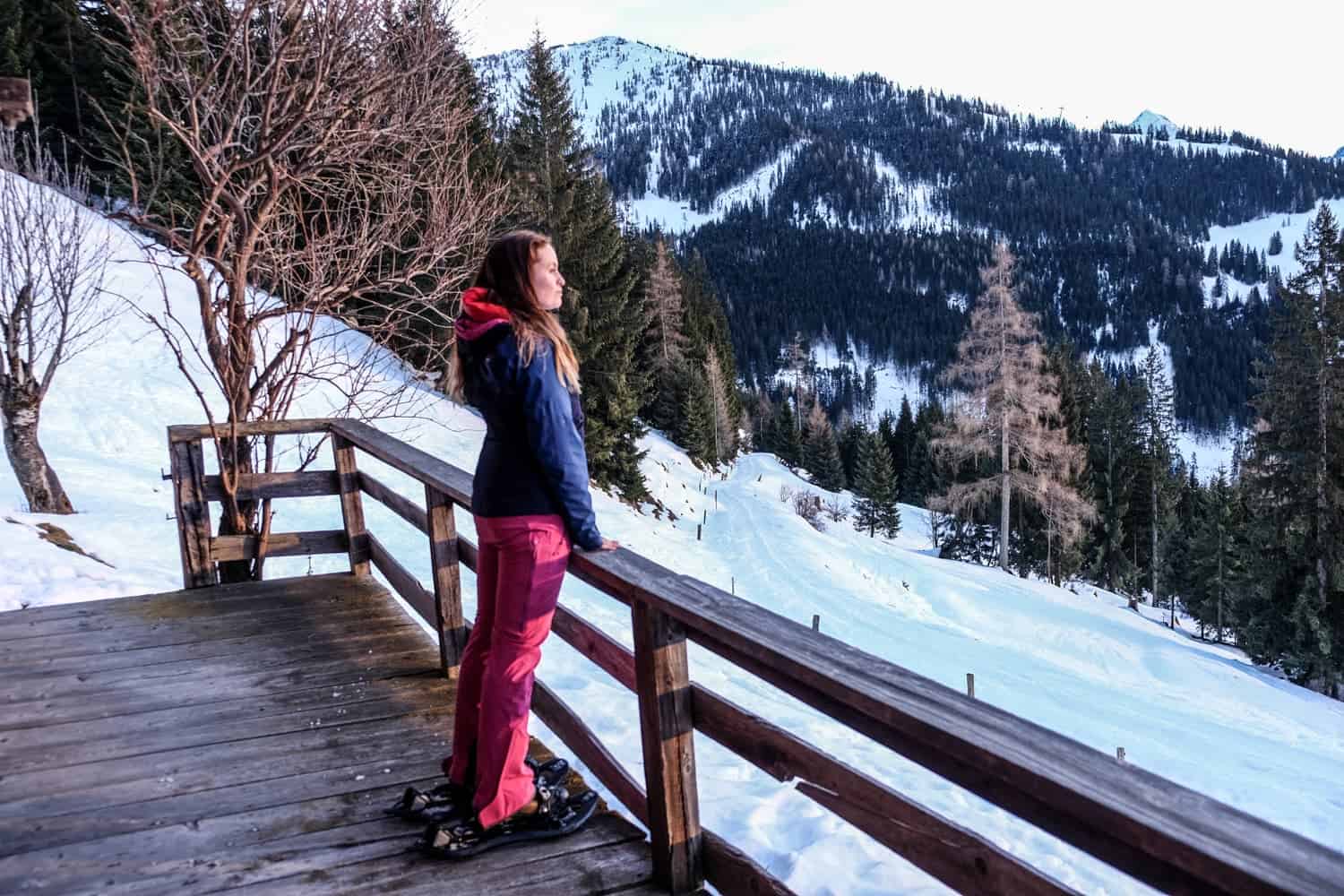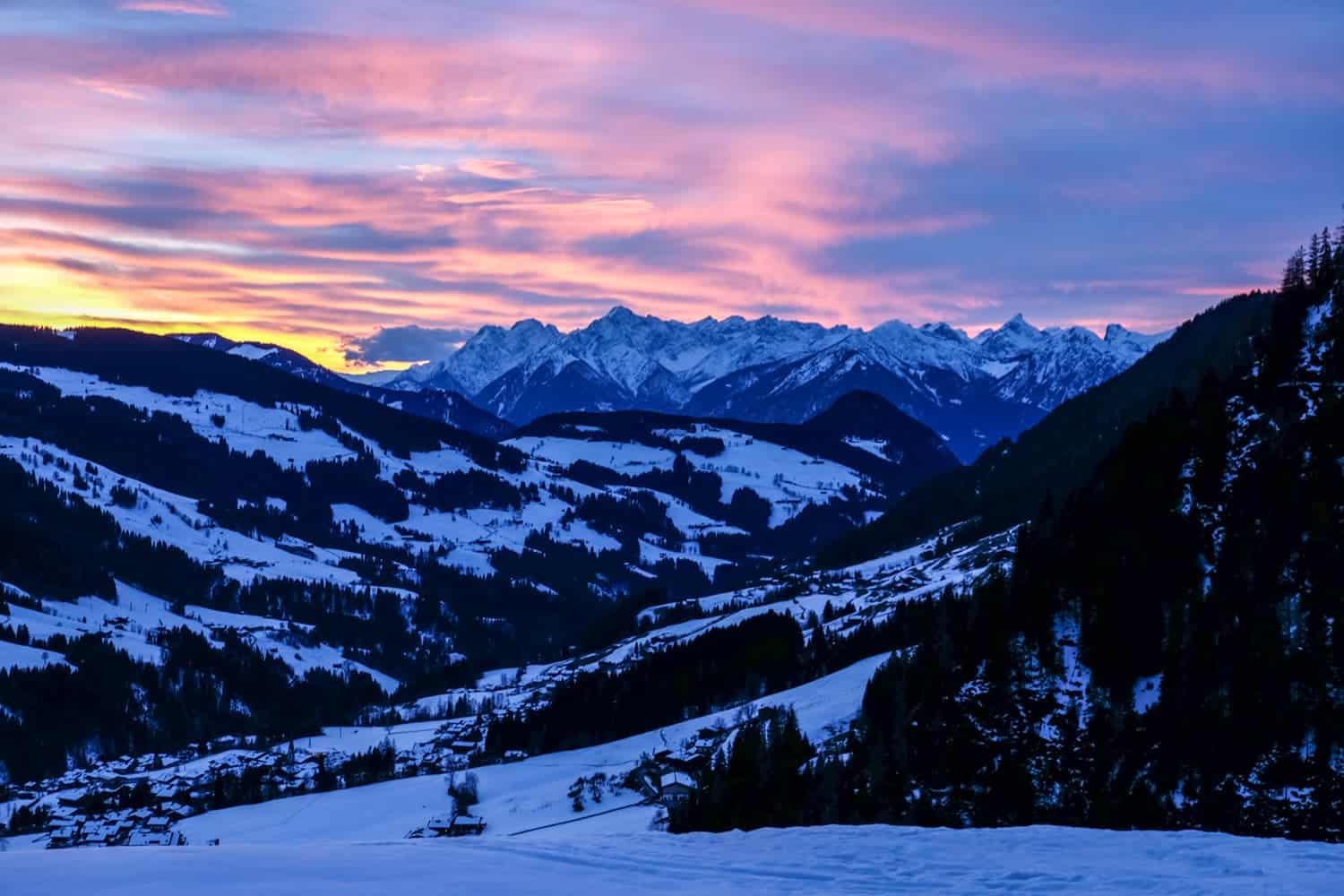 Staying in Alpbach is not to discard the other villages though, all of which are filled with long-standing traditions of local life. The medieval village of Rattenberg, in particular, is known for its glass-blowing craft, while craft beer lovers can head to the one-man brewery in Inneralpbach and try the unique beers brewed by local, Jos Moser.
Tirol is known for its food in particular, from the potato fry up of Tiroler Gröstl to the many knödel (dumping) dishes and even ravioli made with local cheeses, which I tried. In Alpbachtal, over 100 farms still operate in the area, and culinary enthusiasts can choose dishes made with locally sourced produce by looking out for the green Tiroler Wiktshaus stamp in the menu.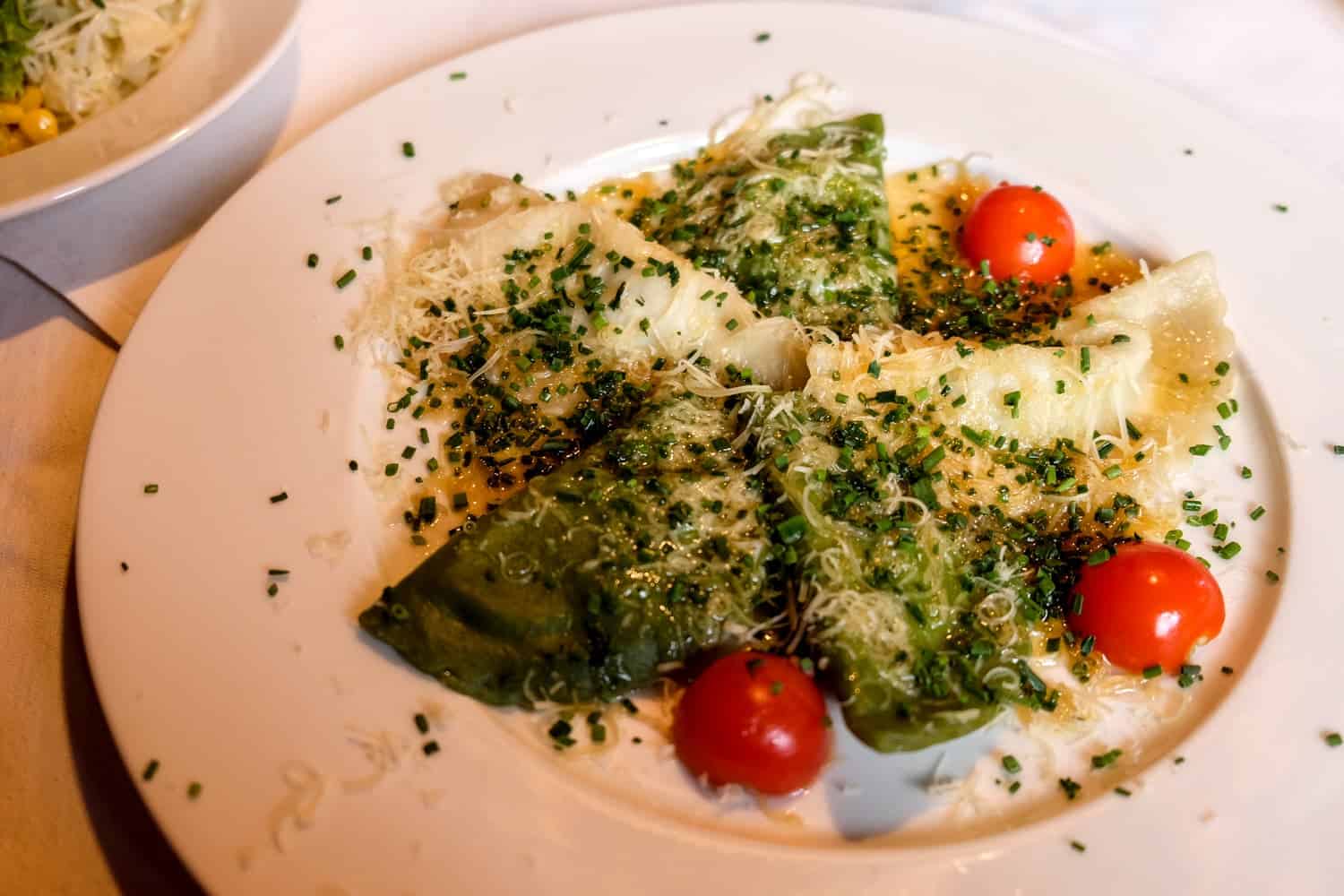 Ski Juwel Alpbachtal Wildschönau – Practice to Pro
Of course, I was also back in Tirol to ski, and since the Ski Juwel Alpbachtal Wildschönau is a playground of 46 cable lifts that take you up to 109km of piste, I had a lot of choices. If there is one thing I always remember about Tirol or define it by, it's the spectacular mountain views. From the high peaks of Ski Juwel, you can hit the powder of the 26km of blue runs, 54km of red or 13km of black while surveying the dream-like Kitzbühel Alps, Rofen Range and Brandenberg Alps from all angles.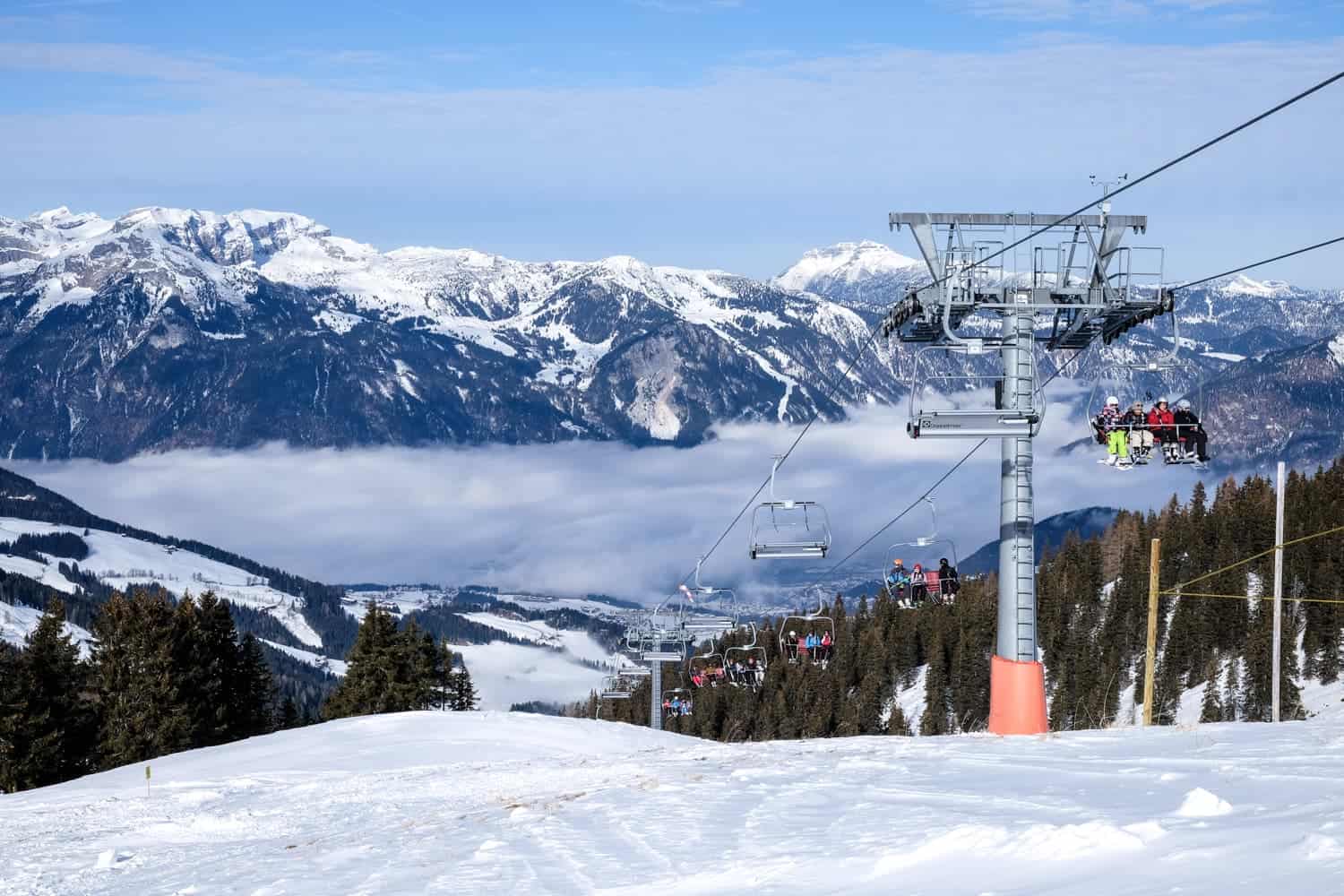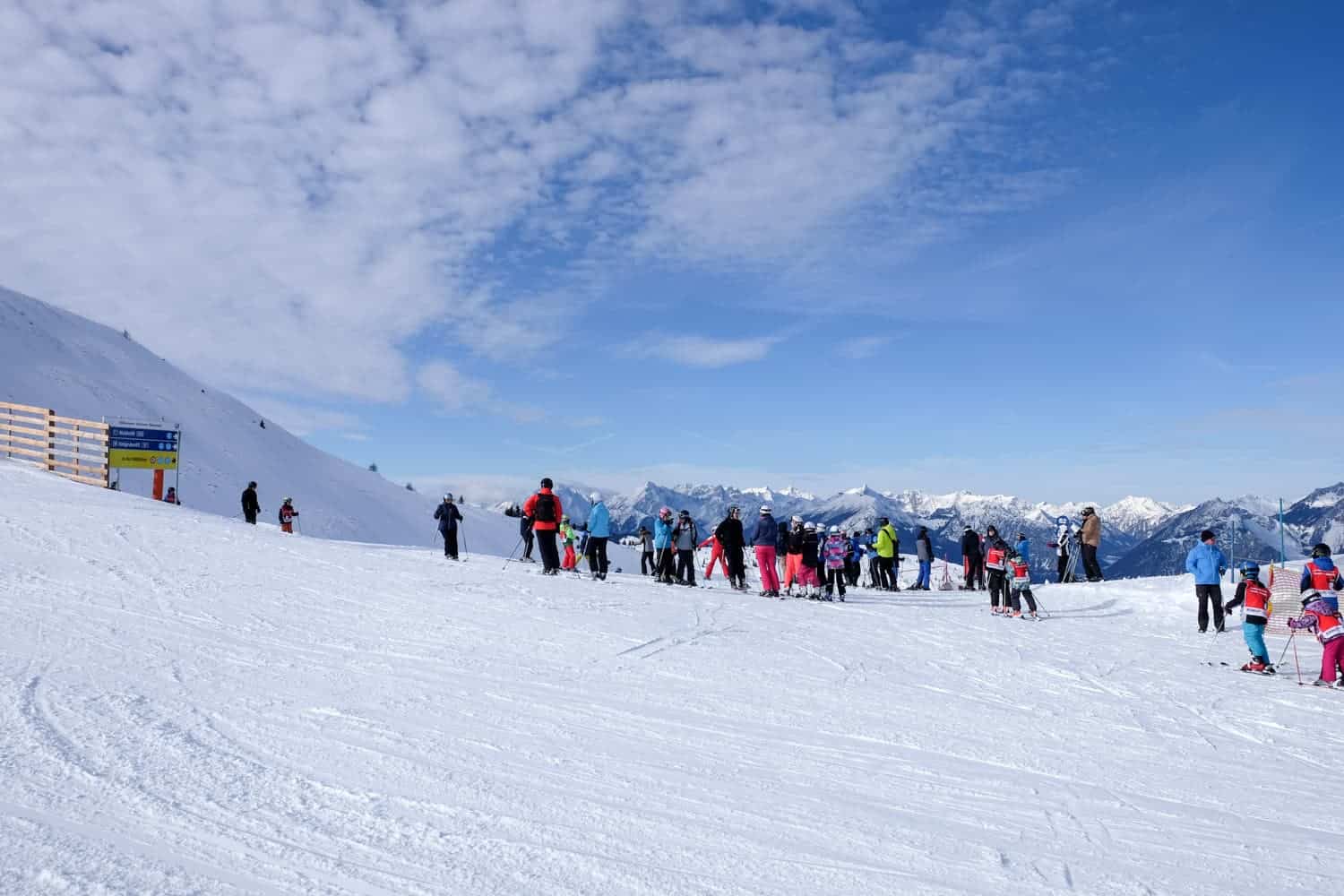 My third ever ski session, it was here that I began to pick up the pace. The turns were sharper and more frequent, my confidence to hit slightly steeper slopes increased and I ventured on a blue trail within two hours of hard practice.
In Austria, you will learn how to ski quickly.
A huge part of this was finally finding an instructor where everything from personality to precise technique training methods was a perfect fit. My instructor, Harald was like a cool father figure who would laugh when you were slightly naughty losing control and getting off the ski-lift three seconds too late (by accident), feed you chocolate in bad moments and let you race him a little when you were on an adrenalin high.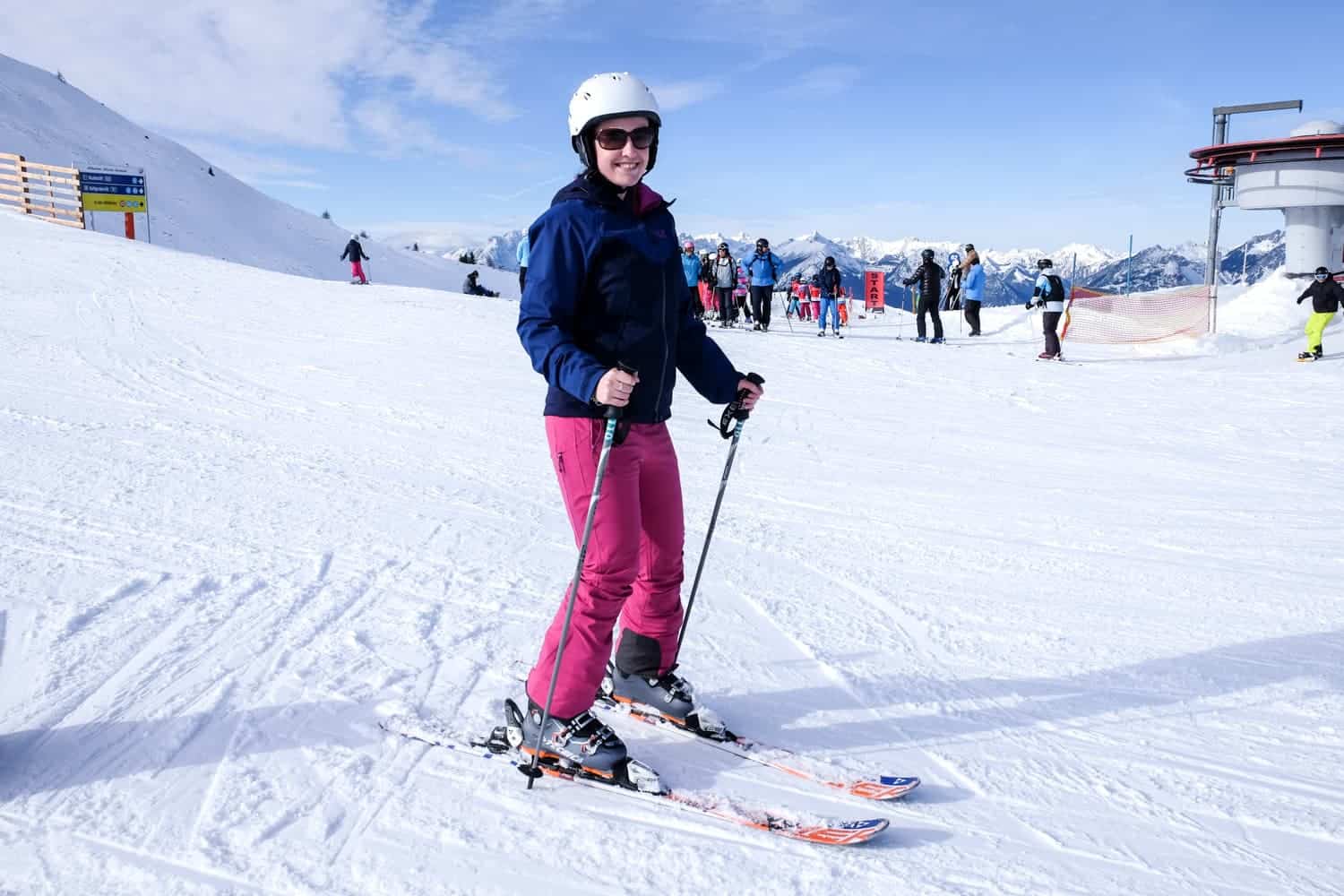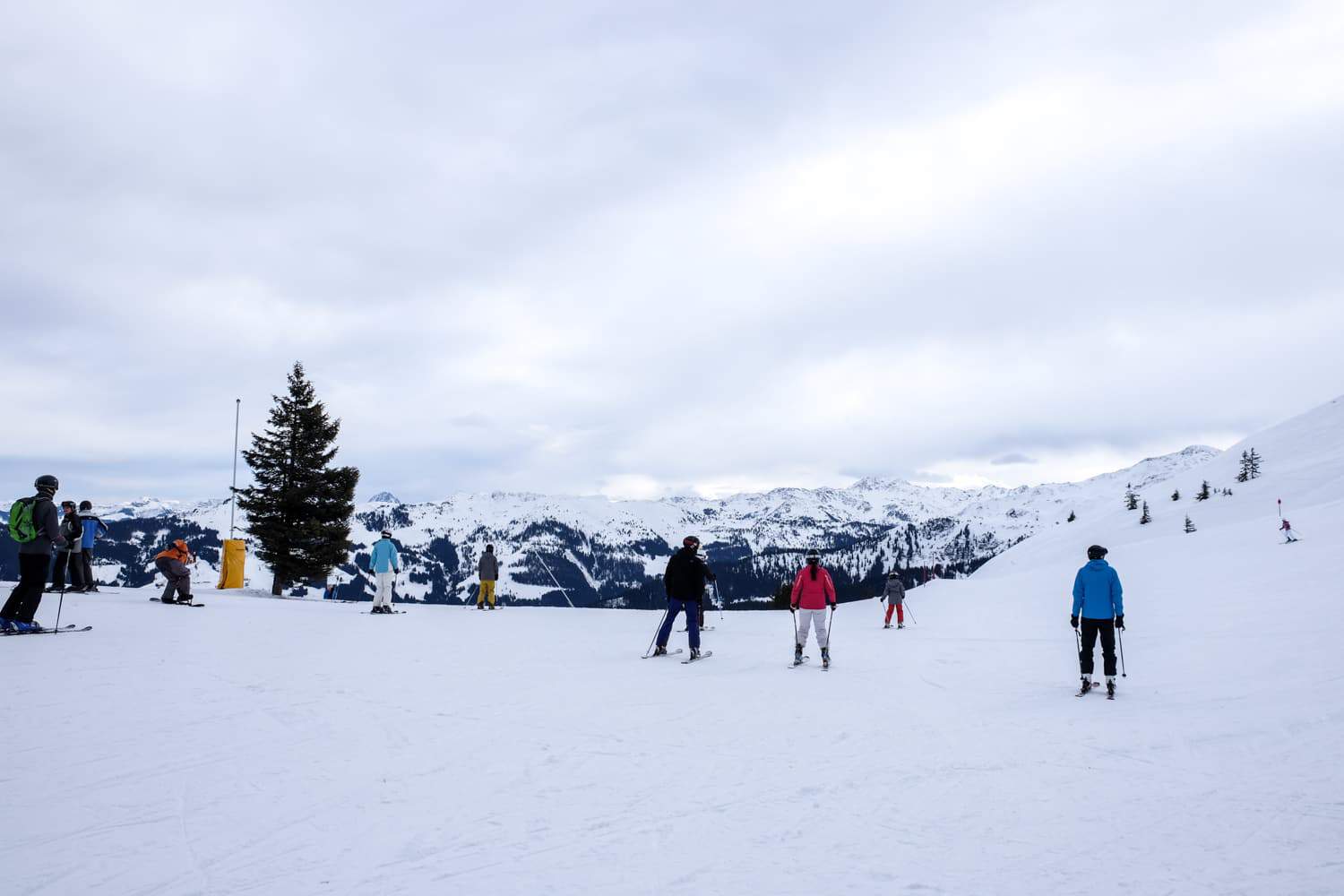 On the first morning, we took various blue trails that curved gently around mountain ledges and tackled short sections of blue slopes with an incline that challenged you. I remember getting to the start of a blue-signed trail marked with the number 61 and asking Harald if we were going on it.
He had previously mentioned that this track known as Frosty's World was a 'kid's trail', to ease any nerves. You will never forget the first time you complete a trail – it's euphoric and incredibly addictive. So much so that I kept putting off lunch until we had completed blue run after blue run.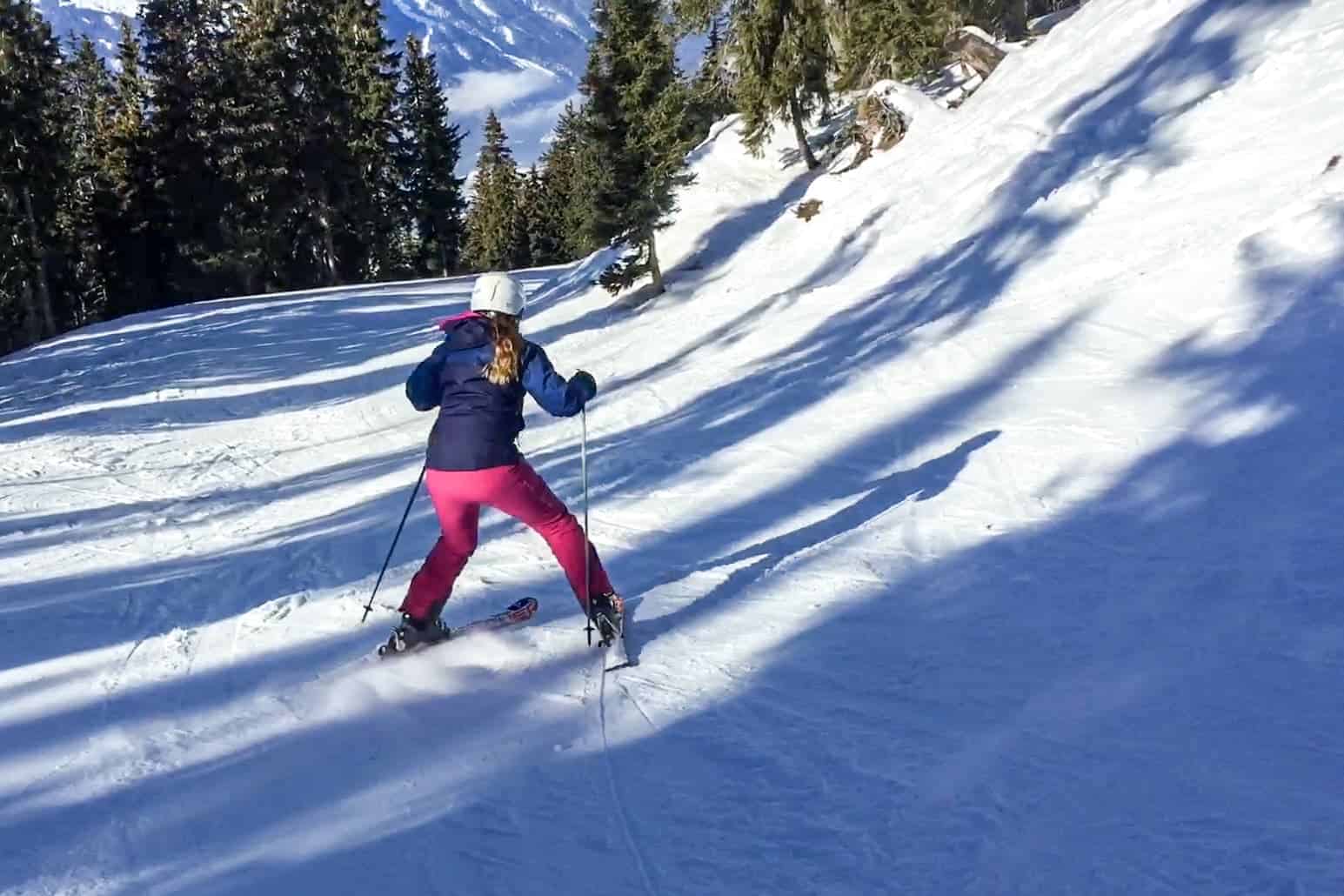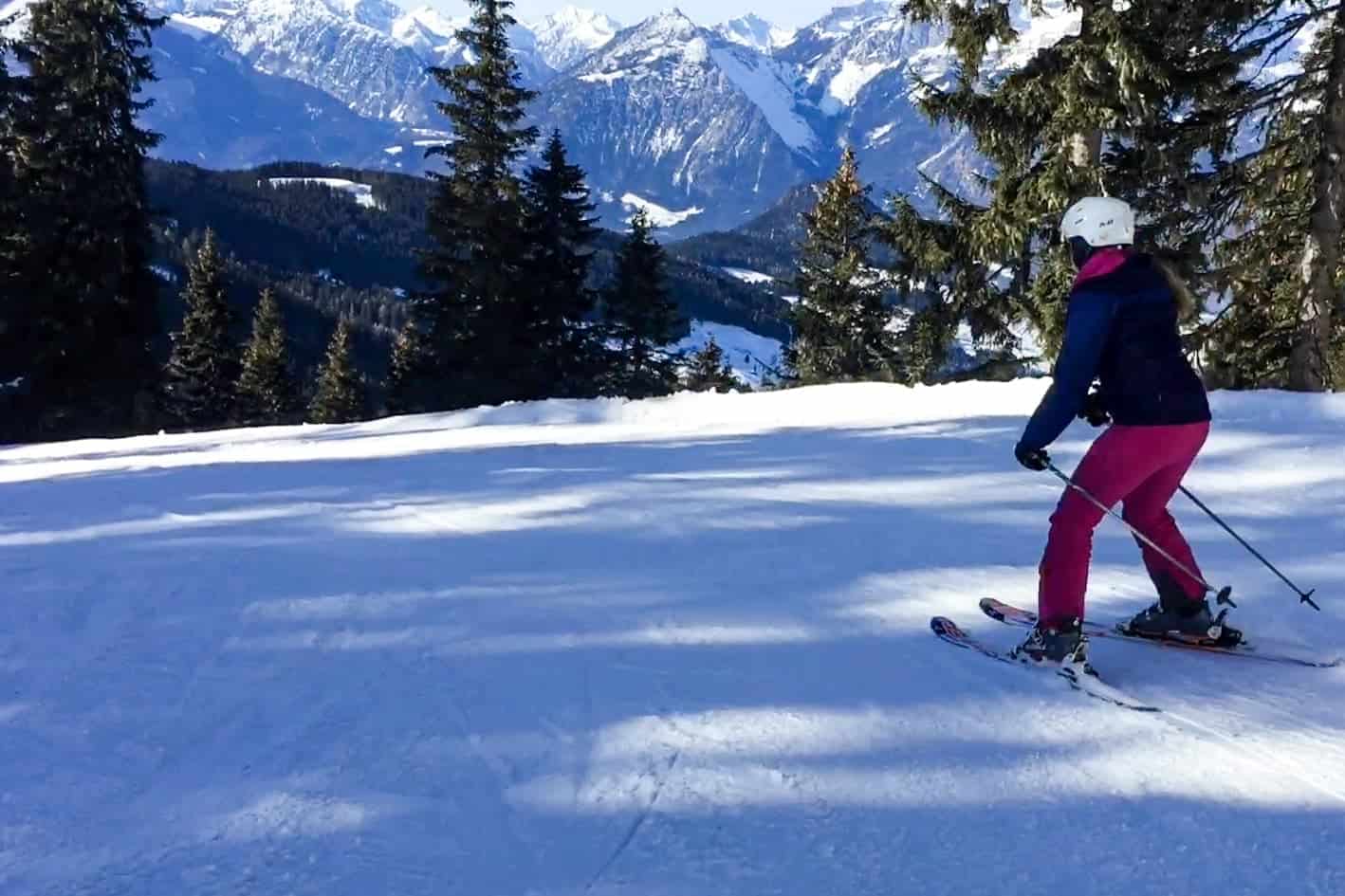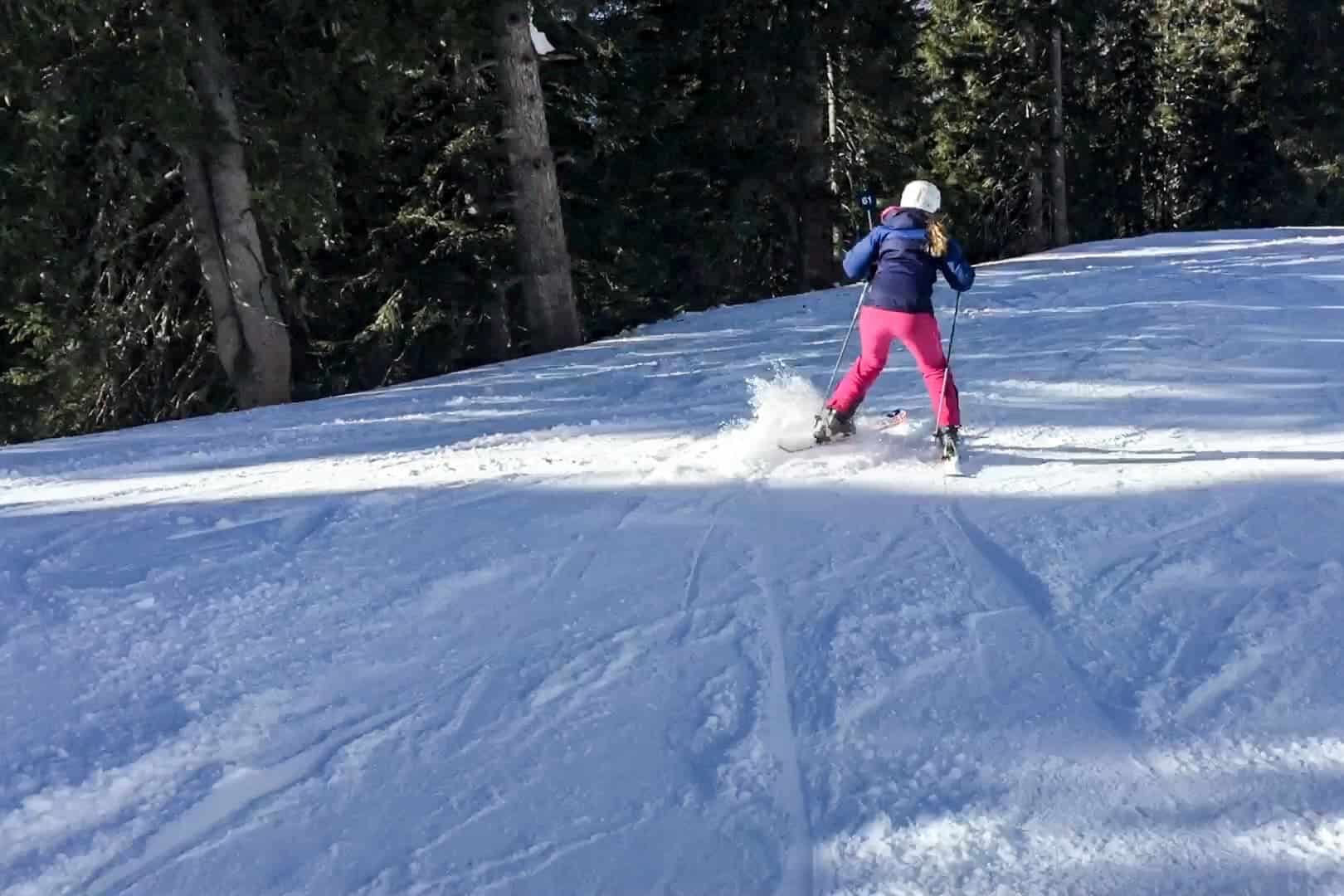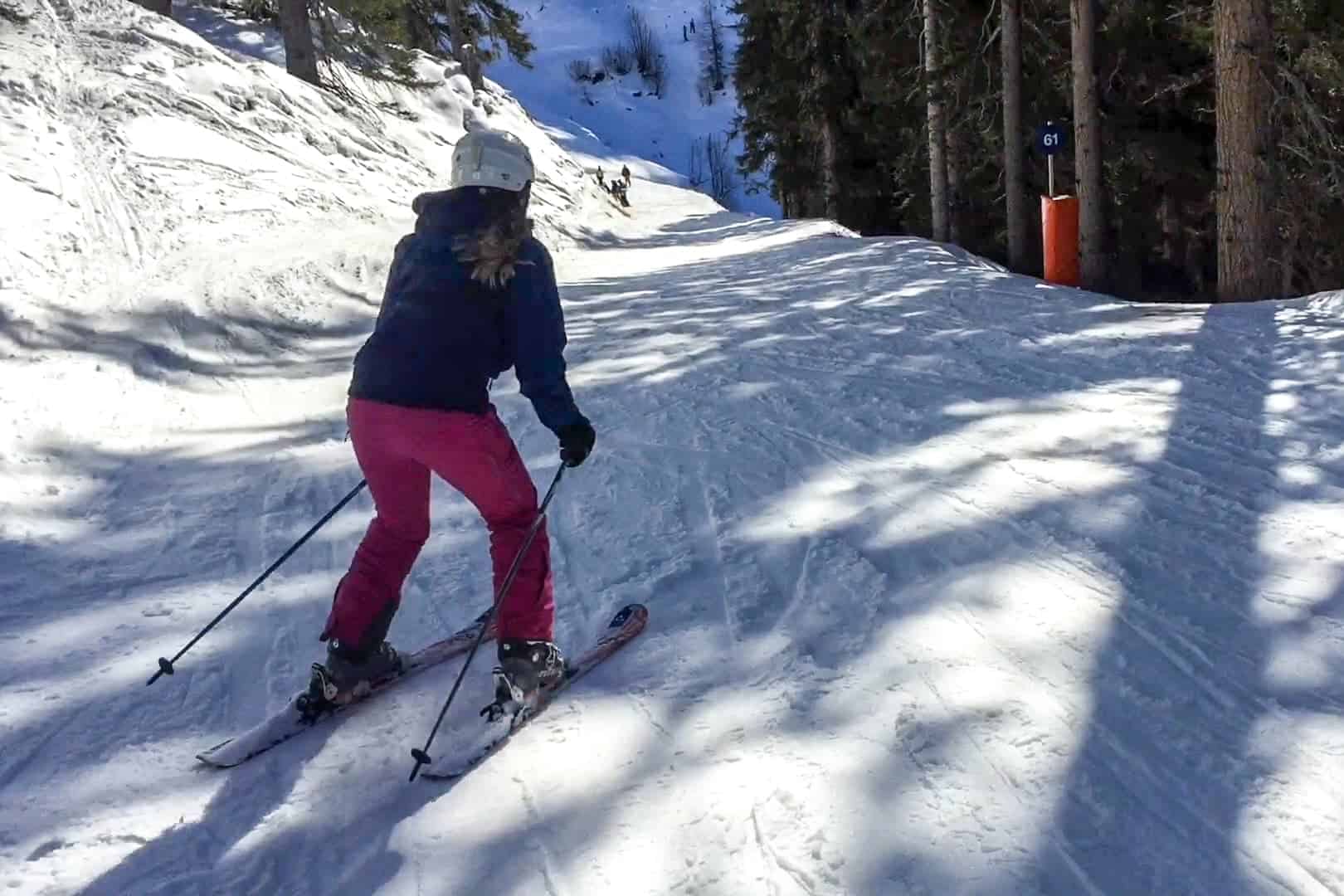 By the second day, Harald took me on my first red slope. I had to finally face fear. The one where I would always pass a red sign, and have a little peek down, reassured by Harald each time that we hadn't taken a wrong turn and that this was the only way down.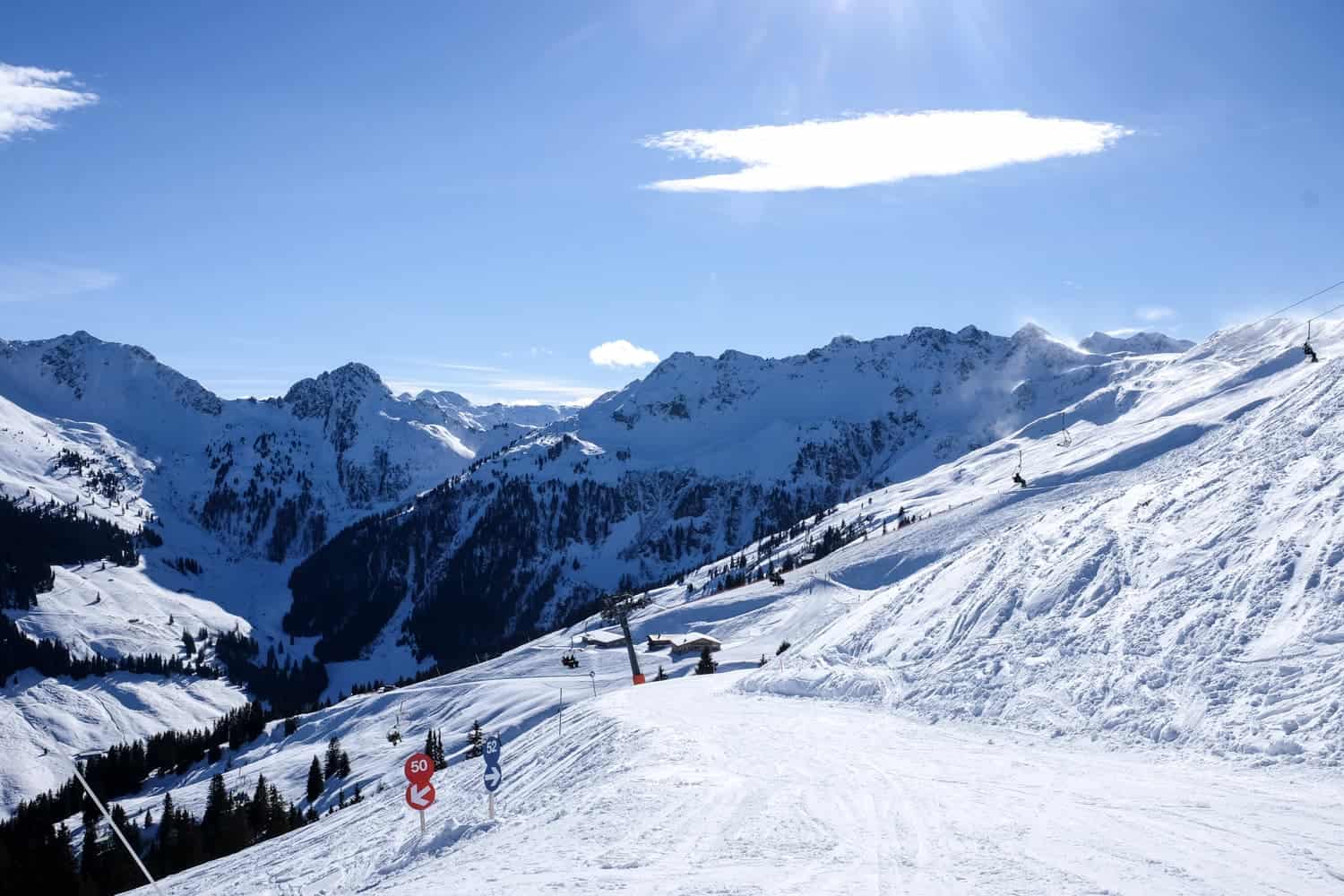 After one blue warm-up on the next morning of skiing, Harald stopped in front of a red sign again and I asked my usual question: "We are not going down there are we?" This time he said yes, and he meant it.
It felt as if the incline had almost doubled and I freaked out, having to stop repeatedly to catch my breath, which was only eased by the panoramic views of compete serenity.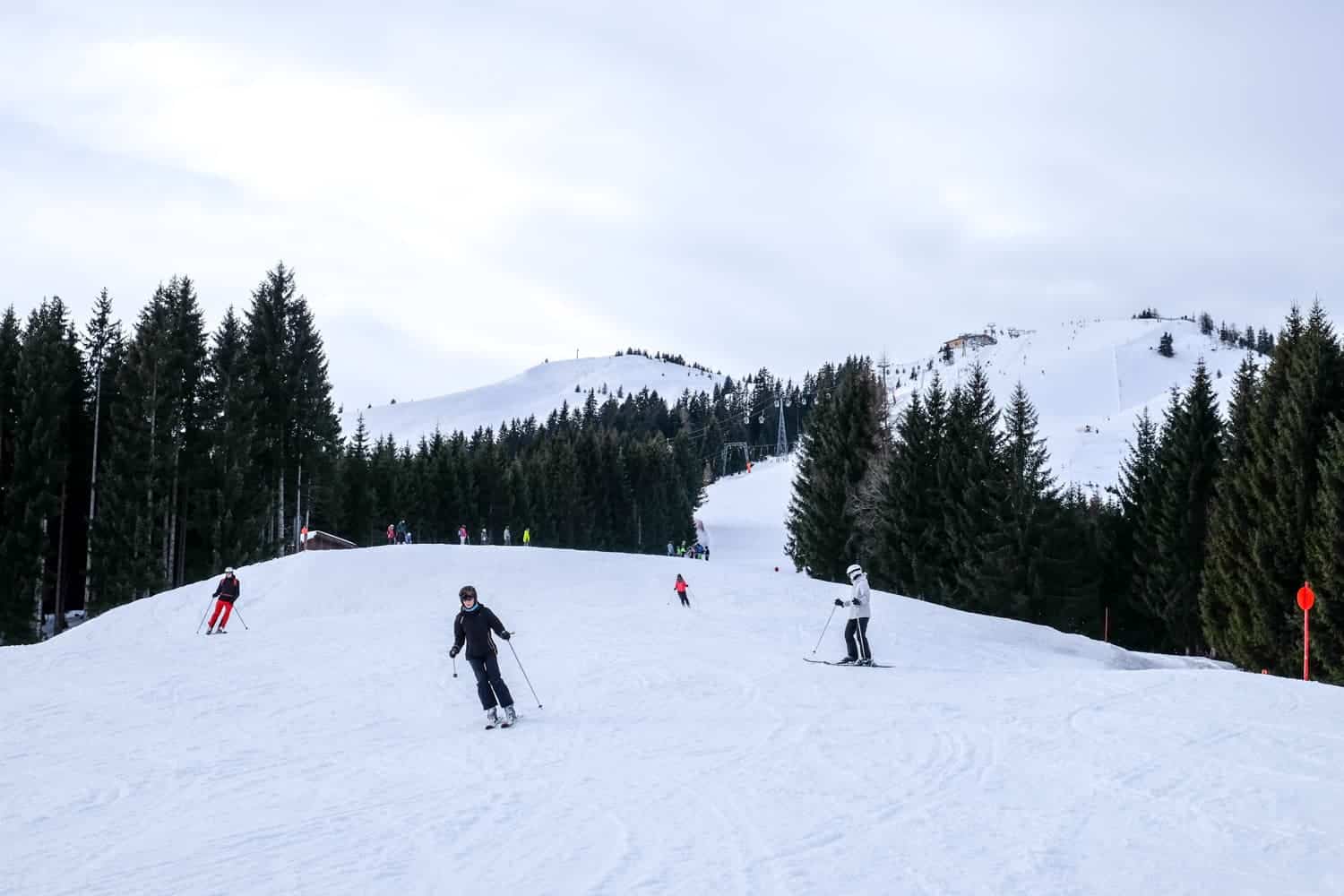 Harald kept apologising, assuring me that he was confident I was ready for this, telling me he also wanted nothing more than to also show me some of the best views of all the land, accessed only by such journeys.
Skiing gives you exclusive access to nature's best views.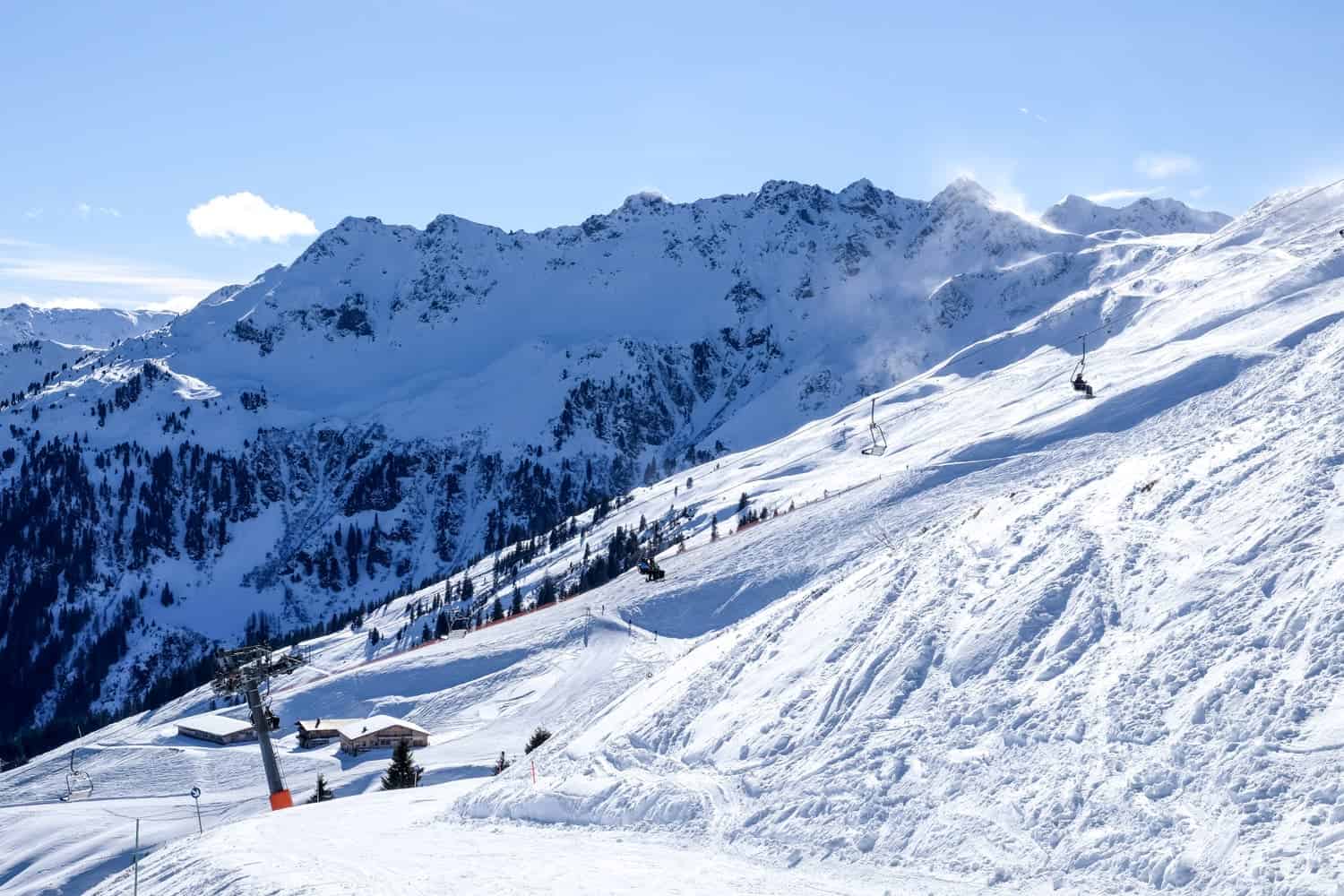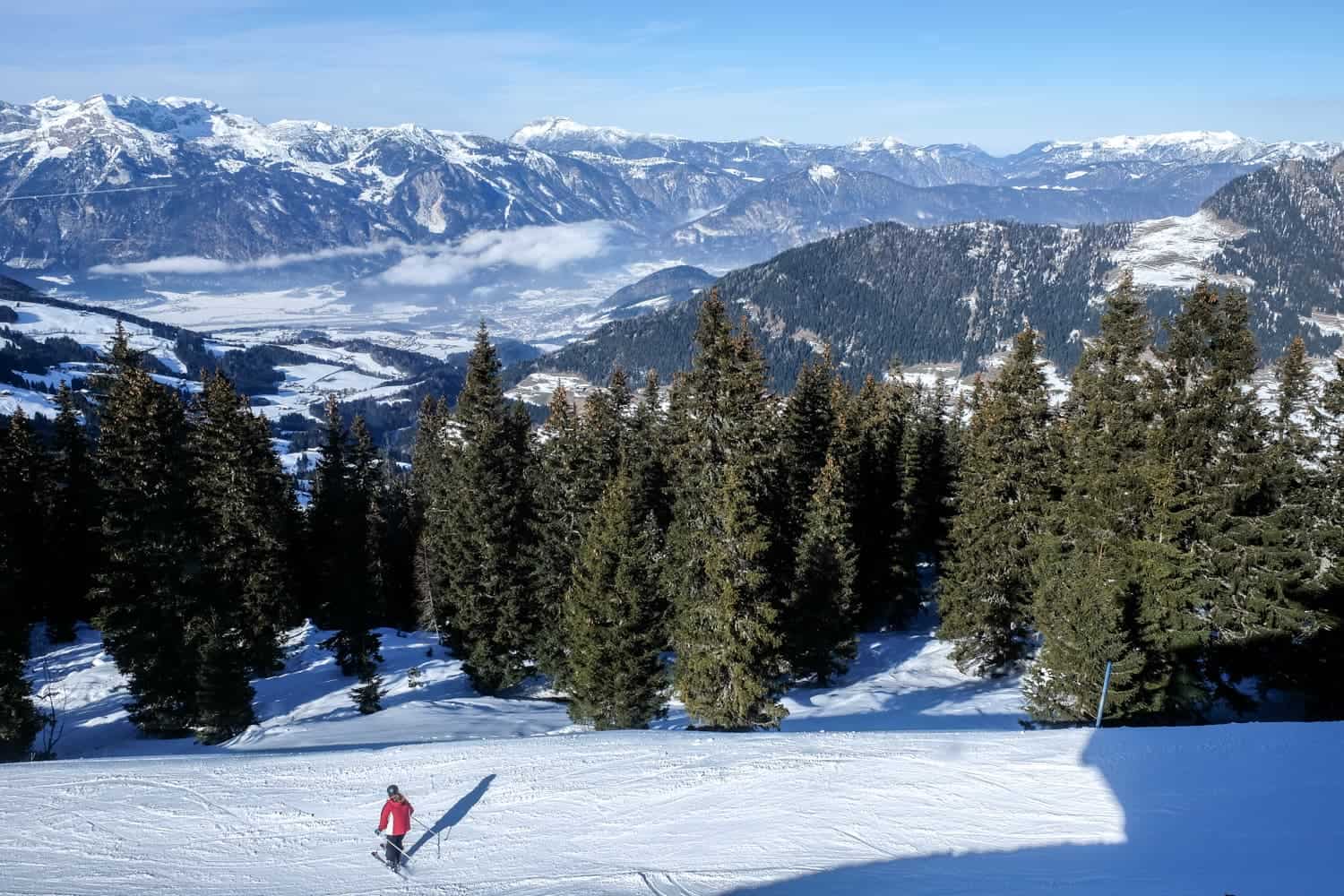 Alas, adrenalin can be overkill, but I wasn't upset or deflated. I had finally found an instructor who pushed me out of my comfort zone and knew how to take my enthusiasm for ski and plough that energy into action. The Austrian ski team train in Alpbachtal Wildschönau regularly, and you'll see it's quite the winter canvas to polish your skills on the powder.
"Harald, we have no choice but to get down this mountain!" I would keep saying, my stubbornness reigning. Once you have started there is, of course, only one direction to take.
In what was quite possibly the longest adrenalin-fuelled journey I've ever taken – down the longest red slope of the resort in small bursts, with a little hand-holding, tumbles and instructor-assisted side-sliding here and there. I was determined to achieve the status of having completed a red, even if it took hours.
More Than Ski – Mountain Activities in Ski Jewel
The highest peaks in Ski Juwel, like Großer Galtenberg, are not just playing grounds for traditional ski. The Wiedersbergerhorn lift gets you to 2,025m and Schatzberg is the next high peak lift at 1,903m. At both, you can dine in a mountain huts, play in the obstacle-filled snowparks or take a tandem paraglide right off the snowy mountain ledges. In Schatzberg, you can also take the 5km toboggan track down to the village of Auffach. It's one of seven in the region.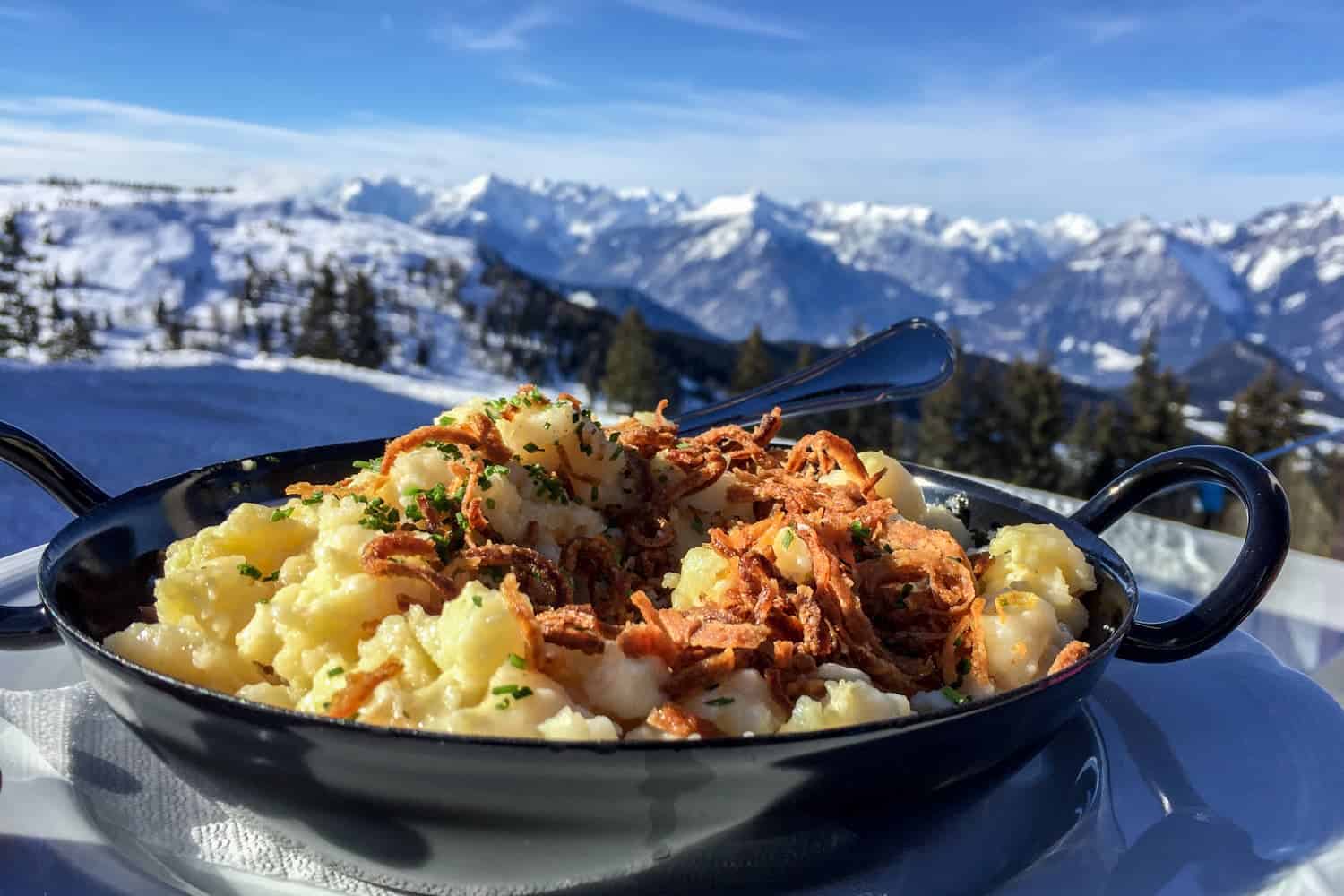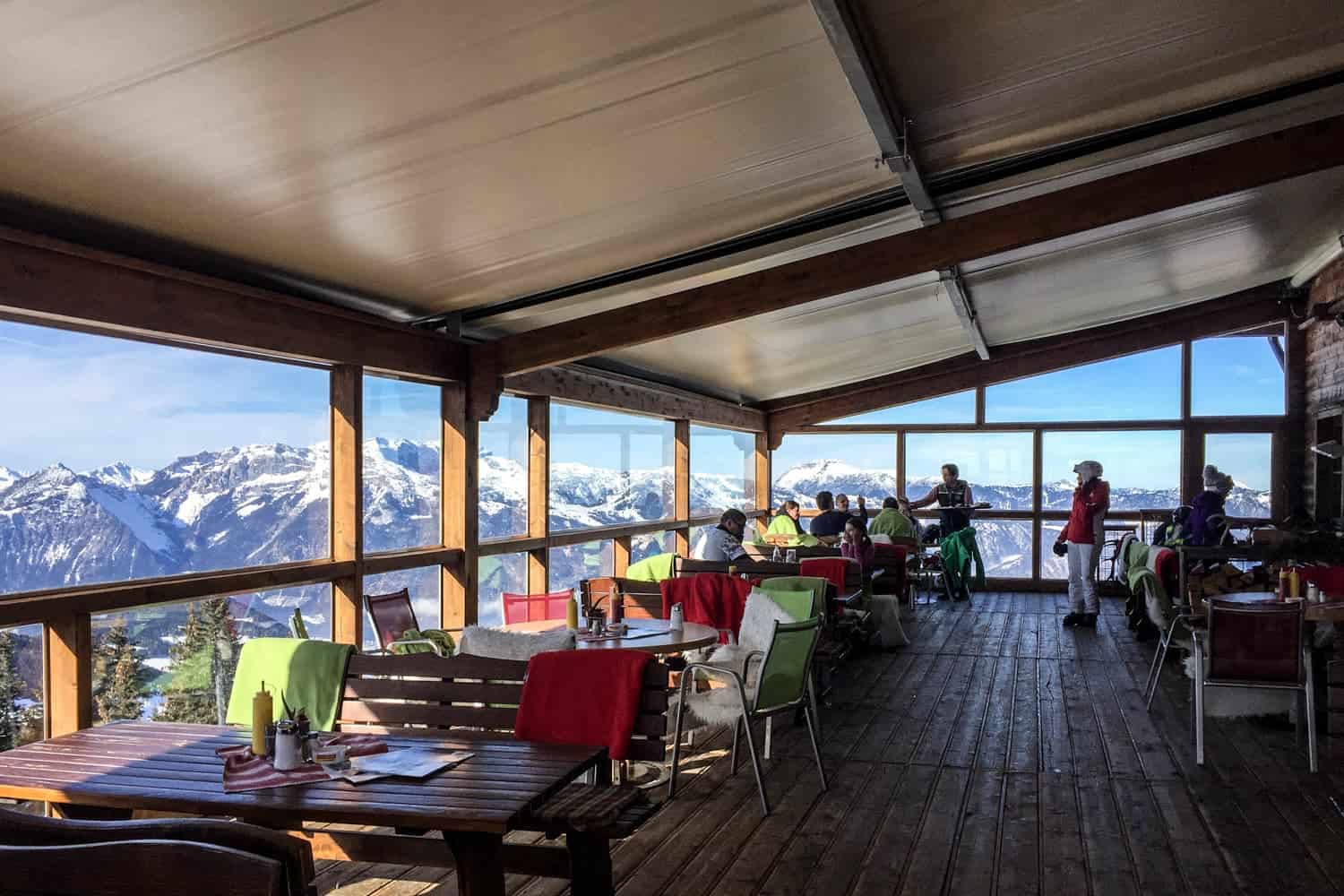 I couldn't indulge in a winter paraglide flight due to weather conditions and nor did I find the time to ride in a piste basher and be a snowplough pilot. 85% of all slopes here have snowmaking facilities, and this is one way to be one of the first on the fluffy, fresh snow.
The Reither Kogel is the place for long hikes. The 2.5km circular mountain walk is a popular route, accessed from the top of the cable car in either direction, with the lift routes leading you back to the village of Reith im Alpbachtal. This is also the mountain for speed enthusiasts. I'm keen to test the permanent Giant Slalom racetrack on the upper slopes when I am more confident with my technique and head to The Lanerköpfl chair lift in Niederau for the 'Race 'n' Boarder Arena' and its dedicated carving zone.
The Ski Juwel Alpbach ski resort of Alpbachtal Wildschönau combines all the elements of Austrian alpine goodness – incredible valley views, challenging ski, alternative winter activities and preserved cultural traditions.
From one end of the Kitzbüheler Alps where I first took to skis one year ago, to the other where I followed the ski trails of champions and achieved my biggest milestone here, Tirol remains my treasured winter haven.
Skiing in Alpbachtal, Austria and exploring the Ski Juwel Alpbach ski resort was a part of my 'Year in Austria' project, as the UK ambassador for the Austrian National Tourist Office. I travelled all around the country (from my home base of Vienna) over 12 months, showcasing a variety of destinations and activities. Follow #YearInAustria for all stories.
Things to Know About Alpbach Ski Resort
Ski Juwel is the merger of the ski areas includes the two valleys of Alpbachtal and the Wildschönau high valley in Tirol, Austria
The Alpbachtal Seenland region is made up of 10 Alpbach ski resorts: Alpbach, Brandenberg, Breitenbach, Brixless, Kramsach, Kundl, Münster, Radfeld, Rattemberg and Reith im Alpbachtal.
The Alpbachtal Seenland Card gives you access to the free bus service in the region, free admission to the adventure wave pool, guided torch-lit walks, guided snowshoe walks and biathlon and ice-curling, as well as discounts at shops, museums, excursions and more. It is free of charge at all accommodation partners when booking at least a one-night stay.
There are over 600 accommodation facilities in the area from farmhouse holiday to 4-star spa hotels.
Pristine snow seekers, you can get a special pass to hit some the virgin slopes in the area at 8 am every Sunday.
How much is an Alpbach Ski Resort Pass?
Prices for a package of 3-night accommodations in Alpbach Valley, 3-day ski pass and an Alpbachtal Seenland card, start from €182 per person.
Skiing Lessons in Ski Juwel Alpbachtal Wildschönau
There are five local ski and snowboarding schools. My ski instructor, Harold, was from the Alpbach Aktiv Ski School and I highly recommend him. After two hours with him, my ski skills greatly improved.
Where to Eat and Apres Ski in Ski Juwel Alpbachtal Wildschönau
There are 25 ski huts (three of which are new in 2016/17) to stop and rest, eat and après ski. The highest point in the ski resort – the Wiedersbergerhorn) is the Horn Alm. Wurmegg-Hochleger Hut is at the top of Schatzberg and the new Norderberg Alm is on the Lanerkopfl run in Niederau. There's also the Hornboden lounge at Wiedersbergerhorn and Gipföhit at Schatzberg.
Where to stay in the Alpbach Ski Resort Area
How to get to Ski Juwel Alpbachtal Wildschönau
By train: The closest train stations are Jenbach or Wörgl and there is free bus travel from the stations to your accommodation (with valid booking confirmation).
The Ski Juwel area is 15 minutes from the nearest motorway exit – 40 minutes from Innsbruck airport, 90 minutes from Munich airport.
Further Information and Research
Further Reading on the Winter Season in Austria