Disclaimer: This post contains affiliate links to handpicked partners, including tours, gear and booking sites. If you click through or buy something via one of them, I may receive a small commission. This is at no extra cost to you and allows this site to keep running.
Here are all the things to do in Mont Tremblant in Winter and why it's a top choice for snow enthusiasts and nature lovers.
A village of candy-coloured buildings sprinkled with a dusting of crisp snow; in the distance, gingerbread-style houses sit between the masses of pine trees; surrounding this, a never-ending canvas of blinding white hills and slopes, populated with weaving coloured speckles of the most discerning of winter sports enthusiasts.
This is Mont Tremblant – a quaint village in the Laurentian mountains of the eastern Canadian province of Quebec, and a destination that marked my very first experience of what a true winter really is. Here are all the things to do in Mont Tremblant in winter to enjoy the season.
Where to Stay in Mont Tremblant
Before you set out for all the activities, you should get acquainted with the area and how everything is connected. Mont Tremblant has two main areas filled with accommodation, dining options, bars, and entertainment.
At the Foot of Mont Tremblant
On the shores of Lac Tremblant, close to the gondolas that connect to the pedestrian village and with a cluster of ski-in-ski-out hotels.
Stay: €€€ L'Altitude by Rendez-Vous Mont-Tremblant | €€ Residence Inn by Marriott Mont Tremblant Manoir Labelle
875 Metres High on the Mountain
Home to the Pedestrian Village and the main hub of the Mont Tremblant resort.
Stay: €€€ Fairmont Tremblant | €€ Le Westin Tremblant
Things to Do in Mont Tremblant in Winter
Here are all the snow-laden Mont Tremblant attractions on the slopes and beyond.
Visit Mont Tremblant Pedestrian Village
Charming Mont Tremblant Pedestrian Village is where you will be sleeping, eating, drinking, enjoying Apres Ski – basically your day revolves around this little mountain village hub.
Ride Le Cabriolet Cable Car
The Cabriolet is the open-air Mountain cable car in Mont Tremblant. It takes you from one end of the village to the other. Not only is it a beautiful view, but it's also free.
Go Skiing in Mont Tremblant
While Alberta's tempting Rocky Mountains and British Columbia's abundance of ski resorts may put Mont Tremblant in the shadows a little, I wouldn't be too quick to push it aside.
There are 102 ski trails for beginners and expert skiers across four slopes, connected by 14 lifts. The view of the landscape below, from up high in the cable car, is a stunning view of the over 750 acres of terrain when blanketed in fresh white power.
Mont Tremblant is also a great option for those wanting to explore the eastern side of Canada, being so close to Montreal, or to combine with a US city holiday as it's a short flight from New York and Washington DC. Plus it's only a seven or eight-hour flight from Western Europe if you are looking for a winter break further afield.
Besides, Canadians are known for embracing and making the most of winter, so who better to learn from than them?
Mont Tremblant Ski Resort Prices
Prices for ski and snowboard equipment rental, available from nine outlets on-site, begin at $39.99 upwards, with a minimum half-day rental.
Ski lift ticket prices start from $95 for a full-day pass.
Mont Tremblant Snow School
Bustling without being overwhelming and full of action without making you feel too inadequate, Mont Tremblant's Snow School is an ideal place to learn how to ski and/or snowboard.
On our first morning, our group of four virgin snowboarders got fully decked out at the rental centre before meeting one of the resort's 500 instructors for a three-day lesson. It's easier to learn how to snowboard than to learn how to ski. So that's where we started.
Despite the little screams, the tight hand squeezing, and the numerous falls, these guys from the Mont Tremblant Snow School made learning fun. Broken down into simple steps, where encouragement is delivered with humour, you soon pick up the basics. "Are you a ballerina or a cowgirl?" "Are you an orangutan or a human?" and "Be a duck!" soon stuck in my mind in relation to how to adjust my posture, move my body, and stay balanced.
With an instructor's patience, despite your potential lack of it, you can learn pretty quickly. If you are serious about learning quickly, a group instructor, while the cheaper option, can be limiting, and I will opt for one-on-one in the future. I personally need to do something over and over to pick it up, and waiting around can soon damper your enthusiasm to keep going. Others may like the camaraderie of a group, but it's certainly something you need to think about.
Mont Tremblant Snow School Prices
Adult group ski and snowboard lessons start from $109 CAD for a 2.5-hour session.
Private lessons start from $329 for 2.5 hours of instruction.
Experience Après Ski in Mont Tremblant
Mont Tremblant wasn't heaving with a thriving entertainment scene as I expected of a ski resort. Post 3 pm, when everyone is coming back from the last run on the slopes, the bars and restaurants are filled with a social hub that's more relaxed than raucous.
When the sun goes down, and the Pedestrian Village is awash in a pretty yellow glow, friendship groups gather for dinner and a few beers, cocktails, and revelry. Resto-Bar Le Shack is a traditional Quebec staple of the village.
In a part of the village that once housed the first chalet houses, a couple of bars pump out the tunes a little louder, so not all is lost. If you are looking for the quieter end of resort life, head here during the week like we did, but if you are after a thriving scene of nightlife madness, this isn't where you will find it (although annual festivals do take place here).
Adventure Activities Away From the Slopes
You could easily spend a week learning and experiencing the other adventurous offerings of Mont Tremblant or stay for two weeks or more and experience the various ski villages and surrounding peak runs before spending some time in the stunning city of Montreal.
If booked in advance, you can choose from a whole host of adventurous activities, including:
Tubing at the base of the mountain.
Dog-sledding.
Ice skating.
Snowmobiling.
Alpine touring.
Laurentians Observatory – Canada's first-ever Treetop Walk.
Snowshoeing in the surrounding forest area.
READ MORE: Snowshoeing in Mont Tremblant on the Fire Man Snowshoe Tour.
Spa Time – The Relaxing Remedy After Adventure
On the other end of the scale, time spent in the stunning and energising Scandinave Spa, set within the Laurentian forest, next to Diable River. Its dry saunas, outdoor hot baths and icy, circulation-pumping, Nordic plunge pools are a much-needed remedy to the winter workout you will experience daily. It was a perfect refresher after a couple of heavy sporting days.
There's no wifi here, deliberately to encourage a different form of calm, stillness, silence, and connection.
Access to the Scandinave Spa costs $115 CAD, not including massages. If you present your Tremblant, Mont-Blanc or Domaine Saint-Bernard ski ticket, you will receive 10% off the walk-in baths experience or the massage & baths package.
Planning a Winter Break in Mont Tremblant?
Canadians know how to make the most of winter and Mont Tremblant is no exception to the rule. In its 80th year of operation, it's still going strong as a must-see destination for daredevils, inquisitive beginners to the snow scene, and eager nature enthusiasts.
Getting to Mont Tremblant
Mont Tremblant is approximately a two-hour drive from Montréal-Trudeau International Airport, where cars and limos can be organised.
Planning Your Trip and Staying Longer in Quebec?
Further information on planning your Mont Tremblant trip and surrounding areas, can be found on the Tourism Quebec website.
Extend your travels to nearby Montreal and Quebec City see how winter is a festival-filled celebration. Here's how to spend winter in Quebec Province, Canada.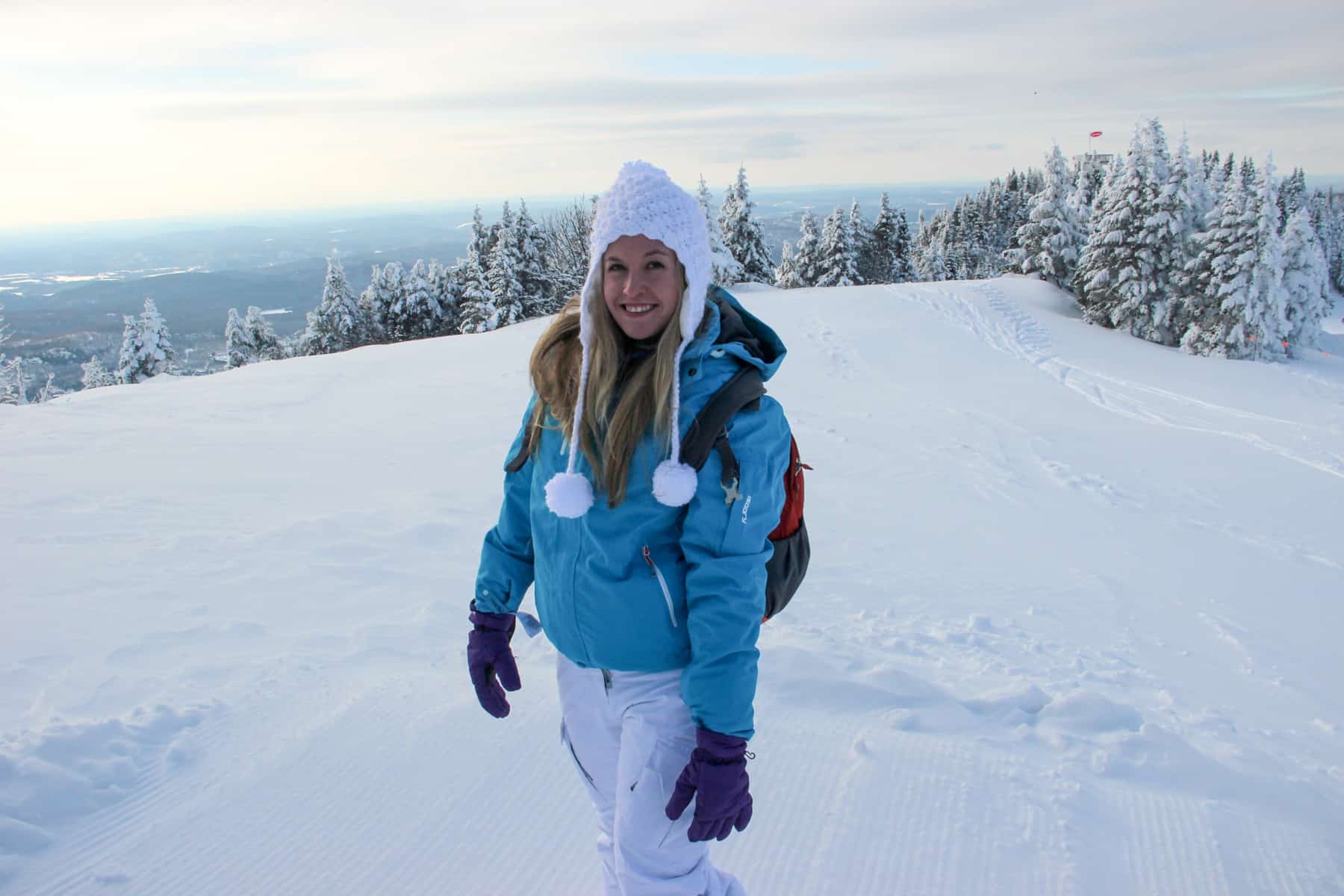 The snow-drenched beauty of Mont Tremblant in winter.My visit to Mont Tremblant was a part of the #LoveWinter blog trip created in partnership with the Canadian Tourism Commission, Tourism Montreal and Tourism Quebec. All opinions remain my own and I'm still learning to love winter – the Canadians just know how to embrace it and turn it into something positive.