Disclaimer: This post contains affiliate links to handpicked partners, including tours, gear and booking sites. If you click through or buy something via one of them, I may receive a small commission. This is at no extra cost to you and allows this site to keep running.
Meeting locals in Kathmandu not only means giving something back to the Nepalese community but also where you might just learn something.
When it comes to eating and drinking, I'm all about visiting local hangouts and seeing local life in situ. Not only does this mean giving something back to the community but it also means getting to interact with the people as well as sample traditional food, drink and culture at its absolute best.
Meeting locals in Kathmandu, away from the specific tourist hubs, has been one of my best experiences here so far.
In Kathmandu, local tea and snack houses appear almost everywhere. With doors not that much taller (if not smaller) than my mini 5"4 height and an interior no bigger than 6-8 square metres, they are easy to miss. When stumbled upon, they are a delightful experience where you can tuck yourself away from the street chaos for a short while.
During a two-hour Lonely Planet walking tour, sourced from the guidebook, my friend and I were ready to take a break before hitting our endpoint – Kathmandu's crowded Durbar Square.
But stopping for a Masala tea created a chance encounter with Kathmandu locals and a chance to find out more about life in the city.
READ MORE: What To See in Kathmandu – Nepal's Cultural Treasure Trove.
Local Life in Kathmandu
Since we practically looked at everything in view (our walking tour actually took us five hours with added distractions) and as we loved being amidst the spontaneity of local life that emerged from every street corner and hidden alley, we were not ones to miss what looked like a simple yet well-established family-run business.
Situated on Kilagal street, which connects to the Pyaphal Tole street leading south to Durbar Square, the shop had no sign. All that existed was a little commotion, a few young children playing outside and an elderly lady sat behind the counter watching the world go by. But it was the young boy who caught our attention, whose amazing grasp of English and charm of a salesman resulted in us heading inside.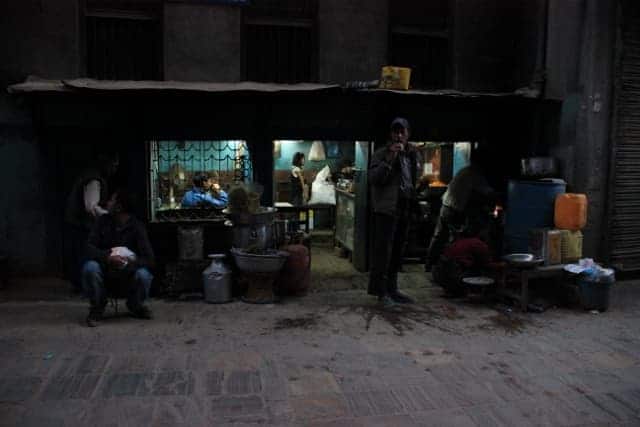 As two Western girls thrown amongst a group of confused looking locals (I gather not many travellers before us had ventured in), we never once felt uncomfortable. We were just as fascinated with them as they were with us, communicating only via smiles as we sat quietly sipping our tea.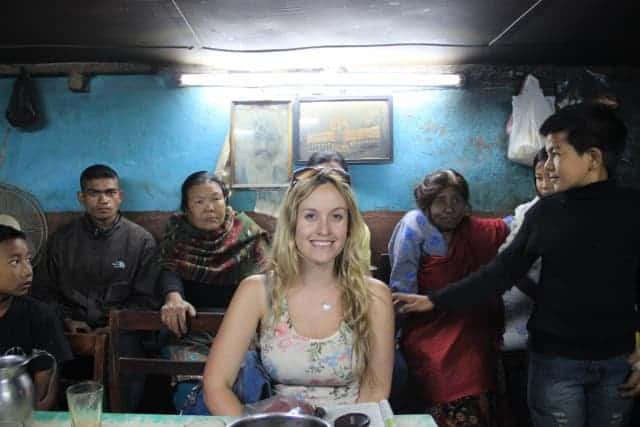 The young lad, Ram, soon became our friend and told us his story. At the age of 14, he was working most days for his grandparents who owned the shop, joining his siblings and other family members in the venture but using the opportunity to practice his English.
We praised him for speaking it so well and soon learnt that his time there was all a part of a big dream to better his life. You could tell he wasn't enjoying it – looking around and pointing to the interior of the shop he simply said: "I don't want all this. I want to be a mechanic."
He asked a multitude of questions about our lives – us having led such different childhoods- and we learnt from one another. We told him he'd make it someday for sure and to keep working hard and practising English.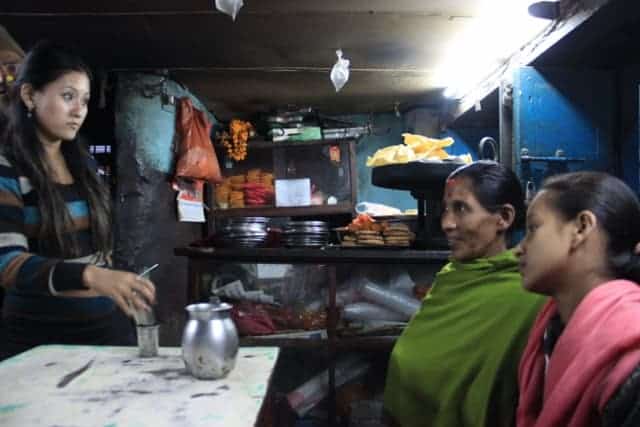 It's pulled off already since the charm offensive worked – after paying 25 rupees (20 pence) for two teas and a snack, his grandma looked in disbelief and said "too much". But you can't fault the guy for trying – when did we ever have to work that hard as a kid?
So hard that we went back the next day. So hard that I want to share his story. So hard that I want you to visit when you go to Kathmandu.
Despite how it looks on the surface, many people in Nepal live in poverty and are still recovering from the instability of its turbulent political past. Visiting a local business set up can make all the difference, whether you are over-charged or not (and let's face it, you can't argue over a few pence!).
You never know, you may end up getting a real insight into local life and the new generations emerging from this developing country, just like we did. So much so that we almost pop in every local tea house we see.