Disclaimer: This post contains affiliate links to handpicked partners, including tours, gear and booking sites. If you click through or buy something via one of them, I may receive a small commission. This is at no extra cost to you and allows this site to keep running.
There is a lot to see in Kathmandu, yet most of it is hidden. Here's how to find the best of Nepal's capital in its streets and courtyards.
It's easy to lose yourself in Kathmandu, both metaphorically and in direction, but wandering the back streets, standing amidst the calm of the temples and courtyards and then jumping back into the chaos of the main lanes and markets places is all part of the fun.
It's an initiation that takes a couple of days, but once fully immersed, will leave you wanting to see more. So what is there to see in Kathmandu aside from the standard tourist highlights?
Kathmandu sucks you into its vibrant, fast pace and you have no choice but to become a part of it. Your head turns in every direction to take everything in and your body constantly moves to swerve from the cars, motorbikes and carts while you weave through the waves of dust surfacing in the air.
The simplicity of life provides a beautiful antithesis to the astounding frenetic pace and persistent street sellers are overshadowed by the warm greeting and kind nature of the local people you meet.
Frustration is teamed with fascination, and even if you find yourself a little despondent with it all, there's beautiful scenery, mountain views and never-ending trekking routes only a few hours bus ride away.
It's most likely that Kathmandu will only be a stopping point before joining a trek to Everest Base Camp, or your main travel hub from which to move onto the adventure hub of Pokhara for the Annapurna Circuit or Chitwan National Park.
Just be sure not to overlook it.
Try Not to Miss a Thing
No matter where I go, and within the limits of safety, I love the back streets and the more subdued, non-tourist filled areas from which to observe and learn from local life – the kind of place where your camera hangs by your side and your eyes do all the work. Don't spend the majority of your time in the backpacker district and trekking shop-lined Thamel! I met people in my hostel who hardly ventured out and didn't know about the existence of life beyond the first few cross-roads in the area.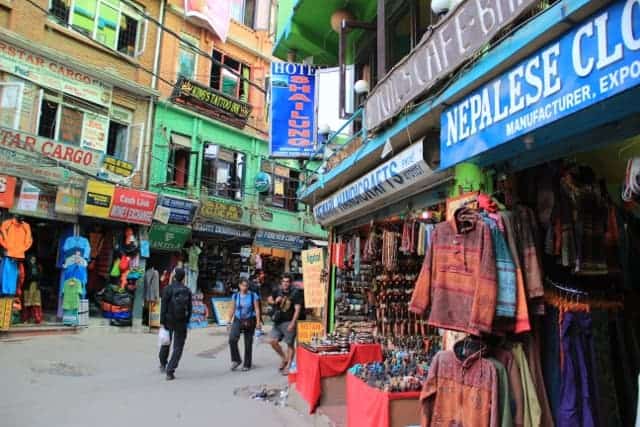 Once you've got your bearings you will soon learn the main roads that lead to the bustling markets and squares such as India Chowk, Asan Tole and Durbar Square which you can use as main navigation points. These are definitely worth a visit – Asan Tole being Kathmandu's central market space where a rainbow of colours will hit you from the fruit and vegetables on sale.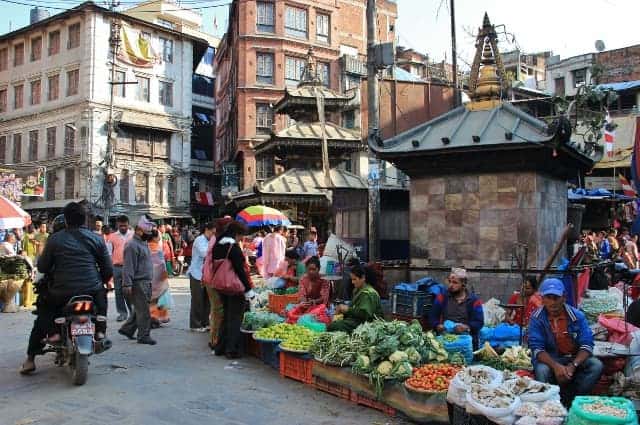 Once you have mastered the route and seen the main hubs of people madness, go back again and dip into the narrow streets you see jutting off from every angle. You'll find streets that are dedicated to certain specialist businesses such as beauty or dentistry, household goods or jewellery; find locals sitting in their tiny and beautifully wood-carved doorways relaxing; stumble upon a gathering of friends in a snack shop and be invited in; or find calm in the local neighbourhood courtyards where children play badminton or chase pigeons next to the beautiful stupas.
READ MORE: Meeting Locals in Kathmandu – The Goodness of Community Travel
Go back a third or fourth time – it's likely that you won't pass through the same streets and everything feels new again.
Sometimes I would keep walking and crisscrossing streets, only to luckily stumble back to a main navigation point. Phew! If not, the locals either speak good English or are more than happy to help you find your way out. I also highly recommend the two walking tours in the Lonely Planet guide book. I don't always try these set walks but these uncovered some amazing sights and minute detail that I might have otherwise missed.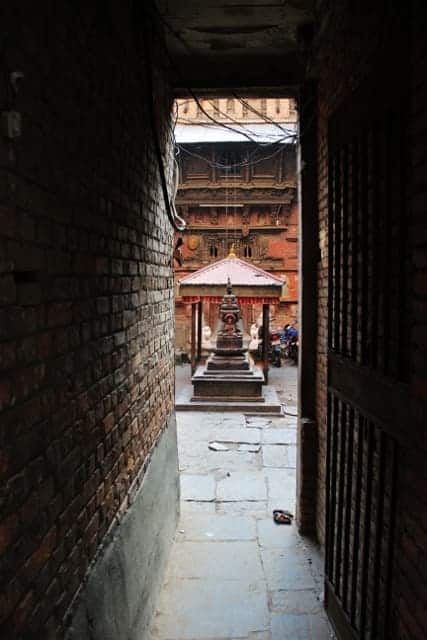 The Kathmandu Treasure Hunt
Think of Kathmandu like you would a treasure hunt and look everywhere. Every nook and cranny is a piece of history or a window into local life.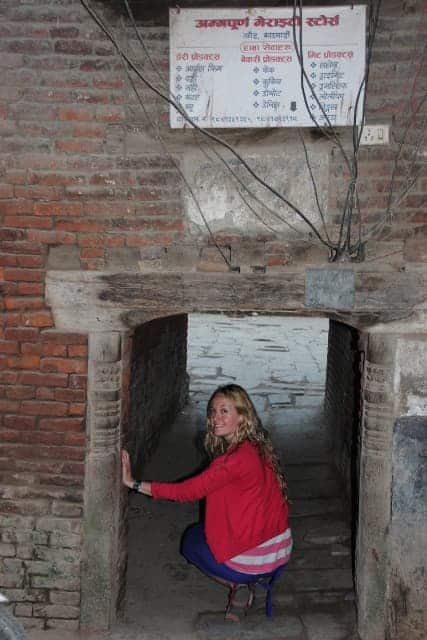 Look up at the beautiful architecture of the buildings, notice the intricate detail on the window frames, observe how most buildings are now wonky but still look completely stable and see how nearly all the doors are tiny in height and that the shops themselves are no bigger than the space of a small shed. It almost feels as if you have stepped back in time.
Just don't get too distracted that you bump the line of people trying to crawl around you while the traffic ploughs through, the holy men whose hands reach up towards your forehead in their offering of a 'tika' or the sporadic appearance of a meandering cow!
Yes, you really do have to look out for everything here!