Disclaimer: This post contains affiliate links to handpicked partners, including tours, gear and booking sites. If you click through or buy something via one of them, I may receive a small commission. This is at no extra cost to you and allows this site to keep running.
Stand within the dreamlike Arctic landscape, cross a wilderness by husky sled and snowmobile to a secluded spot to watch the dancing lights of the aurora borealis. Here's how to see the Northern Lights in Finnish Lapland.
100 years ago, Lapland didn't have any country borders – it was simply the mass of land above the Arctic Circle that now forms parts of Norway, Sweden, Russia and Finland. A flawless patch of the Earth's surface, Lapland retains its natural order and balance of nature despite new borders and tourist attractions.
Because of this, it can be hard to narrow down where to go and how to see the Northern Lights on an aurora borealis trip in this coveted region of the world.
Lapland is a destination that many put on their once-in-a-lifetime list. Many opt for Rovaniemi when visiting Lapland in Finland, yet the Northernmost point of Finnish Lapland – Inari-Saariselkä – is also accessible to visitors.
It's an opportunity to see the northern tip and isolated extremities of the country, which remains a pristine, unspoiled wilderness where life is unhurried, and tradition remains. Those specifically chasing the Northern Lights in Finland may find this is a prime spot to hedge your bets on a viewing.
The perceived idea of winter in Lapland being a pure white snow-coated hinterland akin to Narnia doesn't seem real, except when you finally see it for yourself, it really is.
Best Time to See the Northern Lights in Finland
It also pays to limit your expectations regarding a Northern Lights trip. Just like in Iceland, it is not guaranteed, although the fun is in the anticipation, the excitement and the general 'chasing' to find the dancing skies. There are some ways to secure an elusive viewing better, though.
October marks the time of permanent snow cover for that extra magical touch, and September is better for cool temperatures perfect for hiking.
The further north you are, the better the chance of seeing the Northern Lights. It's said they can be seen for around 200 nights a year in northernmost Lapland.
The best viewing time to see the Northern Lights in Finland is between 6 pm to 2 am.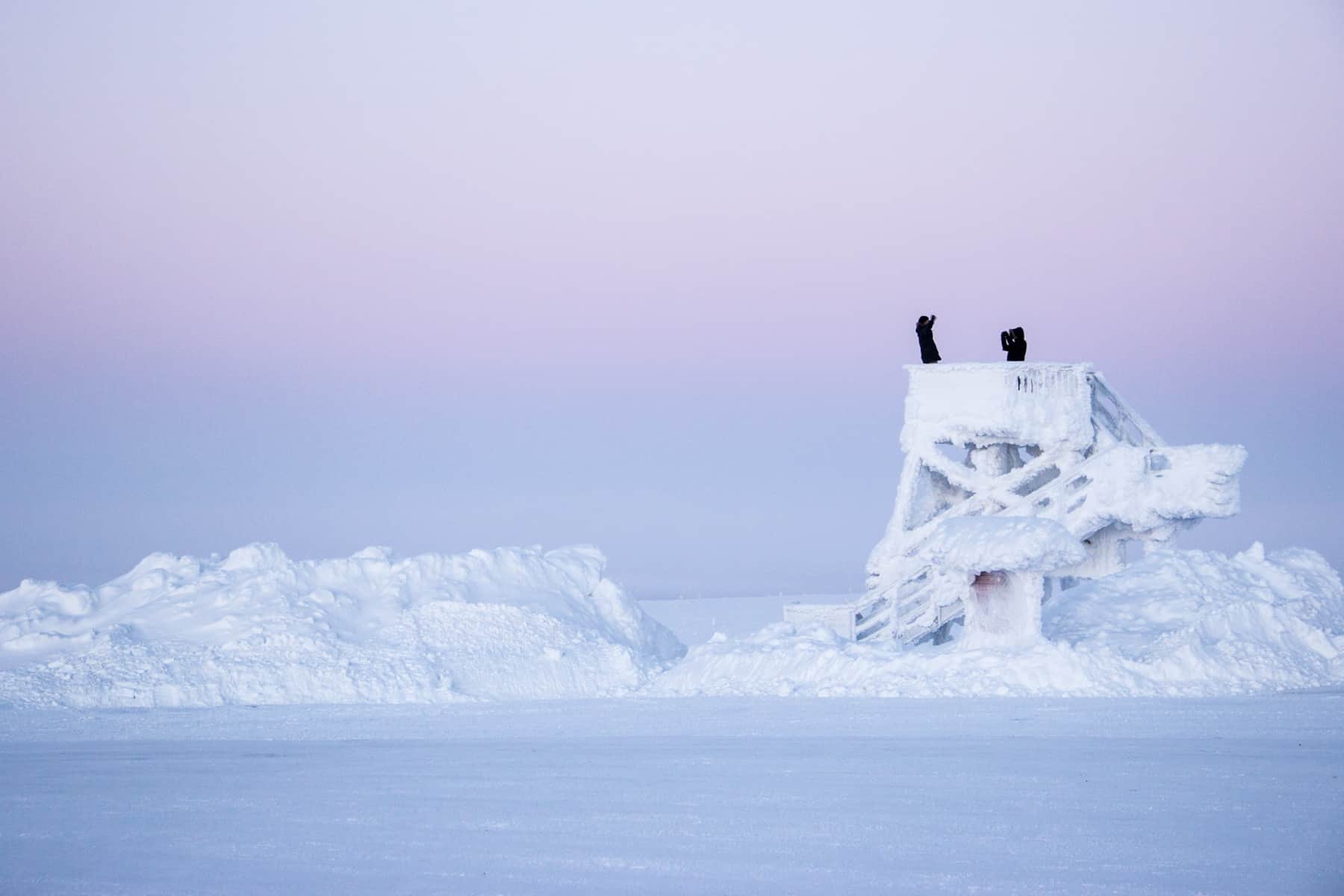 Where to Go in Lapland Finland
Rovaniemi – The Capital of Lapland
The capital of Lapland, Rovaniemi, is the usual stomping ground for tourists to Finnish Lapland and is well geared up for visitors. For families especially, Rovaniemi is synonymous with Christmas, as the Official Hometown of Santa Claus. The more adventurous looking to get off track and away from the commercialised aspects of Finland Lapland can use Rovaniemi as a connection to get further afield.
Inari-Saariselkä – Northernmost Finnish Lapland
One extra flight from Rovaniemi gets you a little further afield to the region of Inari-Saariselkä – a cluster of smaller villages scattered within a vast and empty space known as 'Northernmost Lapland', also home to the ancient Sami culture.
Here, I found a stillness I've never felt anywhere else, a majestic calm under an ink-blue sky pierced only delicately by a sun that remains under the cloak of darkness for much of the day. I felt intense freedom. The crisp, freshness of the air was exhilarating – something I've never once said about the cold. Lapland truly was a sensory awakening.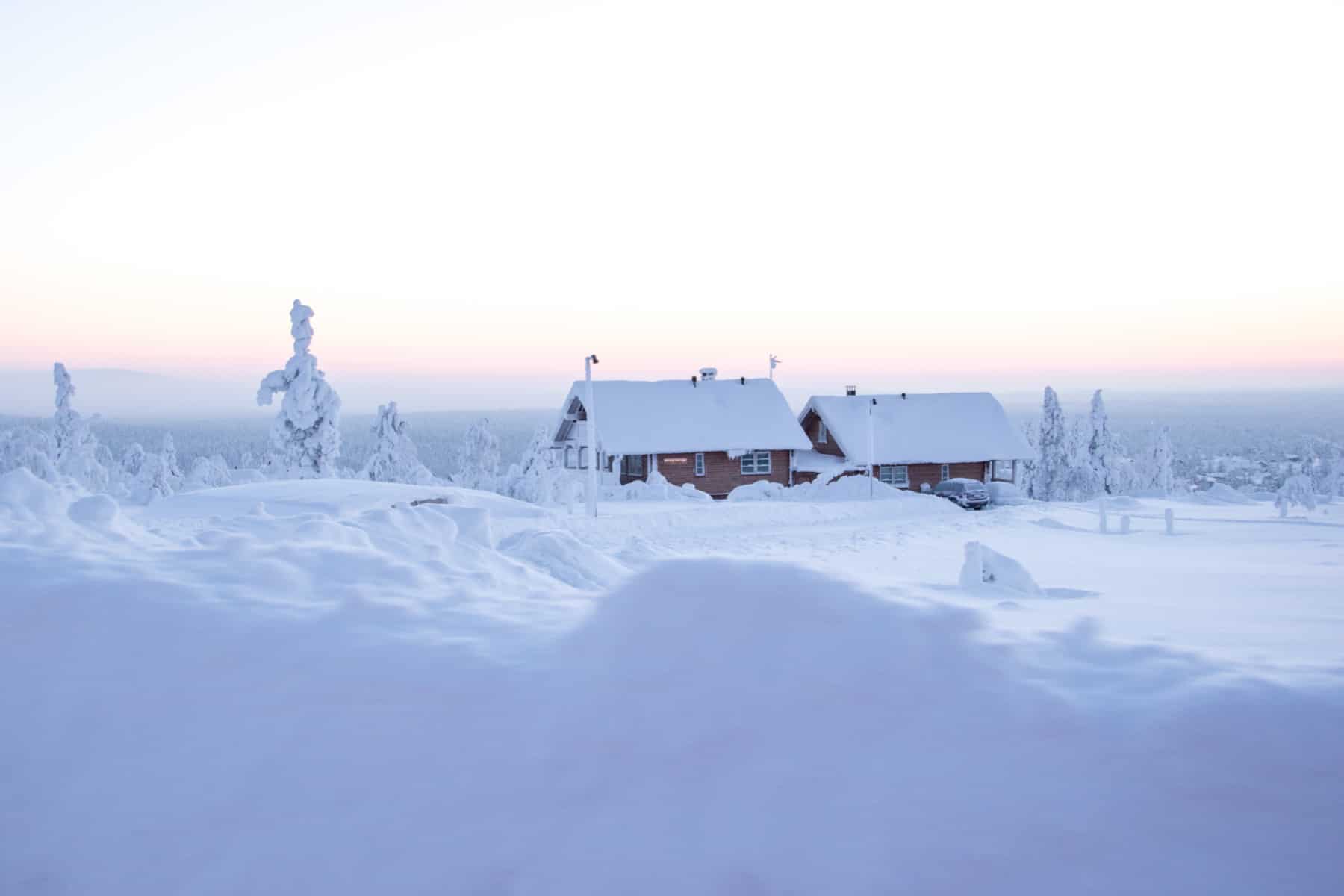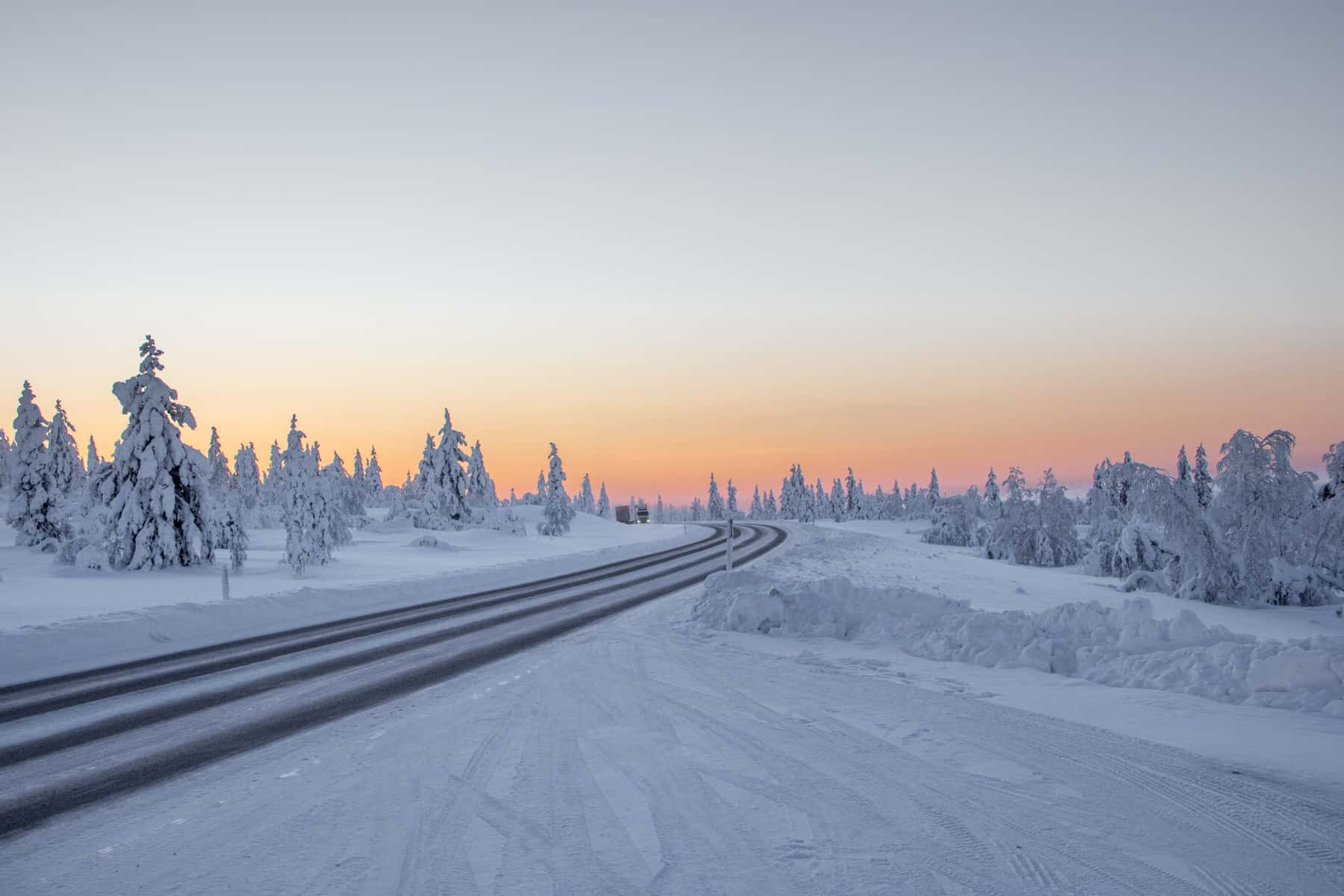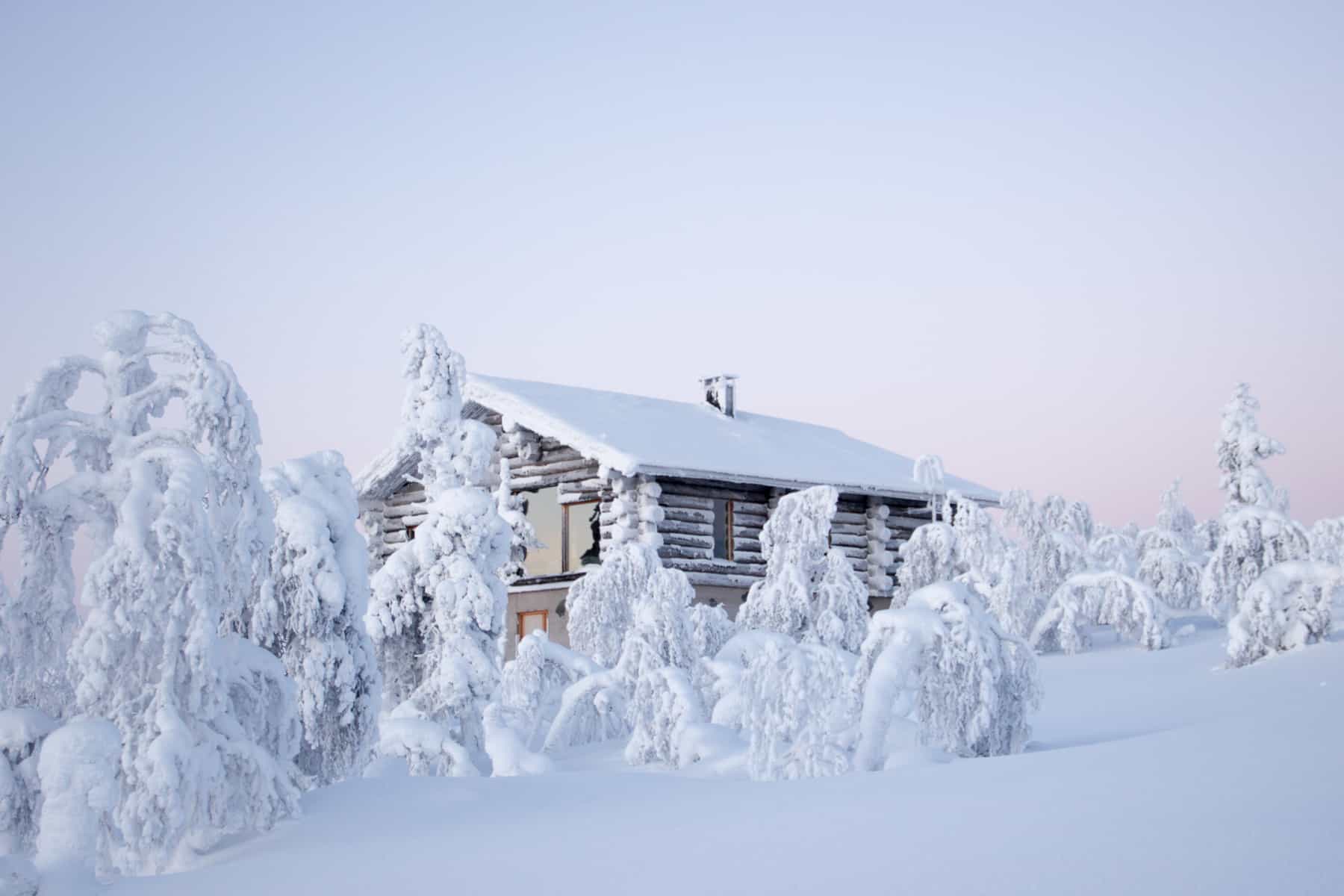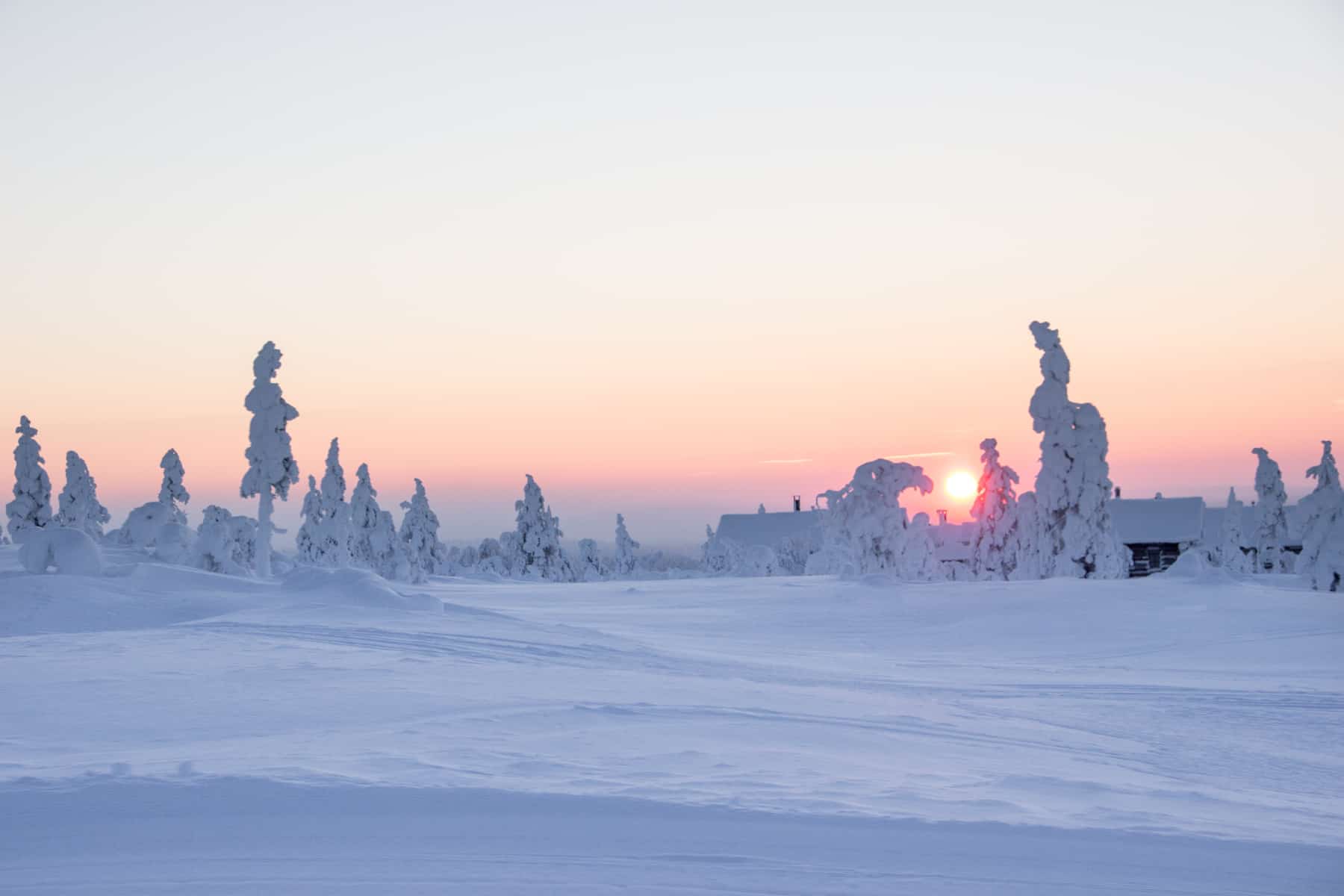 Aurora Hunting in Finnish Lapland
Catching a glimpse of the Northern Lights is as much about luck as patience. A true spectacle, their sighting is a blessing and not a guarantee, although being as far north as possible ensures a better chance of a view.
But when you get lucky on a clear and cloudless night and see the flames whirl hues of blue and green, you feel a powerful connection to nature. They could appear by chance right where you are. You may chance a sighting based on a specific location after a hike. Or, to cover more ground, you can join a snowmobile trip and chase the swirling skies over a larger area.
From beginning to end, you will spend your entire journey here chasing those lights, known affectionately as Aurora hunting.
Snowmobile Safari in Saariselka
I spent a night out on a snowmobile in the village of Inari with local adventure experts, Joiku-Kotsamo, in minus 38 temperatures searching for the Northern Lights in Finland.
It was my final evening in Lapland. I spent it ripping through the dense wilderness of Saariselka on a three-hour-long snowmobile safari, stopping for warm berry juice and sausages over the fire before turning back to head back to civilisation.
Chasing the elusive lights via snowmobile, through forests blanketed in a never-ending sea of pure white snow, only adds to the sense of off-track adventure, the speed of which is in juxtaposition to the calming isolation once you turn off the engine, stand in the darkness and take it all in.
Staying in a Glass Igloo in Lapland
For a more relaxing and serene means of watching the Northern Lights without the minus temperatures, I was invited to try out the world-famous glass igloos of the Kakslauttanen Arctic Resort in the Saariselkä Fell region.
A family hotel situated 250 kilometres north of the Arctic Circle, Kakslauttanen Arctic Resort is built on a vast patch of wilderness mapped out with lit pathways and dotted with wooden cabins and showpieces like 'Santa's Celebration House'.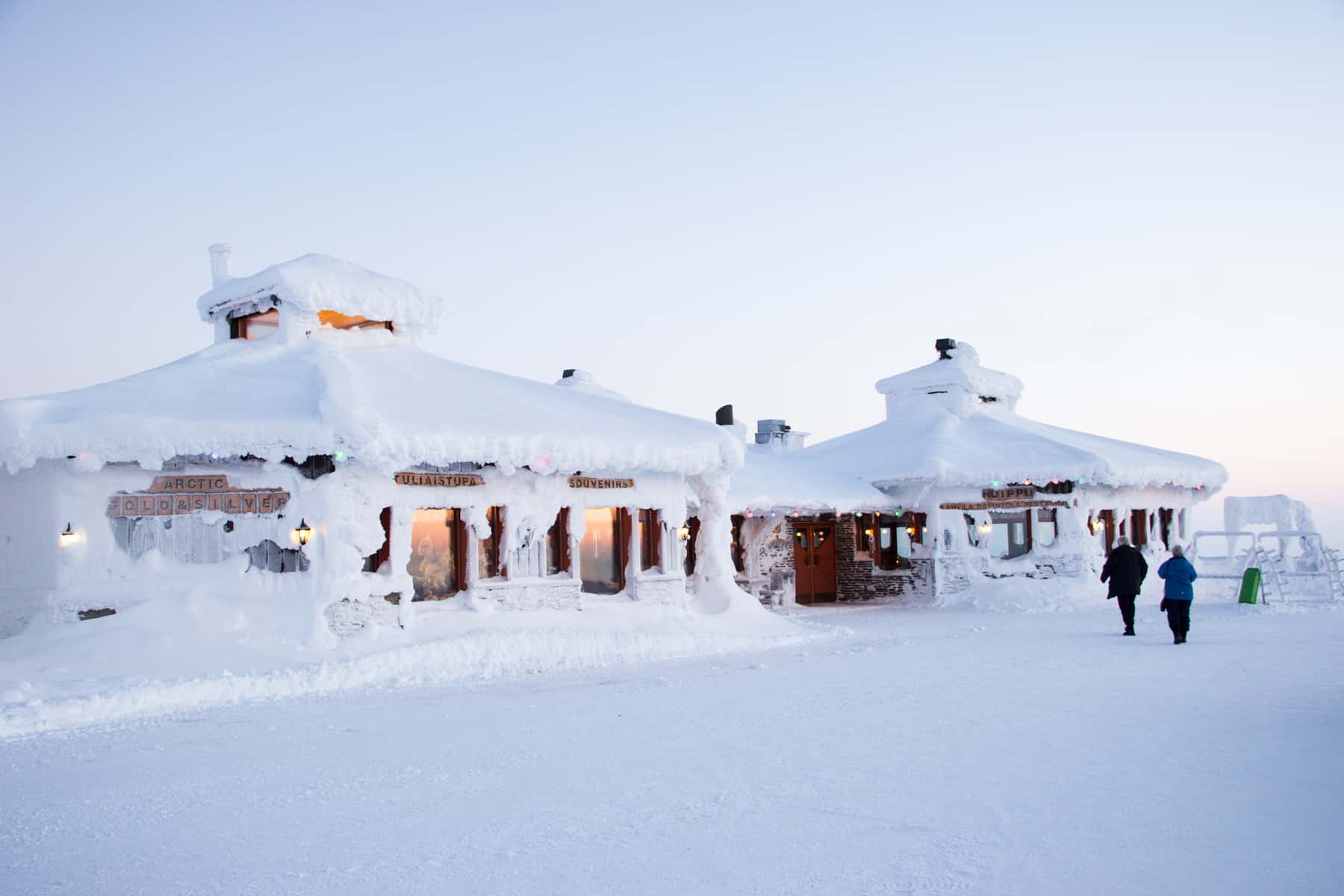 These resorts are huge set-ups built on acres of barren land, so be prepared to walk long distances between things and front extra costs to get between different sides of it or to other villages and smaller activity hubs. My advice? Do as many of the more intrepid visitors do in Lapland and hire a car.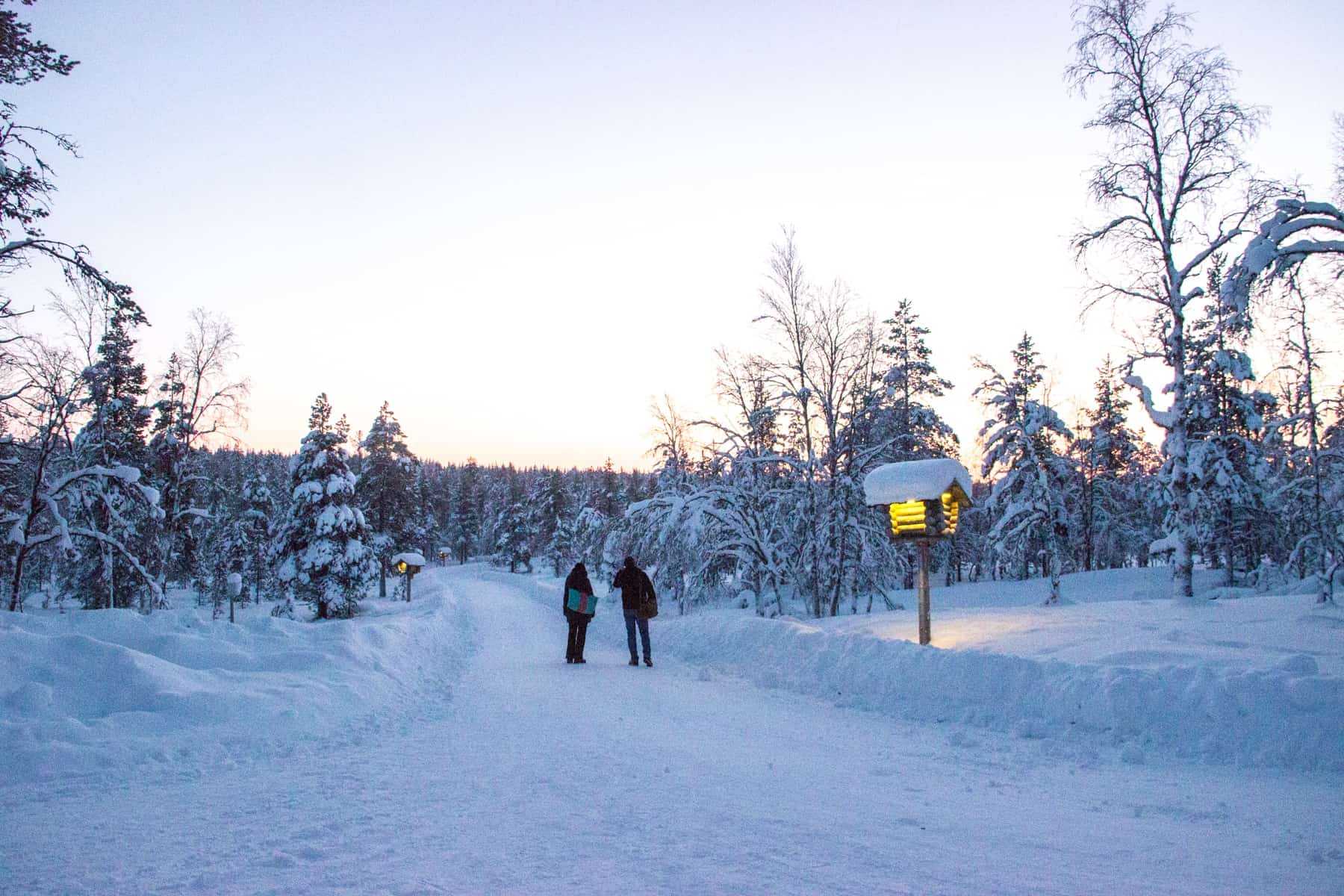 The igloos are spectacular-looking capsules and a brilliant concept, although you wouldn't spend more than a night in one. They are expensive (starting at €400 per night) and without the full stretch of bathroom and sauna amenities found in all Lapland accommodations (although it contains a toilet and sink). A cabin-igloo combo that sleeps six adults starts from €800. You can find the full list of options on the resort site.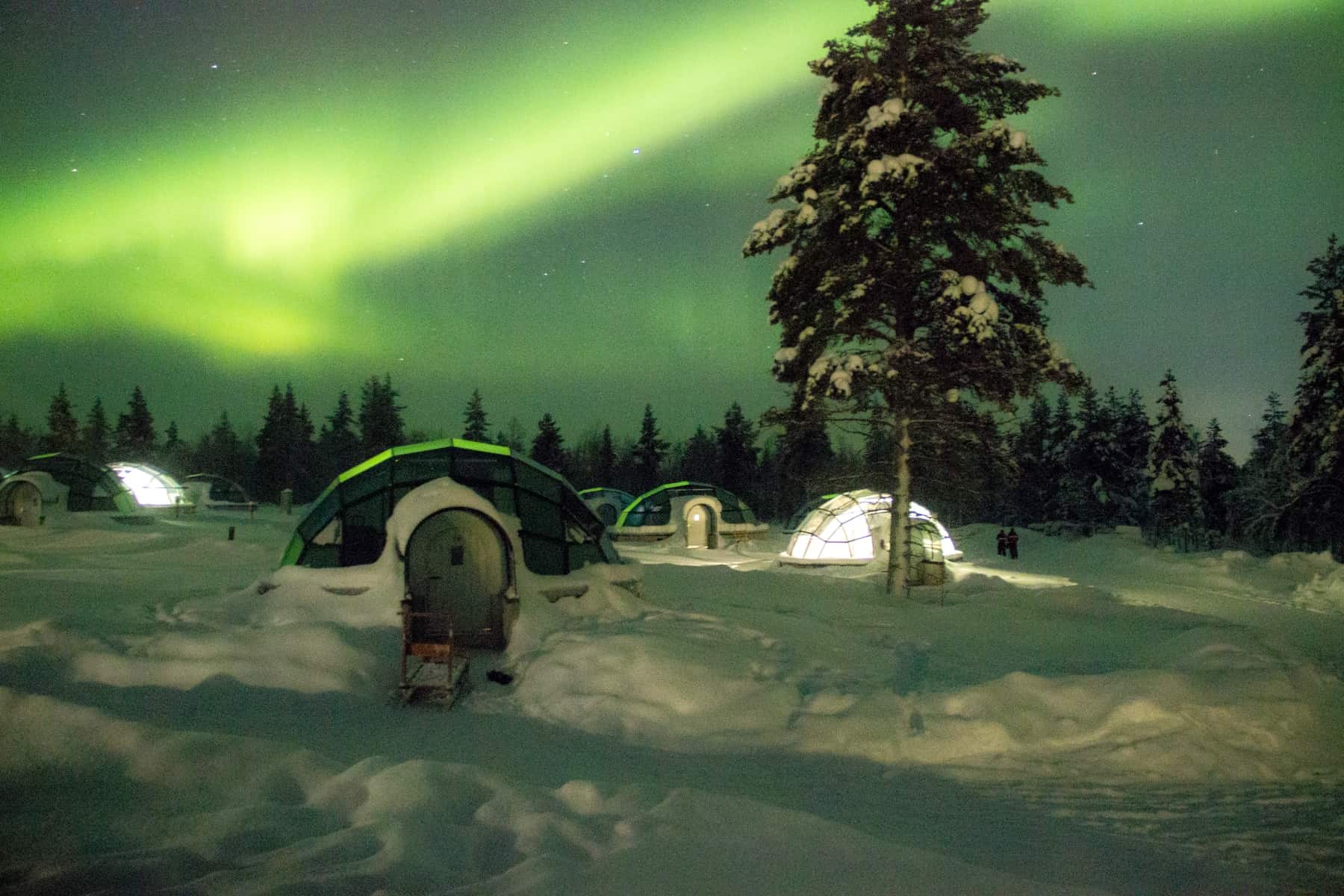 Staying in a glass igloo is a novelty. Still, if you are lucky enough to see the sky burst into colour above you, it's a very surreal experience watching the Earth perform a show until the early hours of the morning, from within a heated cocoon.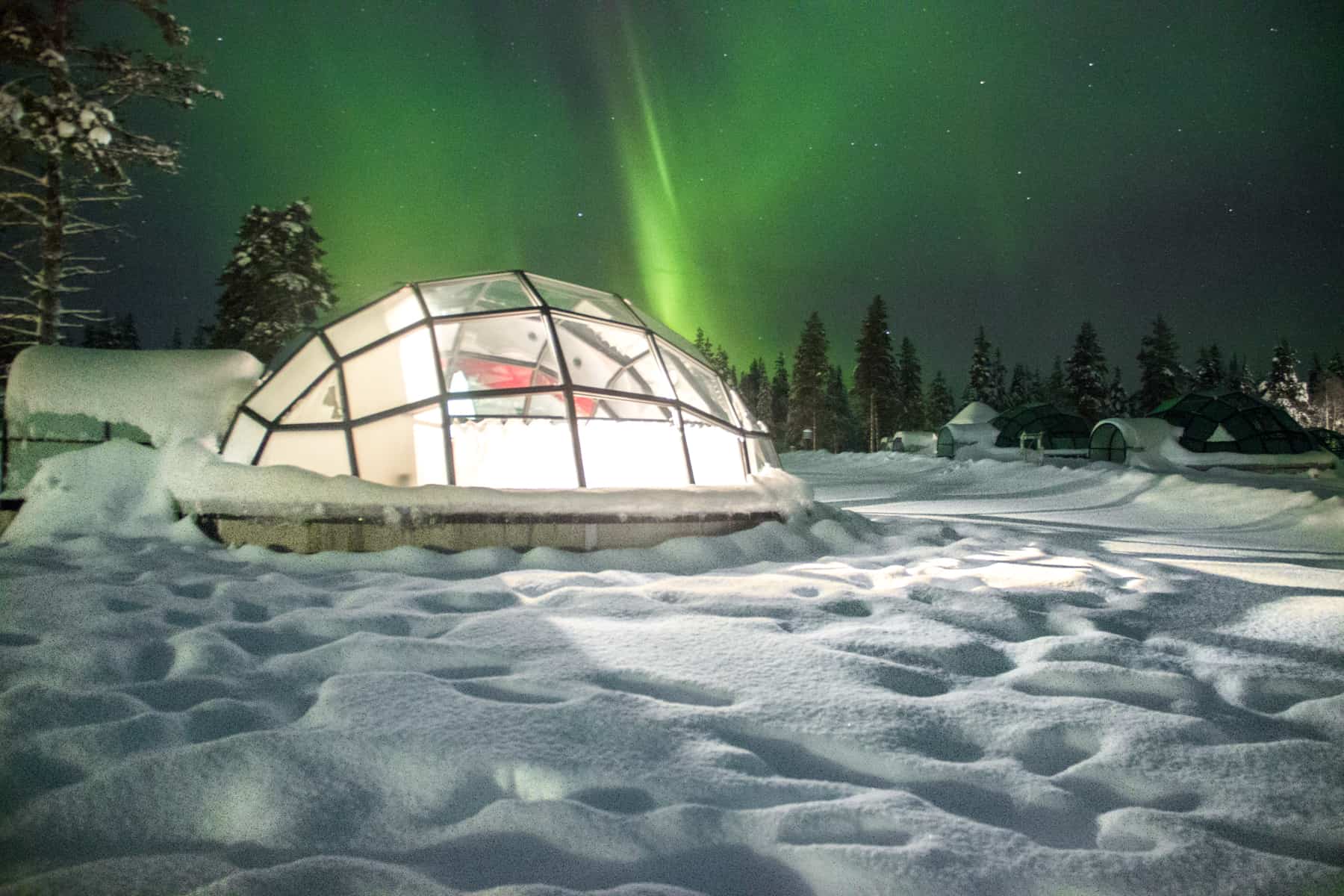 Things to Do in Inari-Saariselkä – Tradition Vs. Tourism
There are days to fill with outdoor activities whilst you countdown to the astronomical aurora borealis light show. In Finnish Lapland, traditions have morphed into tourist activities, keeping locals in business and allowing visitors to sample the Arctic way of life.
Life continues in Lapland as it did many years ago. Nature beats to its unique rhythm of the seasons. Winter's dusky twilight skies evoke contentment, even when you are being whisked at high speeds across the wilderness in a grand adventure, before the arrival of May, where the landscape thrives in new energy under a midnight sun that never ventures below the horizon for three months.
Husky Sledding Safari
Huskies, known for their endurance, have been used for centuries in hunting and long-distance travel. Your team of six dogs pull the sled that you have to run with, balance on and control.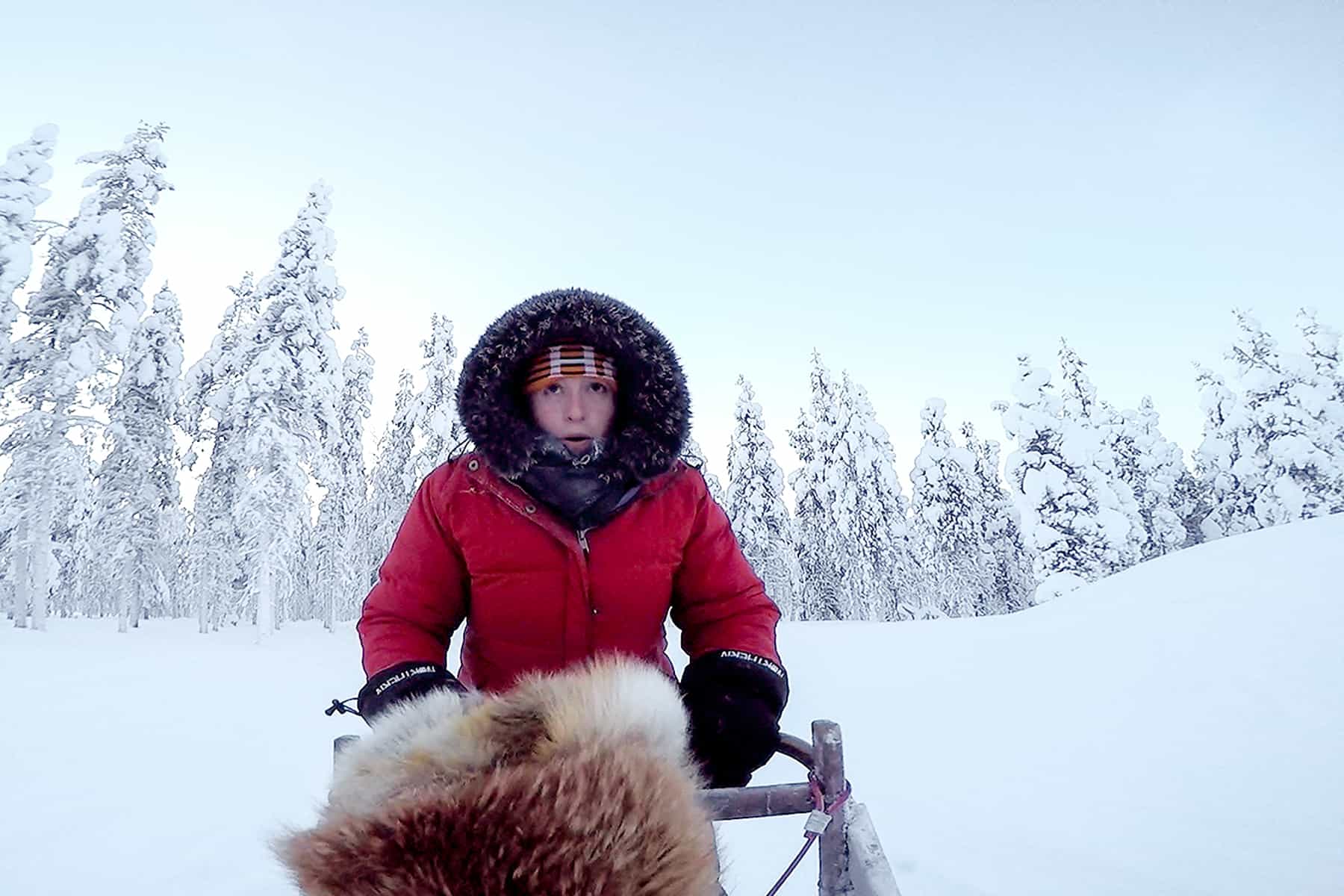 Your friend sits in the rickety wooden sledge and enjoys the crazy ride until you get to swap over in relay. Everyone, including the dogs, loves the thrill of the race. I think I spent most of my time in a daze of adrenalin, guiding my dogs and trying not to fall off while staring wide-eyed and astonished at the most incredible pathways cutting through a forest of white-coated magical-looking trees.
Breathtaking scenes do exist beyond a movie green screen.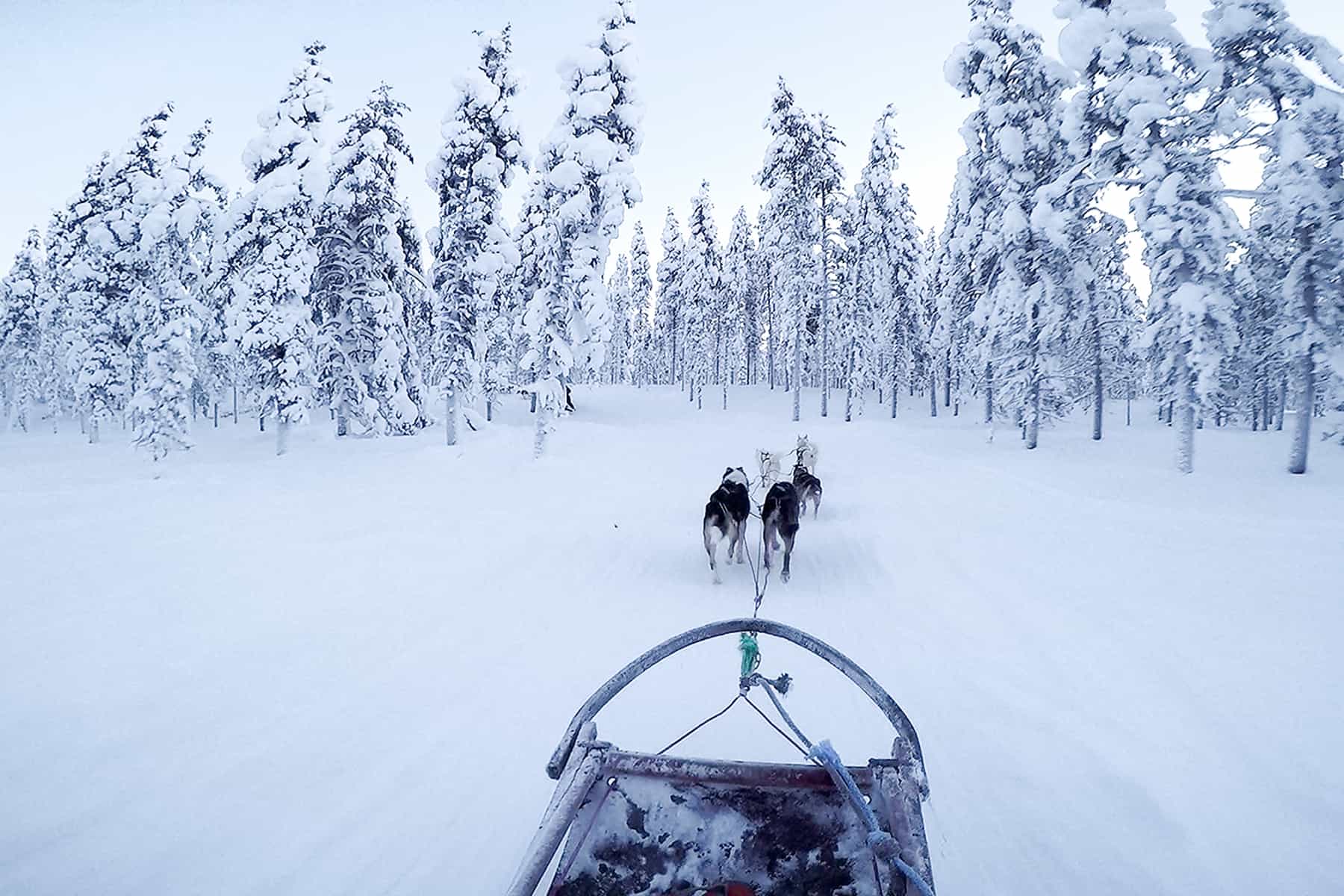 Reindeer Safari
I wasn't a huge fan of the reindeer safari – it felt gimmicky, despite them being beautiful creatures to watch in their natural habitat. Yet there are two sides to the coin in this debate.
Reindeer herders were some of the first people to come into contact with the tourism industry, moving into the activities business to sustain their livelihood. Upon asking about the impact of tourism in a land still so untouched by mass modernity, one reindeer herder told me: "If there were no tourists, we wouldn't use as many reindeer, and my children wouldn't get to see such traditions, especially in a generation where snowmobiles are the popular choice of transport."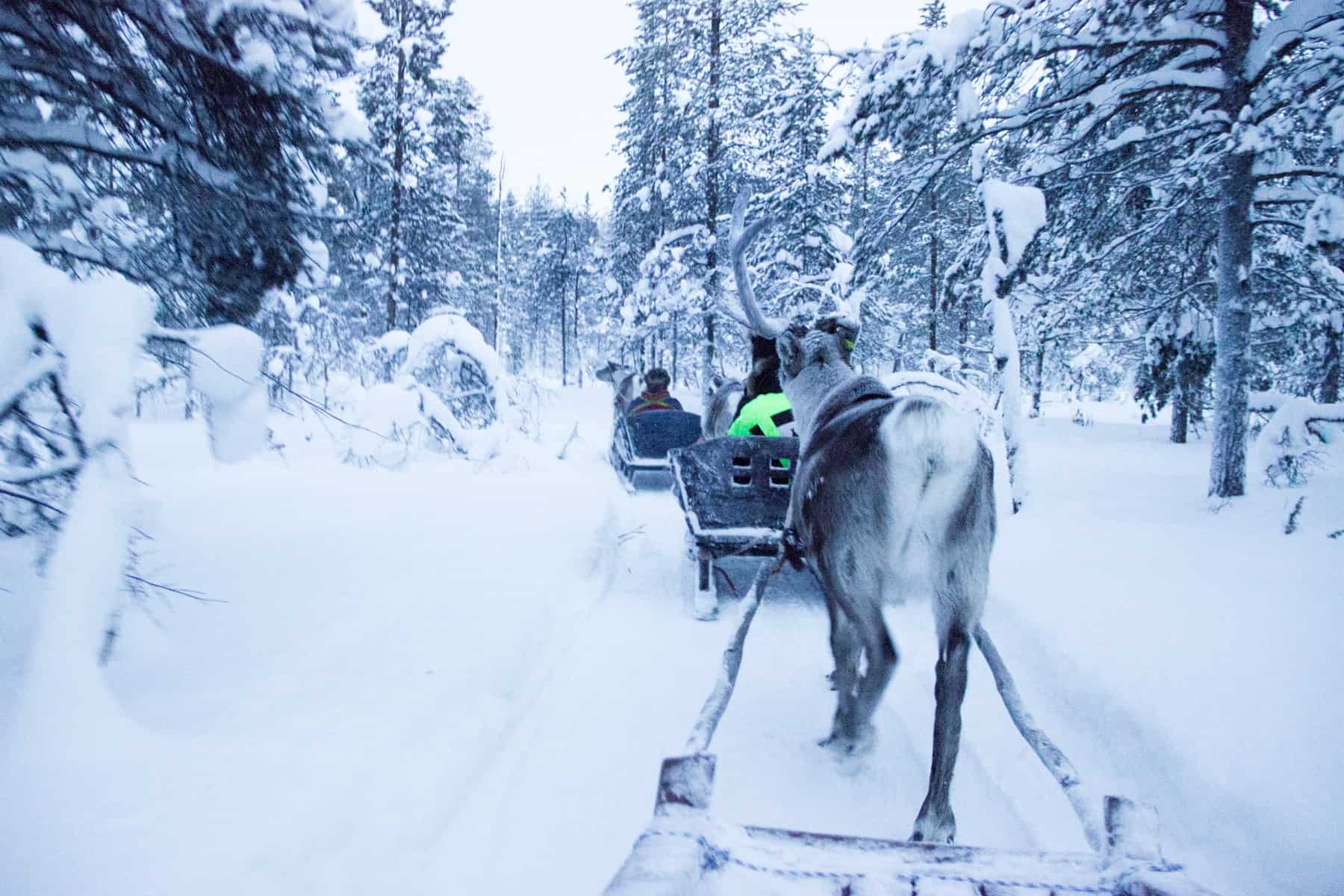 On the other hand, the argument is that if the herders only rely on tourism, it keeps the rangers out of the forest, and that can have a negative effect (in that they are not utilising resourceful skills passed down through generations, most notably in the Sami culture). It has simply become a matter of personal choice rather than a must-needed shift to survive.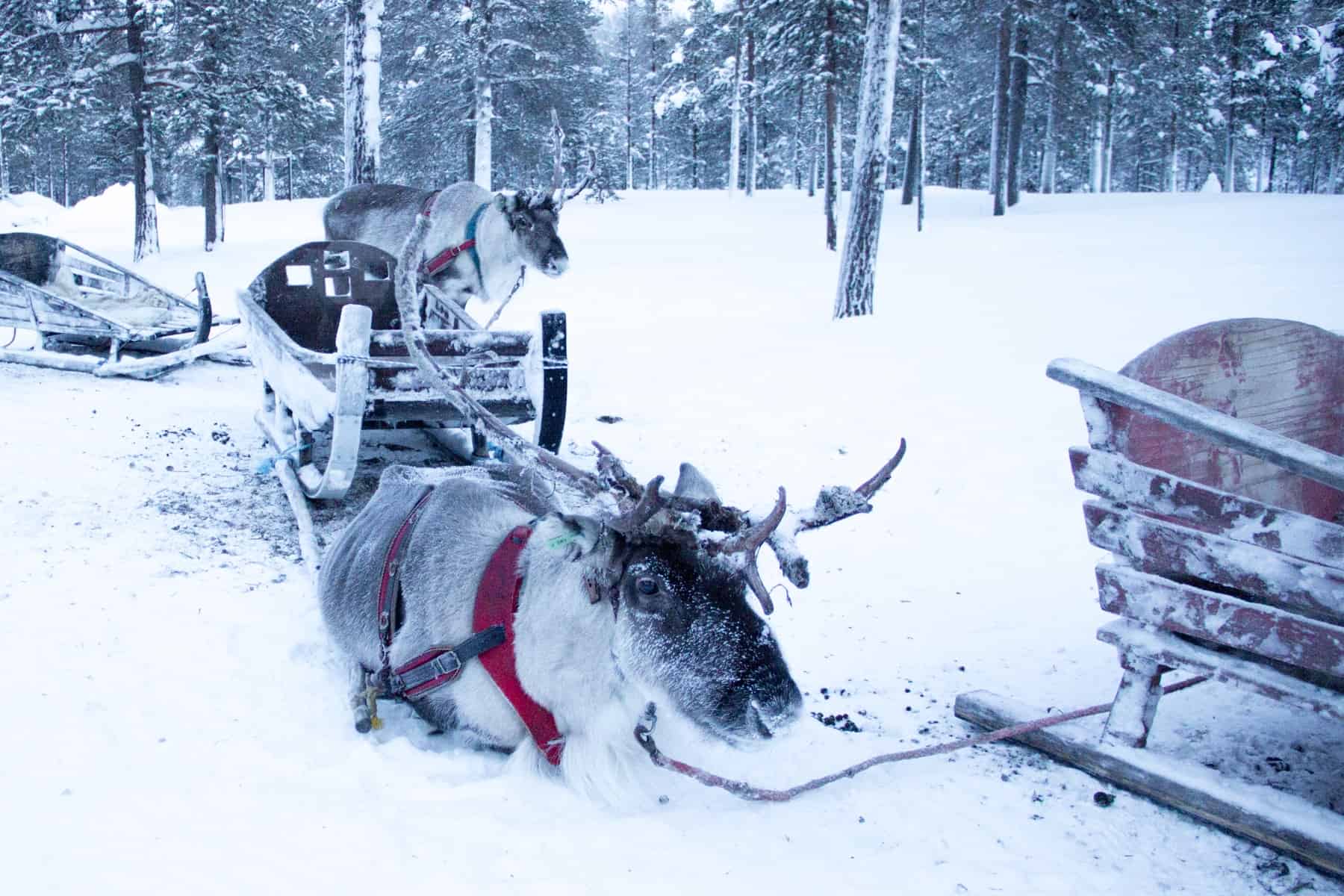 Skiing in Northernmost Lapland
To ski in Inari-Saariselkä means sampling Europe's northernmost ski resort. The Saariselkä Ski & Sport Resort has 15 slopes suitable for all levels, carved across the two fells of Lisakkipää and Kaunispää. The longest ski run is 2000m.
Not a skier? The area also includes tubing hills, an 1800m toboggan track and a selection of cross-country ski tracks. Six ski lifts connect the area so you can easily cover it all.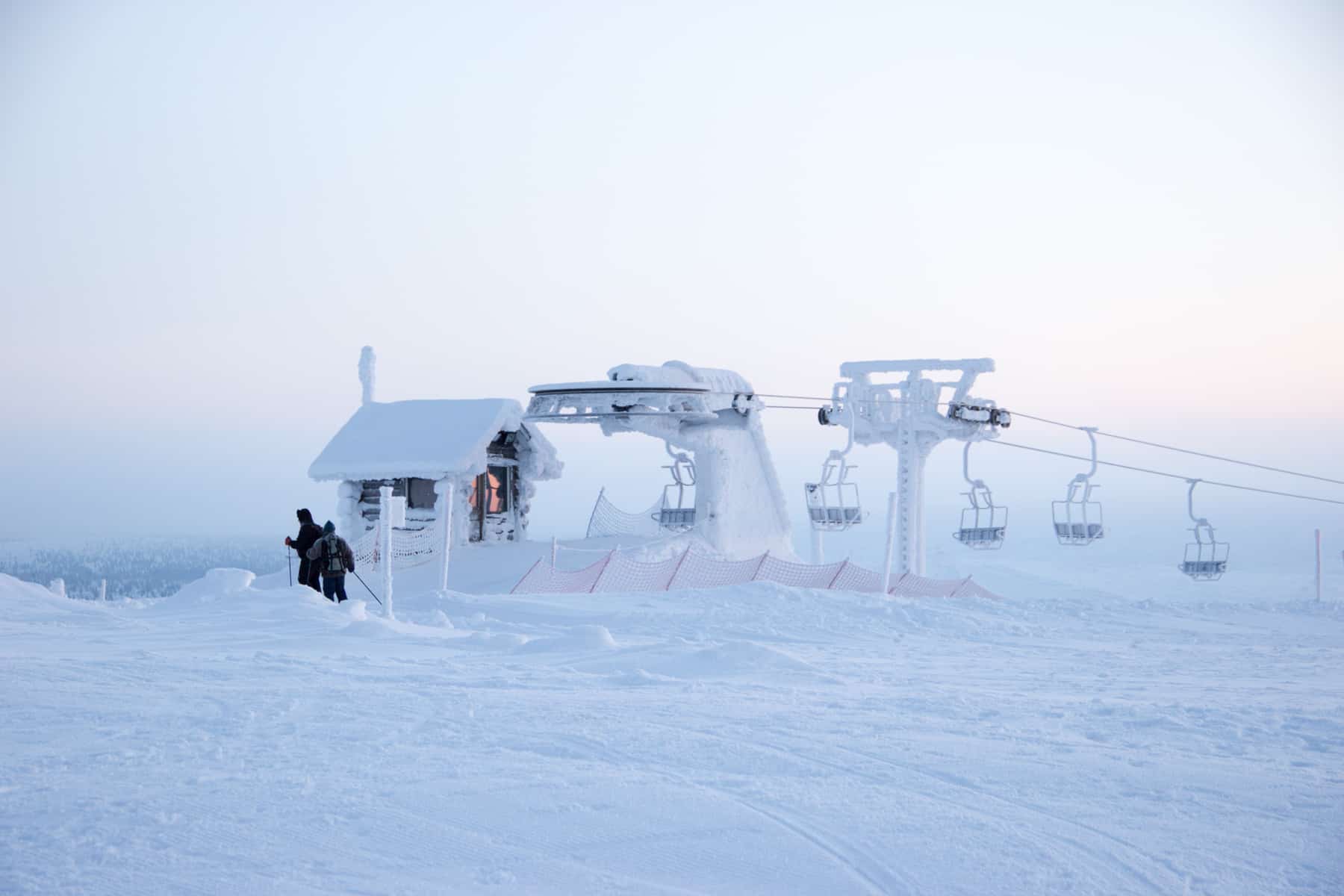 Sámi Museum and Nature Centre in Inari
You can learn more about Sami culture and traditions at SIIDA (Sámi museum and Nature centre) in Inari. The Sami are seen as the only indigenous people of the European Union (there are over 10,000 Sami in Finland), and today they have the right, through the constitution and law protecting their culture, to maintain their language and customs.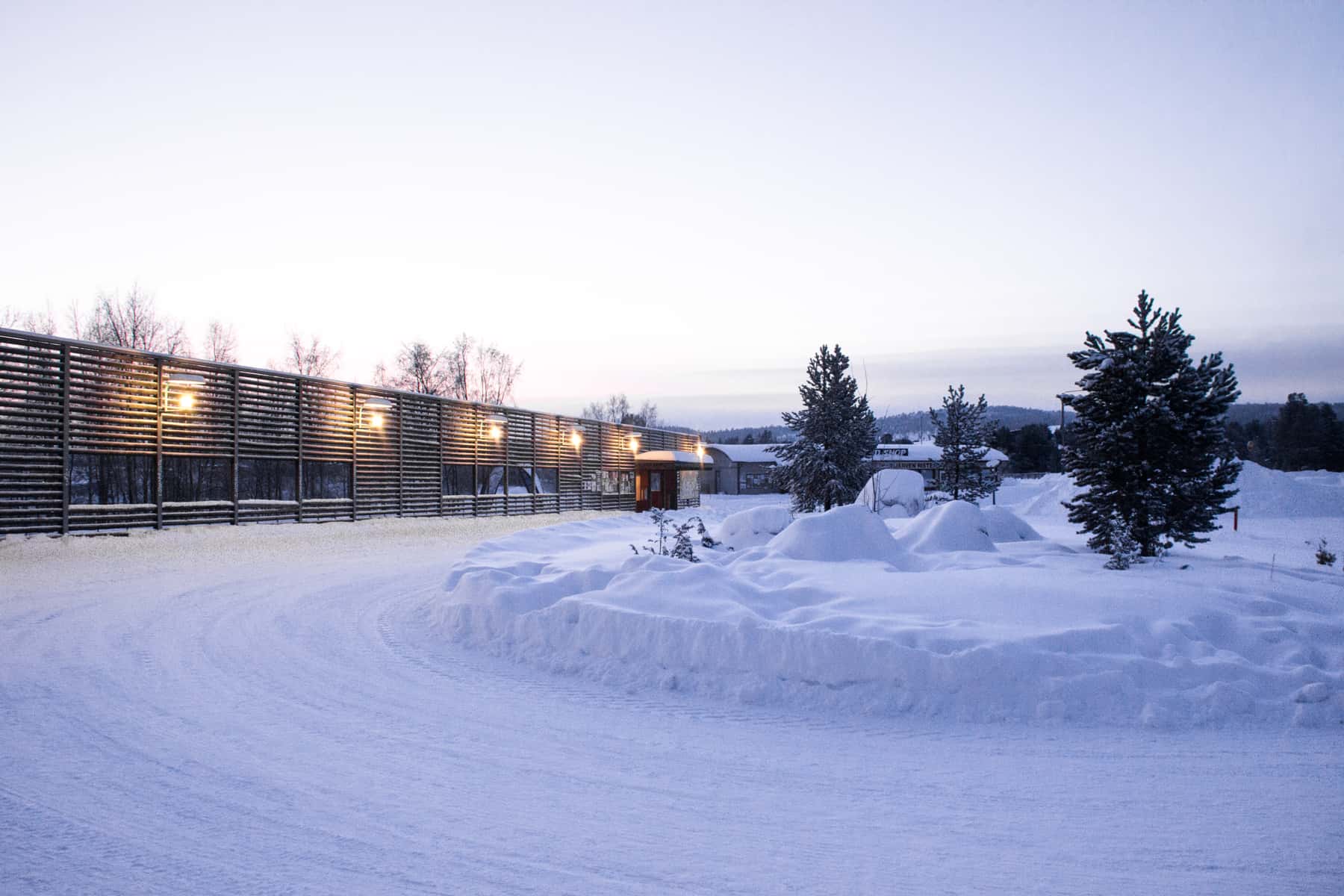 Their traditional livelihoods centre on this notion of being resourceful (including reindeer-herding) alongside fishing, and the gathering of nature's products, such as bone, wood and leather, to make handicrafts. Reindeer are important for survival in this sense too, and crafts are now an income source through tourism.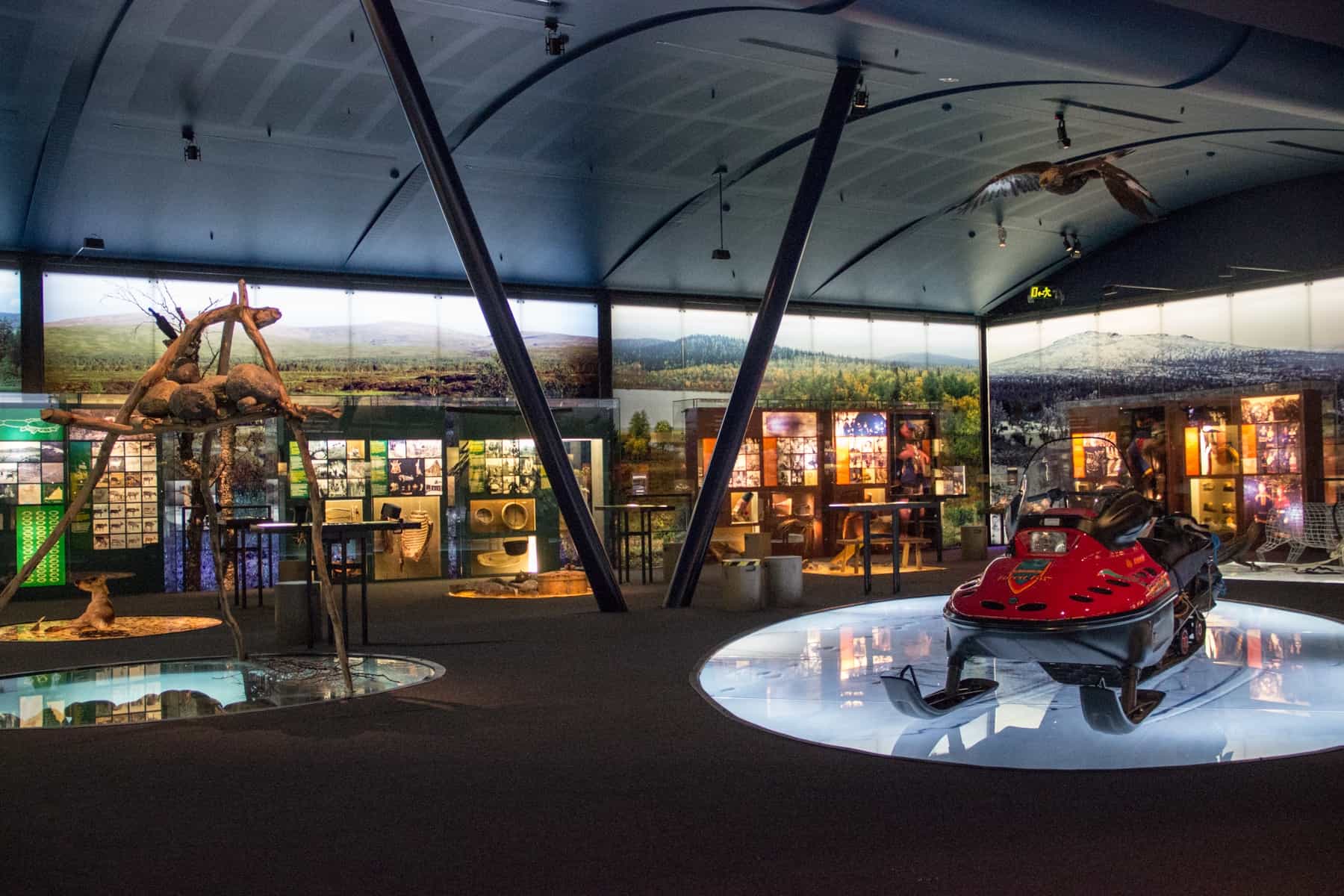 Things to Know About Finland Lapland Travel
For those looking for a flawless patch of the Earth, whose paths remain largely untouched and whose skies spend much of the year dancing, the Lapland of Finland is your calling.
Inari-Saariselkä is well-connected, with over 13,000 beds and easy flight connections, including a bus from the airport. Ivalo airport is the northernmost airport in Finland. For further information on these regions, visit inarisaariselka.fi and www.visitinari.fi – the regional tourism boards that helped facilitate my time in this incredible part of Lapland.
During winter months, and especially when on a mission to catch the Northern Lights in Finland's minus-degree wilderness, it is advised to pack: thermal under layers, base layers, mid-layers (such as a fleece) to insulate, outer layers (I took a Gillet with a faux-fur lined hood), gloves, thermal socks (layered), waterproof and insulated trousers, snow boots (insulated and waterproof) and down coat. Extra layers and a fully insulated bodysuit are provided when going on a snowmobile and a husky safari.
More on Finland Travel
For more travel inspiration, you can view my outdoors Finland articles from my numerous visits:
Learn more about nature, sustainability and accessibility with Everyman's Right in Finland, granting freedom to roam and public access rights.
Adventure enthusiasts can plan a trip biking in Helsinki and find the nature surrounding the capital.
Want to visit the World's Largest Archipelago? Southwestern Finland is where it's at.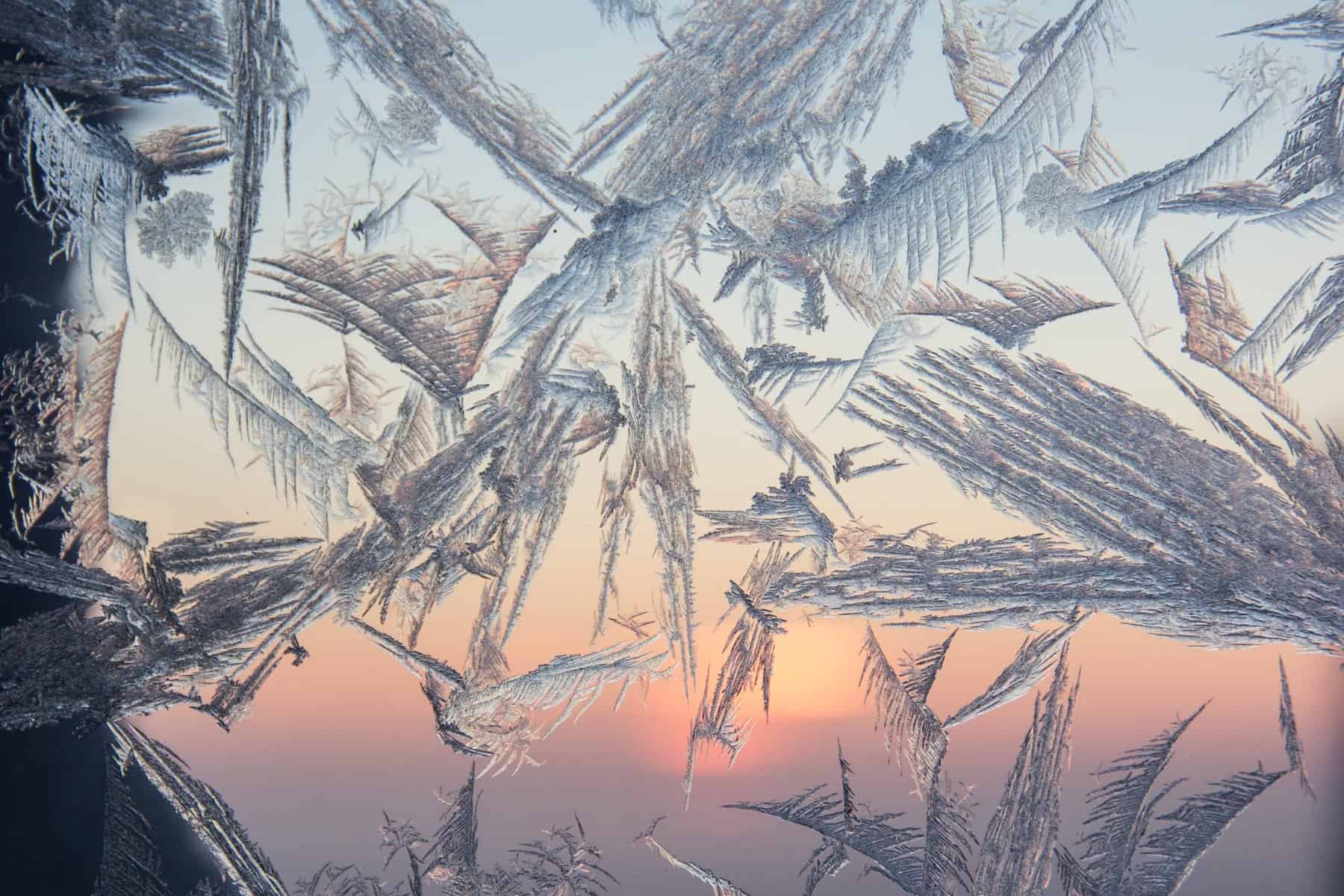 Want to see the Northern Lights in Finland?