Disclaimer: This post contains affiliate links to handpicked partners, including tours, gear and booking sites. If you click through or buy something via one of them, I may receive a small commission. This is at no extra cost to you and allows this site to keep running.
Nuremberg sausage, red beer and gingerbread – Nuremberg food has protected status for good reason. Here's where to eat in Nuremberg to try them all.
Aside from a rich history spanning the Holy Roman Empire of the German Nation, the Renaissance art movement and WWII, Nuremberg food specialities have also put Bavaria and Franconia on the map.
Much of Nuremberg's artistic thread is expressed through its foods. From sweet treats and savoury snacks to the infamous barley malt beverage that is native to the city, there is much to devour in terms of taste and tradition.
On a trip sampling the region's cuisine, as well as its culture, leave some space to feast upon some of the imperial city's most revered and protected delicacies. This post explores four of Nuremberg's oldest foods, alongside where to eat in Nuremberg and the places to learn about the recipes and stories behind this appetising side of the city.
The Nuremberg Sausage / Nuremberg Bratwurst
Nuremberg Food Type: Savoury Snack
Also known as Nürnberger Rostbratwurst (or Nürnberger Bratwurst), the grilled Nuremberg Sausage holds a place of prestige not just in the hearts of the citizens of the great city, but also in the heart of Europe as a whole.
Given a protected designation origin, known as a Protected Geographical Indication (PGI), in 2003 by the European Union as the first sausage in the continent, the Rostbratwurst first came into the books of history in 1313.
On home turf, there is The Nuremberg Sausage Protection Association – a foundation started in 1989 to champion this small but mighty delicacy and check the quality and recipe standards. The sausage is serious business here, so know you will be eating the very best and most legitimately made.
Some legends claim that the sausage was made very small, about the thickness and length of a finger, to be sold through tavern keyholes. Some say it was made that way to fit through holes in the Nuremberg dungeon walls. Whatever the truth may be, this small sausage has made a large mark on the culinary world stage.
Today, tourists from different parts of the world visit Nuremberg to experience the trademarked deliciousness of the Nuremberg Sausage. Rostbratwurst is also exported around the world and outside of Nuremberg, is typically eaten as a breakfast sausage. It is traditionally prepared on an open fire made with beechwood and by law must be made out of minced pork which must not contain more than 35% fat.
The way to the famed Nuremberg sausage is to order in the small batches (usually 6 per dish) and eat 'from the fork' or enjoy served as three sausages in a bread bun.
Where to Eat Nuremberg Sausage
The Bratwursthäusle bei St. Sebald at Rathausplatz is a traditional wooden tavern-style restaurant serving up the Nuremberg sausage in all its varieties – grilled, sour, smoked or "naked". Or order a sample of them all if you are in a small group, best accompanied with beer, to blend in truly with the locals.
Its location is ideal to combine with the exploration of the Old Town, in which it sits.
Other sausage restaurants (and Google map locations) include:
Nuremberg Lebkuchen (Gingerbread)
Nuremberg Food Type: Sweet Treat
Many people all around the world grow up hearing stories of the Gingerbread Man who ran around until he was eventually eaten. Few know the history of the German variant of gingerbread, known as Lebkuchen. This ancient biscuit was said to be first produced in the 11th century by Franconian monks when baking with honey, although the first written account of a gingerbread baker in Nuremberg dates from 1395.
Gingerbread makers came to the fore when Nuremberg was at its height as a trading city. Nuremberg, alongside Constantinople and Venice, formed a triad of cities that traded spices. Bakers of the honey cake added a mix of spices including nutmeg and aniseed, ginger and cardamom, cloves and coriander, and the recipe for Lebkuchen was born and perfected.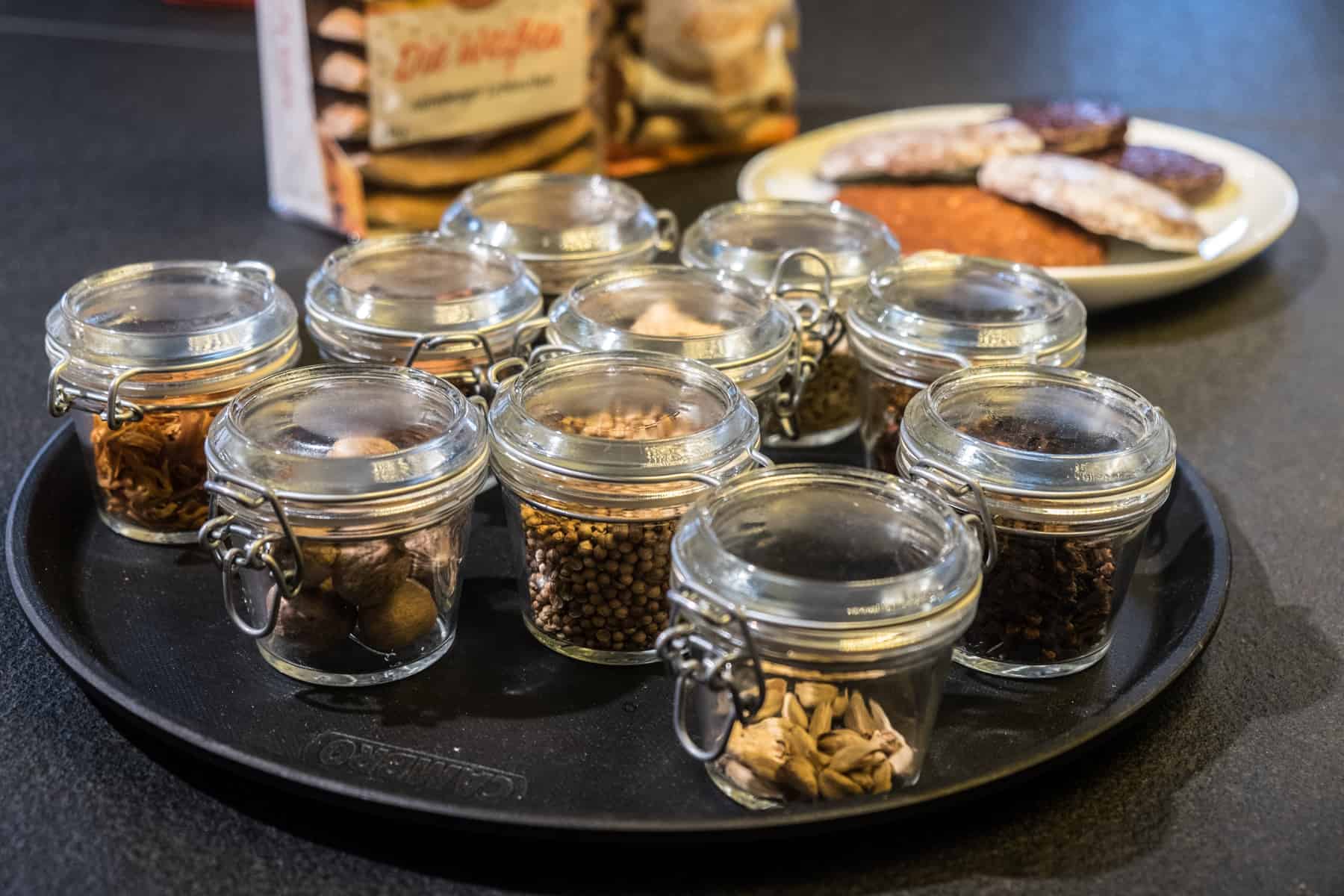 In the 1400s, legend has it that Nuremberg's Emperor Friedrich III had four thousand Lebkuchen baked – with his image imprinted on them – for the children of the city. Today this sweet, soft cookie-like treat comes in variants – some being honey-sweet and others more spice-laden.
Regardless of their various tastes, Lebkuchen are usually quite large, baked as big as 4.5" in diameter. In earlier times, they were also baked in a variety of shapes although now the circular, slightly raised mound marks the famous formation. The common variation of Lebkuchen is Elisenlebkuchen (Elisen gingerbread), which is made without flour and a higher percentage of almonds and nuts. The black Elisen, covered with dark chocolate is another favourite.
Also designated as a Protected Geographical Indication (PGI), Lebkuchen must be baked within the confines of Nuremberg and according to a precise recipe. A recipe that is still a guarded secret. The bonus is that it is baked all year round and not only at Christmas.
Where to Try Nuremberg Lebkuchen
The tradition and history of gingerbread are best absorbed (and eaten) during a 90-minute Gingerbread workshop. We created our masterful designs at Wicklein Lebkuchen, first learning about each ingredient of the secret recipe, before sampling the skill that comes with making each Lebkuchen by hand on a specially crafted metal cake stand.
It's informative, yet playful, as you produce your gingerbread masterpiece to eat later.
Lebkuchen-Schmidt is also another well-established and much-loved specialist Nuremberger Lebkuchen store with variations of ingredients. Especially if you are looking for more indulgent finds, such as those with extra chocolate proportions, roasted apple flavours and generous additions of almonds and cashew nuts.
Apart from these bigger companies, all bakeries and cafés offer their own gingerbread during Christmas season if you are looking to try even more styles of local gingerbread.
Nuremberg Beer
Nuremberg Food Type: Liquid Meal
Just as Nuremberg has a history with top-quality sausages and snacks, it also has a rich relationship with beer. In Germany, beer is more than just a drink, but a cultural and social experience that has come to define German tradition.
Nuremberg beer is made today as it was more than five hundred years ago according to the Reinheitsgebot or the German Beer Purity Law.
Nuremberg red beer, which is its oldest type of beer brewed since the Middle Ages and the city's famed liquid speciality, is fermented over a long period and at low temperatures, allowing the yeast to drop to the bottom of the kettle.
Its second beer variant, white beer was first brewed in 1530. These two variants became a part of Nuremberg culture and by the end of the 1500s there were more breweries producing beer than the inhabitants of the land could bear to drink – thus leading to export revenue.
READ MORE: German Beer Tradition – Following the Brewing Trail in Franconia
Today, the breweries of Nuremberg and their underground passageways of cellars are famous attractions that tourists who visit the city come by to see. They are, however, still being used to brew world-famous beer till this day.
To learn more about the history and process of beer production in Nuremberg, visit the historic rock-cut beer cellars from the 13th century, alongside the red beer brewery, and whiskey distillery. Since beer and whiskey are distilled in the same way, it has naturally led to Nuremberg becoming a whiskey epicentre also.
Where to Drink Nuremberg Beer
My best-loved daily hangout was at Tiergärtnertorplatz, at the foot of the Imperial Castle hill, where you'll find the trendy Café Wanderer on the wide, sloping cobblestoned street.
Locals sit outside Wanderer (a bar that used to be a former watering place for horses) around the bronze Albrecht Durer rabbit, enjoying Franconian beers and craft beers on the tap from Bieramt, Wanderer's brew bar in the building on the left-hand side.
After the beer cellar tour, dine on-site at Hausbrauerei Altstadthof and combine traditional foods from their special menu with their famous red beer and other Keller beers.
Fränkisches Schäufele
Nuremberg Food Type: Full Meal
One of the archetypical dishes under the traditional Franconia food category, Fränkisches Schäufele is tender pig's shoulder, rubbed with salt and spices and roasted on the bone, with a crispy rind crust. It is typically served with fluffy potato dumplings that contain roasted breaded cubes, cabbage and a gravy sauce, which is sometimes flavoured by the dark beer added during the slow roasting process.
It is most commonly served as a Sunday meal, although you can find it at any traditional establishment since it is one of the most beloved Franconian foods.
Where to Eat Schäufele in Nuremberg
Regional delicacies are best served at traditional Franconian restaurants, in a welcoming tavern environment, such as:
A full list of traditional restaurants can be found here on the Nuremberg Tourism website.
Nuremberg Food Tours
Claudia Radtke is a passionate local with a host of Nuremberg knowledge, from city history to its finest foods. We took a city tour with Claudia through the Old Town to the Imperial Castle on the hill, ending with a taster of one of her food tours when we lunched at the Bratwursthäusle for Nuremberg sausage and beer tasting.
Nuremberg's food truck scene is also at the heart of the culinary culture of the city – much like sausages in a bun, the snack culture and having tasty meals at your fingertips is a part of its food persona. As are restaurants and foodie outlets priding themselves on dishes using fresh produce from the region, as we found when we dined at the modern establishment, Fränk'ness.
Look out for #tastenuremberg on social media for further insights into the city's latest food trends, events and top restaurants.
Whether you pick one or indulge in all, Nuremberg has left a mark in the history of the world with its delicious culinary delights.
And with protected recipes and special laws governing the continuance of such delicacies, they will continue to be enjoyed by people all over, for centuries to come.
More Nuremberg History
Food in Nuremberg is just one part of its rich and complex historical makeup. From the centuries-old layers of the centre, its dark past as the City of Nazi Party Rally Grounds, to the modern-day City of Peace and Human Rights, visit the sites to learn about the history of Nuremberg and its obligation to the past.
Ready to Try Nuremberg's Best Foods? Pin it!