Disclaimer: This post contains affiliate links to handpicked partners, including tours, gear and booking sites. If you click through or buy something via one of them, I may receive a small commission. This is at no extra cost to you and allows this site to keep running.
This Serbia travel guide shows you how to see a country in revival alongside the best places to visit in Serbia, whose nature wilderness and centuries-old past are far more reflective of its persona than the modern history we know.
Travel to Serbia might still raise a contentious debate. Over 18 years ago, ethnic conflicts were still tearing apart a region of Europe, formally known as Yugoslavia. An ethnic divide amongst six republics fighting for independence and control raged for ten years from 1991, leaving a chunk of the continent – a country of South Slavic nations established in the aftermath of World War I – dissolved and economically damaged.
Much of it remains misunderstood to potential travellers in the wake of relative peace.
Many countries involved in the conflict – in the now western Balkans region – include Bosnia and Herzegovina, Slovenia, Croatia, Montenegro, and North Macedonia. They have or are still healing from their wounds and welcoming visitors with open arms.
One of those is Serbia.
Serbia Travel Guide – What to Know Before You Go
Understand the Complex History of Serbia
Once a Kingdom on par with Rome and Constantinople, then occupied as part of the Ottoman Empire, it later co-founded Yugoslavia with other South Slavic peoples following World War I. Yet, the Yugoslav Wars in the 1990s and the devastation that followed are what many remember most of the region.
It's no secret that during the early 1990's – that saw the individual wars of independence and nationalism take place – Serbia exercised more power in the political decision making, thus becoming more heavily involved in the devastating Yugoslav Wars. It is something many could discuss and argue about for hours and which still is contentious today. Kosovo, a disputed territory of Serbia, still has yet to be formally recognised in Europe as an independent state.
That should be of no reflection on the Serbia of today, of the Serbian people rebuilding their country and mending the cracks, just like their neighbours. Many potential visitors can't disconnect from the fact that the conflict only ended in 1999 (with a peace agreement in Kumanovo, Macedonia). Yet, it should be noted that also equals many years passed.
Why Travel to Serbia?
To see it differently. Under the glare of former headlines, Serbia is shouting about its stunningly beautiful country flanked by mountainous plains mixed with historically preserved towns and cities.
None of these things disappeared during the war. They were shrouded, ready to be unveiled when the time came for a new beginning – in a Serbia that, even if somewhat still politically fragmented, is both safe and open for exploration.
As an area of the continent now thriving and paving a solid path for tourism, more and more people are travelling here to understand it better and soon find there's more to it than its troubled past.
Getting to Serbia
By Air
Air Serbia has direct flights connecting a host of European, US and UK cities to Serbia's capital, Belgrade. The main airport in Serbia is Belgrade Nikola Tesla Airport (BEG).
From the airport, you can take a 30-minute minibus A1 to Slavija Square (around 2 Euro) or bus 72 to Zeleni Venac Square (less than 1 Euro). A Taxi takes half the time but is more expensive, and will cost approximately 15 Euro. Make sure to use the official 'Taxi Info' service counters and get a paper receipt to give to the driver.
It is easy to move around Serbia from Belgrade city and map out a round trip that brings you back to the capital.
Overland
Long-distance buses and trains connect Belgrade to mainland European capitals, including Budapest, Vienna, Sofia, Bar, and Zagreb.
Visa for Serbia
Serbia is not yet a part of the EU, but there's visa-free entry for visits of up to 90 days to the Republic of Serbia for those residing in or holding passports or valid visas from countries of the Schengen area and EU member states. Along with a host of other countries, Canada and the US can also enter Serbia without a visa.
You can check here if you need a visa for Serbia, based on what passport you hold.
Getting Around Serbia
Since car hire is easy to arrange from the airport and within Belgrade, and with highways connecting neighbouring countries, many travel around Serbia by car.
However, for those who don't drive, there are excellent public transport options.
Serbia by bus
There are various local bus companies that service connections between the cities, smaller towns, and nature areas. Lasta Beograd and Stup Vršac are two prominent bus companies in Serbia that get you to popular destinations and lesser-known sights and places of interest.
Belgrade is your base for Serbia travel and the well-established starting point for spending days and weeks travelling across a country with good transport and tourism infrastructure. Serbia is no post-conflict wild west, although you will find yourself getting lost within its untouched and little-known nature-filled hinterlands.
For example:
Belgrade to Novi Sad

by bus takes around 1 hour and 30 minutes and costs 5 Euro / 588 Serbian Dinar. >> Buy tickets.

Novi Sad to Subotica

(in the north) takes 1 hour 50 minutes and costs 7 Euro / 824 Serbian Dinar. >> Buy tickets.

Belgrade to Nis

(in the south) takes 3 hours and costs 11 Euro / 1294 Serbian Dinar. >> Buy tickets.
Give yourself a least an hour before departure to arrive and purchase tickets at Belgrade's bus station in Savski Venac – it's a large area with two terminals, and you'll need some time to navigate and find your bus.
Serbia by Train
The train lines are more limited but connect Belgrade to Novi Sad and Subotica and Belgrade to Nis. The service is much better utilised by those holding Eurail passes.
CarGo in Belgrade
Uber doesn't operate in Belgrade, but CarGo is the leading car ride app in Serbia that serves the same purpose and works the same way.
Serbia Tours
There's not much in the way of dedicated Serbia tours, should you wish you have as much organised for you as possible and a guarantee of traveller camaraderie. G Adventures offers an overland tour that passes through Serbia – including Novi Sad and Belgrade – before continuing to Bosnia and Herzegovina and Croatia.
This Western Serbia Tour is a day trip from Belgrade, travelling out to the countryside to see the House on the Drina River, ride the Sargan Eight train and the famous wooden village. Discover Eastern Serbia on a tour that includes the 15th-century Manasija Monastery, the 80-million-year-old Resava cave, and the Gornjak Monastery that's known for having Serbia's oldest Serbian fresco paintings.
Not Staying in Official Accommodation? You Need to Register
Things can be a little tricky if you're staying with a local friend or an Airbnb. According to the Serbian tourism website, foreigner registration and who takes responsibility is broken down as follows.
"Serbian organisations and individuals providing accommodation to foreigners against payment, as well as locals hosting visiting foreigners, must register the foreigner's stay with the local police station within 24 hours of the commencement of the accommodation arrangement, or of the foreign visitor's arrival.
A foreigner not using official accommodation nor staying with a private individual must register his or her stay and change of address with the local police station within 24 hours of arriving at the place of residency or of the change of address. A place of residency is where a foreigner intends to stay for more than 24 hours."
Best Time to Visit Serbia
The shoulder seasons of March to May and September to October are the best time to visit Serbia. This time of the year sees more comfortable temperatures outside of the hot summer months of June to August – optimal when covering a lot of ground.
That's not to say summer in Serbia should be avoided. In Serbia's many gorges or higher elevations in the Carpathian and Balkan Mountains ranges, good time spent on or along the Danube River is a way of life to escape the urban heat. The famed EXIT music festival is also in July.
Is Serbia Safe for Tourists and Visitors?
Serbia is considered a safe country to travel to and requires general caution and instinct like any other destination. Belgrade, in particular, feels just as vibrant and built up as any European capital. I never felt on guard in Serbia, nor did I encounter any issues as a female traveller. Mostly we were welcomed by locals, eager to show you the other side of their country.
The only area where an opportunist took his chances (pretending to be a police officer) was Novi Pazar – a lesser-known town and not used to tourists. While unnerving for myself and my male friend who was with me, we caught on to the fact that other people at the coffee shop were a part of the act and insisted he come to the hotel with us if he wished to see our ID. He soon backed down.
The only part of Serbia associated with a higher level of caution is the towns and broader area on the border to Kosovo, where political tension is still present.
Best Places to Visit in Serbia – Where to Go
The Republic of Serbia is a large, landlocked landmass in the central Balkans, and choosing where to go can be hard to narrow down. Need some help? Below are some of my highlights and the best things to see in Serbia. Click the Google map for a better understanding of distance and get planning.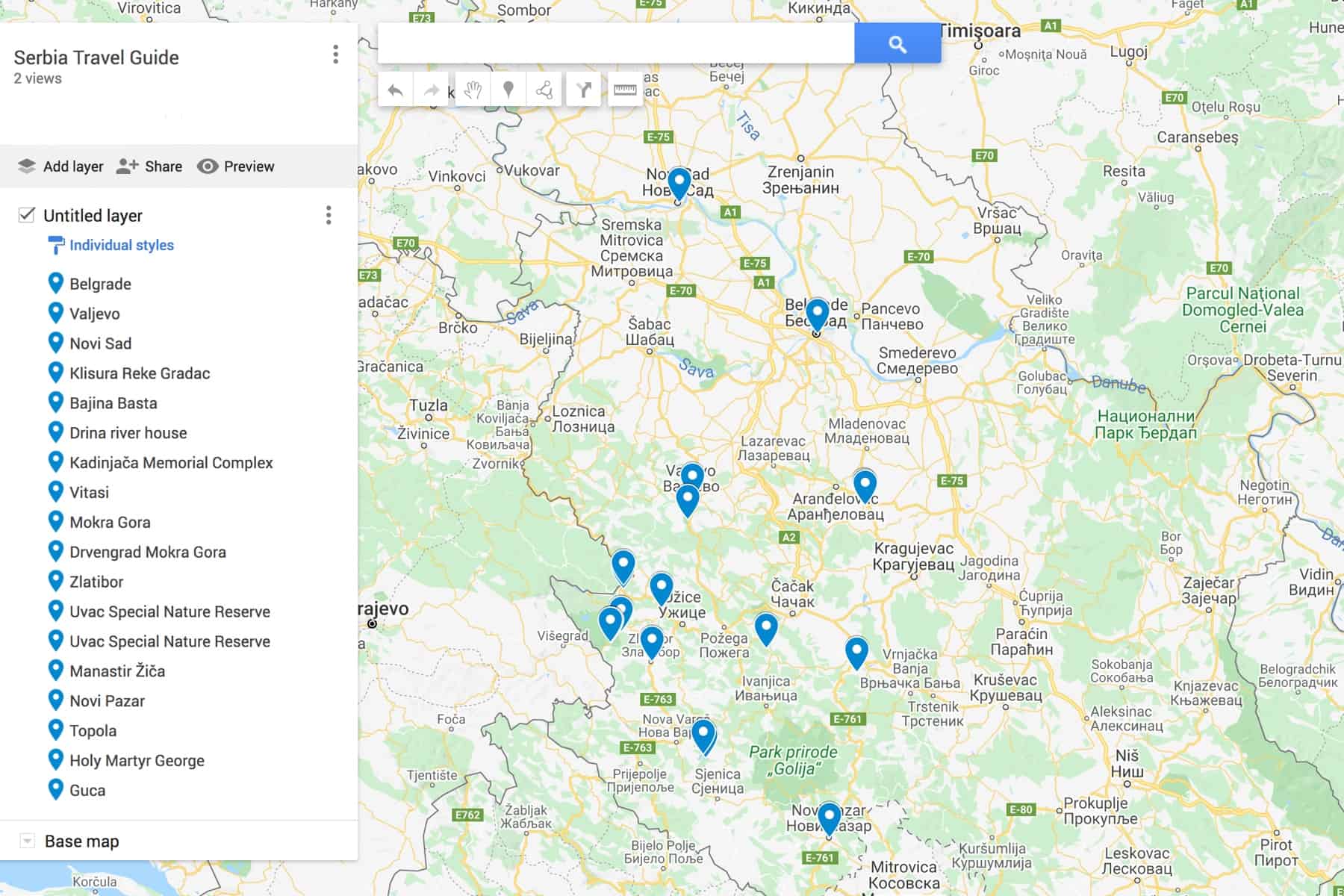 Belgrade – The Reviving Capital
Like most visitors to Serbia, Belgrade was my first stop. My tip is to give yourself as much time here as possible – at least four days ideally. Not knowing what to expect outside the fortress and historical monuments, I was thrown headfirst into a cosmopolitan city of artistic revival that hummed amongst pastel coloured classicism. It was everything I was hoping it would still be as a focal Balkan capital. Belgrade is still tinged with structural damage and underlying economic issues, but it is the new Serbia's vibrant, tenacious, and determined heart.
READ MORE: Travel to Belgrade – The Defiant Heart of a New Serbia
Novi Sad – The Capital of Culture
Novi Sad's preserved cultural heritage makes it a city showpiece like Belgrade, nominated as the European Capital of Culture 2021.
The elegantly detailed city centre, marked by the "Square of Freedom", sits the City Hall, Catholic Cathedral of Mary's Name, and the monument of Svetozar Miletic is a stroll for the senses. Houses and palaces in candy colours, side streets full of museums and art galleries, small passages (like Zmaj Jovina and Dunavska) invite you to explore before you land in the pumping café and bar-lined Laza Telečki street – the sundown meeting place.
A highlight is the 18th-century Petrovaradin Fortress, divided into Upper and Lower towns. Climb up through the arched gateway passages to the symbolic clock tower with opposite time hands (large shows hours and small shows minutes). From here, you can look out over the Danube and get a bird's-eye view of the grid streets of the Lower Fortress town, whose crumbling Baroque architecture retains stories of old in their fading facades.
Valjevo and Nature Preserve
Enjoying the great outdoors of Serbia should be factored into your visit in a country that is 75% mountainous and thus scattered with rolling green, protected nature parks, canyons, rivers and lakes. But where do you start?
READ MORE: Nature in Serbia – Pristine Land You Never Knew Existed.
I got off-track and wild in Valjevo – a city that is 90 minutes southwest of Belgrade. But the town wasn't the main reason for visiting – the adjacent spindle of a nature reserve connected to it was. We trekked through the 50km long Gradac River Gorge (Klisura Reke Gradac) that runs through the steep slopes and high rock formations of the Canyon.
Bajina Bašta and Tara National Park
Three hours south of Belgrade is Bajina Bašta – a village in south-western Serbia close to the border with Bosnia and Herzegovina. It's also the perfect starting point to visit Tara National Park, where you can see the famous postcard-perfect scene House on the River Drina. Once a refuge for sailors and swimmers in an area of crashing waves, it's become one of the main symbols of the area.
Kadinjača Memorial Complex
Kadinjača Memorial Complex is 90 minutes east of Tara National Park, on the highway that connects Bajina Bašta with Užice. It's a striking memorial in honour of the Workers Battalion of Užice, who died here fighting against the Germans in November 1941 during the Battle of Kadinjača. It is both a burial ground and an exhibition space with the intent of piercing emotion. Huge, white stone sculptures sharply contrast with the low slope hills, and another stone stands isolated, depicting a large bullet hole.
Ride the Sargan Eight Railway to Mokra Gora
On the Southern fringes of Tara National Park, you can start an adventure that eliminates the need to take another bus. An alternative look at Serbia's natural scenery includes riding the Sargan Eight narrow gorge railway further south to the Mokra Gora.
Mokra Gora is well known for Drvengrad – Serbia's traditional wooden village and timber town elevated on a plateau between Tara National Park and the mountainous Zlatibor. Quaint and with bygone historical reference as a living village, Drvengrad was built as a film set for the Serbian drama Life is a Miracle by Emir Kusturica and was never deconstructed when the movie wrapped.
Visit Zlatibor and Serbia's Mountainous Region
Continue 30 minutes south from Mokra Gora and journey through the mountainous valleys and open-air spa region of Zlatibor, which is more than its ski resort reputation. In spring and summer, this area is a stunning circuit of hiking trails.
Uvac Gorge and Nature Reserve
Continue further south from Zlatibor and visit the mountain park and biodiverse Uvac Special Nature Reserve. The highlight is winding through the magnificent bends of the Uvac Gorge on a slow motorboat.
If not on the path of a longer trip in Serbia, you can book an Uvac Nature Reserve tour from Belgrade, which includes a hike and a boat trip.
See Žiča Monastery – The History of Serbian Kings
East of Zlatibor and around three hours south of Belgrade is one of Serbia's most historically prized Orthodox monasteries. The earthy red 13th-century Žiča Monastery was constructed on the orders of the first King of Serbia, Stefan the First-Crowned, and became the coronation church for all Serbian Kings on his orders. It was declared a Cultural Monument of Exceptional Importance in 1979.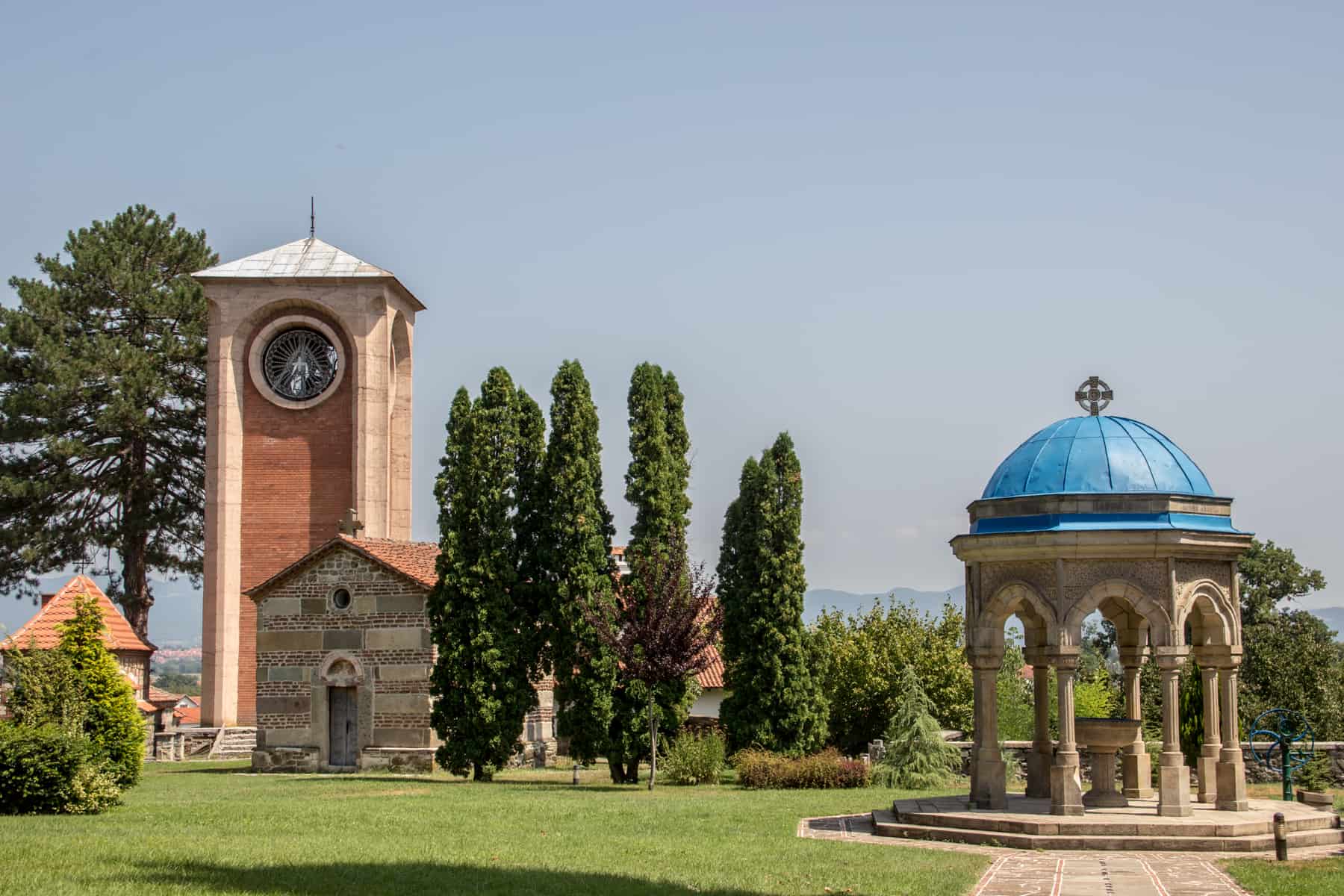 Novi Pazar – See the Religious Diversity of Serbia
Continue further south from the Uvac Nature Reserve, and you will get to the valley town of Novi Pazar, located snugly within the Golija and Rogozna mountains. Off the grid from the main cities and surrounding nature are smaller towns with their distinct flair, which helps build a bigger picture of Serbia's religious, cultural, and artistic diversity.
When Yugoslavia was founded, it was made up of South Slavic Christian and Muslim nations, although the latter is now a minority. Novi Pazar is a predominantly Muslim town that shows a different side to Serbia – architecturally, artistically and culturally. It's small and appears nondescript at first sight, but wander its streets and accept the invitations from locals to try warming bread from the bakery and sip coffee at their house. Smiles soon overcame language barriers in an area of the country that wrestles with a bad reputation and an almost isolation in its Muslim identity, despite not being off-limits.
Visit Topola – Serbia's Wine Region
Only one hour south of Belgrade is bounteous landscapes with the foundations of good terroir – Serbia's winemaking area of Topola. And not many people know about it. A region with award-winning vineyards that produce regionally characteristic sweet wine, such as the Aleksandrovich Winery and its superb Triumph series. Close to the vineyards is the hilltop five-domed St. George's Church in Oplenac – a mausoleum of one of Serbia's dynastic families. It features a marble floor and spectacular mosaic wall images and icons.
Guča – Trumpet Festival Centre
Around two hours south of Belgrade and north of Uvac is the village of Guča, known famously for its annual trumpet festival, which is a good enough reason to go.
Even if you are not a trumpet fan, the sheer amount of performers lighting up the town with all manner of these distinct low hums and beats will forever reverberate in you. Guča is where a unique cultural festival instinctively brings people together.
What is Serbian Food Like?
Food in Serbia is a staple part of socialisation. Should you be invited to a feast by a local, wholeheartedly embrace it and enjoy it. Serbian cuisine is typically meat heavy, including Sarma: stuffed grape leaves filled with minced meat, Cevapi: grilled meat shaped liked tiny sausages and Kajmak: a curd based spread served with warm bread. All are usually served with side salads, fruit relishes and spicy chutneys and finished with chilled Rakija: the potent national drink that's very much like Schnapps.
Can I Enter Kosovo from Serbia?
First of all, the subject of Kosovo in Serbia is controversial and disputed – discuss it at your peril. Serbia doesn't recognise Kosovo as an independent state or a country.
Now, to enter Kosovo from Serbia is fine since Serbia does not acknowledge the border and claims Kosovo as part of it. You can travel there and re-enter Serbia, no problem. However, if you enter Kosovo from neighbouring Montenegro, Albania, or North Macedonia land borders, then you will not be able to enter Serbia. Why? You don't have the stamp for official entry in Serbia via Belgrade airport or the land crossing from Bosnia and Herzegovina, North Macedonia, Bulgaria, Romania, Croatia.
Travelling to Serbia With New Eyes
The future is positive for a country so tangled in political fragmentation. To travel in Serbia is to remember there is more to it than the image shadowed in atrocity and devastation. A sum of its centuries-old past that is more than the modern history we know.
A country in a rebuild that deserves the right kind of attention now.
My trip to Serbia was created in conjunction with the National Tourism Organisation of Serbia for the #MySerbia campaign travelling with locals for a deeper insight into the country. All opinions on this Serbia travel blog remain my own.