Disclaimer: This post contains affiliate links to handpicked partners, including tours, gear and booking sites. If you click through or buy something via one of them, I may receive a small commission. This is at no extra cost to you and allows this site to keep running.
This alternative Riga travel guide was compiled after spending nine days in Latvia's capital to uncover the different facets of the city from its rich and troubled history.
Lured by the quaint pastel hues of the Old Town, many travel to Riga just to immerse themselves in this beautifully reconstructed medieval complex. But as attractive as the UNESCO World Heritage Site is, this defining area isn't the sum of all things about Latvia's capital. My mission was to find out what Riga is about outside of it and pull together this alternative travel guide.
Riga's modern areas are home to some gritty and grungy areas that conceal an entirely different personality. Old run-down neighbourhoods are an underground hive of creative activity. Old wooden houses have been turned into design stores, bohemian bars, third-generation coffee shops, contemporary cuisine, pop-up venues, and art spaces. This all fits within the largest collection of 19th and 20th Century Art Nouveau buildings in the world.
Eager to shed the Eastern European branding that comes with being an ex-Soviet state, from those who visit Riga looking for stark remnants of the Soviet era and granting places a misconception of concrete grey, poverty and backwardness, any old Soviet concrete fragments are usually inconspicuous.
Or rather, given new, artistic life or seen only in the multi-story apartments blocks built from 1944, when an influx of workers and military from other Soviet Republics demanded the need for such practical housing.
And no, the statue in the central park of Riga is not of Lenin, as is commonly referenced. The Soviet coating is overall largely buried.
Riga has always been desirable, from the crusaders to the communists to today's curious tourists.
The history of Riga spans beyond those 800-year-old cobblestone streets, where a history of conquest, empire and occupation has left its mark and contributed to the persona of the city today, the largest capital of all three Baltic States.
From trade to political tug-of-war to tourism, Riga has always shapeshifted, especially over the past two decades, finding itself over again following independence.
The city first grew as a market town on the Daugava river trading route of the Hanseatic League in the 13th to the 15th centuries before becoming part of the Holy Roman Empire, the Polish–Lithuanian Commonwealth, the Kingdom of Sweden and the Russian Empire by 1710.
Independence was achieved in 1918, following time under Germany's control in WWI, but only for a short while. In 1940, the Soviet Union occupied Latvia and then was occupied by Nazi Germany in 1941-1944, before the Soviet Red Army returned in 1944 to reclaim power until 1991.
Sediments of history forever laid in the city's persona that you can immerse yourself in today. This Riga travel guide will show you how.
Things to Do in Riga – Wider Neighbourhood Exploration
You can wander for hours with no plan and no layout of particular sites to see, yet still enjoy Riga. It's an alternative way to explore Riga outside of the things to do lists that concentrate on Old Town architecture. The grid-like streets outside of it mean not getting too lost in the wider residential spaces. You'll stumble upon random finds like thrift stores, antique shops full of Soviet-era kitsch, hidden courtyards and artistic murals. Or a poster calling for a bar's lost Tellytubby toy.
To get to grips with the general layout and most interesting neighbourhoods, take a chance to hang out with the team at E.A.T Riga – a group of locals and expats who set up a series of walking and biking tours to get you out and about in the wider reaches of the city.
On the Alternative Riga Tour, I spent two hours walking in Riga's neighbourhoods, located approximately 20 to 30 minutes outside Riga Old Town. Mainly around the streets of Avotu iela and Miera iela Brasla, and parts of the out 'Centrs' area that wedges in between them.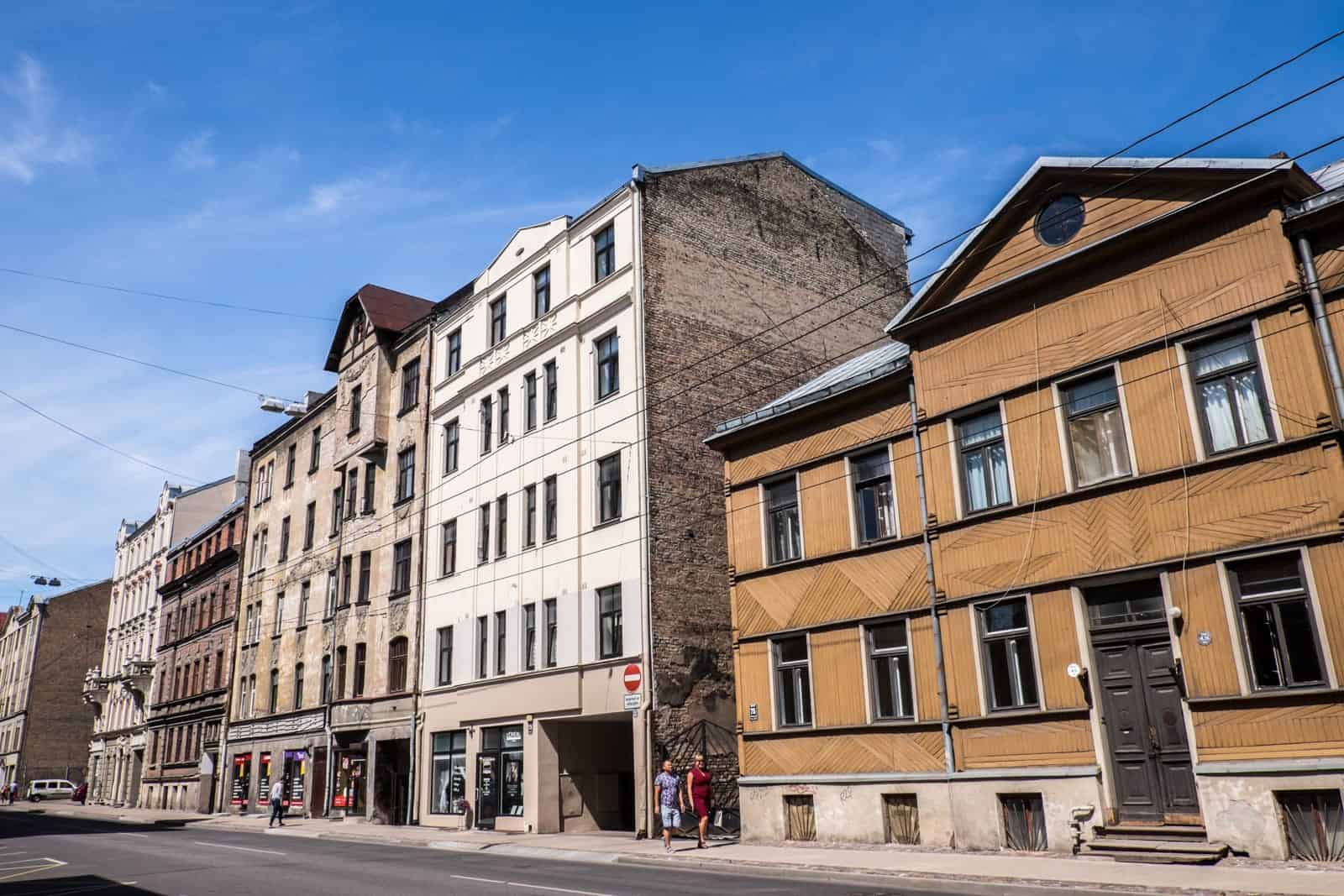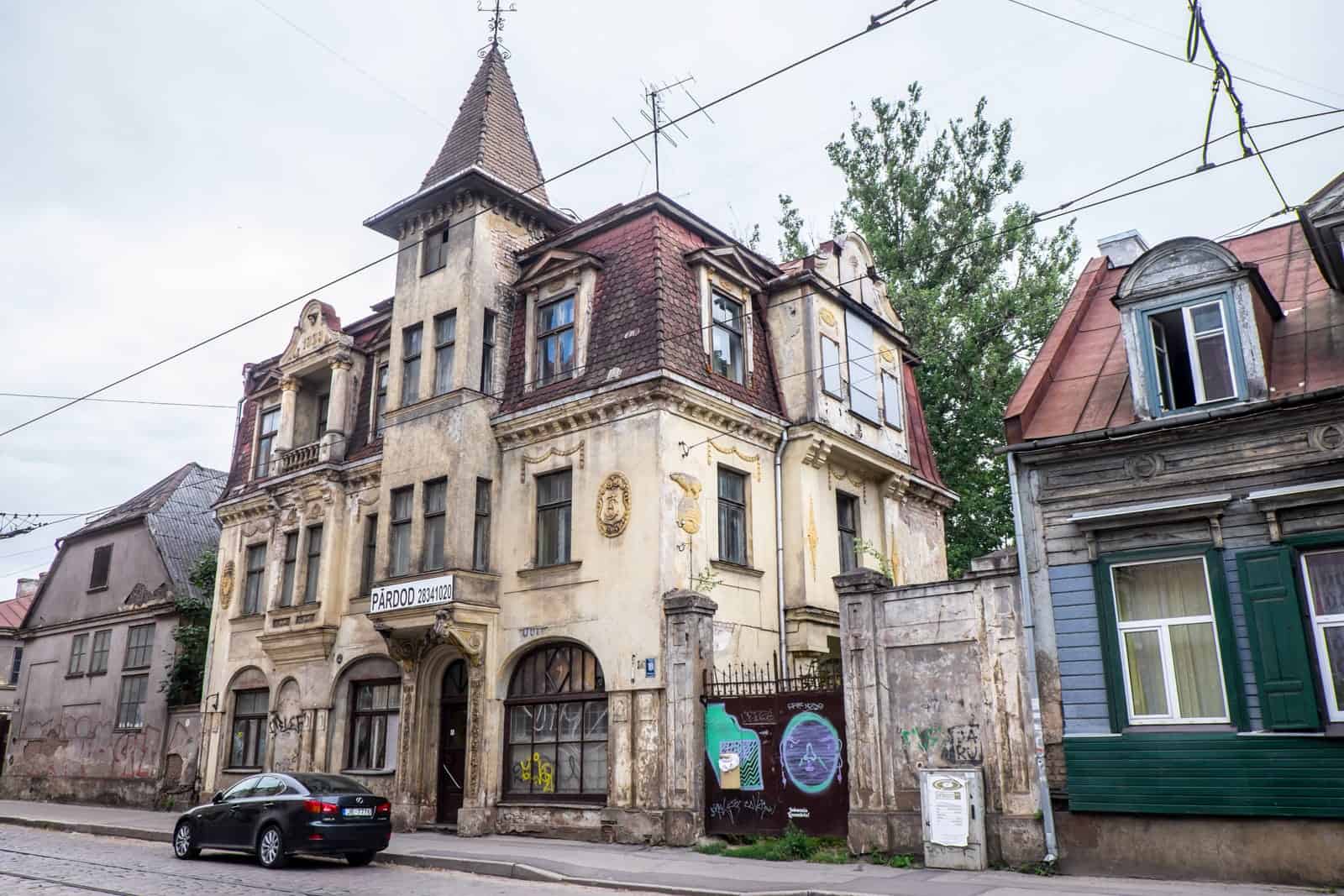 These walks are more to get a sense of how Riga has developed over the ages and how cemented the Russian Empire's remnants are, as you immerse yourself in old architecture, courtyards concealing well-planned living space, old trade stores still in use and worn wooden houses. Space where art is growing in the cracks and new life is being given to such run-down areas and the shabby facades of old Imperial Russia.
Riga has been given the affectionate title of "Baltic Berlin" for this reason.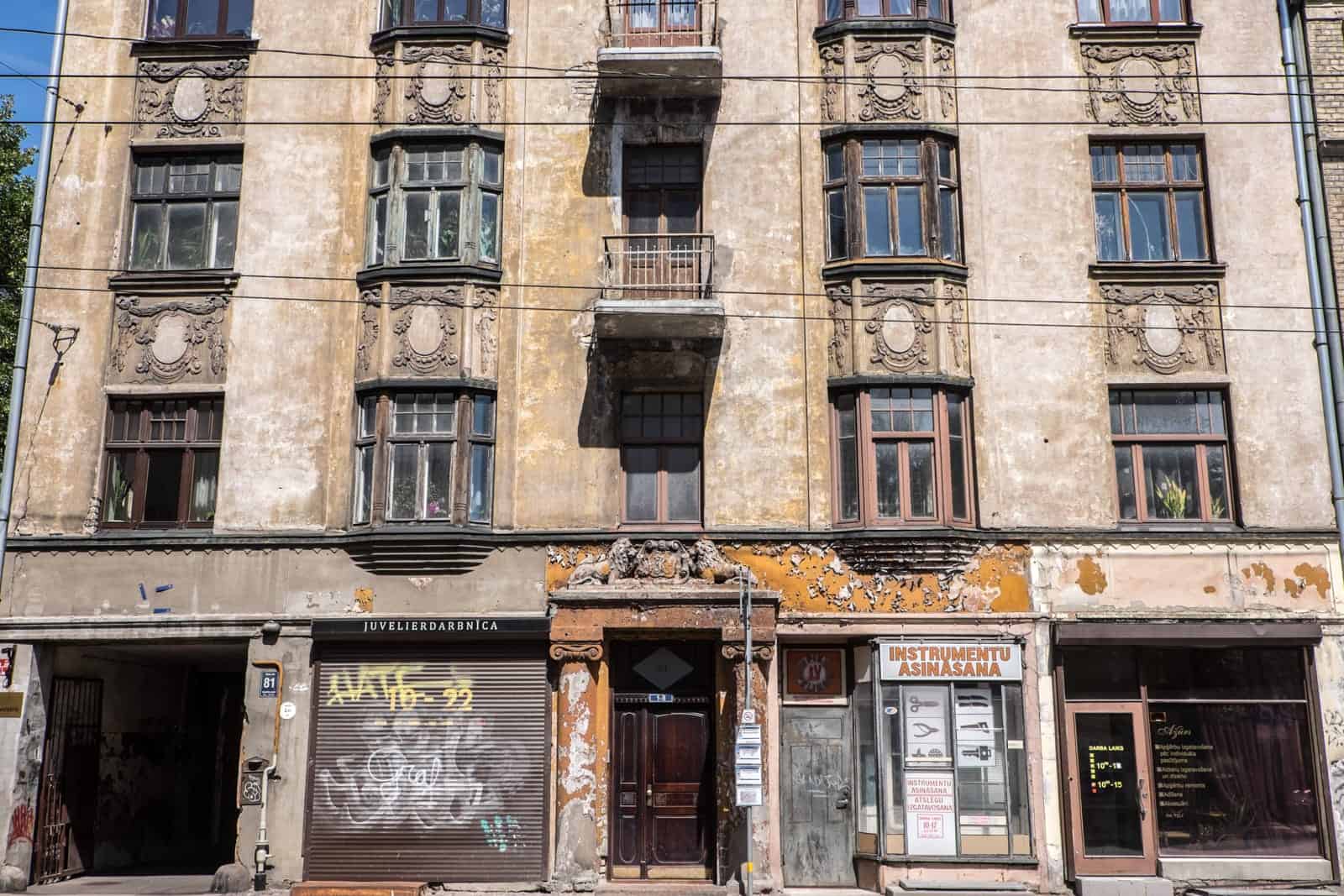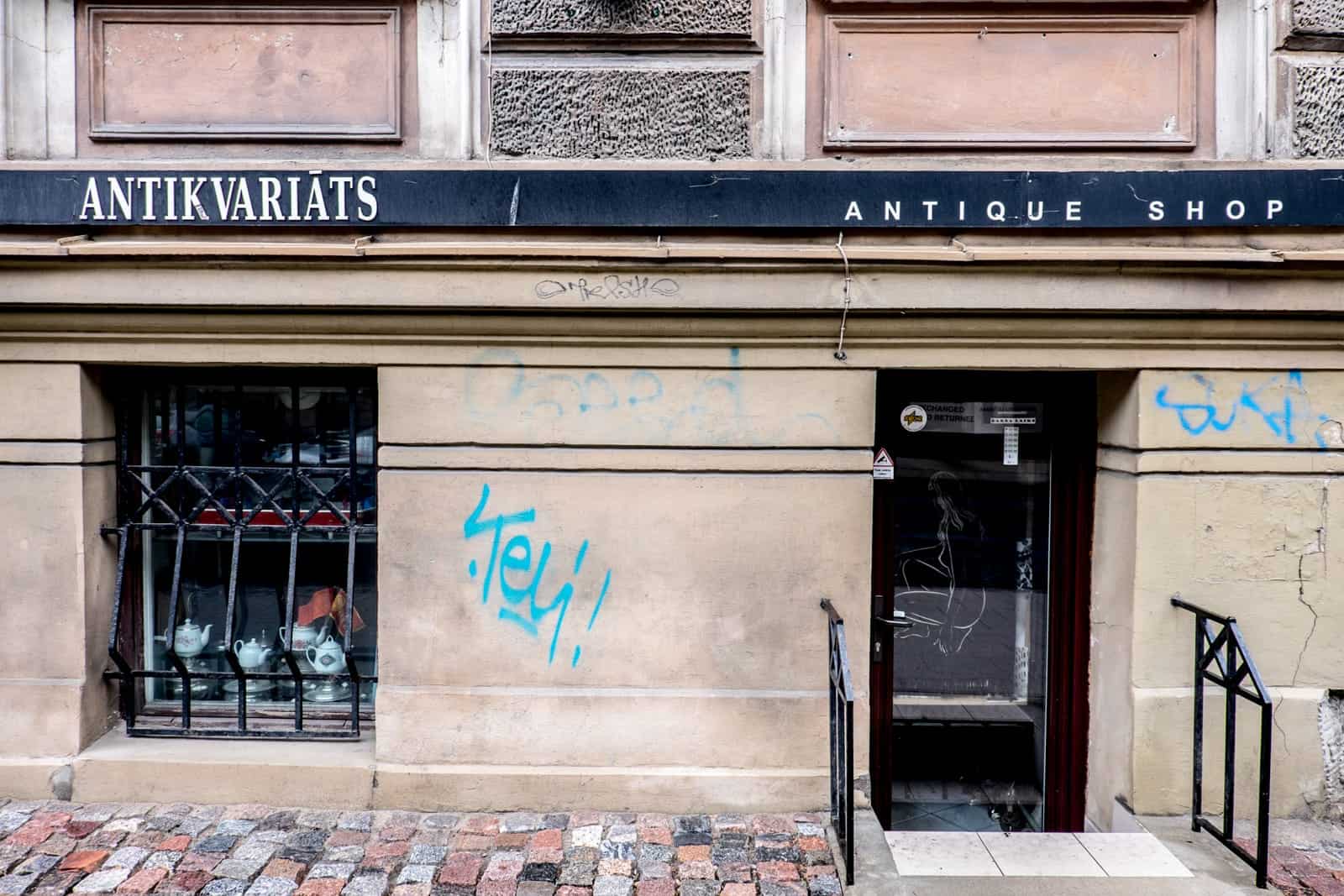 A Riga walking tour gives you exclusive access to these hangouts and hidden quirks you otherwise wouldn't know about. Like Antikvariats: A basement antique store that's beyond fascinating. You'll find it along Stabu Street. In Bismarka Brokastis: grab a bite to eat or chill with a beer in this fairly new establishment run by a UK-born Latvian, set in a beautiful old, traditional building run by a UK-born Latvian. Or the Rocket Bean Roastery: a modern coffee shop in this grungy yet appealing part of Riga, the number one coffee house that locals recommend.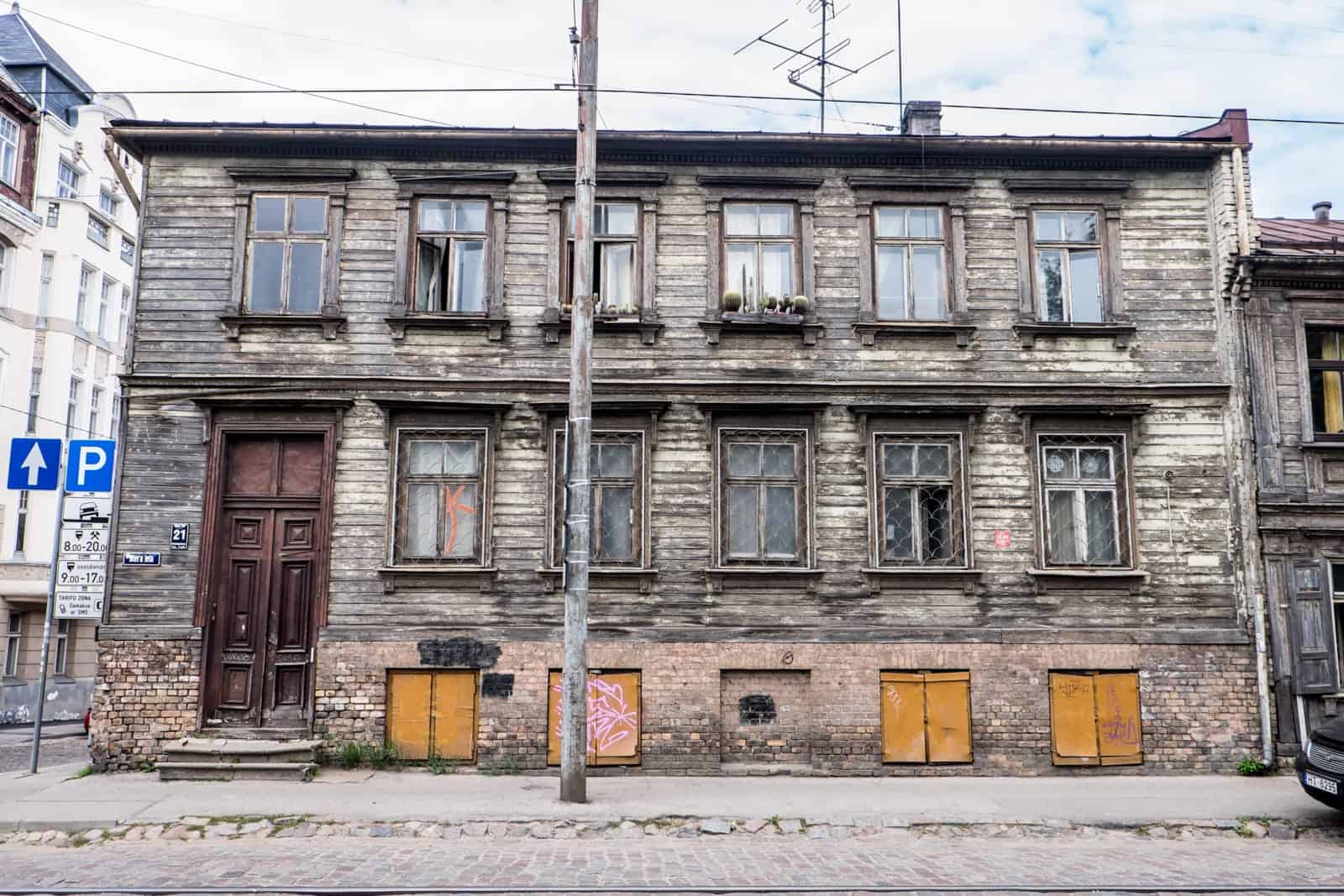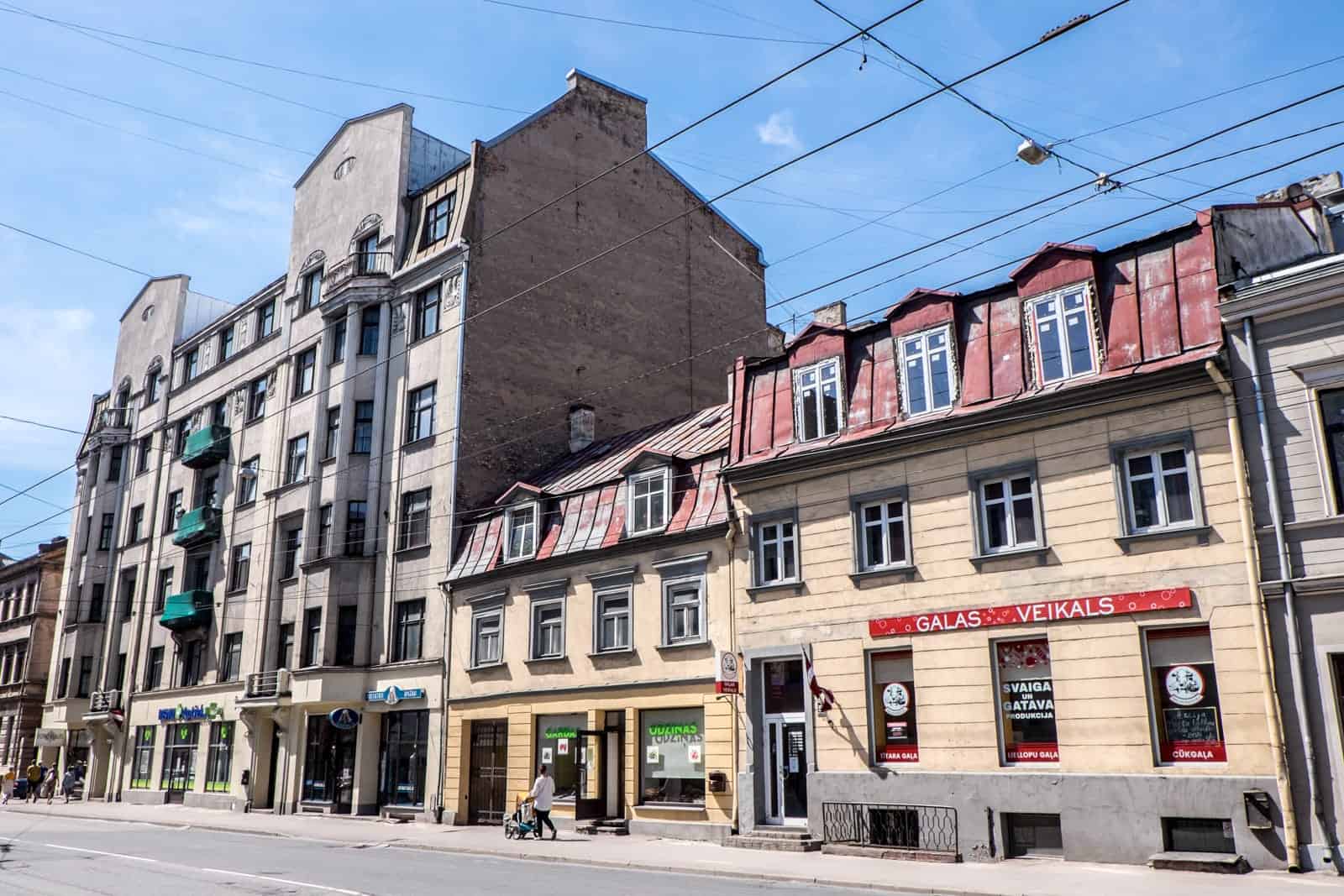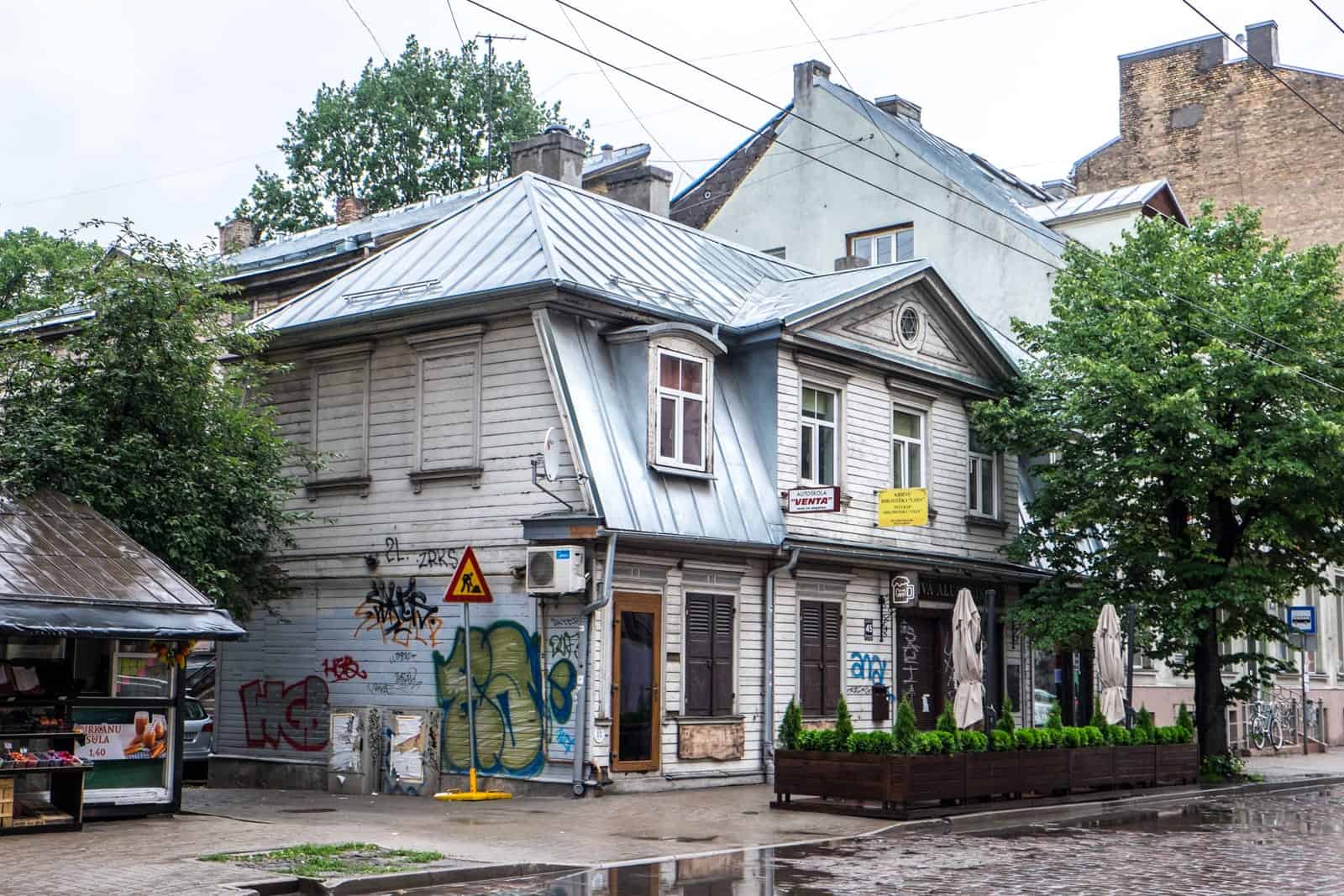 Beer lovers should head to Labietis: a brewpub with an extensive list of craft beers on tap set into an old crumbling courtyard turned arts, events and hangout space or Ezītis Miglā: for coffee in a regenerated old wooden building.
Music and art exhibition enthusiasts should note Kanepes Kultūras Centrs: one of the best cultural spaces in town, an underground vibe, edgy arts venue covered in art murals and a shabby artistic interior and used mainly as a live music venue. Or end the day in Čē: which looks like nothing more than abandoned office space outside but is actually a super cool bar.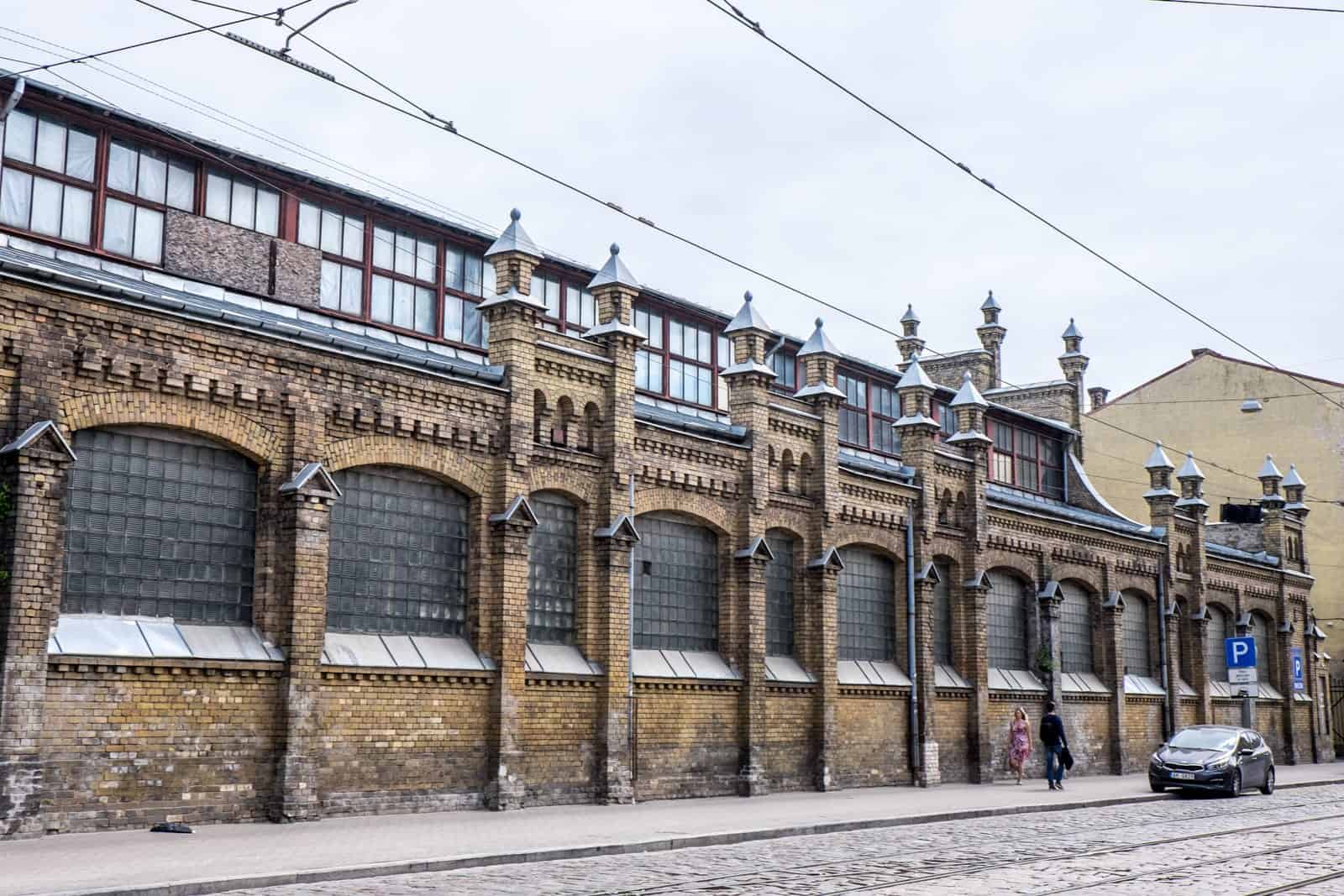 Getting out more into the city's fringes, the Riga Exploration Cycling Tour with E.A.T. Riga began along the Daugava river that slices through contemporary architecture like the National Library building on one side and the former 19th-century workers districts on another.
One such neighbourhood is Maskavas Forštate, known as 'Moscow Suburb', which is a little off-limits to an outsider with no knowledge of its orientation and societal makeup. Neglected, run-down and with a feeling of abandonment, it's another world compared to the centre and Old Town Riga – a suburb with one of the largest concentrations of wooden buildings that contrast sharply with the small scattering of later Soviet housing blocks.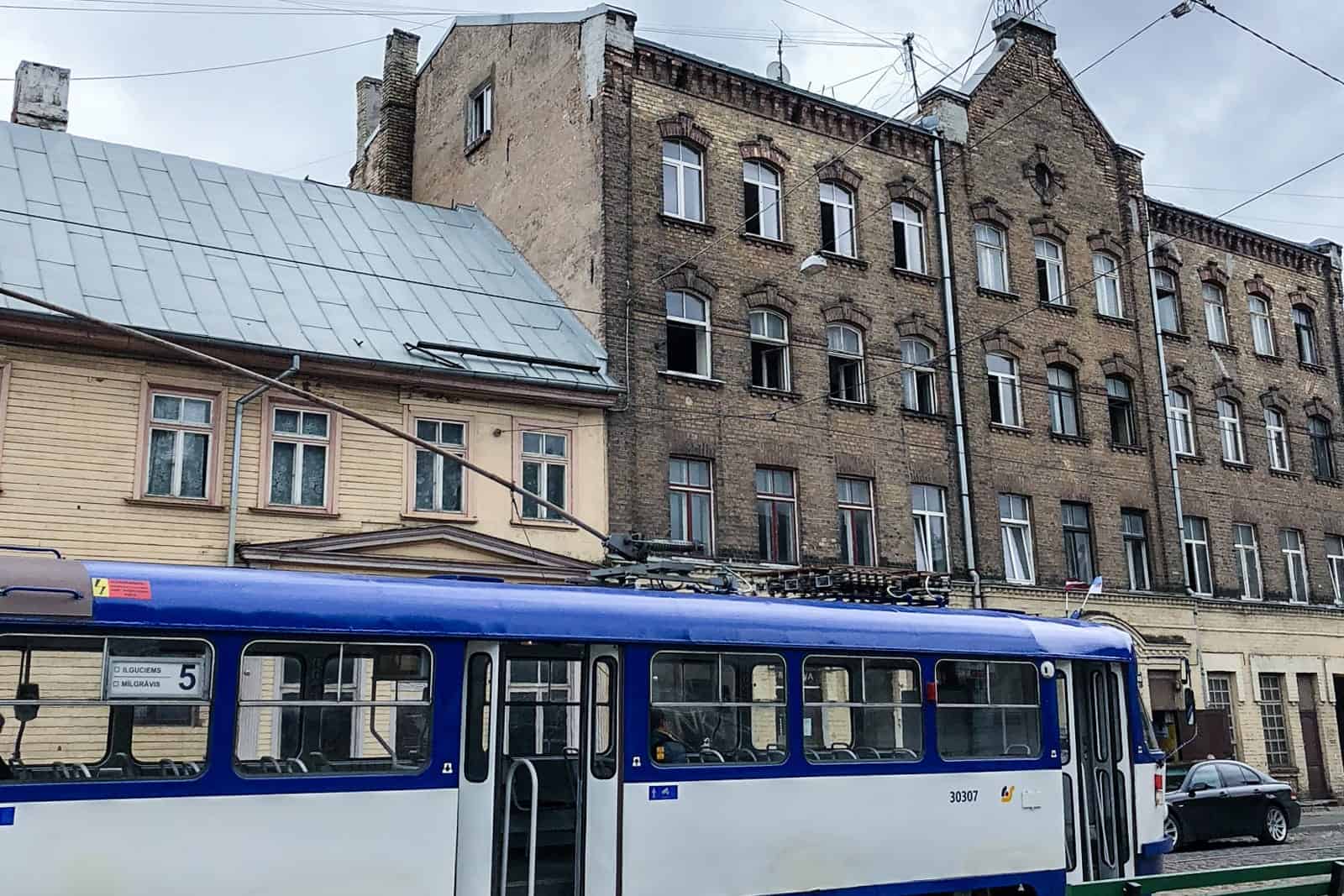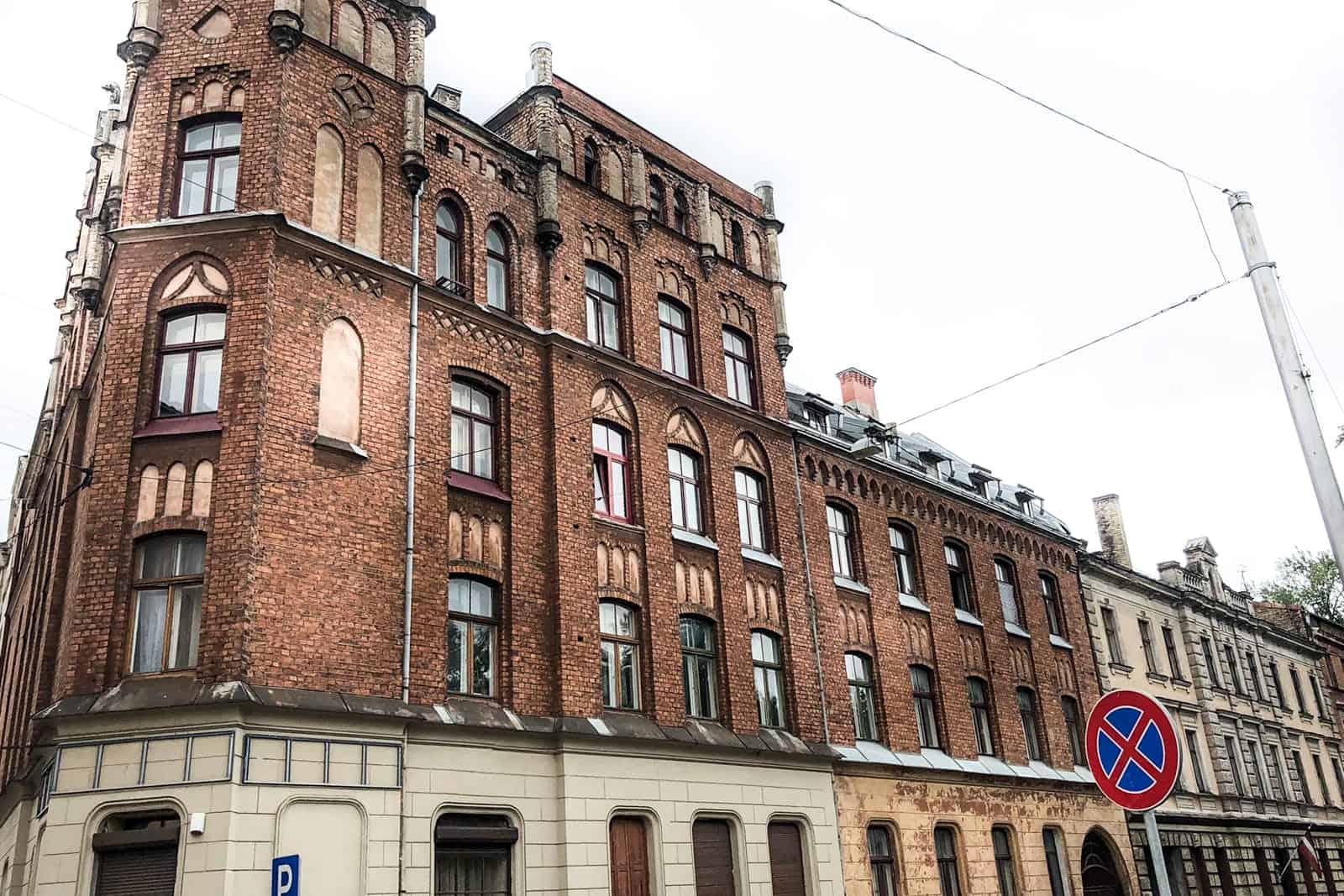 Yet Old Moscow, also affectionately known, is a place of character, potential and a window into the city's history and working-class beginnings. Whole-standing or remains of Russian Orthodox, Catholic churches and Jewish cemeteries stand side-by-side as a reminder of the place where people of different faiths once lived together and continue to do so today.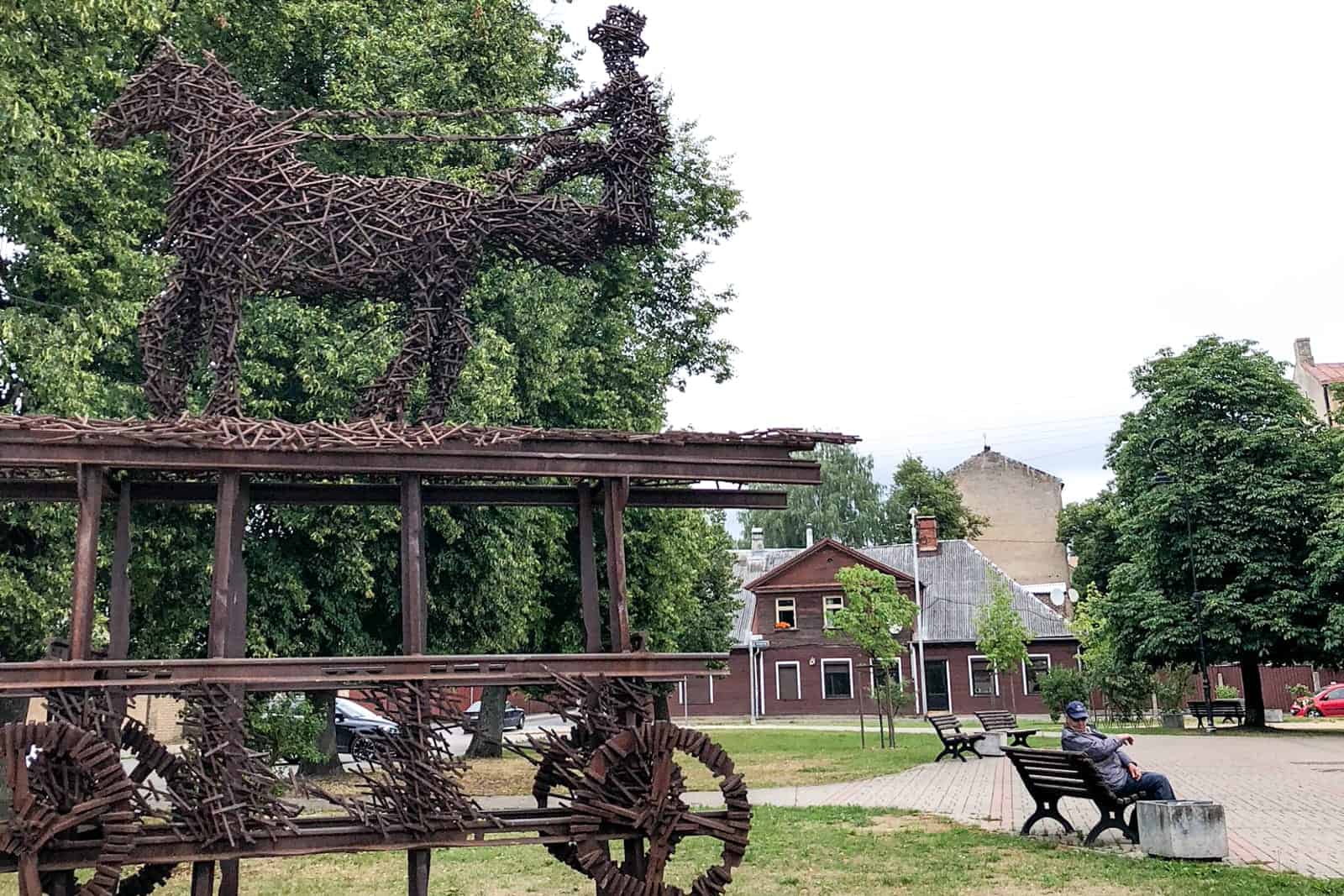 This area is where Riga's Jewish history is the strongest – the location of the Jewish Ghetto during Nazi occupation and a memorial park for those murdered by the Nazis in 1941 after being rounded up and taken to the synagogue and burnt to the ground. The park is the burial ground; under the pathways and green slopes people pass through in silence.
What to See in Riga – Art Nouveau Architecture
Riga is the centrepiece of Art Nouveau design. Riga's Art Nouveau is considered one of the best, well-preserved and largest collections of buildings globally.
The pinnacle of the popularity of Art Nouveau and the end of the 19th century going into the early 20th century coincided with an economic boom in Riga, that saw a wave of this ornate building style, with facades of foliage and faces sweep across the city, giving it the title now as the Art Nouveau capital of Europe.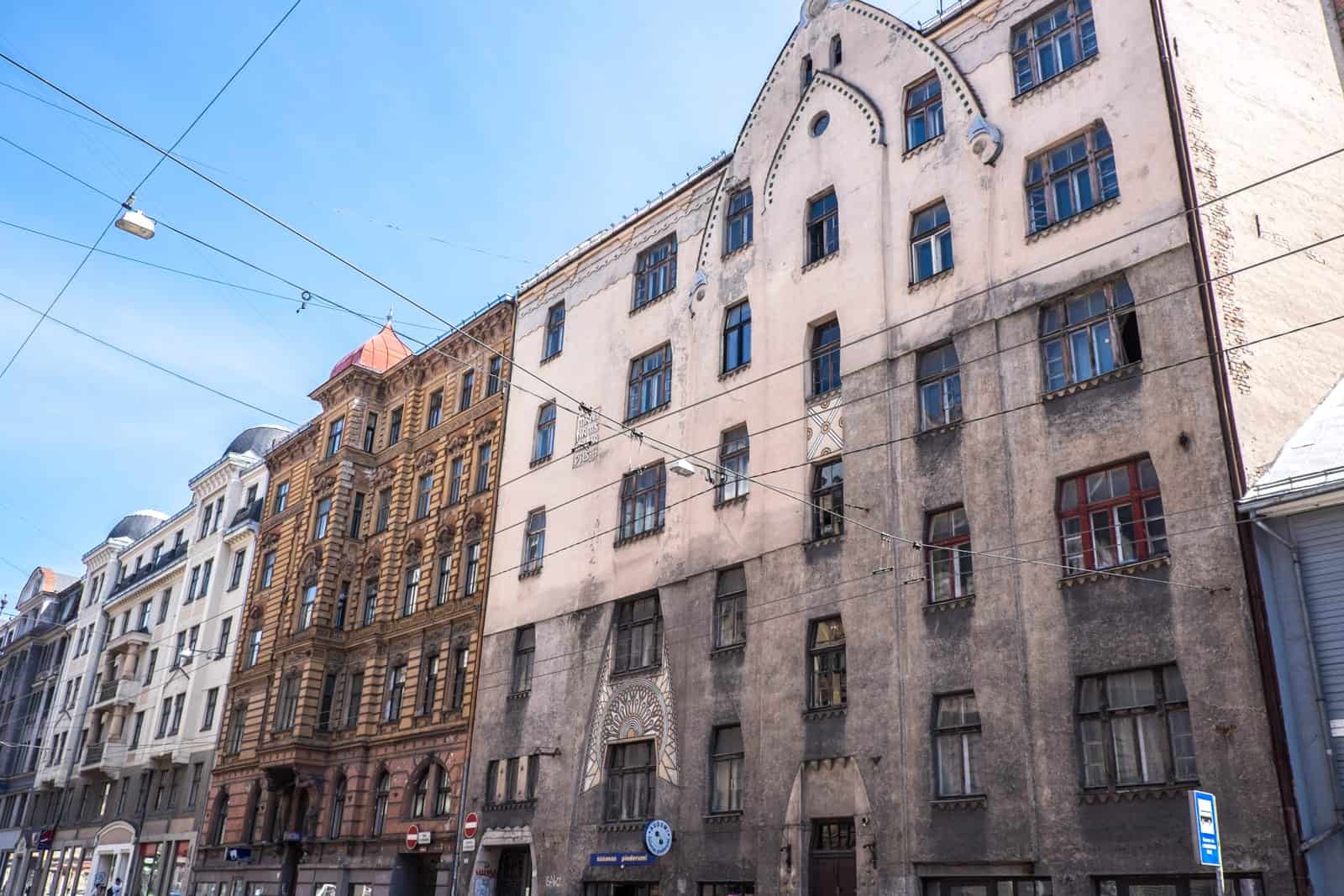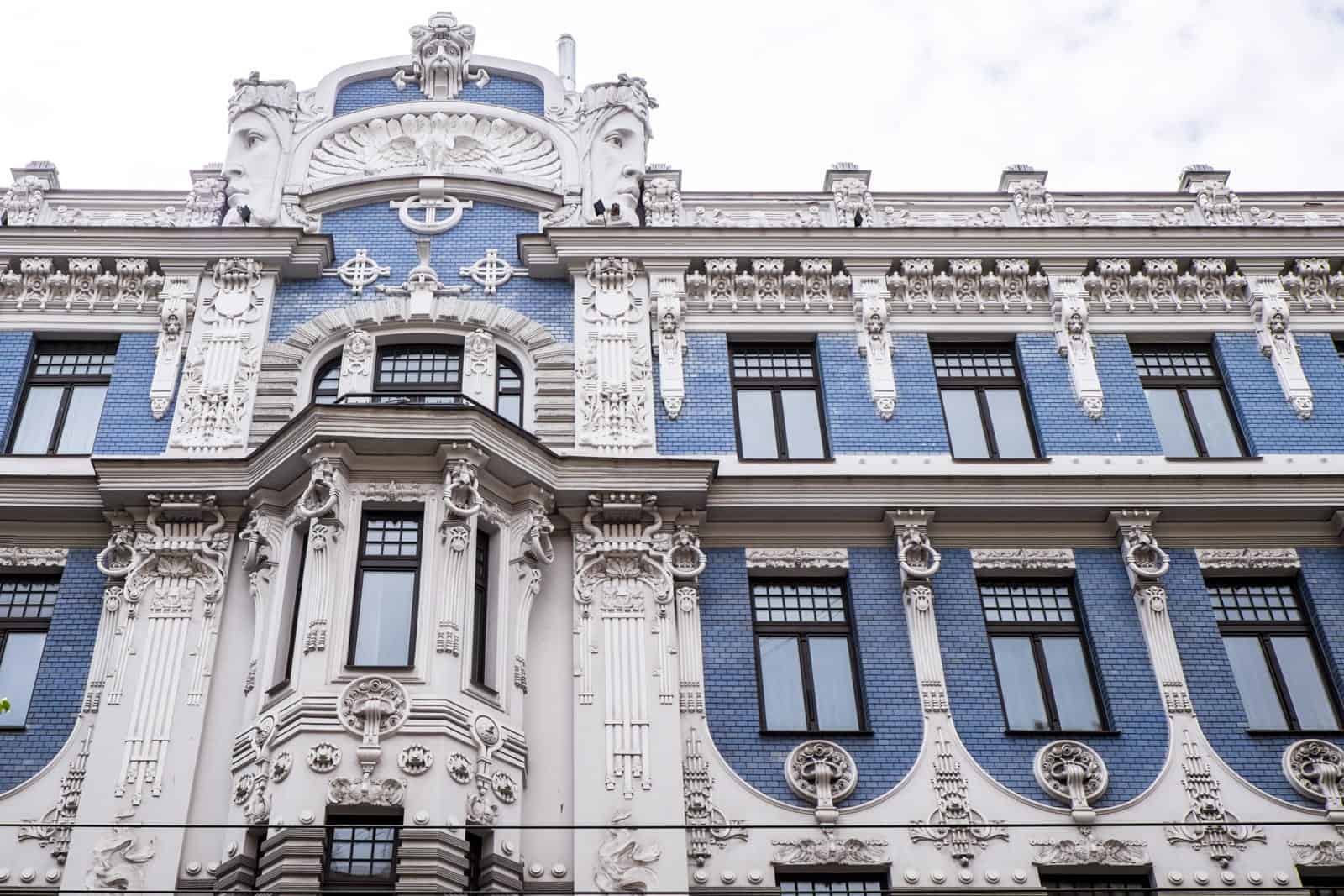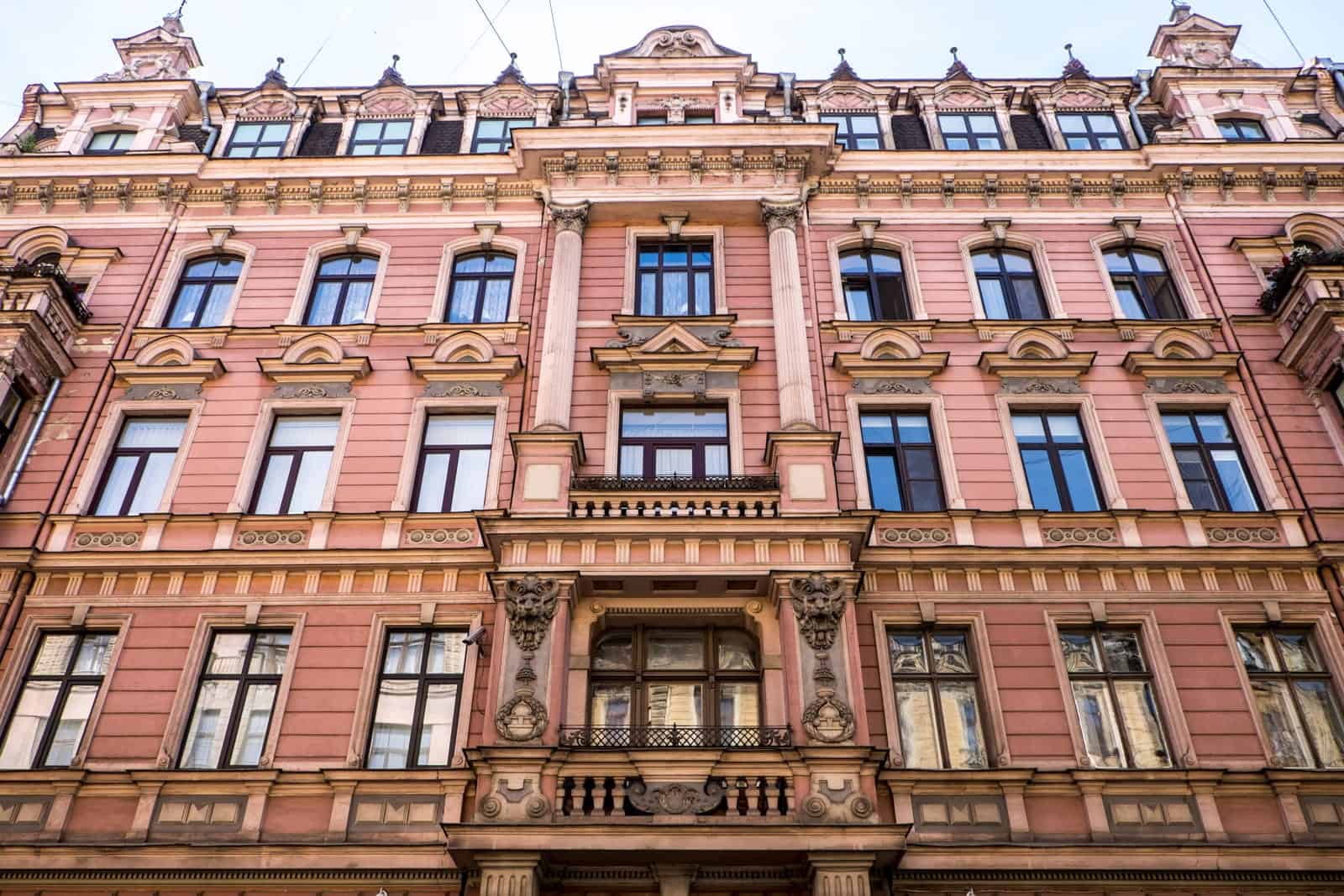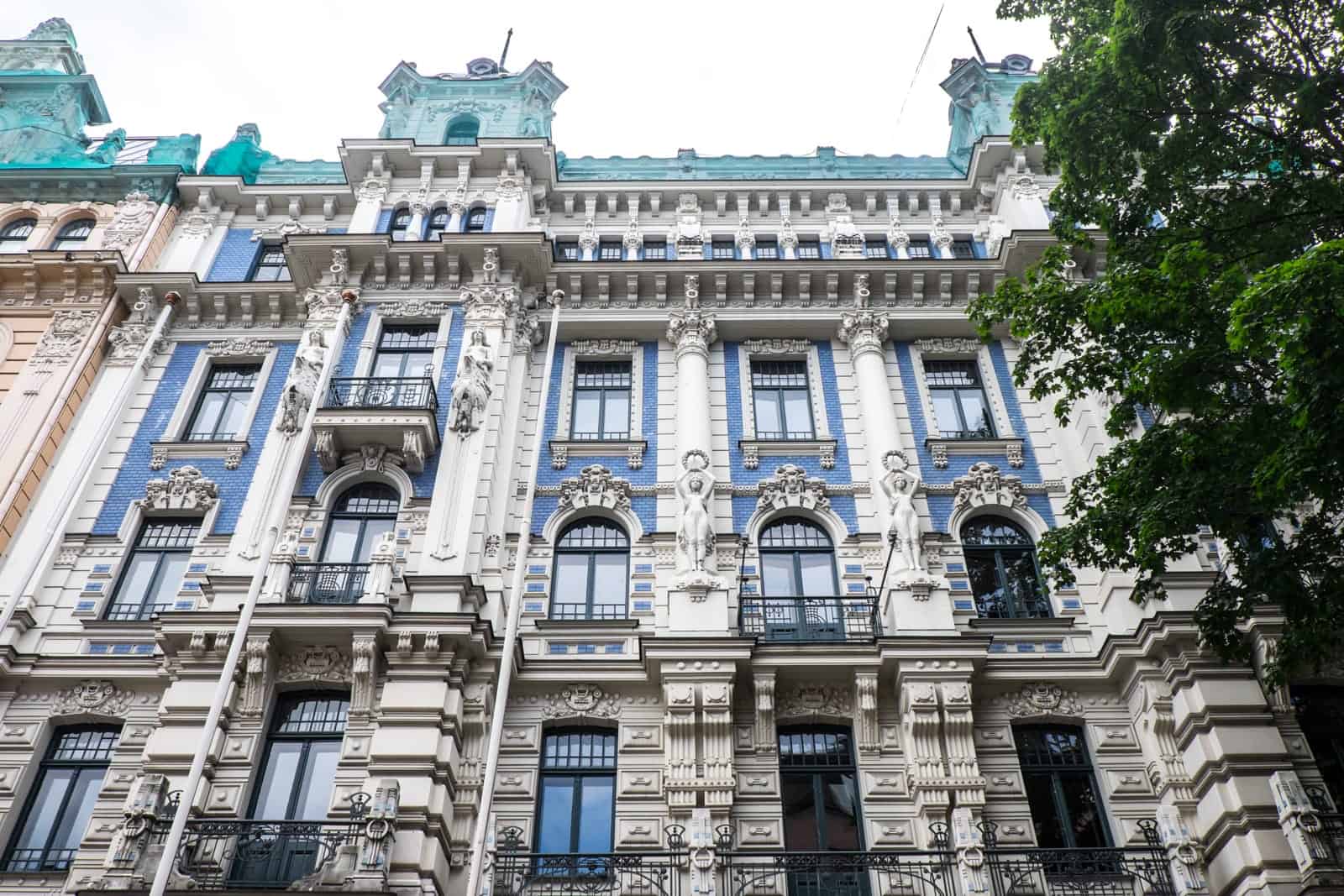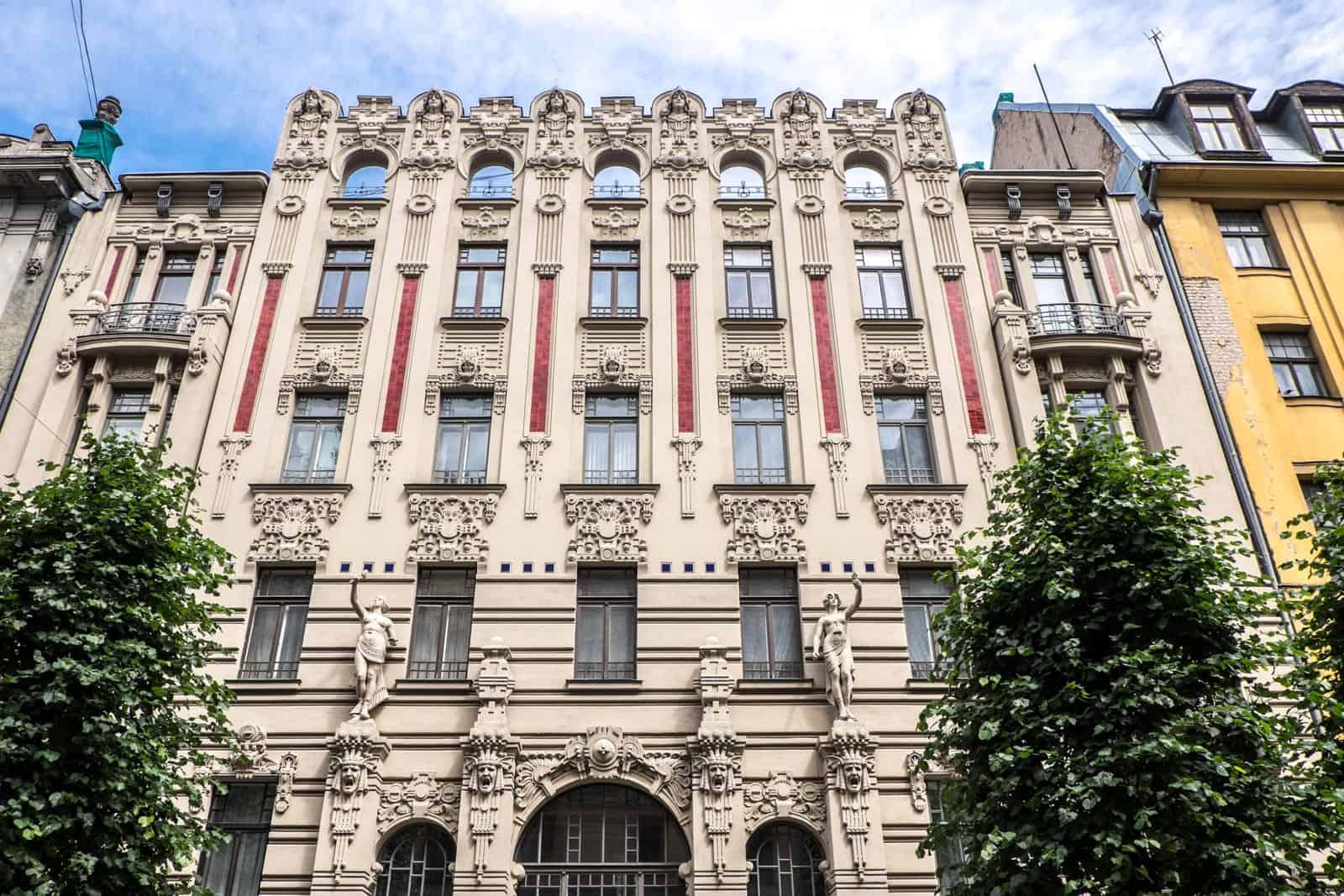 The façade was a display of wealth, and one of the most interesting things to do is walk into the courtyards of the Art Nouveau buildings, especially those located on Alberta Street, home to Riga's best examples of its art nouveau period, alongside neighbouring Elizabetes street, to see a stark contrast.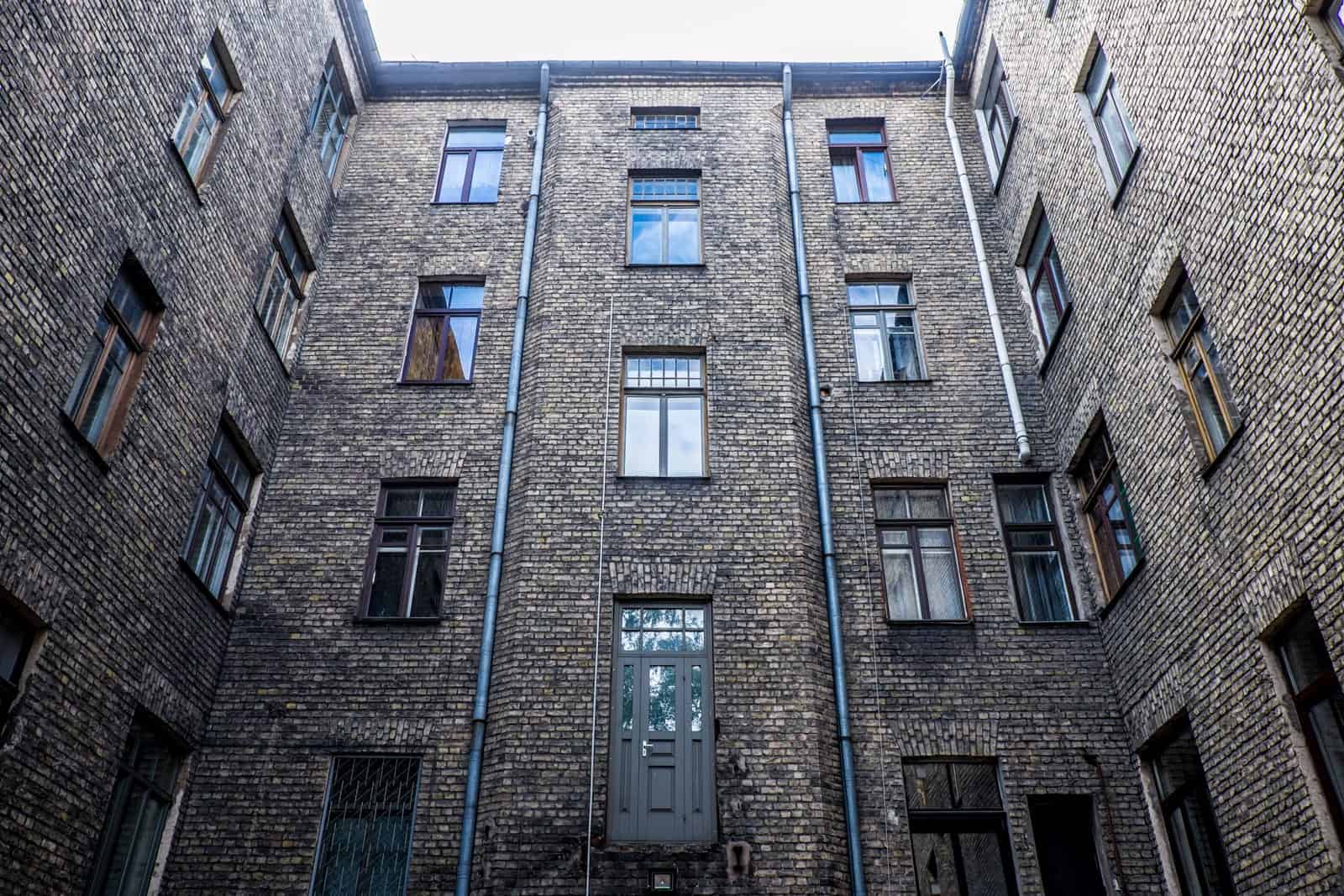 A visit to the Riga Art Nouveau museum gives you a glimpse into what these buildings looked like inside. Tickets are €5 and provide the most comprehensive history of the buildings.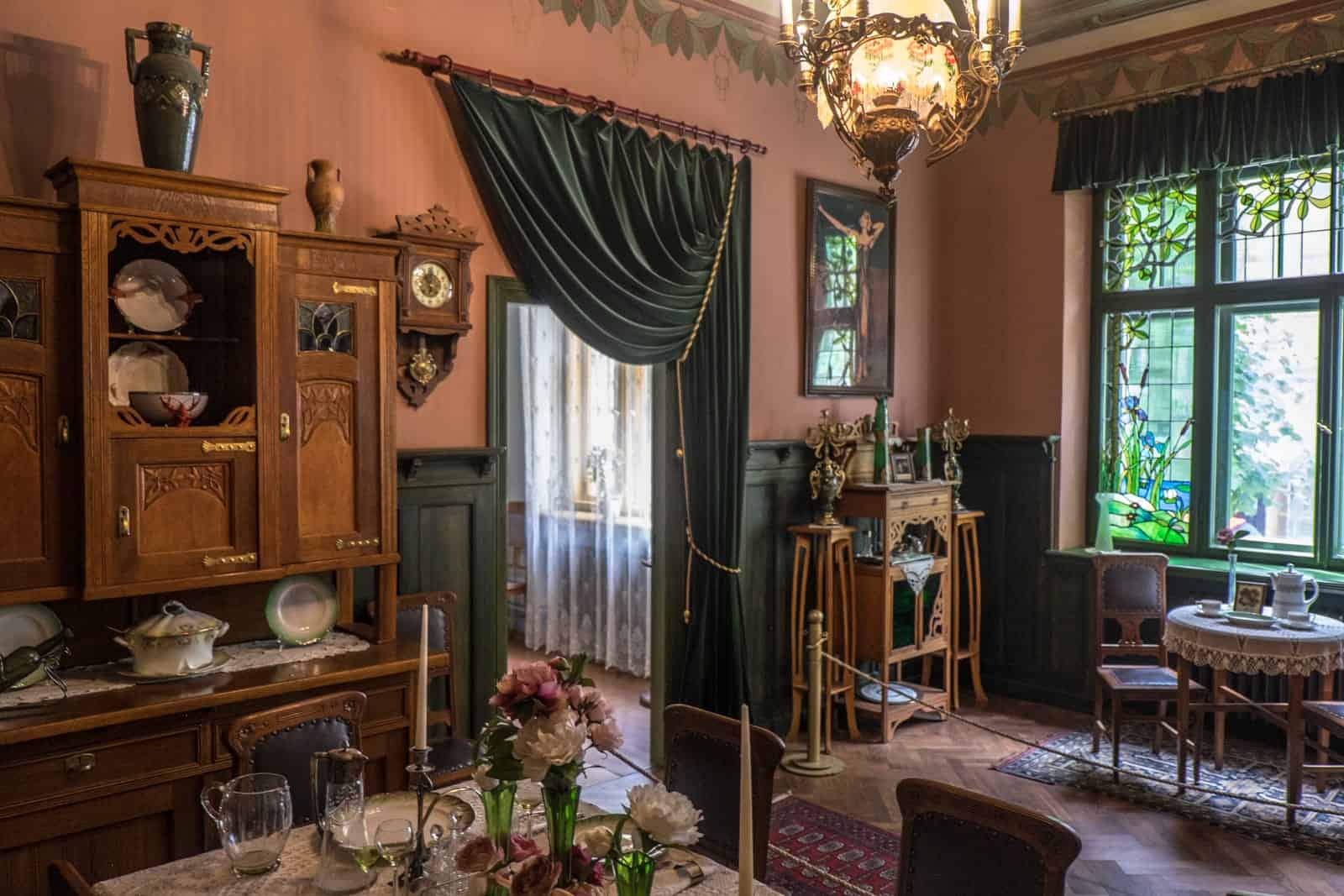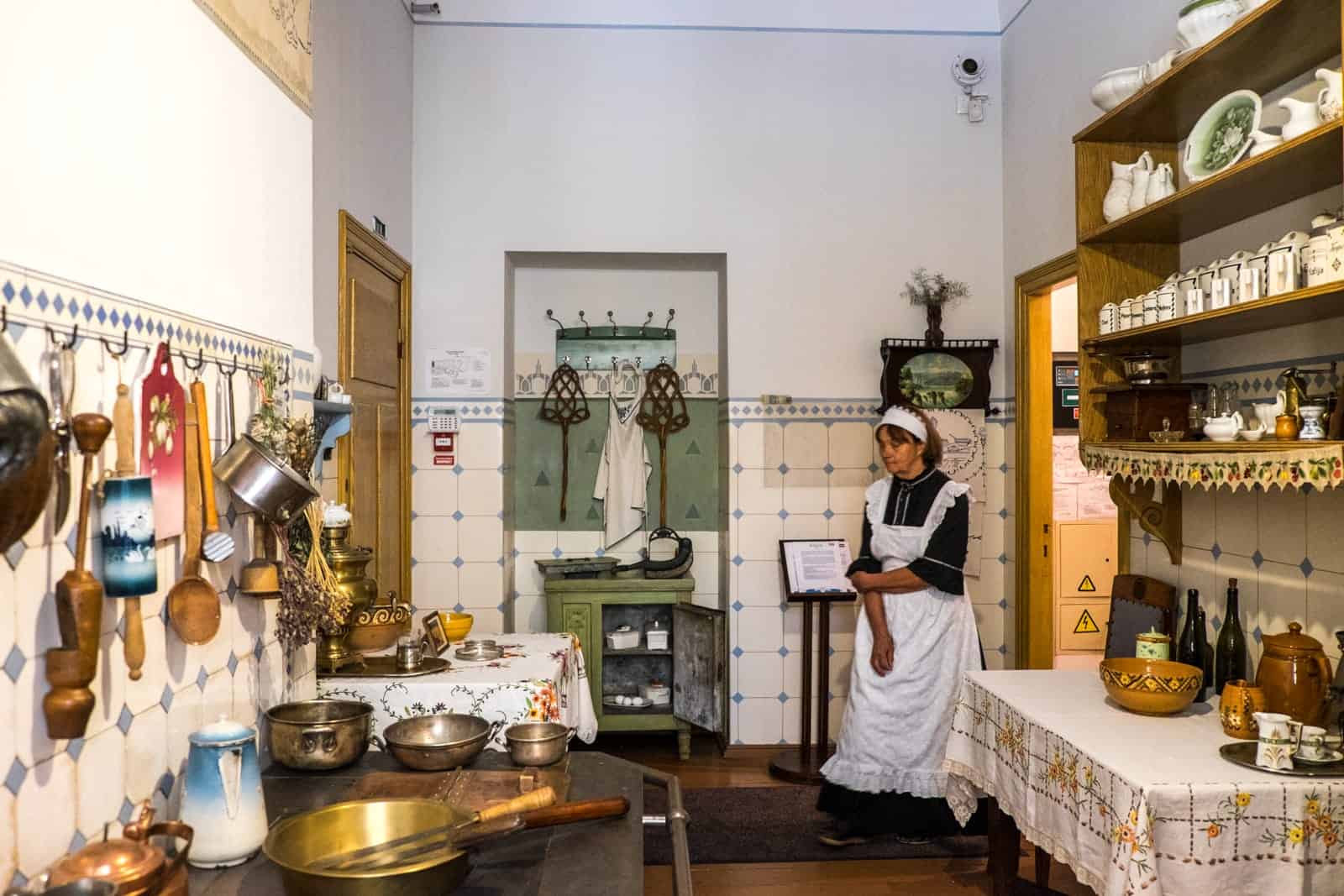 What to Know About Riga – Three Occupations History
The history of Riga history is long and complex, but its more recent history and Soviet Era occupation are what many come here trying to understand. And while the city isn't your typical post-Soviet concrete slab on the surface, scars run deep and parts of that dark time remain.
To better understand the 'Three Occupations of Latvia' that saw a Soviet takeover move to a Nazi one and then being reclaimed by the Soviets, visit the Museum of Occupation. A guided tour costs as little as three Euros, walking you through the history of how things changed so drastically and how this ping-pong effect of occupation has left its mark on the city today.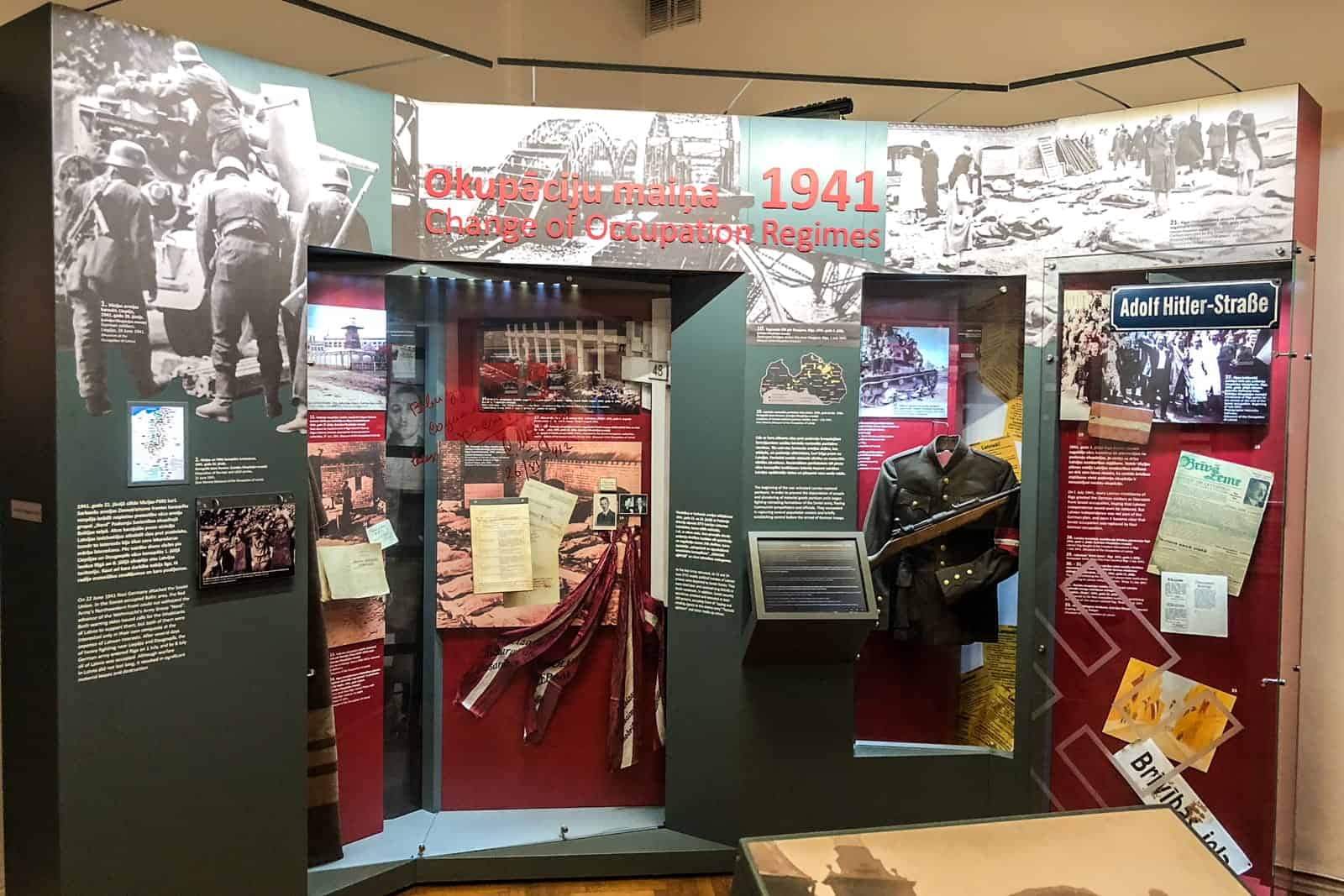 You will find it just minutes around the corner from the Freedom Monument that stands in dedication to Latvian independence. However, this is currently only a temporary location until its real home is renovated.
My next stop on this trail of understanding was the KGB Museum, located in the "Corner House" on Brīvības iela 61. It creates an immediate shock that such horrific and brutal control and murder could exist in such a building of beautiful decor. The USSR's Committee for State Security (KGB) headquarters is now open to the public for education and remembrance. It was due to be closed and destroyed, but many felt it was of too great a significance not to erase the past.
Where to Go in Riga – The Old Town
Let's not forget that Riga Old Town is still a significant part of the city's persona and a cornerstone of Riga tourism. Yet, aside from this tiny cluster of streets topping the Riga attractions list, you will find some great stores and hangouts alongside the architectural highlights if you dig hard enough.
Riga Old Town is an area that is still like a living museum of the city's medieval history, where you can find small parts of old defence walls and towers. The cobbled streets take you on a Riga sightseeing journey of 800 years, even though nearly all of the historical buildings were rebuilt after the war due to extensive bomb damage.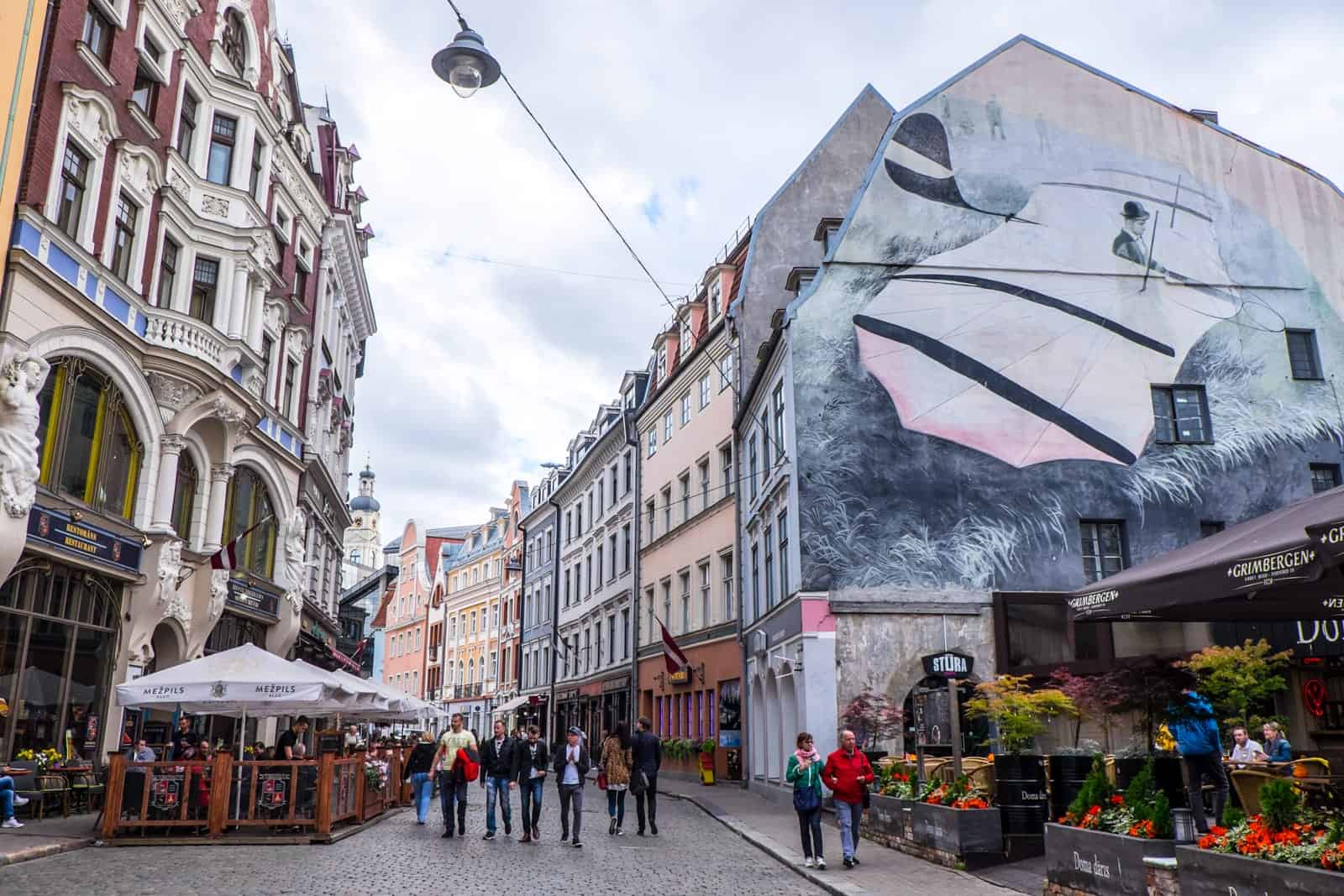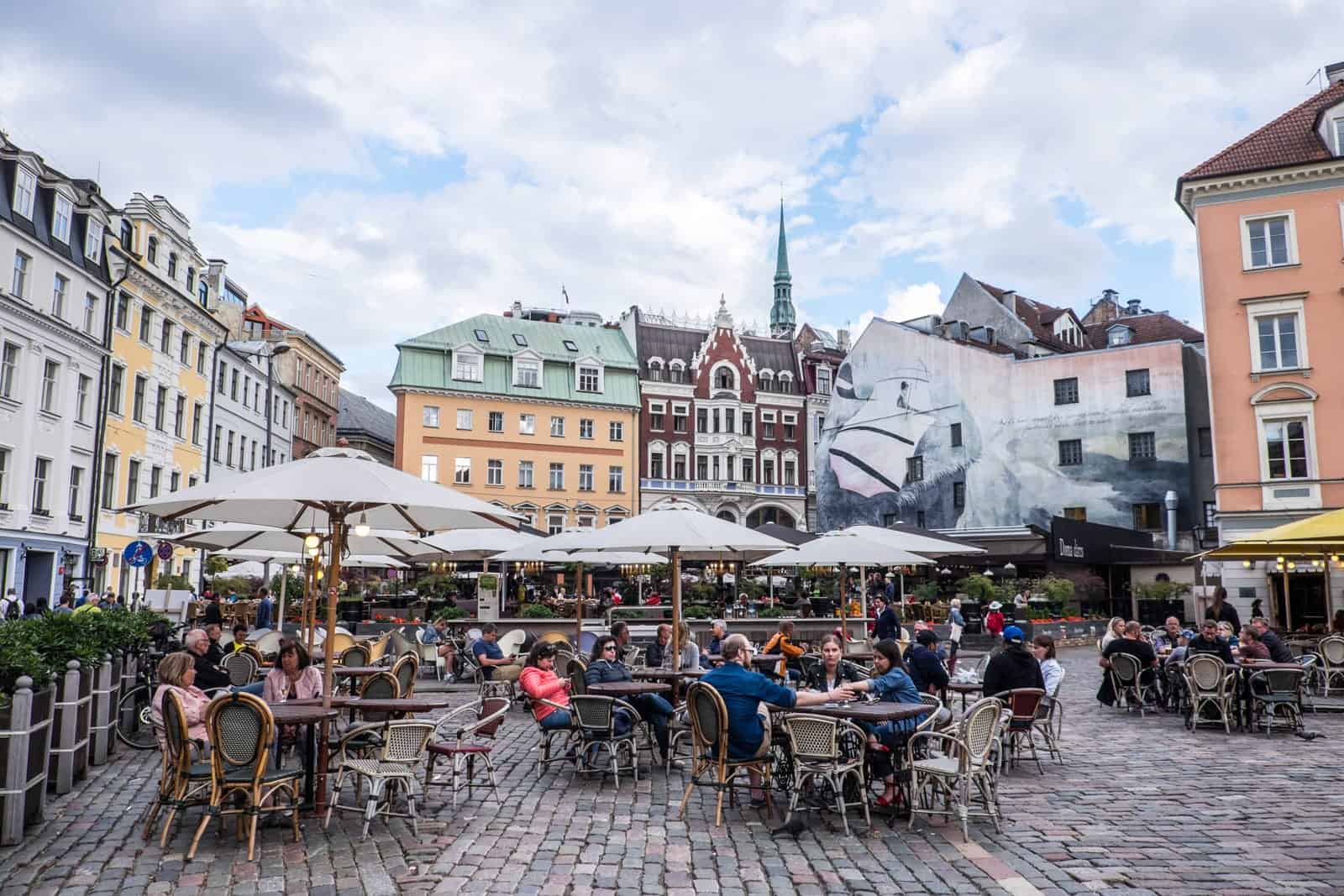 The Soviets liked the Old Town, so they gave it protected status in the '60s. People scour at the fact that St. Peter's Church (the oldest church in the Baltic states) was modernised in parts and that buildings like The House of Blackheads completely reconstructed like its 700-year-old original, but it the best retention of the history possible.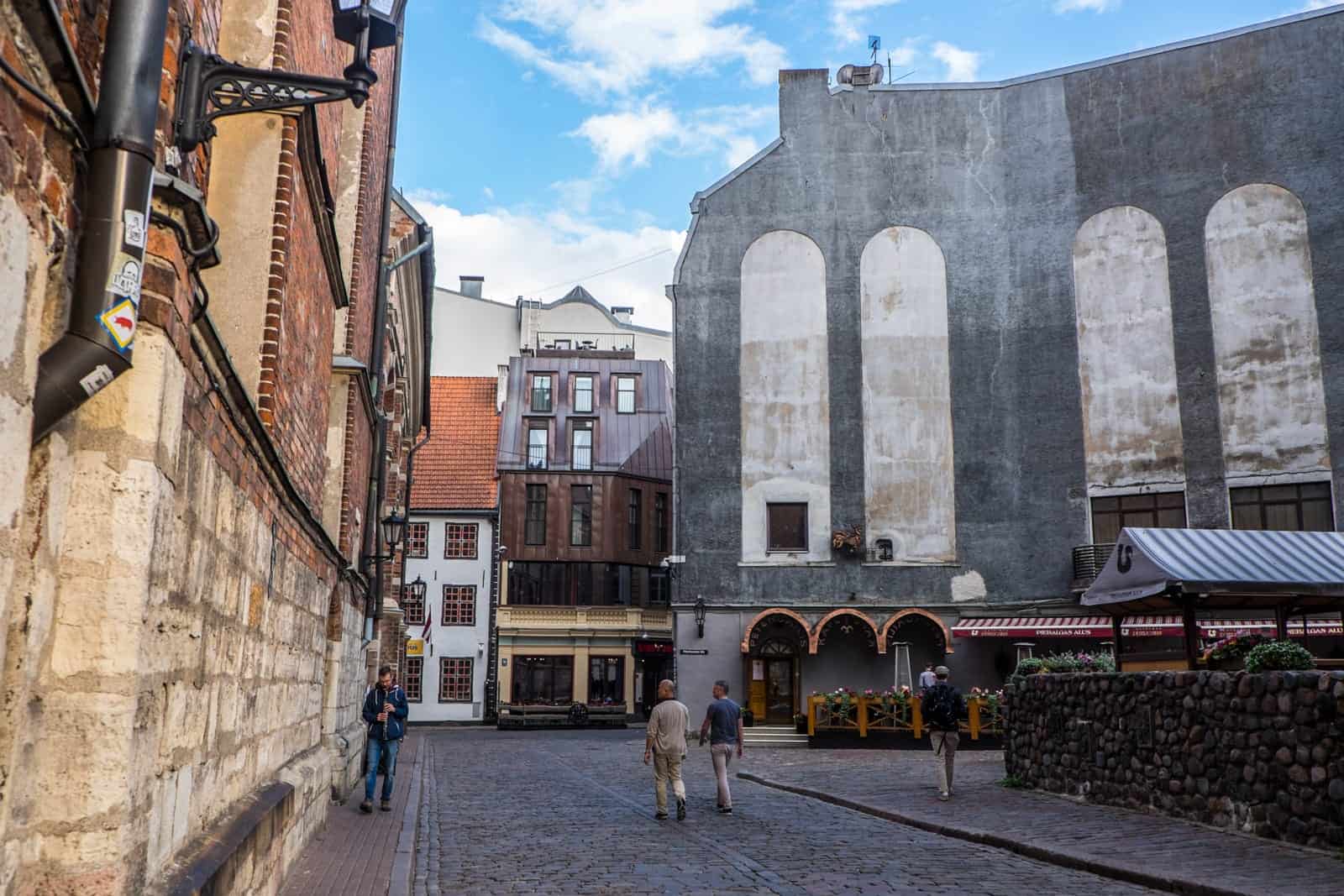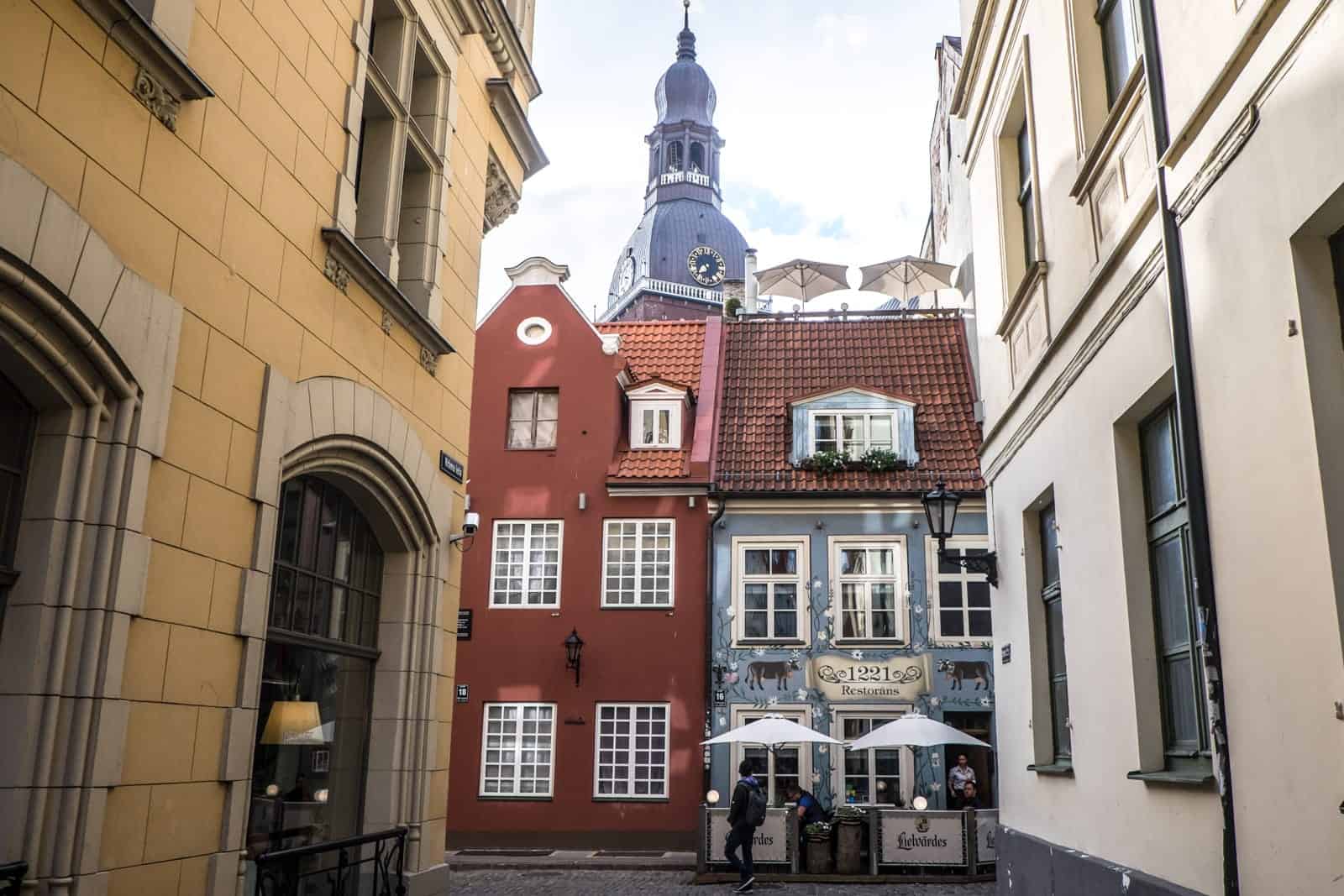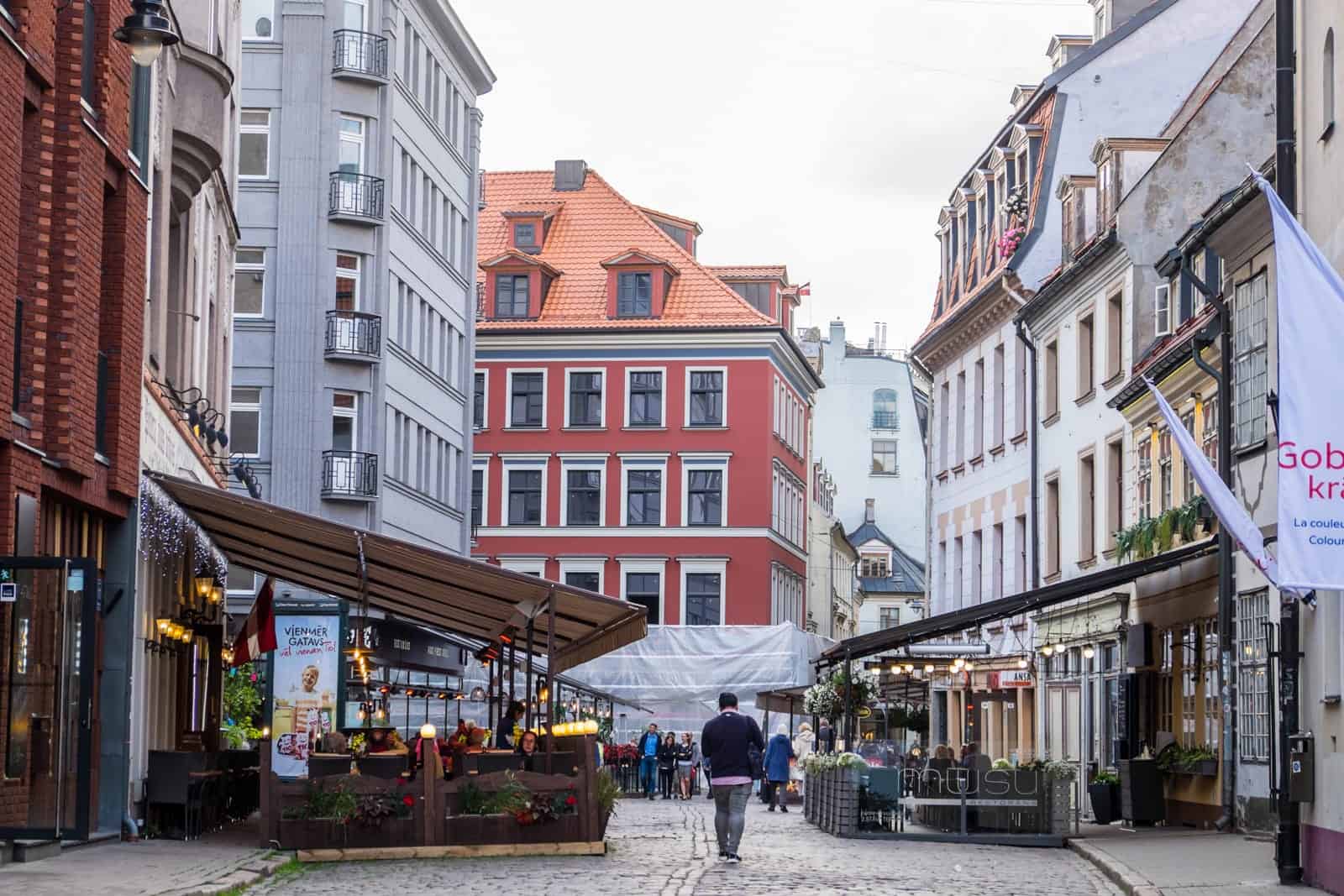 One of my favourite buildings in the Old Town is the well-known 'Three Brothers', each built in a different century – the 15th, 16th and 17th. The more affectionate story is that each was built by a different man from the same family. You'll find the Latvian Museum of architecture here if you want to indulge further.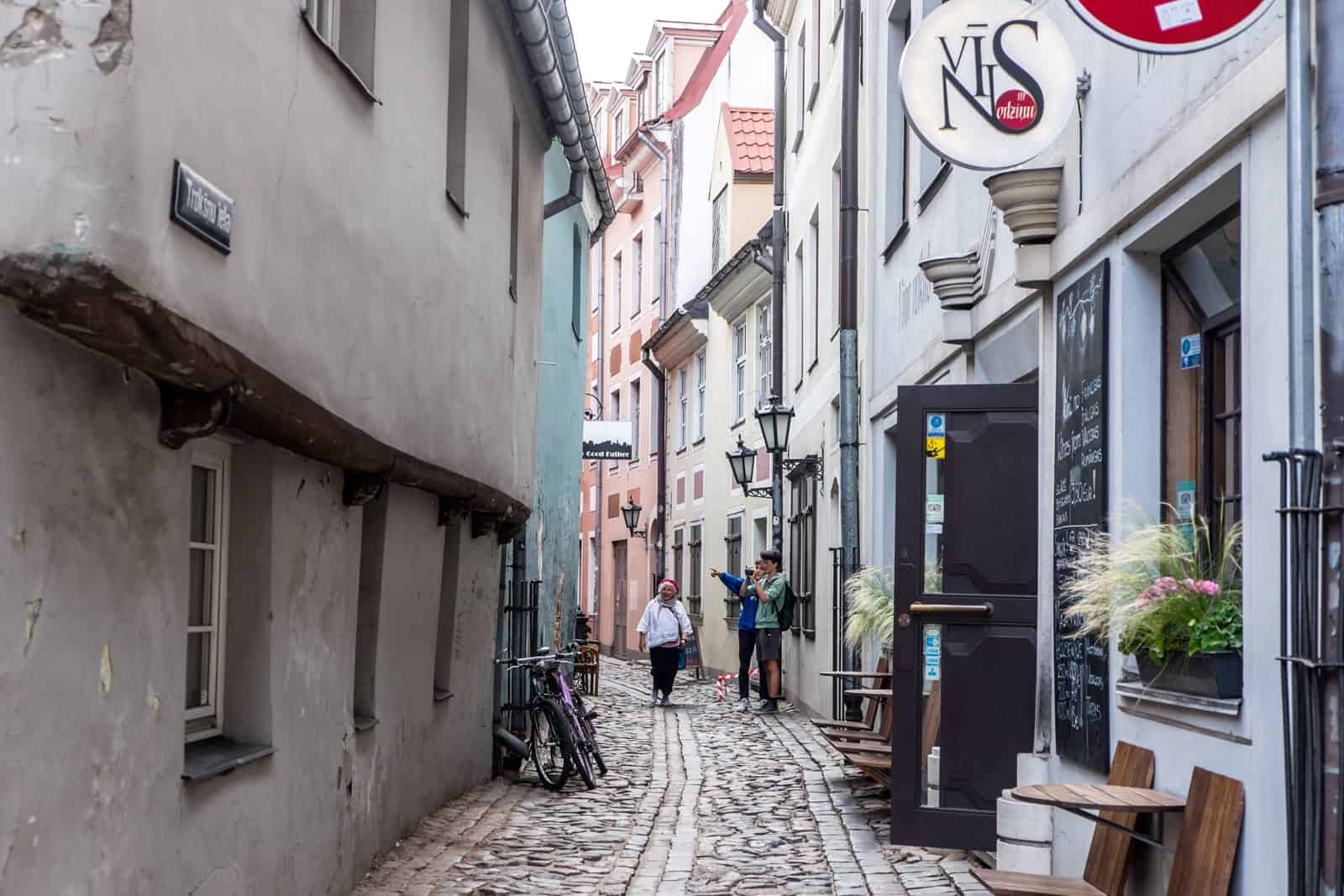 The best-elevated views of the Old Town are said to be from the St Peter's Church rooftop. I best enjoyed the Old Town without any plan of action, wandering amongst the pastel-hued buildings while stumbling upon design stores like Andele Mandele, design cafes such as Pienene, beautiful coffee houses like speciality Strada and boho Parunāsim, an old pancake house called Šefpavāras Vilhelms and traditional produce stores including Medus istaba for locally sourced Zelta Medala honey. Hidden residential alleyways are where you can lose yourself away from the small crowds.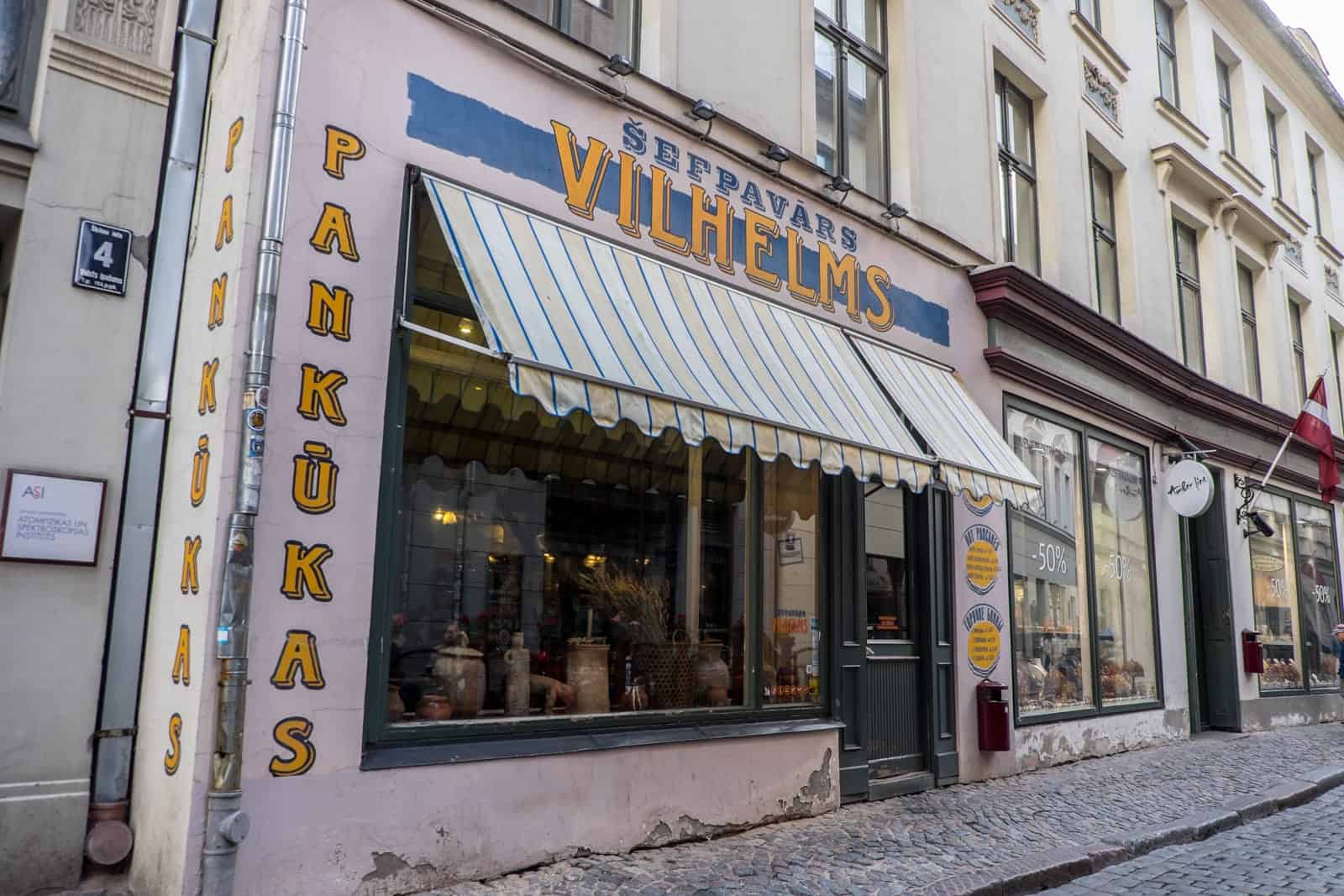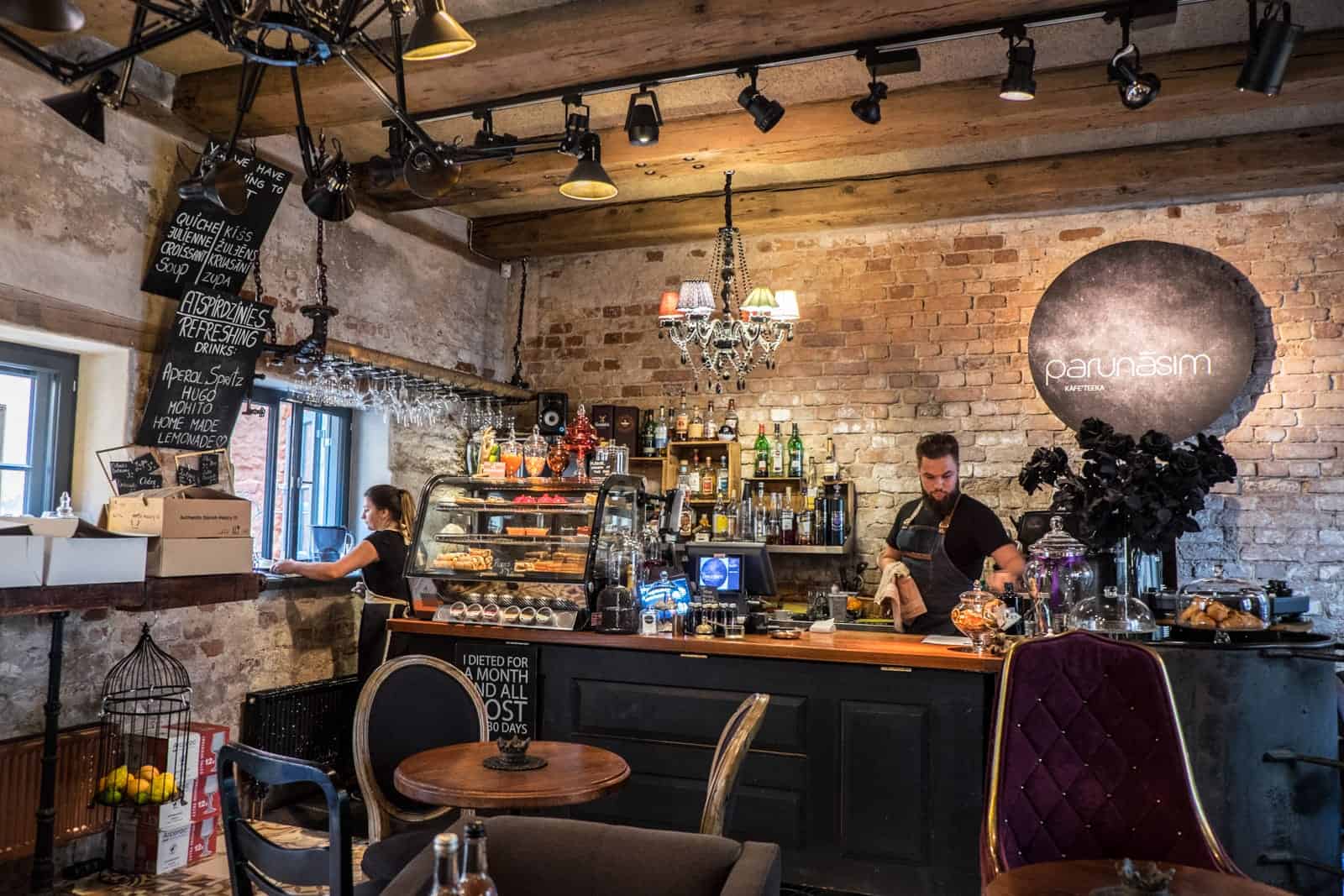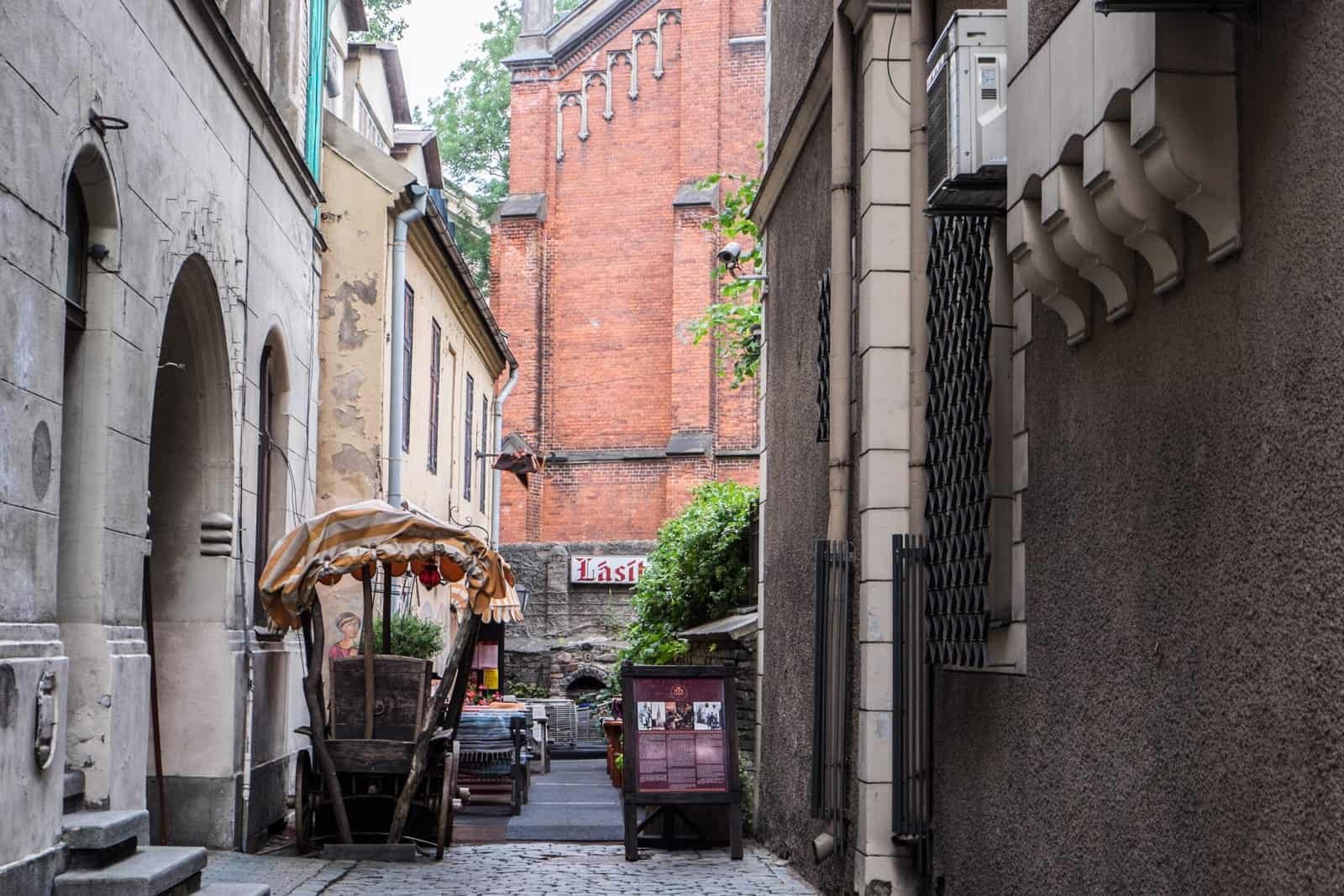 Day Trips from Riga
More than just a quick city break, you might be tempted to tack on some extra days in Latvia to enjoy these day trips from Riga.
Riga has a beach and neighbouring Gauja National Park – a nature reserve with a loop of green sites accessible from the capital and filled with adventure and cultural highlights.
READ MORE: Gauja National Park – Finding Cultural Heritage and Adventure in Latvia Nature
Sigulda – Riga Nature Day Trip
A 50-minute train brings you to Sigulda, and its placement in the lush Gauja valley grants it the status as one of the most beautiful towns in Latvia.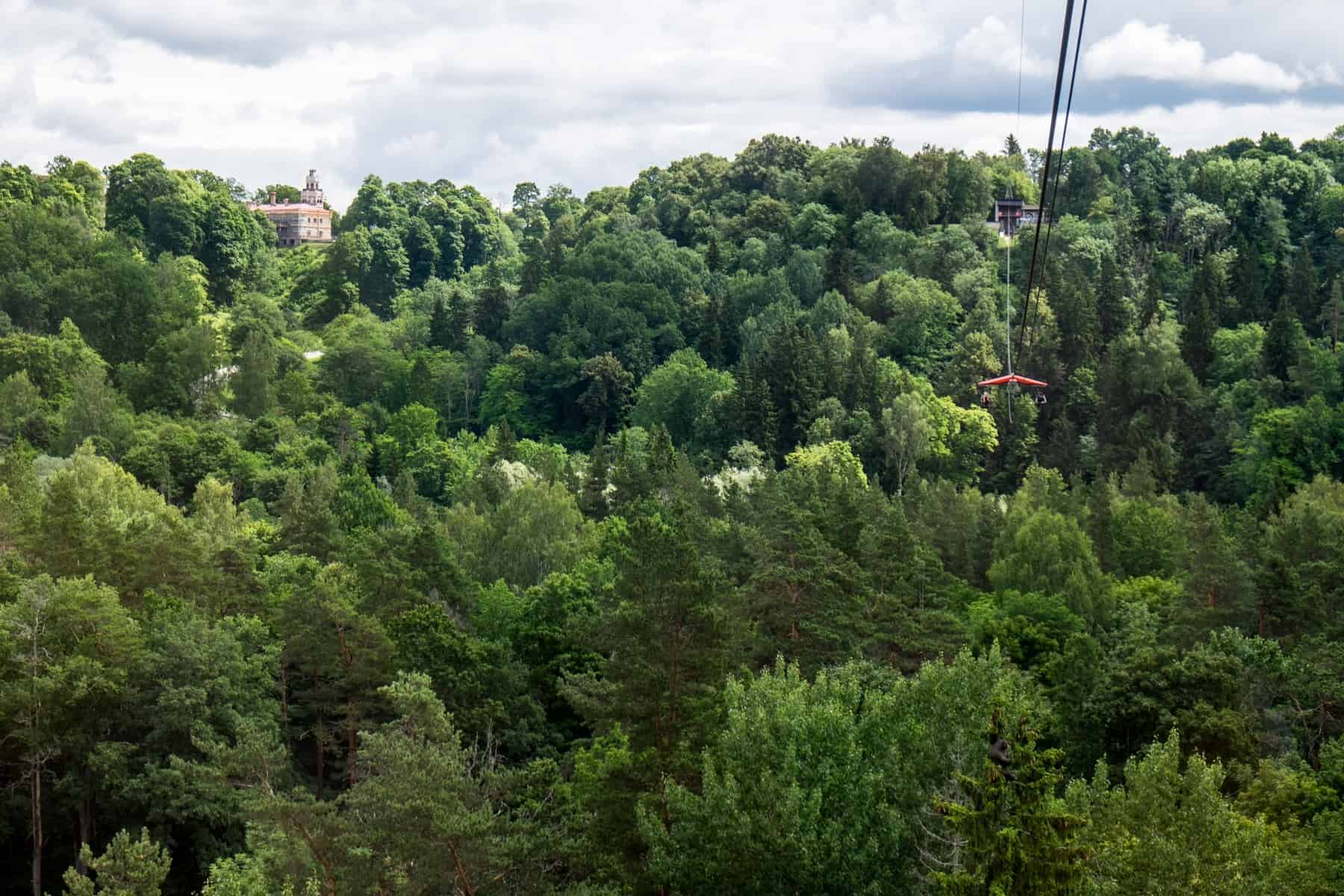 With a combination of cultural and adventurous highlights, there is a lot to experience. For example, you can take the 42m high cable car from one side of the valley to the other, bungee jump off the same cable car, or add some speed on the zip line flight route. There's the Adventure Park Tarzan, where you choose from adrenalin attractions like zorb balls and catapults or ride Latvia's Bobsleigh track and garner some speeds up to 80 km/h on an Olympic track with 16 turns.
Woodland hikes, bike rides, castle complexes and isolated surrounds are the main draws, including Livonian Castle – a medieval fortress from 1207 frequented by crusading knights and later rebuilt as a convent, the Turaida Museum of Latvia's heritage and cultural history and Gutman's Cave – the largest grotto type cave in the Baltic States, with detailed wall inscriptions dated back to the 17th century.
READ MORE: What to Do in Sigulda, Latvia – the Nature Bound Day Trip From Riga
Jūrmala – Riga Beach Day Trip
In little over half an hour a train to the station, Majori brings you to the popular resort town of Jurmala, also known as 'Riga Beach'. This area first gained popularity in the 1730s when England and France started the seaside trend. Since then, and with the opening of rail tracks and main swimming areas, Jurmala became the coastal escape near the capital. Locals quickly built summer houses, and Riga residents eagerly flock here on weekends for the clean waters and white sands.
The heart of the town retains old seaside nostalgic nods in its architecture, old dwelling houses and timeworn health resorts and swimming centres that line the streets meant for those sunshine strolls. Modern interjections of art galleries, alfresco dining and manicured gardens give it an attractive modern front.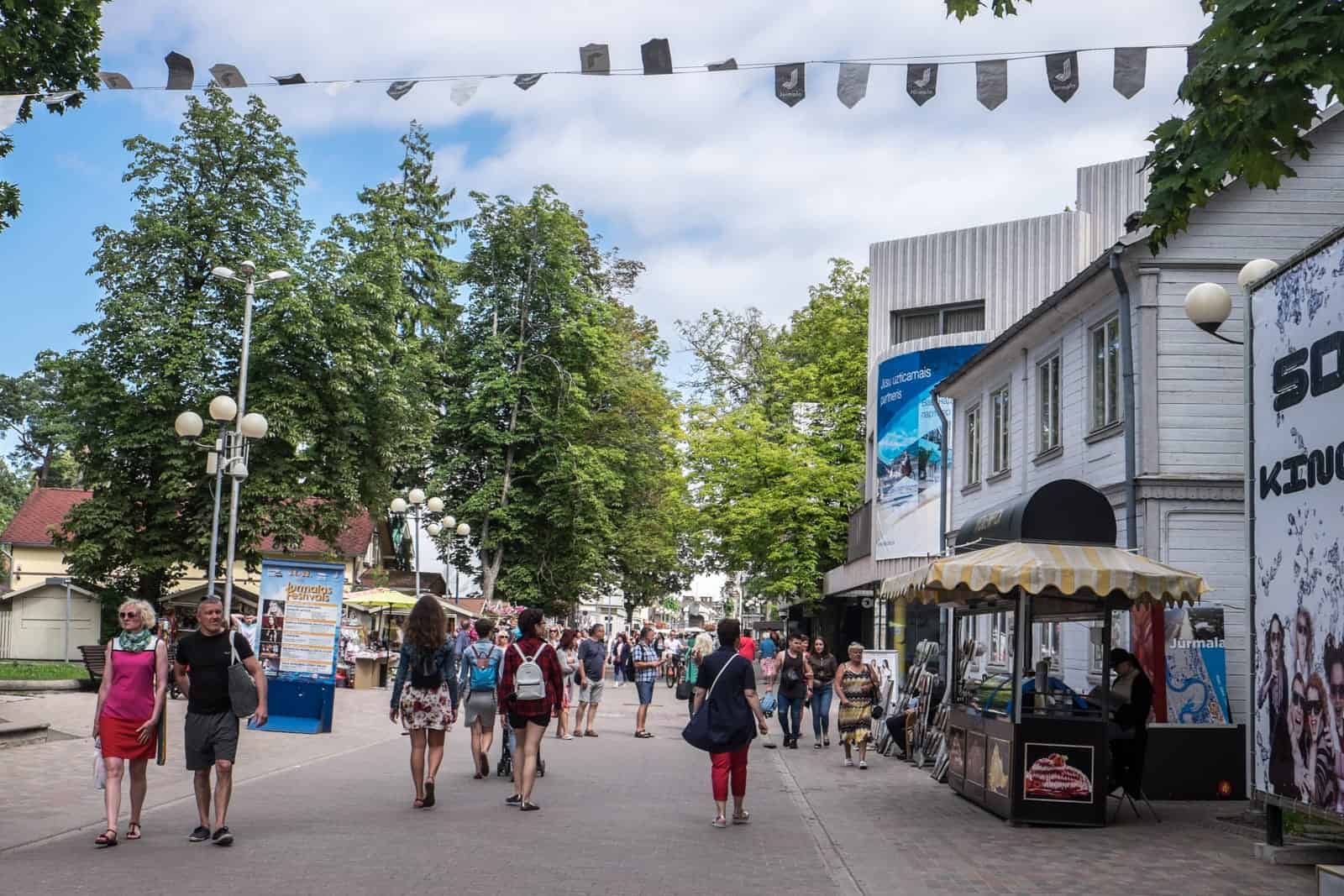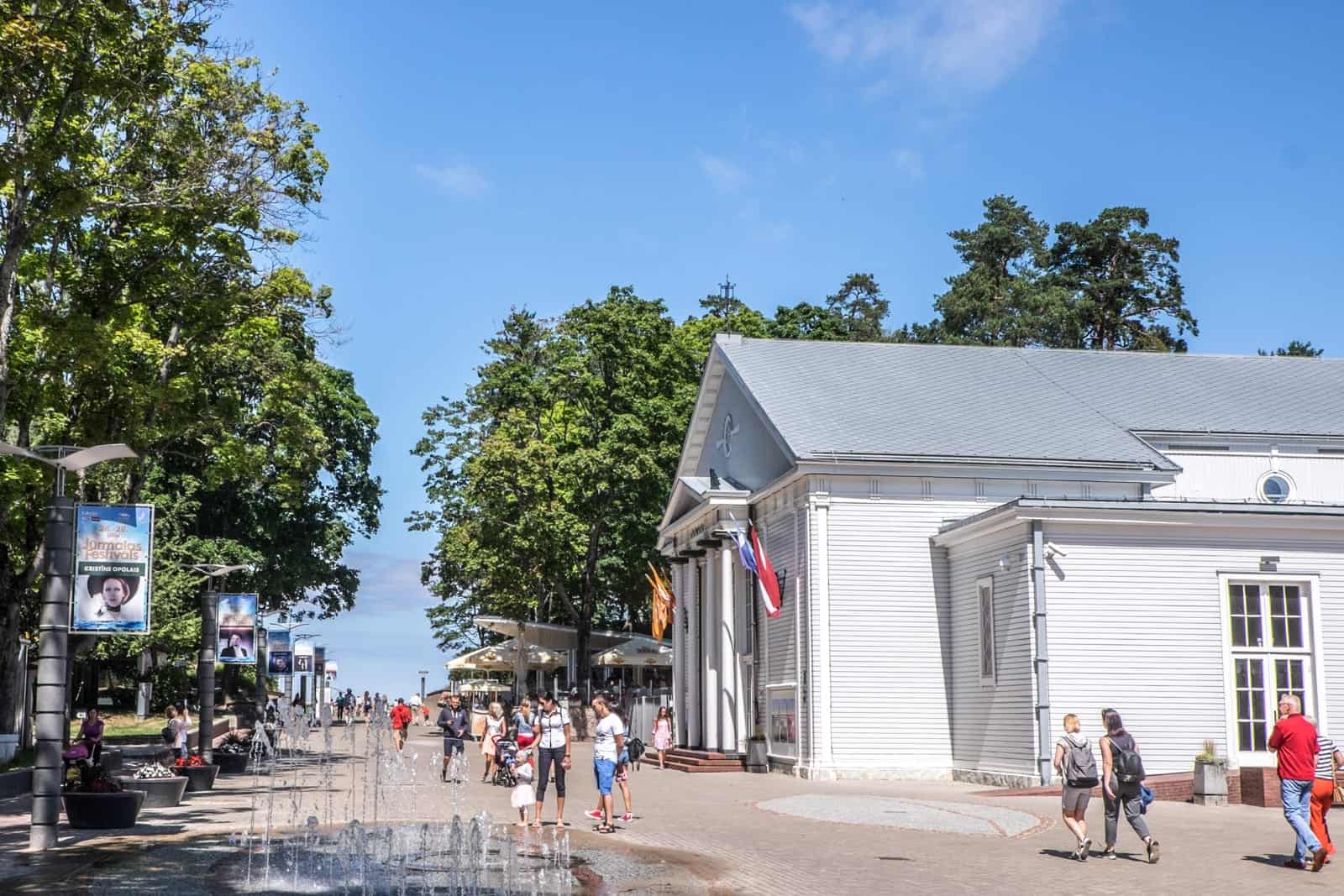 Jurmala centre is best for walking, shopping, people watching and randomly choosing a side street for another laneway to the long beach. I hired a bike and spent some hours taking in the wider, quiet residential areas, park and wide tree-lined avenues for a perfect mix of action and relaxation.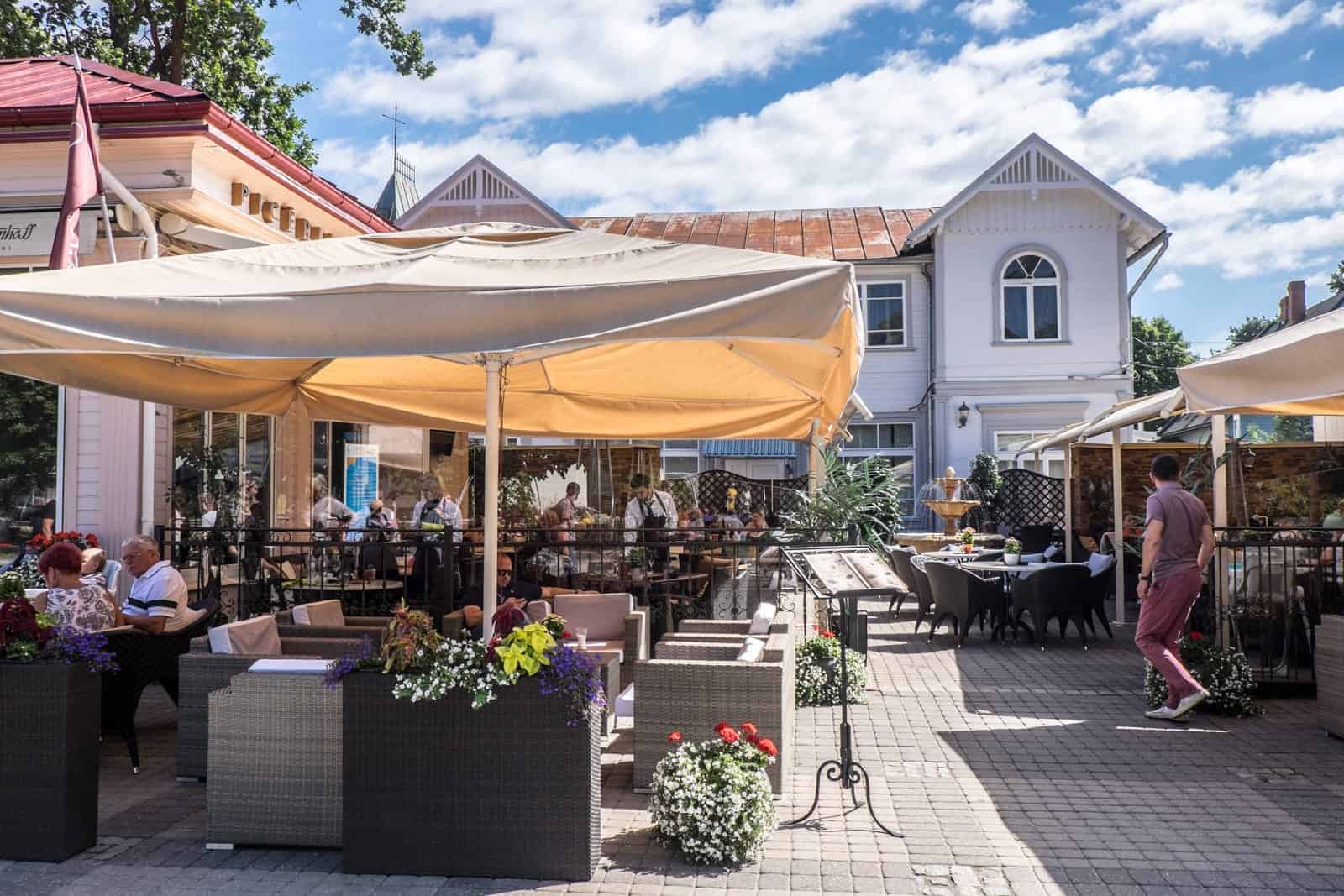 What and Where to Eat in Riga
Rye bread, beets, berries, farm and fresh forest produce. Sweden, German and Russian cuisine influence Latvian food, and markets play a central role. Riga's restaurants are also plenty.
Best for Local Produce – Riga Central Market
You can't miss the former WWI zeppelin hangers that conceal one of Europe's largest markets where you can buy everything you need from five pavilions filled with fruit and fish, spices and sweets, household items and clothing. While a local pilgrimage, this is a good place to try Latvian foods like pickles, cheese, fish and meat in one of the few food stalls situated in the connecting corridors of these hangers. Don't know where to start? This overview of traditional food tasting in Riga's Central Market will help.
Book: A food tasting tour of Central Market, and make sure you don't miss the best foodie finds.
Getting there: Walk to address, Nēģu iela.
Best for Street Food – Kalnciems Quarter
With a great local bus system, the neighbourhood of the Kalnciems Quarter, across the river from the Old Town to the west, is easily accessible. Saturdays are market days, and Wednesdays during the summer months mark the street food evenings, where stalls fill a courtyard surrounded by woodland and showcase local produce, tasty dishes and handicrafts. Thursdays are the day to visit for live gigs. This area of reformed farmhouses keeps the tradition alive with a modern touch.
Getting there: Take buses and trams from the city centre that takes you to the closest stop: "Kalnciema iela", which is just a five-minute walk to the market square.
Best for Budget Traditional Cuisine – Lido
Lido is a Riga institution, having put out a poll to the audience of Latvia Tourism's Instastories asking for food recommendations. Almost everyone raved about Lido, further discussing which out of the numerous outposts are the best. This really is a source of great debate amongst locals.
They are much the same to a visitor, although Eat Riga food tours suggests skipping the Old Town branch. Serving traditional meat, potato and vegetable dishes, sauces, desserts and drinks canteen style, It's relatively cheap with a tray of two dishes, a couple of side and rye sticks, carrot cookies and a cranberry juice amounting to not much more than €10. It's a great way to try hearty dishes in small portions.
Getting there: Choose from one of the following three locations:
Dzinavas – Dzirnavu ielā 74/76
Recreation Centre – Krasta ielā 76
Vermanitis – Elizabetes ielā 65
Best for Budget Local Cuisine – Spināti un sviests
Cold beetroot soup is a Latvian speciality, and there is no place better to sample it than in a canteen style establishment off the tourist trail. At Spināti un sviests, the handwritten menu on the wall changes daily, and with low prices, you might well be tempted to sample a few Latvian meat-based and veggie dishes.
Lonely Planet has a good overview of Latvian cuisine for beginners here.
Getting there: Head to the Old Town, address: Miesnieku iela 10
Best for Contemporary Cuisine – Garage Wine Bar
A seasonal menu made with locally sourced products changed twice a day and with international wines to complement the tastes. Served in a slick interior space in a refurbished courtyard in the middle of town. Not knowing what's on the menu until you arrive is the main draw.
Getting there: Walk to address: Elizabetes iela 83/85 (Bergs Bazaar)
What else would you add to see the real Riga outside of its established Old Town status?
Thinking of Travelling to Riga?
Where to Stay in Riga
Book a Hotel in Riga
Riga Travel Planning
Want to Save This Riga Travel Guide? Pin It!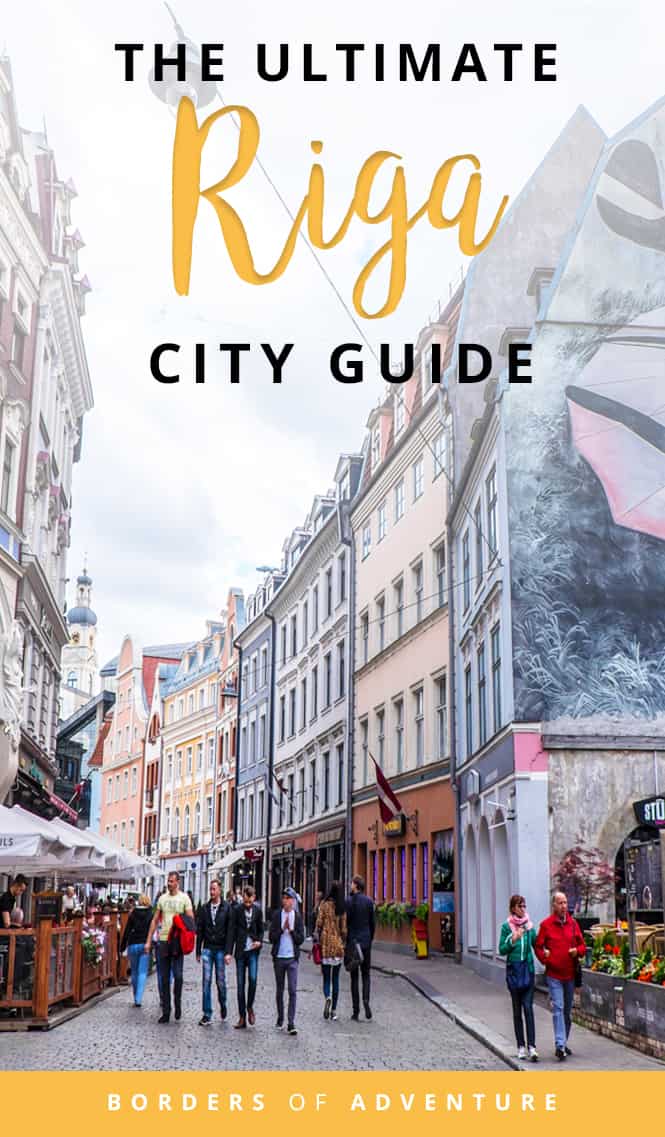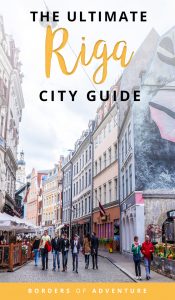 This post is in collaboration with Latvia Tourism, who facilitated activities based on my perception changing and culturally curious interests. All opinions remain my own.