Disclaimer: This post contains affiliate links to handpicked partners, including tours, gear and booking sites. If you click through or buy something via one of them, I may receive a small commission. This is at no extra cost to you and allows this site to keep running.
Travel to San Marino and visit the oldest Republic in the world – a microstate whose expressions of freedom remain unchanged since 301 AD.
For those who like fairytale castle fortresses perched upon mountaintops, travel to San Marino is a living dream. For those who are fascinated by the makeup of unique societies and the workings of long-established republics, you can visit San Marino to see a real-time success story.
Just don't let its tiny 61 Kilometre square size fool you, for travelling to San Marino has more to it than the day trips from Italy's Rimini and Bologna it is usually afforded. In the words of its very proud people, the UNESCO World Heritage Site is "small enough to be big" and dedicating two or more days here means digging deeper into one of the world's most fascinating countries.
My fascination with it stems from its unconventionality. San Marino lays claim to being the oldest Republic in the world and the only surviving Italian 'city-state'. It's a timeless microstate whose institutional functions, political system and expressions of freedom, liberty and staunch independence remain unchanged since its inception in 301 AD by a stonecutter, Marinus of Arba, as part of a monastic community, even after various wars and annexations.
Indestructible as it may be, it can't be missed. The historic Old Town centre of the Republic of San Marino is perched meticulously on the ridges of Mount Titano and surrounded by the Emilia Romagna region of Italy on all sides.
The elevated isolation has helped protect it throughout the ages, alongside the dedication of its inhabitants. A living historical city, it's where I spent a long weekend, wandering the fairytale castle towers, archways, narrow lanes and open squares and staying in an old stonemasons house that has been passed down through generations.
It's exactly these heritage sites and preservation of cultures and traditions that will preserve San Marino's distinct values of freedom (dating back to 1296) alive for future generations and continue to serve as "a model of representative democracy and peace worldwide" (in the words of UNESCO).
It is presented to the world as an archetypal society and invites people to come and learn of it.
What to Do When You Visit San Marino
Hardly unchanged in its geographical layout since the 15th Century, San Marino's towers, palaces and fortification walls pave the history of the city, whose origins lie in the disputes of neighbouring and rivalling families of Malatesta and Montefeltro during the Middle Ages. This led to the ramparts of villages and strategic points, which further widened the territory you can see today.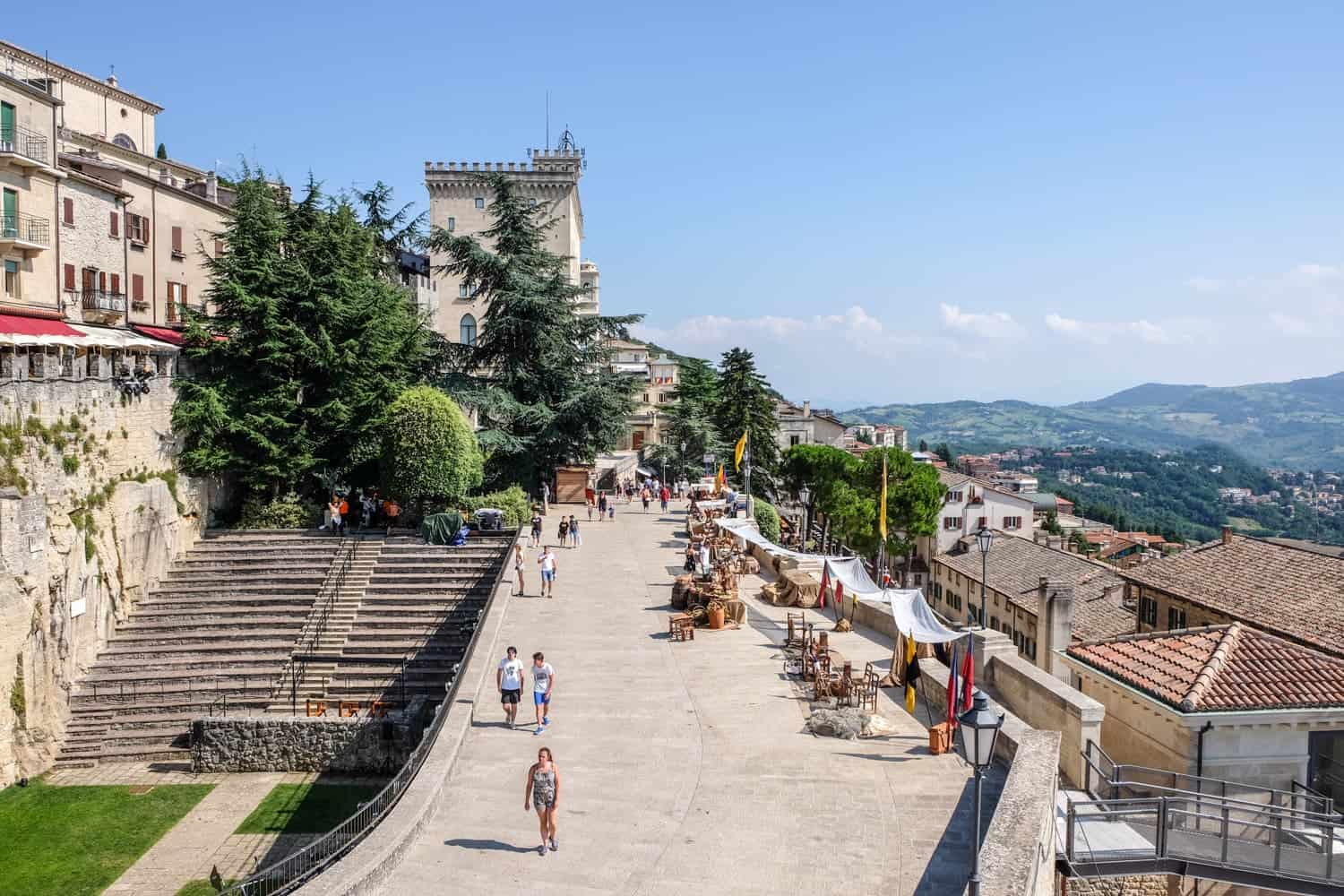 San Marino Towers
Within San Marino Old Town, you can't miss the defence towers, nor resist the opportunity to climb them. Start at the former military fortress of the First Tower Guaita for a view down to the countryside below before clambering the steps up to the Second Tower Cesta (a former garrison of crossbowmen) via the 'Passo Delle Streghe' (Passage of the Witches) for one of the most sought after views – it stands on the highest peak of Mount Titano, 756 metres above sea level.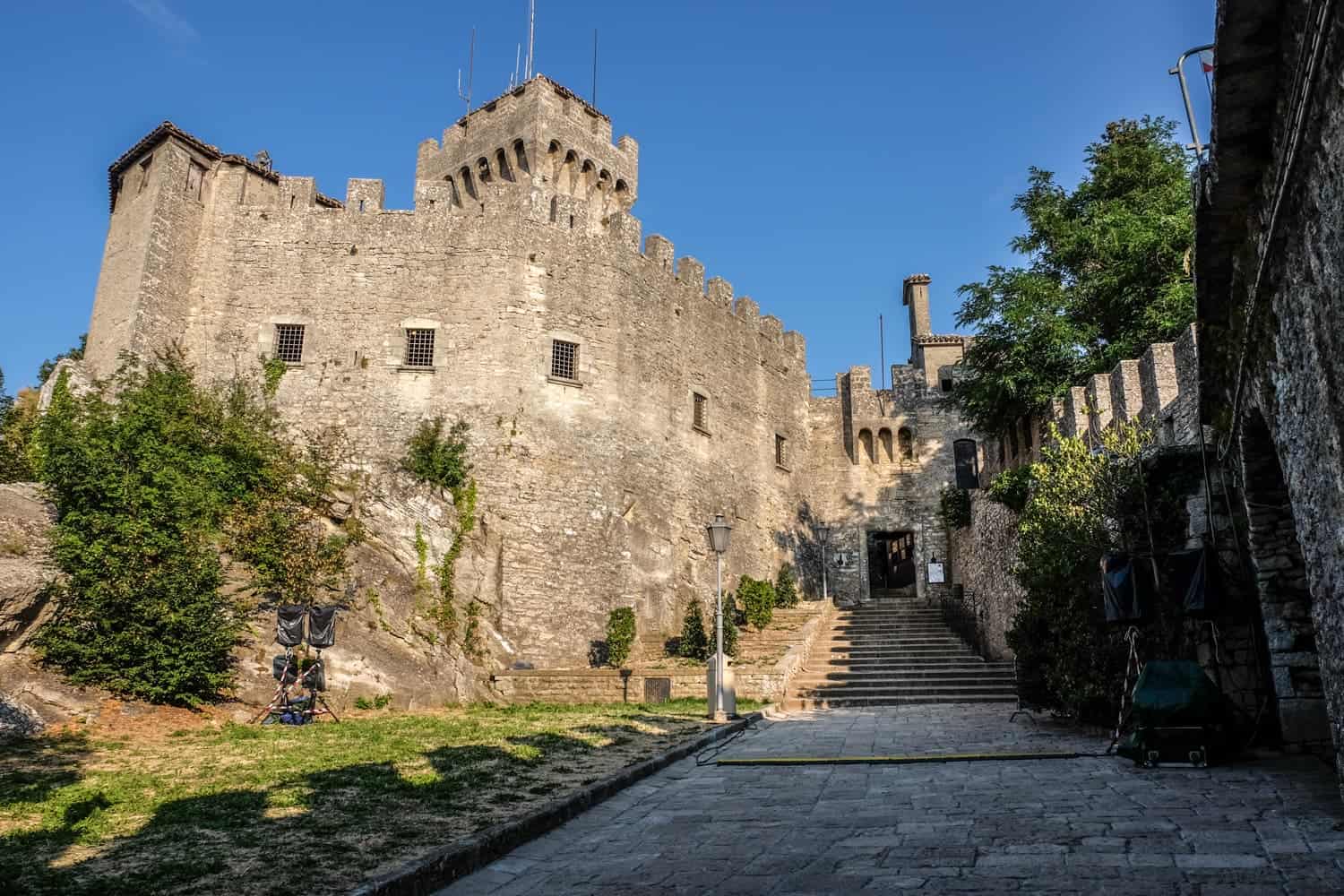 The Historical Centre of San Marino
The historical centre of San Marino is very touristic in parts, whose narrow alleys are overrun by souvenir shops serving the day-trippers. However, it breathes history through every monument, wall and cobblestone path, and despite extensive restoration where Old Town walls were adjusted, restructured and widened at the end of the 19th Century onwards, it remains relatively unchanged.
In the summer San Marino is a spectacle during the annual Medieval Days festival that revives the country's long history.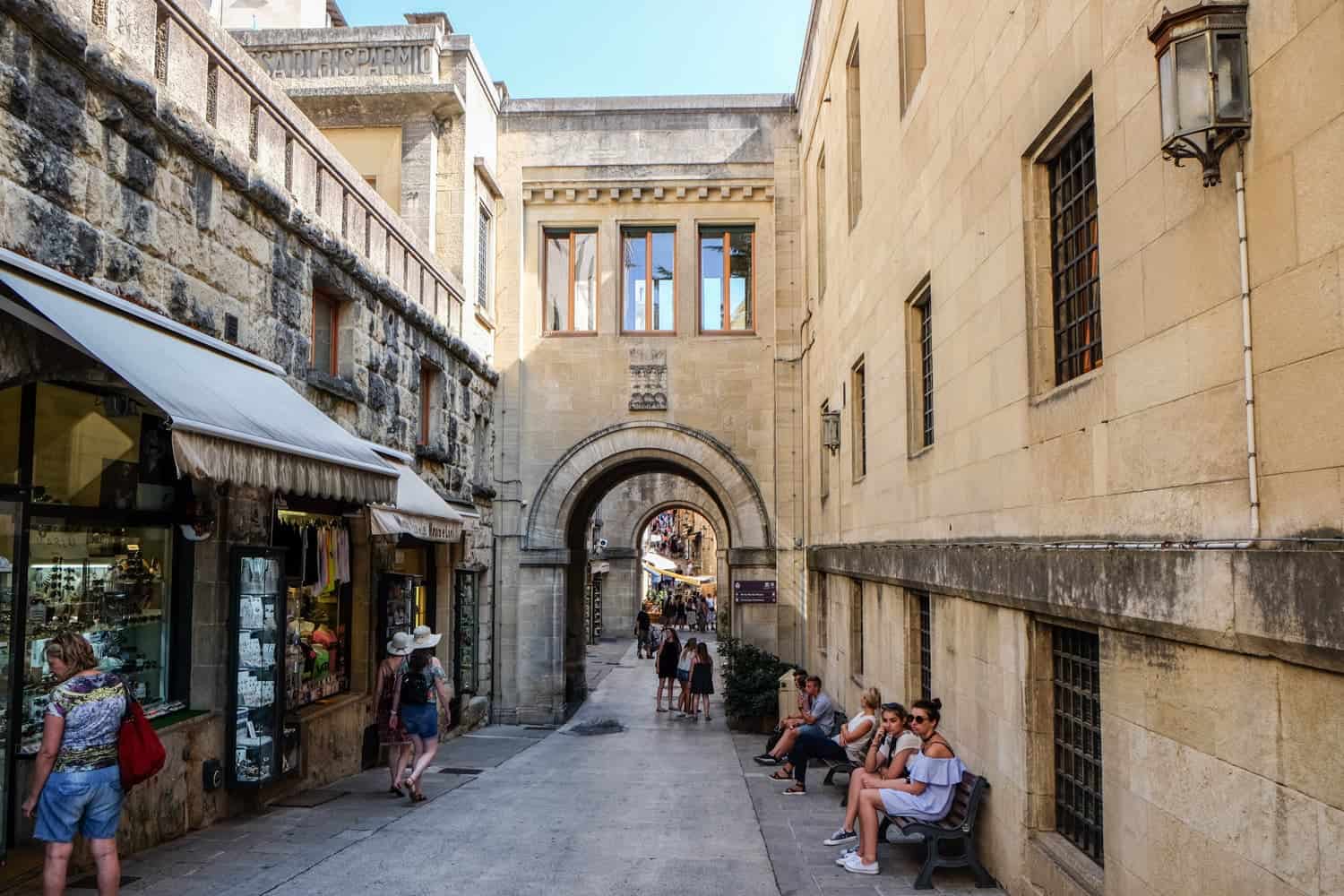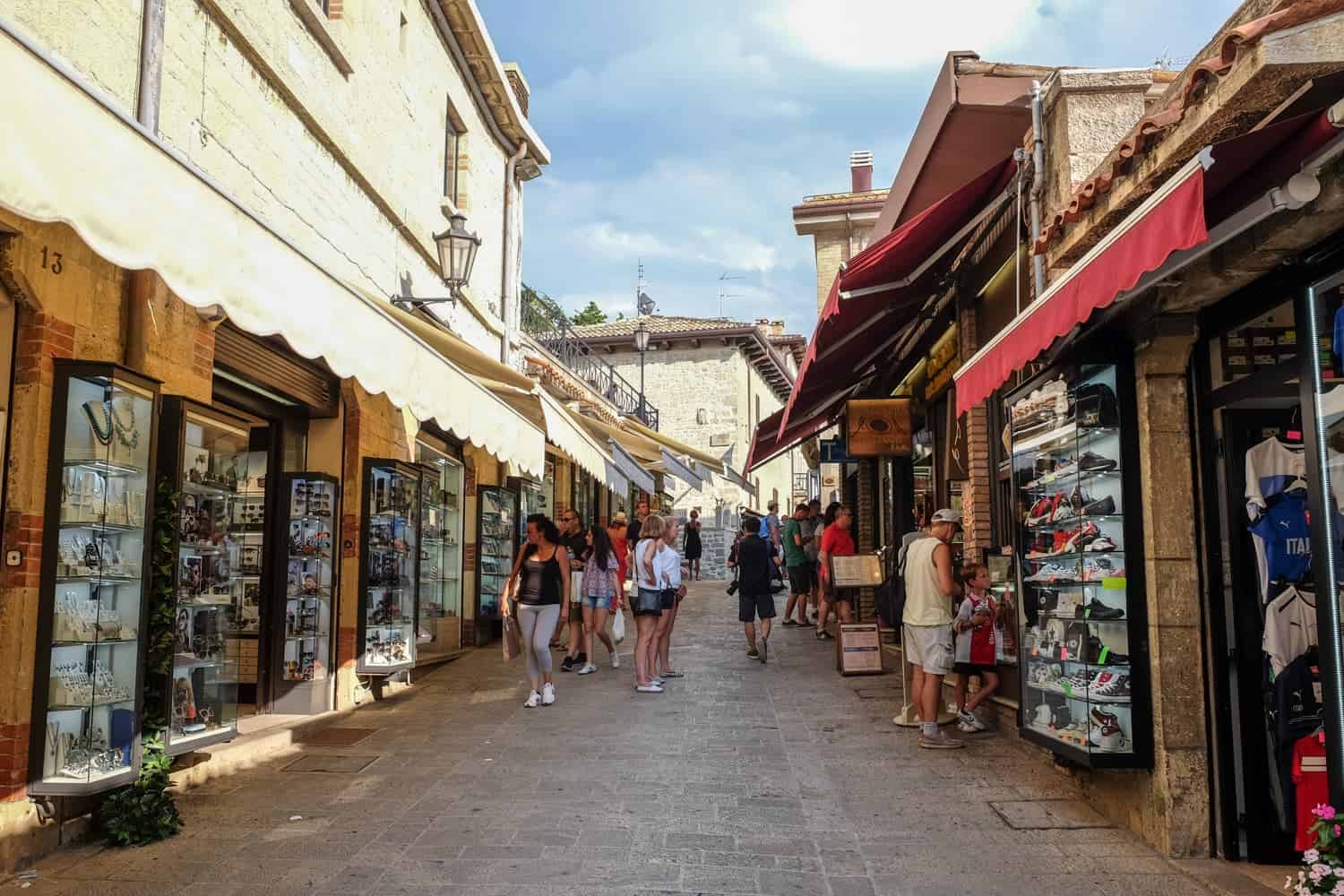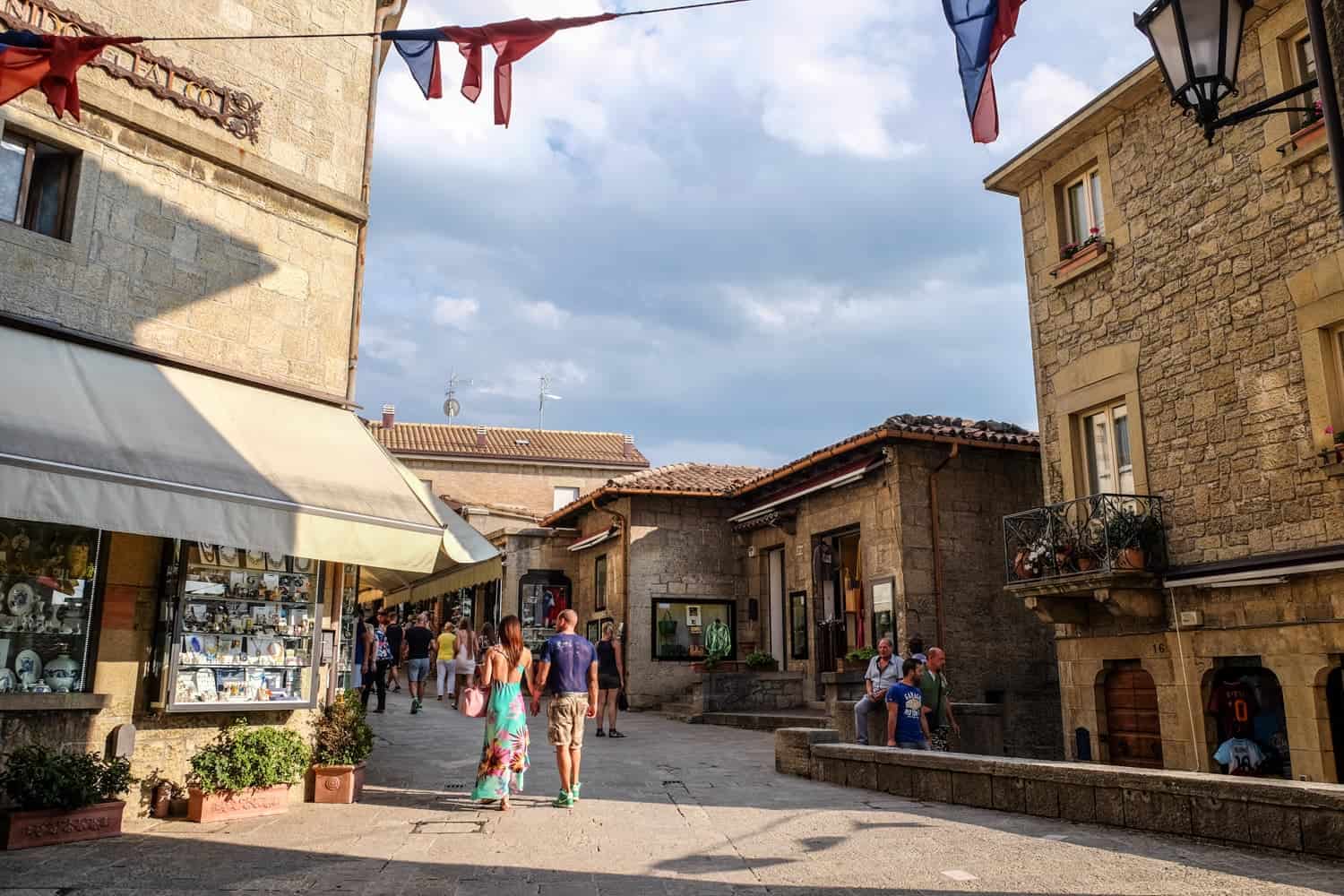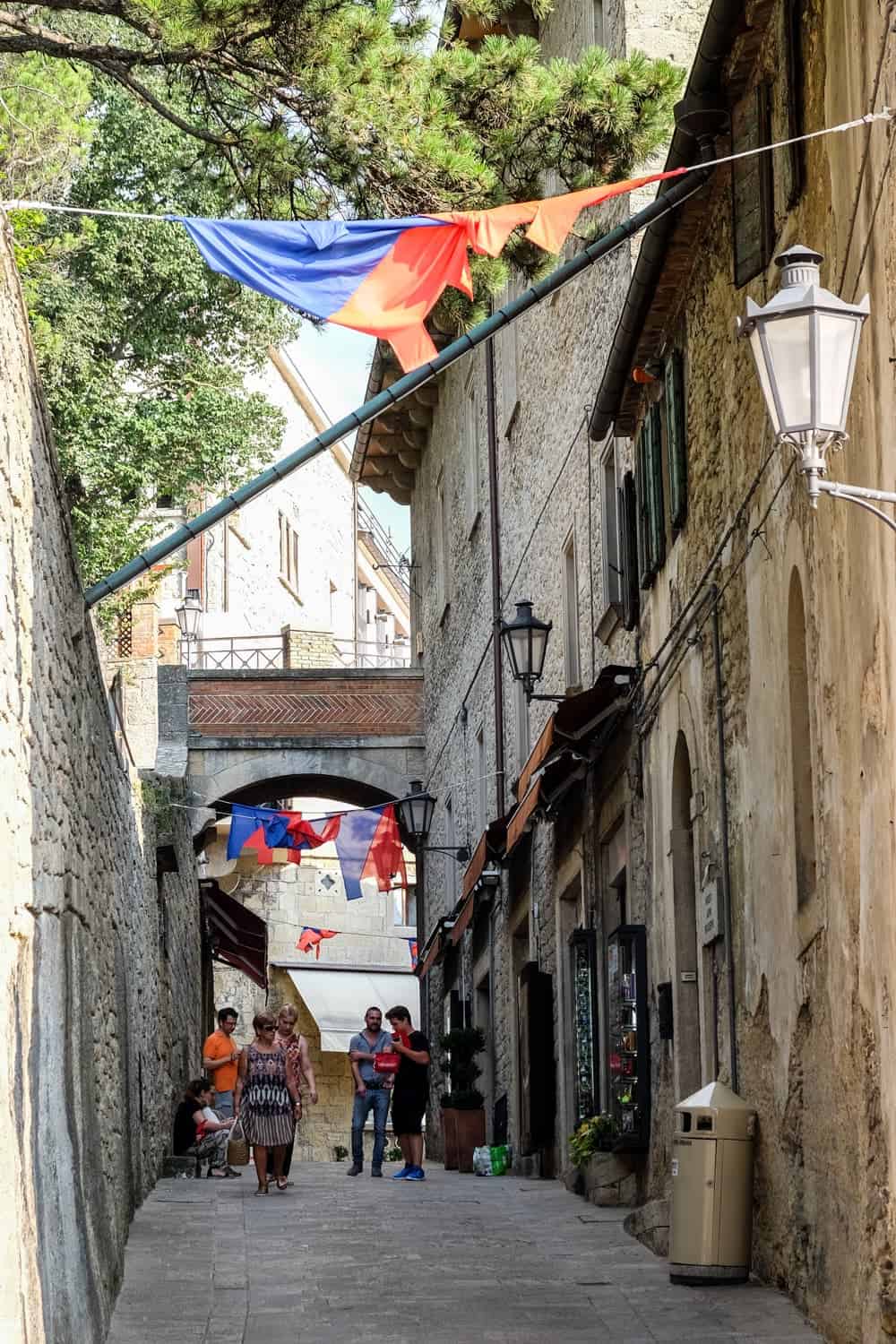 Enter San Marino Via the Main Gateway
Saint Francis Gate, San Marino's former guarding post, still acts as the main gateway to the city, and the Basilica of Saint Marinus dominates the square.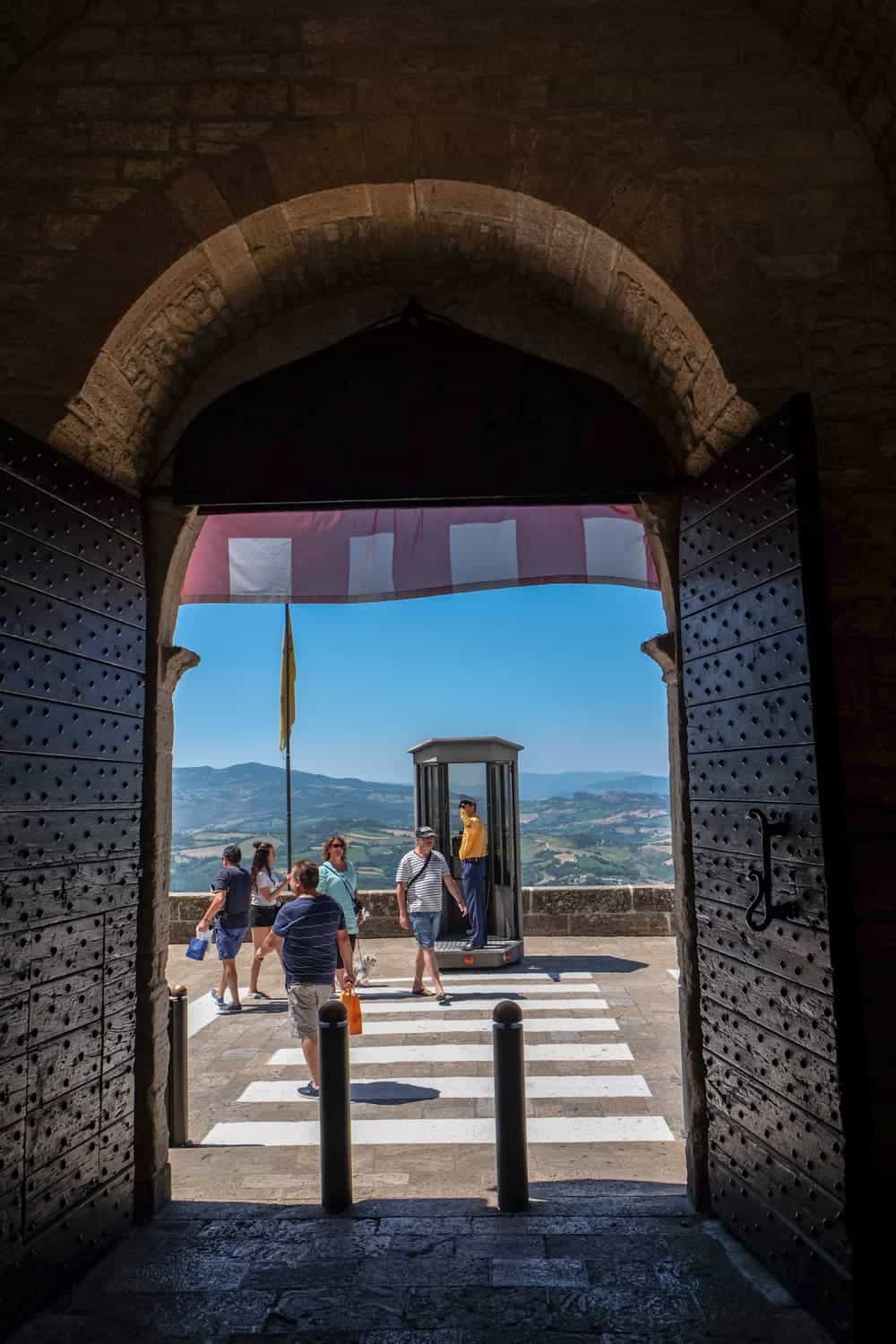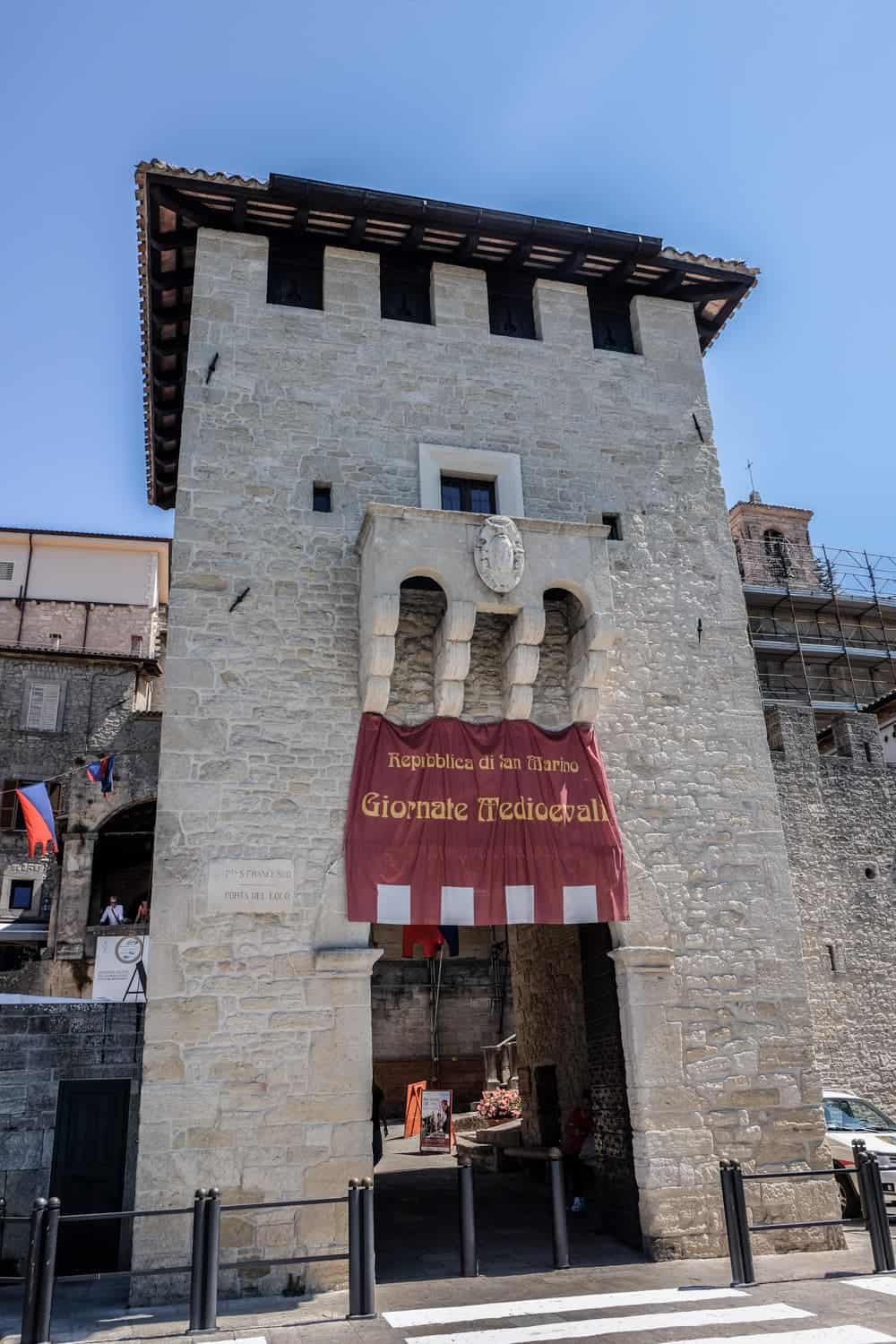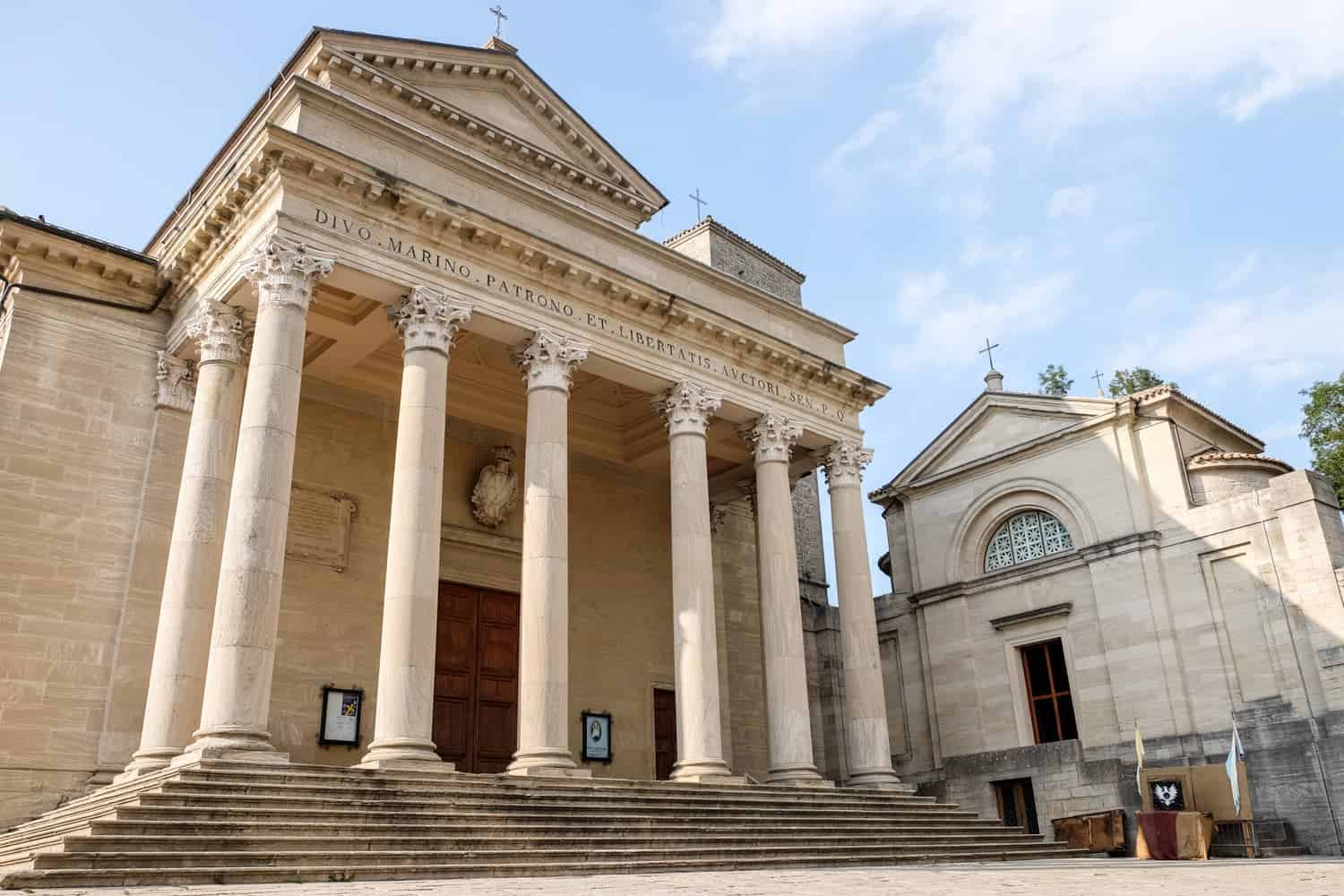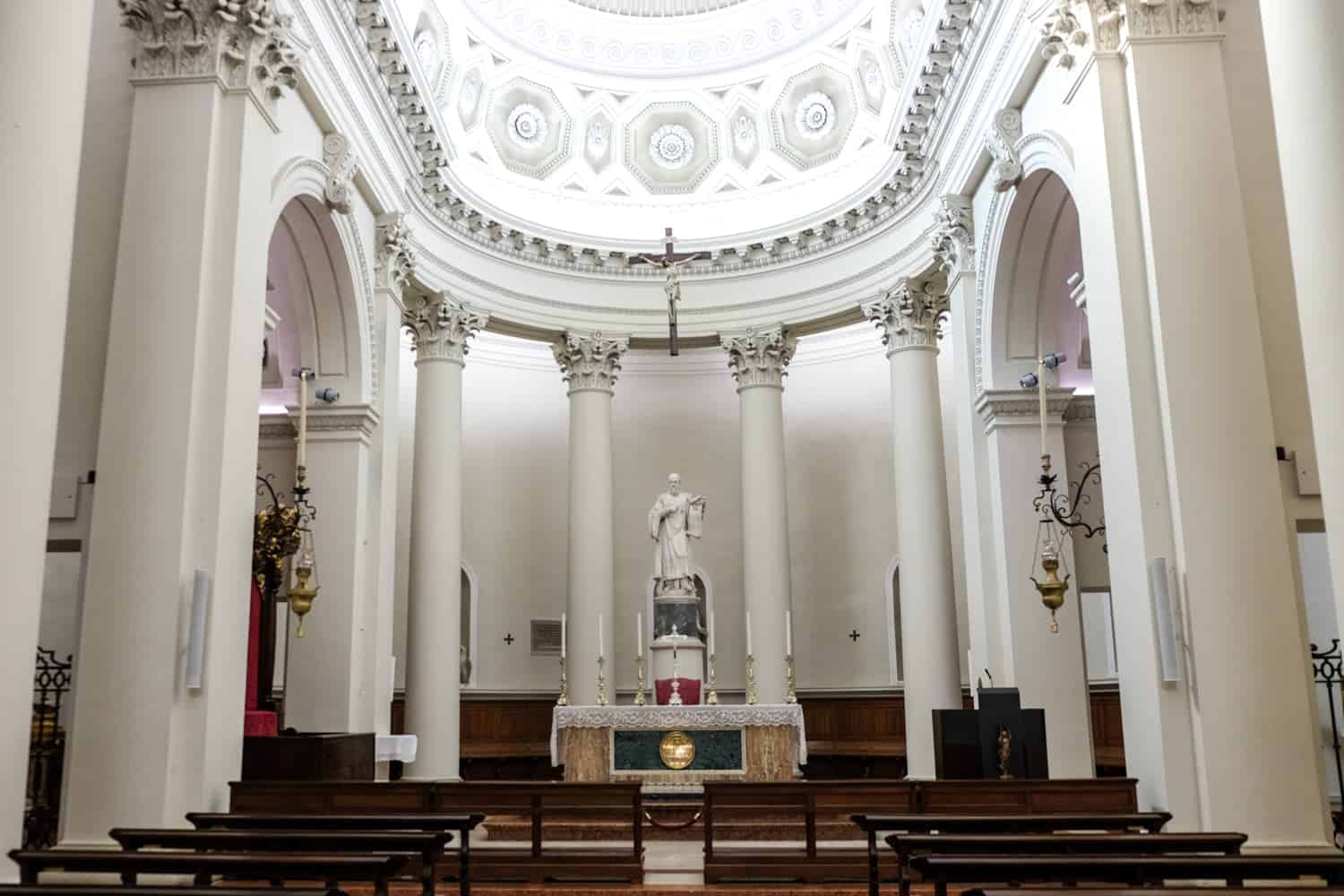 Hiking Mount Titano
A winding pathway up through the woodland-blanketed limestone mound of Mount Titano means being to walk in the very footsteps of Saint Marino himself.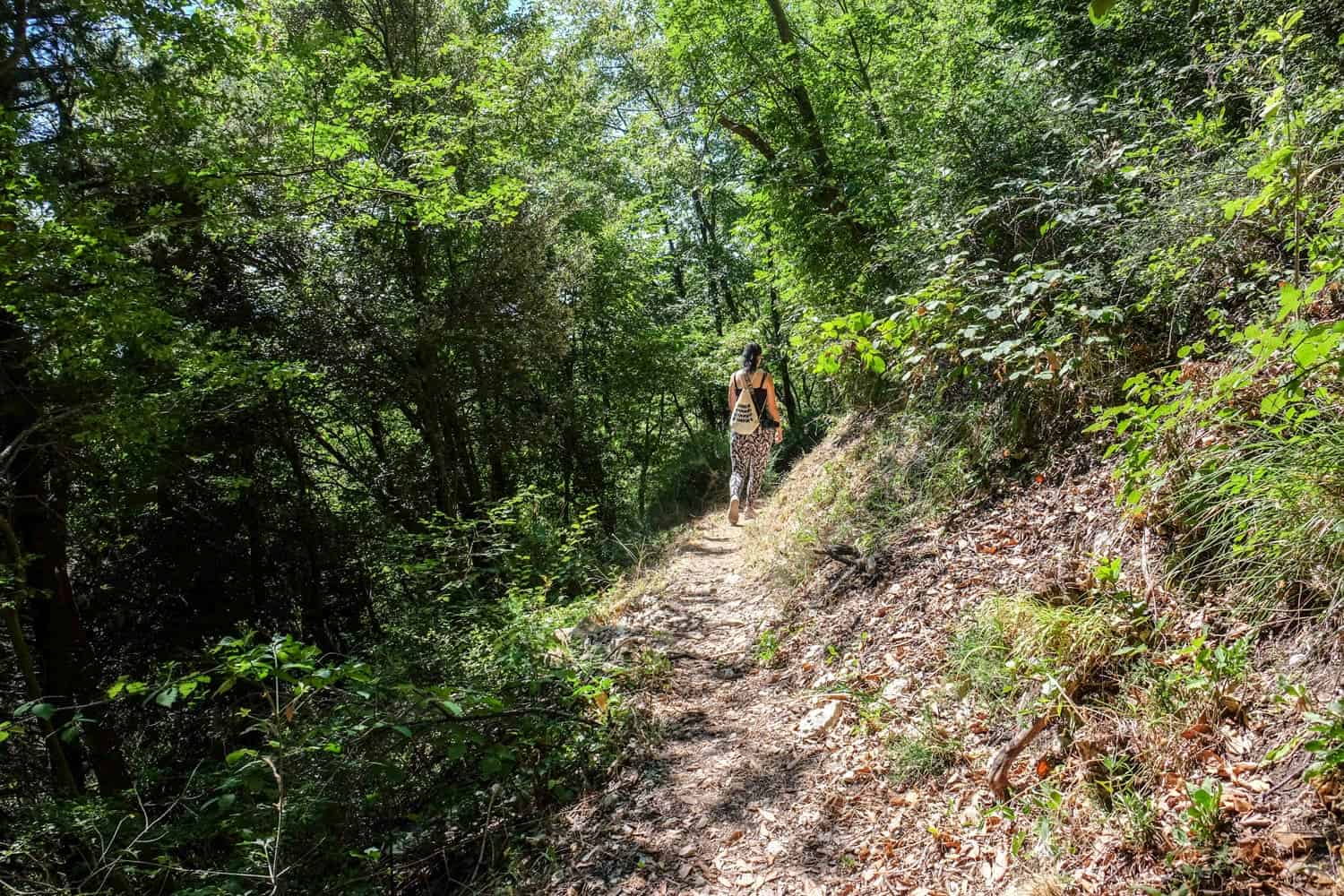 Explore San Marino's Railway Tunnels
San Marino never succumbed to hefty urban modernisation. The 32km tracks and 17 tunnels of the Borgo and Montale Railway Tunnels (paid by the Italian fascist government between 1928 and 1932) are markers of modern development yet are also a testament to San Marino's history of liberty.
During WWII tunnels gave refugee to 100,000 Italians and Jews seeking refuge, although the territory, including the railway, suffered damaged at the hands of English bombing in 1944. Planned restoration and the re-opening of the route over the next few years is a work in progress.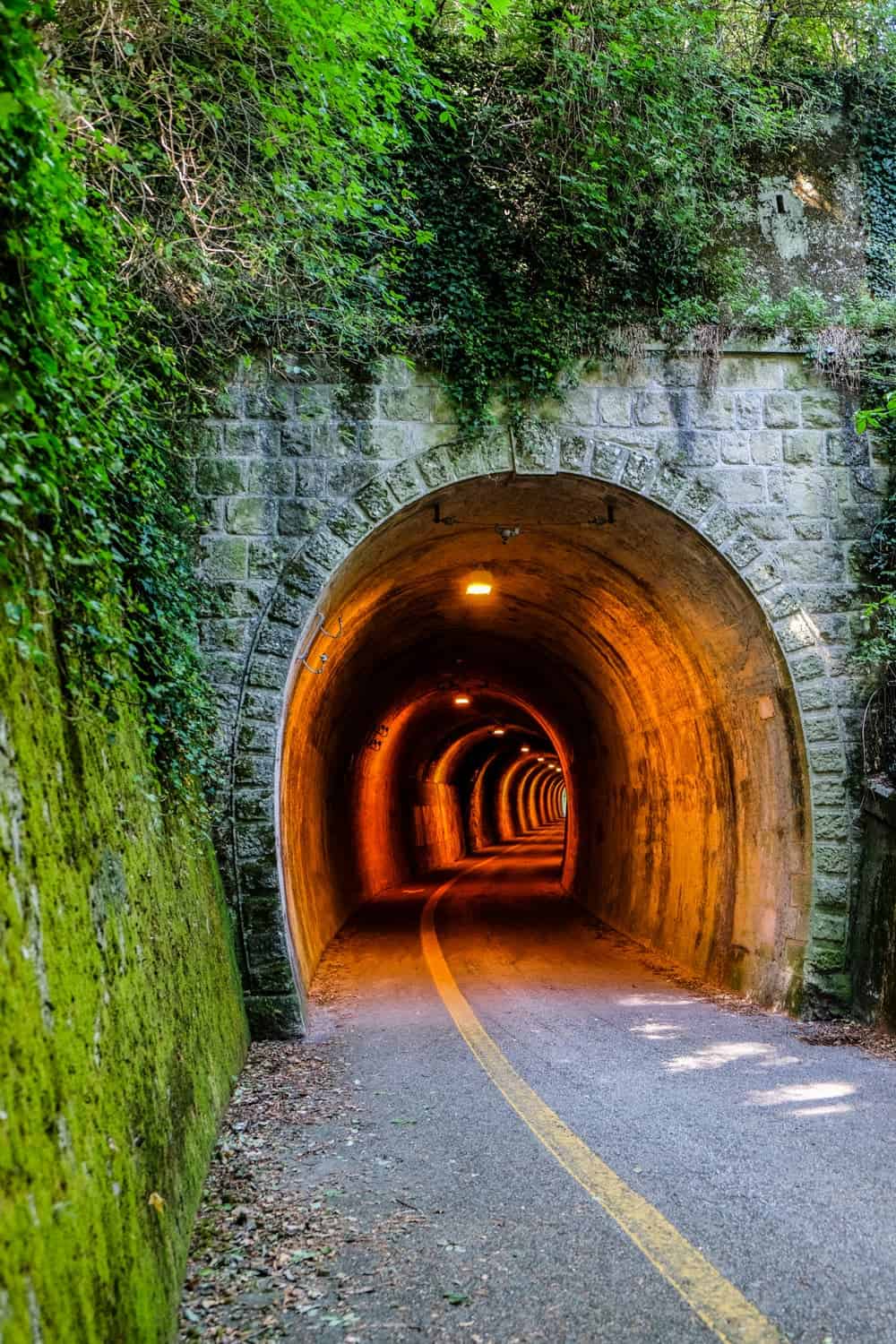 To this day, any restoration of the microstate is with consideration to its antiquity. The territory of San Marino is rebuilt and repaved using the sandstone from the Mount – regenerated from the very foundations from upon which it sits.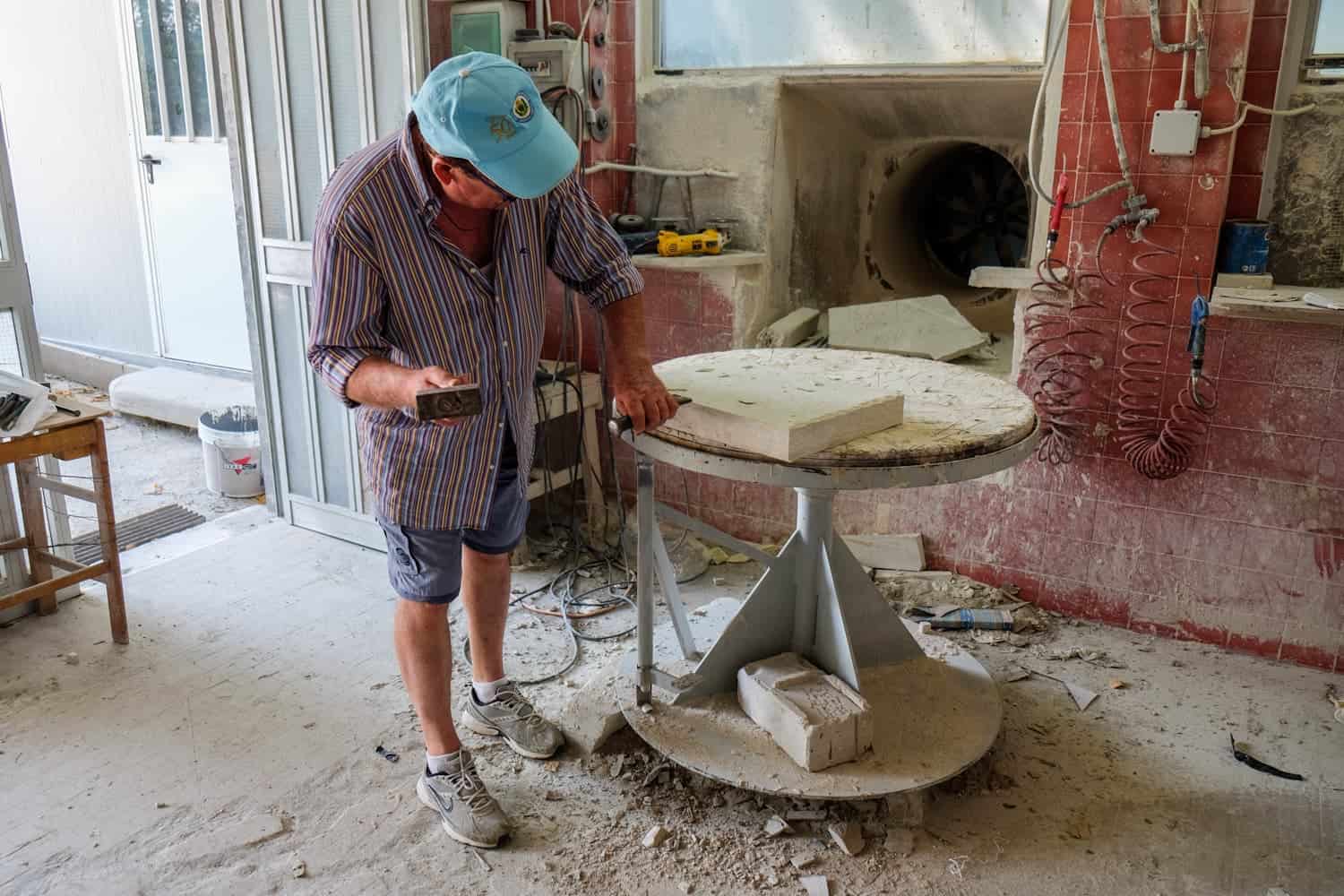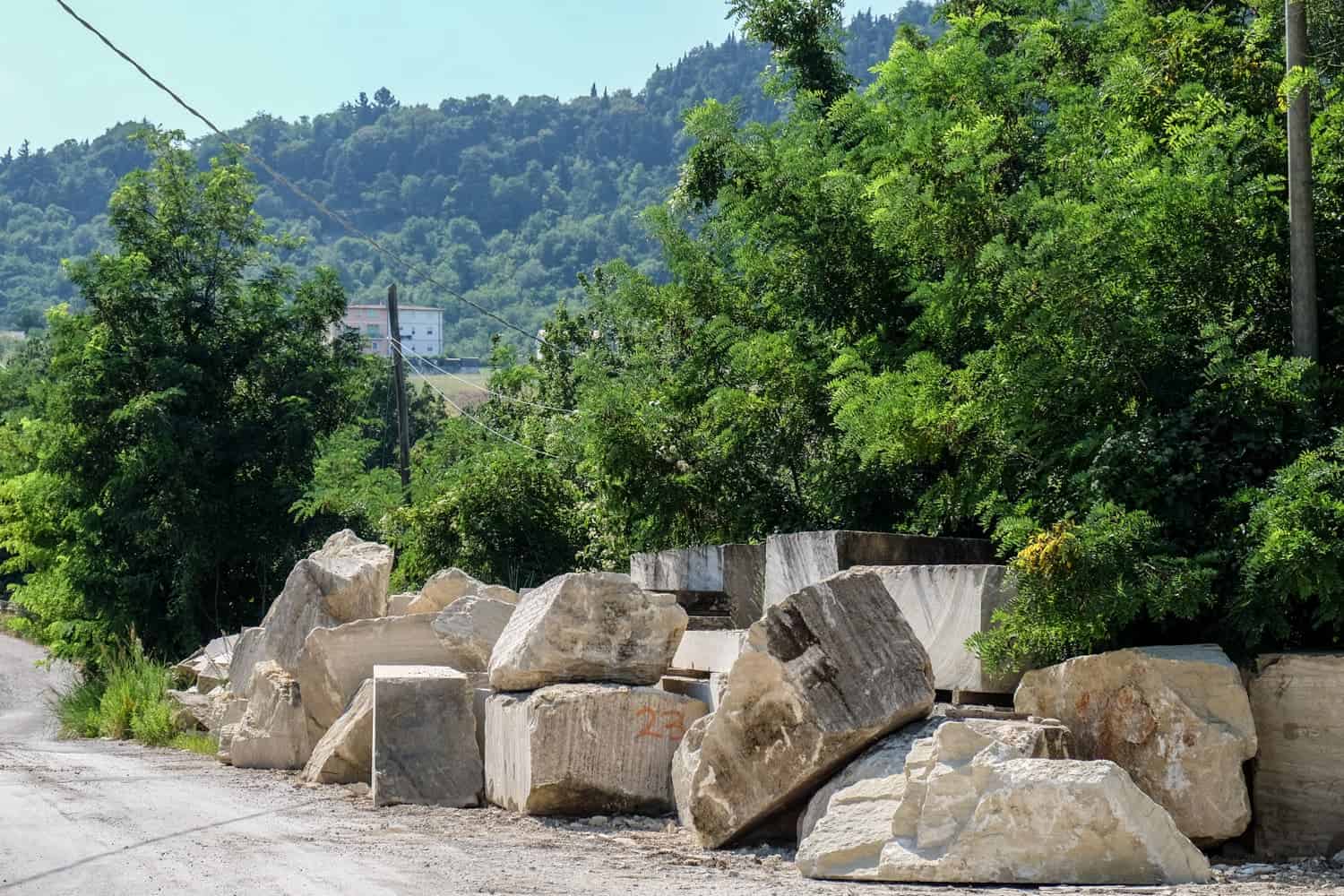 How is San Marino Run? Society and Function
Much like its long-established societal systems and sovereignty that has remained untouched over the centuries. How San Marino is governed is just as intriguing as its aesthetics. San Marino has an exclusive system of two heads of state (Captains Regent) that remain in office for only six months at a time with equal power and a parliament formed of 60 members (of which two are the Captains Regent). The Neo-Gothic style Public Palace is the symbol of this and the governmental centre of San Marino, and an open house for visitors to come and learn more about the country's distinctive ideals of freedom.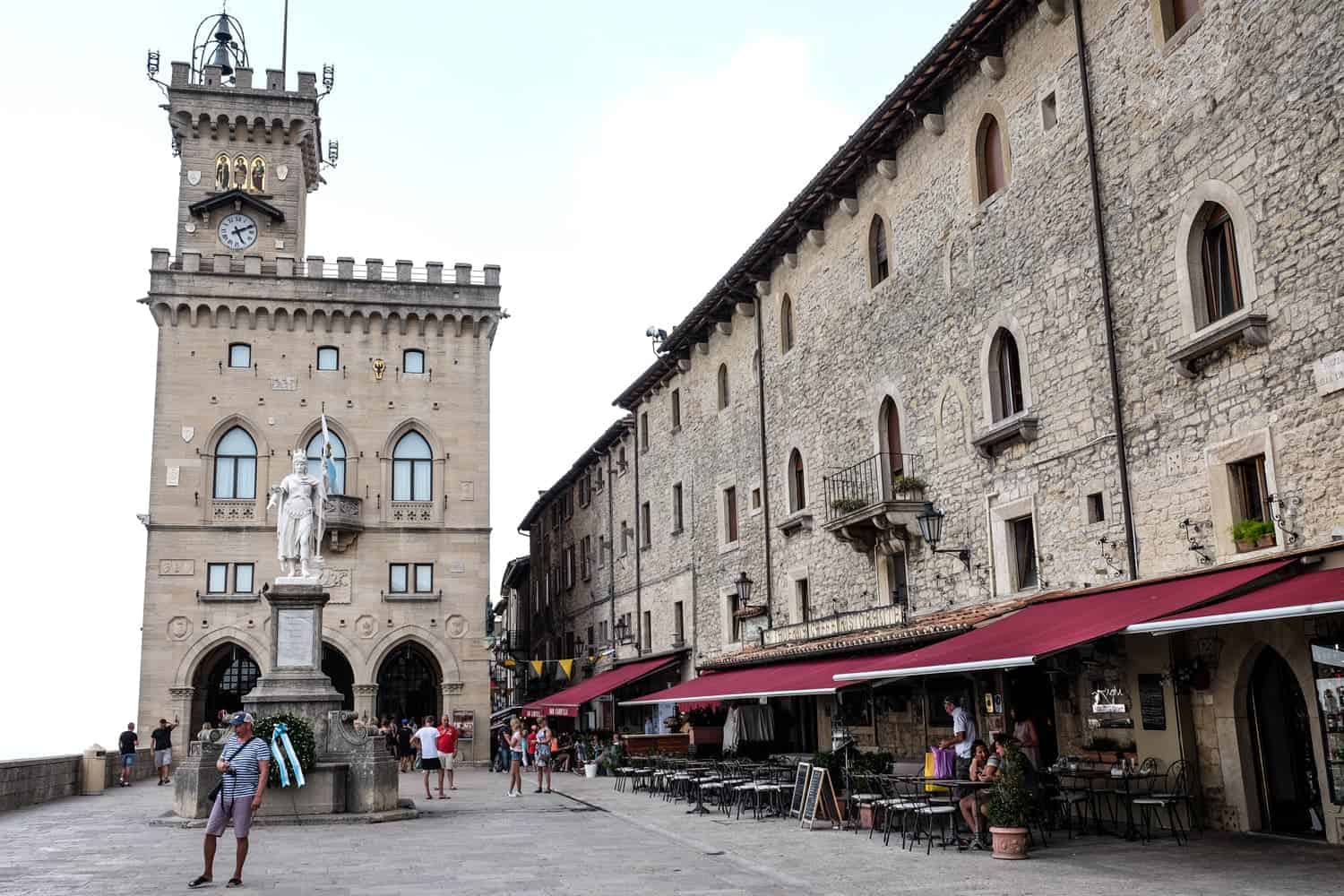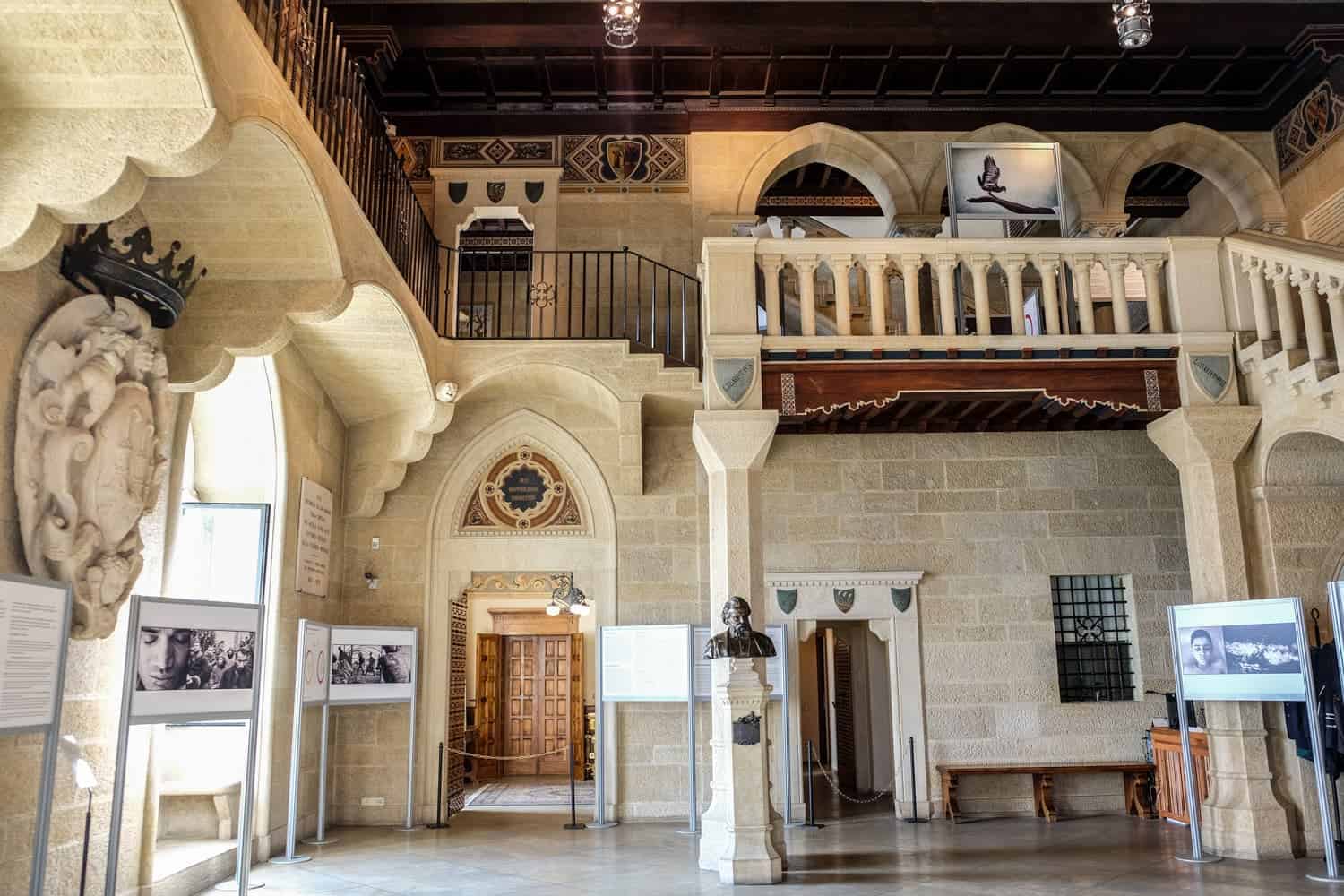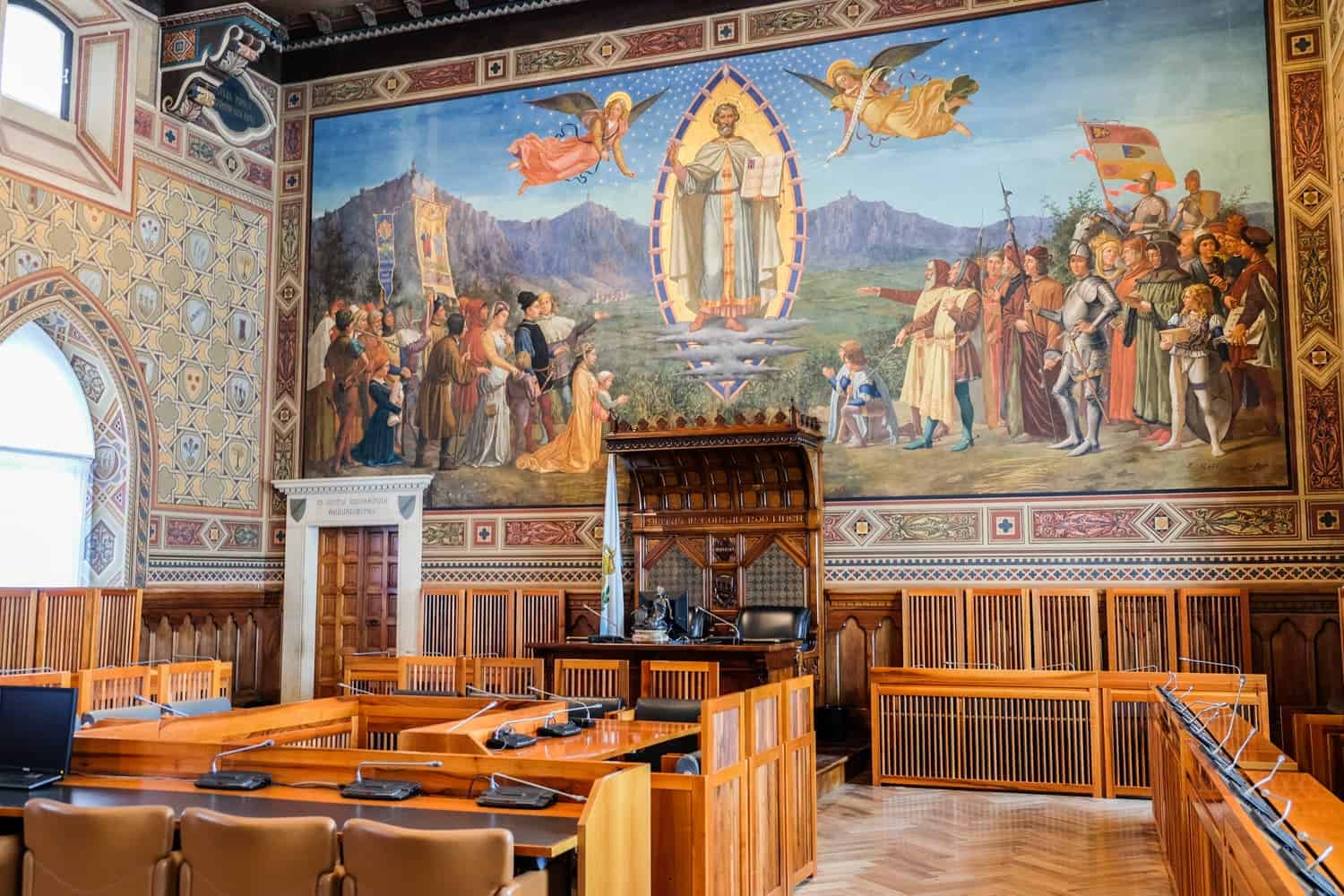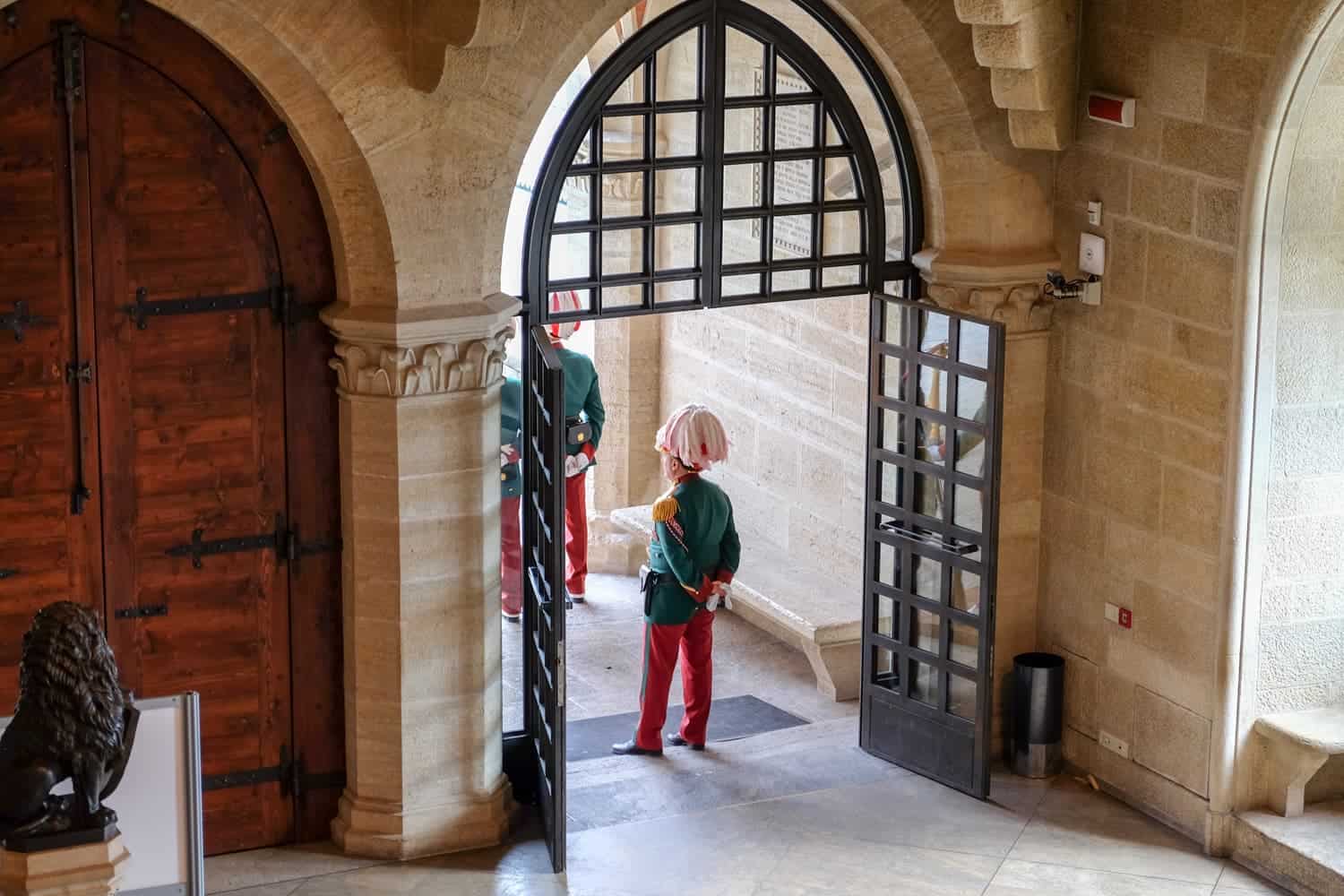 What to Eat in San Marino – Culinary Traditions
Outside of San Marino's sociological formation, agriculturally rich landscapes are helping to rediscover farm-to-table culinary and winemaking traditions. The Consorzio di San Marino was established in 2003 to preserve the tastes of the territory and continue the production of locally made products and forms a core part of its tourism offering.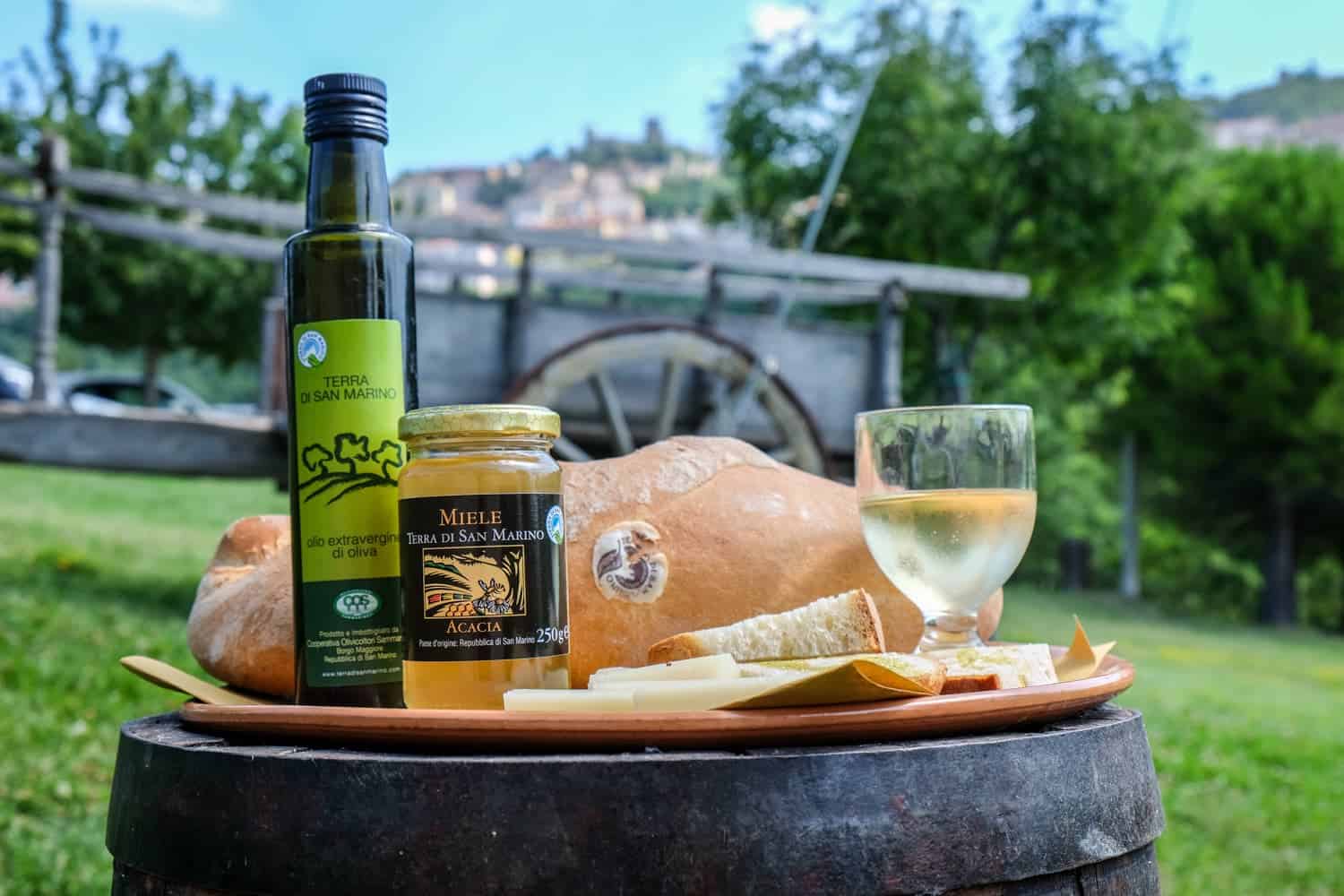 This includes an extra virgin olive oil with a naturally subtle spicy kick, cheeses including Casatella, Caciotta and Nuvoletta from the dairy offering of 30 cattle breeders; honey from the country's 80 beekeepers and their thousand beehives; and a wide selection of affordable and fine wines from the 170 winemakers, with the distinct grape varieties of Sangiovese, Biancale, Moscato, Ribolla and Canino. The naturally sparkling rose wine called Briza is my top choice.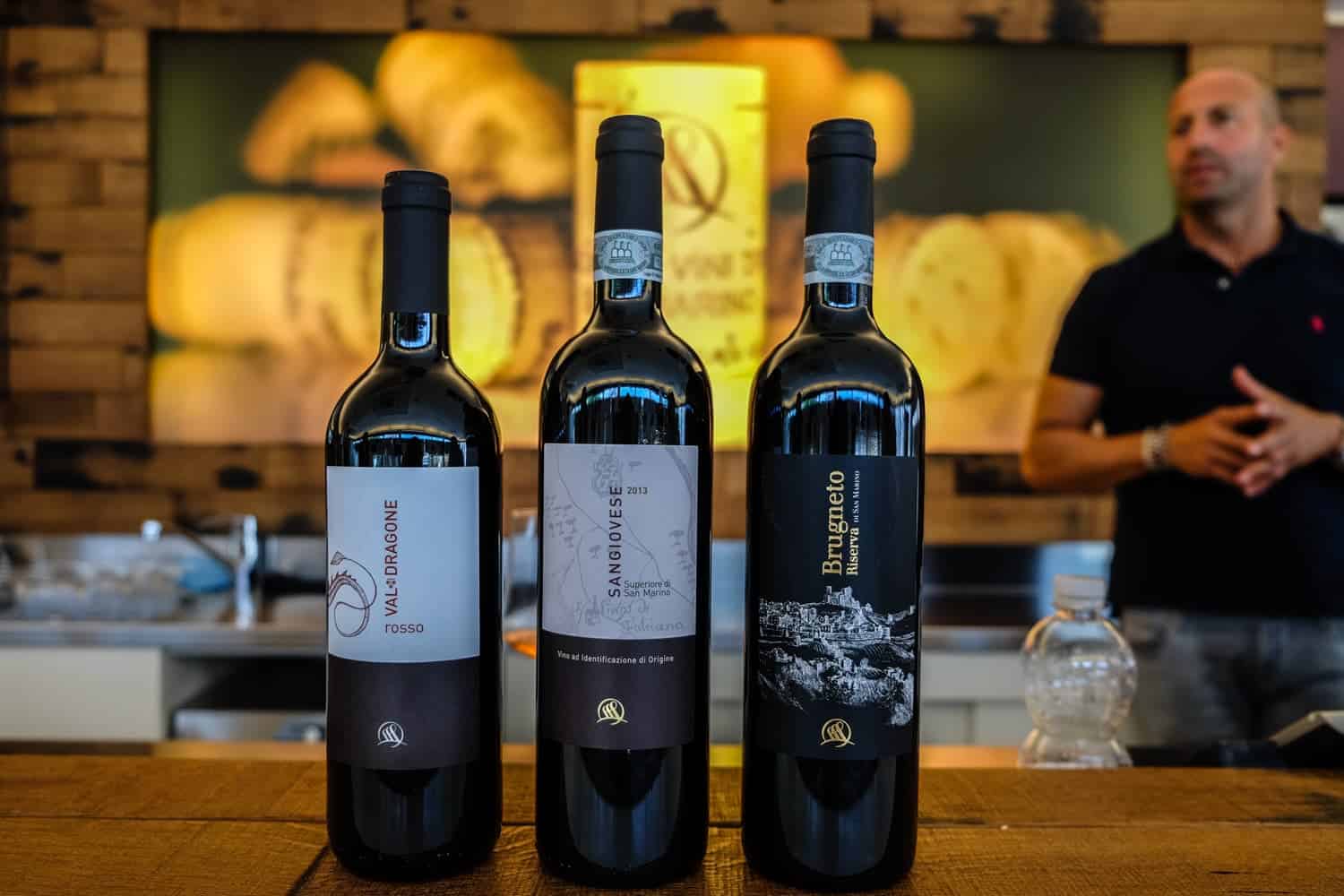 San Marino has a long history of resilience and preservation, a deeply rooted culture and a political system unparalleled. In the words of Abraham Lincoln: "Although your dominion is small, your State is one of the most honoured in all history".
It is a destination whose legacy will continue as it becomes more known on the world stage, as it strives to bring people to connect with its distinct customs and ways of operation far more interesting than just a quick day trip to a new country and a novelty passport stamp.
Travel to San Marino – Things to Know:
Getting to San Marino
Travelling to San Marino is easy and best accessed from the seaside town of Rimini, via a short 30-minute bus journey. A final cable car stop (should you not quite fancy the short hilly walk) takes you right up into the heart of the historical centre.
The TuttoSanMarino Card (which you can arrange through your accommodation or tourist office) includes a discounted multi-museum ticket to the First and Second Tower, the Public Palace and State Museum, a 50% discount to private museums (including Waxworks, Museum of Curiosity, Torture Museum and the Exhibition of vampires and Werewolves), discount on cable cars rides, guided tours, restaurants, coffee shops and local stores.
Do I need a visa to visit San Marino?
No. Although San Marino us a separate country surrounded by Italy on all sides, there are no official border controls. Anyone with a valid visa to Italy can enter the enclave of San Marino. However, an official passport stamp can be purchased from the Tourism Office at the cost of 5 Euro and is rather a pretty one for your passport.
Is there anything to see outside of San Marino's Old Town?
The historic centre, while touristic, still provides a great base from which to explore the surrounds. Below is the San Marino territory of Borgo Maggiore – the second largest town and one of the nine overall regions of the country – accessible via the cable car. Wander the quiet streets, indulge in eats and wine tasting, and begin your ascent up the mountain for those wanting to experience the short hiking trail.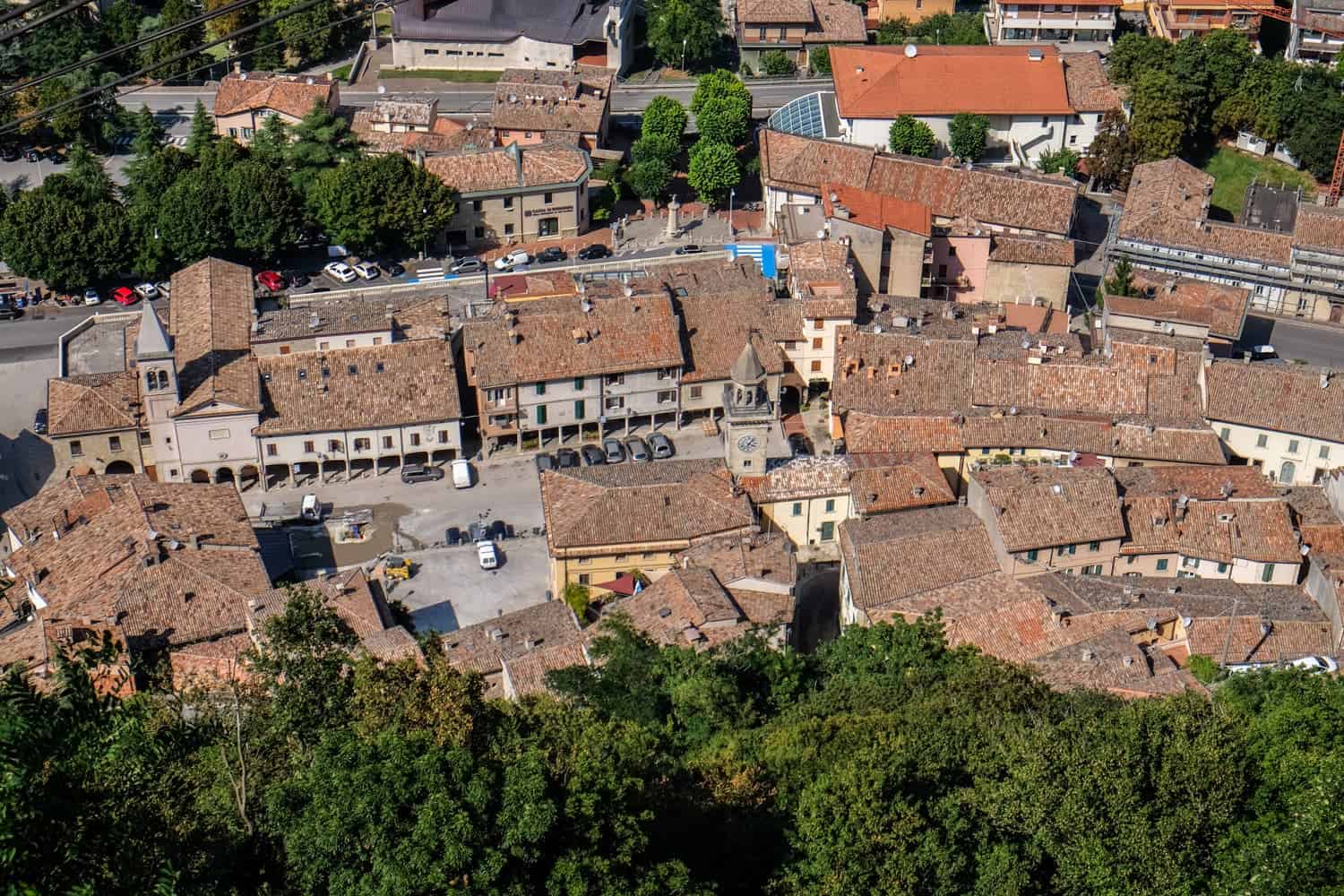 The parallel hilltop town of San Leo makes for a scenic day trip. This quiet town is perfect for a relaxing stroll, and top sites include the cathedral and the elevated fortress with far-reaching views across the Emilia-Romagna region.
Where to Stay in San Marino
As mentioned, I stayed right in the very heart of the Old Town in a restored local house Bed & breakfast called Balsimelli 12. This house, built using the stone of Mount Titano and beautifully renovated with a stylish interior has been passed down through generations of the Balsimelli family. The current owner Fabrizio keeps the family legacy alive, welcoming you in as one of his own. There are two bedrooms, although the bedroom on the top floor has an enviable balcony whose vantage point across San Marino makes you feel even more at the very centre of the action. And did I mention the two adorable puppies?
For Further Information
Check out VisitSanMarino.com who facilitated the Medieval Days and Visit San Marino project. Further insights can be found on social media platforms using these hashtags.
San Marino Travel Guide – Pin It!