Disclaimer: This post contains affiliate links to handpicked partners, including tours, gear and booking sites. If you click through or buy something via one of them, I may receive a small commission. This is at no extra cost to you and allows this site to keep running.
There's more than wine and manicured vineyards when looking for day trips from Cape Town.
In and Around the Mother city, you can adventure with scooters, segway and sidecars and hike in pristine nature parks and understand the country's tragic history of segregation and division by speaking with locals in a responsibly lead tour to a township.
For most, a day trip to a visit to Stellenbosch and South Africa's Western Cape region is high on the list. And while a trip there may not be complete without one possessing a delectable palette for quality wines, there are more ways to enjoy the Winelands and their mountainous surroundings, and well as find a deeper understanding of them historically.
Here's where to find unique experiences just one hour from Cape Town.
The Best Day Trips From Cape Town
Scooter Ride Down Table Mountain
Table Mountain is the go-to vantage point for a viewing point of sweeping Cape Town below. It is, after all, a city with this mountainous hulk in its very centre. And while many accept the challenge of the hike (or hitch a ride in the cable car for ease), others might want to get down via a little more speed and adventure.
We met Christiaan from Scootours at the Lower Information Centre of Table Mountain, ready to drive up with the monster fat tyre scooters for a whirling ride, powered by gravity, down on the Lower Slopes of Table Mountain and the national park.
The 5km off-road gravel path track on Signal Hill provides sweeping inner-city panoramas and a front-row seat for views of that famous Table Mountain ledge.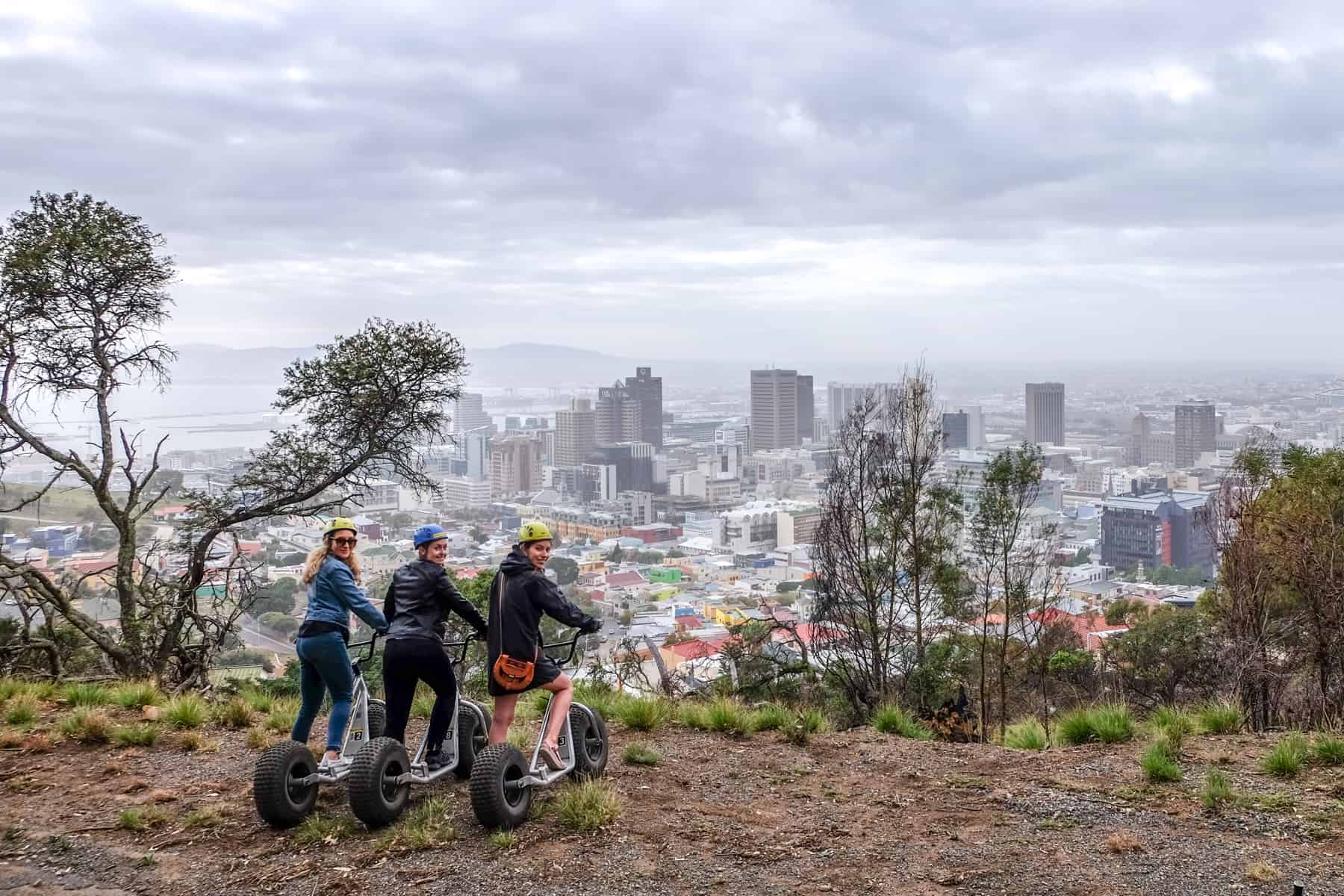 Segway in a Vineyard in the Western Cape
It's easy to wander through vineyards or sit upon a winery terrace, sipping on the elixir they produce and admiring them in their growth. Except in South Africa, some vineyards are like entering a national park – extensive, seemingly endless and often begging the question of where to even begin.
While we leisurely jumped in a jeep safari to explore the never-ending rolls of hills at Jordan's, Spier's flatter grounds were the perfect foundation for adventure. Taking a two-hour Segway tour around the Wine Farm eventually led us to the enormous expense of oil painting vines reaching to the mountains (or so it seemed).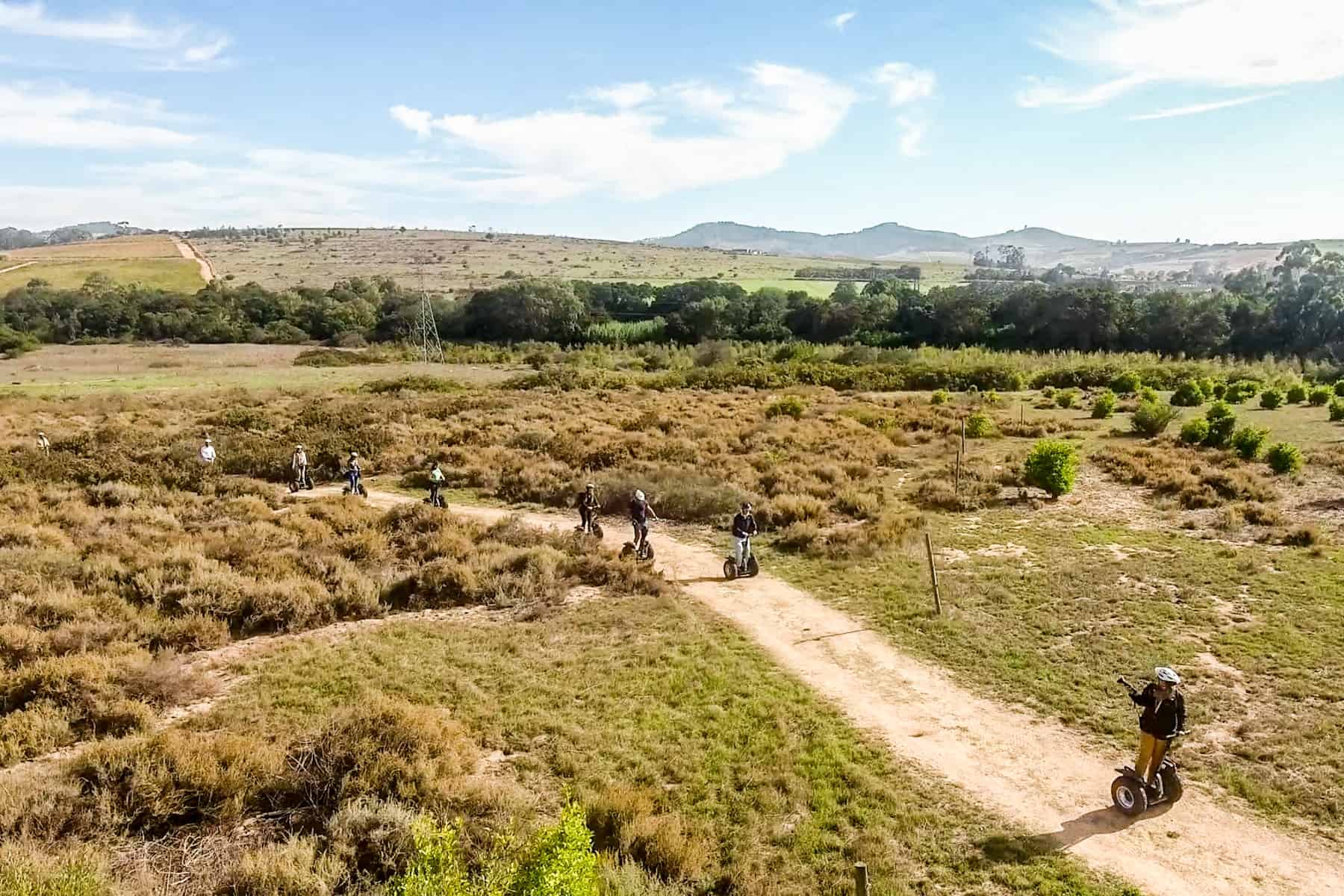 Wine Safari in Historical Stellenbosch
Said to be the most historically preserved town in South Africa, Stellenbosch is where old Dutch-Colonial history infuses with energetic University-town vibes. Spent time in a heritage-filled, vibrant centre of a mountainous nature basin filled with dozens upon dozens of vineyards and wine estates that stretch for miles.
As a pivotal base to explore the Western Cape, there is more to the region than just your standard wine tasting experience, with the unique things to do in Stellenbosch extending to wine-food pairings with a difference, including fudge cupcakes as well as a wine safari.
READ MORE: Things to Do in Stellenbosch, South Africa – A Guide to Wine Cultivation and Culture in the Western Cape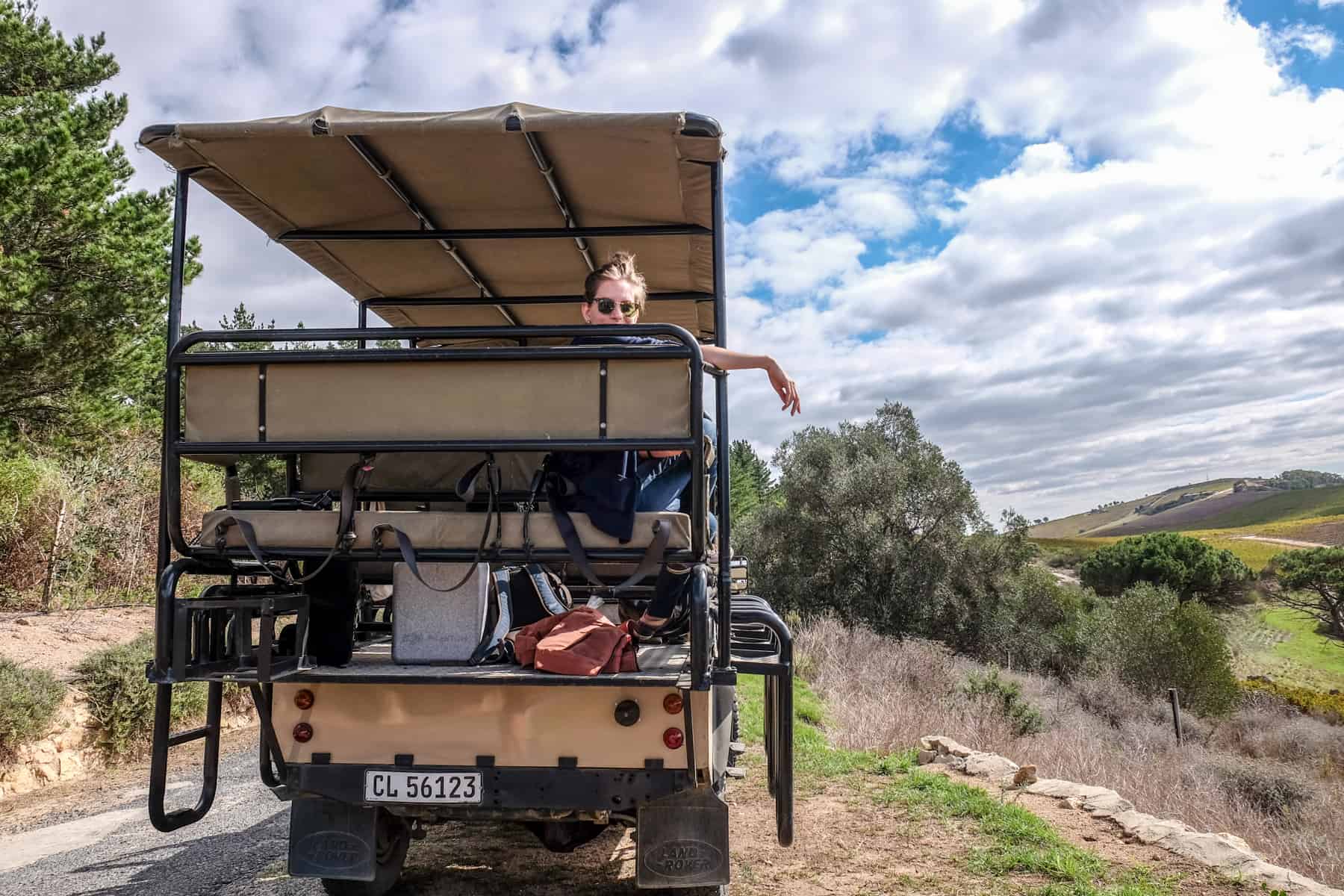 Hike in Jonkershoek Nature Reserve and National Park
Before wining and dining comes the exploration of Cape nature, and the means from which to work up an appetite. A morning hike in Jonkershoek Nature Reserve in the southwestern Cape was a chance to see fynbos filled wilderness of Stellenbosch beyond the wine estates (9km away). We wandered past the Boland Mountains that encased us in this rugged valley of dense woodland of oak trees, rivers and hundreds of plant species.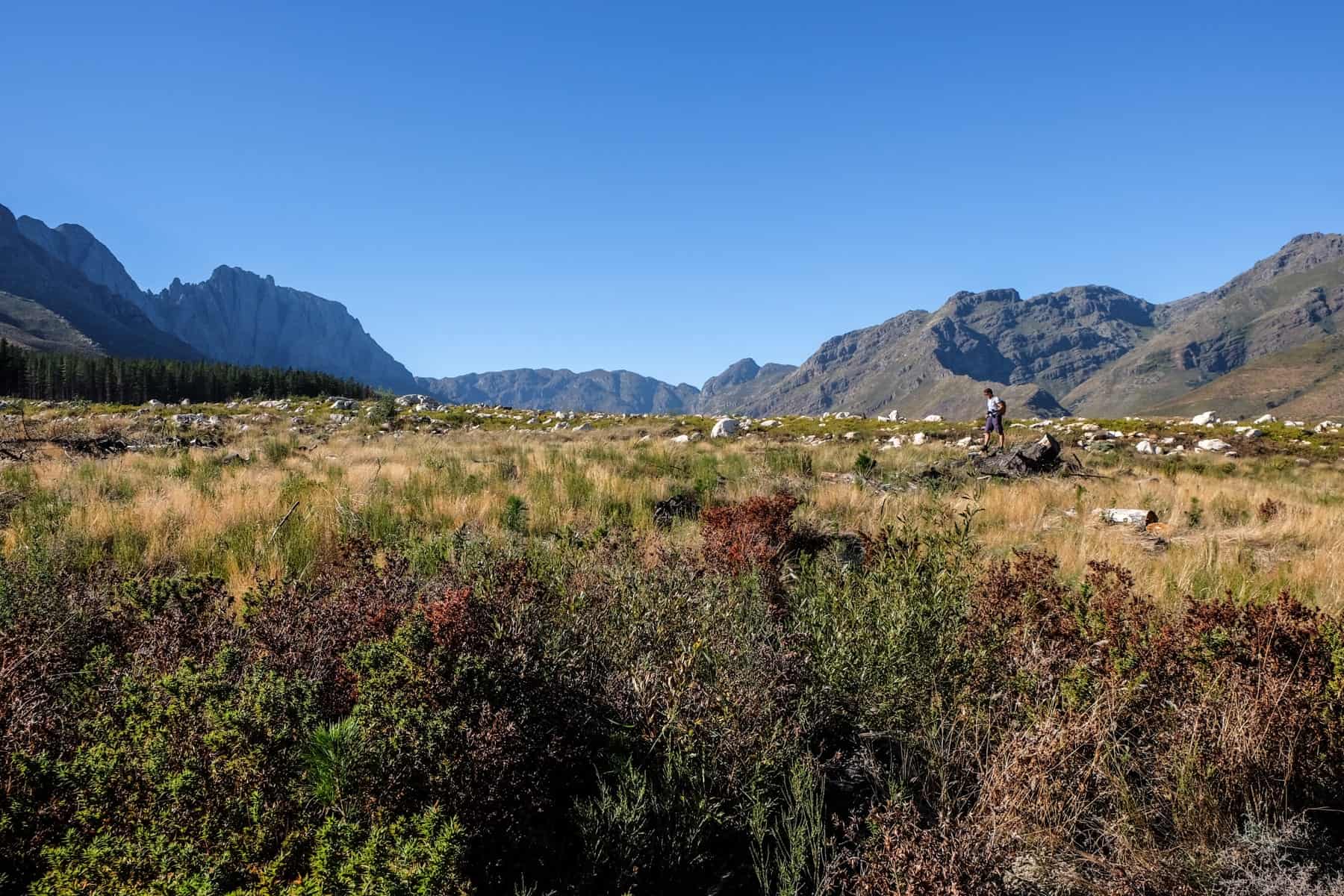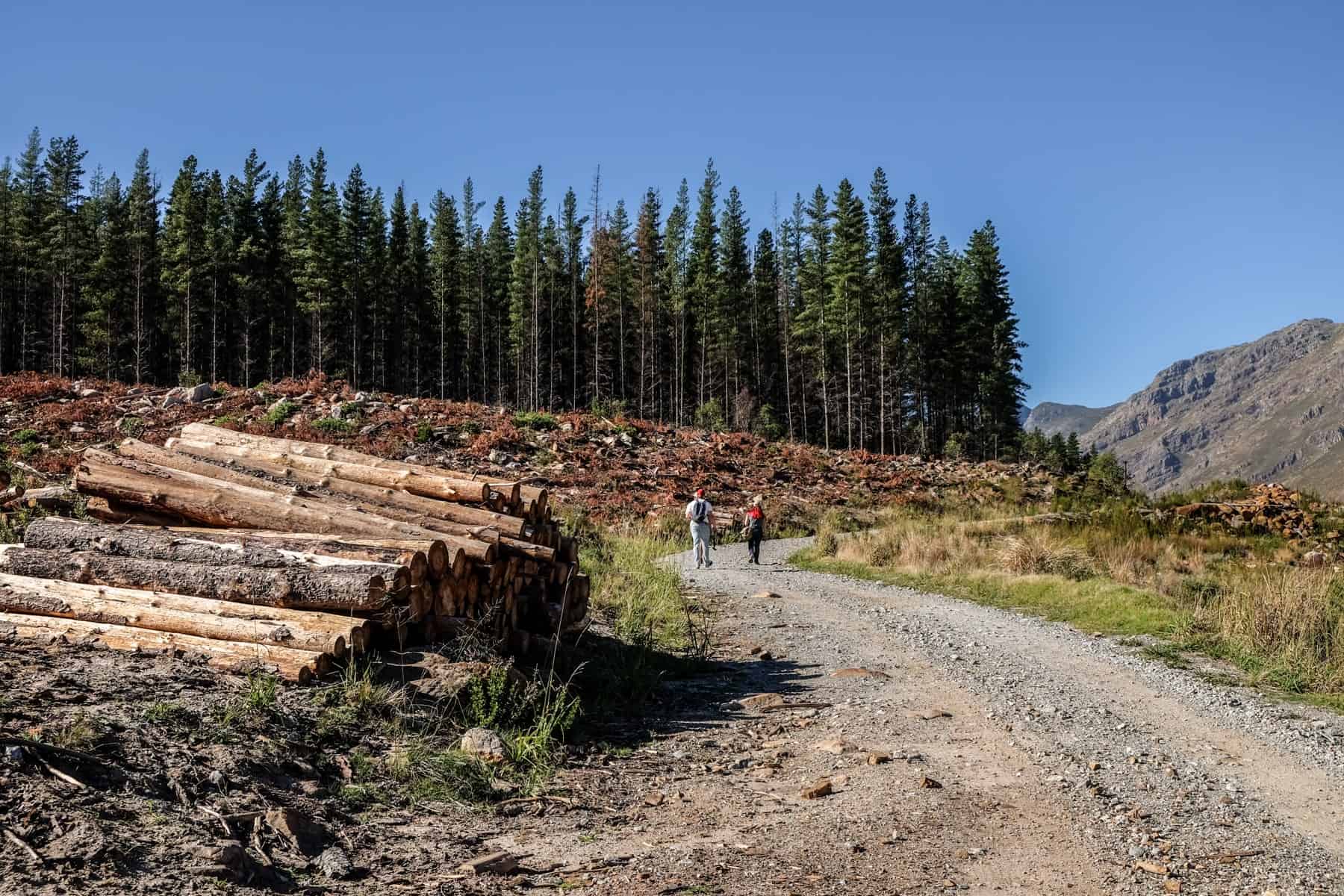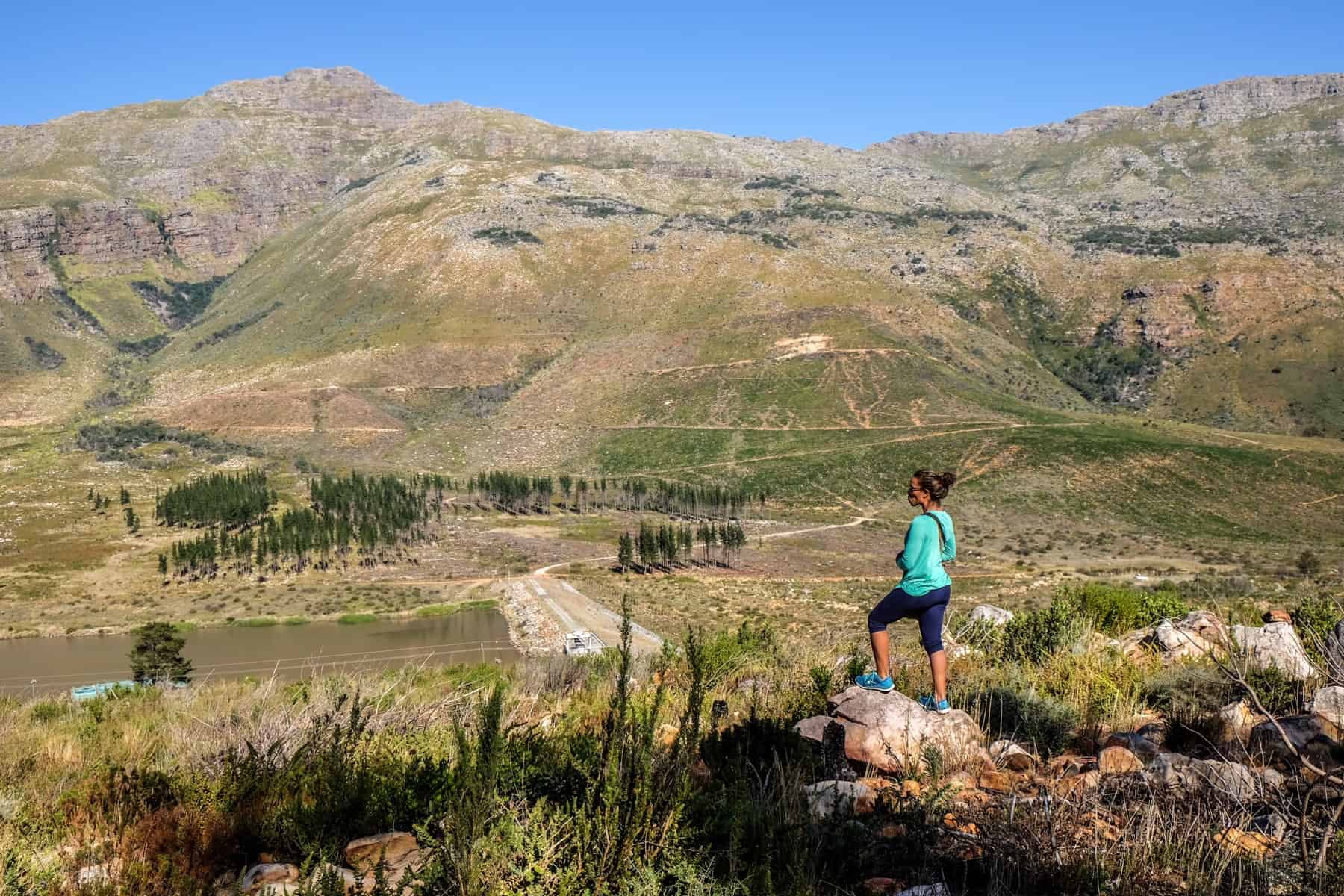 This was a chance to see an untouched and un-groomed side of the Cape region of South Africa, off-track with outdoors experts' Adventure Shop' as our guide. Not only do they take you on guided walks and long hikes, but also run mountain biking tours around the rugged valleys.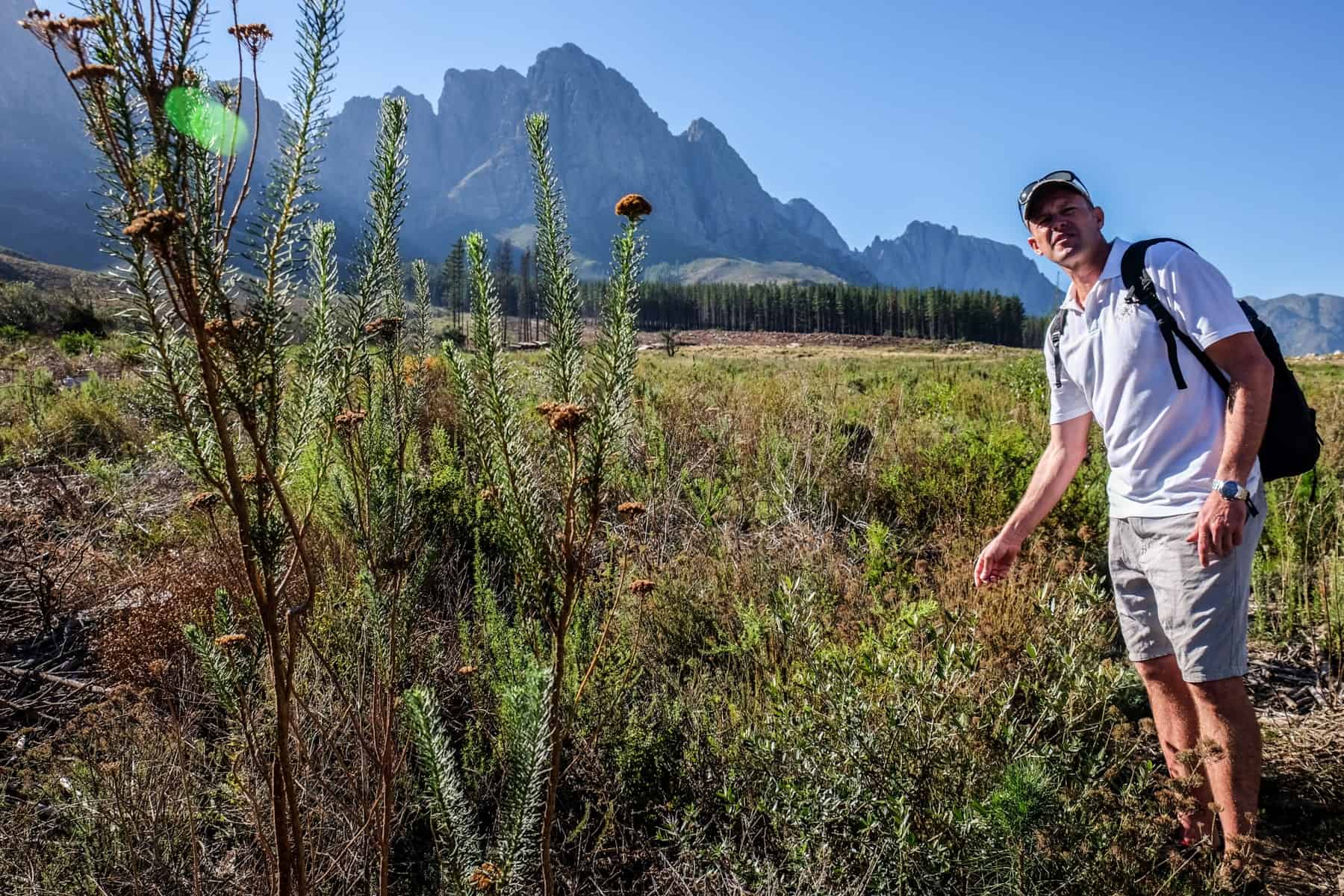 Ride in Style With Cape Town Sidecar Adventures
Whether you are in Cape Town or Stellenbosch or even want to combine both, there's a way to do it in old school biking flair style with Cape Town Sidecar Adventures. Donning a retro leather jacket and neck scarf to match our designated biker (with the added option of goggles if you want to up the ante), we jumped in our sidecar at Tokara estate for a windswept ride to Stellenbosch town, ending up at Stellenbosch Vineyards. We looked vintage throwback, felt VIP and jumped off at the end all pumped up and full of adrenalin. We owned the road in our leather-clad convoy, and we knew it.
Cape Town Sidecar Adventures offer everything from a two-hour tour to half and full-day sightseeing circuits of the Cape Peninsula with multiple stops. If you want a taster of the fun, they even offer simple transfers between the two cities, much like our trip.
Ride with Cape Town Side Cars. The price for a two-hour tour starts from 2,100 Rand (£124/€140). A half-day tour starts from 3,850 Rand (£226/258).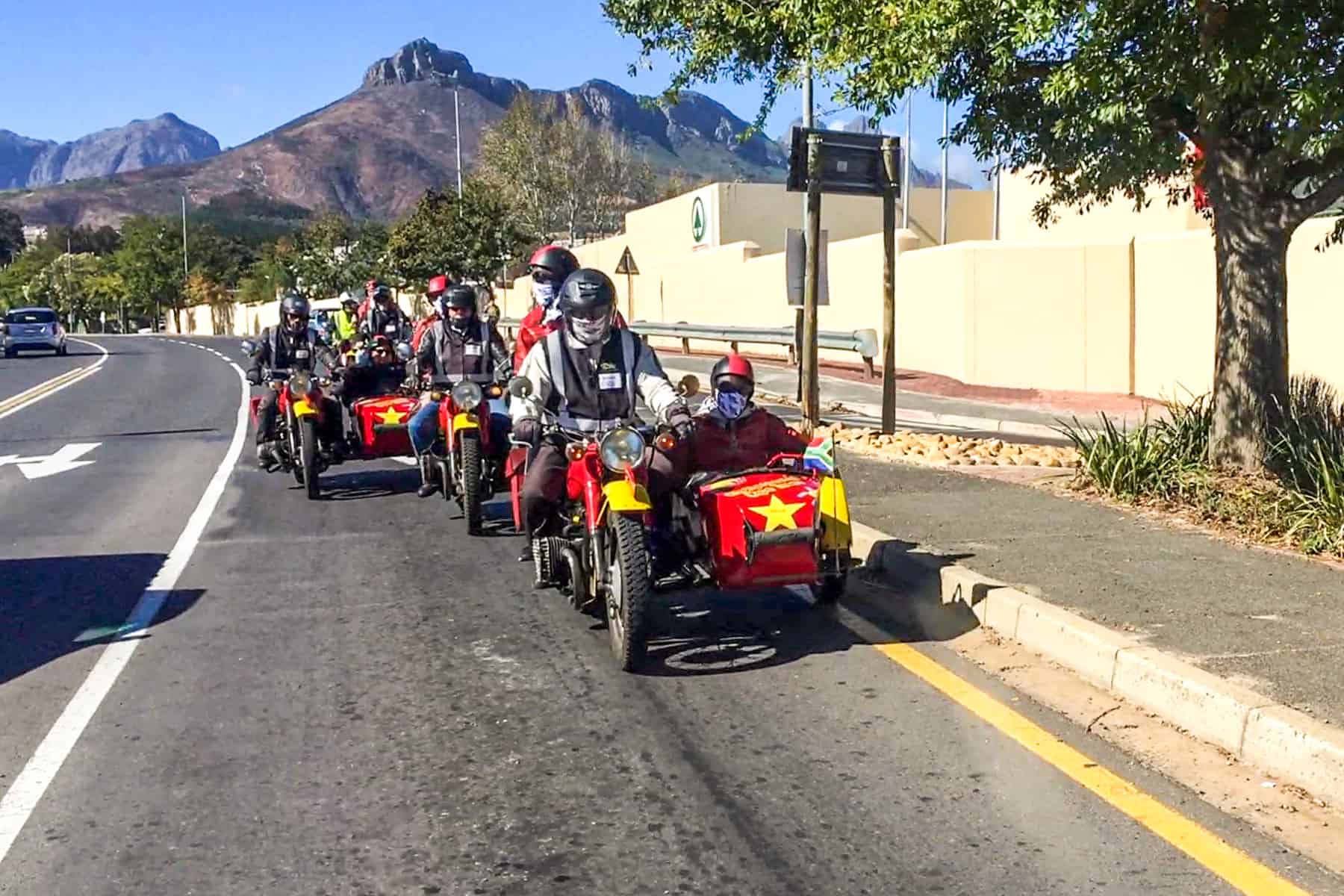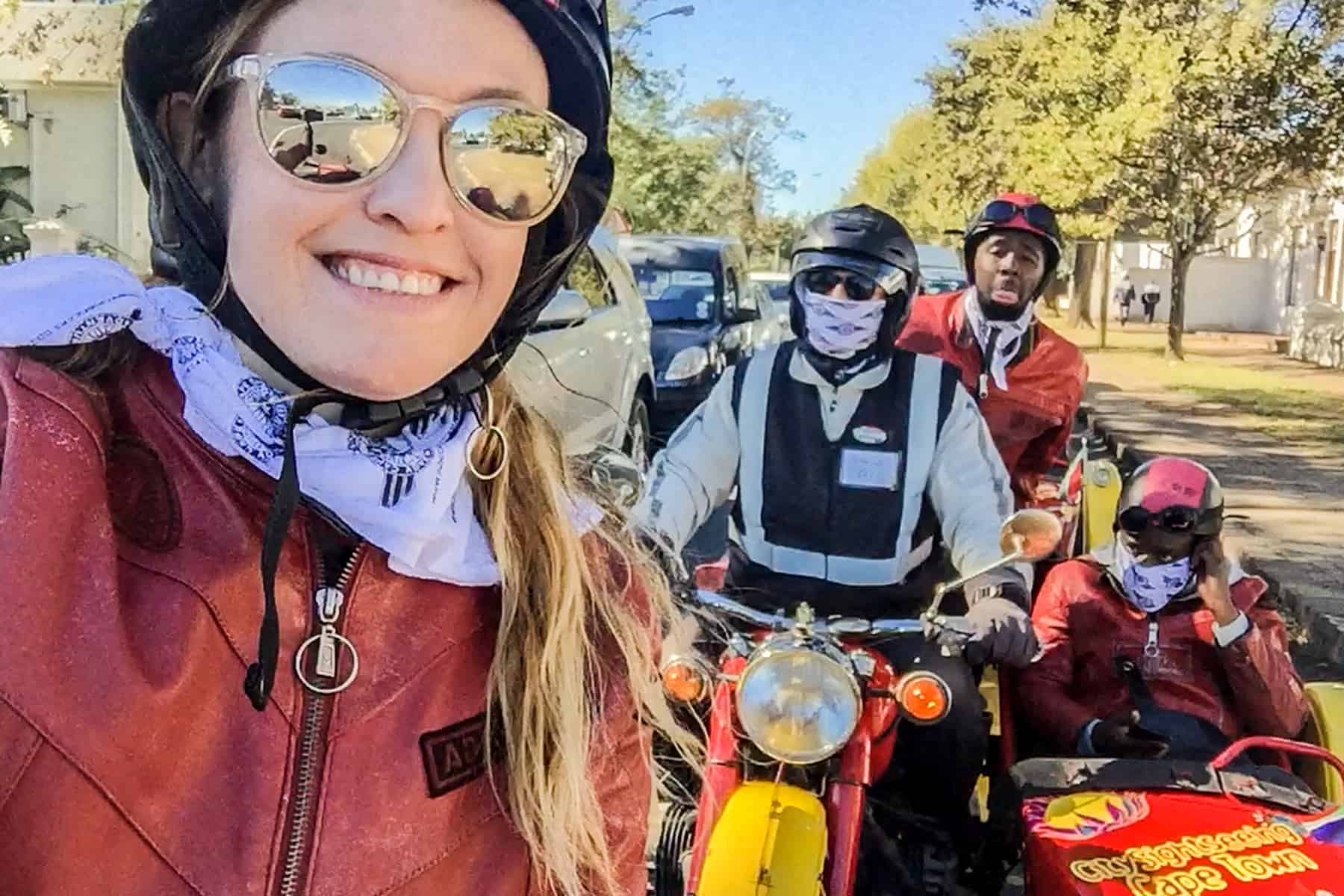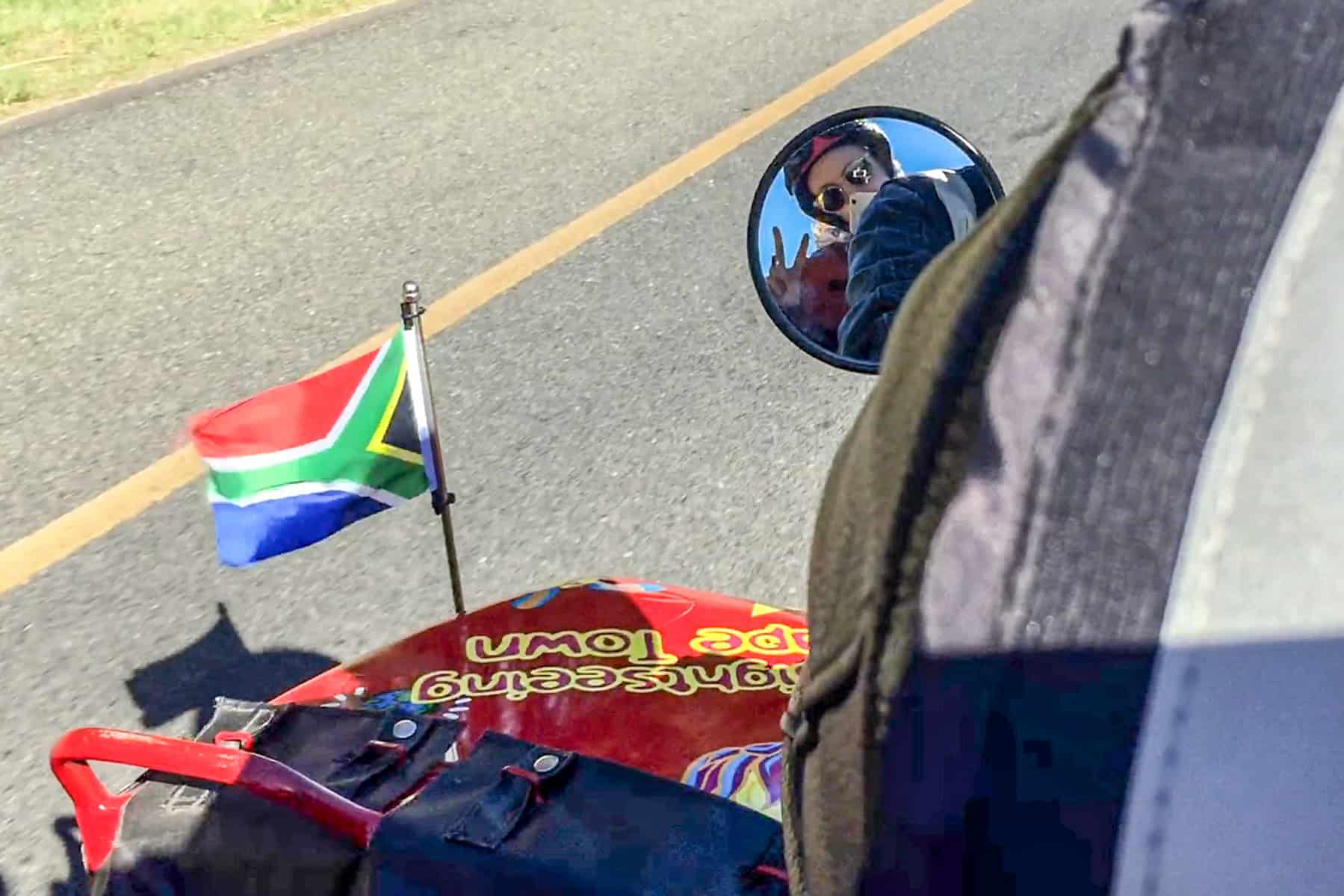 Visit a Township in South Africa, Responsibly
While the desire and intention to visit a township in South Africa raises a moral dilemma, there is an experience based on responsible practice. The township of Kayamandi – a suburb of Stellenbosch in the Western Cape – has built a sustainable tourism model of guided tours for open dialogue and education.
With our guide, Thembi, we learnt all about the history of townships as a result of South Africa's Apartheid regime, and the abject poverty, racially segregated and marginalised communities, like this one, that continues to exist. Meeting locals and visiting their small business enterprises, gives an essential insight into self-preservation, rebuild and the concept of community.
READ MORE: Visiting a Township in South Africa – A Guided Tour of Kayamandi in Stellenbosch
Visit the 'Stellenbosch 360' office in town for further information on how to set up a visit to the Kayamandi Township.
Other Cape Town Day Tours
While these ideas centre on unique ideas for days trips from Cape Town, there's also plenty of highlights that shouldn't be missed, many of which are excursions in Cape Town itself – in its suburbs, wider fringes and coastlines.
Tour the Cape Peninsula
The Cape Peninsula stretches from Table Mountain in Cape Town, towards the southwestern tip of South Africa that curves back into False bay. At the very end of this scenic coastal stretch is the Cape of Good Hope and the Cape Point lookout. It's a scenic drive along this terrain that mixes sandstone mountain plateau, with wilderness national parkland and rocky cliff drops.
Day trips from Cape Town to tour the Cape Peninsula usually include a visit to the penguin colony on boulder beach, alongside scenic coastal stops and heritage points.
Book
Visit Boulders Beach Penguin Colony
Everyone wants to see the cute African Penguins at Boulders Beach on False Bay. This outer suburb of Cape Town is part of the Table Mountain National Park Marine Protected Area that not only protects the beach area but has helped in the conservation of the penguin colony, growing numbers to over 3,000.
The stretch of sandy beach is famed for its giant boulders and penguin inhabitants. The best time to visit is in summer, especially January.
Book
Take the Ferry to Robben Island
You cannot come to South Africa and not learn about Nelson Mandela and his life's work and influence. Robben Island is where Mandela was imprisoned, serving 18 of his 27 years here. It was declared a World Heritage Site in 1999.
A visit to Robben Island, via a ferry from the V&A Waterfront is a vital history lesson, and your guided tour will be by a former political prisoner.
Book
Things to Know About Travel to Cape Town
Getting to Cape Town, South Africa
I flew from Munich to Johannesburg and then onto Cape Town via South African Airways.
*NOTE: You have to have one or two BLANK passport pages in your passport for entry into South Africa. I learnt the hard way, not being allowed on my first flight and embarking on a last-minute emergency round trip from Munich to London to sort a one-day passport processing!
How to get to Stellenbosch from Cape Town
50km from Cape Town, it takes approximately 30 minutes to reach the Western Cape Winelands region from the Mother City. Coastal hangouts are just 15 minutes away, should Stellenbosch be your main base and you want a combination of the big city, pristine beach and nature.
If driving, you can take the N1 from Cape Town via the R304, R44 or R300 and M12, or the N2 via the R44 or R31O. However, coaches and hire cars are available as well as trips and tours. Self-driving is recommended to see more of the region. We used First Car Rental during our time there.
When is the Best Time to Visit the Western Cape
September to April marks the summer period, with temperatures reaching into the 30's.
For further information on what to see and do, eat and drink, and how to get the most out of your time in the Western Cape Winelands, visit the Stellenbosch Travel website, behind the 'Stellenbosch Experience' – the project of which I was a part of and who sponsored my trip in the Western Cape region.
Image Credit: Segway drone footage copyright of www.bothajackson.co.za