Disclaimer: This post contains affiliate links to handpicked partners, including tours, gear and booking sites. If you click through or buy something via one of them, I may receive a small commission. This is at no extra cost to you and allows this site to keep running.
Can you visit South African townships? Kayamandi, near Cape Town and Stellenbosch, offers guided tours, changing perceptions post Apartheid.
A small group of us stand across the road on the outskirts of a Township in South Africa called Kayamandi, just 50 Kilometres outside of Cape Town and close to Stellenbosch. We are waiting to meet our guide, Thembi before going in, not knowing what it would be like to approach a segregated community of people without her as the 'known face'.
While many South African Townships remain off-limits, those like Kayamandi are working to build a sustainable tourism model of guided tours for open dialogue and education.
Ethics of Visiting a Township in South Africa
Visiting a South Africa Township throws up many a moral dilemma. We question our ethical standing, as a group with cameras and film gear; as people here to document a different side of the country. Would people think we are prying and locals feel observed and caged? Would we be safe?
Yet, to try to understand these symbols of the cruel division of South Africa's former Apartheid regime, you have to witness them.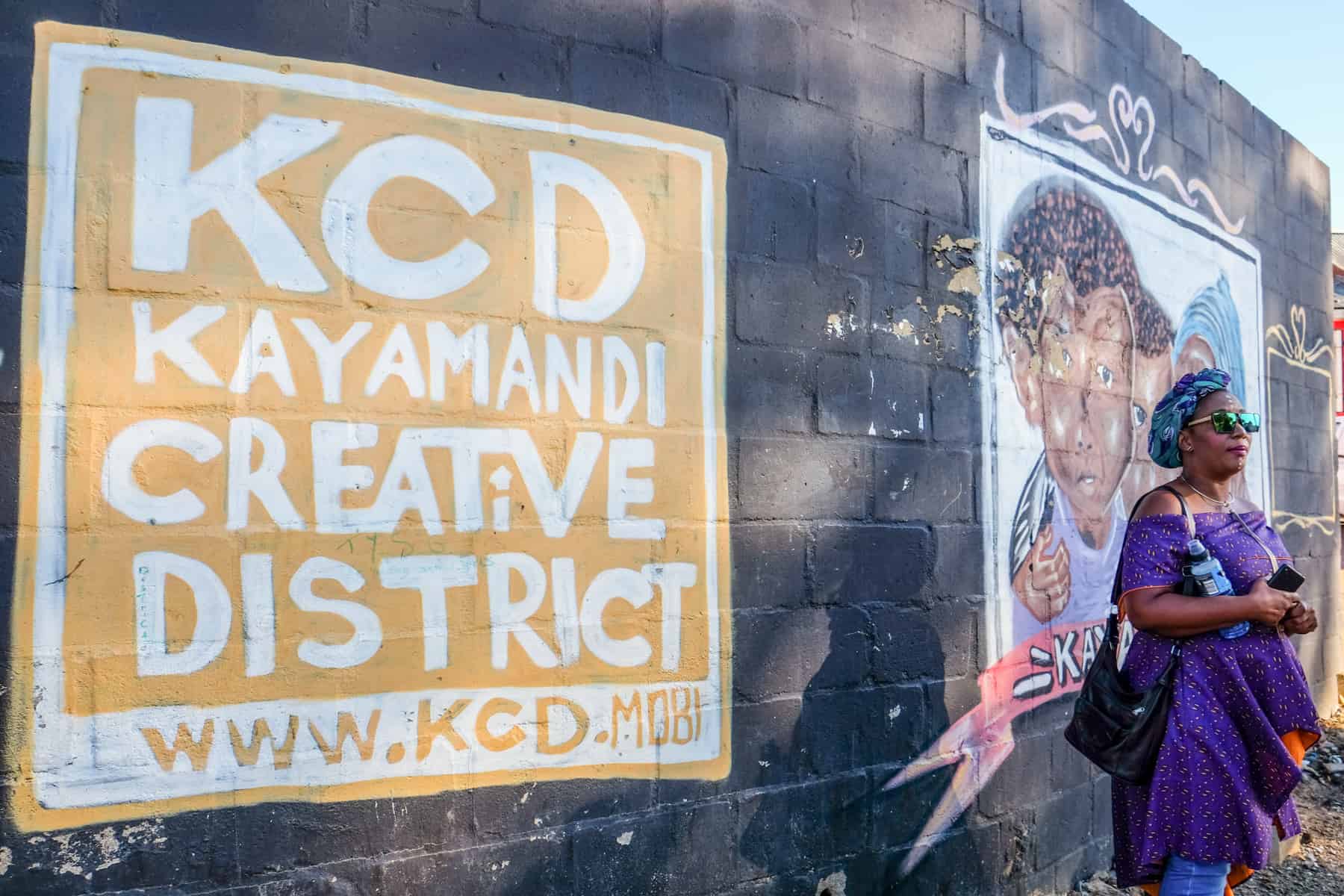 Townships in South Africa still exist in droves – pockets of the abject poverty and societal fractions of race and economy as the country rebuilds, mends and attempts to fuse as one. Kayamandi is no different, marked by shanty huts and sprawl, of dusty unkempt streets and a mixture of wooden shacks, corrugated tin and patchy brickwork.
But you will soon see it's not a scary place. Life in a township needs to be better understood.
Thembi Koli is fierce, beautiful and infectious. She's a known powerhouse of the community, and there is no better person to lead the way through an area whose name Kayamandi means "pleasant home" and which we quickly came to see lives up to its name.
She tells us how the Kayamandi Township came into being when development first began in the 1940s when people from the Eastern Cape came to this area looking for part-time jobs. It was at this point that the government decided to build 118 houses – the start of a community, but one that was racially segregated and marginalised.
Yet it grew in the way that it could.
What lies at the very heart of a township is the sense of survival. Community is what keeps this kind of enclave thriving. It's self-sustaining, and while unemployment still exists, Thembi tells us people have jobs, mostly conducted within the colourful containers we pass with handpainted signs for beauty salons and convenience stores. Or from their homes selling their handicrafts, like Portia Mpangwa who opens her tiny one-room studio for visitors that displays a vast collection of handmade, beaded jewellery.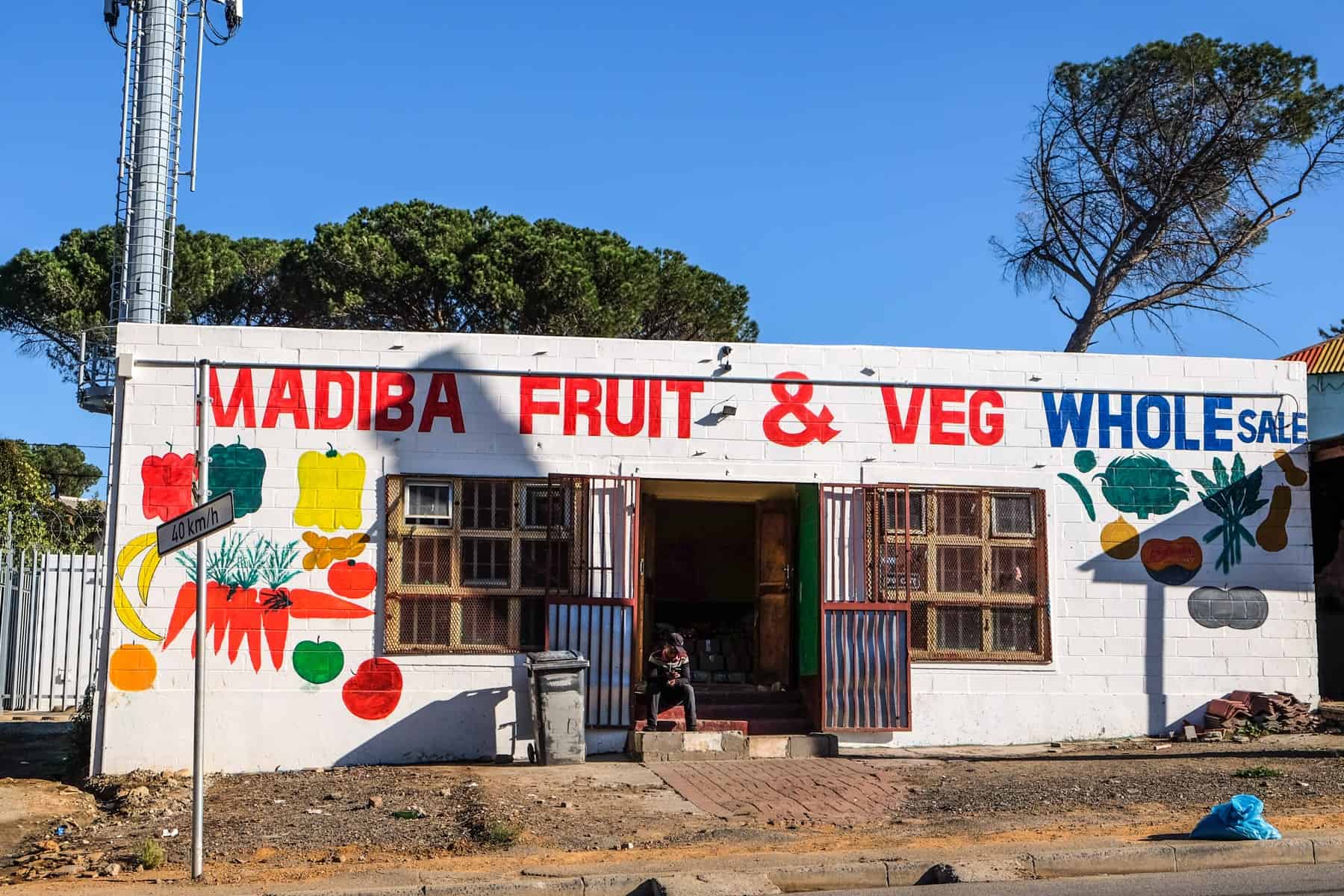 We wander streets lined with the bright colours of laundry that cover the faded ramshackle buildings. We meet Thembi's grandmother, who is relaxing with a friend in her living room before we all pile in and greet each other with smiles and lounge with the two matriarchs for a few minutes. Next was the man behind the social media initiative and 'Kasilam Wear' clothing range, for people to be proud of their home place.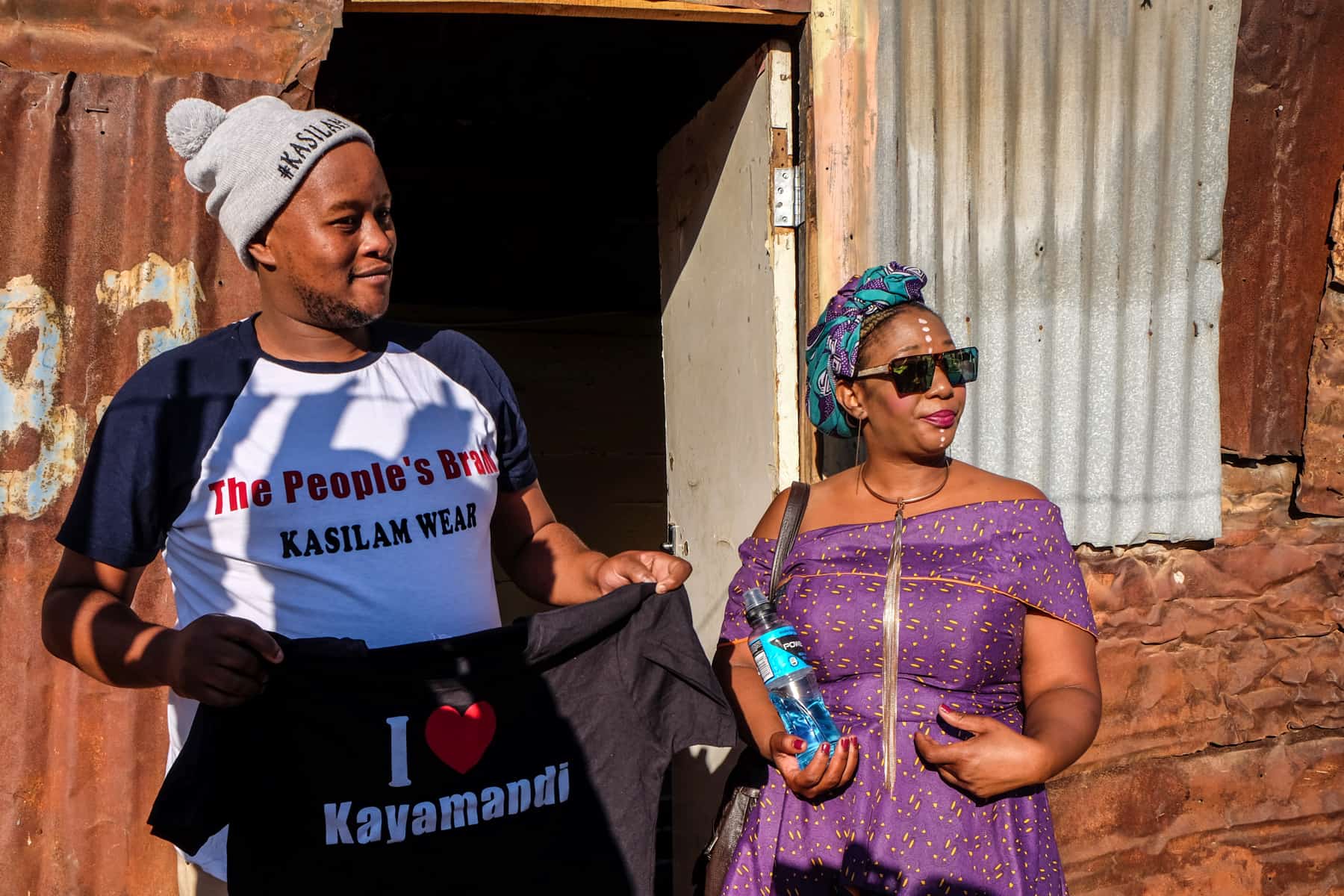 Another neighbour wanted nothing more than to invite us into his home to show off his beloved cat, and children, who welcome visitors. Children are still excited by new arrivals, chasing you down the street for the chance to play, dance and see themselves on camera.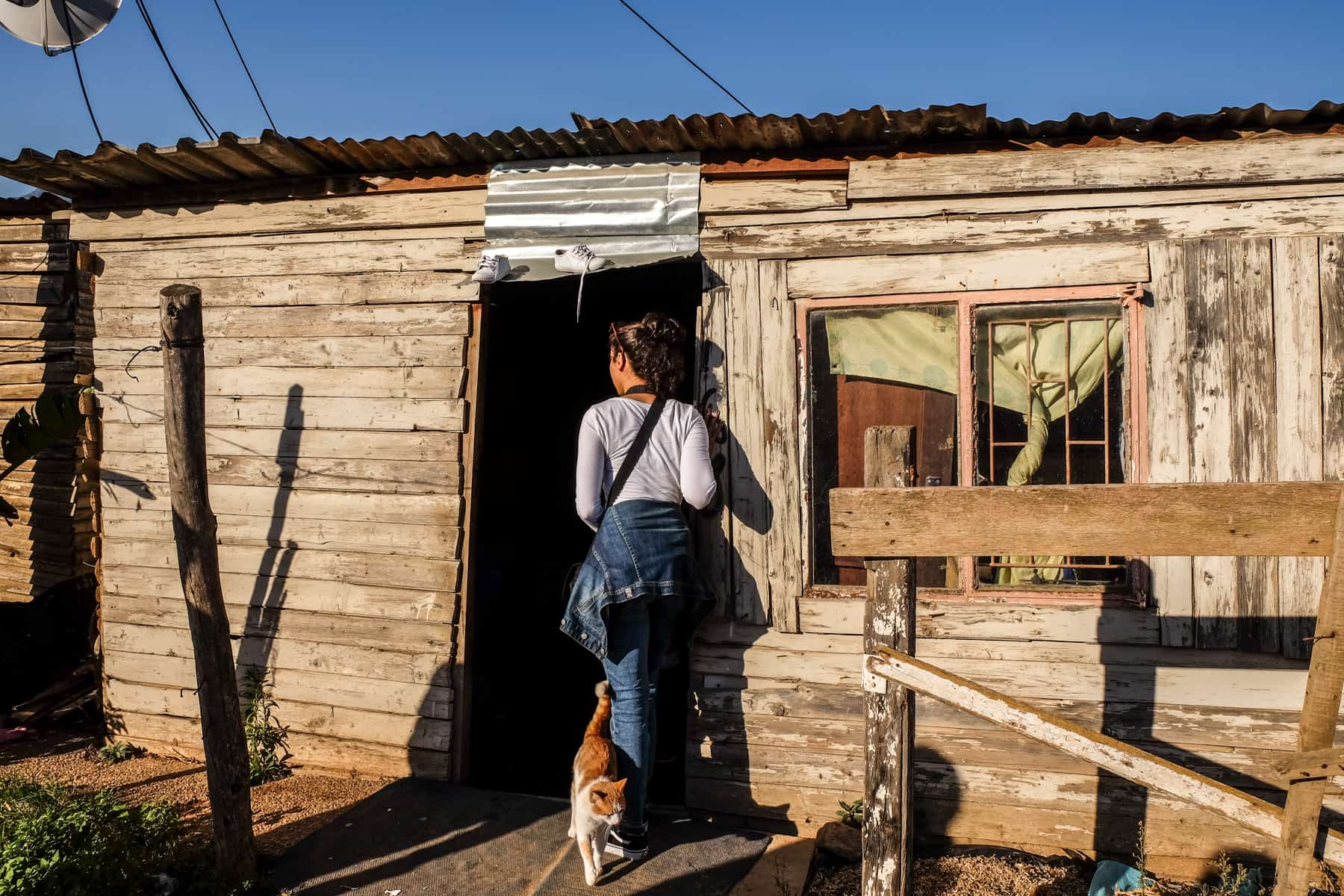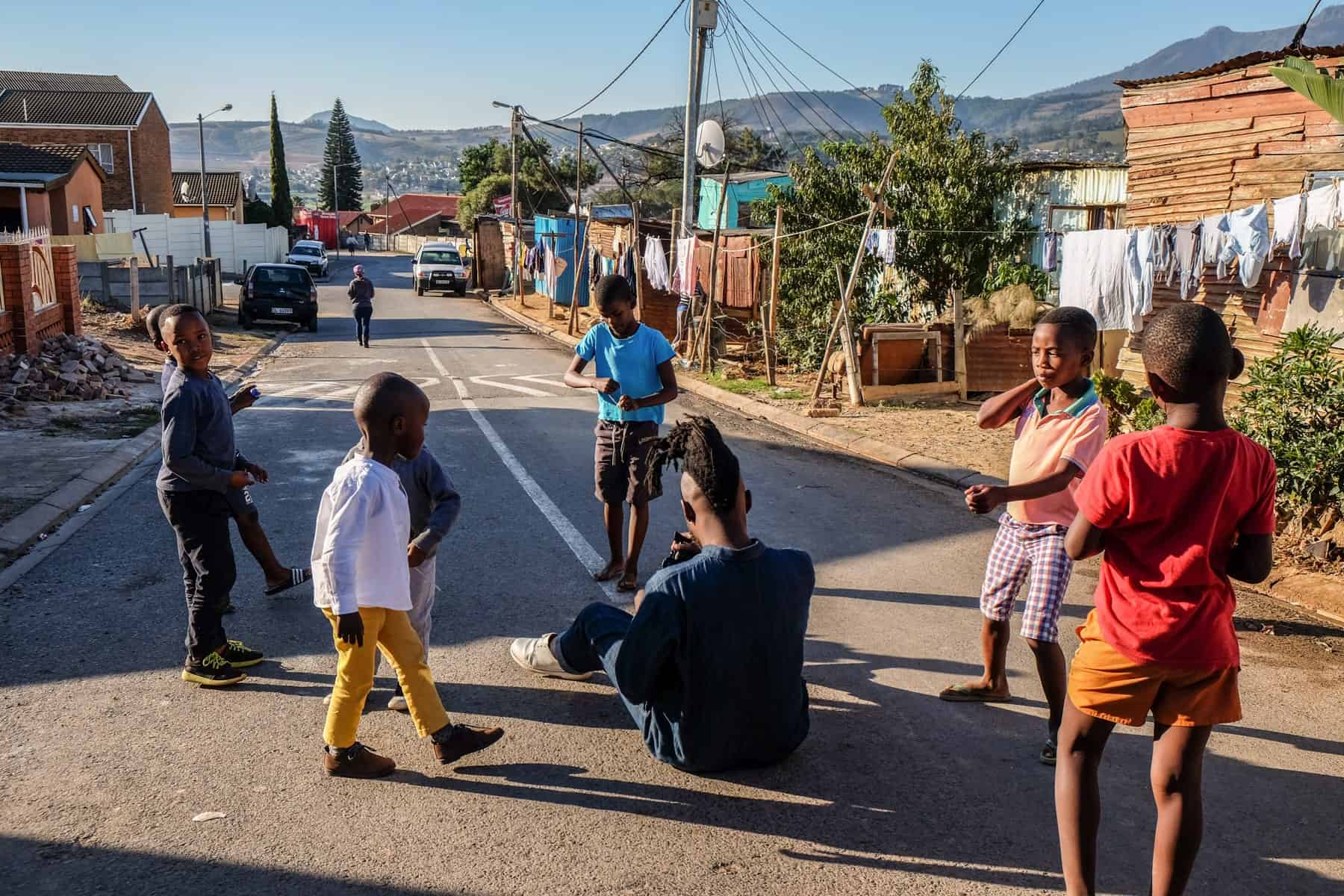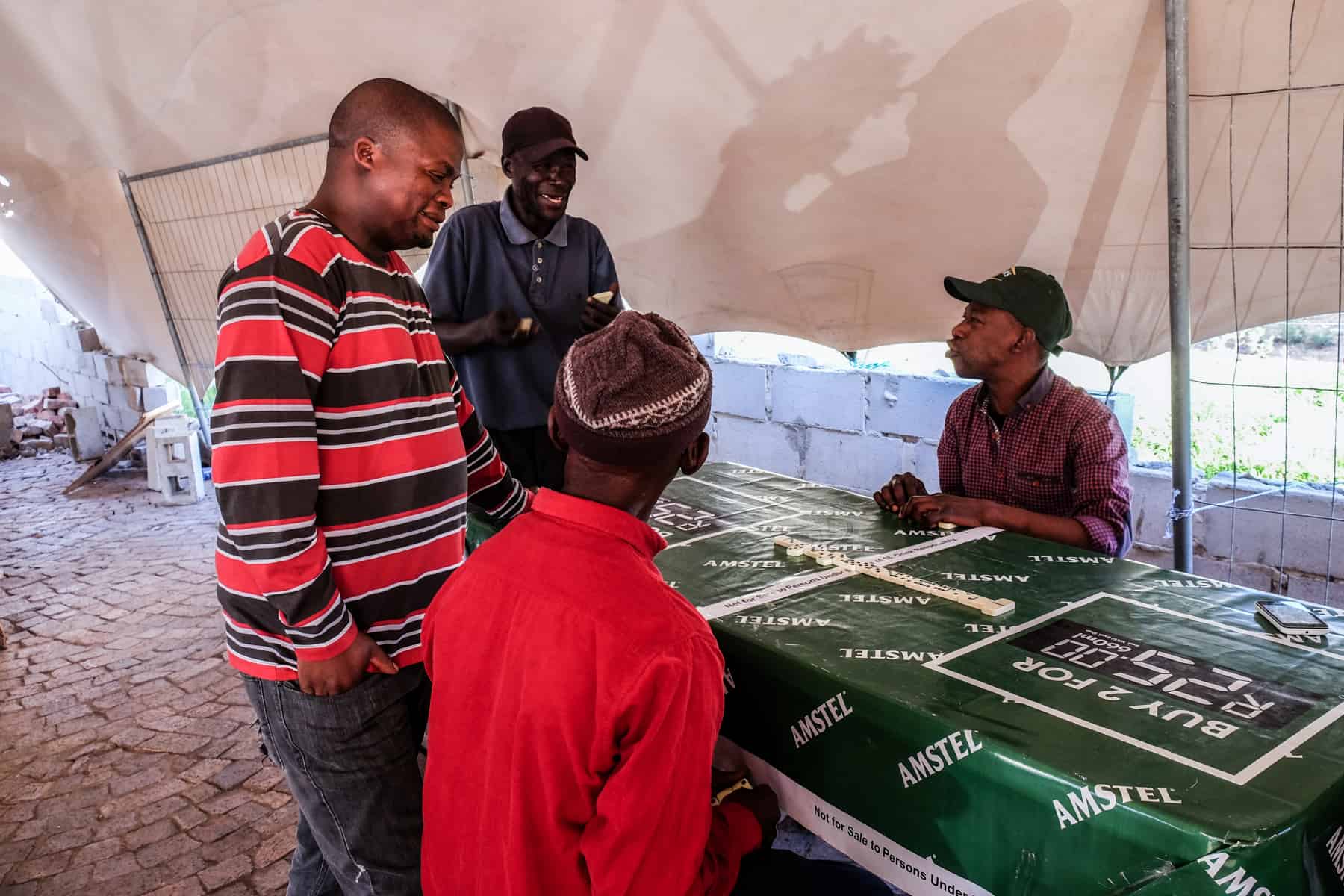 This opening of doors is what is normal here.
From big roads to tiny dusty alleys, in a basin where car horns echoed, and commotion rumbled in every corner, Kayamandi was far removed from the scary street scenes one might associate with a Township. This pocket of chaos might look like it's falling apart in places, but it's full of love, pride and a sense of togetherness.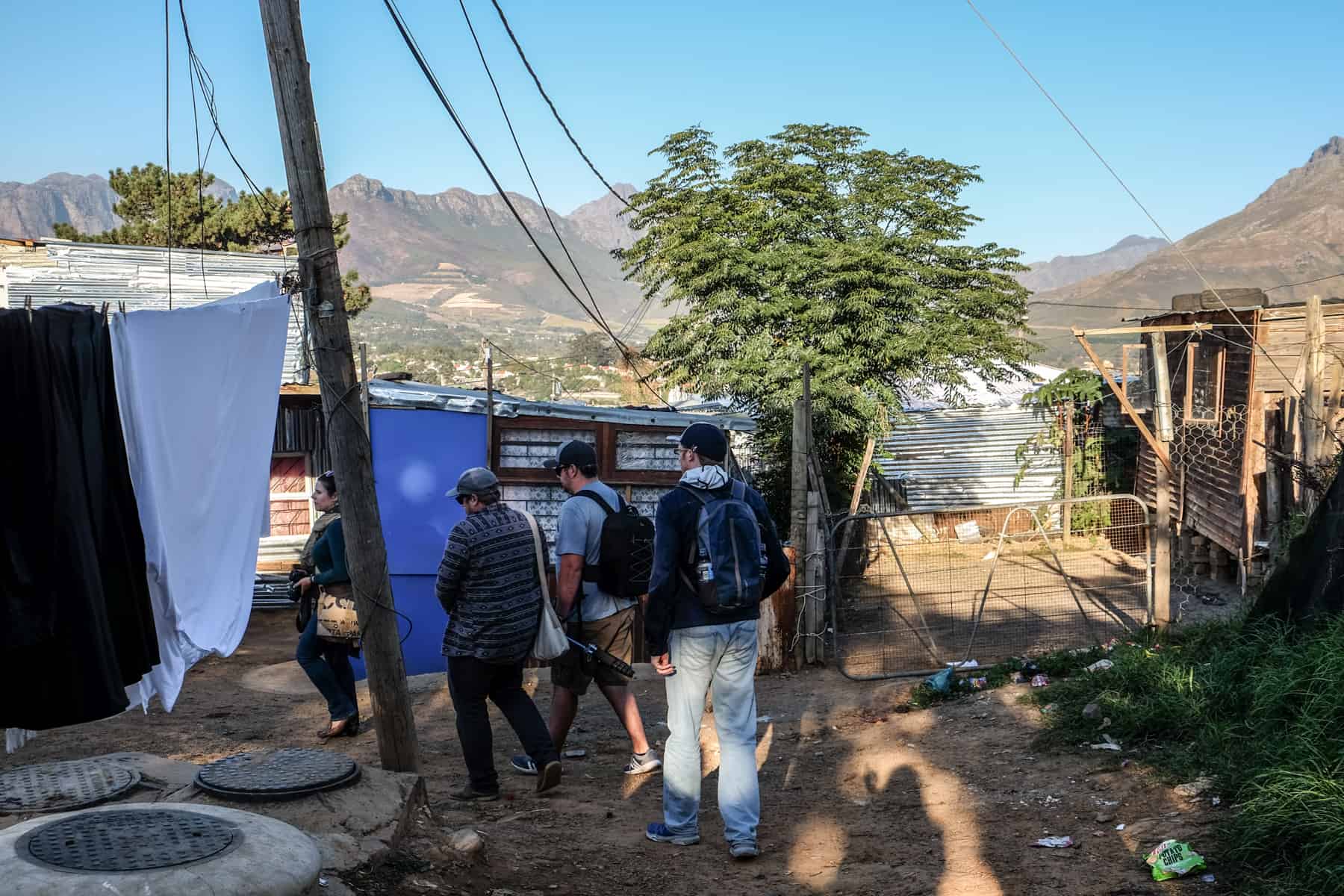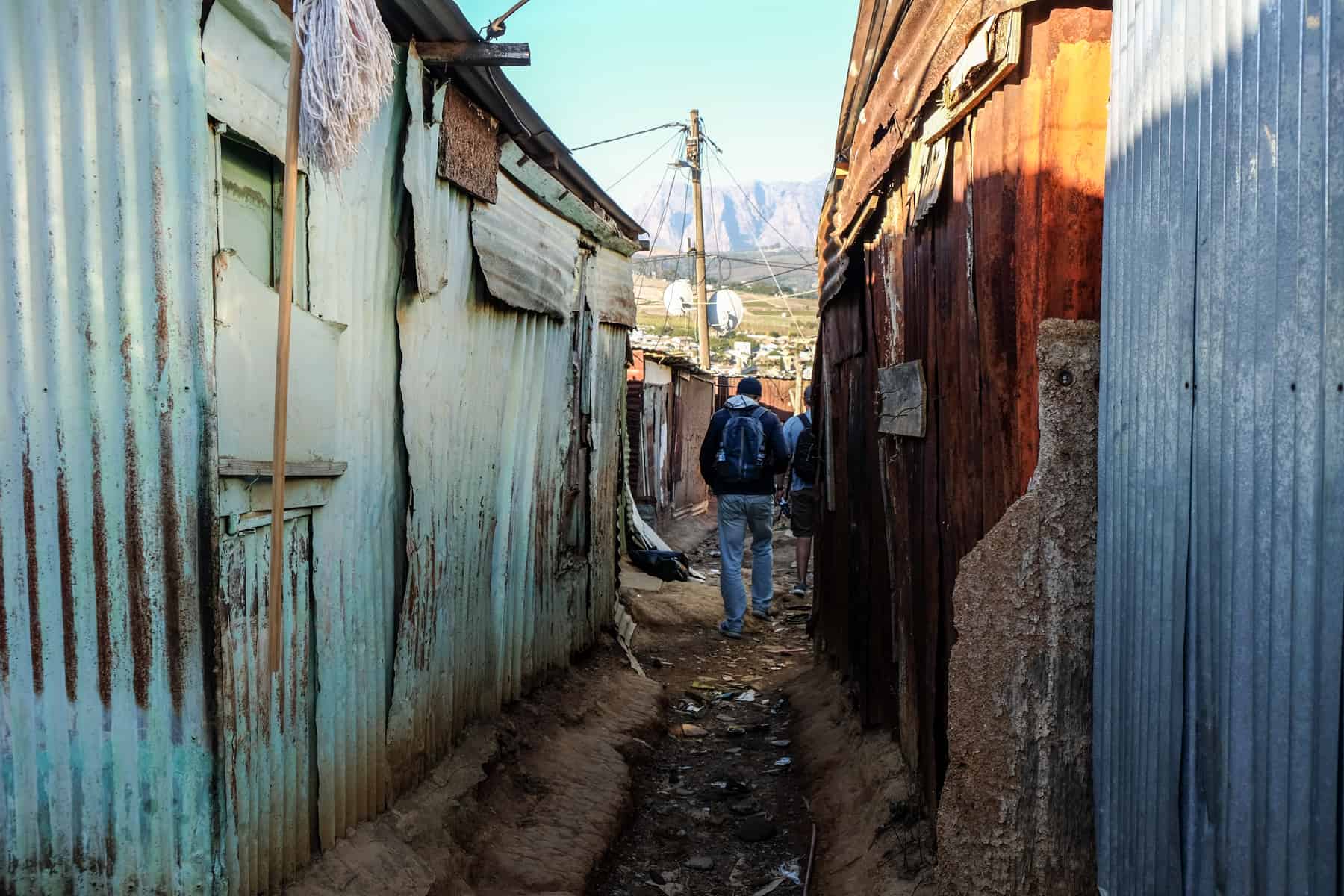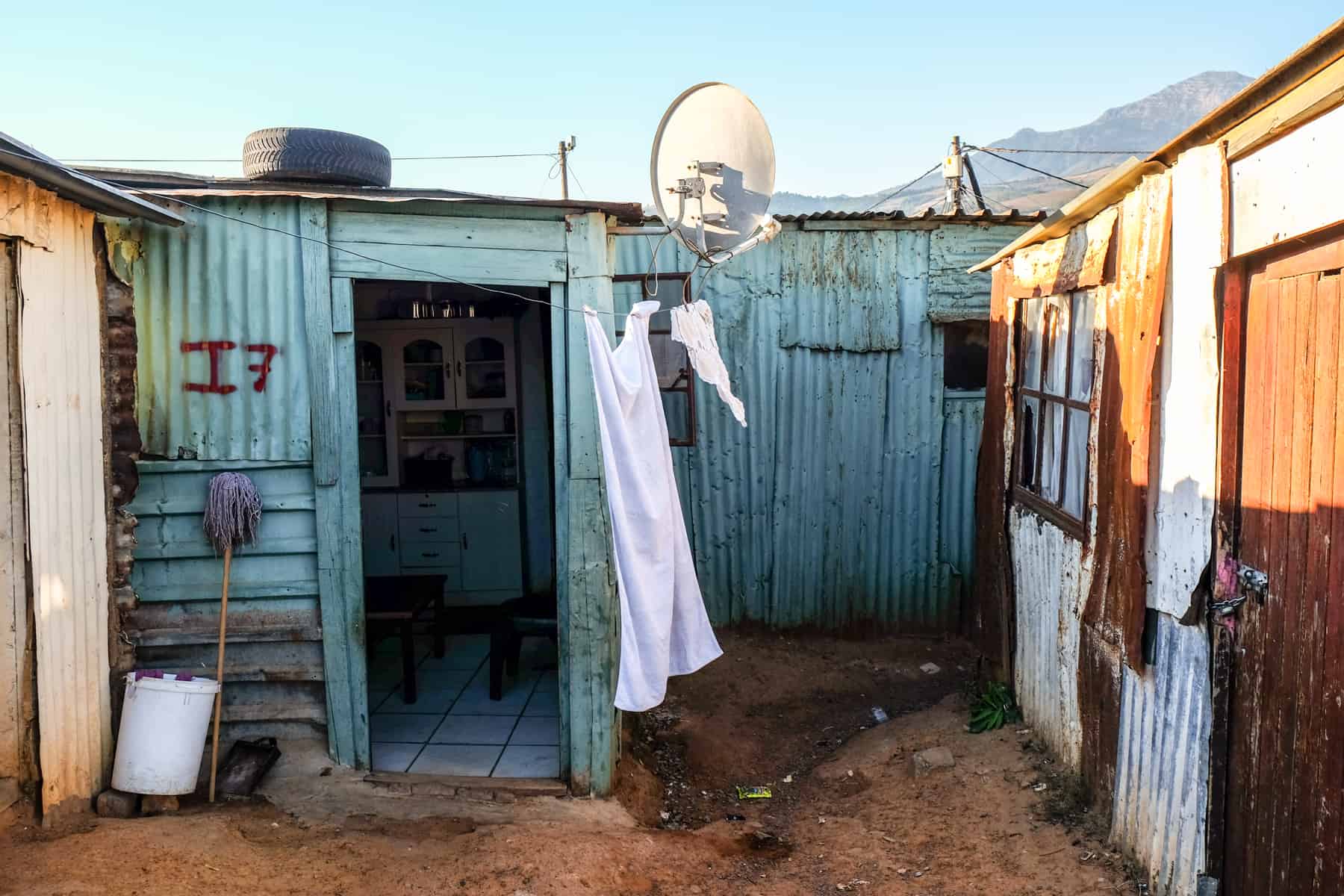 As we ended our afternoon tour in the house of Nocawe Piedt, for the incredible local feast she regularly cooks up, we were together a small part of this family of around 25,000 people, if only for a few hours.
Even though you cannot freely wander the majority of Townships in South Africa (and nor should they be places of visitor perusal for nothing more than curiosity), Kayamandi decided to open the cracks so you could peer in a little and hear its story.
It stands as one of the most welcoming and visitor-friendly areas of the Western Cape, allowing the visitor to be a part of that sense of togetherness that will move the country forward, and change the perceptions of a racially divided South Africa that's opening to the world after forced segregation.
Watch: Kayamandi Township Visit in Stellenbosch, South Africa
South African Township Tours
Visit the Stellenbosch 360 office in town for further information on how to set up a visit to the Kayamandi Township.
For further information on Stellenbosch and the surrounding Western Cape region, visit the Stellenbosch Travel website. I was here working in the area to show a different side to South Africa, alongside its famed Winelands.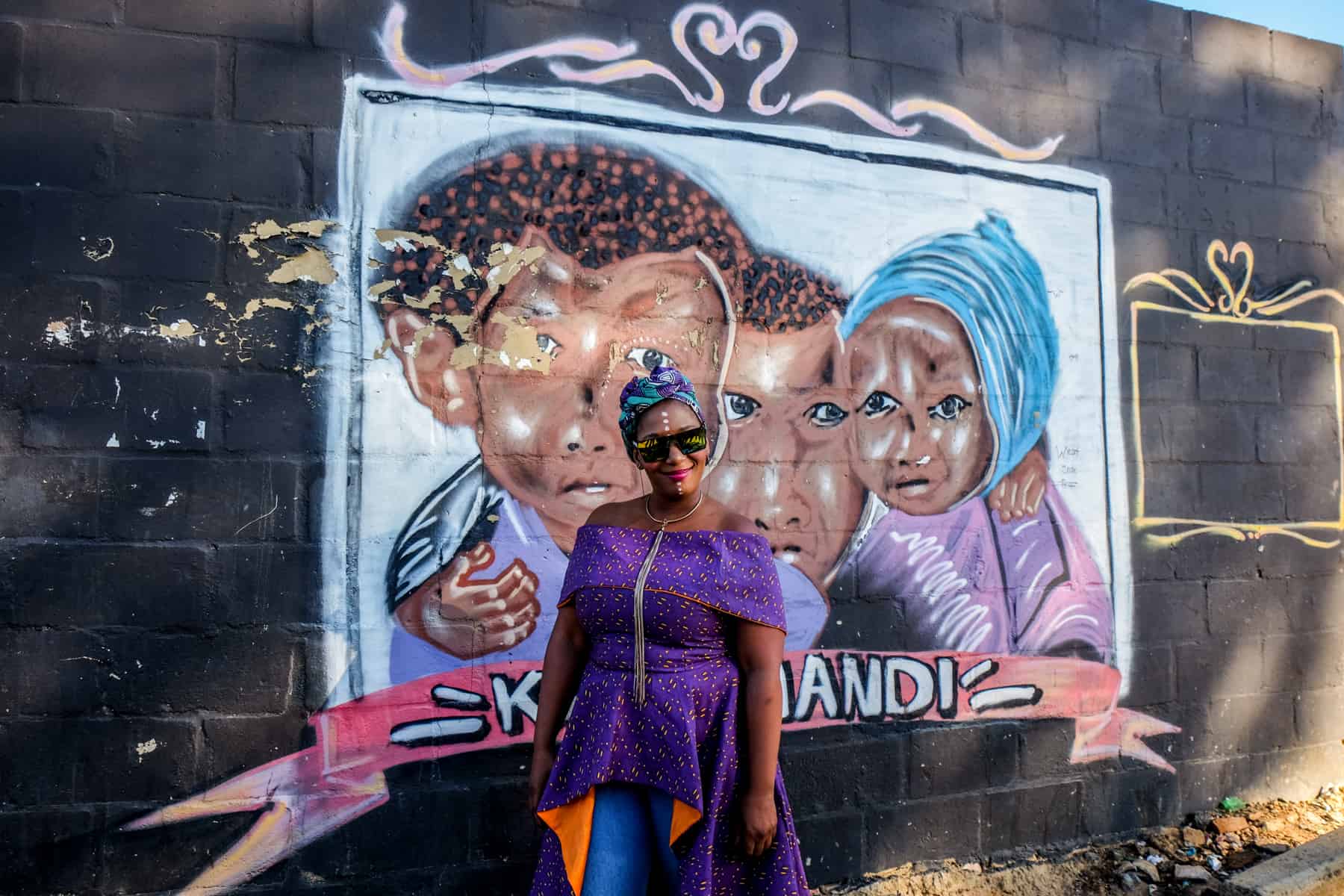 Want to Visit Kayamandi Township? Pin It!