Disclaimer: This post contains affiliate links to handpicked partners, including tours, gear and booking sites. If you click through or buy something via one of them, I may receive a small commission. This is at no extra cost to you and allows this site to keep running.
Visitors are surprised by what they find modern Athens to be, but it's a chance to experience another side of the city and understand what makes it different.
Bestowed with the glorious history of the ancients, yet fighting off a misunderstood contemporary persona, the identity of Athens is hard to describe. It's multi-layered and convoluted, and outside of its Acropolis fame, many ignore the edgy metropolis found amongst the scattering of centuries-old ruins.
Does Athens even have an identity that can be easily defined as many of its European capital counterparts? Can you really grasp and see Athens in 72 hours?
Greece is a country that has been involved in seven wars and various occupations, with Athens, in particular, being a muddle of identities and victim to destruction and a 'functional' post-war rebuild.
It's hard to define it based on a mix of its Hellenic, Roman, Byzantine and Ottoman past, alongside its placement on the world map that brings in elements of the east, a touch of the west and the feel of the neighbouring Balkan Slavic states.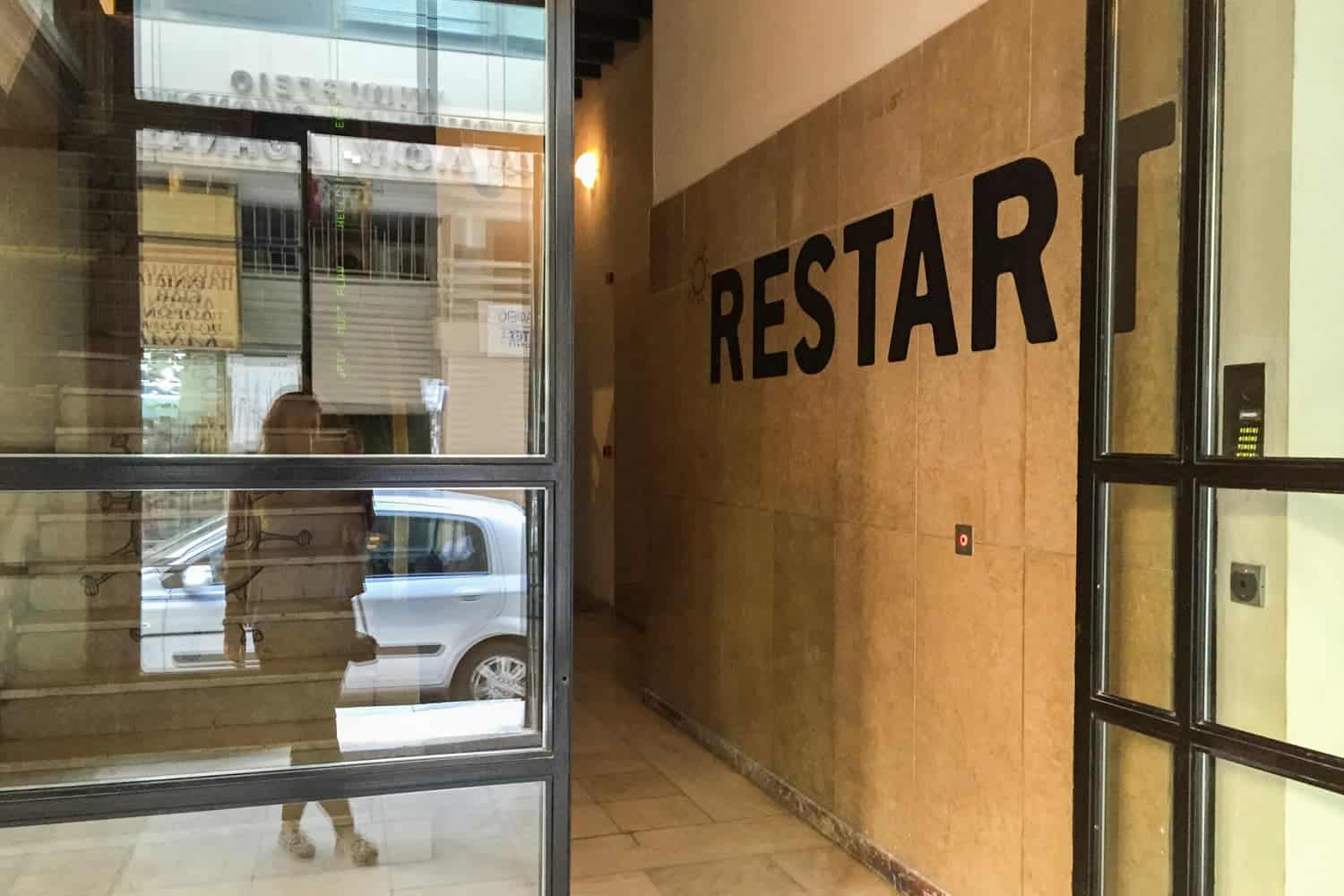 The birthplace of democracy and a city that changed with Roman and Ottoman occupation, to the more modern wave of Neo-Classicism and the practical yet nondescript re-build of the 1960s, Athens has been destroyed, conquered and rebuilt many times over. This is most apparent in the varied architecture of the city.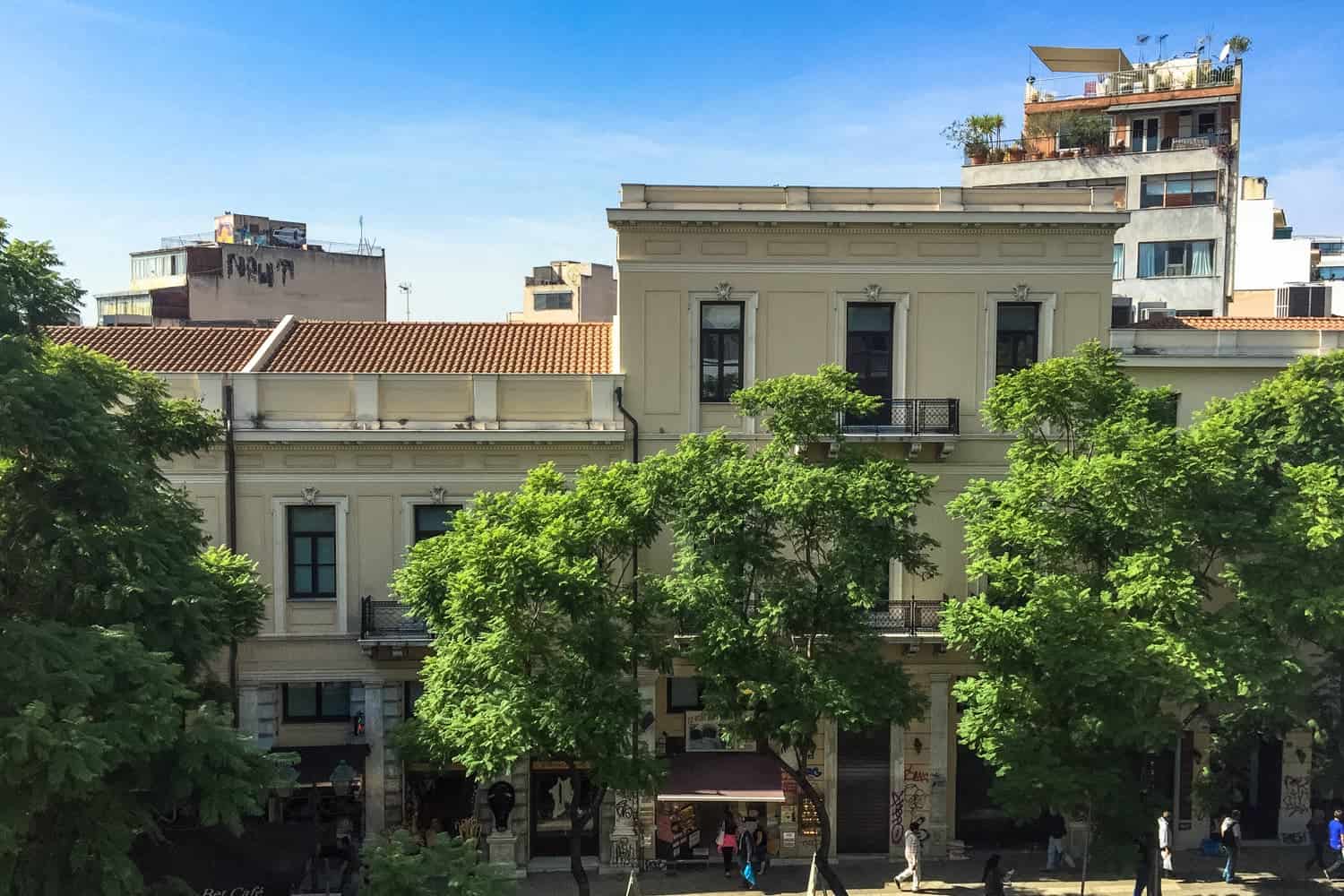 While the Renaissance was happening elsewhere in Europe, the Ottoman Turks didn't follow. In the 19th century, countries including Germany, France, and Britain injected classicism into Athens as a way of bringing back the ancient Greek identity.
Athens in particular always lagged very far behind in its engineered beauty. The sum of so many parts, that there isn't a way to stamp it with one description, but it is this which gives it a uniqueness that requires the more inquisitive and challenging type of exploration.
Modern Athens – What to See and Do
If you've already stood atop of the Acropolis and rambled through the ruins, and are looking for an insight into the layers of the modern Athens metropolis, here's how you can delve deeper in 72 hours, with a three-day itinerary where you can explore mostly at the helm of local knowledge.
READ MORE ABOUT ATHENS: How to Travel to Athens – Travel Guide for Greece's Capital.
The Contemporary Face of Old Athens Neighbourhoods
Not only are Athenians eager to show off their city that is continuously shrouded in negativity, but taking a walking tour with them is also a great introduction to the navigation and knowledge of Athens beyond the guidebooks.
Spend a few hours uncovering the central and thriving old neighbourhoods of the city, such as Plaka and Psirri with a local volunteer from the 'This is My Athens' free 'greeter' programme. You can stroll through the ancient and meander in the modern, mostly at the same time, and find out how they intertwine.
All the while, you will be engrossed in easy-to-digest historical facts and shown the hidden quirks and secret hangouts you otherwise wouldn't find. Despite having wandered in the Psirri neighbourhood more times than I can count, I still managed to learn new things while on a two-hour walk with local history buff, Vicky.
With many neighbourhoods to explore, you could spend an entire day getting to know everything from upmarket Kolonaki to the socially outspoken Exarchia that sit side-by-side, or the oldest neighbourhood of Plaka and its secret village of Anafiotica, to the more modern former gas works area and lively student hub of Gazi.
As I highlight in my Athens Neighbourhoods article, an inquisitiveness soon shows you a different side of Athens and attempting to understand its varying subcultures in context of its recent plight makes you appreciate it even more so.
See the Urban Construction of Post-War Athens
I got to dig even deeper into modern Athens on a new waking tour with Big Olive called "Towards a Purely Athenian Design" which looks at the urban voice of the city and its visual identity, looking at building construction and signage typefaces.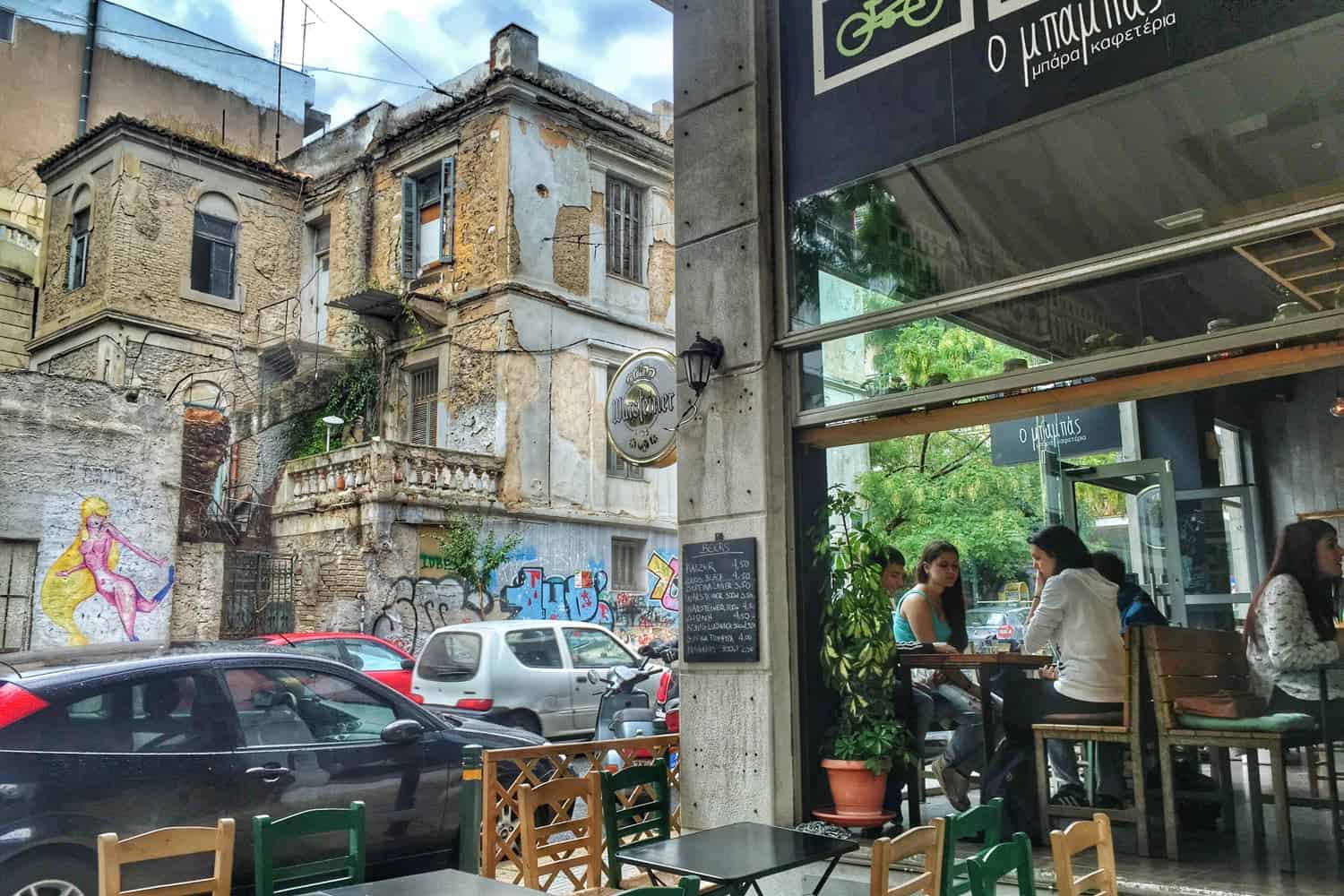 The walk focused mainly on the modern Koukaki neighbourhood where I live, whose grittiness stands in strong contrast to neighbouring old and classical Plaka on the other side of the Acropolis.
At the Vassiliou museum, while digging into the work of this famous Greek painter, it became clear that graphic design in Greece boomed during the 50s and 60s when tourism promotion took off, but that it never really took to the streets. After being told about the lack of graphic design from the 1930s until this time, it became clear that there was little variation in shop signage, with many copying designs they saw on neighbouring buildings.
There are a couple of exceptions to be found though, including distinct design patterns on drainage covers, of which I have never paid attention to before.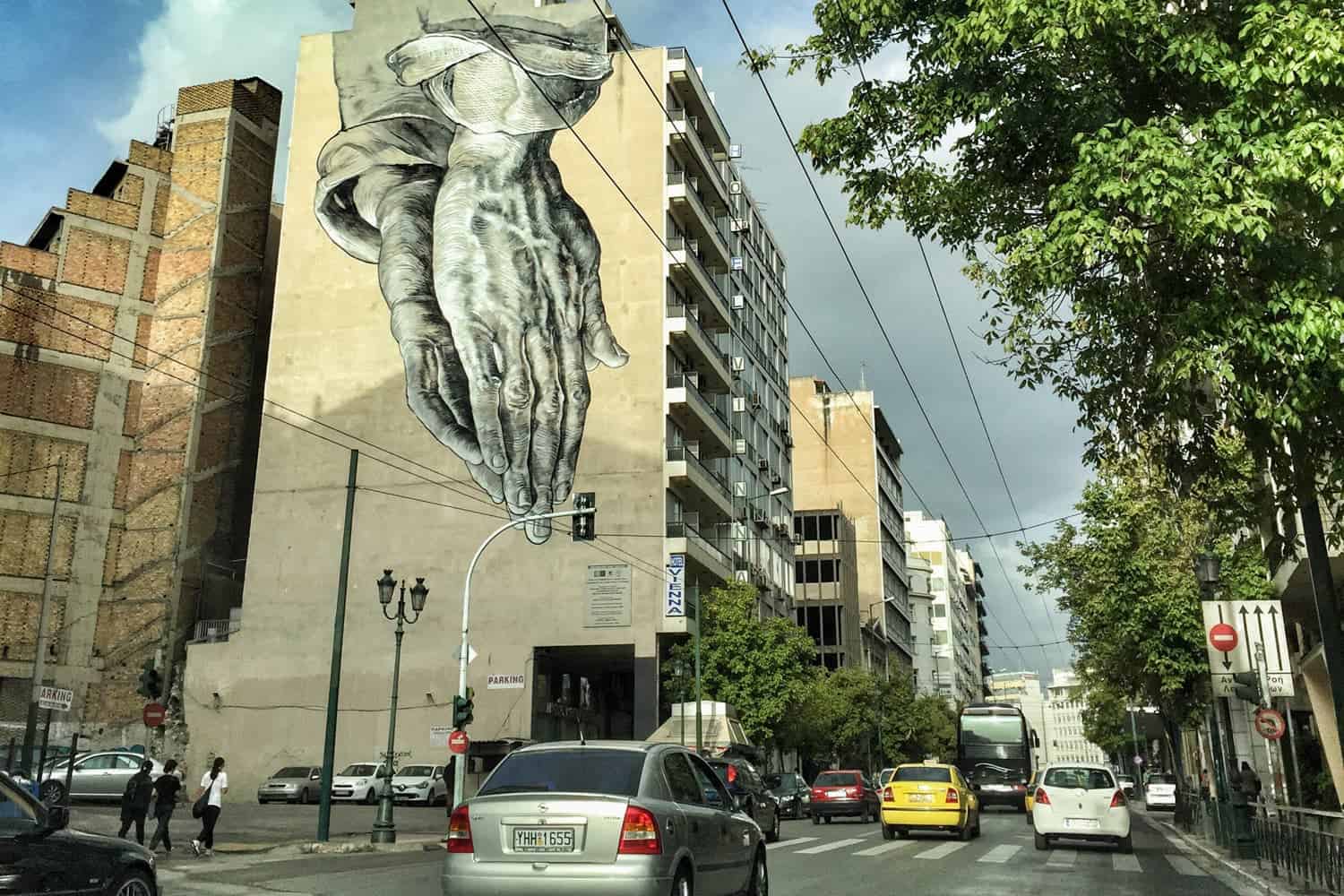 Pynx Hill became more than just a hill after people learnt about its unique construction of 'hide and seek' elements in the attempt for visitors to look at particular viewpoints. Or be guided by the stone patterns which make up the pathways.
Within the streets themselves, I delved more into the functional post-war re-build of the city, all the while trying to pinpoint the exact identity of Athens. One of the more interesting things I came across was that the Polikatoikia – the name given to the multi-purpose buildings, constructed in the 60s and 70s, post-war, play a significant role in the city's modern-day persona.
Owners of traditional one-storey buildings that once stood here were offered a few apartments or an entire floor in exchange for the land space – an attractive offering of which many succumbed to. The large wall spaces on the sides of the Polikatoikia soon became the ideal canvas for the modern-day political voice – street art – alongside abandoned spaces.
The Urban Construction of Modern Athens – The Arcade Labyrinth
Natassa, who leads the urban design tour with Big Olive, is also the author of the city guide 'Into Stoas – Athens Walkthrough', which she has turned into a two-hour walking tour. Learning about the labyrinth of Athens and the culture and history of its 'stoas' (arcades) is one of the most fascinating of all my explorations into the urban makeup of the city.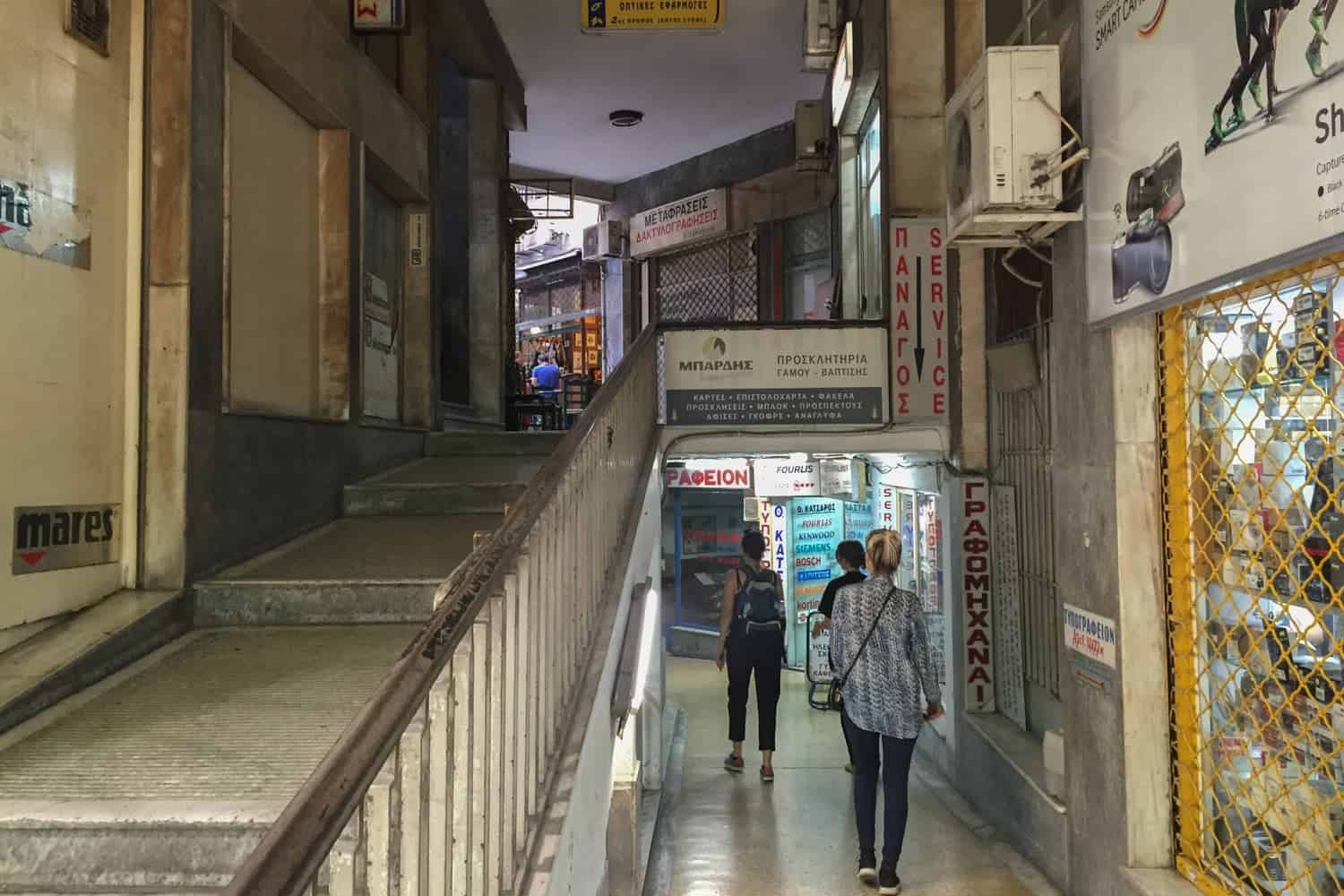 The stoas are a hidden aspect of the metropolis, linking one big street to another through underground or coveted paths, walkways and courtyards. Many conceal abandoned buildings, which once housed former dressmaker factories or ballet schools, or even sections of the Old City walls, having been built on top of them in the 1970s.
Some stoas house the smallest office space you might have ever seen, with many renting such spaces big enough for one desk to secure lowest rents. Others highlight the multi-ethnicity of the particular area with multi-language shop signs or preserve third-generation businesses still operating despite the crisis.
Before long you stumble upon local cafes or the most well-known of the stoas that contains old neon shop signs and art gallery space.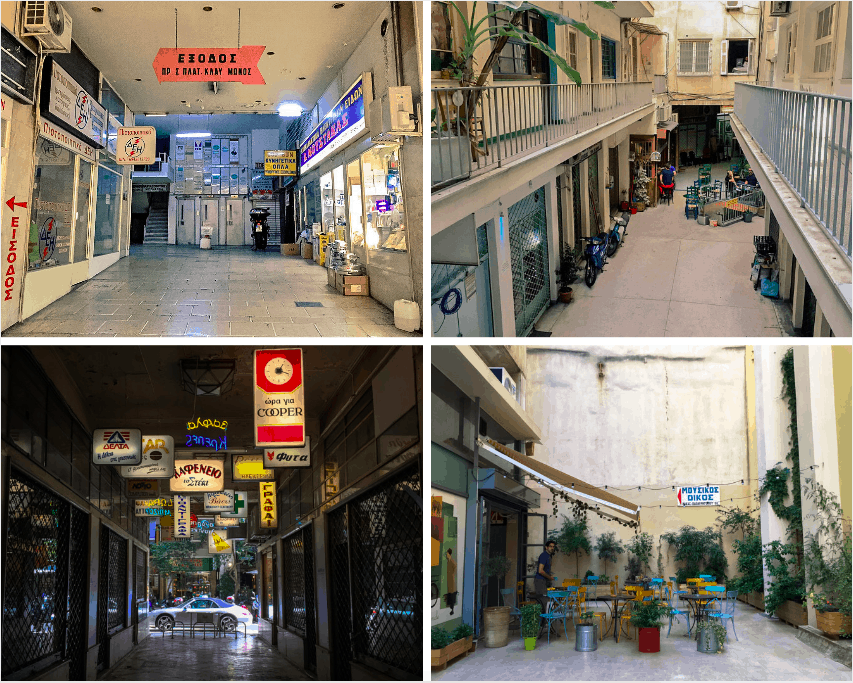 On this tour, you get a glimpse into 11 of the main stoas in the city which graphic designer, Natassa describes as "the city's unconscious" and "a backstage labyrinth full of histories."
Once you notice the key markers of these secluded tunnels – the red arrows marking the exits – you will be sure to notice an entirely different level of this modern city that you quite possibly always walked past without any thought to the stories that lurk within.
Understand Modern Athens Social Expression – Athens Street Art
No matter where you find yourself in Athens, artistic murals, stencils and political expression line every available wall space. Athens is said to have the largest collection of street art in all of Europe, whose political and social satire is the visual expression of modern Athens.
Hundreds of artists have free reign of expression, many of whom give tours and detailed insight into the street art scene, emerging in the early 1990s as a social-political voice. You can learn about the designs, techniques and messages found mainly within the central street art havens of Exarchia, Monastiraki and Psirri neighbourhoods and in the lesser-known and grittier Gazi and Metaxourgeio neighbourhoods with Achilles from Alternative Athens.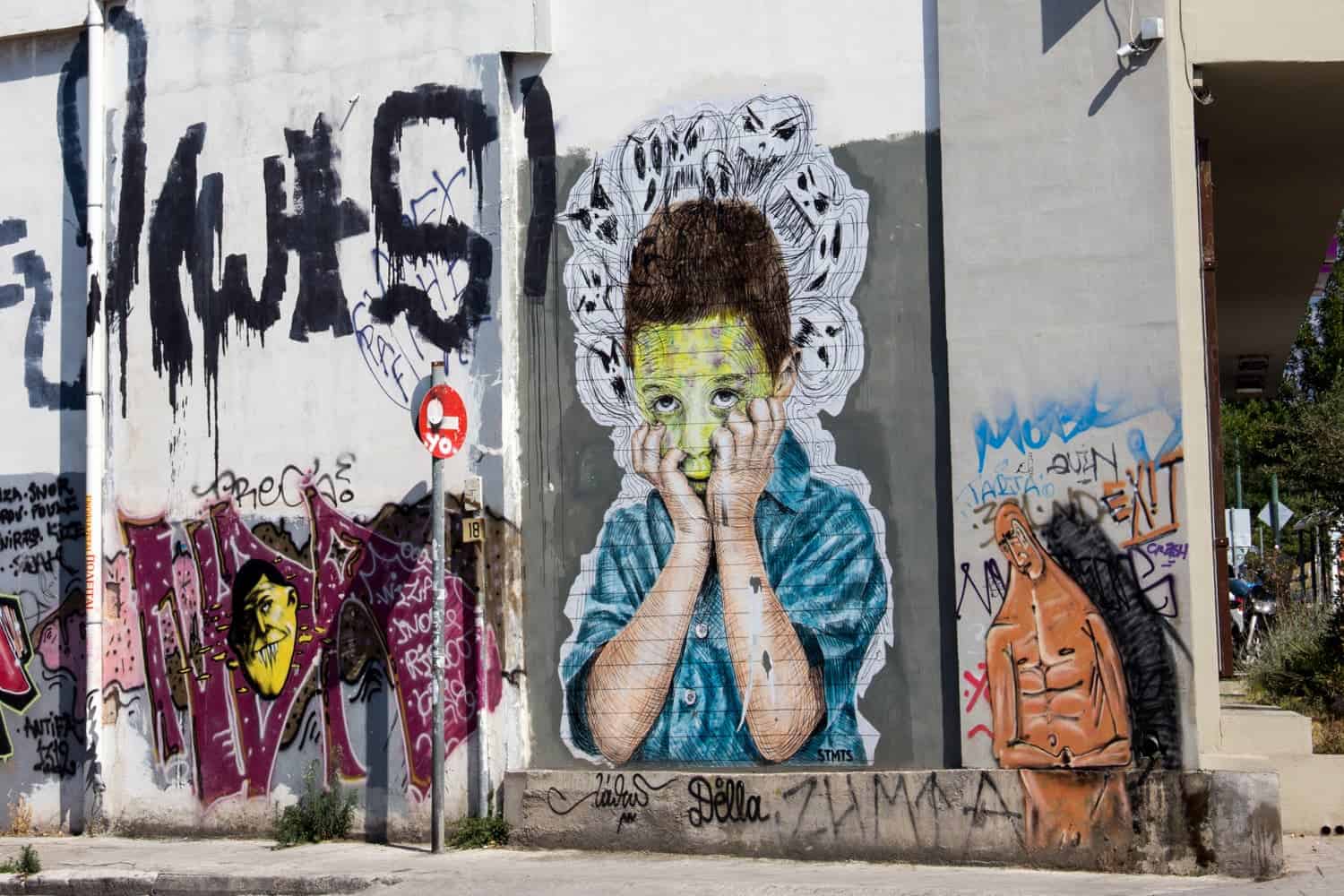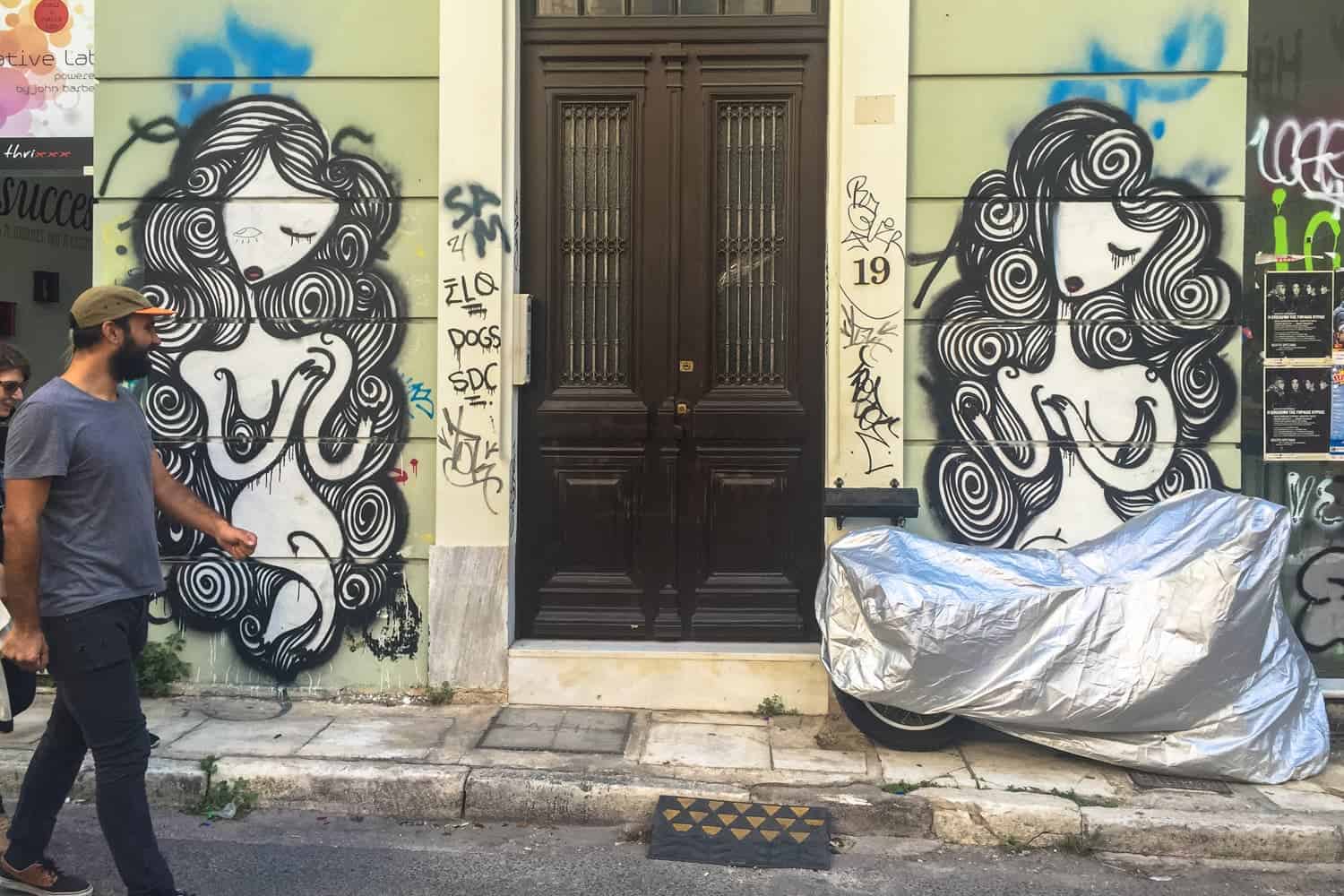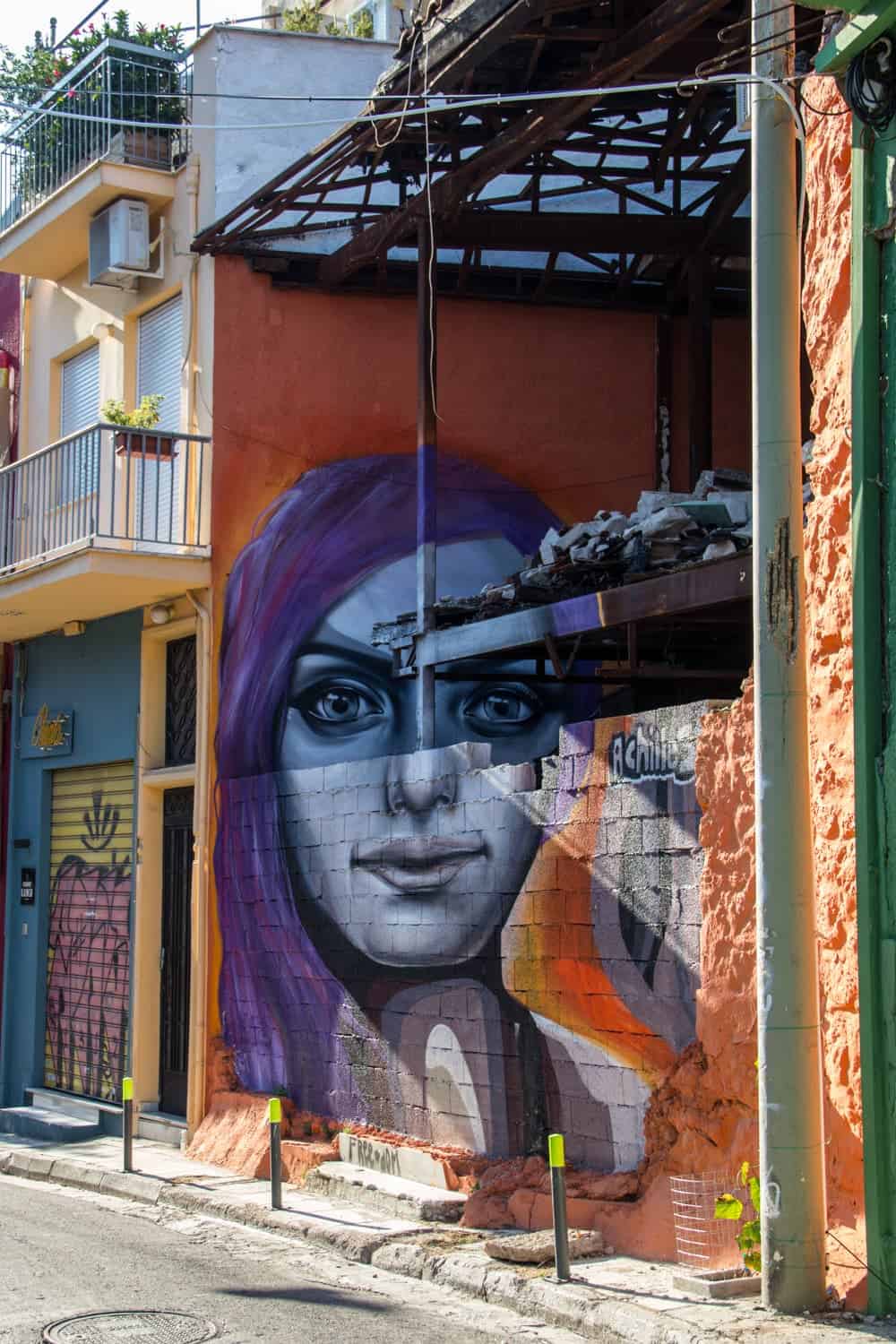 However, one of the best things about living here is the surprise occurrence of new street art murals.
The media were quick to report on this recent addition in the Psirri neighbourhood, of Prime Minister Alexis Tsipras and German Chancellor Angela Merkel who look just a little too close. It is the work of Italian Artist, Jupiterfab and a cheeky reference to the famous Berlin Wall artwork of the Soviet Union and GDR leaders kissing.
Athens Modern Art Museums
It may be blasphemous to not visit the newly built Acropolis Museum, whose glass exterior reflects the ancient Parthenon and whose interior conceals thousands of years old treasures, but I only recently took my first foray into the modern art museum scene here.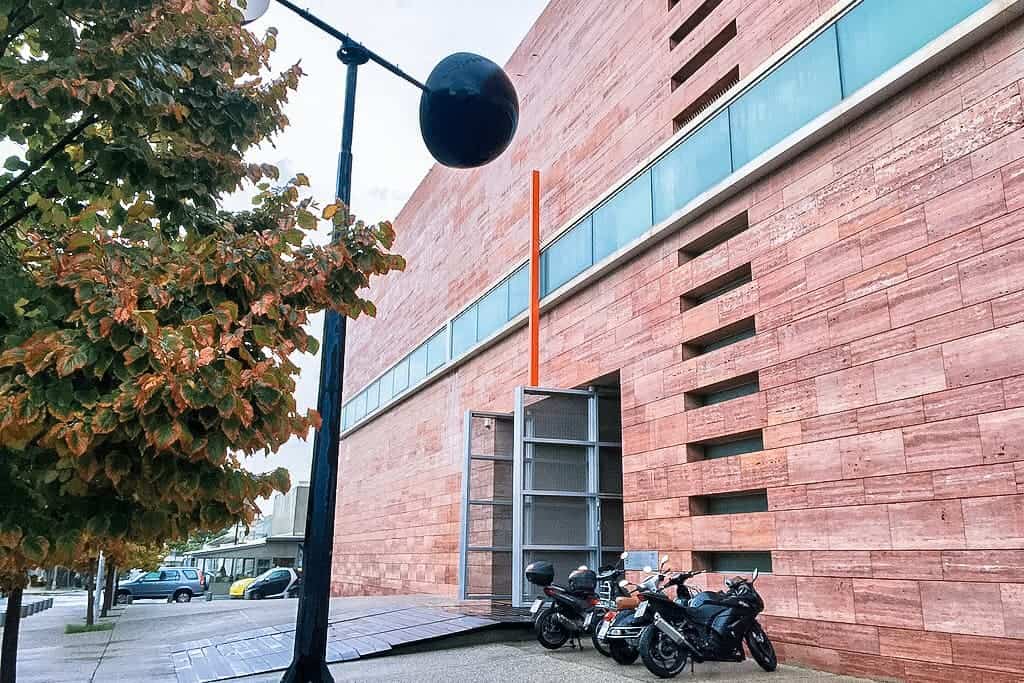 The main Bentaki Museum in central Athens is an old family mansion housing works of art from the prehistorical and classical periods, but expanding on its modern collection, the new Benaki Museum building located at 138 Pireos Street is a space of minimal design in the Gazi area. It recently opened to showcase everything from photography and modern painting (including in its stairwells) and modern architectural and sculpture collections in the open courtyard.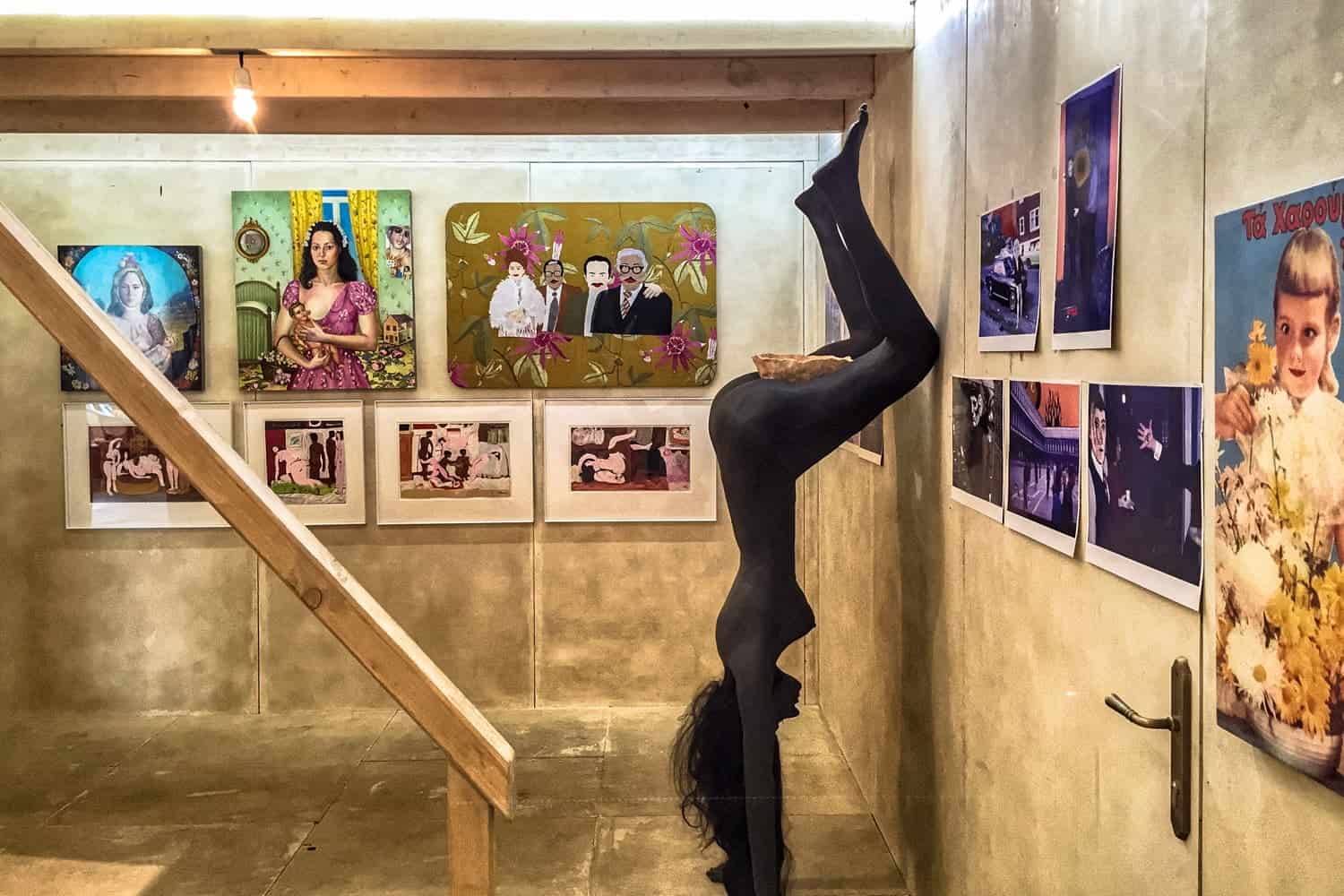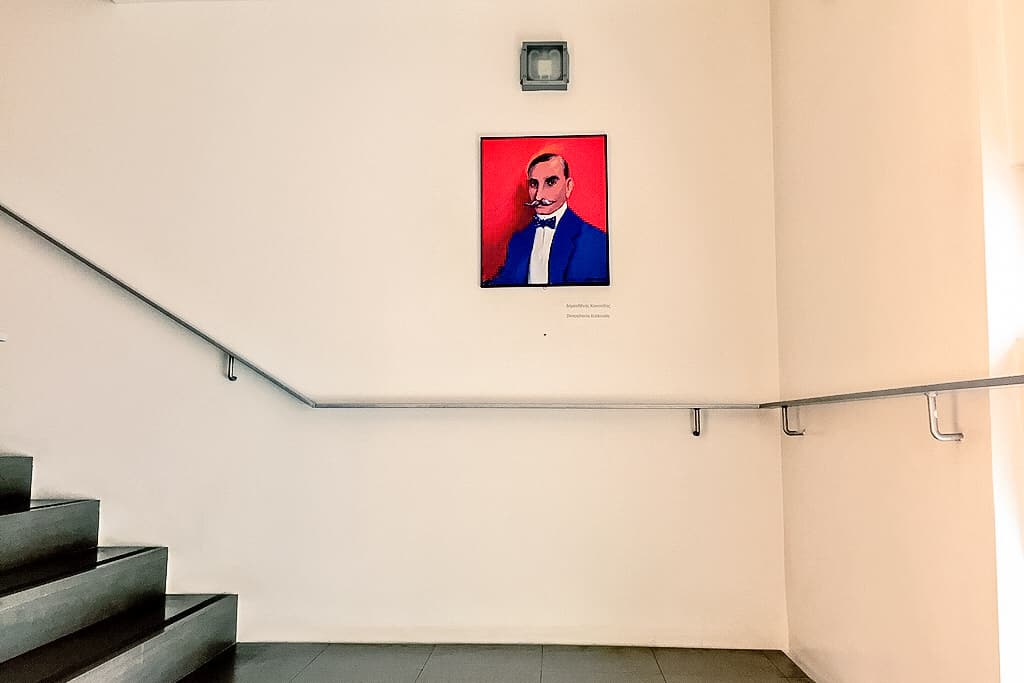 While I rarely take notice of dedicated exhibitions, especially if I don't know the artist, the Benaki Museum drew me in, where I became thoroughly engrossed in the life and works of the famous and outspoken Greek author, Nikos Dimou, in an exhibition to mark his 80th birthday.
Upon leaving the museum I immediately purchased his most sold book and the international bestseller, 'On the Unhappiness of Being Greek' which is a thoughtful and witty insight into the modern-day mindset of the Greek people.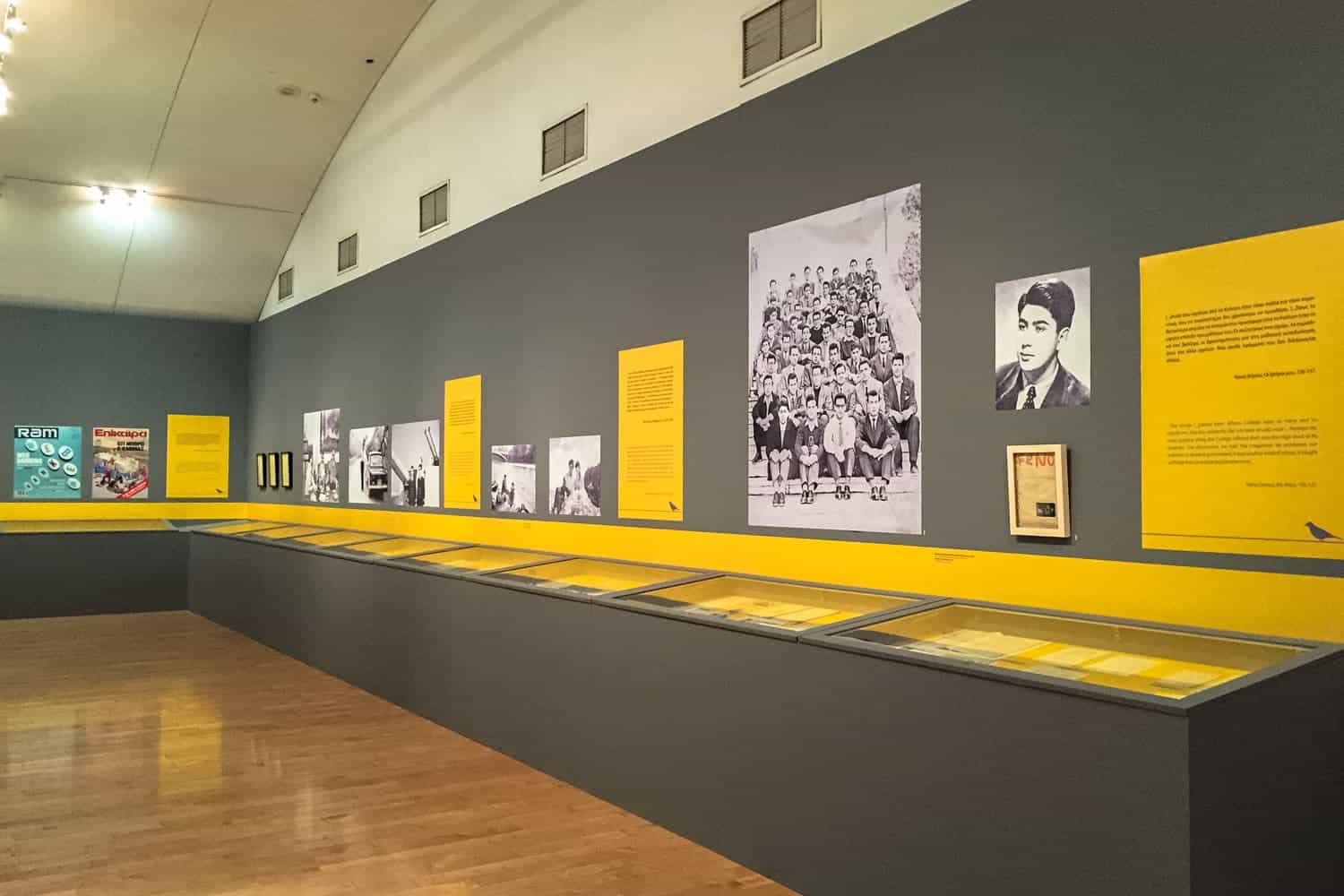 It's worth looking beyond Athen's gritty exterior if you are disappointed to find it not entirely coated in classical sites and architecture. Spending three days in Athens on an alternative sightseeing route will make you realise there are many more layers to it than meets the eye if you give it more time, even if its identity cannot be categorised.
Context is key to understanding why Athens doesn't look as pretty as other European capitals, but through its regeneration and the openness of the mishmash of cultures from occupation and rebuild, it is a city worthy of a deeper visit.
Contemporary Athenian Eats, Treats & Hangouts

Best Brunch in Athens
Mama Roux, Monastiraki
The weekends are made for brunching and the Greeks know how to brunch! The streets fill with those eager to dine for hours in the most cosy of establishments, especially at the ever popular and much-loved Mama Roux in the very centre of the city. It's worth waiting for a seat.
Where to Get Lunch in Athens (With a View)
New Taste Restaurant, New Hotel, Syntagma
Yes Hotels and their distinct artistic designs are becoming a well-known name in the city. Two Brazilian designers recycled much of what was the former hotel, where the old wooden furniture has been repurposed artistically. The rooftop dining space is a perfect spot to dine or sip on a coffee, offering yet another elevated view of the mighty Acropolis from a swanky, contemporary space.
Athens Wine and Dine Venues
Aleria, Metaxourghio
This family-run fine dining establishment is set within a refurbished neo-classical mansion, with elegant interior design. Dishes are an ultra-modern take on some Greek favourite foods, paired with some high-quality regional wines. With the little-known, run-down neighbourhood of Metaxourghio slowly rising from the shadows, this restaurant helps put it on the map.
Best Coffee Shop in Athens
The ART Foundation (TAF), Monastiraki
The concealed courtyard is not only a hidden architectural treasure, tucked away in an alley off bustling Ermou street, but also a café-bar intertwined with a co-working space for artists, whose open exhibition space is free to explore.
Nightlife in Athens
The bar scene and nightlife in Athens provides more options than you can cover in one night. My favourite hangouts to socialise in the early hours (which is the norm here) include Faust, the Clumsies, Baba Au Rum and Noel in Monastiraki and Transzistor in Psirri. For a more club-like and younger social scene, head to Gazi, whose rooftop bar, Hipster is becoming a local favourite.
Getting Around Athens Today
If walking wasn't enough to right into the deepest corners of contemporary Athens, the transport system here is cheap and easy to use.
Beat can get a little addictive when you are feeling lazy, and it is especially good after a late night out before the metro is up and running again. It's basically the city's version of Uber.
The 'Tfa Tickets' app allows you to load pre-paid tickets onto your smartphone rather than having to purchase individual paper tickets (which is also fairly wasteful) and activate them as you wish.
Further Information on Athens Travel
My comprehensive guide to travelling all around Athens can be found here.

Part of my exploration of the contemporary side to Athens was a part of the campaign to launch the new 'This is My Athens' website, sponsored by The City of Athens Convention & Visitors Bureau. All thoughts remain my own, alongside the hours of research and months of wandering in a city I call home that has led to the formation of this post.
Thinking of Travelling to Athens? Pin It!