Disclaimer: This post contains affiliate links to handpicked partners, including tours, gear and booking sites. If you click through or buy something via one of them, I may receive a small commission. This is at no extra cost to you and allows this site to keep running.
Is a visit to Koh Kong Island Cambodia worth it? See a lesser-known area of Cambodia on a jungle trek, in what is dubbed the "wild west".
Koh Kong Island is still a relatively untouched part of Cambodia and a stopping point from which to go and explore the Cardamom Mountains. I've always had a thing about getting close to Cambodia's nature trails so jungle trekking in Koh Kong seemed to be a perfect opportunity.
Where is Koh Kong Island?
Koh Kong is the largest island in Cambodia, close to the famed Koh Rong. A 'wild west' town five hours bus ride from Phnom Penh, Koh Kong town itself holds nothing of scenic value and you can walk around it in 15 minutes without finding anything of interest except some cheap local food.
But you need to base yourself there for the trips out to the jungle, Koh Kong Island or the Peam Krasaop Wildlife Sanctuary.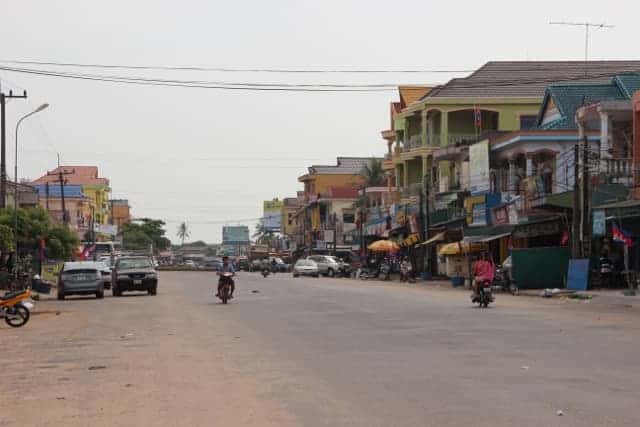 Jungle Trekking Tours in Koh Kong – Where to Start
Koh Kong jungle tours can be found in town from two of the main guesthouses – Blue Moon and Paddy's – alongside tours which can be booked via the Neptune Pub. As the tours looked identical and for a similar price, I booked through my guesthouse, Blue Moon.
A one day, one night Koh Kong island tour will set you back $30. But was it really worth the money?
This is South East Asia after all, where your money goes far! The scenery conjured up nature at its best (we were the only ones at the mercy of the jungle's territory) but I felt that the experience and the cost of getting there has simply been turned into another greedy capitalist venture considering what was actually included.
$30 gets you a river trip to the mountainous area; the jungle trek to the waterfall where you have a BBQ lunch; an overnight hammock stay; dinner in the evening and a chance to see the fireflies at night in the mangrove forests. Sounds like a proper mini-adventure, right?
Except what you got was a very slow boat ride to the jungle, guides who wandered off without much care for the trekkers, a pre-made (not BBQ) lunch, a stay on the deck on one of the guides house (not in the jungle as it was suggested although scenic nonetheless), and a quick 15 minute boat ride in the evening to see the fireflies.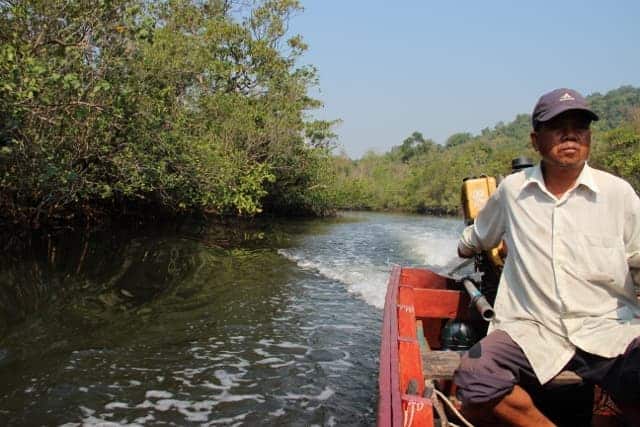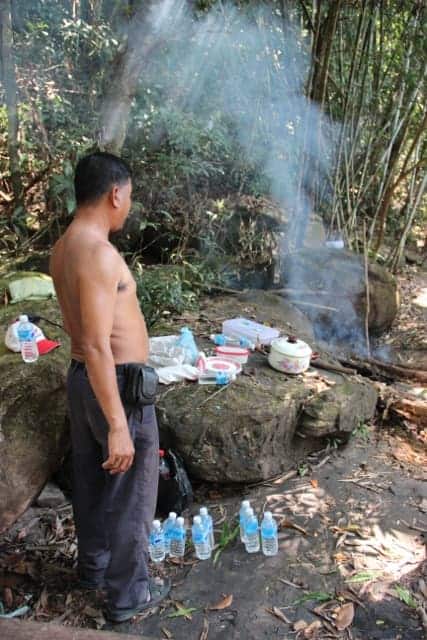 Is a Koh Kong Jungle Trek Worth It?
Is the Koh Kong jungle trek worth $30? Not really. And the mini speed boat back in the morning was a kick in the teeth after a long day of trekking.
However, the jungle trek gets you right into the heart of the wilderness and is tough in places, where you will be using tree branches to hoist yourself up and down the steep and sometimes slippery terrain – great if you enjoy a bit of a trekking challenge.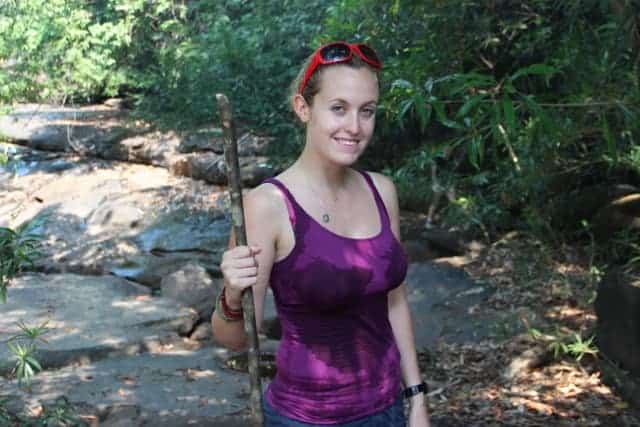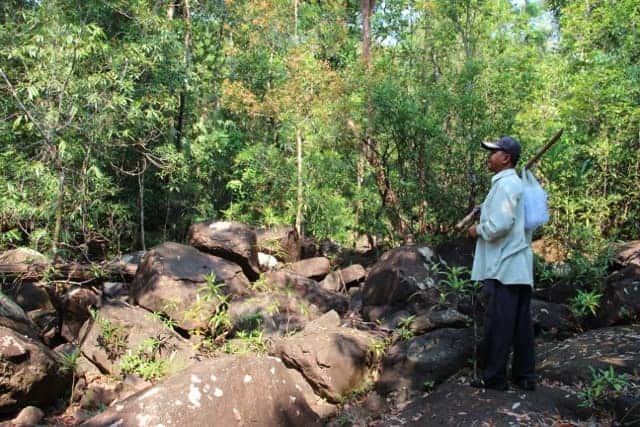 It takes about two-three hours to get to the waterfall at the top where you will get a spectacular panoramic view of the area. Sadly, due to the time of the year, the waterfall was mostly dry but I can imagine it's pretty impressive during the wet season. Coming down is harder and so bring decent walking shoes and ask for one of the guides to make you a walking stick from the bamboo sticks if you need it – it really helps.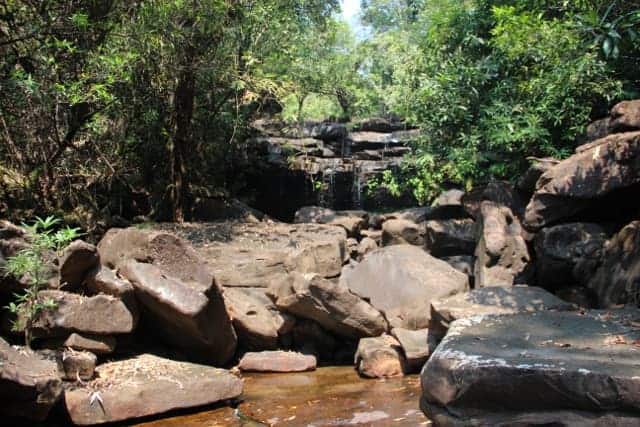 The fireflies were magical, although only wish we were out there longer to see more. Your experience here will be more dependent on the patience of the boat driver. While it isn't the first time I have slept outside, where the only barrier between Mother Nature and I is a mosquito net, the hammock sleep was a nice touch, where the stars are above you and you slowly rock to sleep to the sound of the gentle river currents.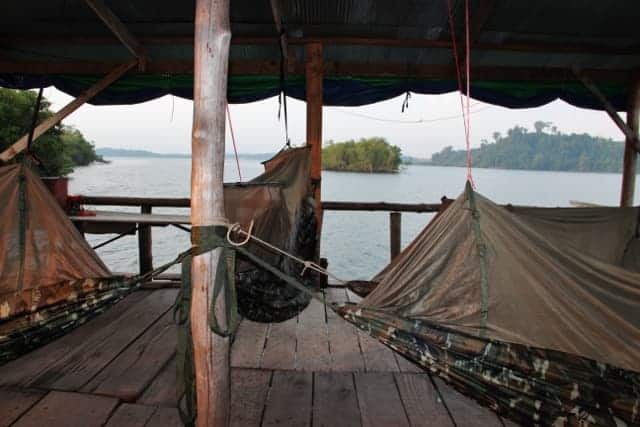 Should Visiting Koh Kong Island be on my Cambodia Itinerary?
If you have a lot of time, definitely experience the Koh Kong jungle of Cambodia, but use a different operator. This trek is a good starter if you have never been on a jungle trek, although I've had a better experience in Northern Thailand. Treks in Cambodia are a fairly new offering.
If you are keen to see more jungle and see yourself more as a Bear Grylls type than an average rambler, make the trip to the east of the country for jungle expeditions in Cambodia's Mondulkiri and Ratanakiri Provinces. That was my next move to get my Cambodia jungle fix.