Disclaimer: This post contains affiliate links to handpicked partners, including tours, gear and booking sites. If you click through or buy something via one of them, I may receive a small commission. This is at no extra cost to you and allows this site to keep running.
All the things to do in Kampot, Cambodia – the former French colonial city whose architecture was left to crumble in the wake of independence and war-time conflict. For those with a curious mind, there is a lot here to uncover in a small and accessible area.
I was always excited about visiting Kampot in Cambodia – the capital city of the southern Kampot province. It's more often than not bypassed by travellers on a short visit to Cambodia yet fuels intrigue for those wanting to venture a little further beyond Siem Reap and Phnom Penh. I never got around to it during my first whistle-stop tour of the country and, as a result, had high expectations of the town for when I returned. Except Kampot is a tangle and conflict of experiences and feelings as to whether you will wholly like it or not.
The truth is, while people rave about this emerging coastal town, it does attract a particular type of traveller that has subsequently given it a negative reputation of doped up hedonism and seedy sex tourism that can overshadow its natural beauty, historical appeal.
However, known for its French past, its world-renowned pepper, love of the durian fruit and the scenic waterside and national park highlights, there are still plenty of things to see in Kampot that make a few days here worthwhile.
How to Get to Kampot
Most travellers make their way to Kampot from Phnom Penh on the straight journey south, while some may come along the southern coastline from Sihanoukville to Kampot. Both trips take approximately three hours.
Kampot By Bus
The Cambodian bus network is the easiest and most cost-effective option for travel. Giant Ibis is the most comfortable service and my go-to first choice.
The bus from Phnom Penh to Kampot takes around 3 hours and 30 minutes, with limited departures approximately every four hours. The earliest bus leaves around 8 am, and the last departures are before 6 pm. Bus ticket prices to Kampot start from $10 per person.
The local bus and minivan services between Sihanoukville to Kampot takes three hours and cost $6 per person. The first departures are at 8 am and the last at 4 pm.
Kampot By Train
Those looking for a different Cambodian experience may want to schedule their arrival in Kampot with the limited Cambodia train schedule.
On Friday and Saturday, only one train departs at 7 am from Phnom Penh to Kampot – a journey that takes around 4 hours and 30 minutes.
Two trains run on Sunday at 7 am and 4 pm. You have to purchase your ticket at the station, as you cannot book in advance.
When to Go to Kampot – Best Time To Visit
The cool weather and dry season in Cambodia between late October and early April, which December and January seeing the most visitors taking advantage of optimal and comfortable 25-35 °C weather conditions. The warmest months are May to September, which is also the wet season, when it can get hot and humid, combined with heavy rainfall.
Safety Tips and Expectations
I didn't always feel entirely safe as a solo female traveller – not so much in the daytime but particularly at night when trying to get from town to the pitch-black Tuek Chhu Road where many well-known guesthouses are. Walking between them to see friends was a demanding adrenalin-fuelled few minutes. Pack a torch, and avoid being alone. Most petty thefts happen to lone women, especially when biking or in a tuk-tuk. Like anywhere, keep your belongings safe and exercise caution.
Kampot attracts a particular type of traveller – and not always the good kind. It's been some years since I last visited, but Kampot was full of the worst stoners I've met in Cambodia. There's smoking and then there's being stoned to the point of oblivion in a hostel. There's a seedy underbelly the city doesn't fully shake off. However, there is a growing expatriate scene here and you'll meet some cool people.
Where to Stay in Kampot
Kampot Hostels and Guesthouses
Karma Traders. Also a restaurant and rooftop bar with stunning views to Bokor National Park. Choose from dorms, private rooms and self-contained houses, complemented by a swimming pool and weekly live music events.
Baraca Guesthouse. This cosy guesthouse and international tapas eatery has four double rooms with balcony terraces and is located in the centre of town, in walkable distance to the riverfront and top things to see in Kampot.
Eden Eco Village is a selection of wooden treehouse bungalows in peaceful nature next to the river. With an in-house restaurant, yoga sessions, complimentary bikes and kayak rental.
Boutique Kampot Hotels
The Best Things to Do in Kampot
Admire Historical Architecture in Kampot's Old Quarter
There is something picturesque about the old once-upon-a-time-prosperous town being left to fade in the background, making Kampot exude a timeworn, arty presence. Found compacted in the yellowing hues of Kampot's Old Quarter, French colonial buildings from the early 19th century and early 20th century are ravaged by time, and others are abandoned ghost buildings left to crumble in the wake of Cambodian independence and war-time conflict. The streets here tell a thousand stories of a heyday, devastating destruction, and present-day resilience.
Hire a bike and cycle for a few hours around the compact centre of town. You'll be surprised what old buildings you come across, mixing a forlorn ambience with creative ignition. Local cafes and restaurants, artisan stores, traditional workshops and street traders have cemented themselves within the crumbling corners of the city, filled with decaying French Creole style carved doors, Palais style balconies, shutters and staircases.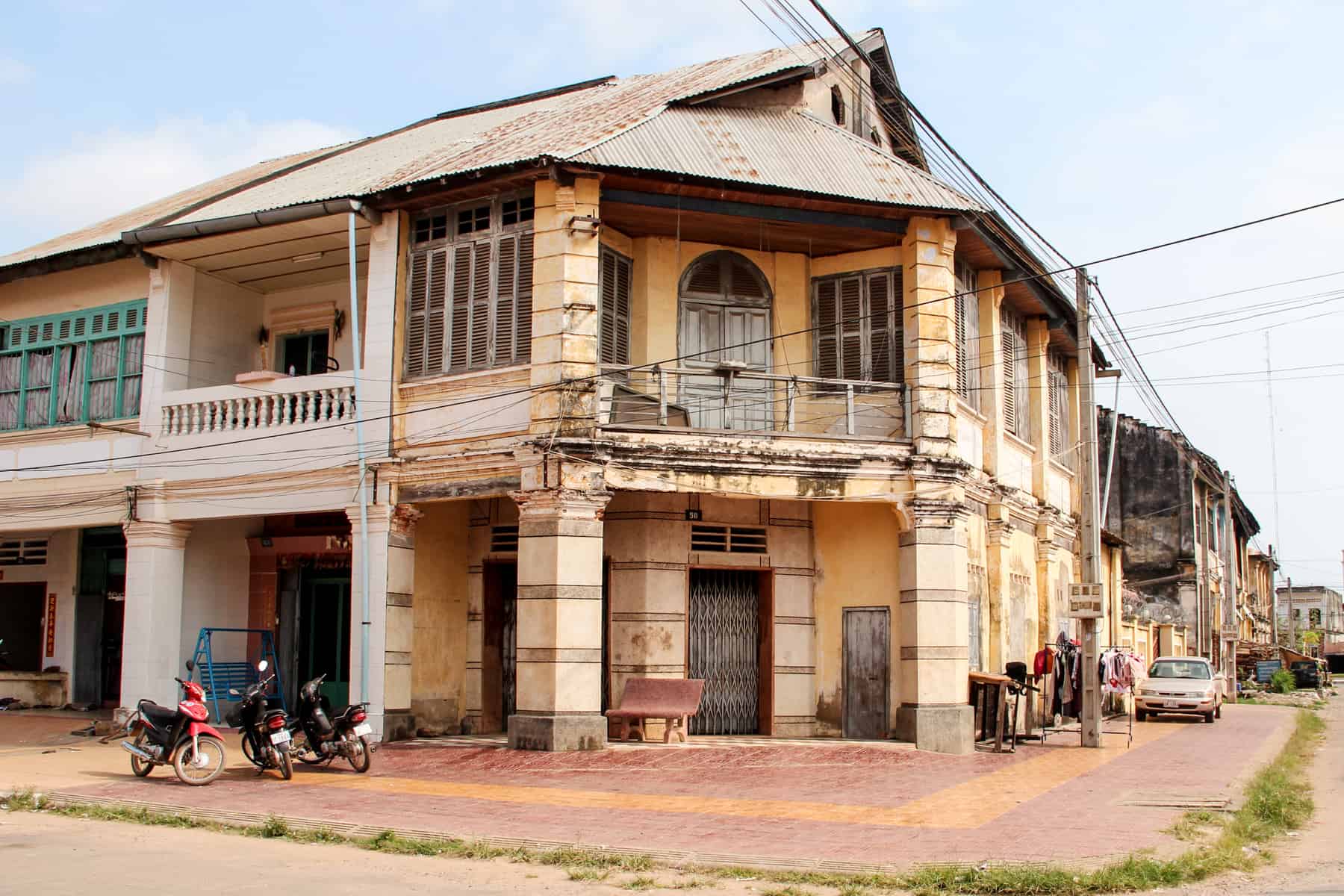 Architectural highlights include the modernist, yellow block Kampot Fish Market, the original and intact exterior and interior of the National Bank (which survived Khmer Rouge destruction), and the renovated Old Royal Cinema from the 1950s known now as Hotel Old Cinema.
The Kampot Provincial Museum was once the French Governor's Mansion, and today houses a small exhibition of the city's history for a $2 entry fee. The Lotus Pond behind it adds to the delicate edges of the city.
A quirky Kampot landmark is the Durian Roundabout. A giant traffic hub with a huge durian sculpture as the centrepiece, it is a shrine to Kampot's prized fruit. Kampot used to be chock full of Durian orchards before the Khmer Rouge wiped them out for rice farming fields. Durian lovers can still indulge since durian harvesting returned and is once again in abundance here.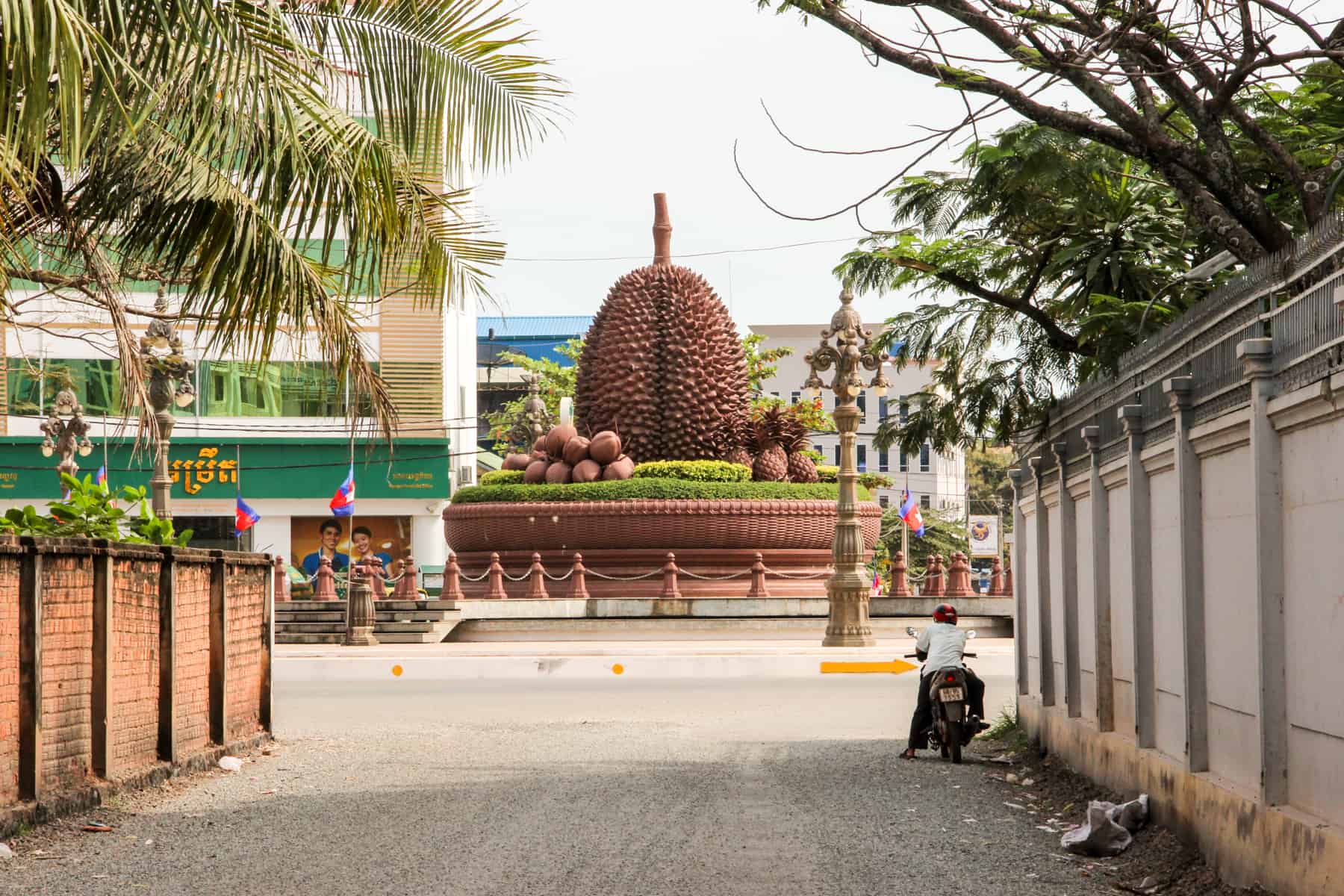 Cross the Old French Bridge
The Entanou Bridge in Kampot that connects the city split by the Praek Tuek Chhu River is affectionally dubbed the Old French Bridge in historical reference. One of the rites of passage as a visitor and things to do in Kampot is cross it.
The bridge was constructed during the French colonialist rule and later destroyed by the Khmer Rouge. There followed a reconstruction period in a mosaic of varying designs and opened again to traffic after years of closure. So while today's structure doesn't represent the original style, the sentiment of its existence does.
Kampot Riverside Life | Praek Tuek Chhu River
The Praek Tuek Chhu River splits Kampot into three segments – the two halves of the city's centre and a residential island to the south, full of forested areas, farmland and salt fields. It's also where you will find more secluded accommodations as the river flows towards the ocean. On either side of the bridge, the riverside promenade is where you'll find the cluster of bungalow accommodations and restaurants with a view, popular for sunset.
Many visitors opt for excursions and activities to experience the city's great waterway, like a Kampot River Cruise – the Crab Shuttle being a well-known service in the city. Those itching for adventure can go kayaking on the Praek. Riverside accommodations may offer kayak rental in line with the slow pace of river life here, or you can search in town for tour operators offering half-day tours that get you out in the thick of the mangrove areas and isolated nature spots outside of the city.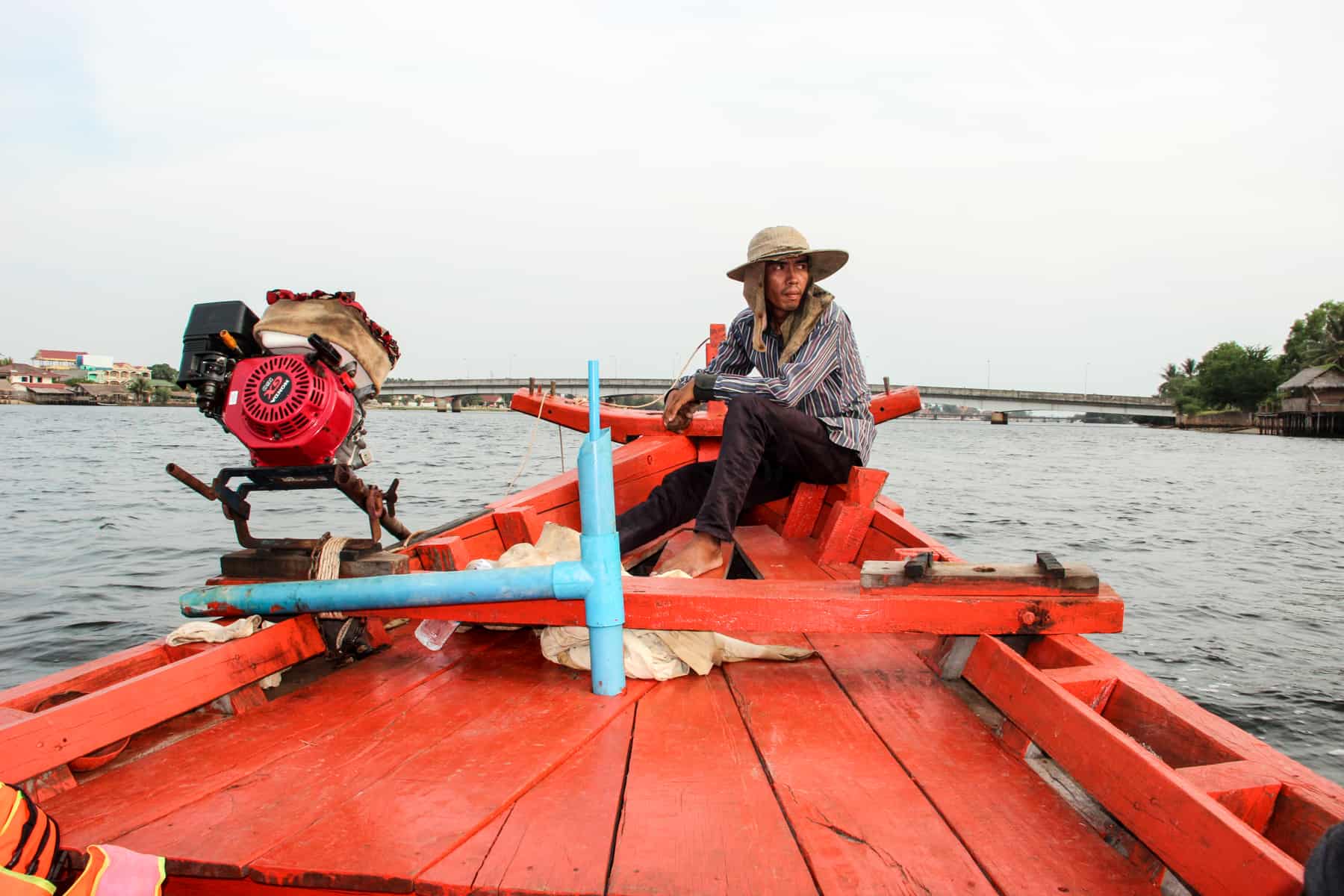 Bokor Hill Station | Preah Monivong Boker National Park
A trip from Kampot to Bokor Hill Station is easily arranged via an operator in town or by hiring a driver or moto and takes around an hour to get to. A French colonial ghost town in Preah Monivong Boker National Park that surrounds the city of Kampot, Bokor Hill Station was built as a holiday resort by the colonial French in the 1920s and abandoned during the 1940s during the Indochina War. The Khmer Rouge later abandoned it in the 1970s.
The Bokor Palace Hotel & Casino was to be the star attraction of the colonial show. However, it now stands as an empty reminder of a long-gone era, alongside the spooky abandoned Catholic church standing solitary next to the roadside. All a part of the wider living area planned here, which was to include residential houses and a post office.
Seeing the somewhat spooky carcass of bygone days is one of the most popular things to do in Kampot and a place for URBEX/urban exploration since the abandoned buildings are open without restriction. However, it's been cleaned up a little as word has it that a new investor has moved in with plans to turn it into a colonial-themed museum.
Outside of the Boker Hill Station ruins, the surrounding area is a beautiful elevated point and dense jungle nature where you can see waterfalls and hike in the Dâmrei Mountains. Preah Monivong Boker National Park is one of only two ASEAN Heritage Parks in Cambodia. It was granted its status in 1993, given to protected areas known for unique biodiversity ecosystems or areas with cultural and heritage value.
Visit the Remains of The Black Palace
Before you reach The Bokor Palace Hotel, you can visit the remains of The Black Palace – which was once the summer residence of King Sihanouk. He was said to be thrifty, so this holiday home wasn't built as a typical lavish palace – more a subtle, humble hilltop hideaway.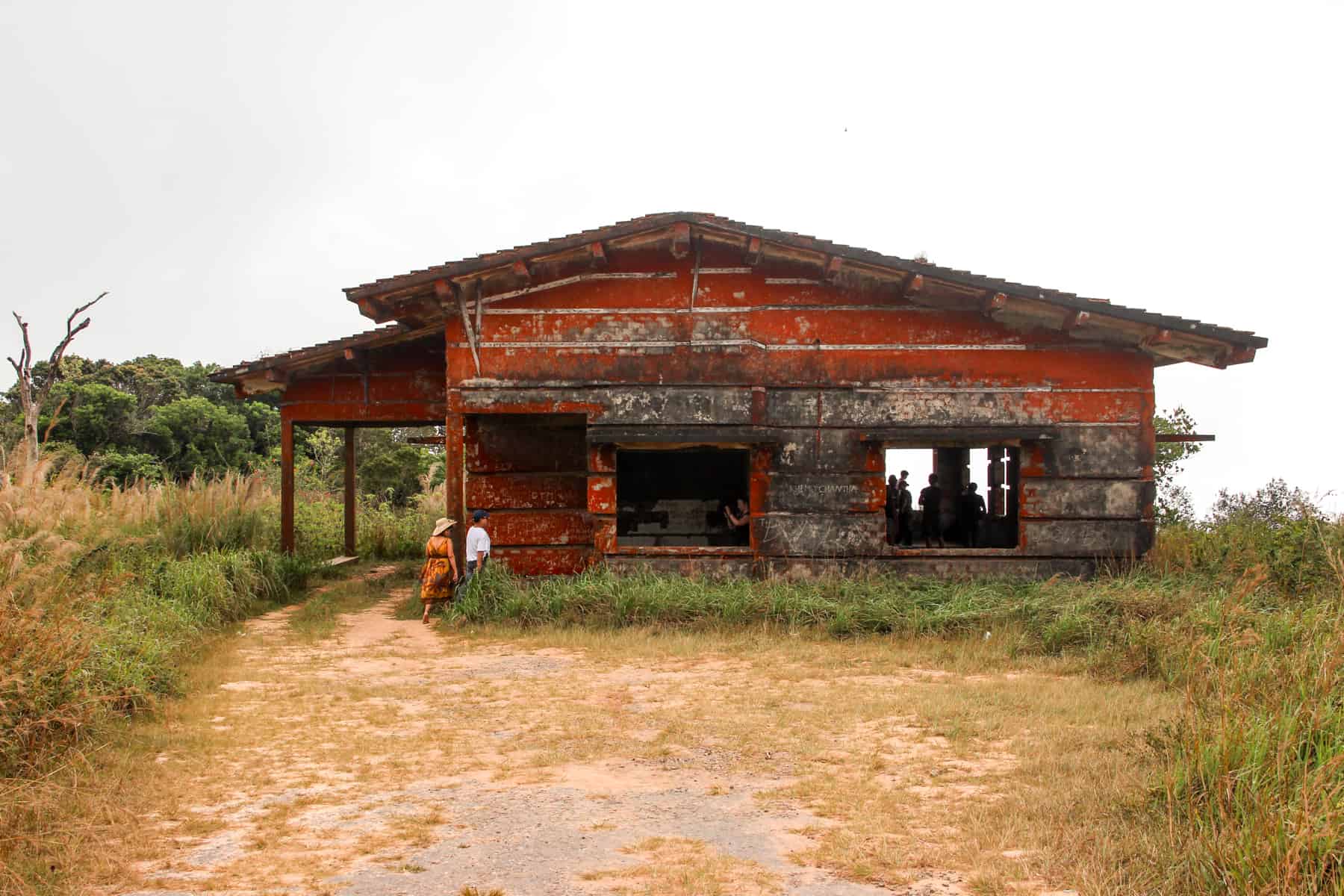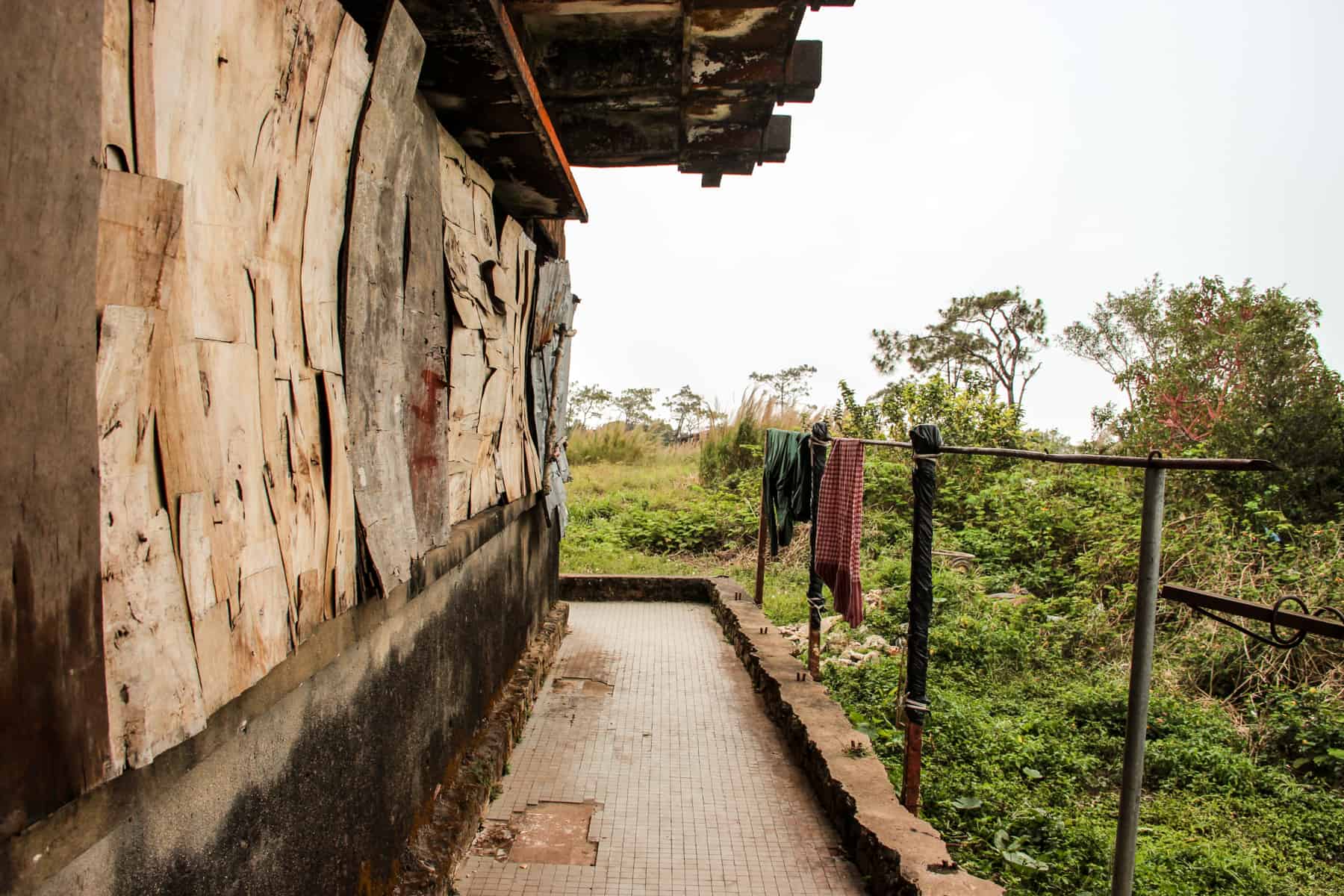 Take a Kampot Pepper Tour
Kampot pepper is a world-renowned and highly sought after spice, and your time here is a chance to taste its high-quality deliciousness exactly, right at the spot where it is cultivated.
Set to a backdrop of low mountains and a wide lake, La Plantation is the most popular for farm and processing tours and the chance to enjoy black, red and white pepper tasting sessions. This family-run project is known for its sustainable practices, investing in and supporting the local communities in the surrounding area. If there is time, add on an extra excursion to your pepper tasting and plantation visit, with a tour of the countryside or a chance to get out lakeside.
Within Kampot itself, the Kampot Pepper Artisan trader, Farm Link offers tours and pepper tastings and contributes to the growth of regional agriculture enterprise that supports a large group of farmers. Each peppercorn here can even be traced back to the exact farmer who grew it.
Visit the Kampot Salt Fields
Besides pepper, Kampot is also known for its natural salt production. Water from the nearby ocean is left to dry and evaporate in drainage pits, leaving a blanket of salt that's ready to be collected and consumed. Its painstaking work harvesting salt in the heat and your visit to the salt fields and Kampot Salt Museum further supports this local enterprise.
The salt fields are best seen during the production season, coinciding with the dry season from October to April. They are also easy to visit yourself by hiring a tuk-tuk or biking there, with various sites in the south and east of the city marked by the large wooden storage houses.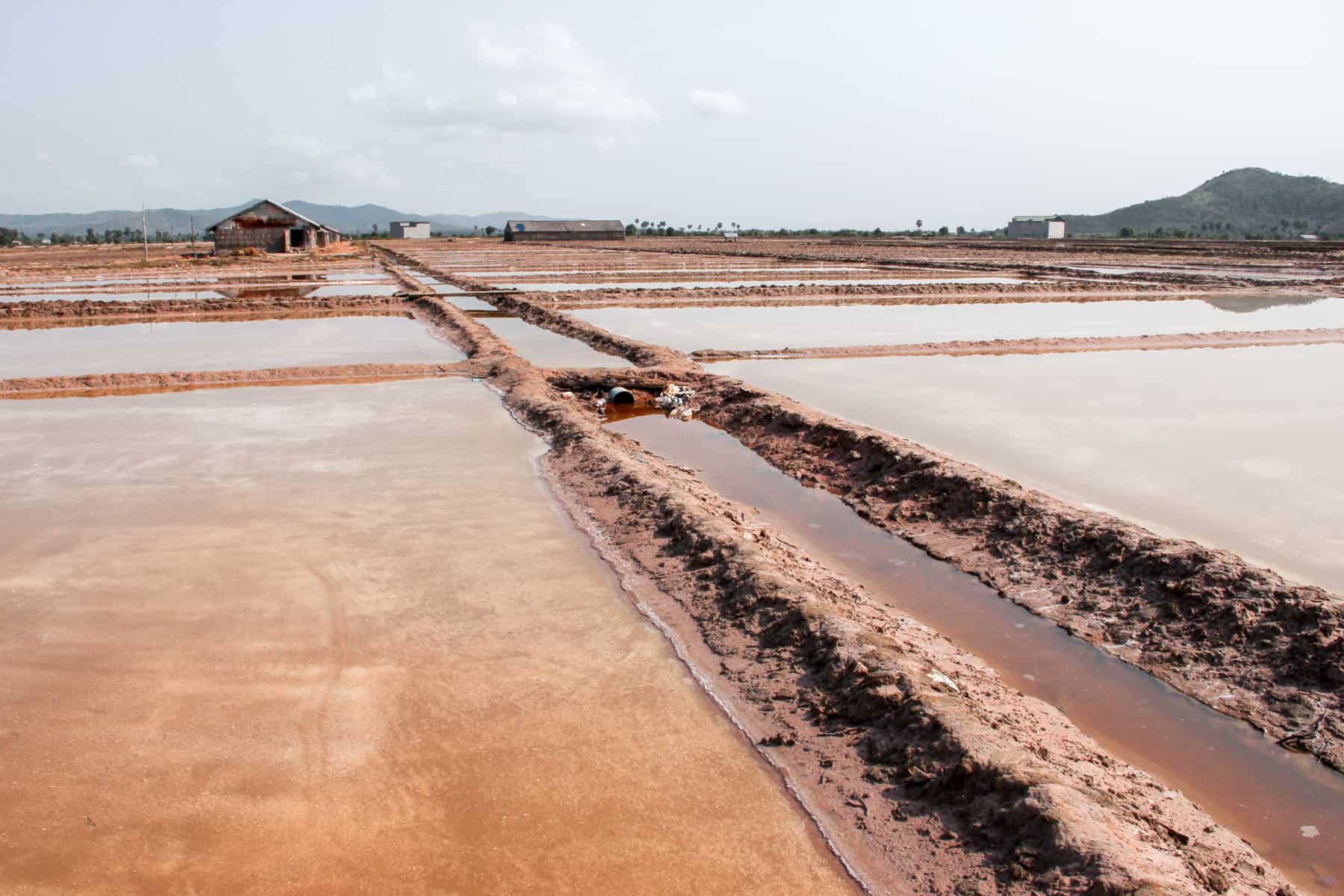 See Cambodia's Oldest Cave Temples in Kampot
The Phnom Chhngok Cave Temple is located 13 km northeast of Kampot, on a 30-minute drive. This 7th-century brick Hindu temple is hidden in a small cave and is dedicated to Shiva, also marked by the small stalactite resembling an elephant. It is reached via a track through rice paddy fields before reaching a winding staircase – the start of your journey to the cave's entrance upon the hill. It's a precarious series of slippery and loose earth walkways inside, so wear decent shoes.
In fact, there's a much larger network of hidden caves in Kampot marked for Hindu and Buddhist worship. Another known temple is that of Phnom Sorsia White Elephant Cave and Wat Kirisan, which we visited, where a dark and steep staircase leads you into an underground cavern that features a reclining Buddha.
Your driver will likely know them all of Kampot's beloved cave temples, and when you arrive you'll find school children from the nearby villages eagerly awaiting to be your guide. They are ready with torchlight, knowledge and local tales of prayer.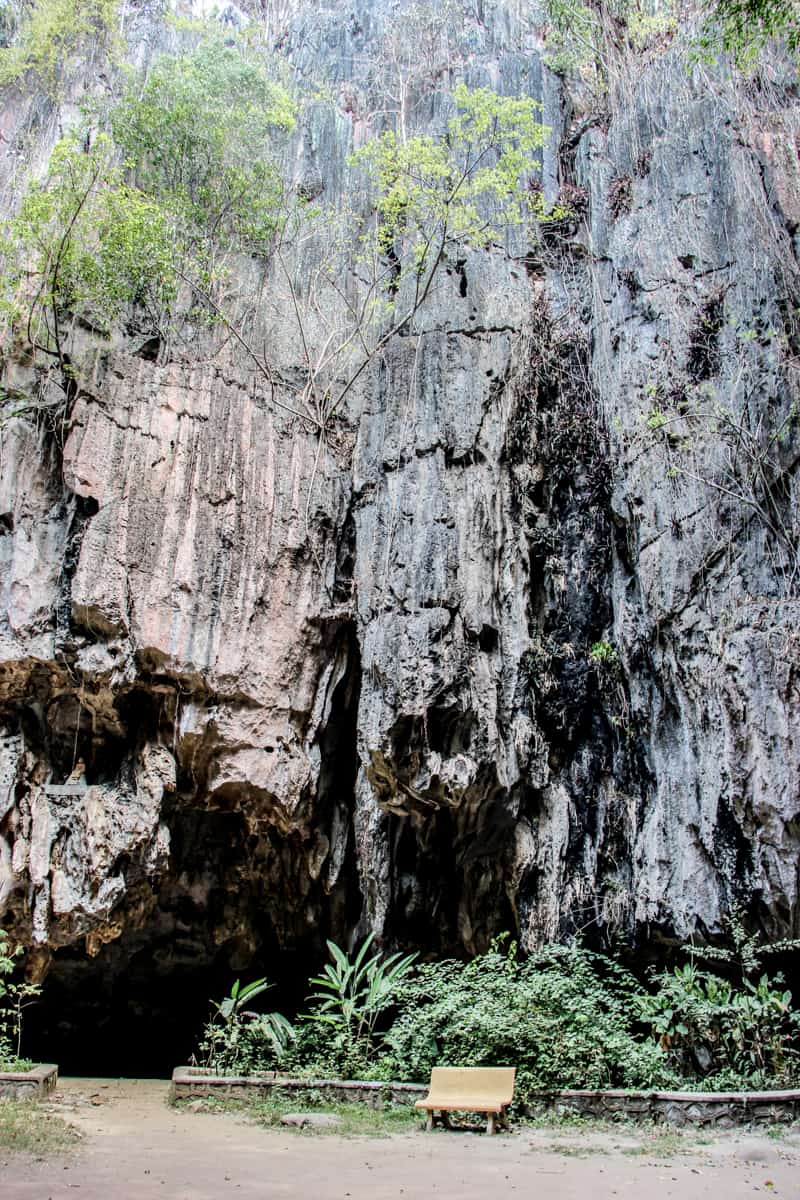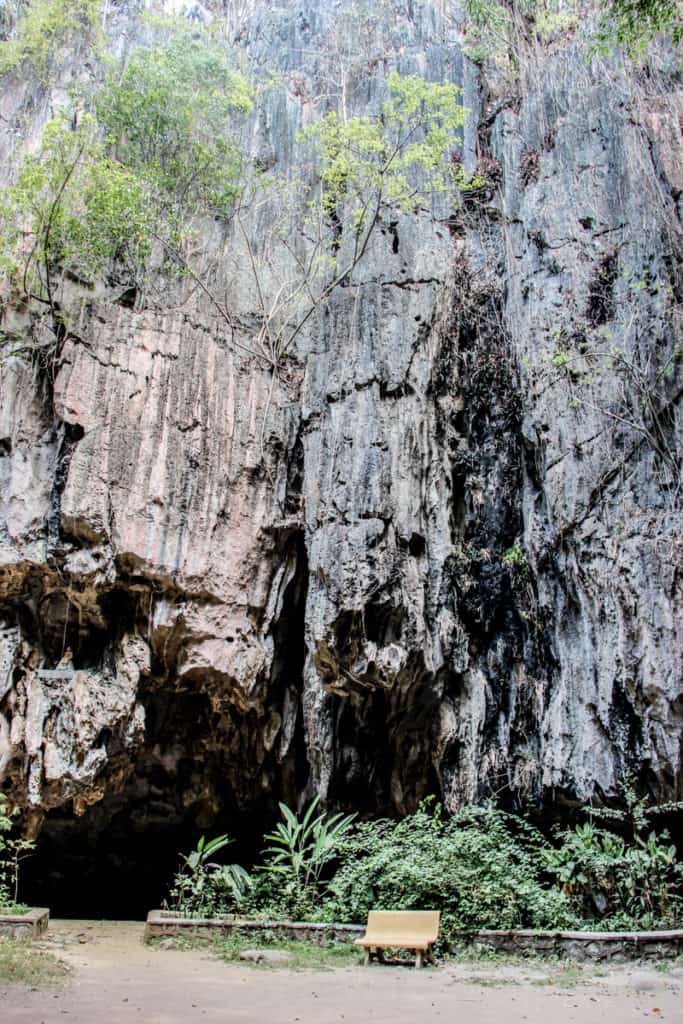 The Secret Lake of Kampot | Brateak Krola Lake
While known as the Secret Lake, Brateak Krola Lake isn't really a secret, being easily found 15 km east of town through dusty, ochre red village roads. It's also not a lake, but a dam hiding a dark past. A reservoir built by the Khmer Rouge using slave labour, those who perished in its construction were buried beneath the lake in a mass grave. A sobering moment when you are there, relaxing at one of the waterside shacks or contemplating a swim.
Day Trip to Kep and Rabbit Island
Take a bus, taxi or tuk-tuk and head for Kep, just 30 minutes away. This is a much faster option than the two-hour ferry journey, despite its scenic advantages. Kep is a relaxed, natural beauty, with beaches, national parkland and the home of good crab.
A highlight from Kep is visiting the beautifully compact and rugged Rabbit Island, a short boat ride from the mainland town.
Kampot Bars and Nightlife
Kampot Nightlife and Live Music Scene
When I was there, one bar per night from Thursday-Saturday was designated as the go-to place to be, and apart from Saturday night at Bodhi Villa, the nightlife atmosphere isn't expansive. However, it has a well-established and thriving live music scene, with different venues hosting weekly events – check local listings when you arrive.
Karma Traders hotel has live music every Tuesday on their rooftop bar, also designated as Taco Tuesday.
Infamata Bar hosts weekly gigs on their Backyard Stage and is known for its selection of cocktails, craft beers and gins.
The Plantation has live music and an open mic session weekly.
Kampot Night Market
Like most Cambodian cities, night markets are a fixture. While the Kampot Night Market isn't much in the way of sourcing gifts, handicrafts and clothing it is the place to get street food, sample local cuisine and enjoy the evening with locals. It closes at 10 pm.
Is a Trip to Kampot Worth It?
Yes, get outside the trap of hostel dwelling, and you will soon see the things to do in Kampot offer quite the selection. The timeworn architecture of Kampot provides a fascinating window into the once-prosperous colonial power that operated here, now left to crumble in the wake of modern Cambodian life yet eerily remaining in the background as a reminder of what once was and what could yet again be. The pepper plantations help continue a farming tradition with worldwide adoration and keep local communities supported and trained in agriculture. The national parkland, rivers and lakes, beaches and unspoilt unkempt nature that surround it all show how this southern Cambodian beauty has its charms.
More on Cambodia Travel
For more Cambodia travel inspiration, view my full list of articles from the time I lived in and travelled around the country.
If you are looking for more Cambodia towns not on the typical travel circuit, read about my time visiting Kampong Cham.
Cambodia Tours
Looking to travel in Cambodia with others in a small group? You might like G Adventures Ultimate Cambodian Adventure trip that does a loop of main city highlights and smaller towns from Phnom Penh, including Kampot! There's even time in Sihanoukville, with a transfer to your own private beach on Koh Rong island, where you stay for two nights.
As a G Adventures Wanderer and ambassador for the brand, I can vouch for their service having taken many tours myself. The fact that you will travel with a local Khmer guide is also invaluable for knowledge and guidance when travelling.