Disclaimer: This post contains affiliate links to handpicked partners, including tours, gear and booking sites. If you click through or buy something via one of them, I may receive a small commission. This is at no extra cost to you and allows this site to keep running.
All the reasons why you should visit Kampong Cham, Cambodia – a must-see city on the Mekong River, south of the capital, Phnom Penh.
You won't find many travellers in Cambodia who have heard of Kampong Cham or have it on their list of places to visit. Yet, this must-see city on the Mekong River – the 12th largest in the country – is located only three hours from the capital, Phnom Penh, making it an ideal opportunity to explore one of the country's rural provinces outside of its urbanised highlights. You can only ever truly understand the complex and diverse make-up of Cambodia once you start to explore its lesser-known corners.
Our plans to travel to Kampong Cham were originally set out to be a quick stop there to break up the long journey we were taking from the southern coastal town of Kep to the eastern jungle lands of Mondulkiri (via a bus change in Phnom Penh).
When we arrived, the city felt so bizarre that my friend and I wondered if we had made the right choice to decamp here for a night or two. More like a subdued town, local life moved at a slow pace, backpacker hangouts and hotels appeared eerily quiet and empty, there were far fewer tuk-tuks and people traffic, and the easily navigable area from the riverfront to the other side of this urban pocket seemed to lack character. Since I had been living in Siem Reap at that time, I had grown to like the bustle of Cambodian cities and this was very different.
But how wrong we were that nothing at all was happening in Kampong Cham city. The spontaneous visit was a welcome surprise and there was plenty to see, do and explore in the end. So much so, that I advise you not to make this a fleeting day trip.
Why You Should Go to Kampong Cham, Cambodia
It's likely you will be passing through the Cham, rather than planning any particular long excursion there. I spent two days and one night in the city and it fast became one of my favourite destinations in Cambodia.
It oozed charm; an underrated, hard-to-explain-unless-you-are-there-living-it charm that made it interesting. It wasn't quaint and nor was it overwhelmingly pretty, yet the layers of the town's former trading post status during the French era are still peeling. We were not hassled and nor were we ignored. The emptiness and the calm of the place just had something about it.
The Koh Pen Bamboo Bridge
One of the main Kampong Cham attractions was the Koh Pen bamboo bridge that connected the mainland to a small lake island. I had always wondered why a Khmer friend of mine from the town had once told me about it with such bounding enthusiasm. It turns out this bridge was not only a feat of architecture – re-built every year when the river water subsides during the dry season and then taken down completely when the tide comes in – but an interesting contraption to cross with your bicycle.
I feel lucky to have witnessed it and to have made the journey across it because sadly, the original and decades-old construction it is no more. The last erected bamboo bridge construction was in 2016, where thereafter a government-funded steel and concrete bridge was built further up the river, meaning the iconic Kampong Cham bridge came to an end.
However, the owner of the old bamboo bridge told the Phnom Penh Post newspaper that since it was a tourist attraction, its loss also signalled a loss in income for the community too. "To avoid this, last year enterprising locals decided to keep the tradition alive on a smaller scale by building a tourist-friendly, pedestrian-only bridge as a replacement", states the article.
Either way, you will find some remnants of old tradition when you are there.
My friend and I screeched like children as we made our way over it. The click and clatter of the bamboo strips and the softness of the multiple layers felt like it could give way any minute. You dared not look over the edge and motos and cars would zoom past you creating an adrenalin-fuelled wobble in the path as you tried to find your momentum again.
It was unique and exhilarating, although be prepared to pay for the privilege – the dollar you pay being over four times that of the local price.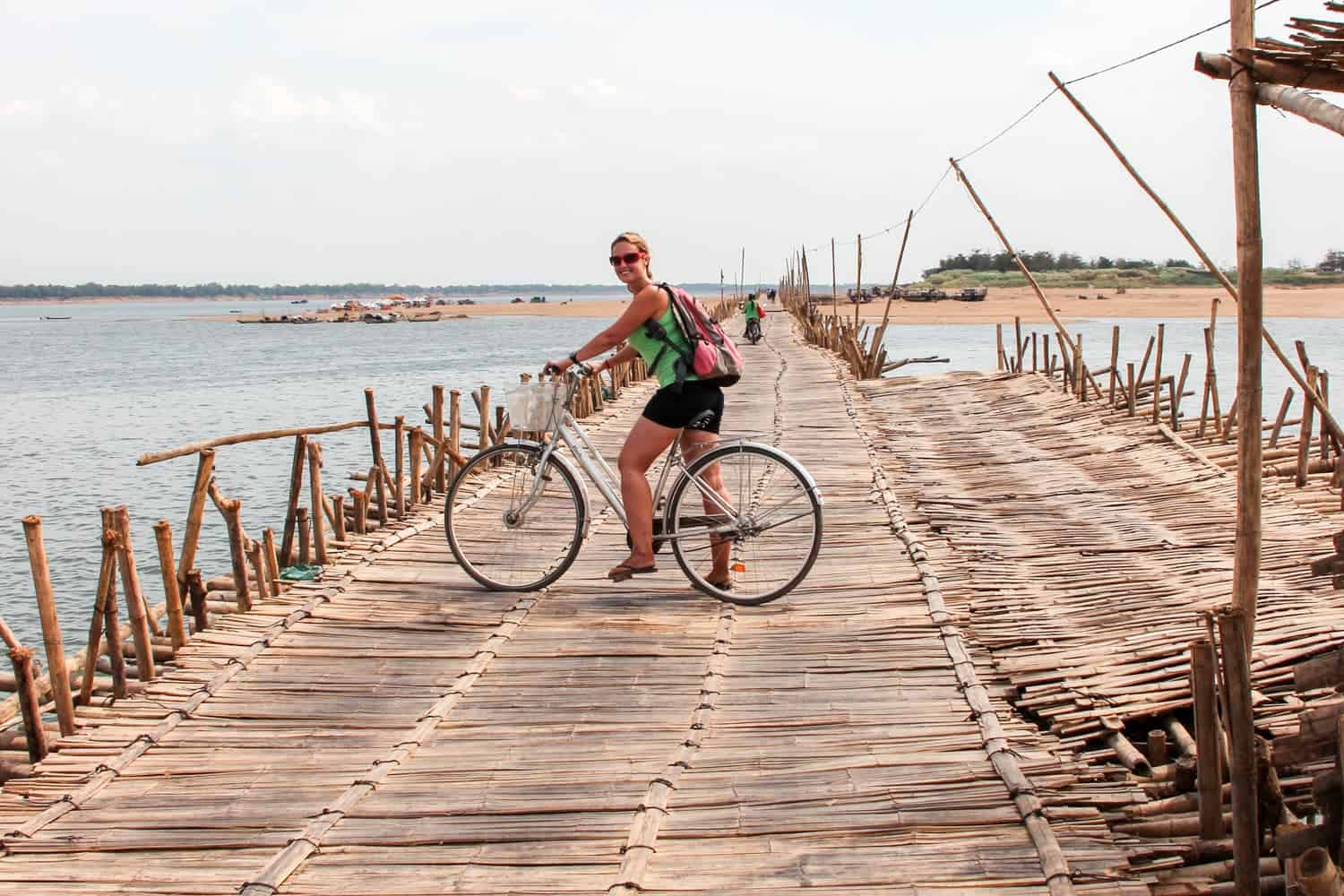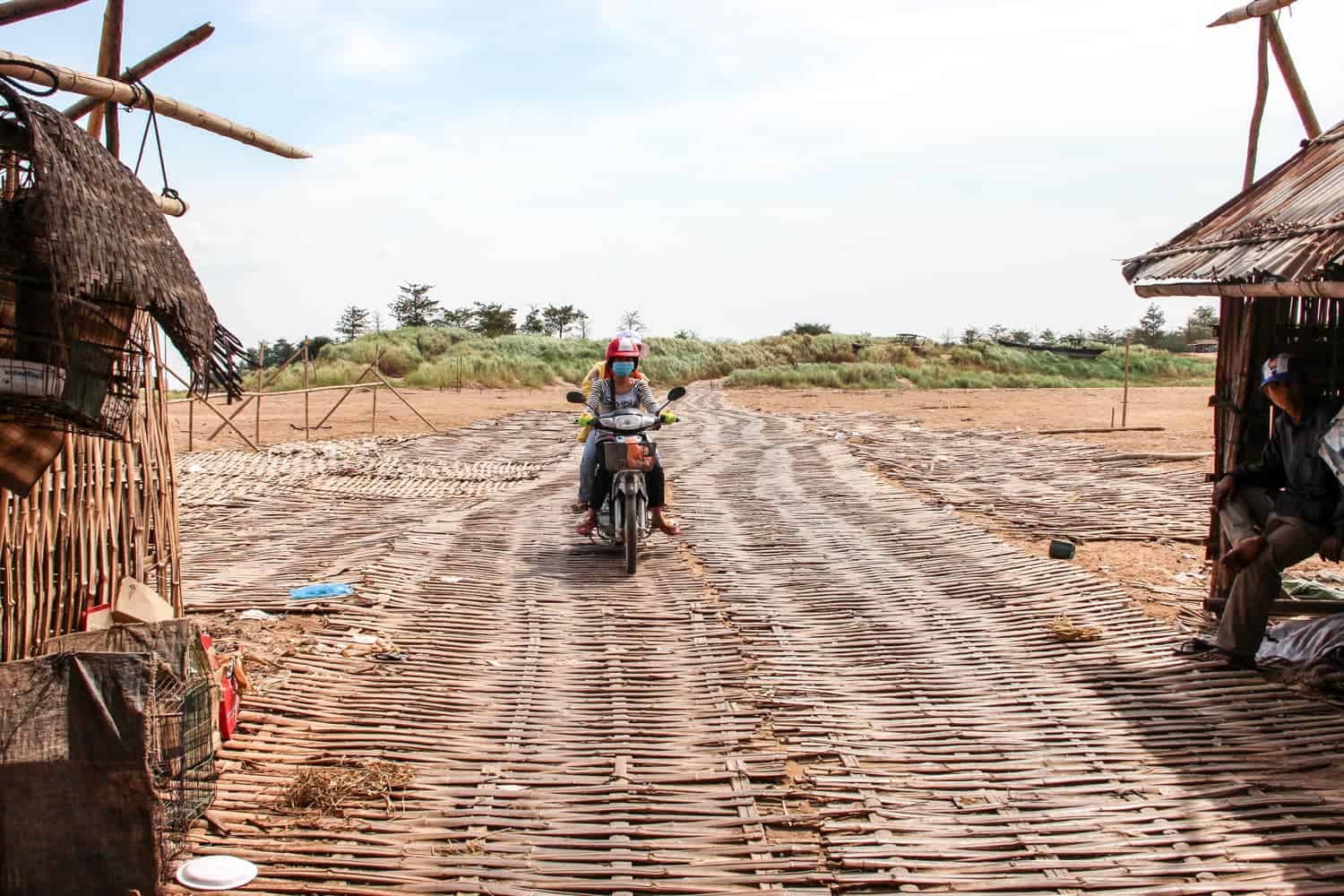 Biking on Bamboo Bridge Island – Koh Paen
Koh Paen – the island you find yourself in after crossing the bamboo bridge – is a giant village. Our grand idea of cycling all the way around it was cut short when we realised that we had been cycling for over an hour and had not made much progress in terms of reaching a half-way point on the island's circumference and we still hold on to the belief that the road was never-ending. We were also short-changed by locals who decided to ignore my limited Khmer.
Still, there is not much else to do besides looking at people's lovely houses and the farmed landscape, alongside random cows, corn cobs and stinky durian fruits.
You can hire a bike in town for as little as $2 for the day.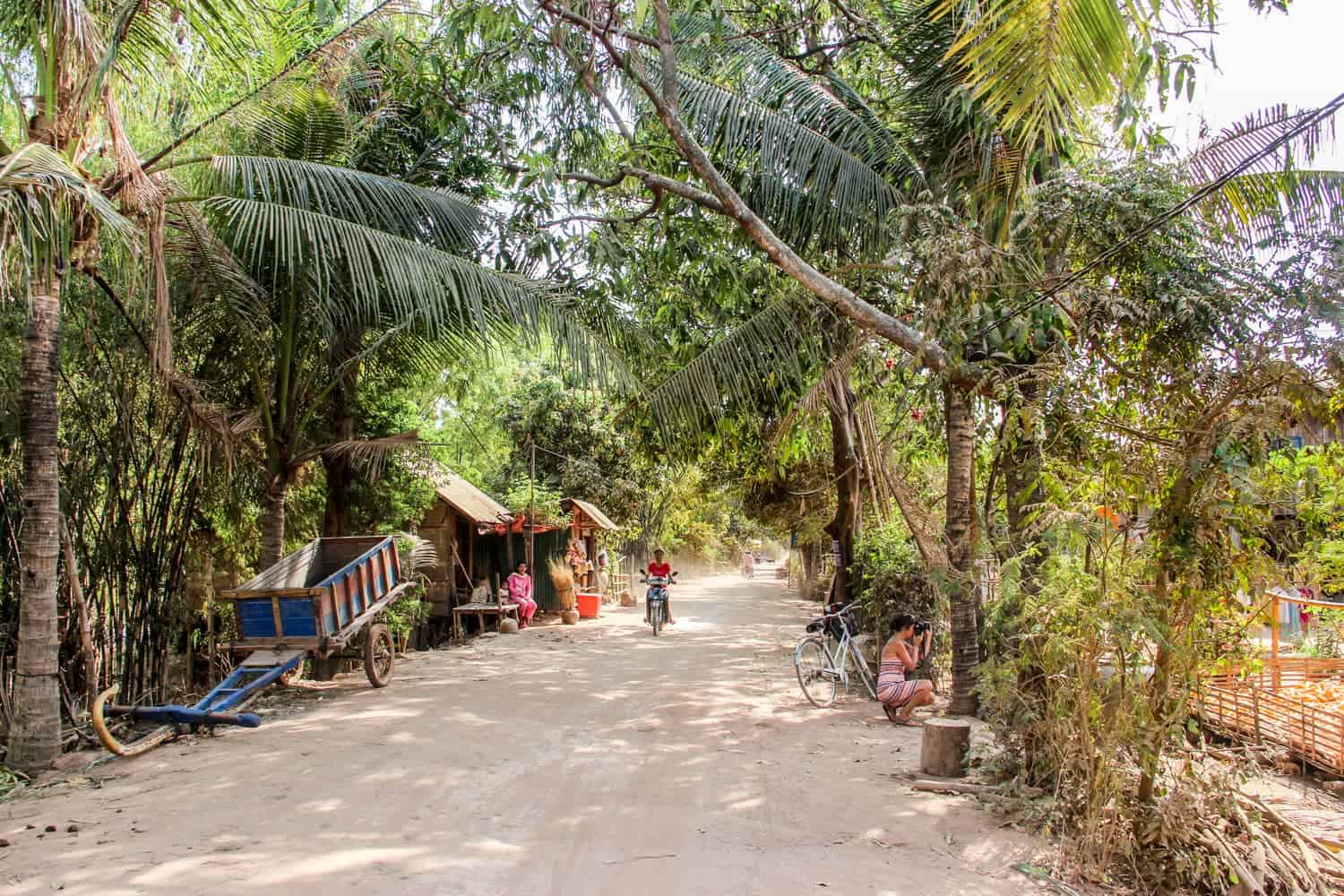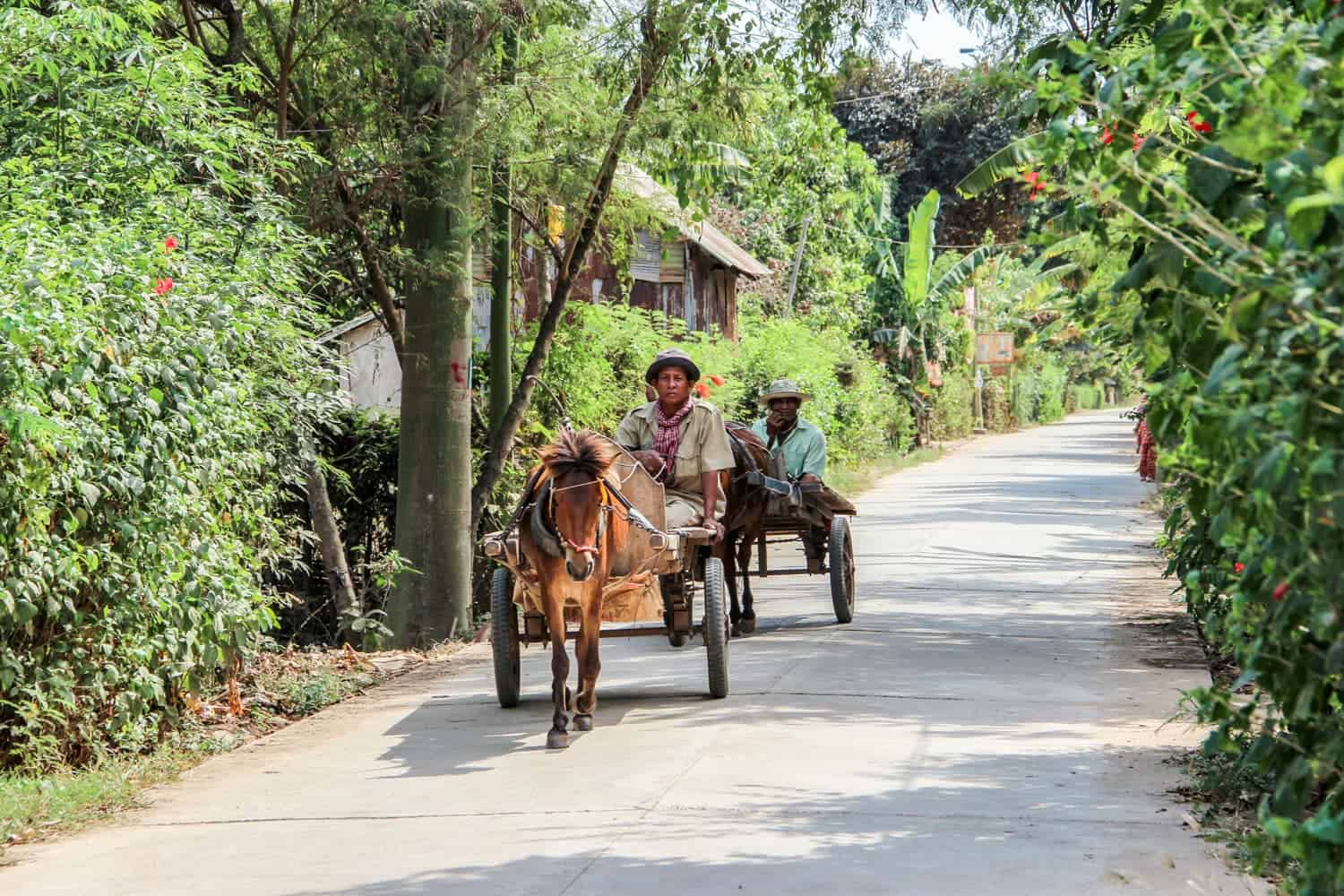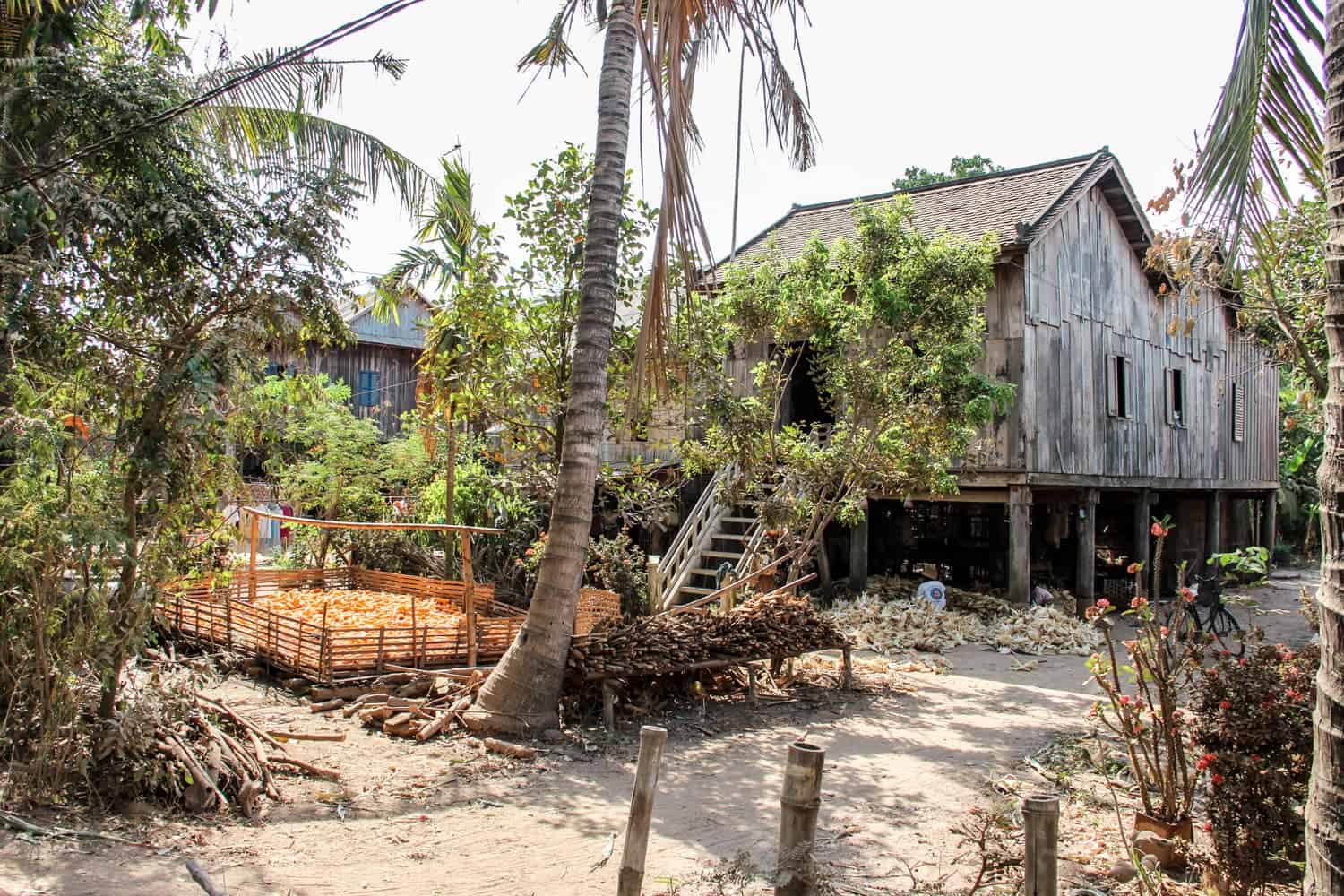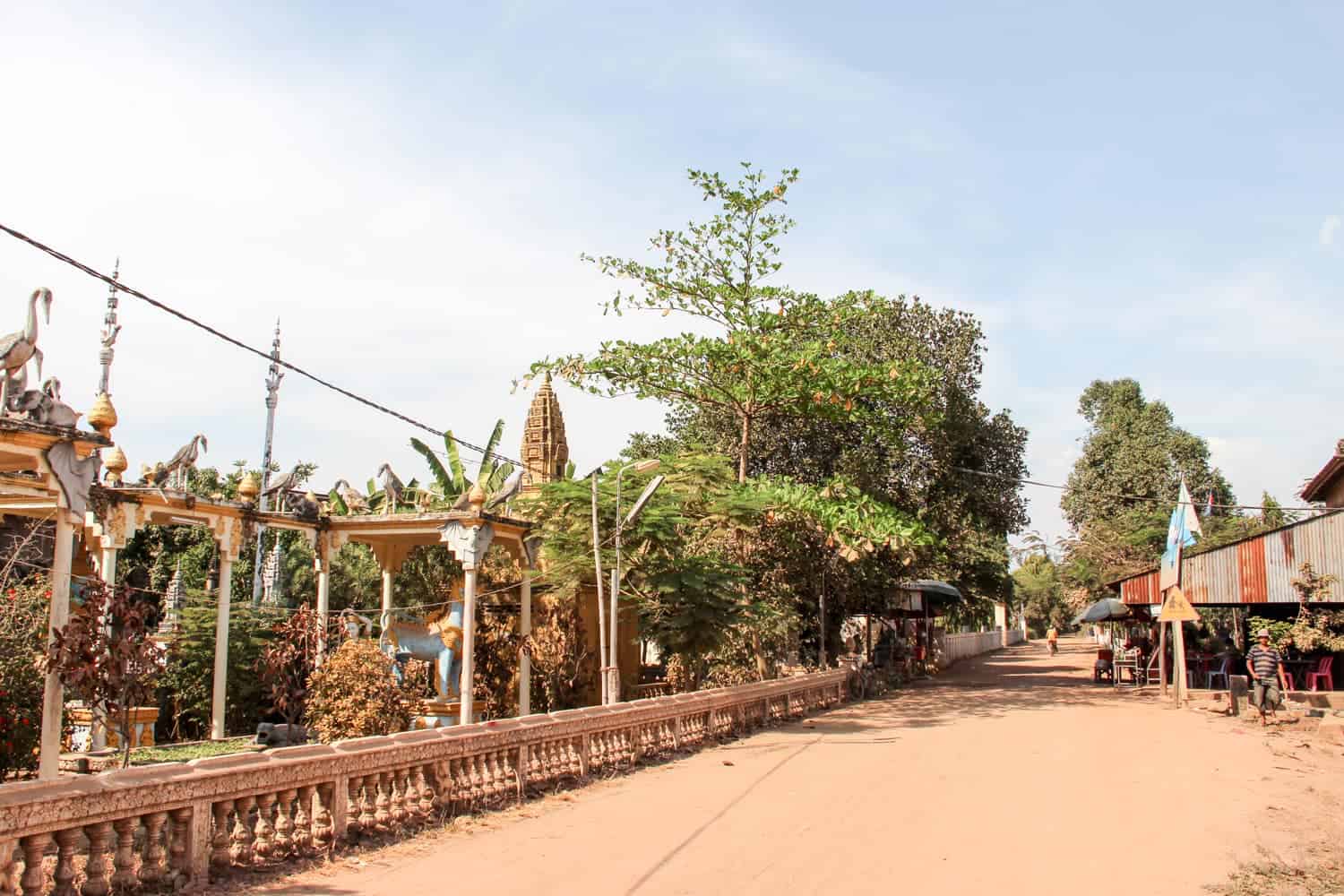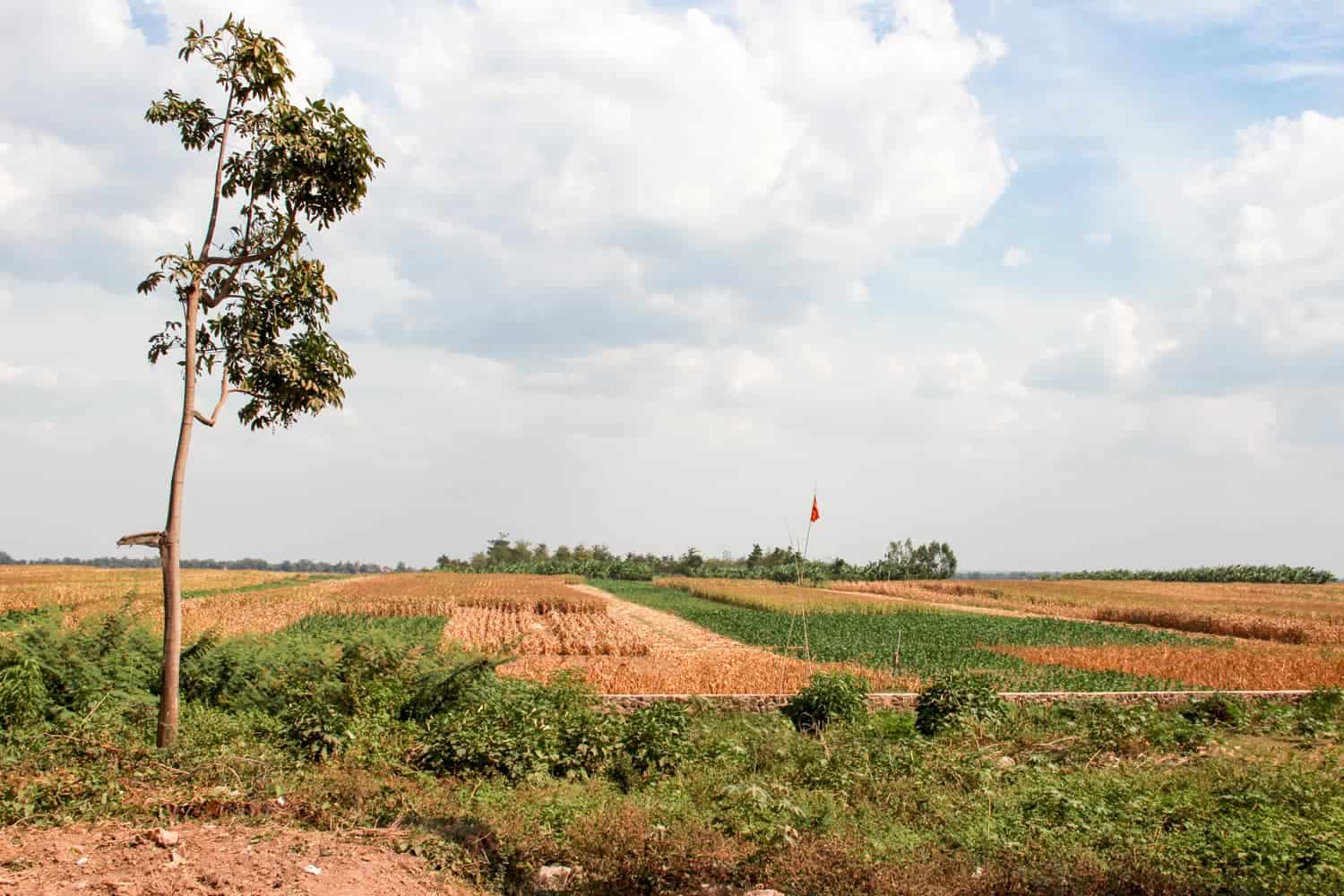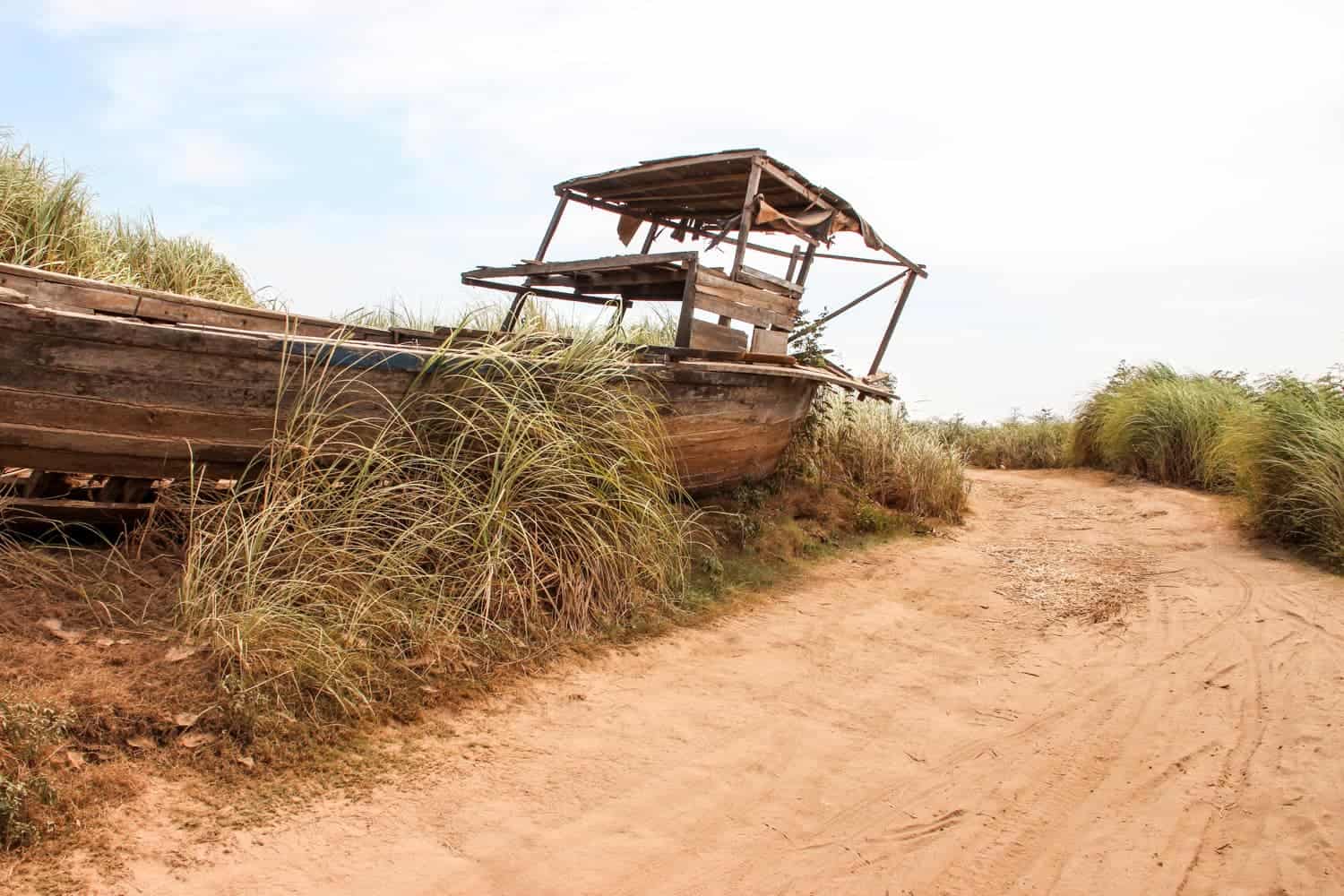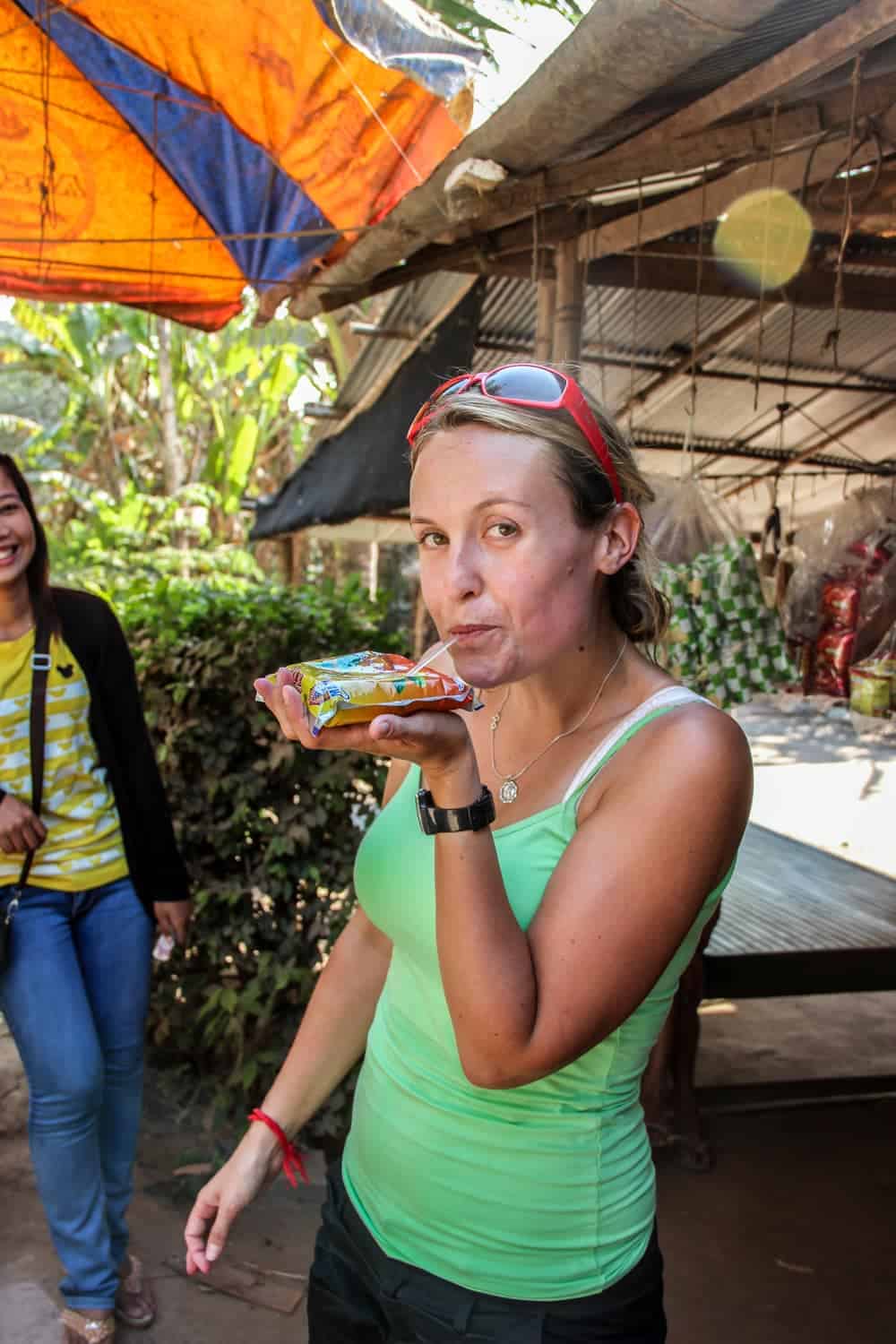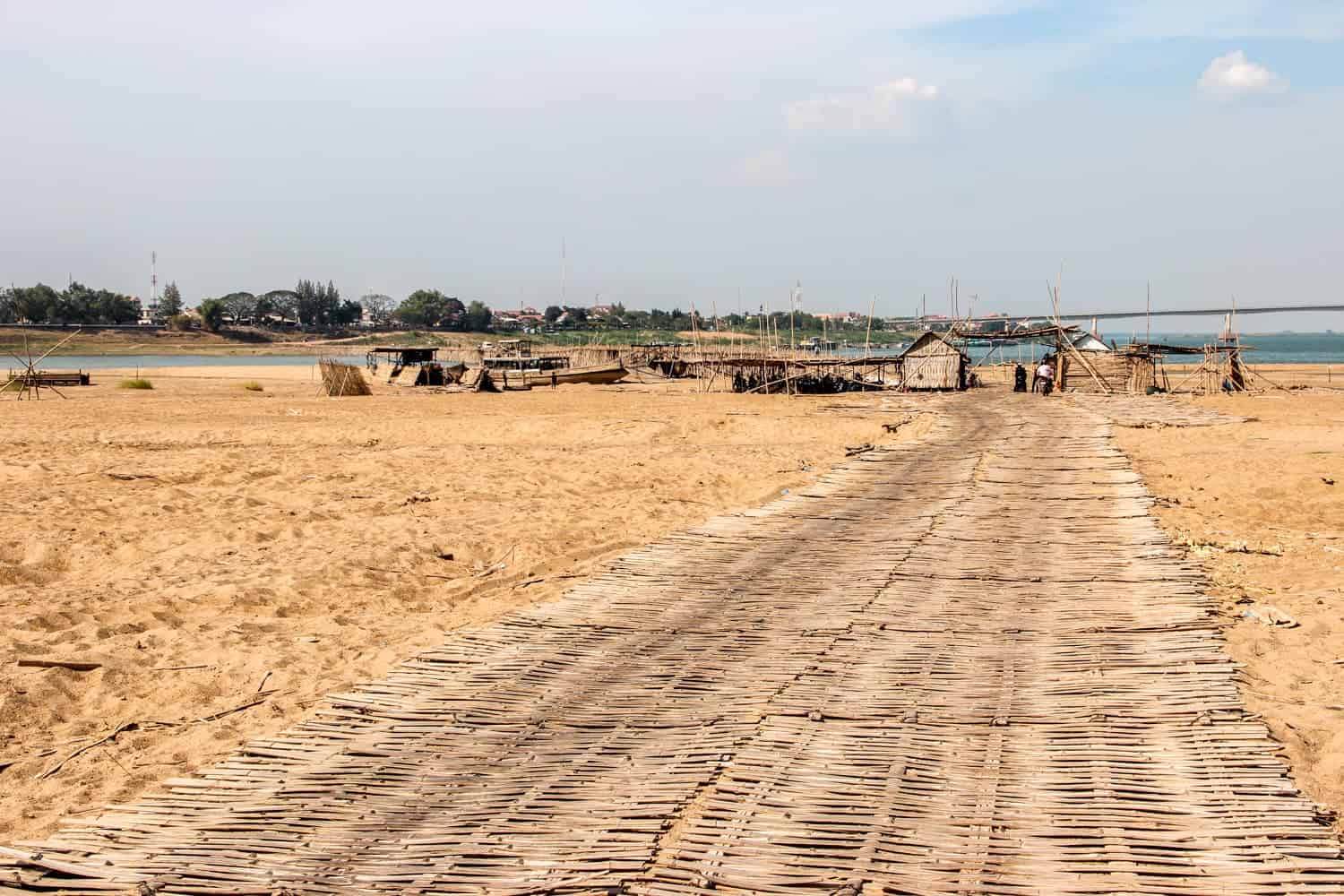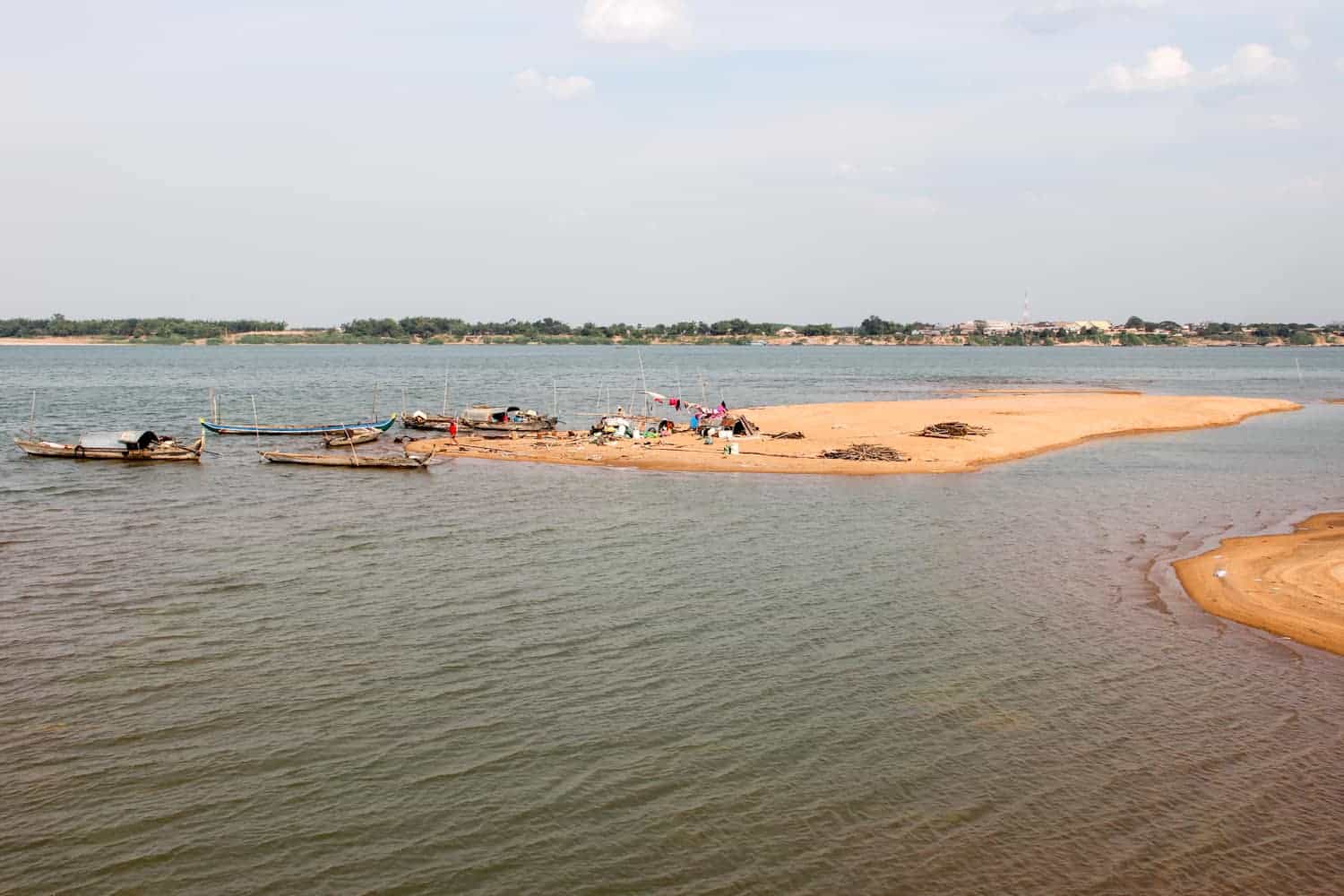 Visit the Temple Complexes
Other sights in Kampong Cham are based out-of-town including a pair of temples called Phnom Pros and Phnom Srey and the province's last remaining wooden pagoda, Wat Maha Leap – one of the last remaining wooden pagodas left in the country.
We decided to visit what is affectionately known as Man and Woman Hill – where two hills each have a temple atop of them, surrounded by Kampong Cham's 'killing fields', which is a beautiful area albeit slightly unnerving.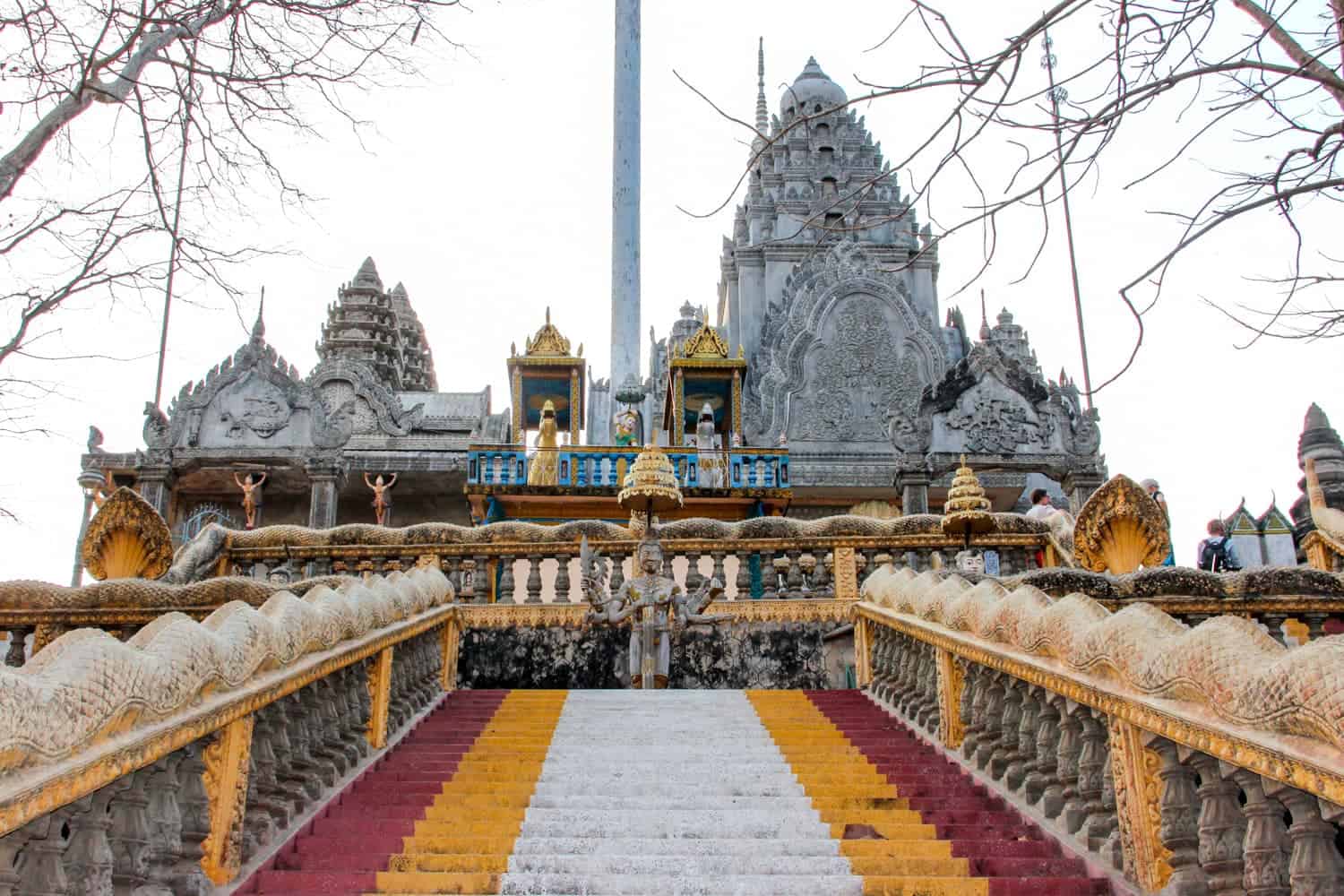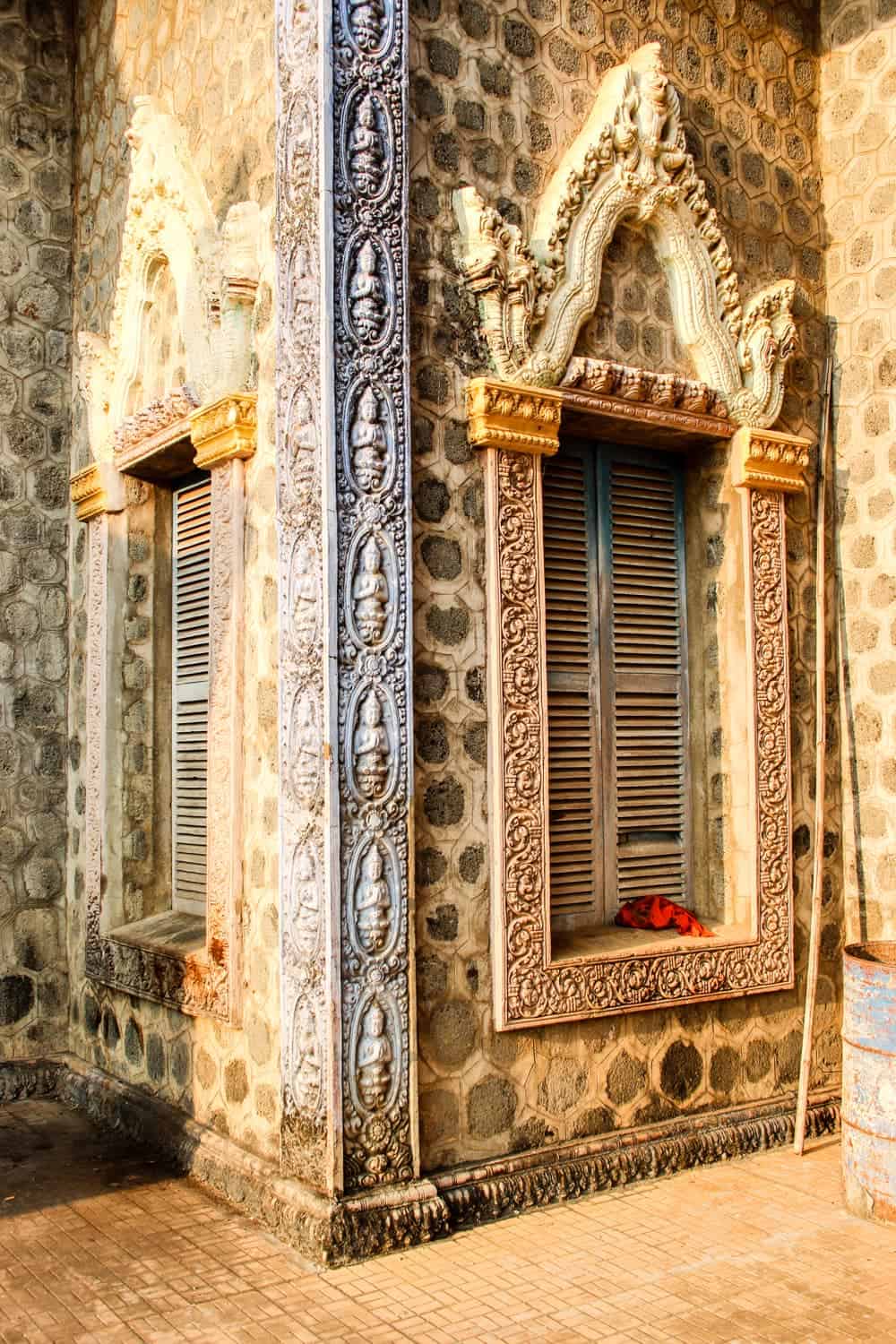 If you have time there is also a large temple complex, Wat Nokor (Banteay Prei Nokor) that is built with black sandstone and pre-dates Angkor Wat. It is located less than 30 minutes northwest of Kampong Cham off the Phnom Penh highway and is easy to get to by taxi or by bike.
A similar distance, 20km north of Kampong Cham, is the Mekong viewpoint hilltop pagoda, Wat Hanchey. The historic, and now restored, Old French Lighthouse, also offers Mekong panoramas, that make the climb up worth it.
Kampong Cham Waterfront and City Exploration
Daily life in Kampong Cham moves at its own pace and is a place to take a rest stop and not feel the need to have to rush around. It's here that you can meander the wide boulevards filled with crumbling colonial-era buildings, or lose yourself in smaller city back streets.
The fact that nothing much happens here is a perfect reprieve from long travel and a chance to observe daily life integrate more with local people.
Make sure to find time to walk along the waterfront promenade, which becomes a popular spot for locals to take exercise classes in the day or hang out in the evenings.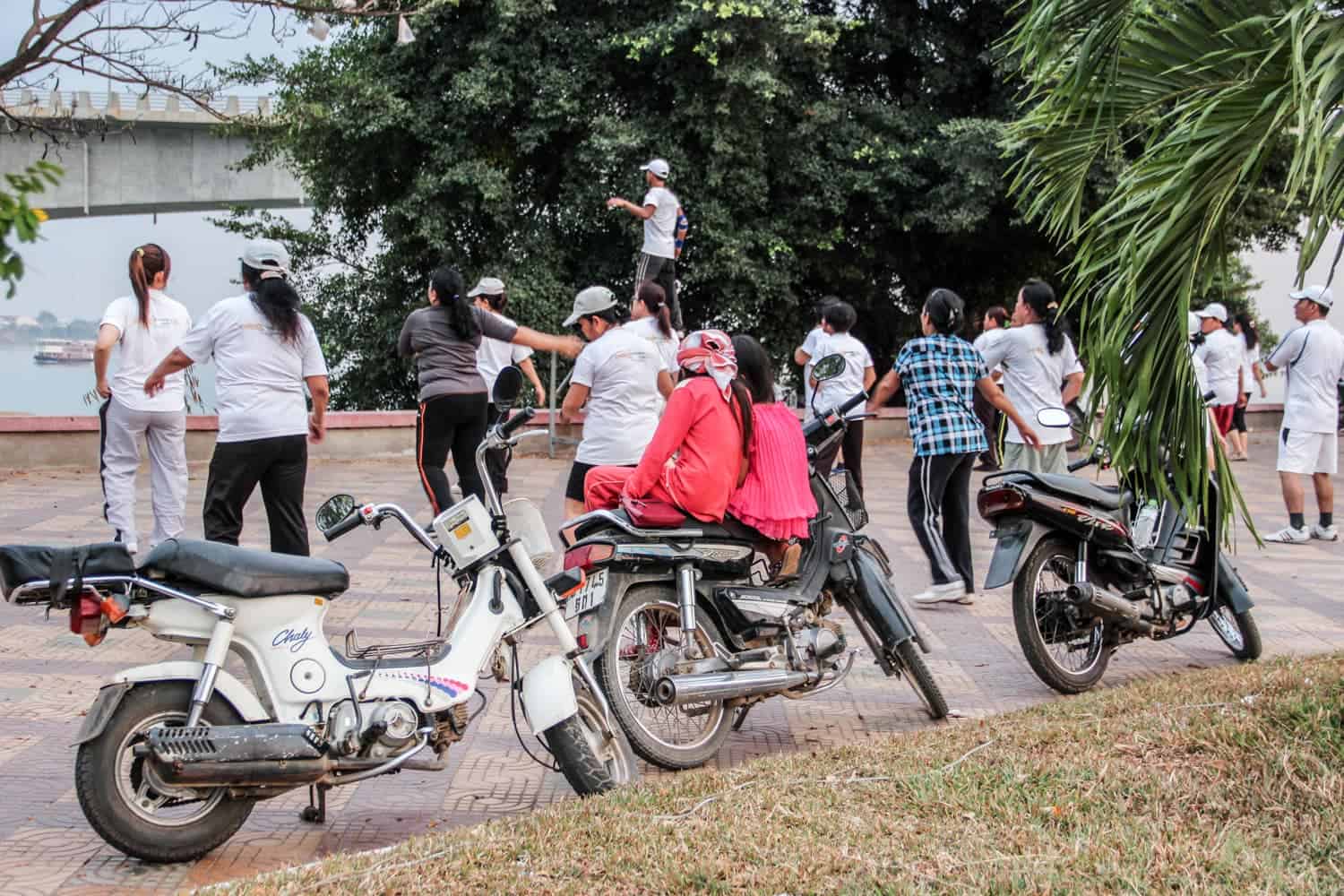 There's no nightlife in Kampong Cham apart from being able to soak up the atmosphere at the local street food and clothing market, which has great food and decent fashion choices. However, we got lucky – there was a beer sponsored concert in town where we got to see a staged game of musical chairs and the extreme signing talent of a local blind boy who roused such generosity from the crowd (who eagerly clambered to the stage to donate money).
We left with happy memories. Not only did we save ourselves a backache and energy by not spending all day on buses getting to Mondulkiri, but we got to see a less-popular, untouched part of Cambodia. Most importantly, travel here resulted in having our preconceptions challenged, proving that's it sometimes worth taking the risk and trying somewhere random. Spontaneity often produces the best of adventures and a real insight into local life, even if it does initially appear bizarre.
How to Get to Kampong Cham City
The main highway NR6/NR7 connects the capital, Phnom Penh to Kampong Cham. It's well-paved which means the long journeys are not too painful and since it is a well-frequented road, there are no issues with regards to safety.
There are daily buses that frequent this route and the total journey time is three hours.
Daily buses depart from Phnom Penh Sorya Bus Terminal at 10:45, 11:45, 12:45, 15:45, 17:45 and 19.30 and arrive in Kampong Cham near May Bank.
The Sorya bus ticket from Phnom Penh to Kampong Cham costs $7.25 or there is a minibus option for $9.
Taxi options The bus is a much cheaper alternative than a private taxi, which can cost up to $60 one way for a four-seater taxi SUV.
How Long to Spend in Kampong Cham, Cambodia
We spent two nights and three days in Kampong Cham, giving ourselves two whole days outside of travel time. Kampong Cham was a stop-over as we made our way east to Mondulkiri and Ratanakiri.
While Kampong Cham is relaxed, low-key and under the radar, there is still a lot of things to do and experience. Exploring the Angkorian temples, landscapes and everyday town life shouldn't be rushed and doesn't need to be – get into the pace of the town and immerse yourself slowly. However, if you only have two full days in town, that is also sufficient time to get a decent introduction.
Where to Stay in Kampong Cham
Looking for a hotel in Kampong Cham? There are plenty of options now for those looking for a little comfort outside of traditional Cambodian hotels to homestyle style accommodations in bamboo huts, perfect for relaxing in this beautiful rural setting.
Boutique: The modern Reasmey Cheanich Hotel is great for those looking for style and comfort in a central location. It has a 24-hour front desk, Wi-Fi, great city views and is just 300m from the (Thom Thmey) Central Market.
Homestay Style: Those looking for a homestay style experience near the Mekong should check out OBT Homestay Chiro in Chiro Village. You can stay in a bamboo hut in rooms decked out in comfortable matrasses, mosquito nets and an overhead fan. You can relax on the terrace in a hammock and eat at the on-site restaurant that serves local dishes. The Mekong Bamboo Hut Guesthouse also has a similar offering with community dinners in the evening.
Traditional: The Mekong Hotel along Riverside Road is the largest in town and a typical Cambodian style hotel. It lacks any particular flair or homely warmth, but you can often land good last-minute deals for multiple nights.
More on Cambodia Travel
For more Cambodia travel inspiration, you can view out my full list of articles.
If you are looking for more lesser-known destinations in Cambodia consider visiting Rabbit Island off the coastline of Kep, jungle trekking in Koh Kong and heading further out to the paradise island of Koh Rong Samloem.
More on Cambodia Travel
For more Cambodia travel inspiration, view my full list of articles from the time I lived in and travelled around the country.
If you are looking for more trodden-route towns, read my guide on the Things to Do in Kampot, Cambodia.
Cambodia Tours
If you are looking to travel in Cambodia with like-minded travellers in a small group check out the G Adventures Ultimate Cambodian Adventure trip that does a loop of the main city highlights and smaller towns from Phnom Penh, including an overnight visit to Kampong Cham! Time in Sihanoukville includes a transfer to your own private beach on Koh Rong Island for two nights.
As a G Adventures ambassador, I can vouch for their service having taken many tours myself for over a decade. The fact that you will travel with a local Khmer guide is also invaluable for knowledge and guidance when travelling.
Want to Go to Kampong Cham? Pin It?