Disclaimer: This post contains affiliate links to handpicked partners, including tours, gear and booking sites. If you click through or buy something via one of them, I may receive a small commission. This is at no extra cost to you and allows this site to keep running.
Rabbit Island Cambodia is a beautiful, compact island tucked away from the mainland town of Kep. The short and scenic boat ride from the town's main port takes you to a different world where people are content to do nothing except relax in a hidden corner of the country.
By day, Rabbit Island (Kaoh Tunsay) is a peaceful and serene beach island scattered with Cambodian-style wooden huts, hammocks swinging from palm trees, and a sparse scattering of sun loungers. At night, the coast is lined with a scattering of quiet bars and food shacks, and when the generator goes out after 10 pm, the sea is illuminated with plankton as naked people swim in their glow.
I spent three glorious days on this palm tree coastline and jungle filled island. Venture beyond the experience of the day-trippers if you have the chance.
How to Get to Rabbit Island
Boats leave from Kep's main port, and a return ticket costs $20. The journey takes 20-minutes on a motorised wooden boat; the calming waters slowly edging you towards a paradise.
Keep your return ticket, from which you can leave the island at any point. Locals will be able to inform you on boat arrival and pick-up times to get back to the mainland.
The Rabbit Island Trekking Trail
Going to Rabbit Island isn't just about lounging on the beach, although it is the best place to switch off completely. The coastline moves from sandy to rocky and rugged as you reach its rounded edges, where you can spend hours bathing in tranquillity to the sound of the sea, and limited boat arrivals.
However, the island also has an adventurous side. But to see it you have to join the trekking trail that runs around the island's perimeter. Taking a long walk on the wild side of Rabbit Island makes a nice change to the sparsely populated scenic hangout, which can become a little repetitive.
Finding the Walking Trail
At first, we couldn't find the trail we needed – we were told "it is on the right side of the island if you are facing out to sea" and we heard through word of mouth that if you started on the path that was on the left side of the island, it is hard to find your way back. Locals cover part of the track on the opposite side of the island. This tactic is to force you to use their boats to get back.
However, we met a couple who had been living on Rabbit Island for three weeks and who had taken it upon themselves to trek around the island every few days. They knew the way, including the covered path. Once on the island, ask around. You will meet people who have already undertaken the trek and can pass relevant information along.
The path doesn't start at the very end of the right side of the island, marked by a lot of rocks which you would have to climb. It begins behind a set of guesthouse huts a few metres before there.
From there, you will see the narrow, trodden path which becomes easy to follow in its parts.
In total, the trek lasts around two hours – more if you decide to hang out at one of the beaches. At times you feel as though you are the only one on the track and if you do pass people coming from the other direction, it's custom to help each other out with instructions. After all, getting lost within the undergrowth of an island wouldn't be fun for anyone.
What You'll See on a Rabbit Island Trek
The track begins by leading you through the thick green jungle territory as you work your way from the curve of the coastline and through the middle of the island. Eventually, you will arrive at an isolated beach.
The rest of the adventure follows a similar pattern as you manoeuver alternately through the jungle forest to hidden beaches. This side of the island is pristine, untouched, unkempt and feels far away from the more populated coastline.
As you explore further, you will come to the part of Rabbit Island where the locals live away from the tourist rented side. Around seven families in total reside on the island, and it pays to respectful of their land by keeping to the coastline and trails unless invited.
The locals wish to have privacy as you will often see their ingenious contraption of covering the marked path with boats and bamboo leaves. Luckily for us, we were exiting that path and not trying to find it by trekking from the other direction. Don't underestimate the resourcefulness of the Khmer people, although should you end up lost they will, of course, help you out.
Where to Stay on Rabbit Island
There are no guesthouses or hotels on Rabbit island, just cosy and straightforward wooden huts, which you barter a per night price for when you arrive there. We paid, on average, $10 for a little shack with twin beds or a double.
Each cluster of huts (in a diverse spectrum of basic shacks to comfortable bungalows) belongs to a different owner. You don't have to worry about who looks after which patch, as they will be with you in no time as you look around for your preferred island dwelling.
There are a couple of options for online pre-booking, including Simone Rabbit Island on the island's east coast and Khim Vouch ay Bungalow on the west.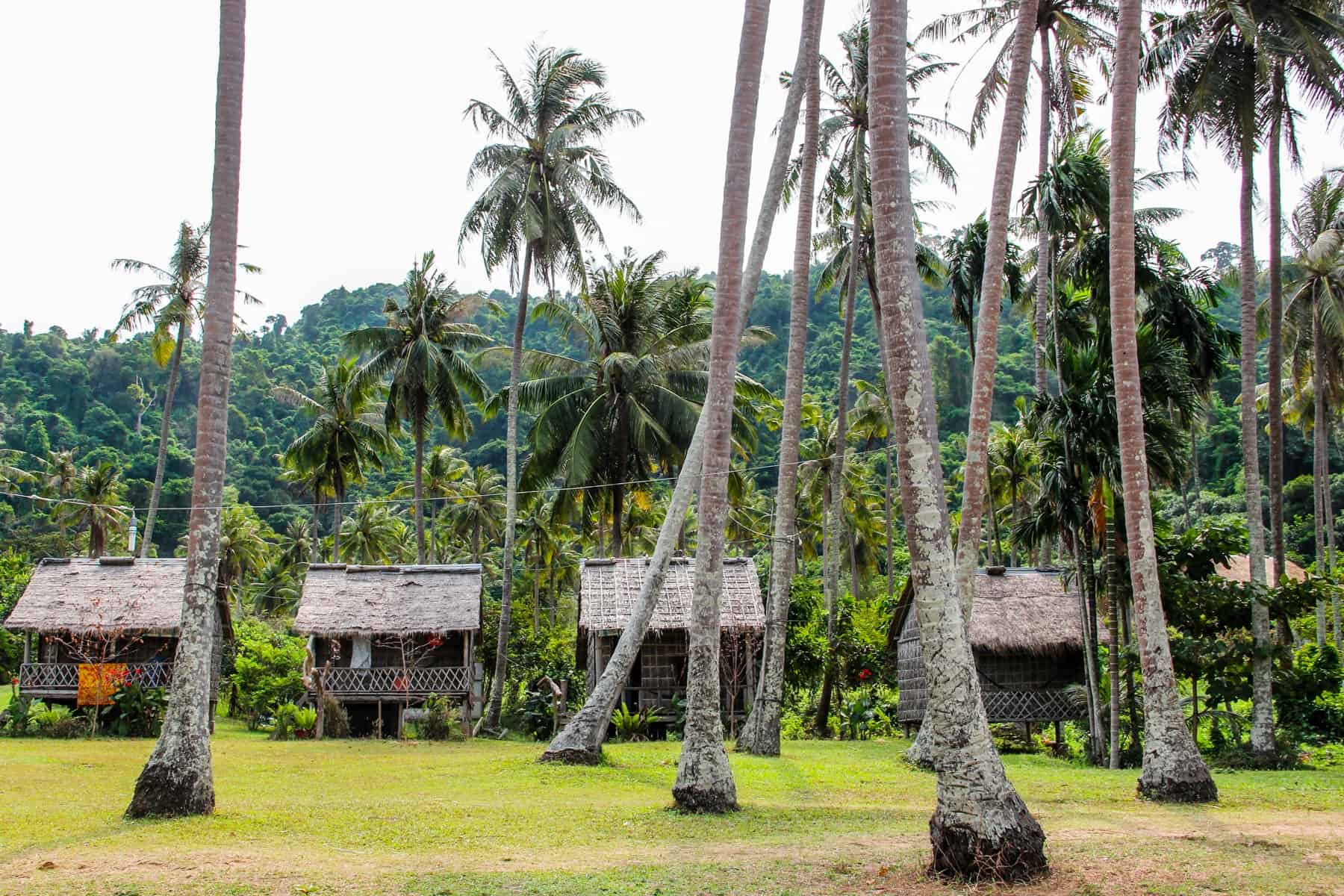 More on Cambodia Travel
For more Cambodia travel inspiration, see my full list of articles.
If you are looking for more lesser-known destinations in Cambodia consider visiting the cities of Kampong Cham and Kampot, go jungle trekking in Koh Kong or find the more pristine island of Koh Rong Samloem close to the famed Koh Rong.
Cambodia Tours
The G Adventures Ultimate Cambodian Adventure trip is perfect for those looking to travel with others in a small group. It extensively covers the country in a two-week loop, including the main city sites and the off-beat small towns. It even includes time to visit Rabbit Island when you arrive in Kep.
I'm a G Adventures ambassador, having travelled with them on nearly 20 trips over the past decade. The fact that you will travel with a local, Cambodian guide is also invaluable when travelling.
Add Rabbit Island to Your Cambodia Itinerary – Pin It!