Disclaimer: This post contains affiliate links to handpicked partners, including tours, gear and booking sites. If you click through or buy something via one of them, I may receive a small commission. This is at no extra cost to you and allows this site to keep running.
Visiting Lech in summer is just as stunning as its winter reputation of blanketed piercing white snow beauty. The world-renowned ski resort becomes a nature haven and a window to the most green of biking and hiking trails.
One gloriously sunny July, I was hiking in Lech to see it clocked in tiers of green and command a feel of the region from a different perspective. Only in March, I was skiing the famous slopes of Lech Zürs am Alberg – the darling ski resort of the Austrian Alps in the state of Vorarlberg. I navigated the same ground, crossing a similar route at the same high altitudes, used the same cable cars and stayed in right in the heart of Lech village with my two different hotels just metres apart.
Except it wasn't the same. In opposite seasons, Lech is two completely different destinations.
What to do in Lech in Summer
It was a symbolic journey of opposites and change during a summer in Lech. My winter ski journey took me from the slopes of Lech to connecting Zürs and ended in Warth, and in the summer we drove to Warth-Schröcken where I met my local hiking guide Michi who would take me on a journey from Warth to Lech.
This is the way to see an Austrian destination – visiting without limiting yourself to just one season.
Lech is known and desired for its winter, ski-clad beauty, but in the summer it slows and goes quiet, falling short of people knowing its alpine summer stun. It's no secret and the locals have their doors open and ready to welcome visitors. You just need to pull yourself back here once you've packed the skis away and dusted off your hiking boots.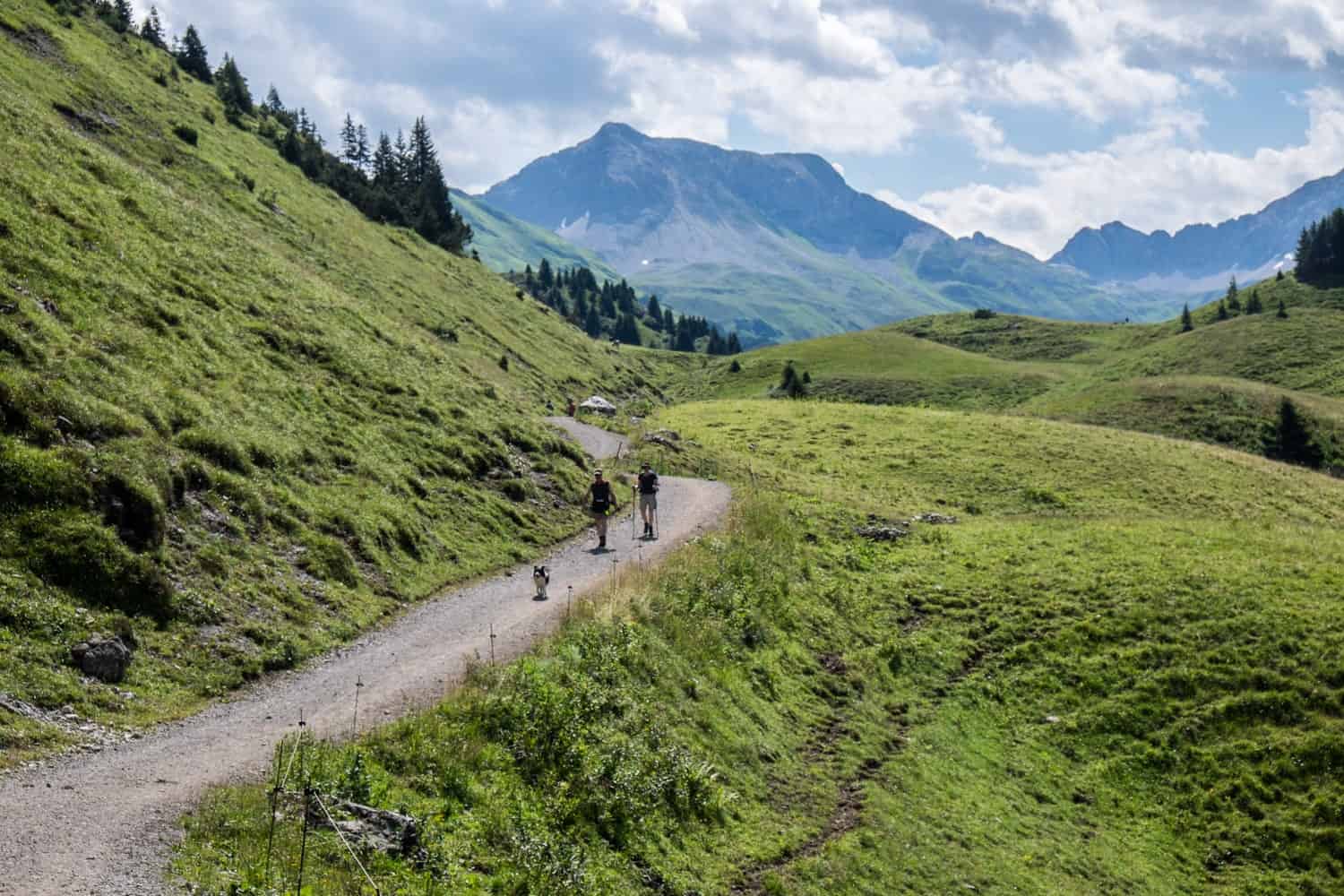 Hiking in Lech: A Scenic and Sensory Change
While ski is a challenge and a huge adrenalin rush, hiking is an escape. It's an endurance sport but at the same time a different working of the psyche. I remember a sense of childlike wonder at a landscape of pure, glistening white as Lech magically sparkled in its blanket of snowflakes while wanting to join the rush of colourful bundles that whooshed and pounded through it.
In its multitudes of green, the orientation is different. Lech in summer is slower and peaceful, forcing you to stop and breathe it all in, standing transfixed at the view before moving on. In the warmer months, hiking in Lech becomes more about harmony in nature, rather than racing it for a different kind of thrill.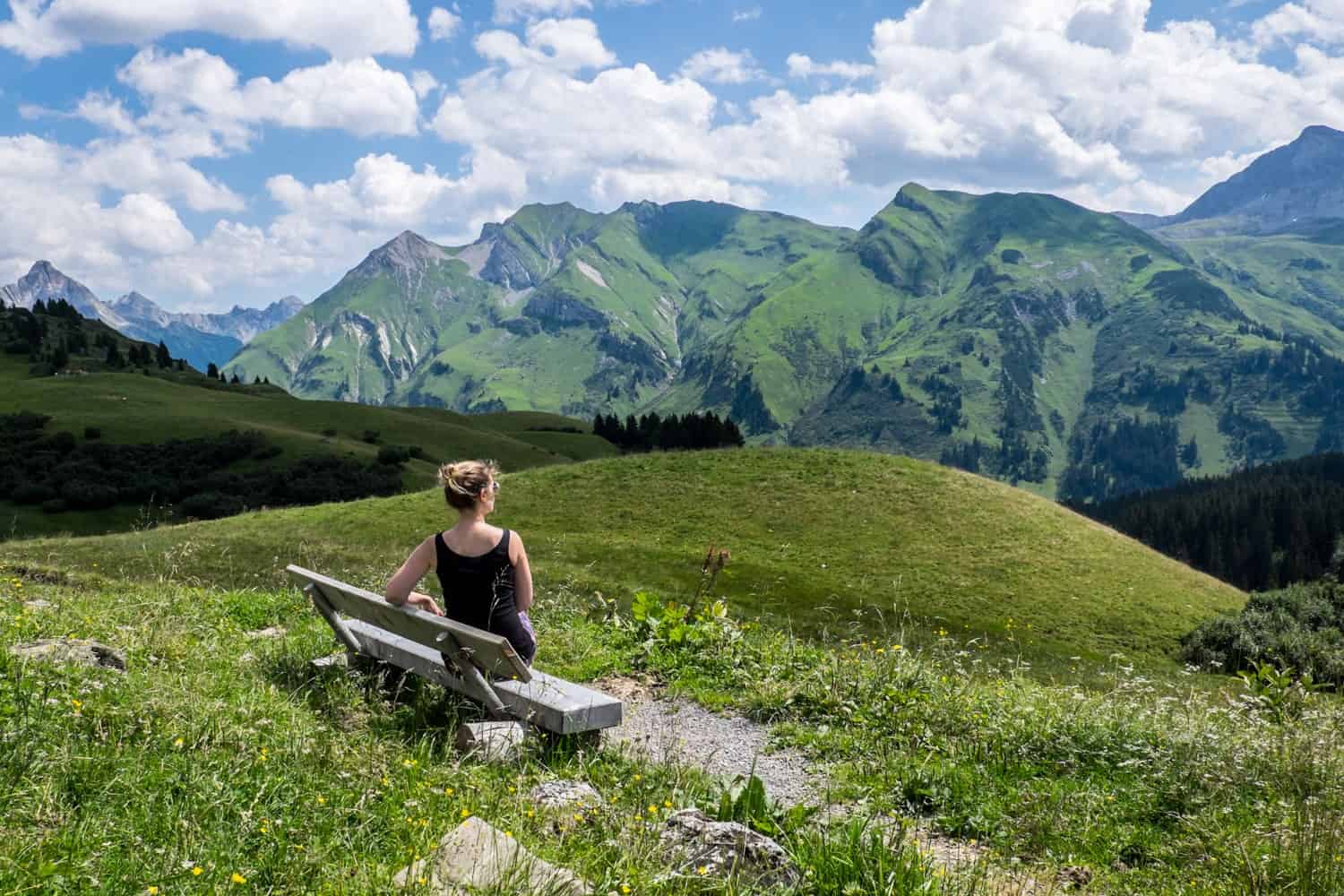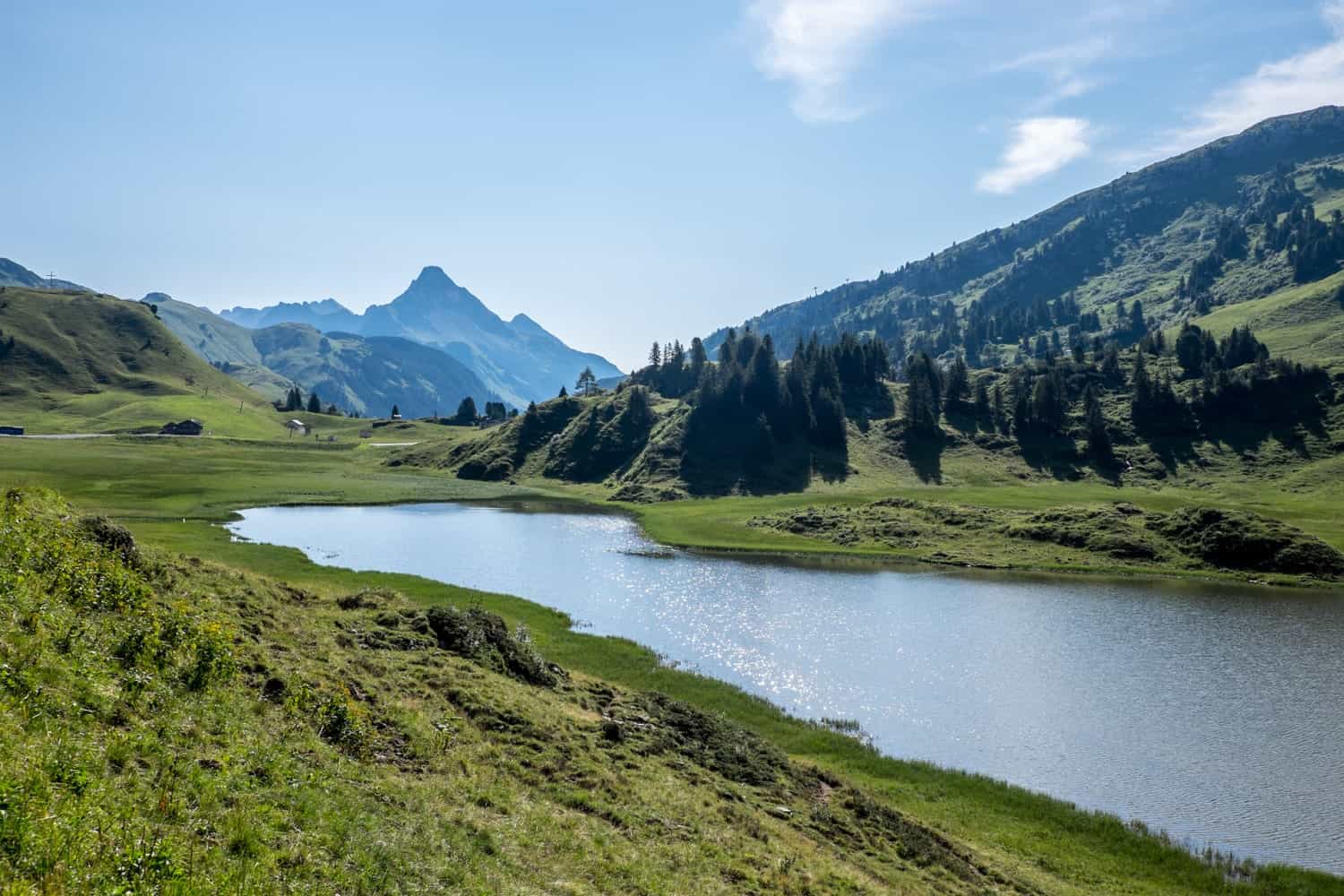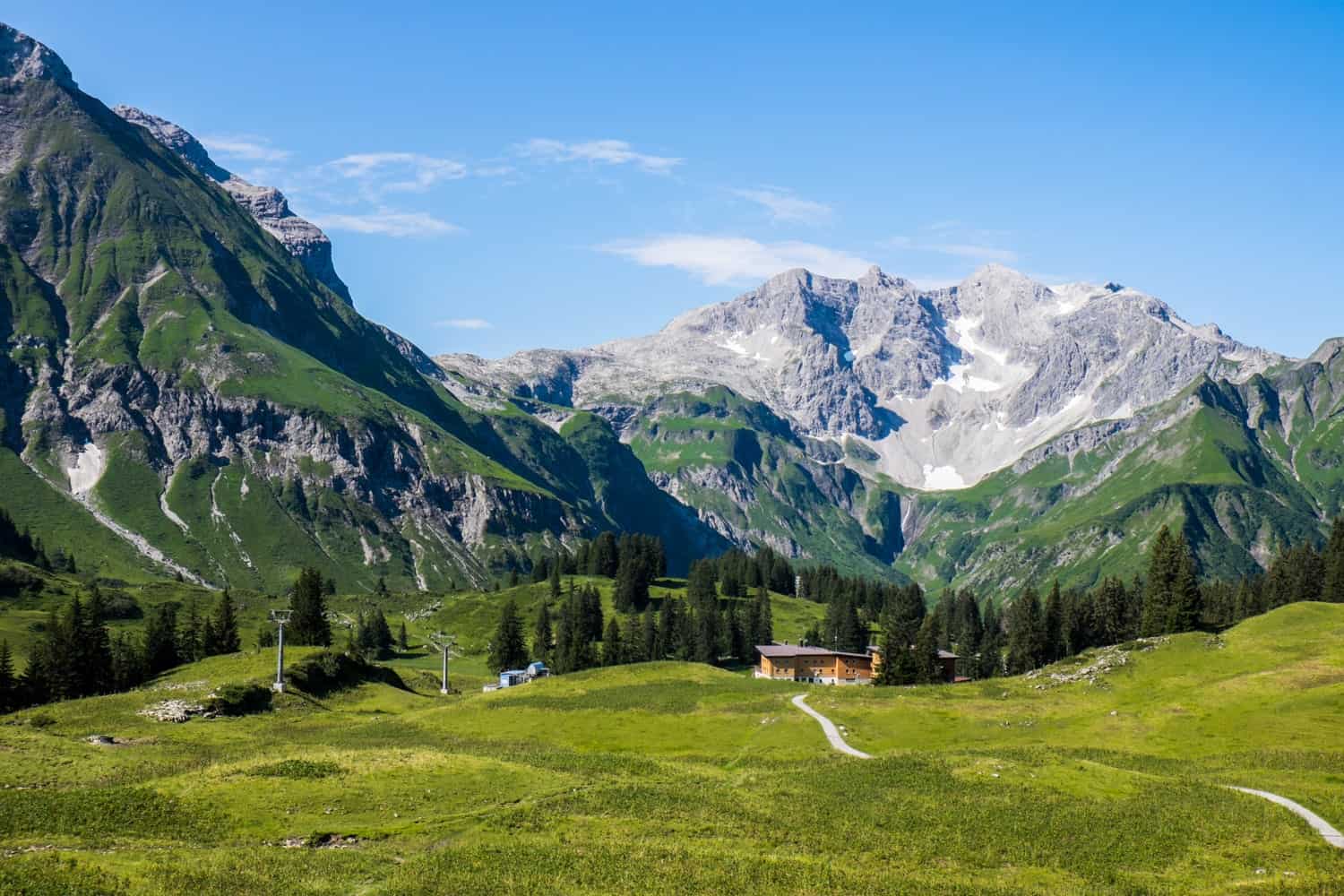 350km of sign-posted hiking trails await avid nature ramblers in Lech. Yellow signs denote Lech's alpine valley tracks and low mountain ranges, the red signs mark the trails of slightly more challenging and higher altitude intermediate hikes and blue-signed summit ascents await those seeking the off-track and more daring.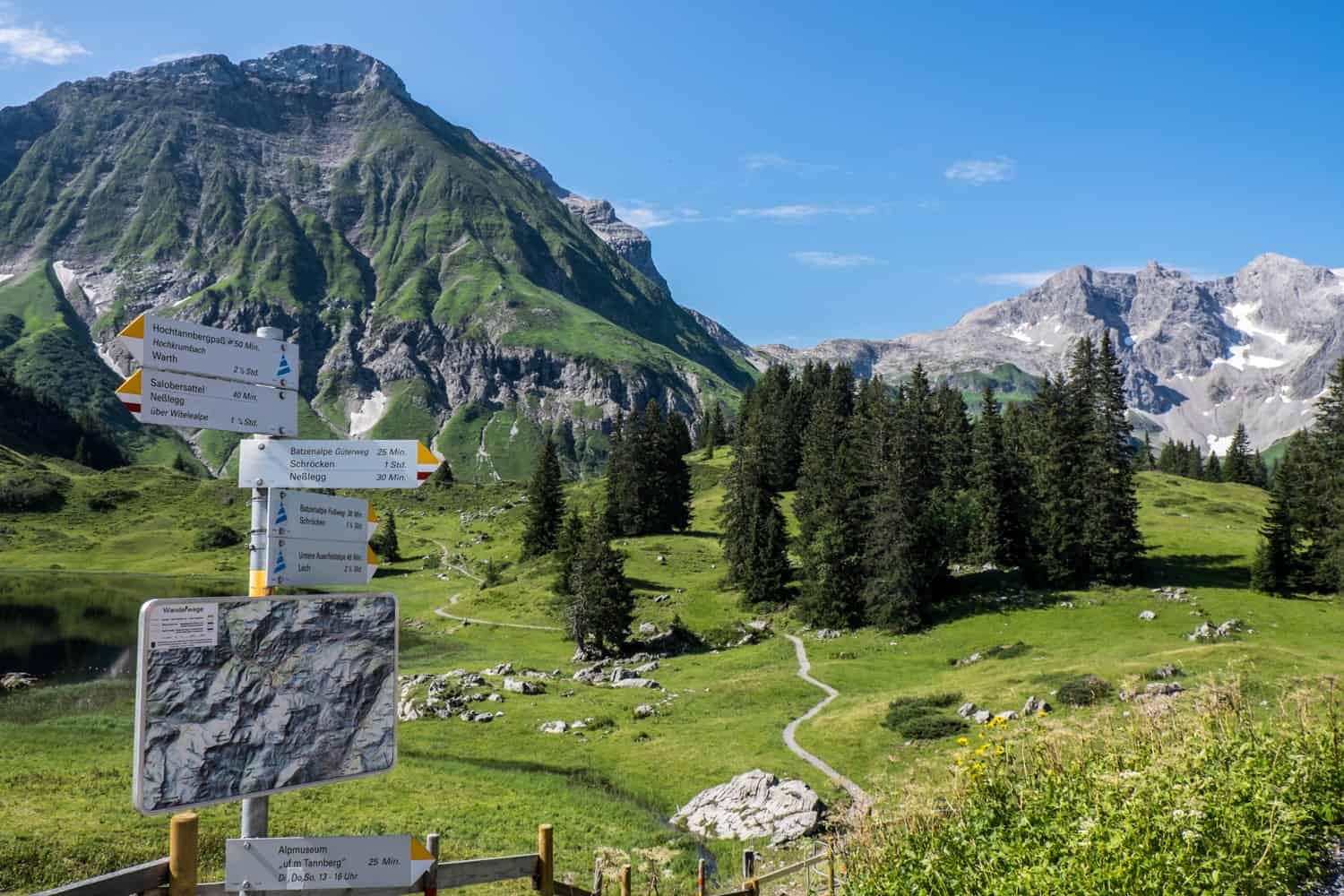 Winding trails lead to mountain peaks, and harmonious hillsides spread from unhurried trails. The fresh air of high altitude alpine pastures fills your lungs and you get lost in the feeling of forever time on forest tracks. For me, my joy is in facing a mosaic of mountainous backdrops that you can almost touch while others are hidden behind a mist, where the white-capped peaks pop by autumn.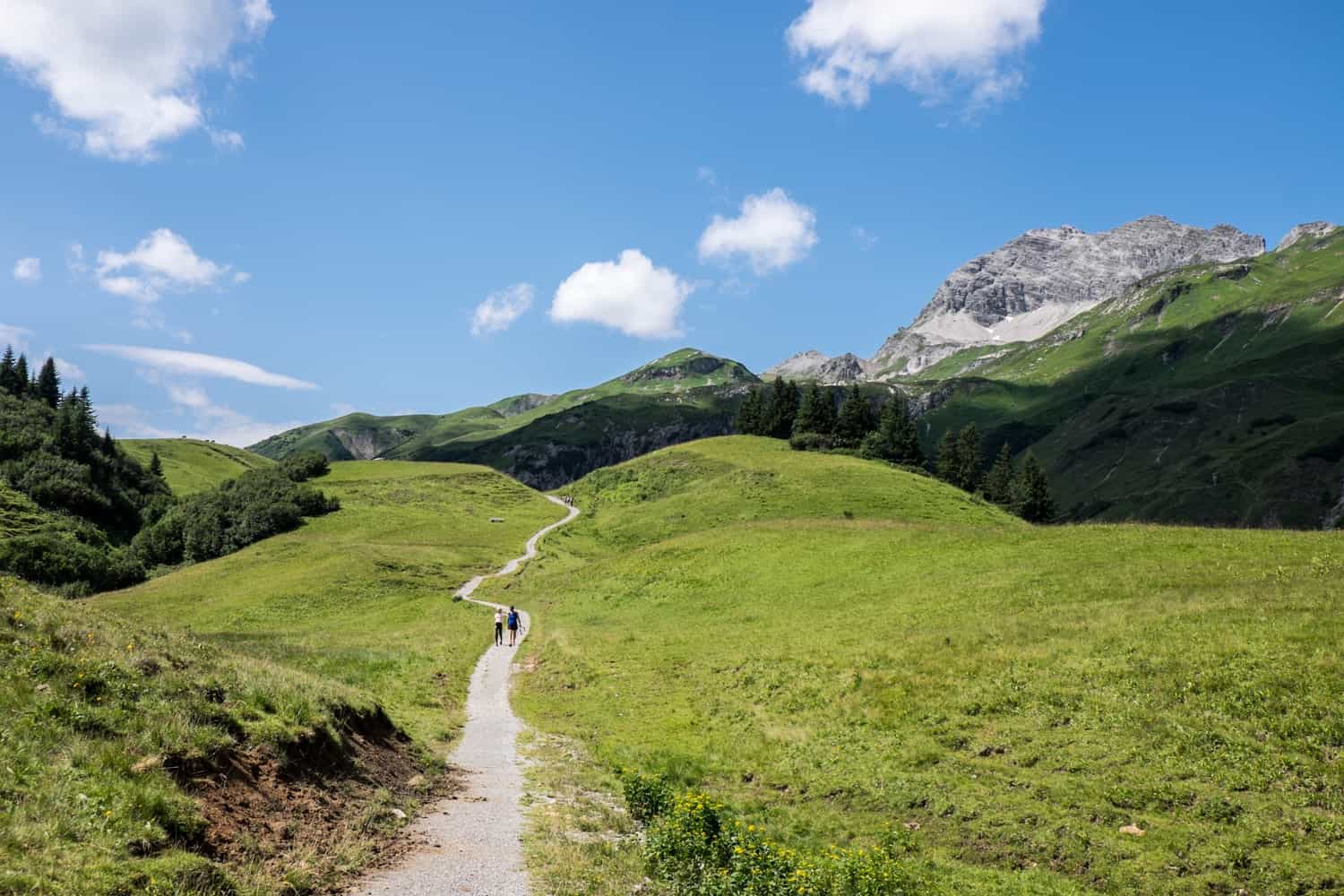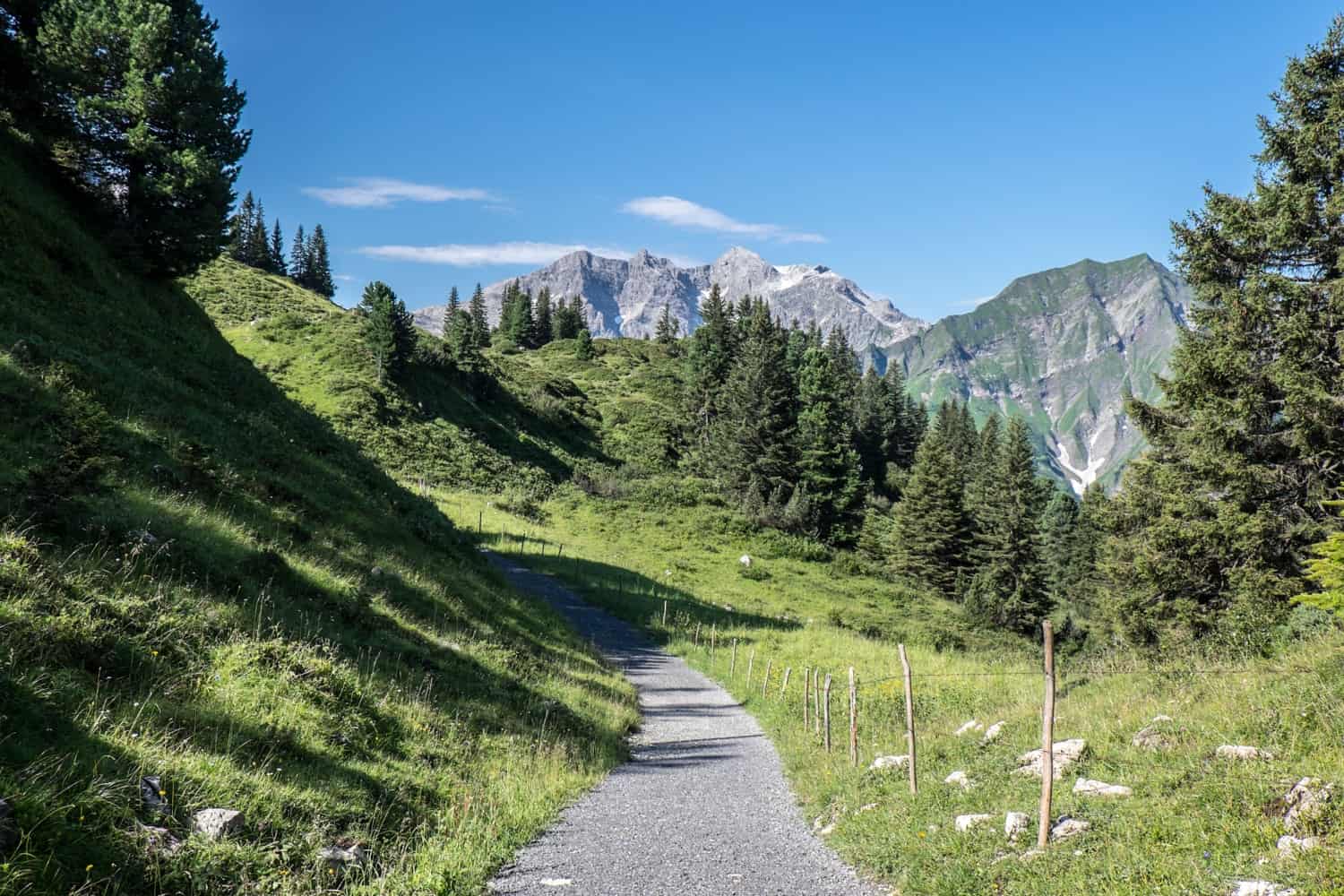 On a short journey that took around three-four hours, I still passed eight mountain ranges – the Widderstein, Braunarlspitze, Hochkünzelspitze, Juppenspitze, Mohnenfluh, Karhorn, Biberkopf and Rüfispitze.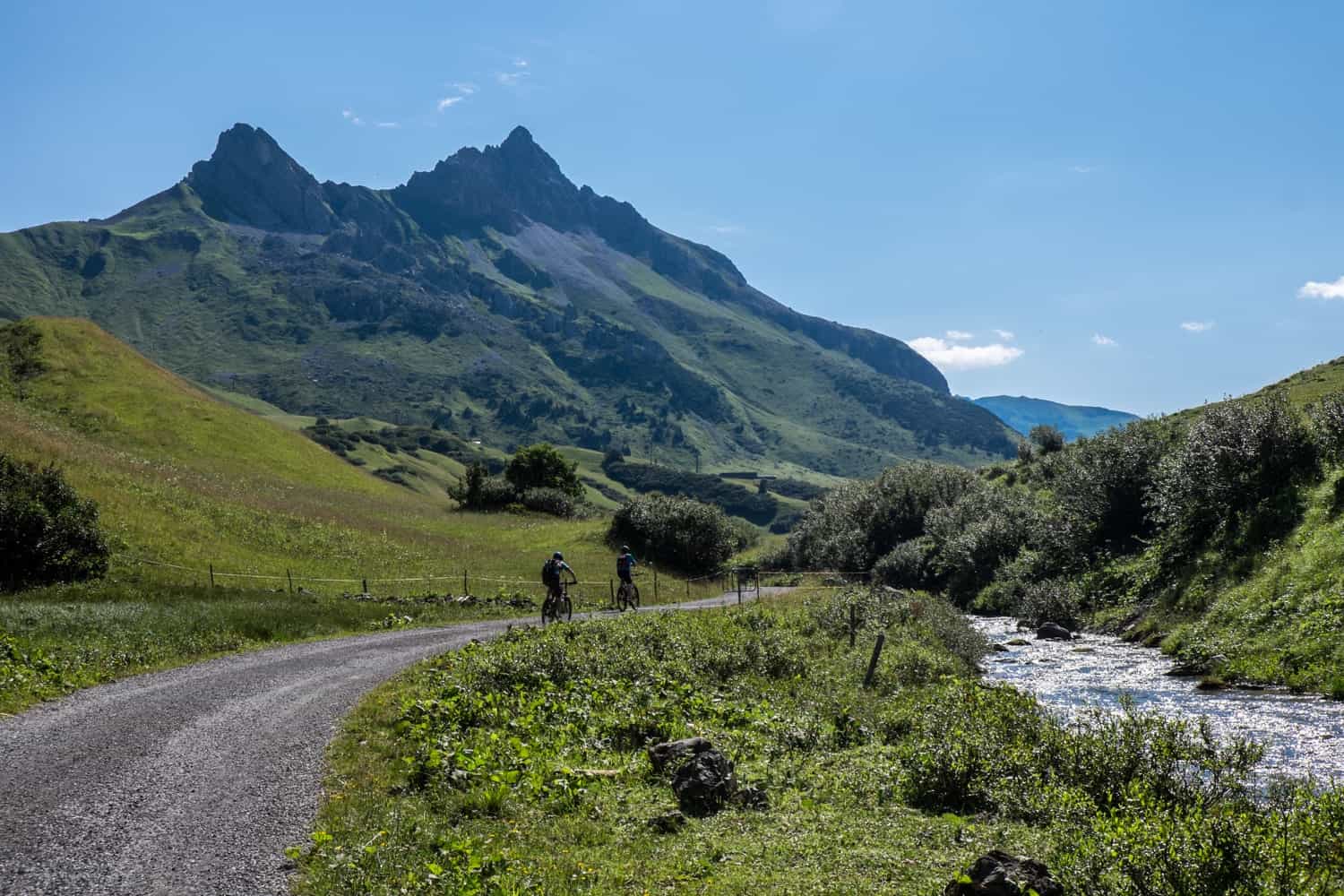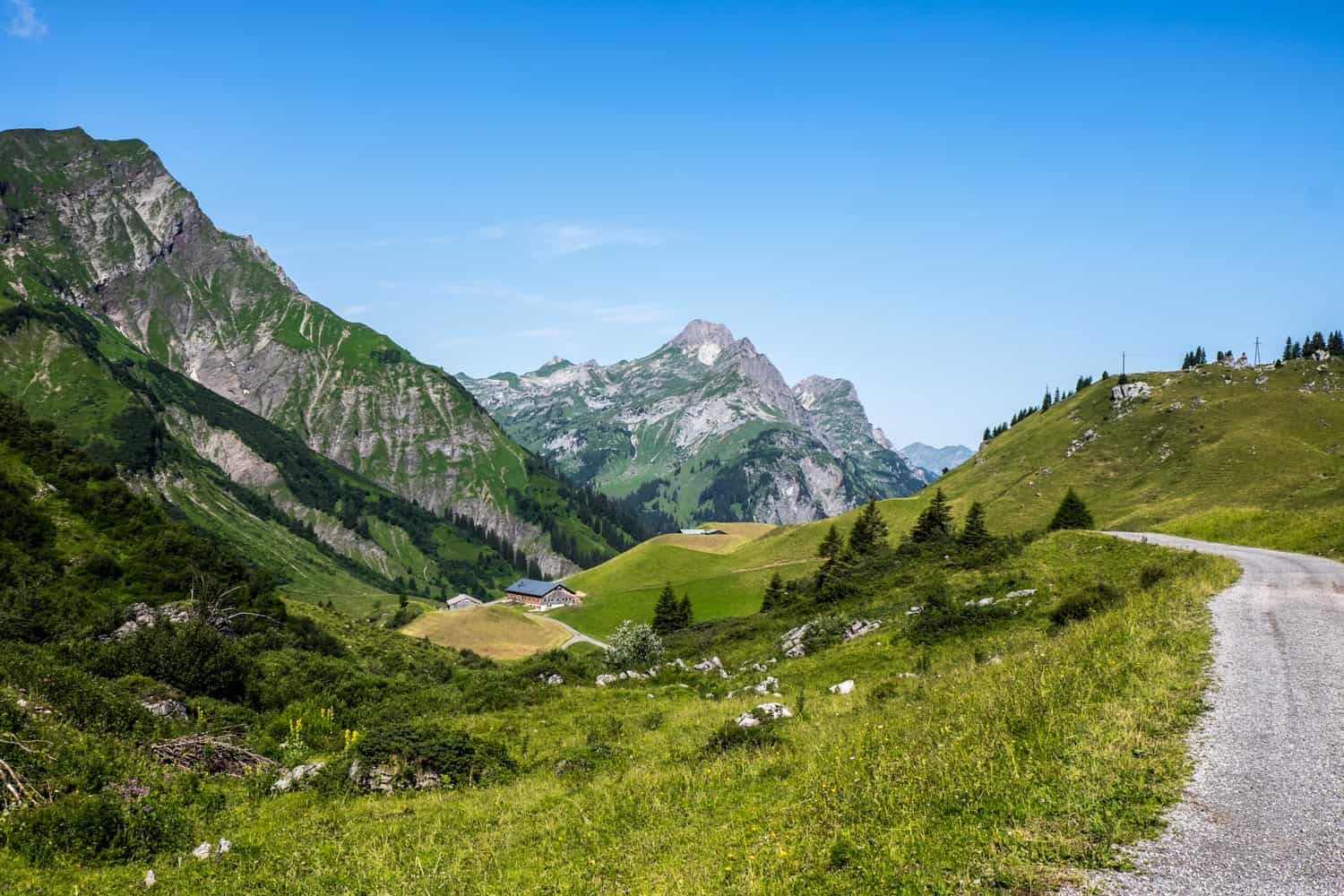 I saw new plant species in a myriad of shapes and colours like stall seats to this incredible mountain stage show. And always in the air, the melodic ring of the cowbell to guide you on your way through the summer home of these alpine grazers.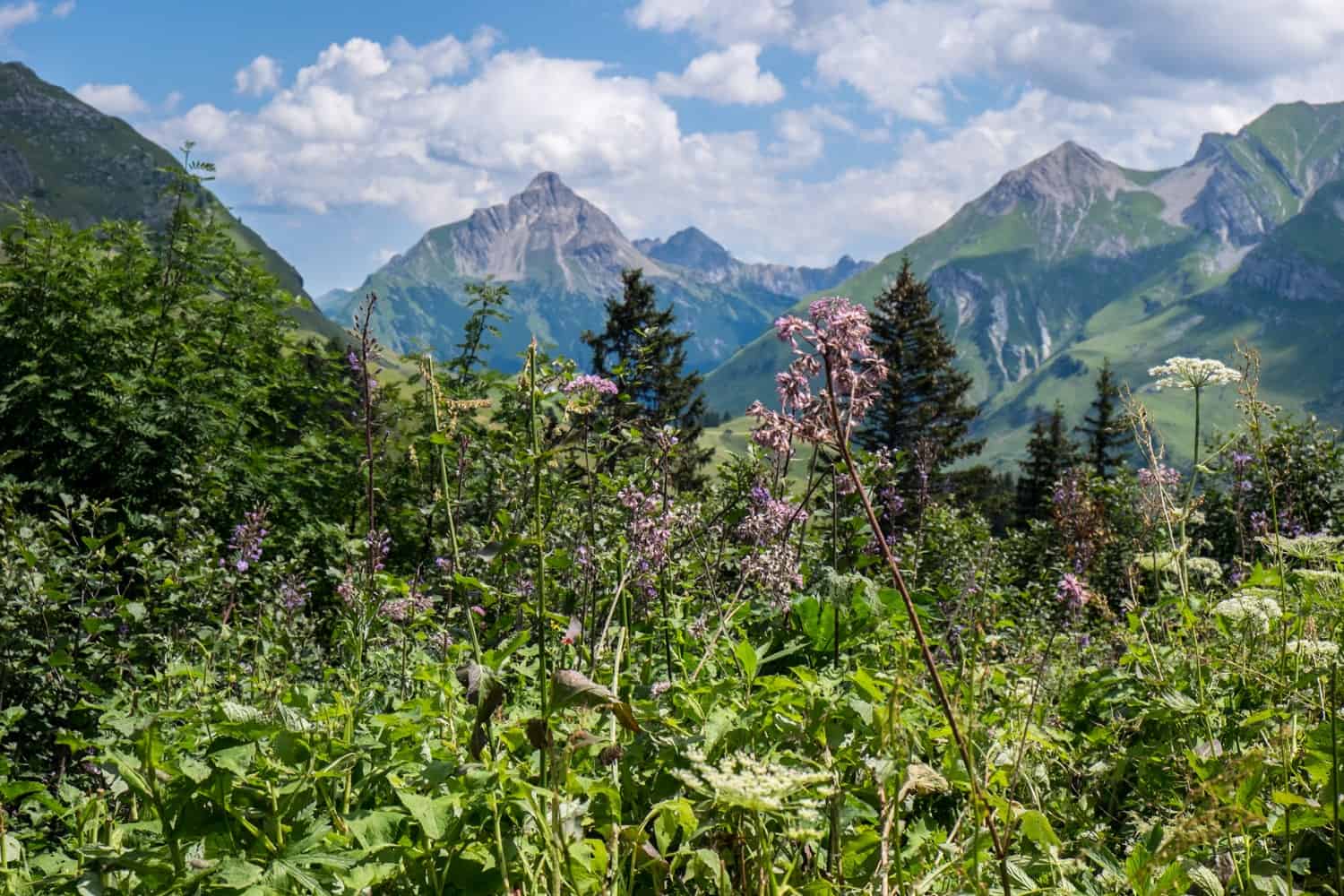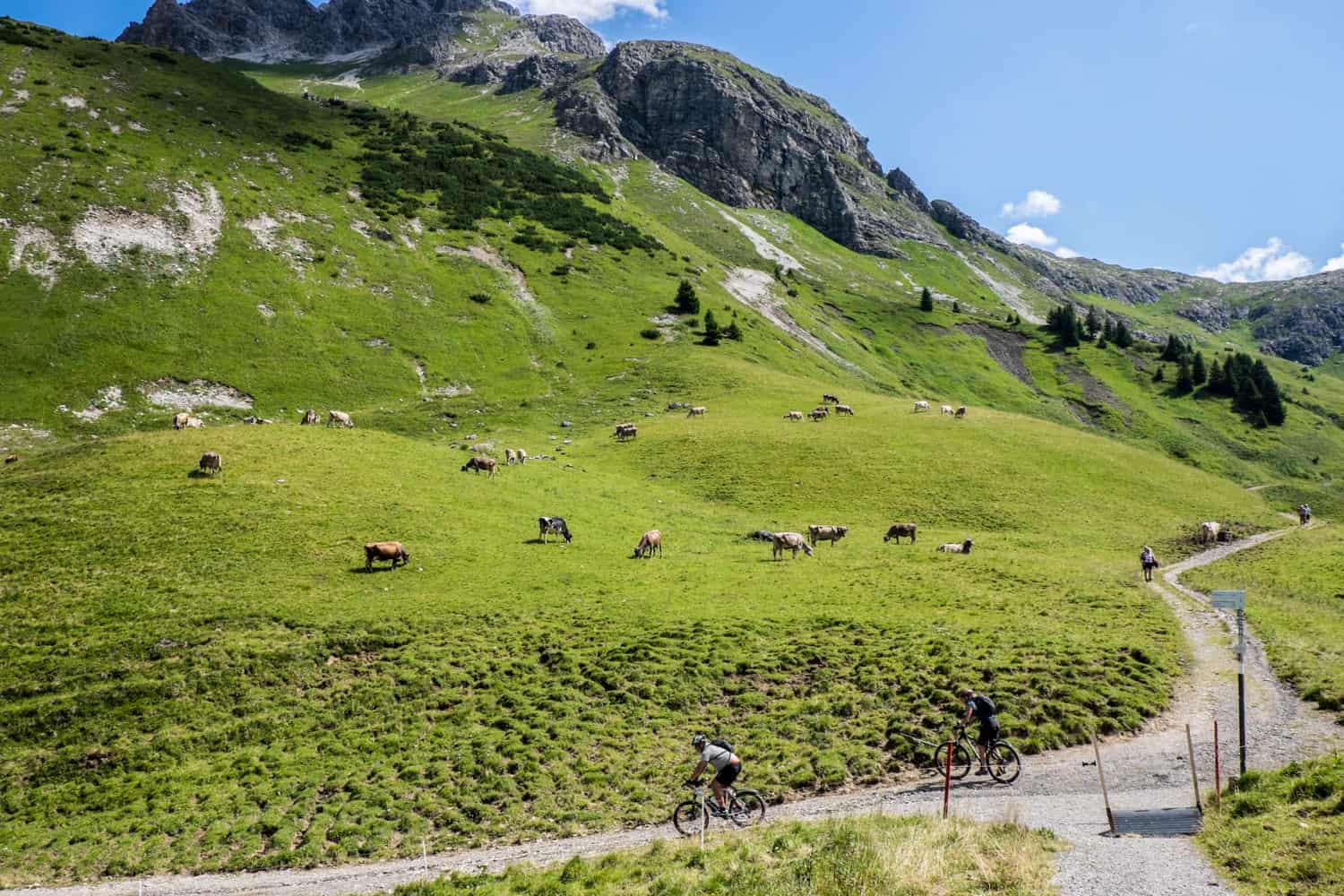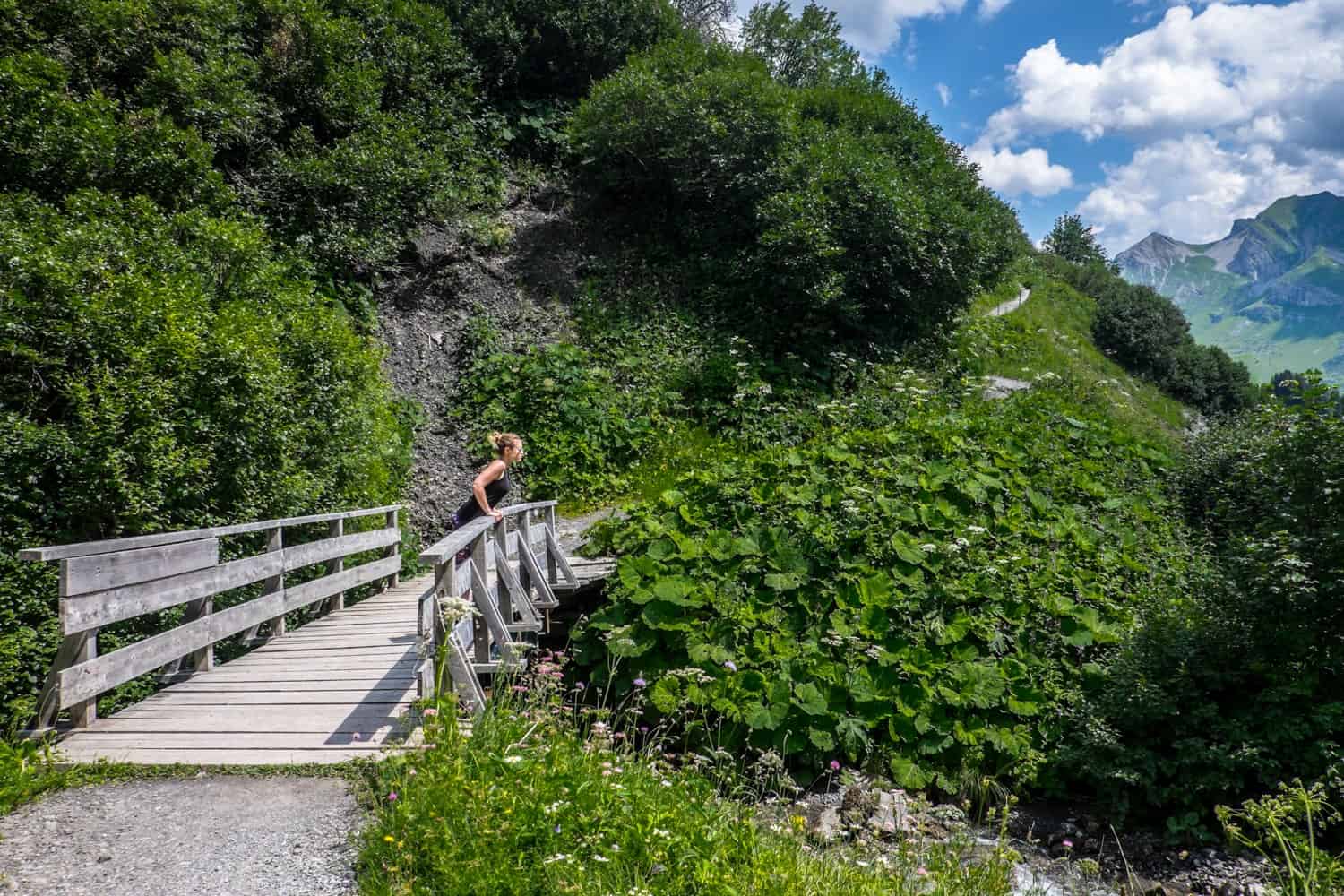 Like any alpine adventure, the hike included a quick drink stop at a mountain hut and cheese farm. Many hikers on designated alpine trails stop to sample local produce on the way, while the cows graze in summer.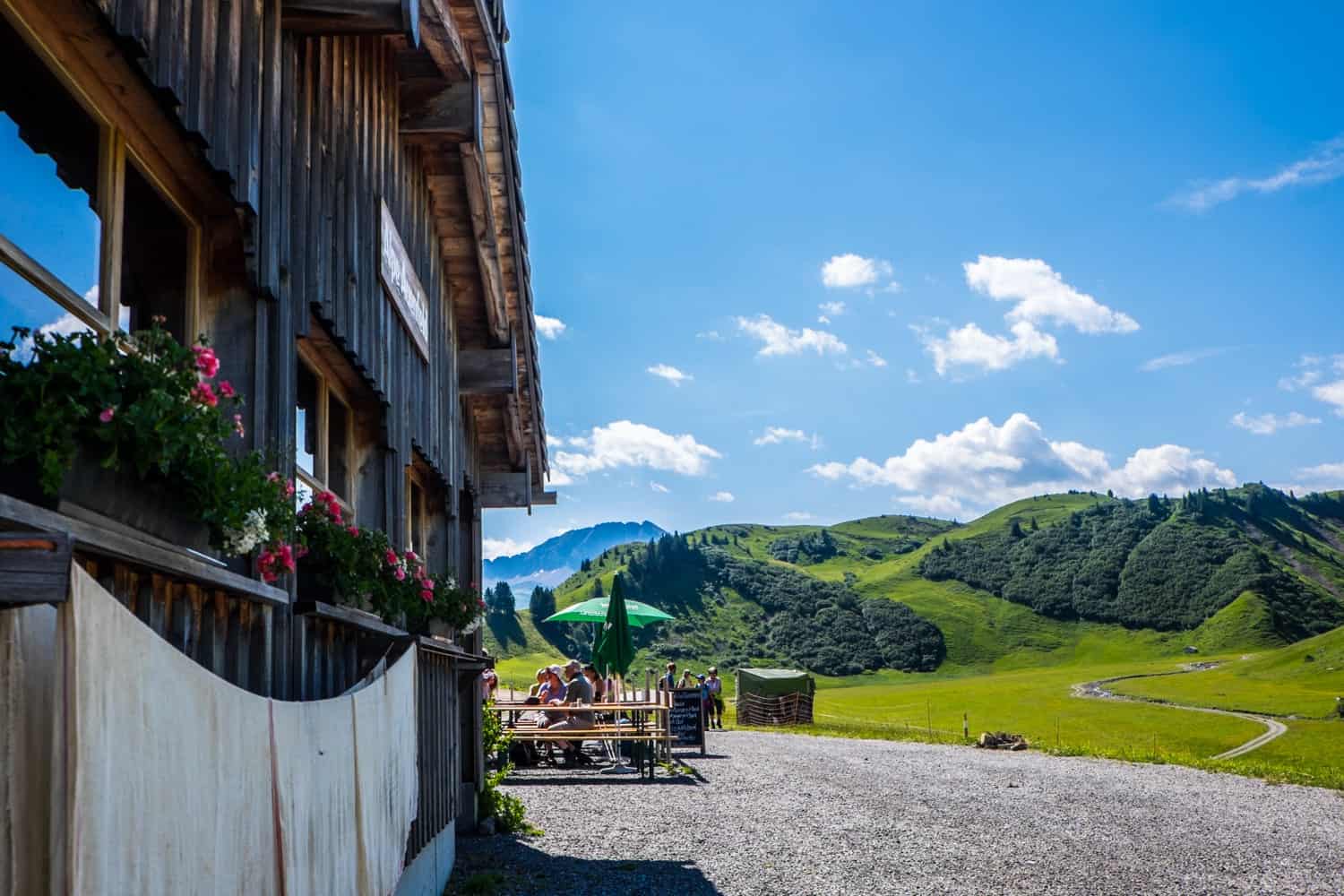 It's the Austrian way, and Astenau Alpe is an established favourite in the region as is Der Wolf – a new and modern take on the traditional alpine altitude dining continuing a trend that is breathing new life into an old tradition. Of course, you can also take the cable car up here to indulge in the panorama.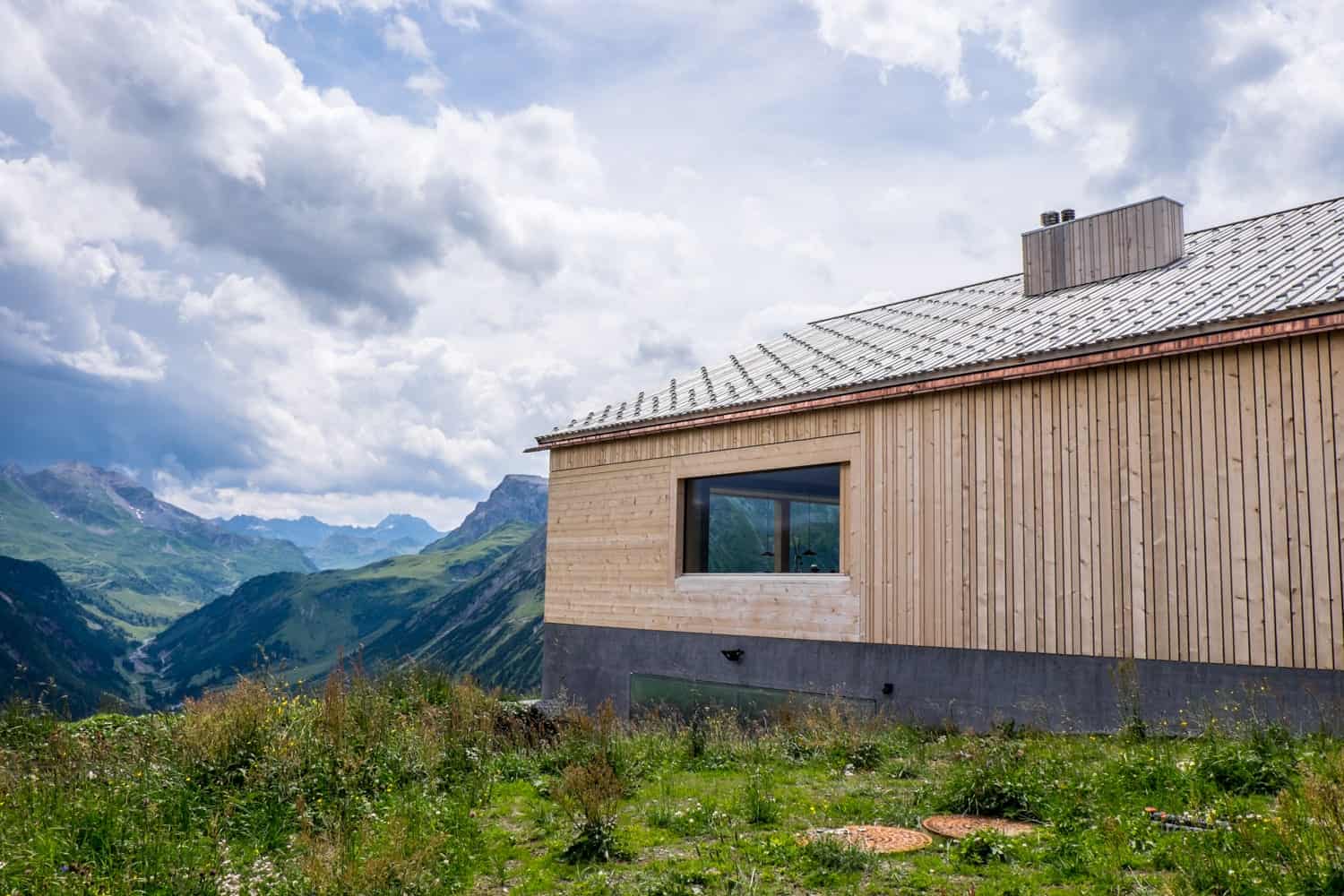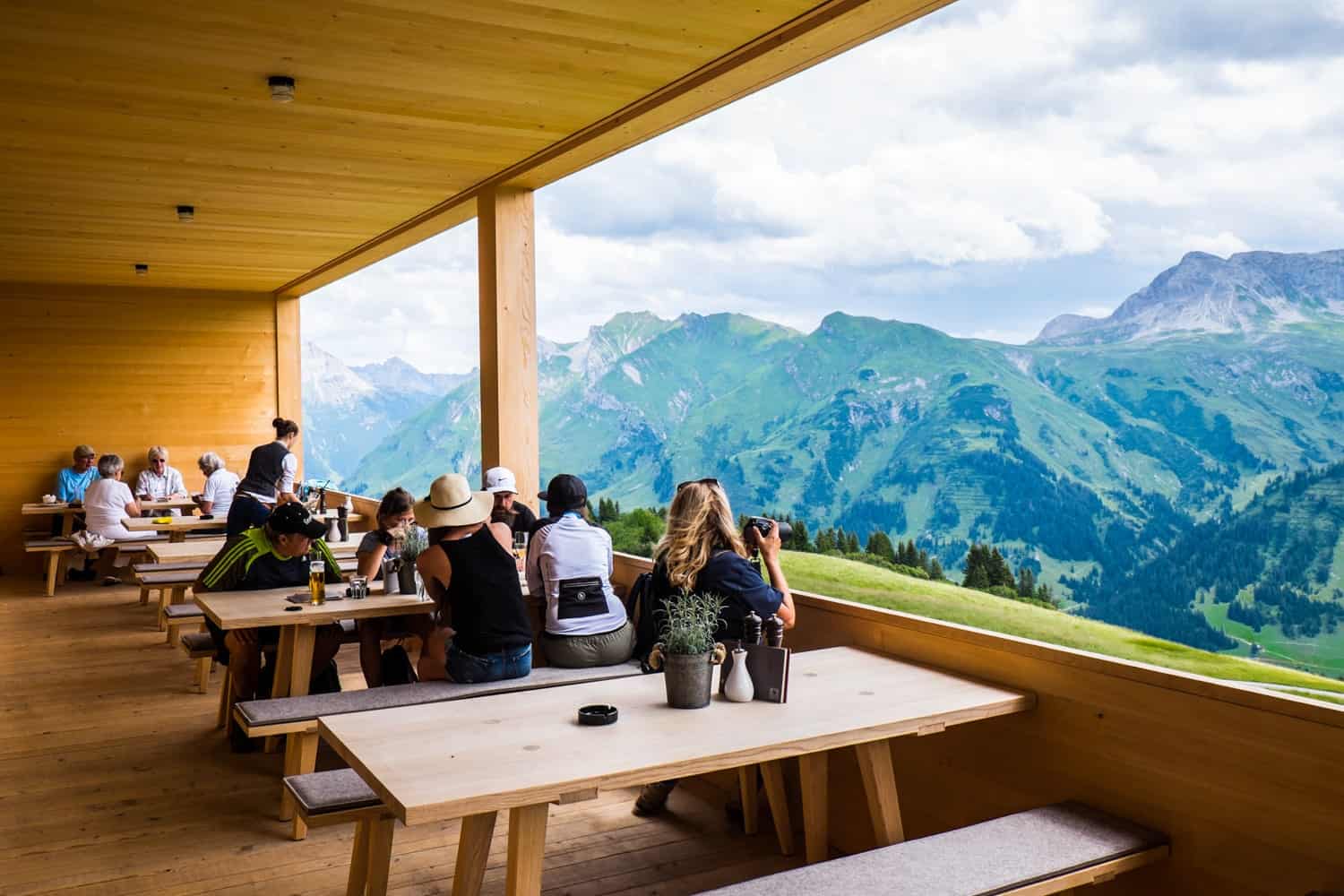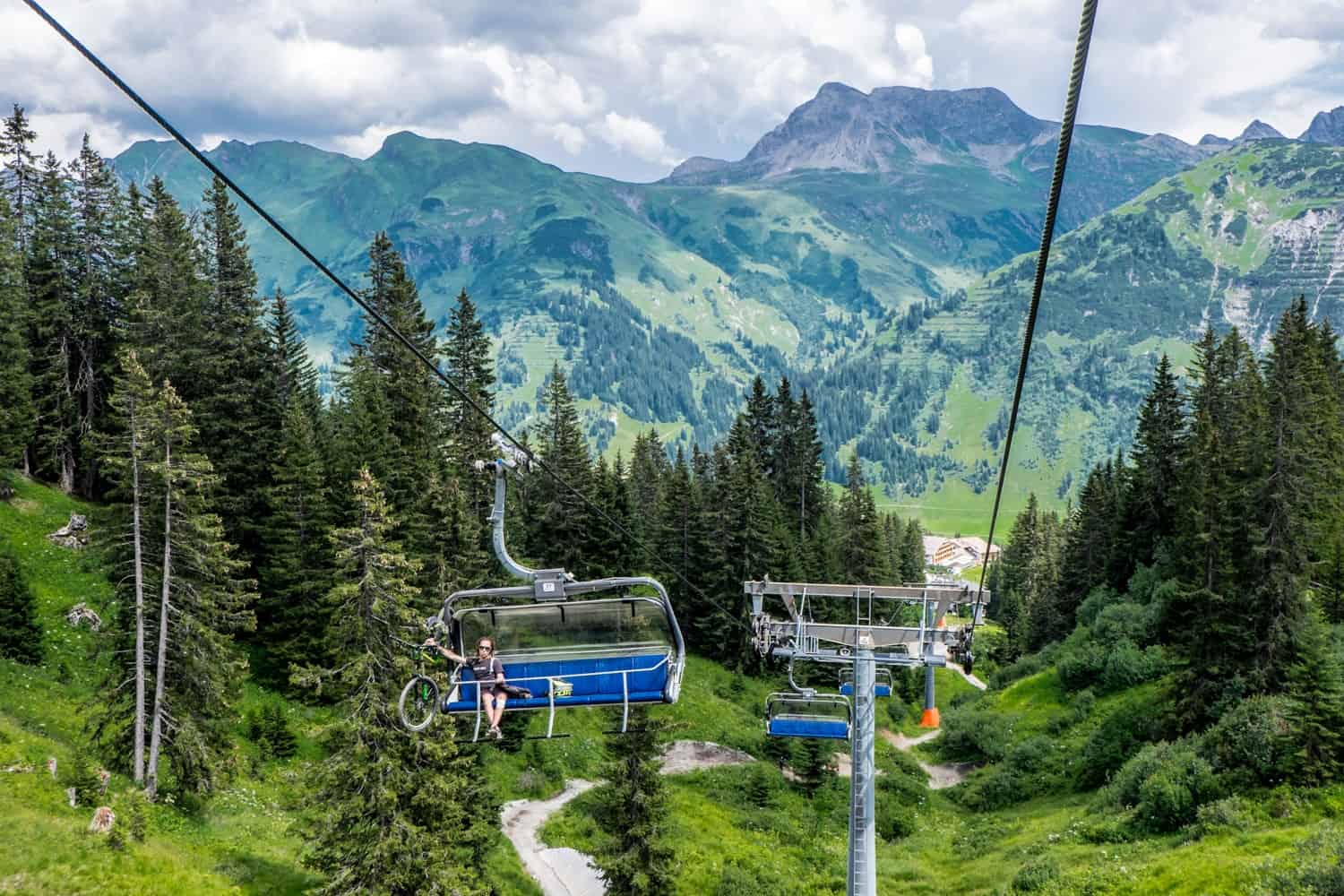 Returning to my Hotel (the elevated, hillside Garni Schranz) I began talking to the owner about this distinct difference of canvas in Lech over coffee and cake.
"I always tell the skiers, when they come past this hotel on the way down, to mind my garden!" She joked. "You see all of these beautiful flowers? They are hidden under metres of snow. Nobody knows this is there."
Biking in Lech – Different Season, New Need for Speed
In an attempt to see summer-time Lech from a different angle, I swapped another hiking day for two wheels instead.
Picking up an e-bike from the Strolz store in the village and with my mountain bike guide in tow we biked from the centre, through the adjacent village of Zug and weaved through curling alpine pathways – an intermediate level on endurance that would bring us to the turquoise blue Spullersee Lake.
The Lake itself presents another set of tracks, protecting the perfect blue basin with rugged wilderness, from where you can hike or bike up to the viewing point of the Stierlochsattel, which stands at 2009 metres.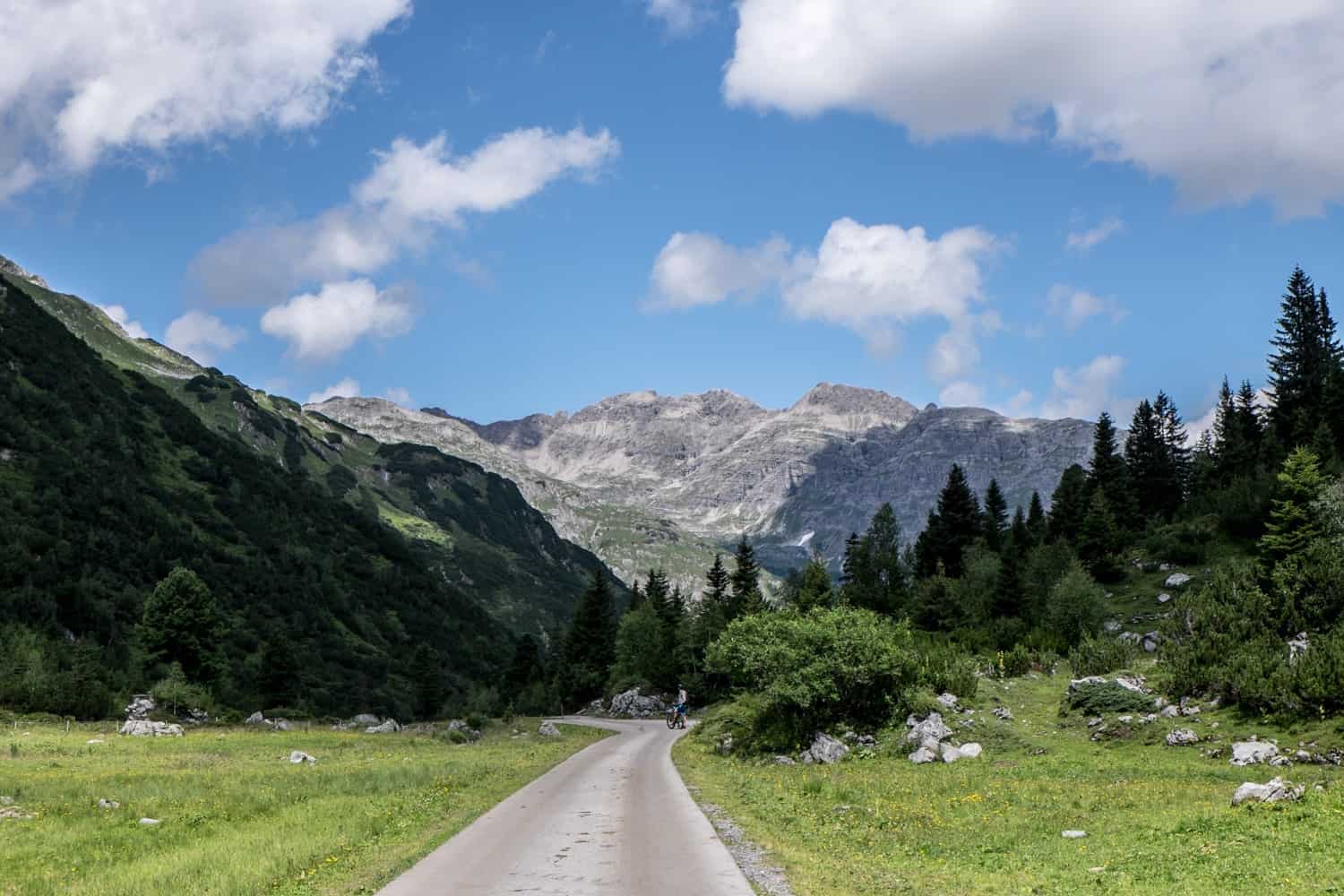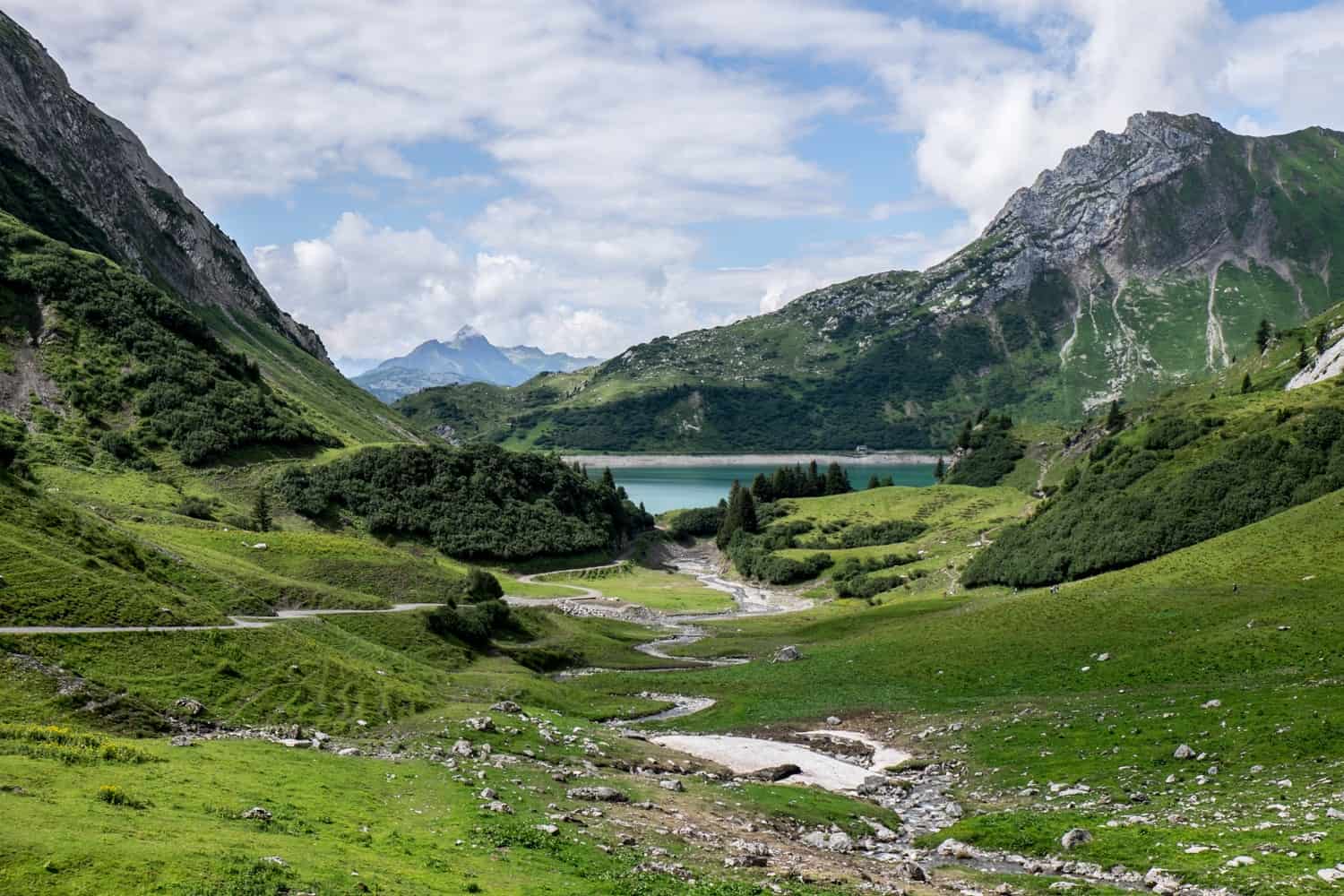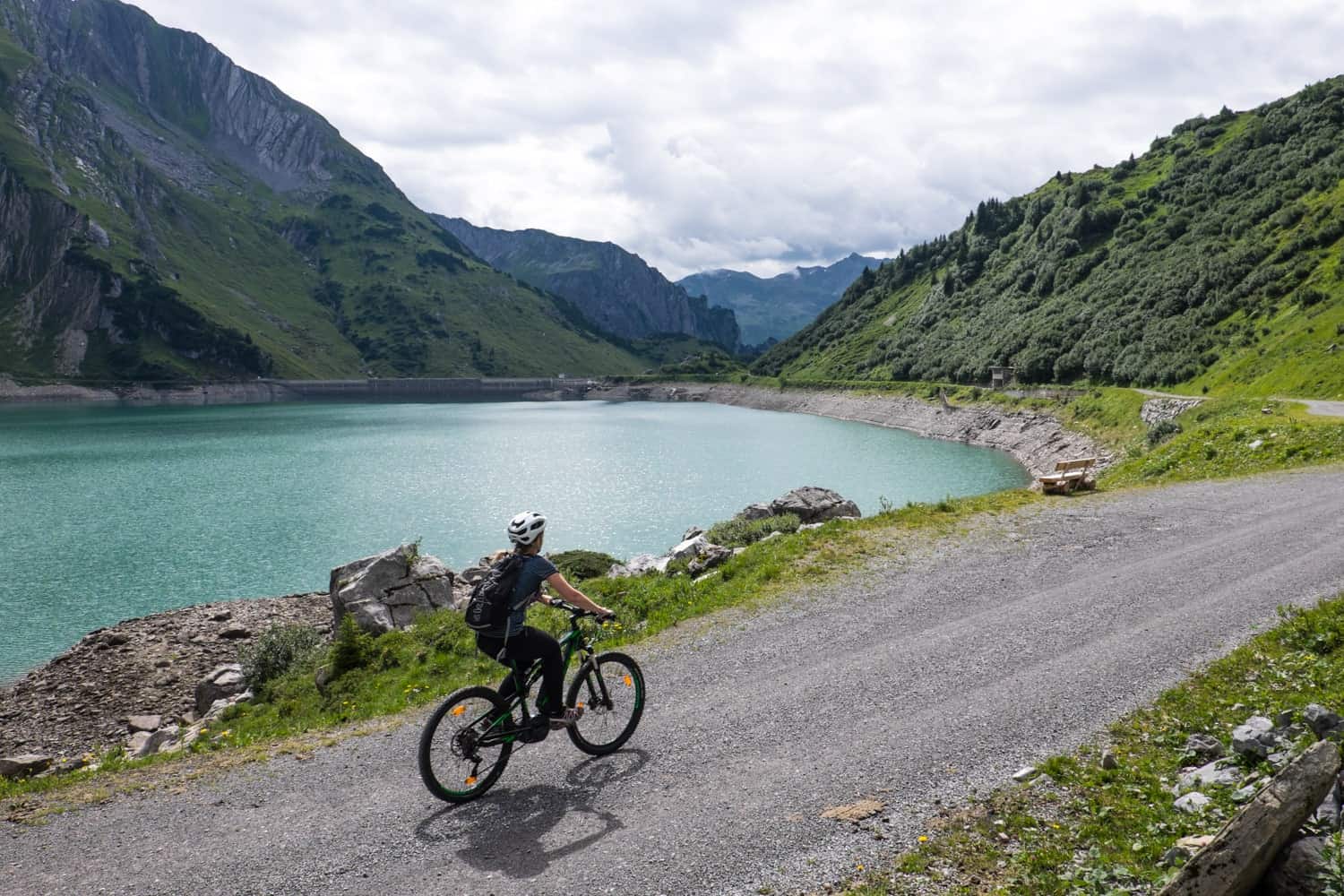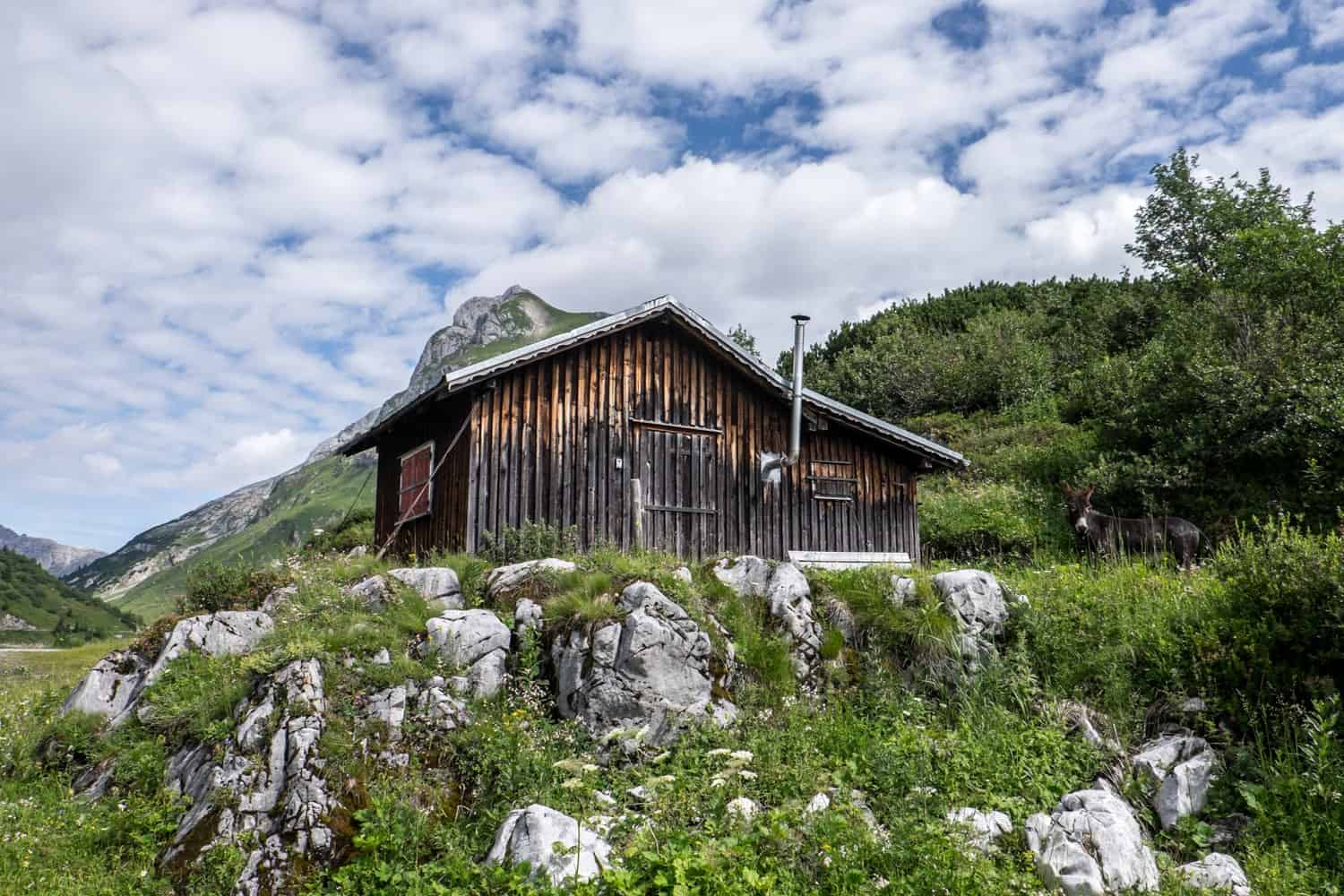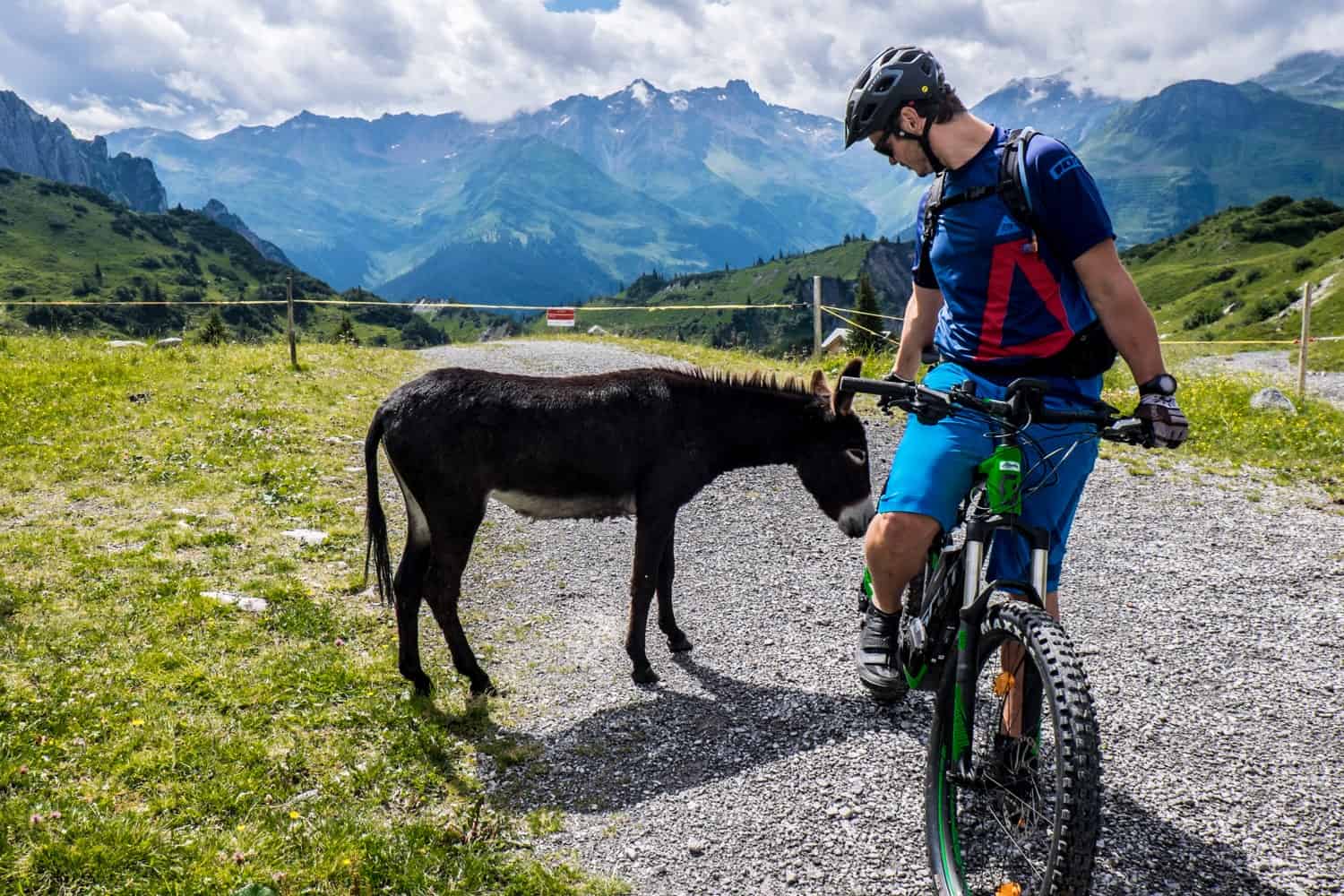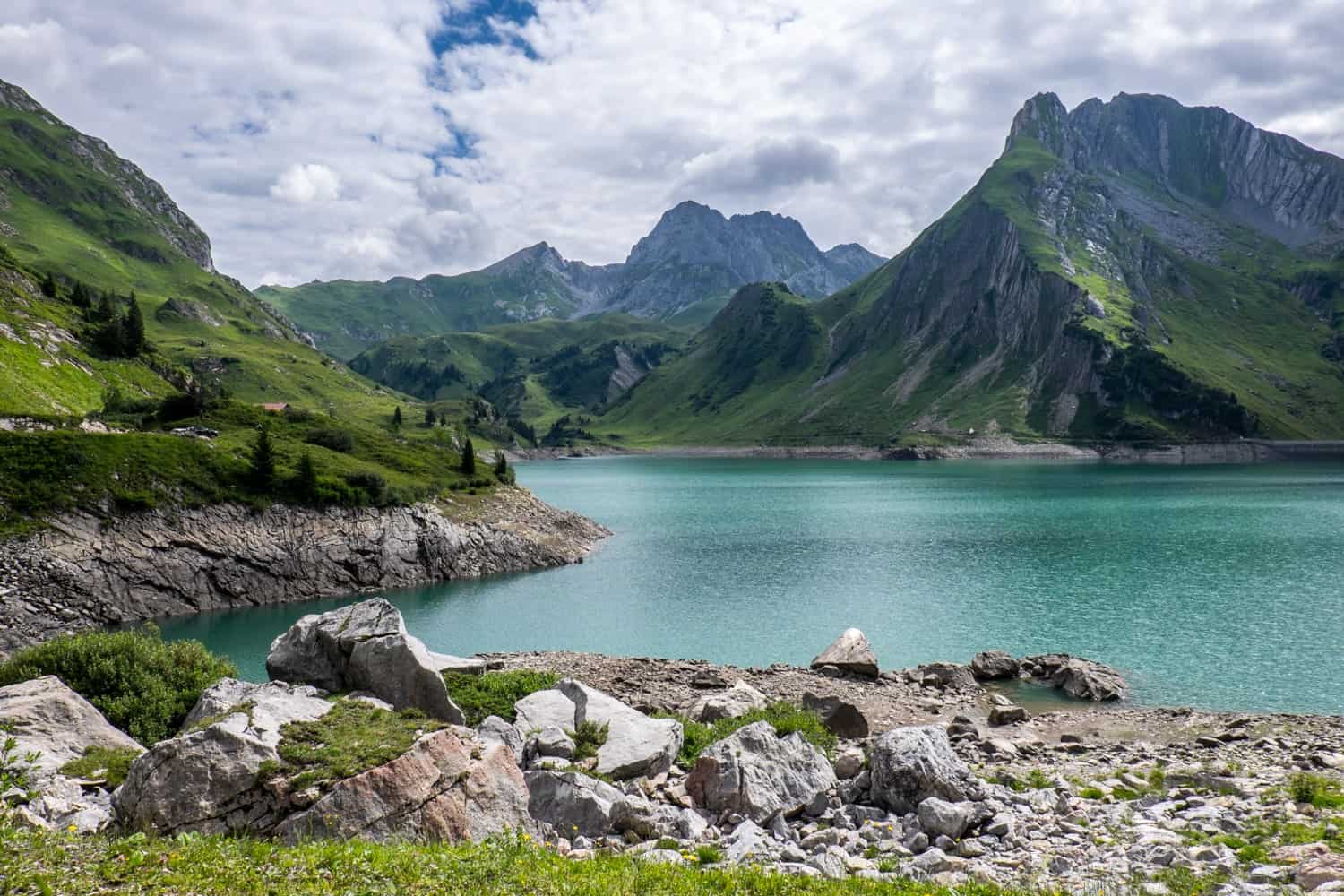 Lech is more than its ski pastime, presenting itself as credible hiking (and biking) stomping ground, and an all-year-round destination to explore.
The question is, will you make a first-time visit or return for an alternative season in what is typically a designated winter destination in Austria?
Things to Know About Visiting Lech in Summer
The 'My Lech Card'
The 'My Lech Card' grants you access to all operating cable cars (during the particular season) in Lech and Warth, the blue village buses, entry to some museums, public pools and activity centres, as well as being able to join themed hikes and excursions. Full details can be found here.
A three-day card costs €24, seven days €40 and two weeks €68. The 'My Lech Card' is also free for those booking at least a one-night stay in local accommodation.
Travel in Lech in Summer
For further information on the Lech region of Vorarlberg, visit the region website for seasonal holiday planning and packages, activities, and destination insights
Inspiration on travel in Vorarlberg and beyond in Austria can be found on the official site for Austria Tourism
Hire a Hiking Guide in Lech
Whether you are looking to cover a lot of ground in a short amount of time, craving multi-day hikes in Lech or wanting to get off-track, my local guide Michi Feuerstein comes highly recommended. She's an expert on the trail routes of her homeland and full of knowledge about the flora, fauna and mountain ranges.
Further Reading on Vorarlberg, Austria from Borders of Adventure
My summer in Lech and exploring Vorarlberg in a different season was a part of my 'Year in Austria' project, as the UK ambassador for the Austrian National Tourist Office. I will be travelling all around the country from my home base of Vienna over the course of 12 months, showcasing a variety of destinations and activities. Continue to follow #YearInAustria for all stories.