Disclaimer: This post contains affiliate links to handpicked partners, including tours, gear and booking sites. If you click through or buy something via one of them, I may receive a small commission. This is at no extra cost to you and allows this site to keep running.
Here's where to find the renowned Vorarlberg architecture in Austria, whose unique creativity and innovative designs respect, and complement, old alpine tradition.
It's not true that if you have seen one Alpine village in Austria, then you've seen them all. Alpine architecture is beyond cliché when you visit the mountainous, unspoilt valley lands of Vorarlberg. A state of award-winning architects and artisans, Vorarlberg certainly shows off its creativity with innovative architectural design, while respecting tradition.
In the specific Bregenzerwald and Brandnertal regions of Austria's westernmost state of Vorarlberg, this distinct culture of craftsmanship continues longstanding traditions with a twist, with the new design seamlessly blending with the old surroundings.
Vorarlberg – home of 'Meadow Championships', energy efficiency and a backdrop formed of the northern ridges of the Alps – has an extra unique visual flair. Perfect for an architecture enthusiast like myself.
My first stop was the village of Mellau – a good starting point for an architecture trail that would lead me through towns such as Egg and Krumbach towards the region of Brandnertal, where artistic trends continue beyond the Bregenzerwald.
Where to find Vorarlberg Architecture in Bregenzerwald
On The 'Umgang Bregenzerwald' Trails
While there is pride taken in the design of all Bregenzerwald's 22 villages, 12 have a notoriety for their specially marked 'Umgang Bregenzerwald' – a mapped trail of houses, commercials structures and public buildings that take between one and four hours to complete. Mellau is one of them.
While I didn't find all ten structures listed, I did find some personal favourites, including the café and some modern alpine house styles (noted for future architectural project reference). The local fire station and cemetery even form part of this optical path and new additions, including the boutique Hotel Bären and its hip cafe, bring a touch of urban cool to the village.
Rusty red coloured information columns mark each unique structure and when you peer into them, where you'll find all the information about its significance to the social, historical, cultural or culinary landscape.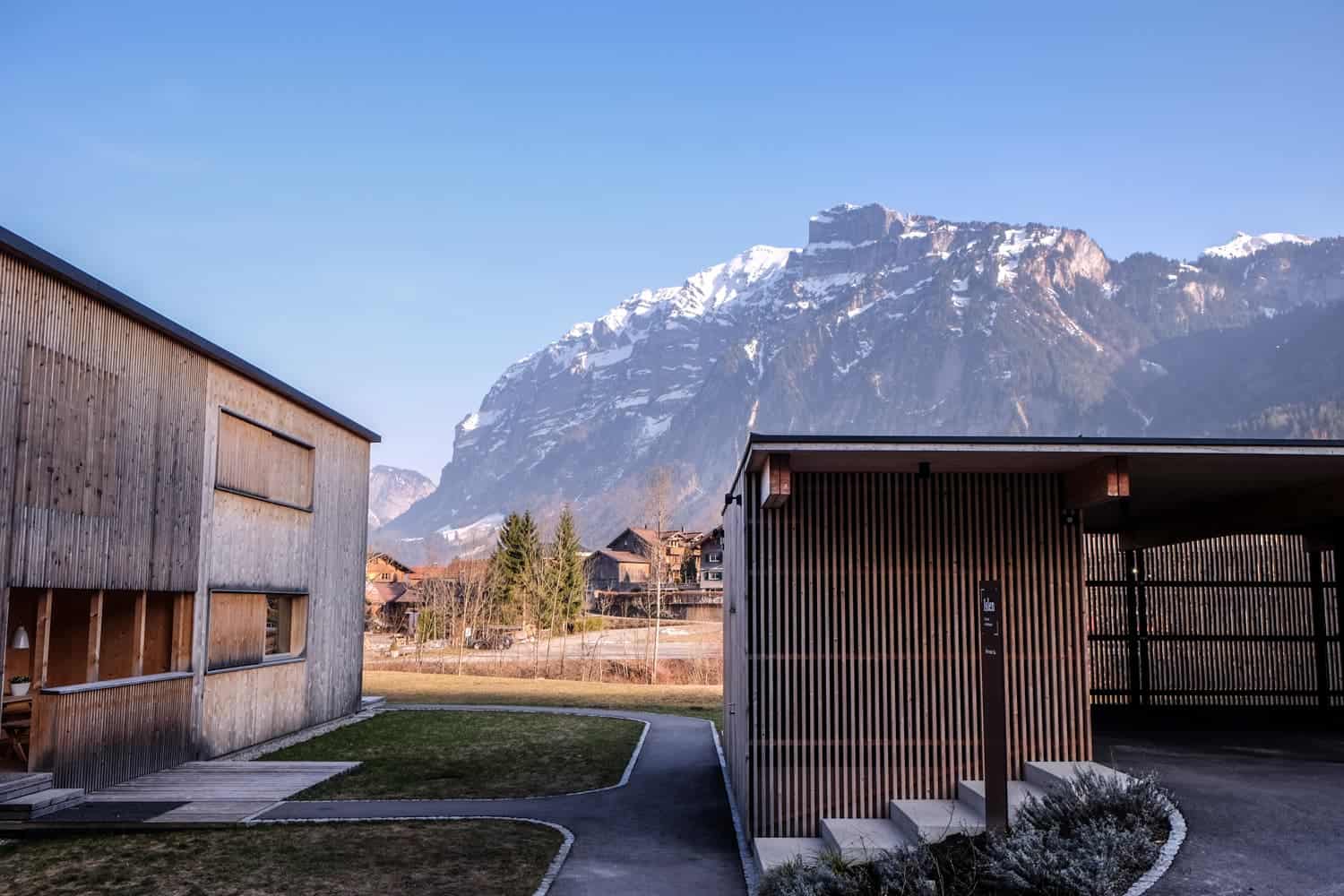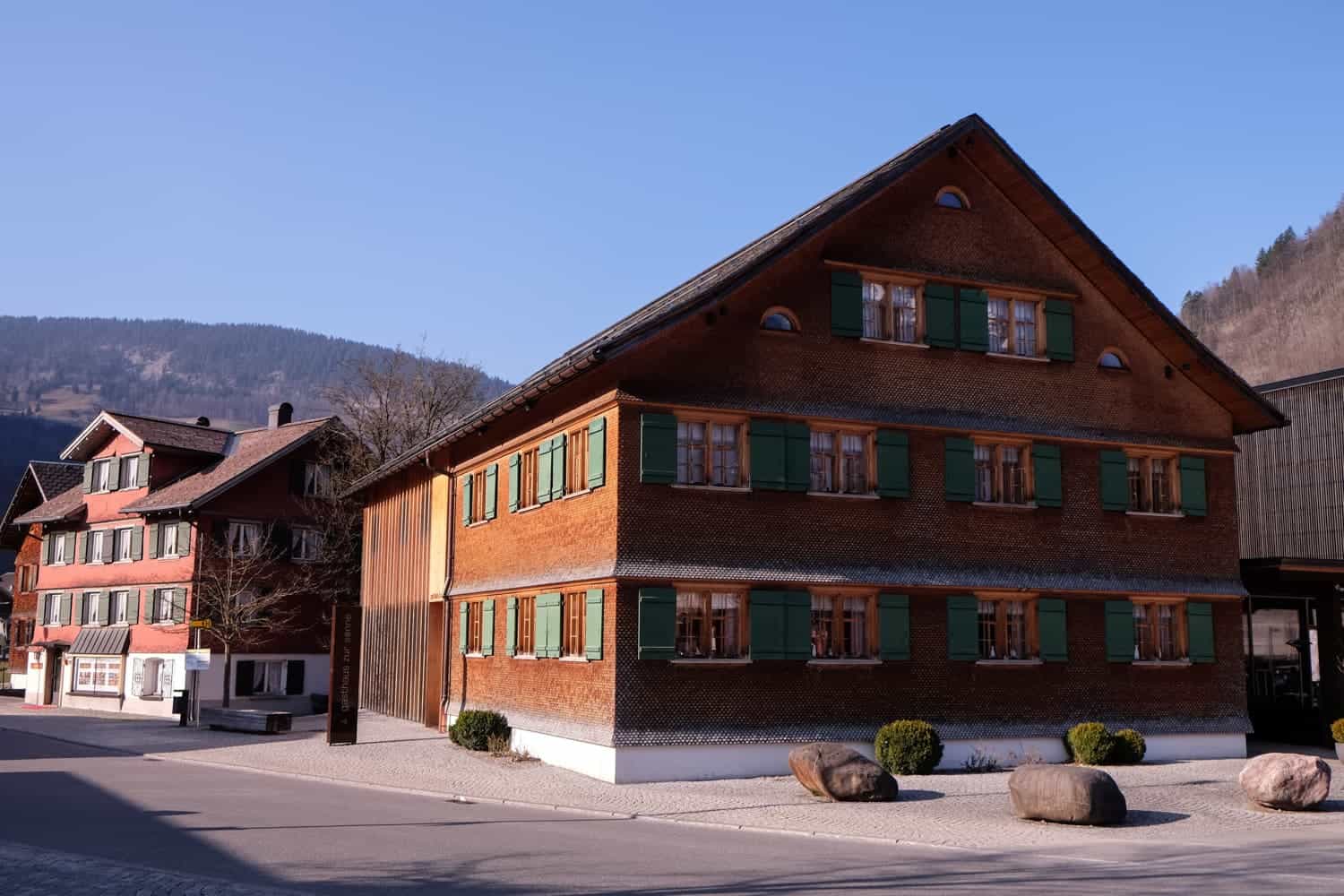 Glass and wood are the favoured materials in the modern designs since timber has always been a core foundation of building materials because of the dense forest surroundings of the Bregenzerwald. Many of the new-builds also incorporate these raw materials as renewable energy resources, such as hotels using wood to heat rooms and water, rather than rely on traditional electricity and oil sources.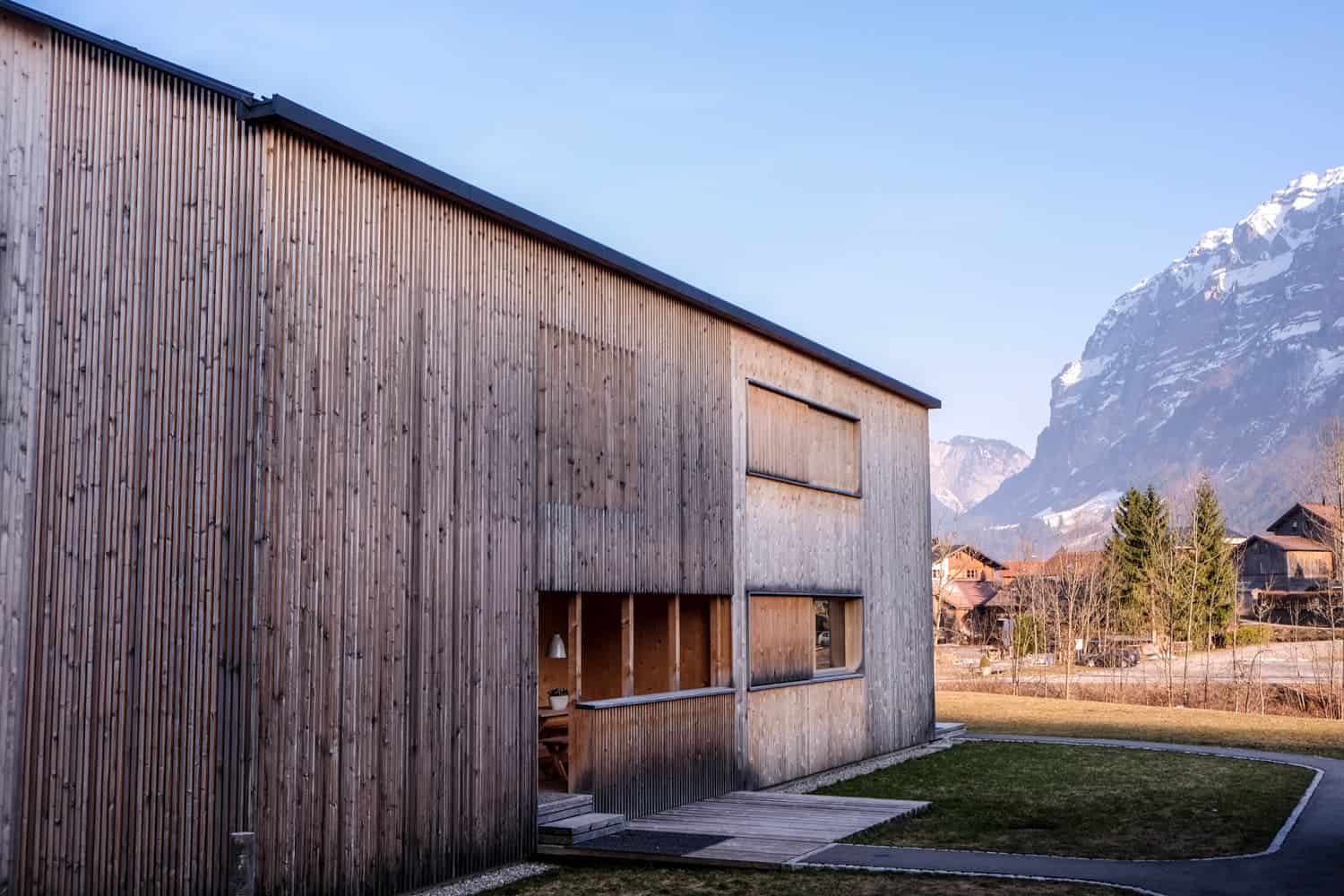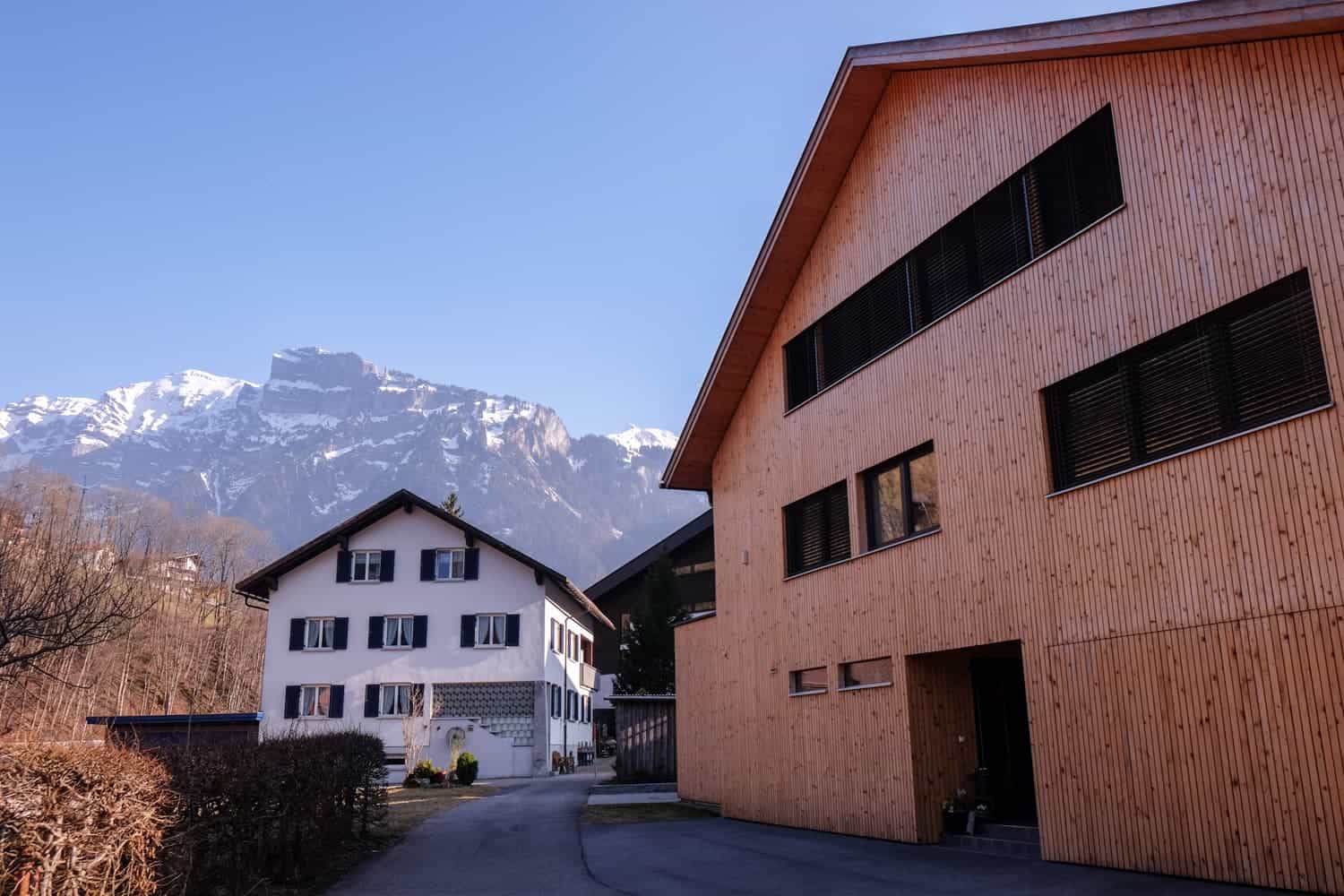 It's all about going back to basics, but with grand designs. It certainly breaks the typical image of rustic farmer houses and triangular roofed huts, although these are still an incredible sight set within the green valleys and mountainous backdrop.
The Seven Bus Stops in Krumbach, Vorarlberg
Another architecture path was established in the village of Krumbach in 2014. The seven bus stops of Krumbach are how this Austrian village is now best known. The series of 'Wartehüsle' bus stops were designed by international architects, whose brief was to come and live in the village and then create something that would represent the culture and traditions while being able to mesh with the surrounding environment.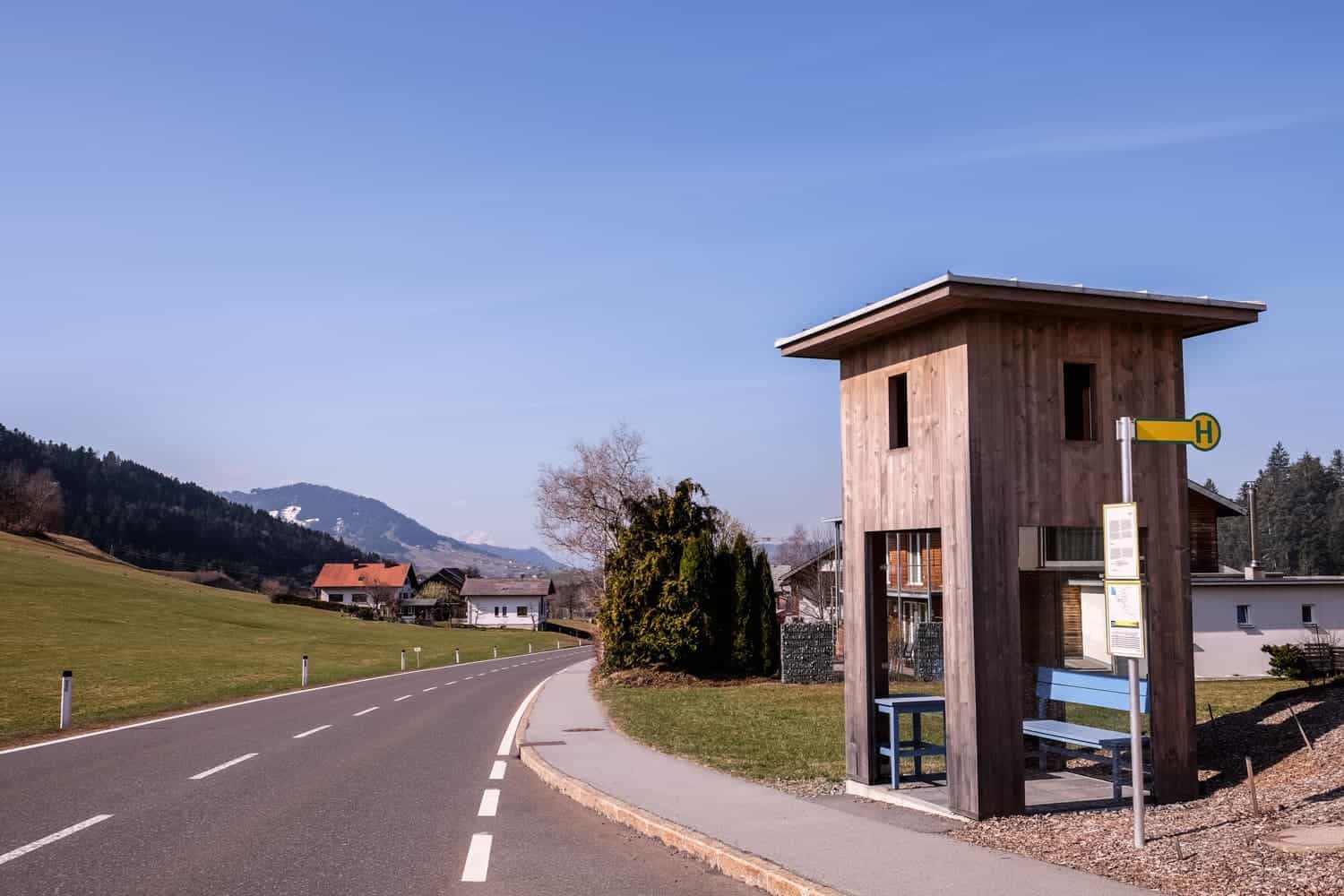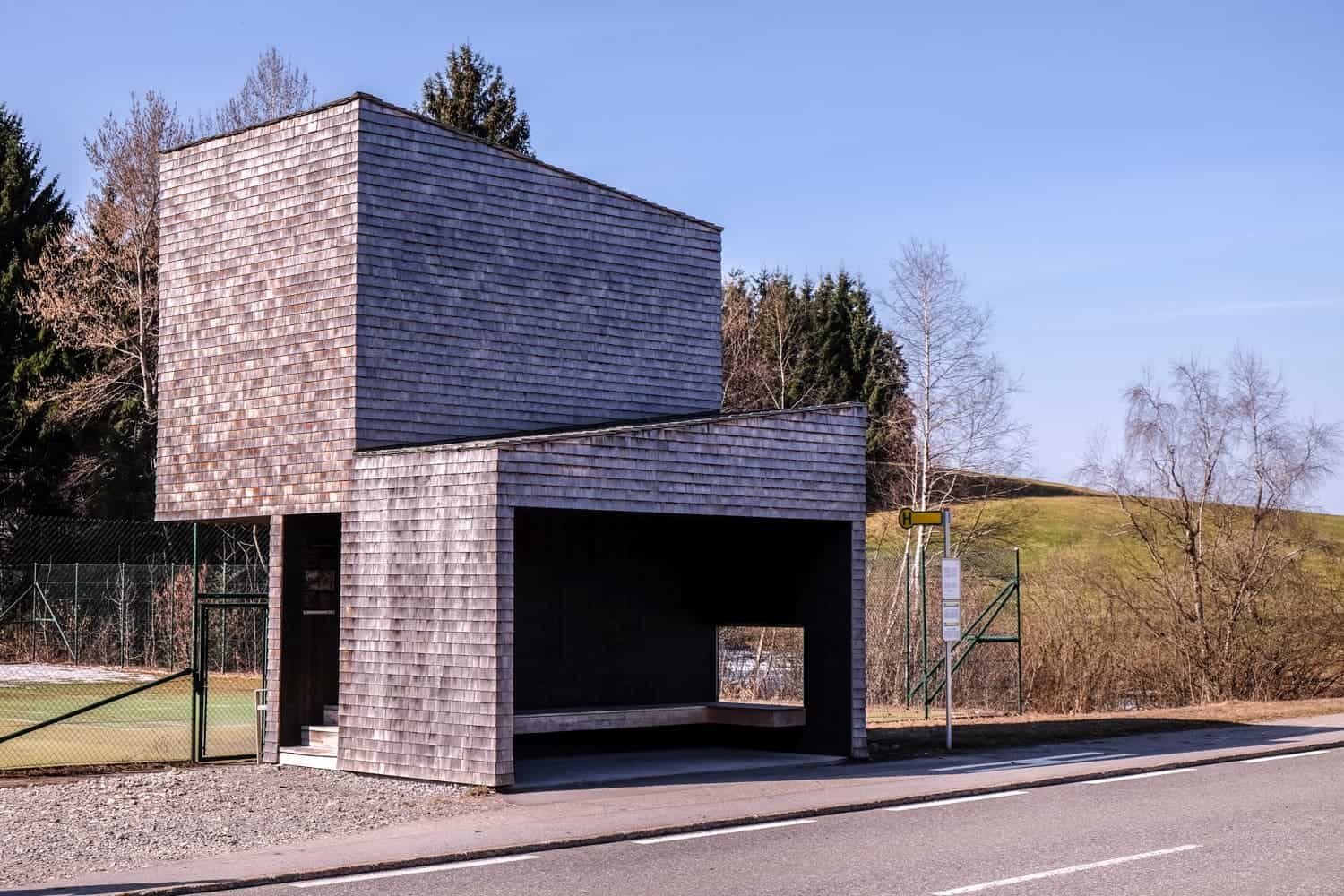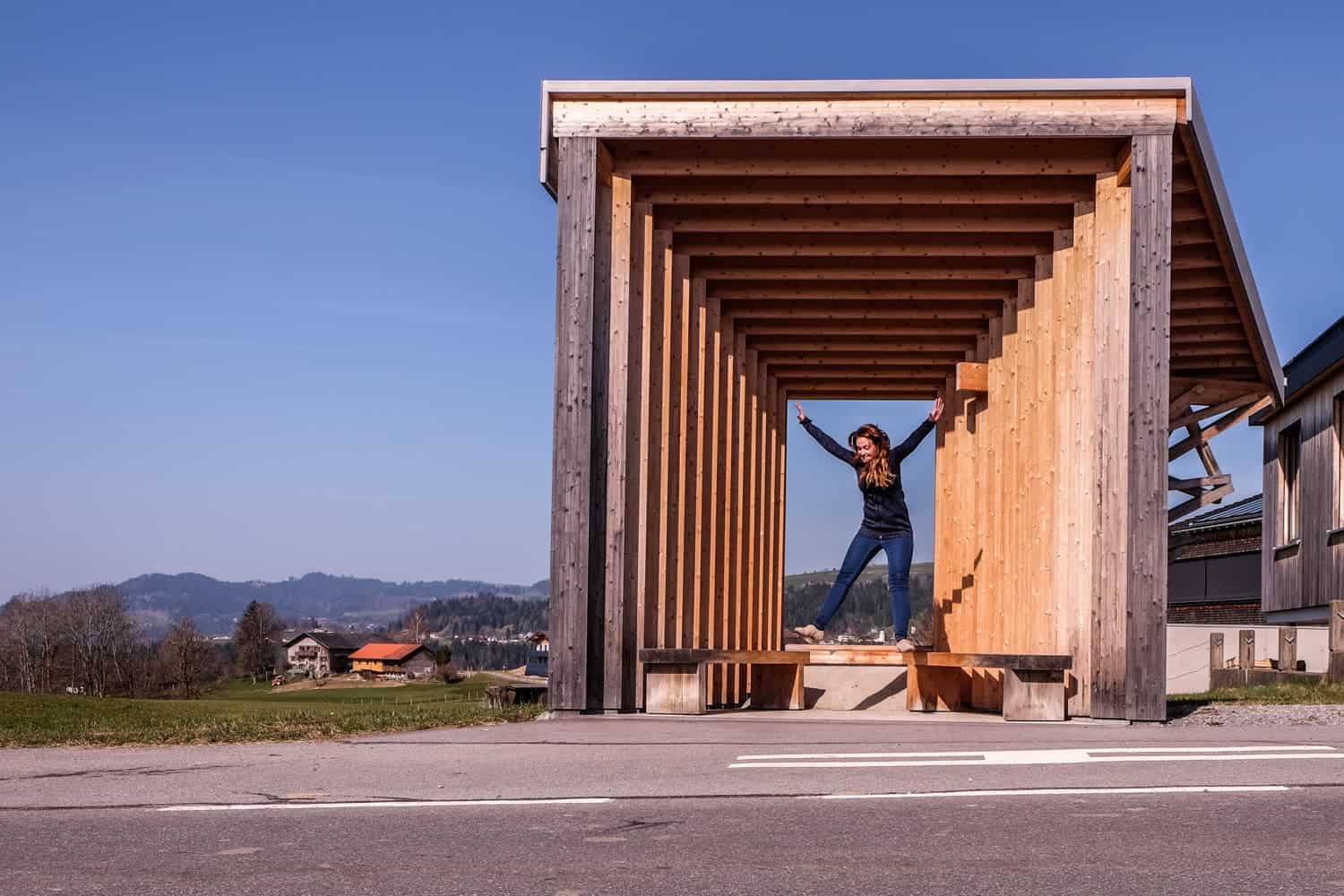 The famous Vorarlberg bus stops trail is a fun, and somewhat, quirky wander. It's not every day you deliberately set out to look closely at bus stops, but here you do since the tiny details have meaning. They resemble everything from the natural surroundings of the trees and the mountains to the traditional way that wood is stacked and the regional design of the furniture.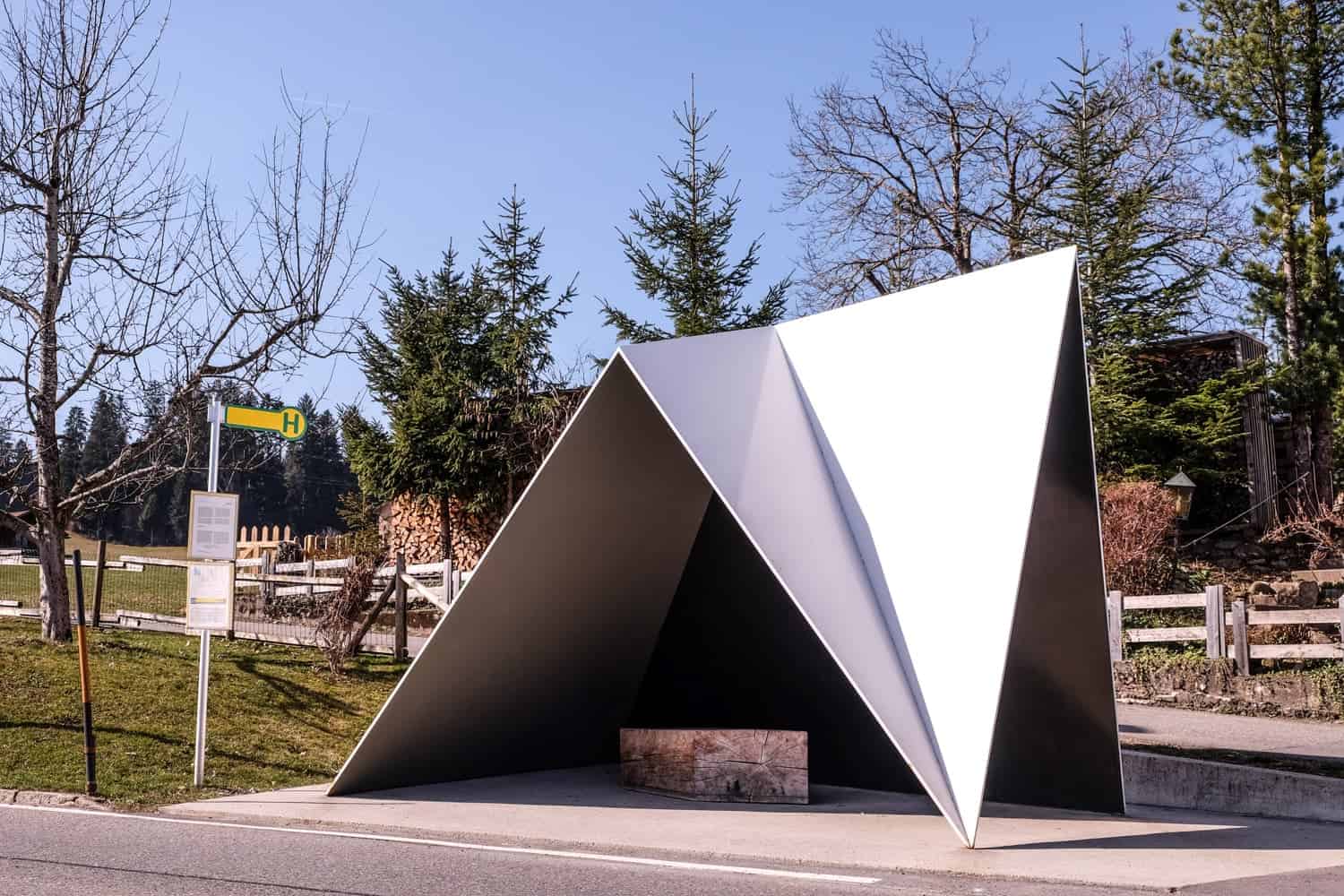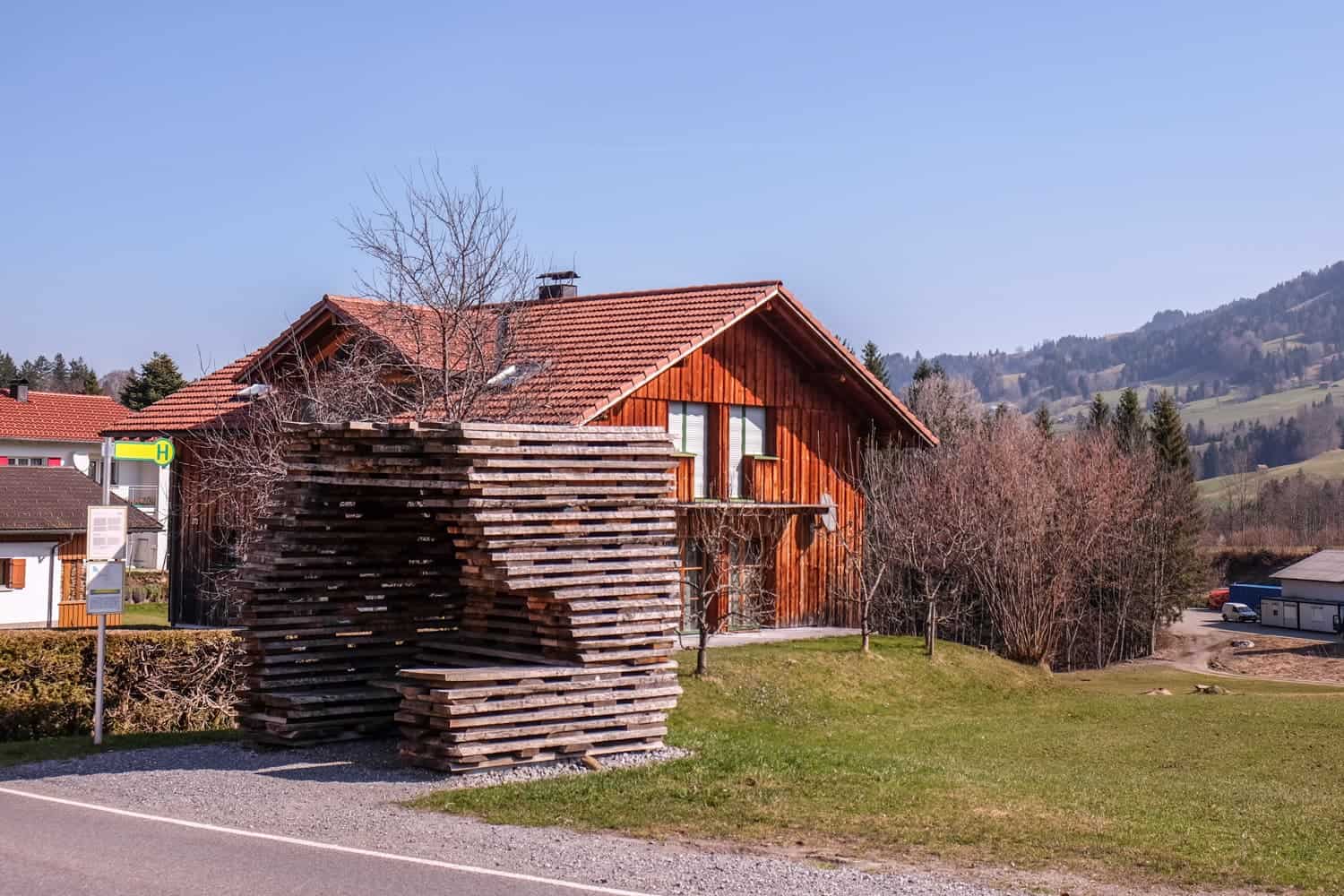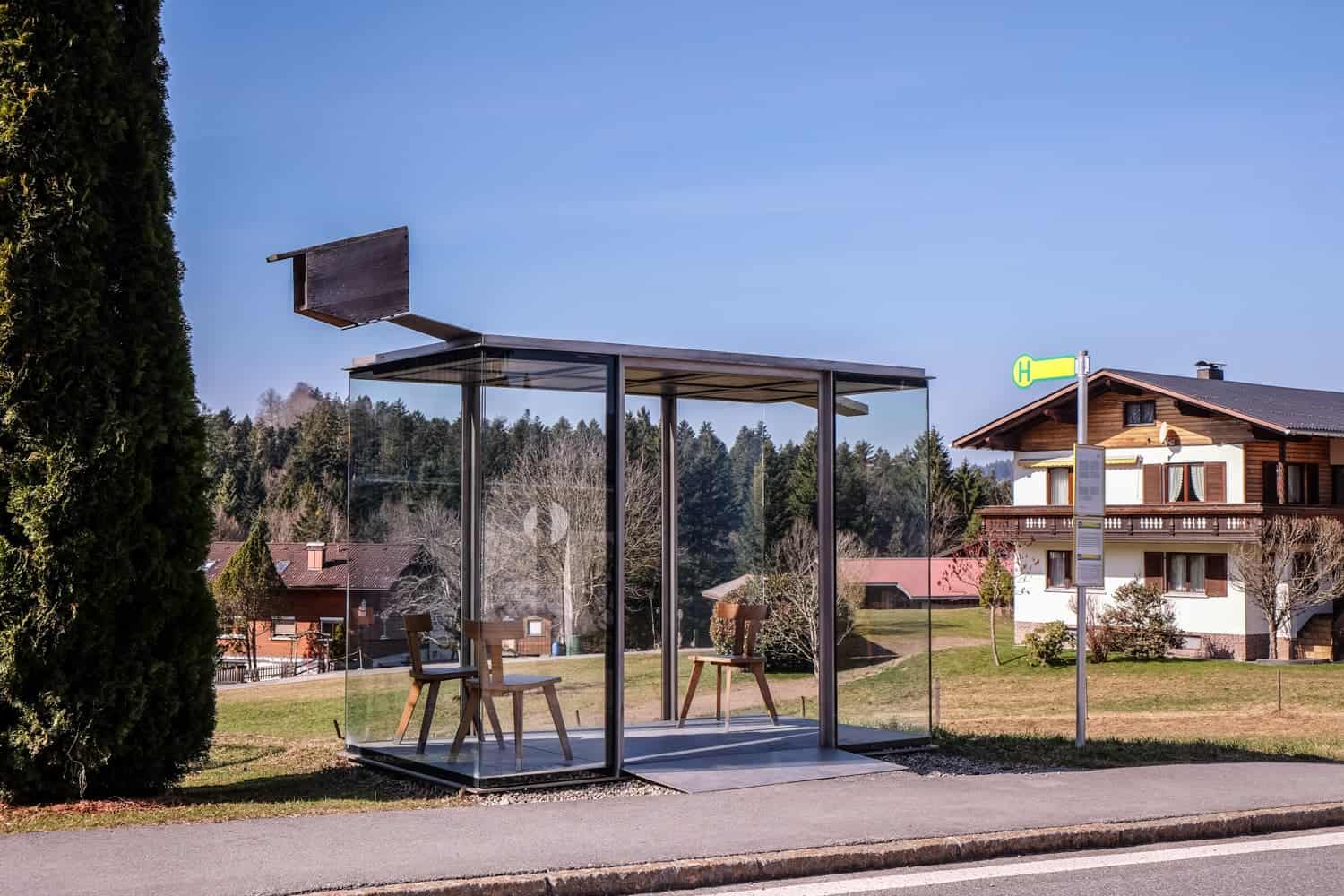 Who said waiting for the bus was boring?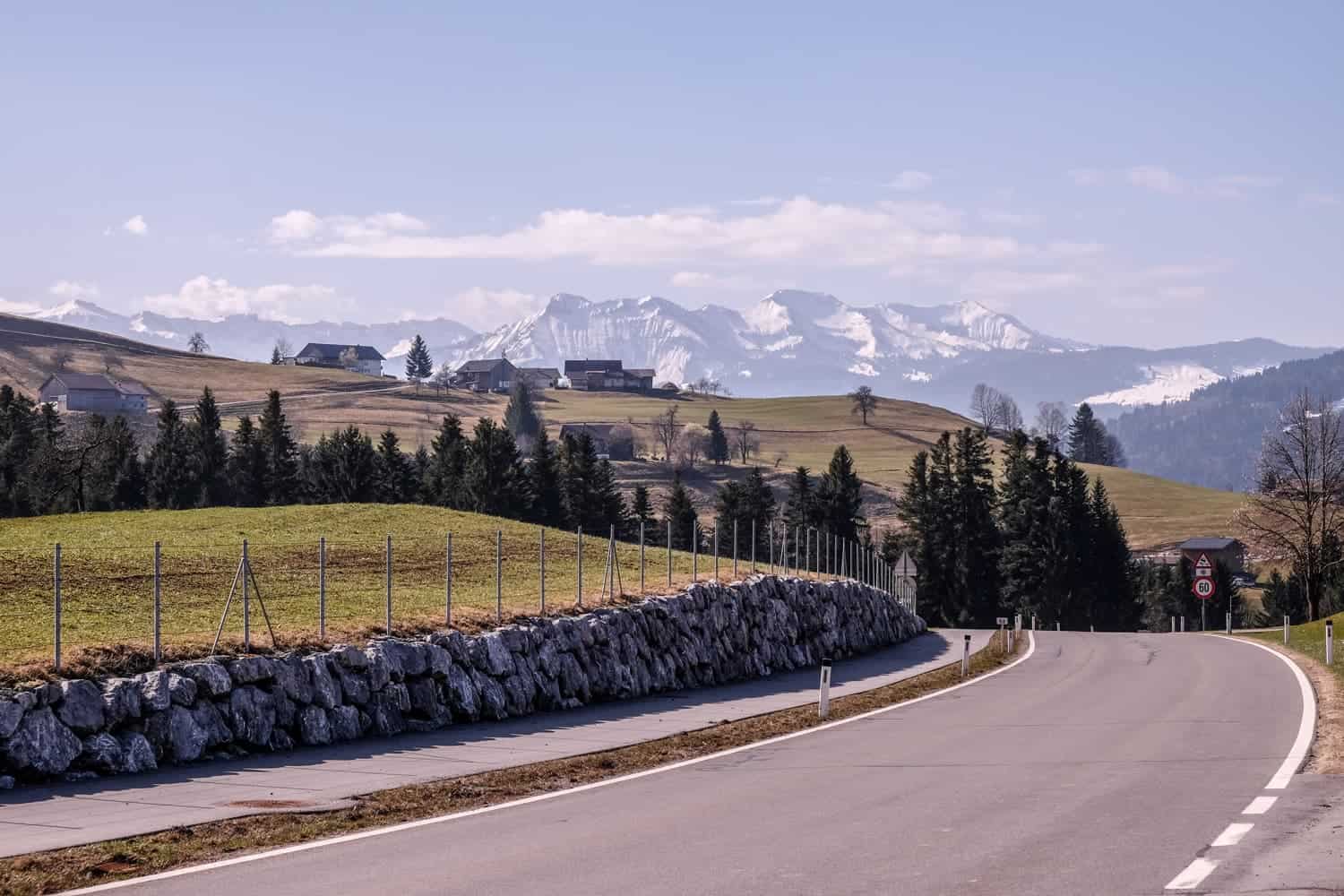 Preservation and Innovation in the Village of Andelsbuch
Innovation in modern craftsmanship has put Vorarlberg's artists, designers and architects on an internationally famed level, continuing a long culture of building and family-run trade. In Bregenzerwald specifically, craftsmanship and trade are the largest employers of the region, and you can see why.
I visited the Werkaumhaus in Andelsbuch to see a whole host of craftworks on show. This large glass showroom and exhibition space opened 2013, designed by internationally renowned architect, Peter Zumthor with the idea for the outdoor landscape and the interior to have no distinction and separation. I went during the Farb (colour) exhibition where all artists list what colour means for them in their art.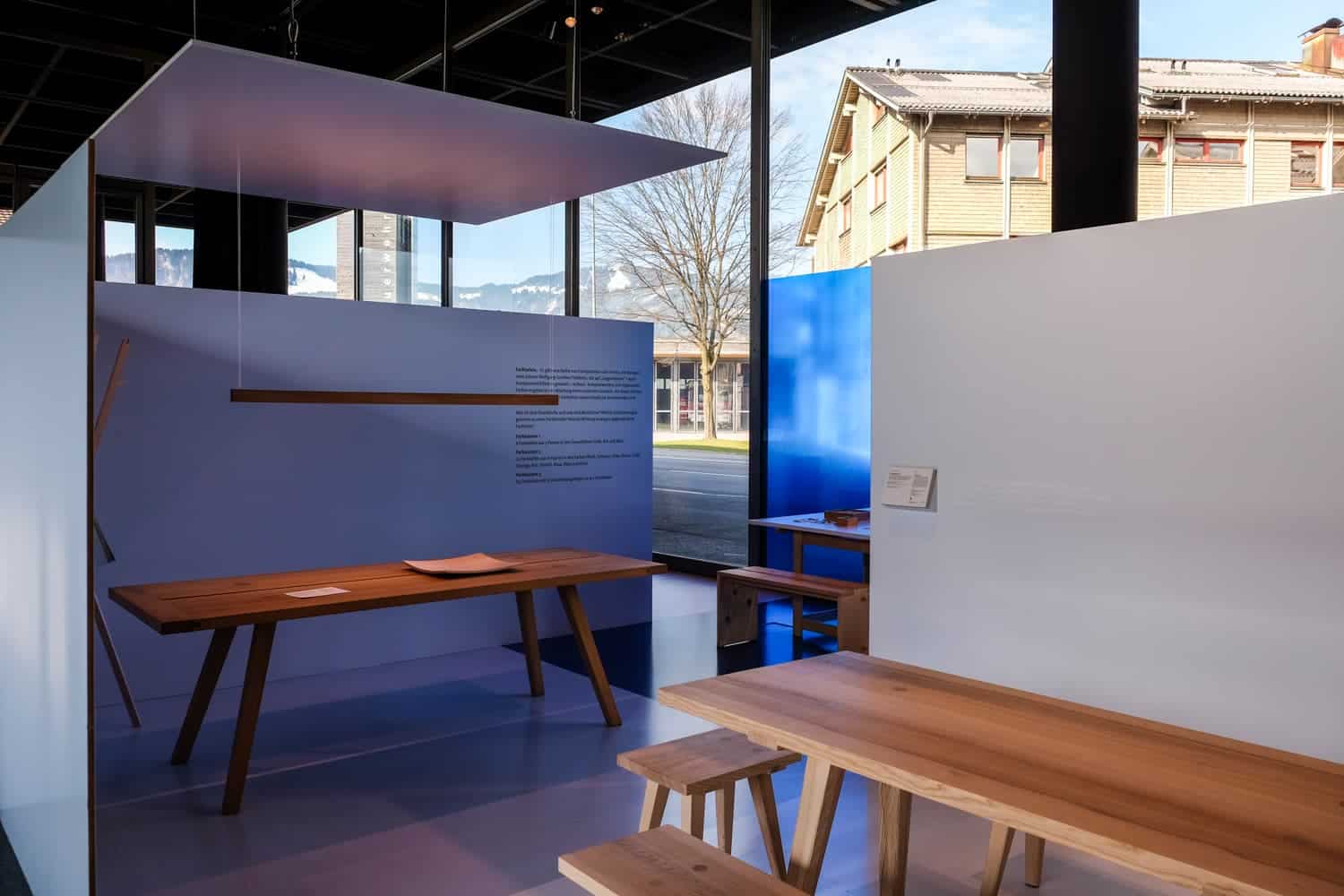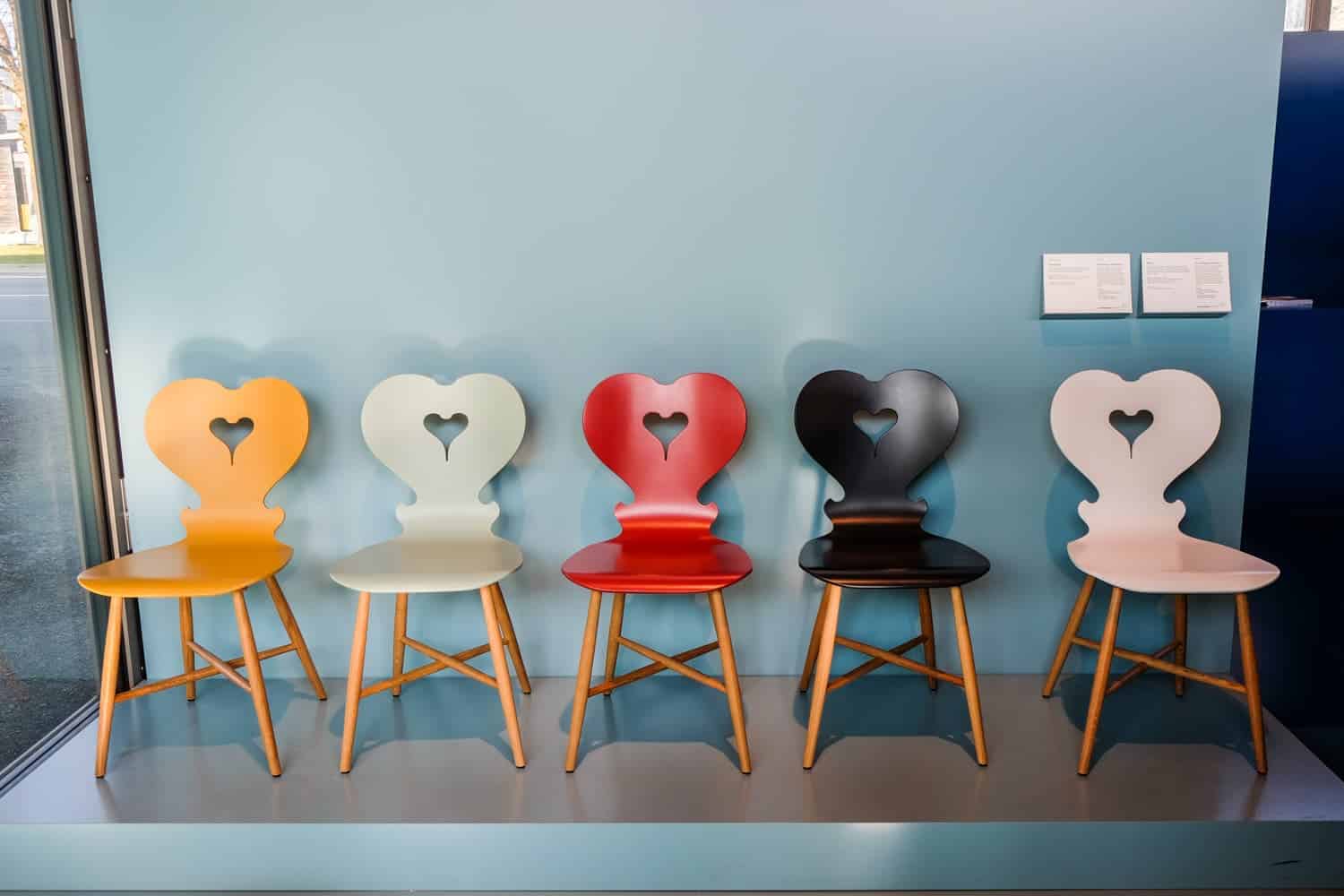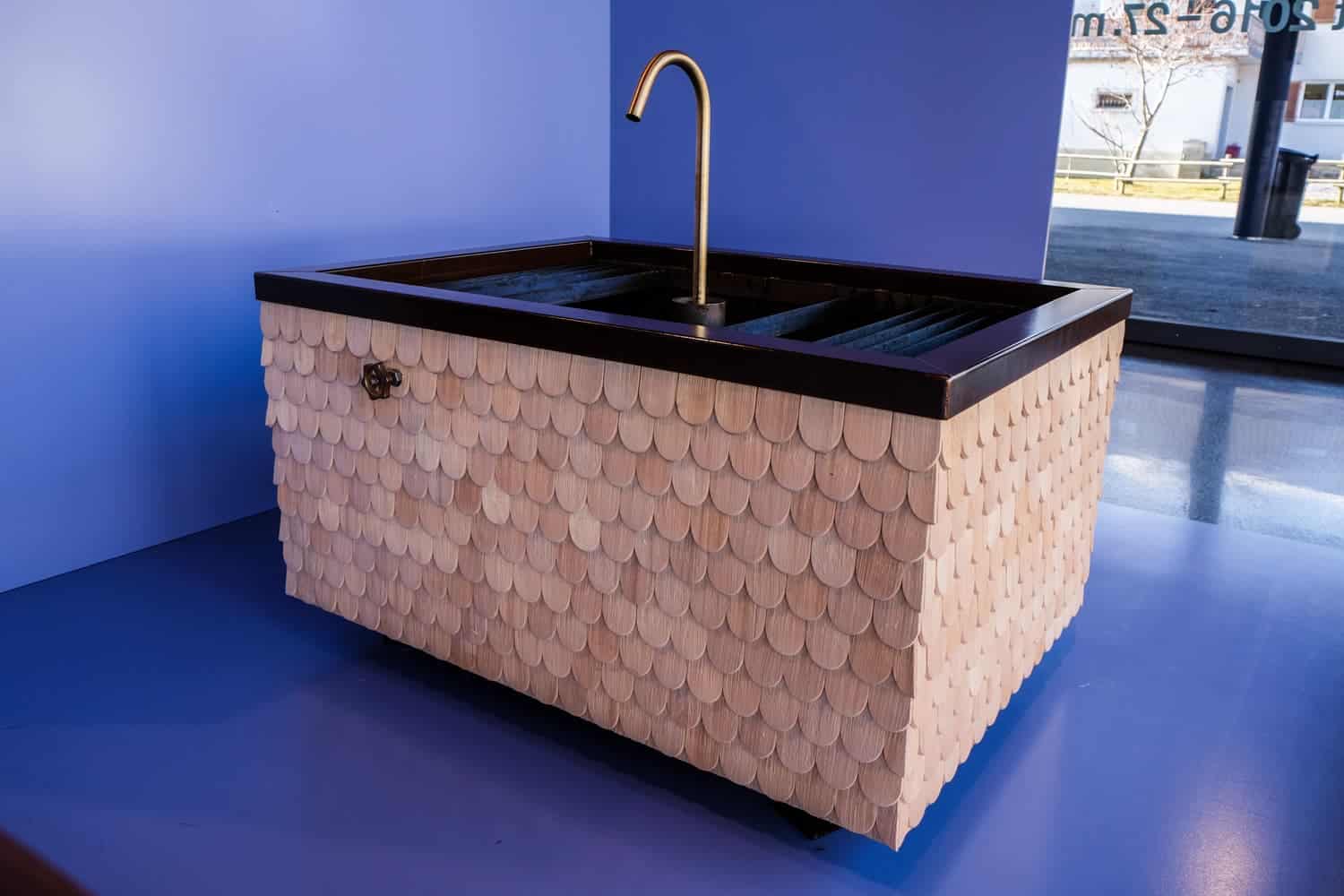 With over 40 designs from carpenters, stonemasons, bricklayers, metal workers, painters, tailors and more, you can not only view and purchase these unique products but see how Vorarlberg is leading the way for the preservation of longstanding traditions and skills, handed down from generation to generation.
Next to this impressive building is the old village train station, preserved in memory, but also still in use, with former train carriages used as venue space. The showroom and former station standing side-by-side are the perfect examples of design through the ages.
More Vorarlberg Architecture in Brandnertal
Taking the train from Bregenz to Bludenz, a short drive brought me to the village of Brand in Vorarlberg's Brandnertal region. After checking into the boutique design Hotel Walliserhorf, I embarked on a village walk with a local who pointed out some of the new design features, from private homes and hotels to the church renovation and the school.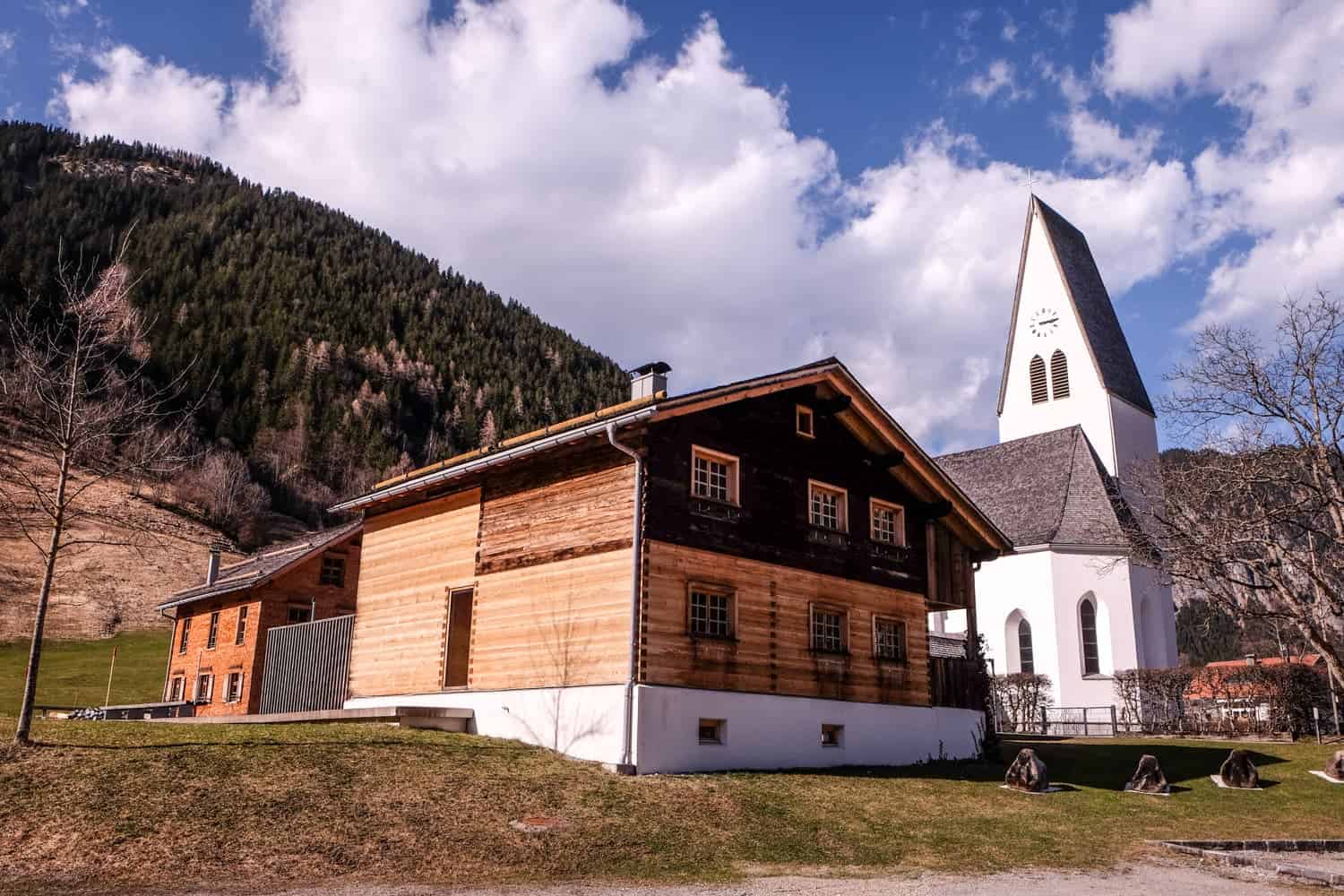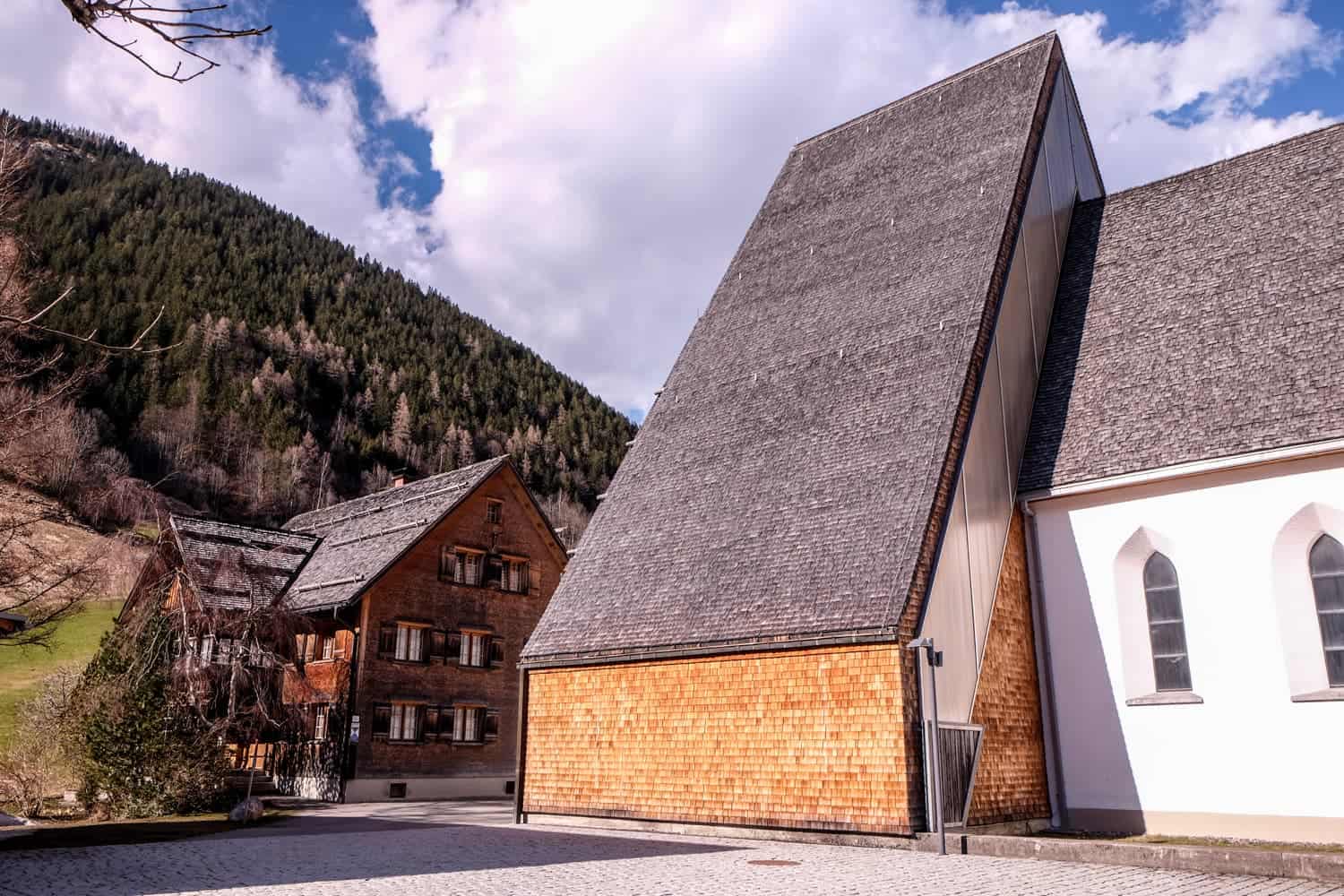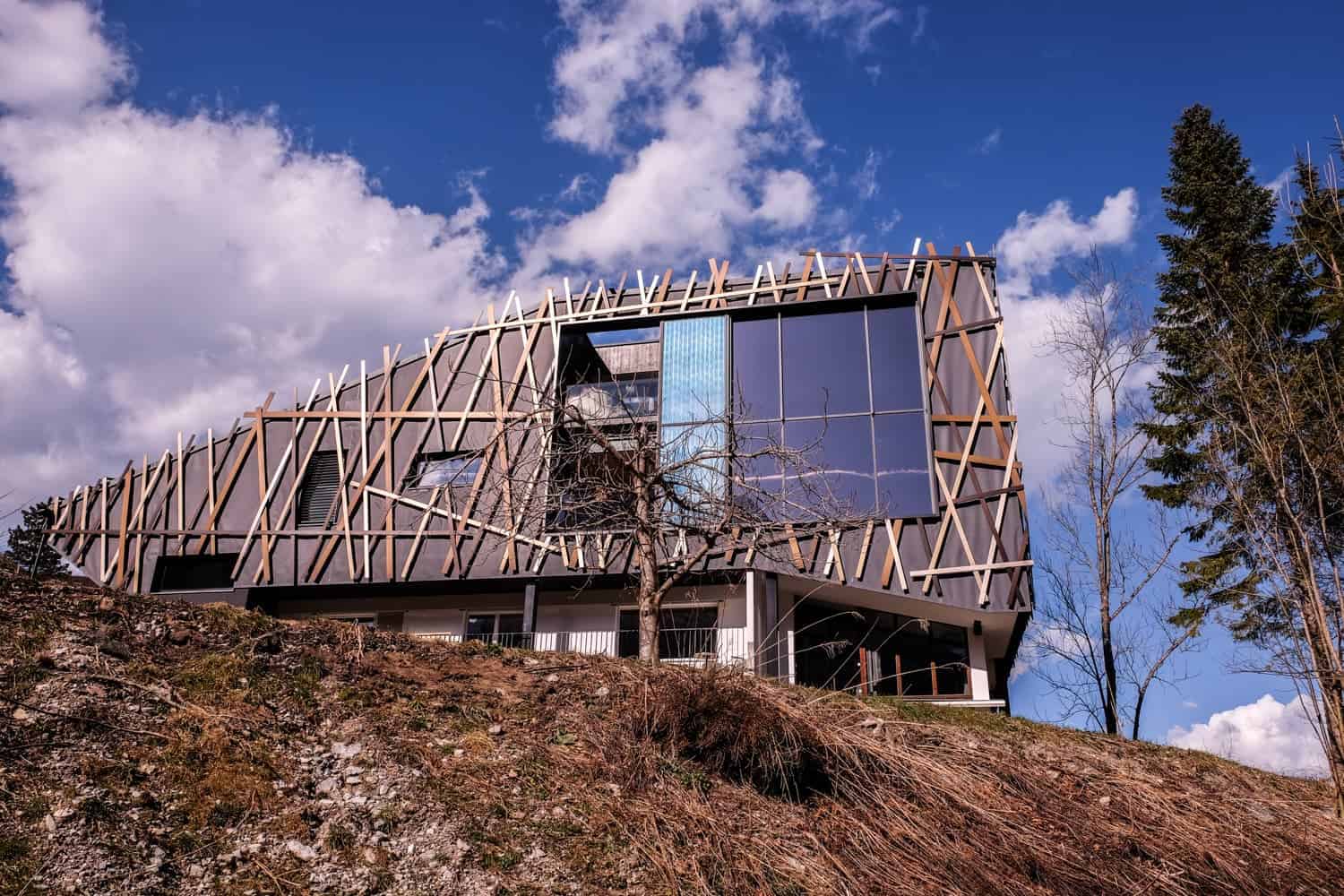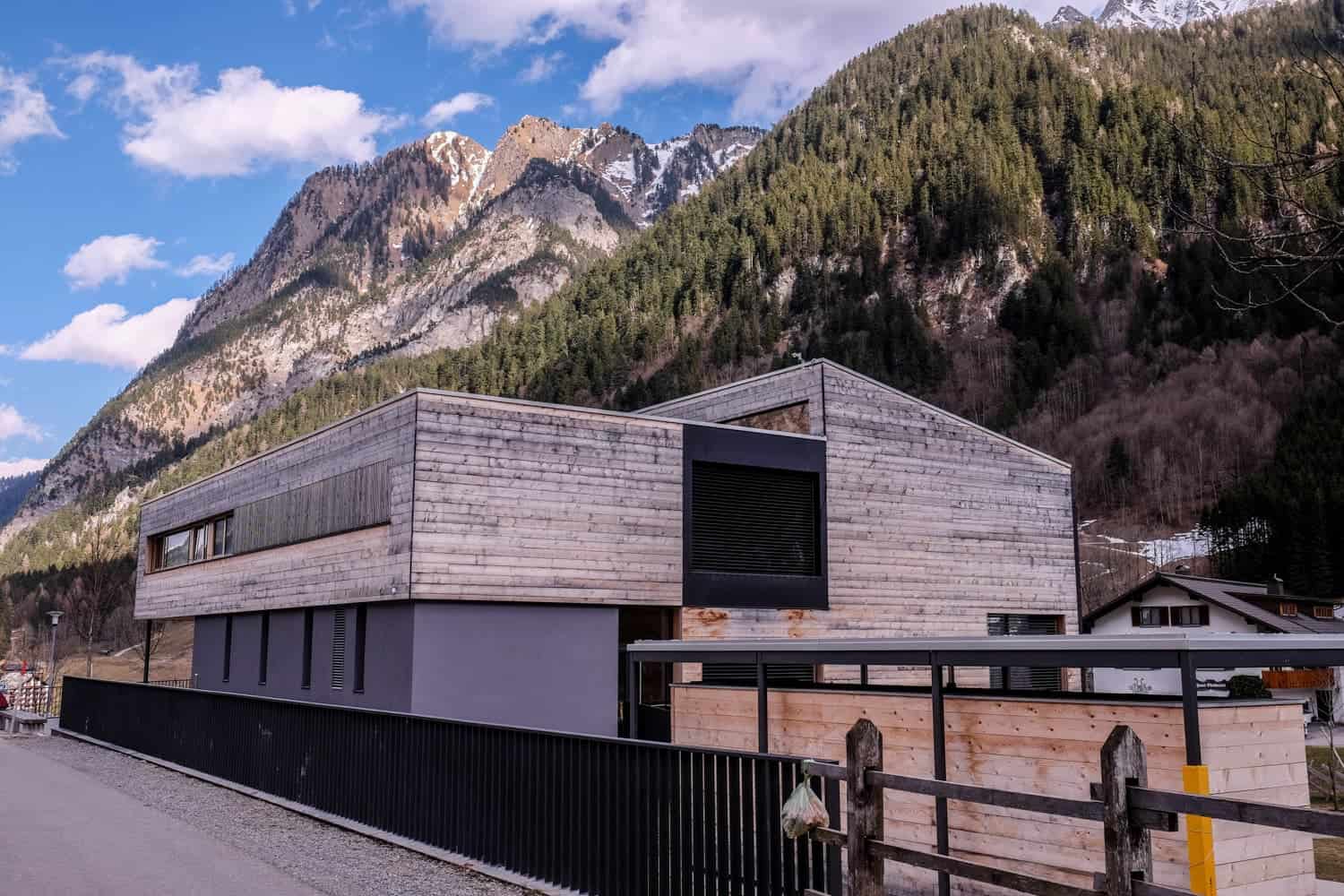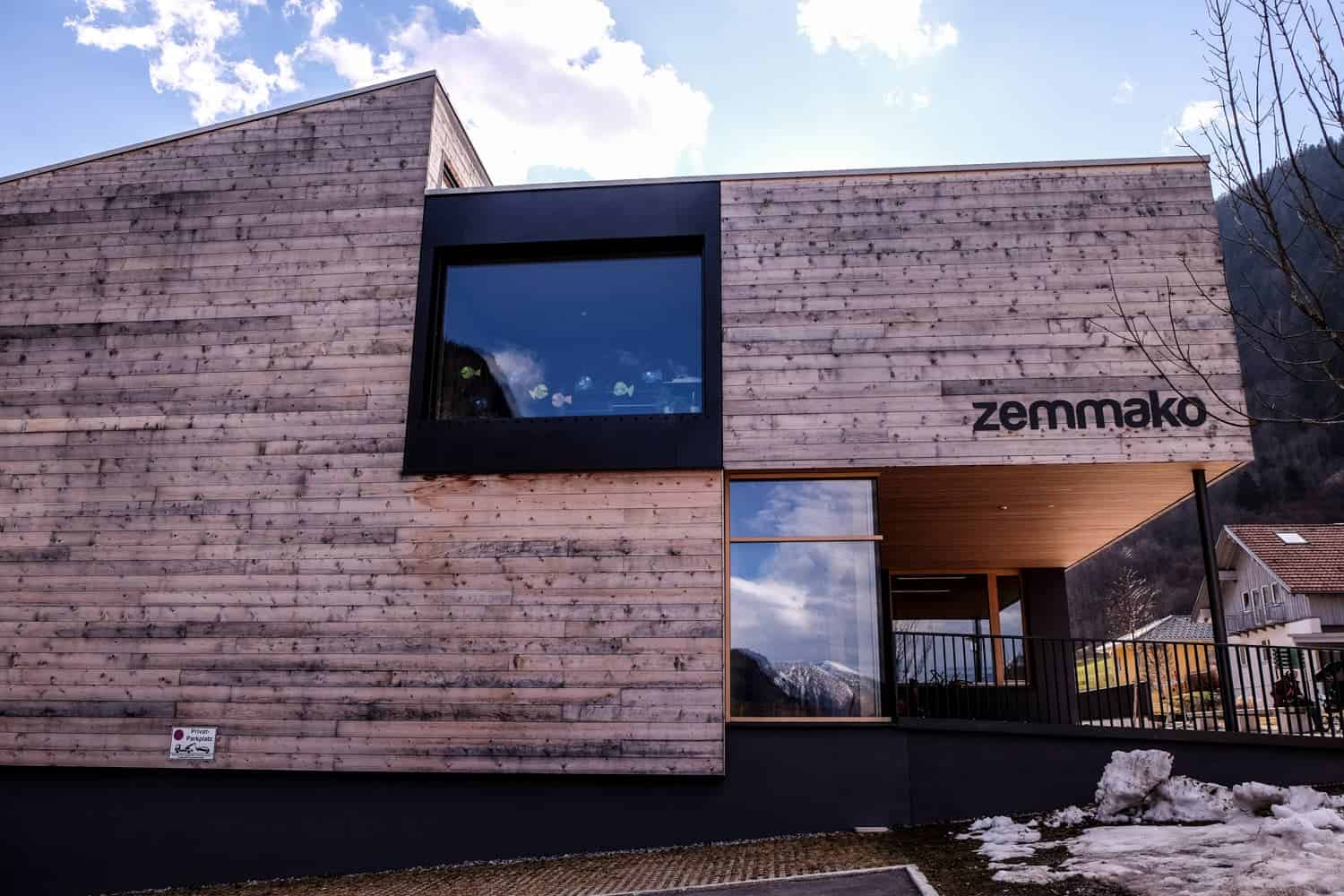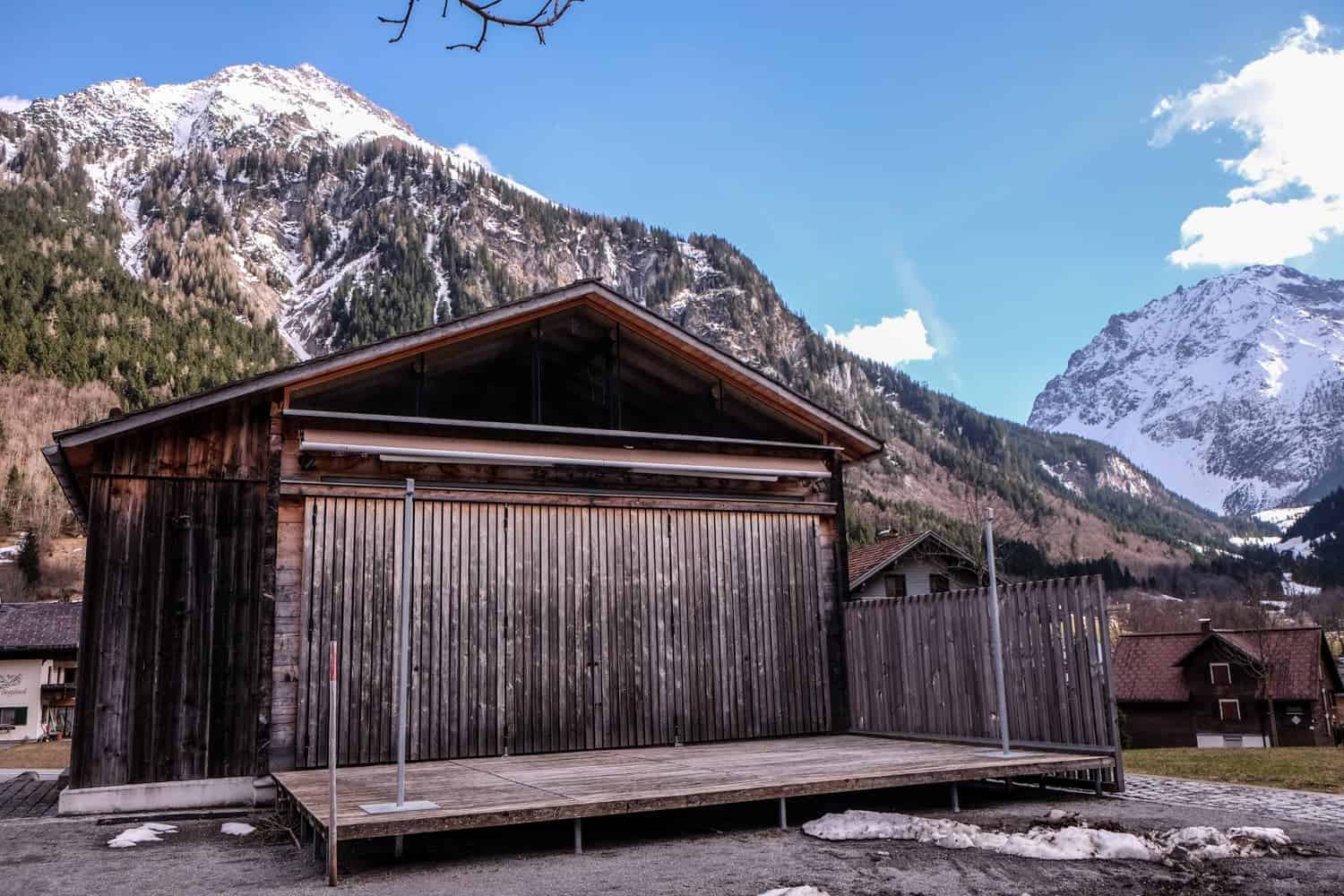 Even if you are stopping in a village for access to a ski area, or only have a few hours to spare, make time to explore and see how Vorarlberg communities. Those in the Bregenzerwald more so, who have marked out their craftsman trails especially so that visitors can take pride in their unique visual take on alpine living.
Tips for Touring the Architecture in Vorarlberg, Austria
The 'Umgang Bregenzerwald' trails can be found in: Schoppernau, Au, Mellau, Bezau/Reuthe, Bizau, Schwarzenberg, Andelsbuch, Egg, Lingenau, Langenegg, Krumbach, Hittisau. A little box of all 12 maps is available from local tourism offices or you can find them all online here.
The seven participating architects of the Krumbach Bus Stops came from Russia, Norway, Belgium, Spain, Chile, Japan and China.
The Werkaumhaus in Andelsbuch displays pieces by local craftspeople who are members of the Werkraum and holds changing special exhibitions, twice a year. It replaces the previous idea of window displays and offers a thematic approach to showcasing local design. Admission is €7.50 for adults (and €5 for commissions).
Exploring the architecture in Vorarlberg was a part of my 'Year in Austria' project, as the UK ambassador for the Austrian National Tourist Office. I will be travelling all around the country (from my home base of Vienna) over 12 months and showcasing a variety of destinations and activities. Continue to follow #YearInAustria for all stories.