Disclaimer: This post contains affiliate links to handpicked partners, including tours, gear and booking sites. If you click through or buy something via one of them, I may receive a small commission. This is at no extra cost to you and allows this site to keep running.
This travel guide to all the places to visit in Ras Al Khaimah, UAE sets about to show you how the combination of coastline and culture, mountains and rich history, make this emirate more than just embellished desert.
That's because when you hear about travel to the United Arab Emirates (UAE), scenes of glistening, towering buildings, man-made islands and the ultra-indulgent lifestyle of Dubai and Abu Dhabi dominate.
Yet little is known about the historically rich and varied natural landscape of the northernmost of the seven Emirates – Ras Al Khaimah.
The fourth-largest of all the Emirates, despite making up only 2.17% of the country's entire territory, it is the more adventurous hinterland in comparison to its decades-young luxury neighbours.
Visiting Ras Al Khaimah is a window into the ancient history and terrain of this region, where centuries-old ruins and remnants of a once nomadic way of life can be found close to the golden coastlines and within the rugged, mountainous landscape.
While I could wax lyrical about the pros and cons surrounding the rapid construction of the 'new' country that is the UAE and travel within each of the individual Emirates, Ras Al Khaimah tourism is one that actually strikes an interesting balance.
Not only does it combine relaxing coastline luxury with local culture and adventure, but it also paints a very different picture to the gaudy and extravagant image associated with the United Arab Emirates today.
Where is Ras Al Khaimah & How Do I Get There?
Ras Al Khaimah is the Emirate that sits the farthest north – above Ajman, Sharjah, and Dubai. It is more common, if not always, accessed via the travel gateway of Dubai via a 45-minute drive, where its tourism numbers come predominantly from Dubai residents and day-trippers.
Dubai is still quite the distance from London (there are no direct flights to Ras Al Khaimah's airport from London), where you will rack up nearly seven hours in the air. However, that doesn't have to be an uncomfortable journey.
As an AV geek who is always happy to test a new airline despite the distance, I was able to finally experience the Royal Brunei Dreamliner, which was introduced in 2013 as a higher-quality and more comfortable flying experience with regards to space, reduction of noise and cabin pressure.
In Economy and Business Class (there is no First Class, making Business as close as you can get), the Dreamliner lived up to its propositions. Business Class is roomy with only 18 fully reclining seats, and even in Economy (a daunting prospect for long flights), there was more legroom than you would find in a standard economy flight.
The level of noise was noticeably lower, the windows magically tinted from clear to dark with the touch of a button, and I felt less pressure in the cabin (no popping of the ears and my usual dizziness when taking off and landing). Coupled with better air quality, I felt less tired and groggy. This can also be partially attributed to the incredibly snug duvet and pillow provided in the Business Class fully reclining bed on the way out.
If you book a flight and hotel package to Ras Al Khaimah, an onward transfer is most likely included. However, if booking separately, a taxi from the airport or a car rental is easy to arrange at the airport upon landing.
Best time to Visit Ras Al Khaimah
The best time to visit Ras Al Khaimah is from November – March, the European winter season.
November and December are popular for visitors, as are March and April before the hot spell kicks in. From May-July, temperatures reach uncomfortable peaks, making any time spend sunbathing and sightseeing uncomfortable.
Where to Stay in Ras Al Khaimah
Although Ras Al Khaimah remains more off track from mass tourism, it is not without the touches of luxury and comforts synonymous with the UAE's dominant cities.
There's a handful of Ras Al Khaimah resorts to choose from, attracting those looking for a coastal hideaway without the glitzy grandeur that Dubai flaunts. Here, you won't find towering, glass high-rises, but you will find international hotel brand resorts, such as the seafront Hilton Ras Al Khaimah Resort & Spa, where I stayed.
This particular resort, of hotel rooms and chalet-style accommodation, is built within a private, yellow sandy bay on the northern tip of the Arabian Peninsula overlooking the sea, yet is within easy reach of other city sites and resort hangouts.
There is also a beach club with watersports, an on-site spa, and a variety of international cuisines from Arabic to Brazilian, and snacks to multi-course gourmet (although local restaurants are also within accessible distance by car).
The main draw with any resorts here – of which you can hop between for further food choices, alternative spa treatments, and activities including falconry shows and desert camel rides – is that you get more for your money. Ras Al Khaimah's relatively unknown status makes a stay here significantly cheaper than one in its neighbours to the south.
With prices starting from just £385pp economy and £1,185pp business class, including Royal Brunei flights from London Heathrow to Dubai (including a transfer to Ras Al Khaimah), and a five-star hotel, such deals are often the best value for money.
Getting Around Ras Al Khaimah – Outside of the Resort
Tourism infrastructure in Ras Al Khaimah isn't prevalent, nor is it difficult to find a way of visiting local sites and other resorts. The means to get around is with a private car via two avenues:
Using the city's taxi system, which can be easily booked from the hotel to take you to local restaurants, other resort spas, the sand dunes, and the ancient ruins. You can set times for a pick-up or negotiate a price where the driver waits and brings you back. This RAK taxi company and price list is also a useful resource.
Booking a hire car rental. This might be a cheaper option for those on a multi-day trip and allows for your own time and exploration, even if you only hired a car for a day. Renty.ae has a good selection of car rental options in Ras Al Khaimah.
The Best Places to Visit in Ras Al Khaimah
The vast desert, a mountainous plateau, and ancient history complement the coastline, which makes Ras Al Khaimah a destination where you can combine relaxation with active outdoor exploration. If you assume it's all about hotel resort views, think again and seek out these landscapes and cultural activities.
Ras Al Khaimah's Desert Sands
No trip to the UAE is complete without Dune Bashing – an exciting adrenalin rush and the only way in which you can get right into the heart of the endless rolls of golden desert. Our jeep safari ended at the Oasis Bedouin Camp, with food and entertainment under the desert's starry sky, keeping an old nomad tradition alive.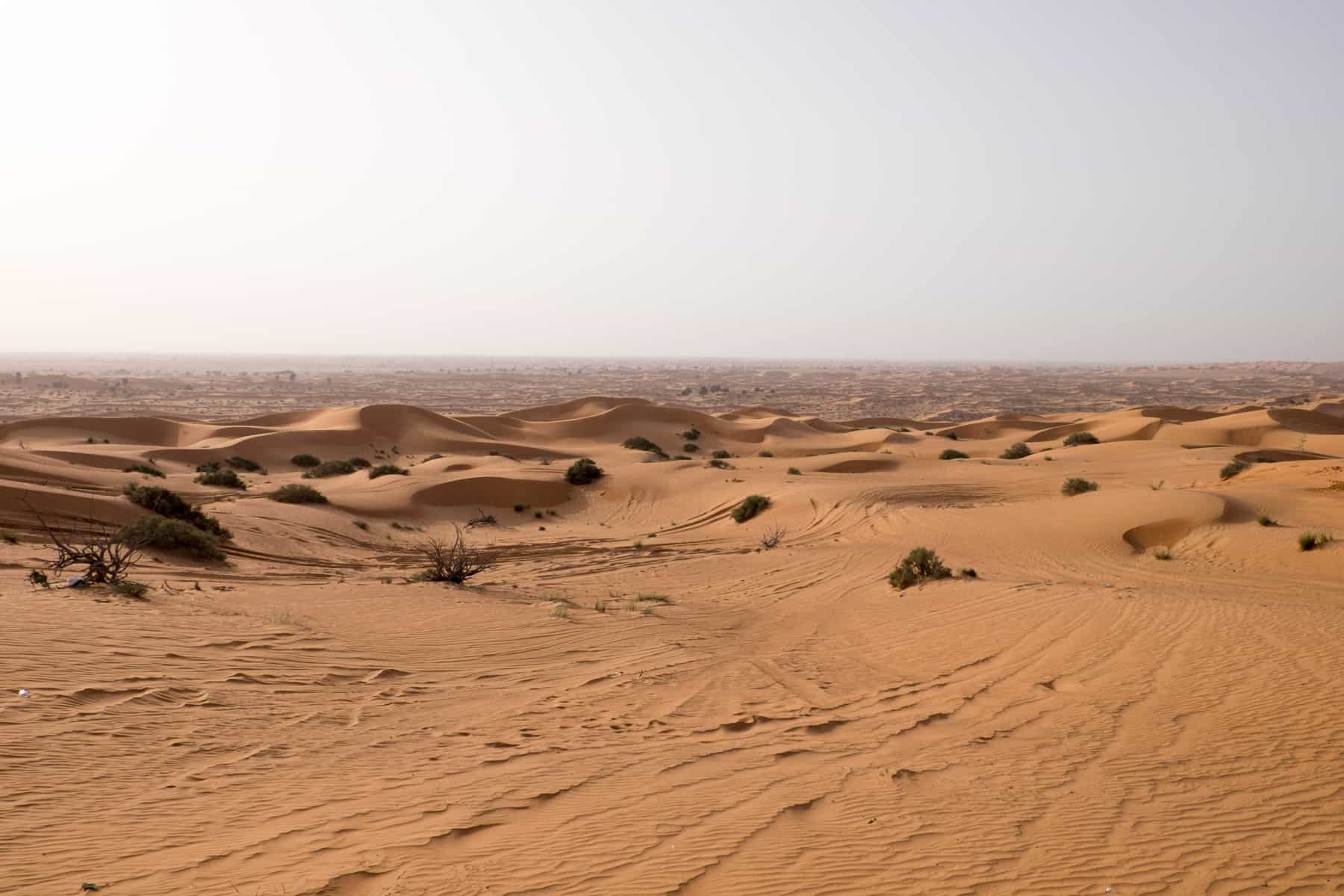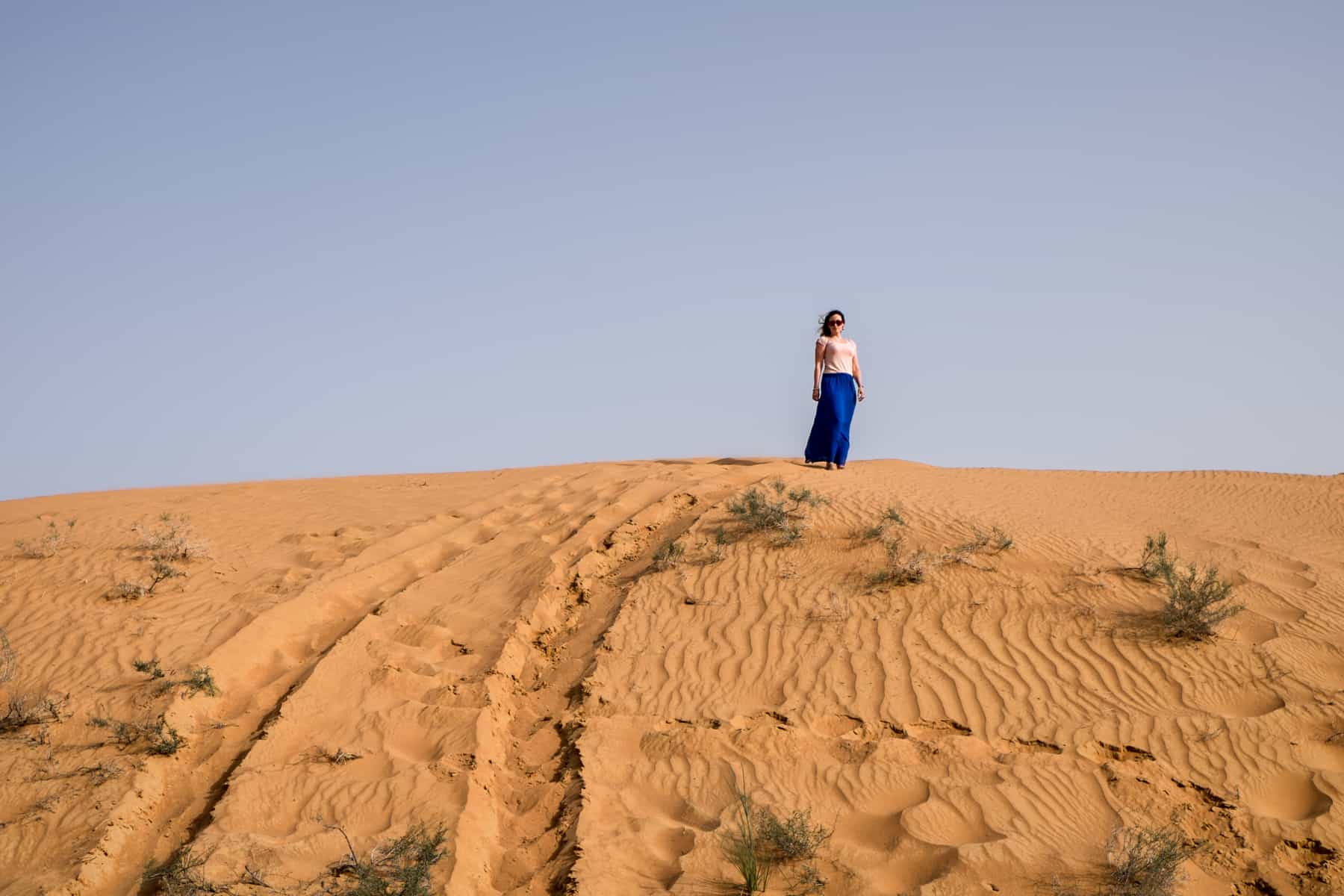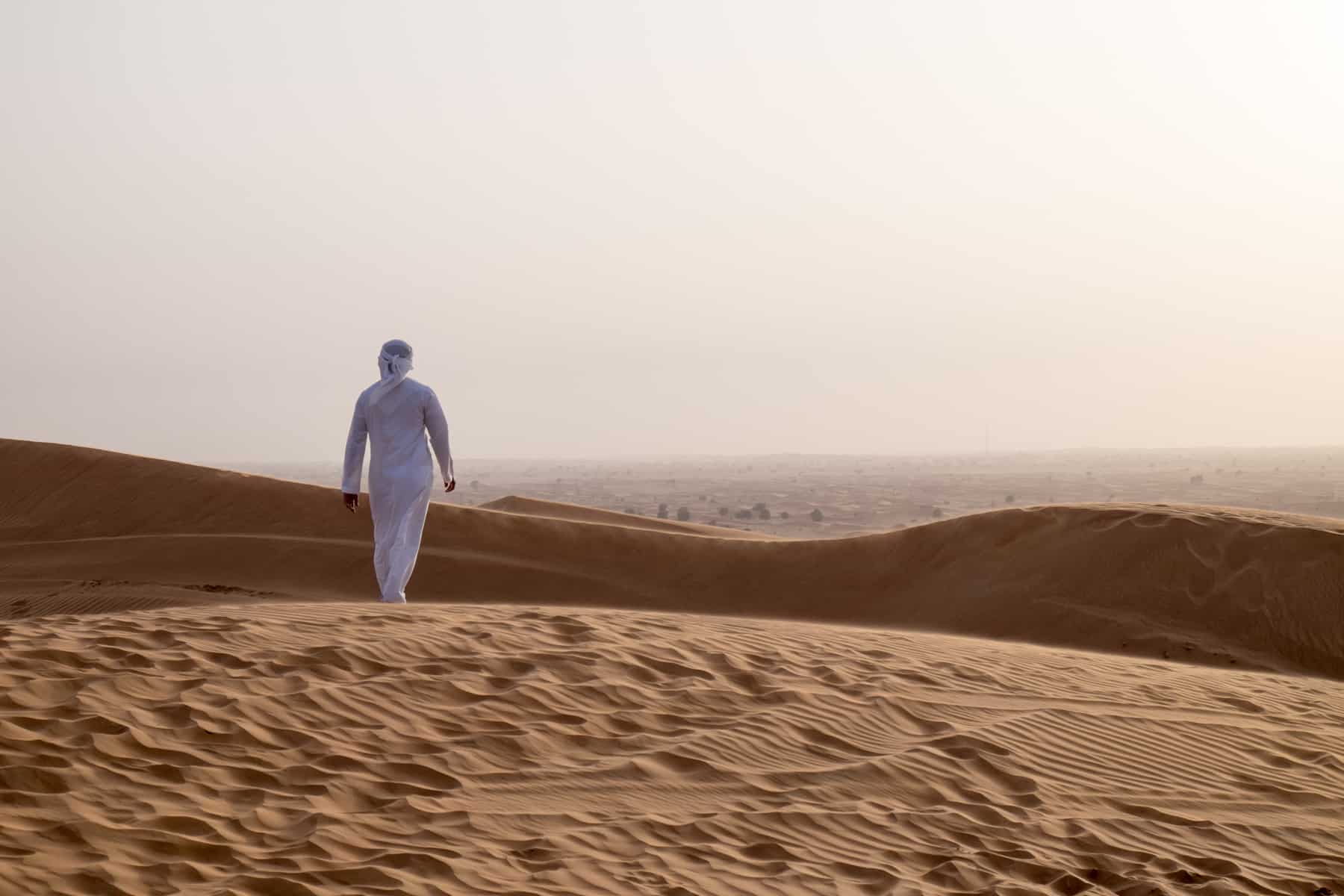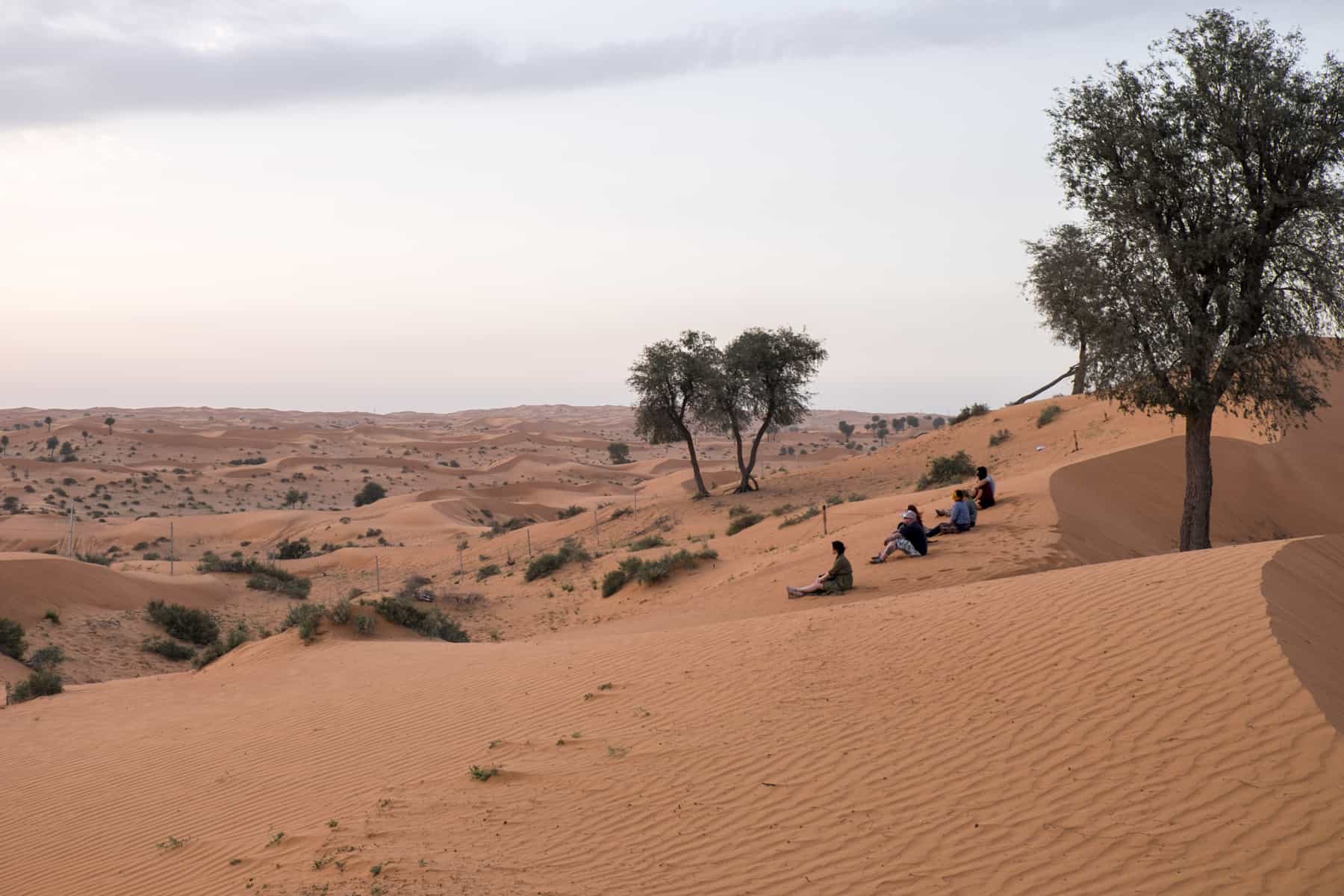 Ras Al Khaimah's Mountain Heights
Ras al Khaimah is home to Jebel Jais – the highest mountain in the country at over 1,900 metres and which marks the border to Oman. Accessible via a modern road, you can drive to various viewpoints, although the road is still in construction to reach its highest point.
Jebel Jais is now home to the world's longest zipline – 2.8km long and soaring 1680m above sea level at speeds up to 150 kph. Sadly, this wasn't completed when I was visiting, but you can. Book your thrilling bird-like adventure here.
Ras Al Khaimah's Ancient History
There are many pre-historic sites on the island, although they are small and easily missed if a local is not pointing them out to you.
The 16th Century Dhayah Fort in the area of Rams was mostly destroyed during the British operation of the Battle of Ras Al Khaimah of 1809 and remains a symbol of independence and a window into the old United Arab Emirates. I also welcomed the dawn of a new day from atop the crumbling ruins of 'Sheba's Palace', which is said to be the oldest palace in the UAE.
Both sites are free to enter and lack any definitive infrastructure, especially 'Sheba's Palace', whose climb feels like you've just stumbled upon it.
Read More: Ras Al Khaimah history and the mysteries of the UAE
Ras Al Khaimah's Coastline Adrenalin
Want more than a dip in the pool or the warm sea waters of the Persian Gulf? My favourite adrenalin kick was a jet-ski ride around the bay since I always opt for the speed fix, but other water sports include parasailing, banana and donut boating, and stand-up paddleboarding on the resort's private bays.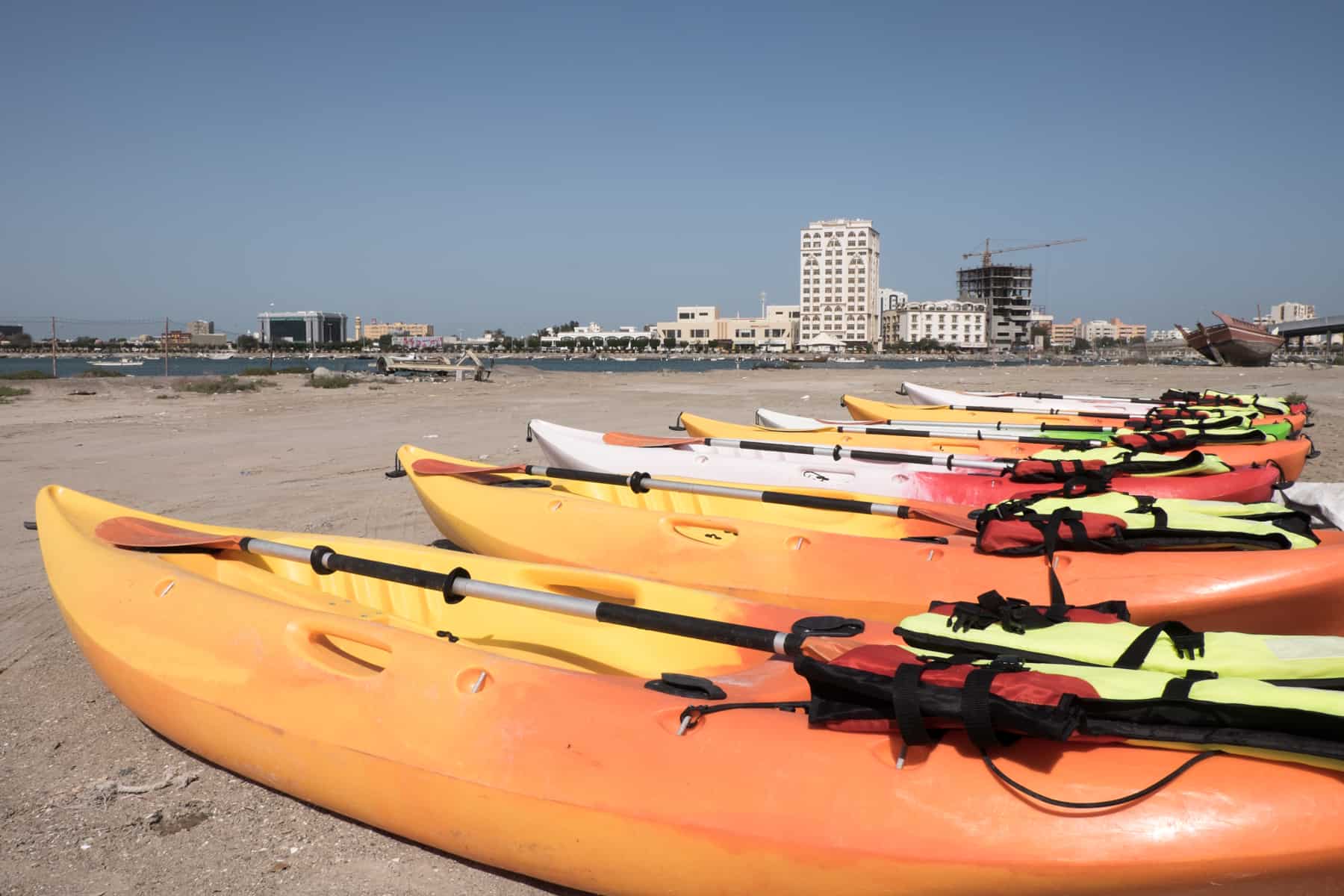 Ras Al Khaimah's Local Culture
From a traditional souk and fish market to an abandoned Al Jazirah Al Hamra 'ghost town' and bold Shaikh Zayed Mosque, a wander through Ras Al Khaimah's city pockets shed light into the Emirate's local culture – both the nomadic past, its continuing customs, and its developing future.
Read More: The ghost town of Ras Al Khaimah and pre-oil UAE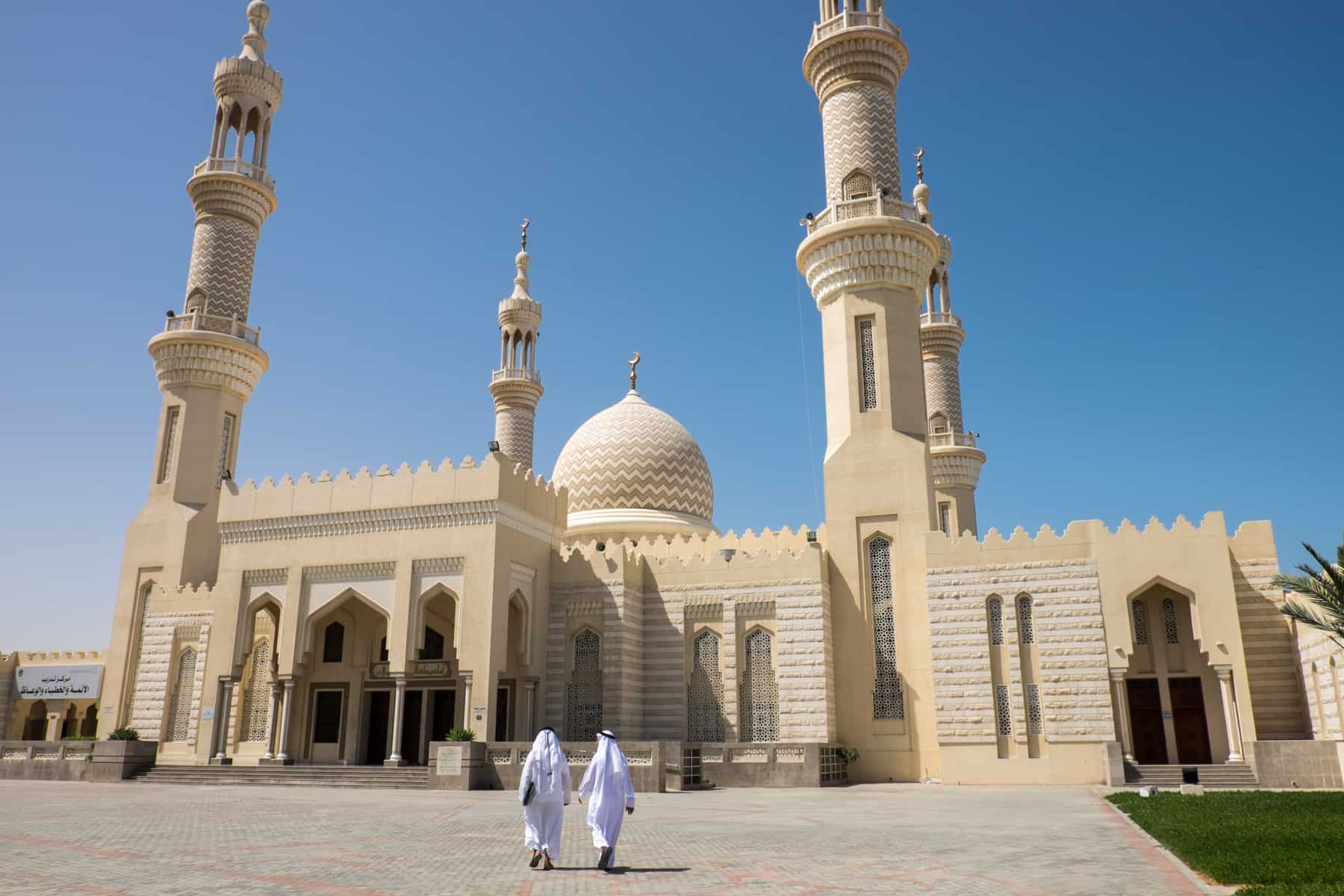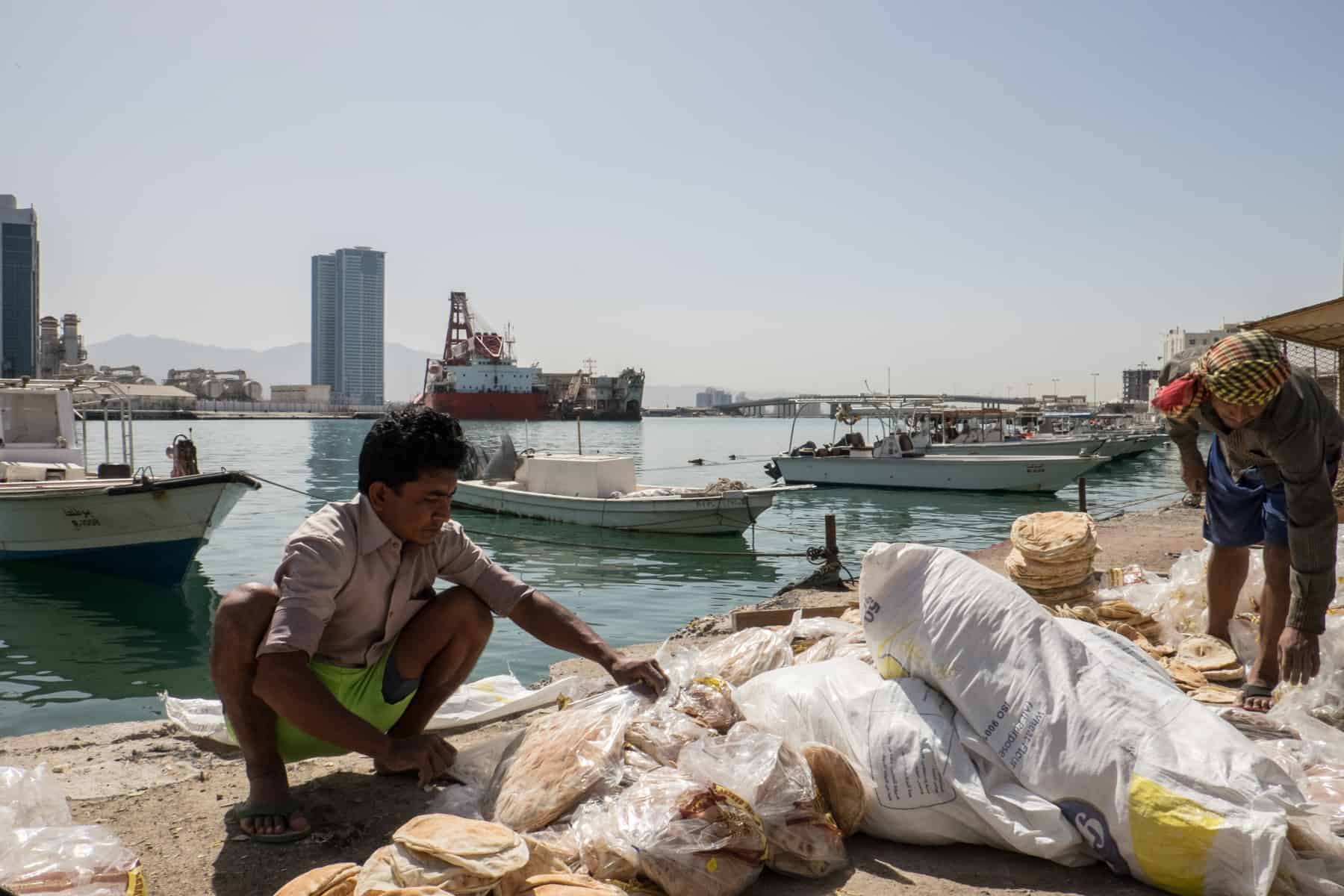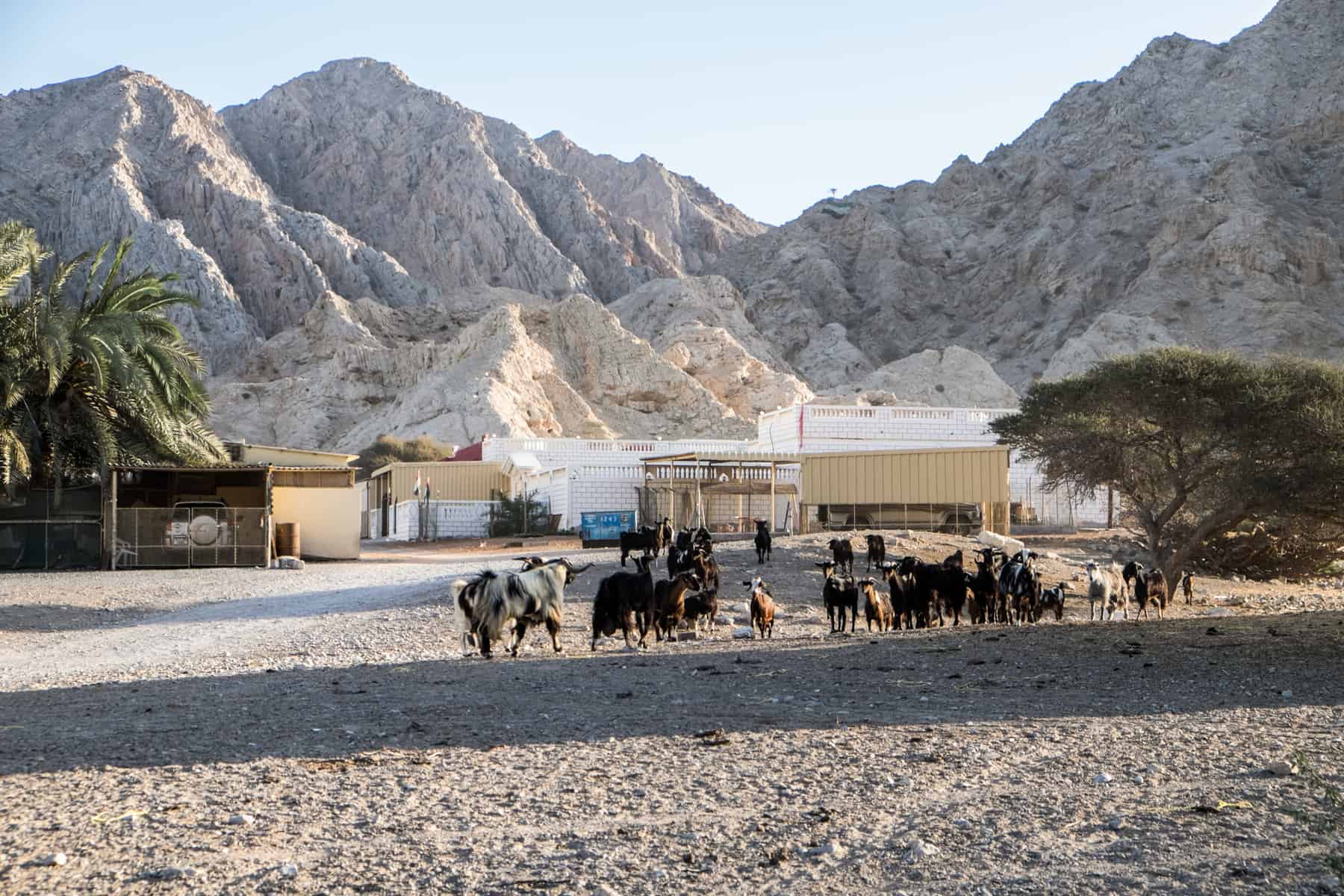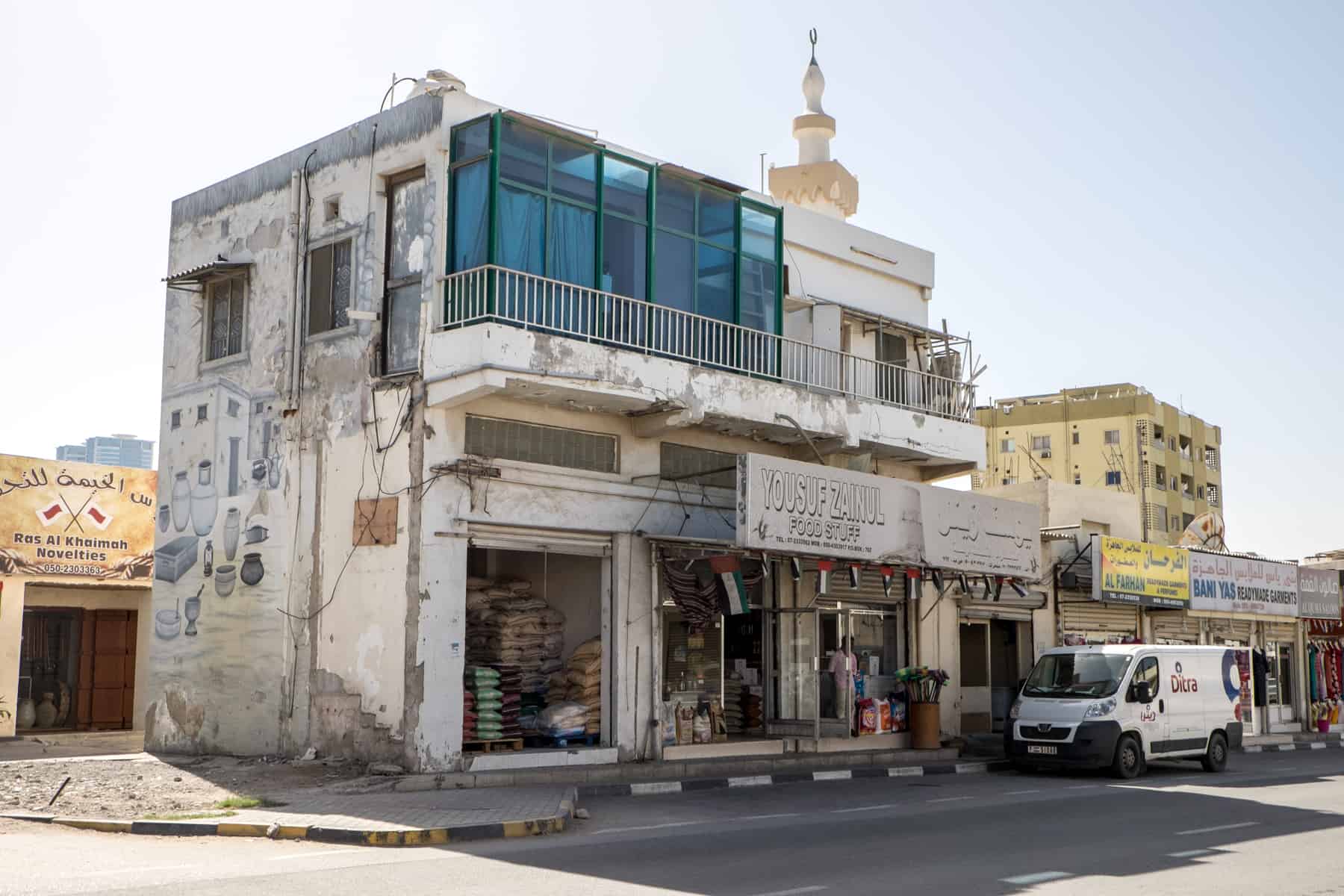 Ras Al Khaimah Rules and Regulations
Alcohol in Ras Al Khaimah
Confusion remains over alcoholic consumption in the Islamic UAE. Despite a larger ratio of non-UAE nationals, this is still a Muslim country where local customs should be respected.
Alcohol can be purchased and consumed at most resort bars, restaurants, and nightclubs. The rules and regulations on the purchasing of alcohol here may be more fluid than its neighbours – for example, many people come from Dubai to Ras al Khaimah since you can purchase alcohol in liquor stores without a license – although alcohol is not served in local establishments outside of these licensed stores and private tourism resorts.
Regarding flying with Royal Brunei Airlines, the airline is 'dry', meaning that no alcohol is served on board. However, you can bring your own alcohol and drink it on board, which is not found on other airlines.
Dress Code in Ras Al Khaimah – Is it strict?
Ras Al Khaimah is seen as the more liberal Emirate and is not as strict with the dress code to be followed by tourists. However, modest dress is still expected, as is the custom of covering the knees and shoulders when entering a public place.
Is it safe to travel in Ras Al Khaimah?
There is a huge misconception surrounding the safety of travel in Arab nations. Despite political disputes in the Middle East region, the UAE remains neutral on these issues and thus is almost separate from them. Safety is, therefore, not a concern, and I never once felt uncomfortable here as a woman travelling in an Arab state.
Adhere to local customs and act appropriately, as you would in any culture significantly different from your own, and you will not encounter any issues.
Do I need a visa to visit Ras Al Khaimah?
UK citizens are not required to have a visa for entry into the UAE (via Dubai) and are granted entry for 30 days.
Citizens of the following countries can obtain a visa on arrival:
UK, France, Germany, Belgium, Luxembourg, Switzerland, Austria, Sweden, Norway, Denmark, Portugal, Ireland, Greece, Finland, Spain, Monaco, Vatican, Iceland, Andorra, San Marino, United States, Australia, New Zealand, Japan, Brunei, Singapore, Malaysia, South Korea, Hong Kong, Poland, Slovenia, Slovakia, Czech, Lithuania, Hungary, Malta, Romania, Latvia, Cyprus, Bulgaria, Estonia, Croatia, and Canada will be granted a free of charge visa for a single visit upon arrival in the UAE.
Visit Project Visa for detailed information.
Currency in Ras Al Khaimah and the UAE
The local currency of the UAE is Dirham, which can be obtained from ATMs both at Dubai airport and in hotel resorts.
Why You Really Should Visit Ras Al Khaimah
More than just a land of adorned desert, RAK has plenty to keep the most curious travellers occupied as it entices them to visit to understand it.
Combining coastline and culture, mountains and historical mystery, it's time to visit Ras Al Khaimah and see the United Arab Emirates in a different light.
Planning a trip to RAK
For more information about planning a trip to Ras Al Khaimah, visit the RAK tourism board site for the finer details on local events and up-to-date news.
Ras Al Khaimah from Dubai
Many are choosing Ras Al-Khaimah as a lower-cost alternative to Dubai regarding Emirates travel. However, as neighbours, both are easily accessible from one another however long you choose to spend in each.
I travelled to Ras Al Khaimah in the United Arab Emirates (UAE) as part of a partnership with Ras Al Khaimah tourism and Royal Brunei. All opinions remain my own as I continue to learn more about the Middle East region.