Disclaimer: This post contains affiliate links to handpicked partners, including tours, gear and booking sites. If you click through or buy something via one of them, I may receive a small commission. This is at no extra cost to you and allows this site to keep running.
If you plan to stay longer than one day, take an adventure in San Marino Nature Park and see what lies below and around the historical centre.
An adventure in San Marino, the "world's oldest republic" that sits atop a mountain snuggled within Italy's Emilia Romagna region, beckons. It's a Microstate that draws in the day-trippers to tick off another country and experience the spectacle of a medieval masterpiece.
It's fairytale, unique and sucks you in faster than you can spit yourself out in 24 hours. Yet for those curious to stay at the UNESCO World Heritage Site a bit longer, you can not only live locally and leisurely walk the historical centre, but also experience a whole other world waiting below it.
Nearly one year after my Medieval Days Festival fun (an annual celebration of the country's legacy), I returned to the Republic of San Marino, after travelling a route that took me from Bologna to Forlimpopoli. I wanted to dig even further on this tiny country and return to a place that I consider to be one of my homes at heart I have scattered globally.
READ MORE: San Marino – The Fascinating Microstate of Enduring Freedom
I know my way around and I call some local people friends, this time being able to enjoy catch-ups over great meals and nights out. I also like to pretend I'm on 'you shall pass' terms with the Palace Guards.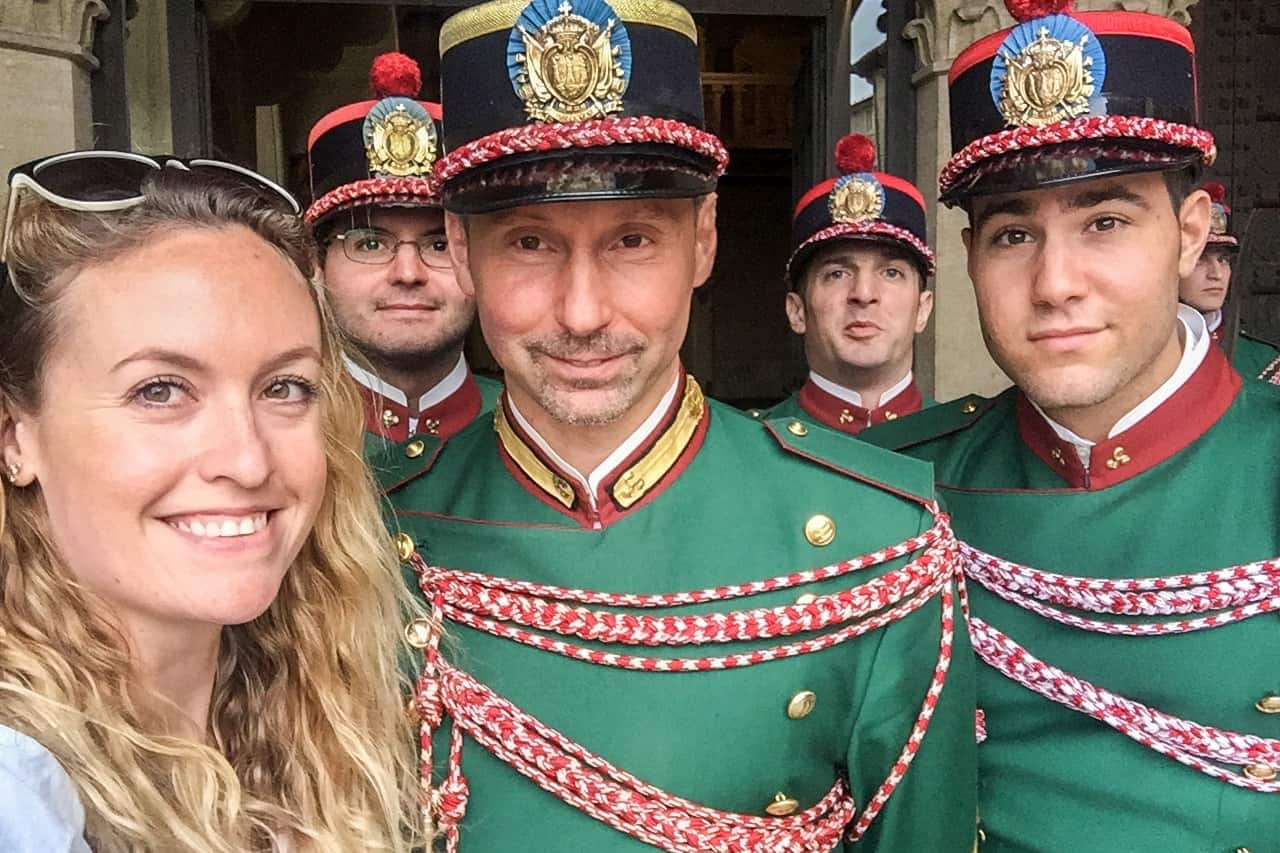 I always stay with the wonderful Fabrizio of Balsimelli 12, whose old stonemason family home passed down through generations is more than just another B&B (the upstairs bedroom with the cool balcony is mine by the way and you can stay there), and for the local pink sparkling wine, Briza.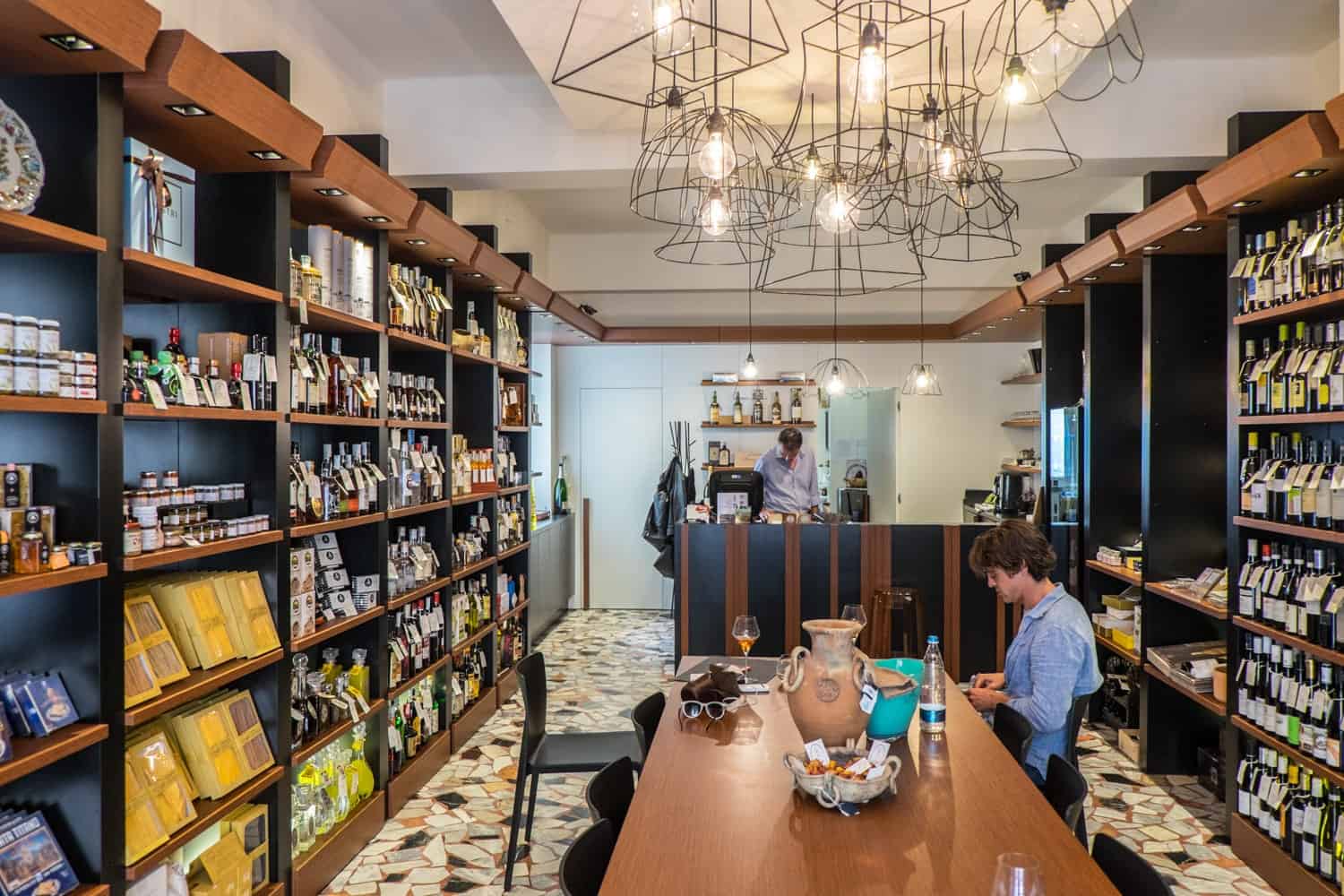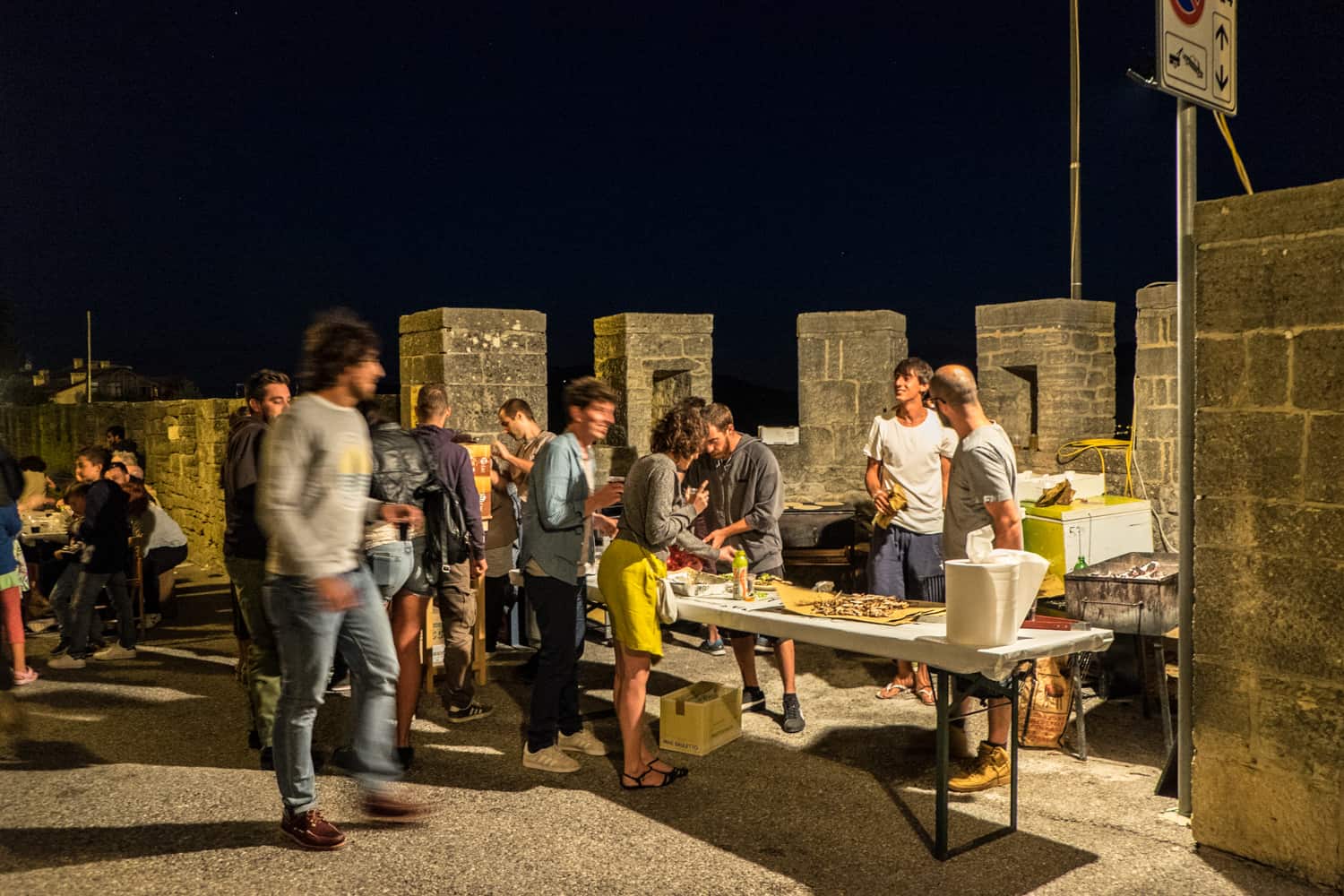 More importantly, I know I will always find something new in San Marino when I return each time, despite its small 61 square kilometre size. Its claim of being "small enough to be big" is well worth the challenge of further exploration.
Adventure in San Marino Old Town
After clambering to the towers on my previous visit, this time I got to see San Marino from a new panoramic viewpoint – from the roof of the Palace. The Neo-Gothic Palace is pivotal to the Microstate, and a symbol of unique sovereignty of government that has remained untouched over the centuries, where an exclusive system of two heads of state (Captains Regent) with equal power remain in office for only six months at a time. It is always open for visitors to come and learn more about the country's distinctive ideals of freedom.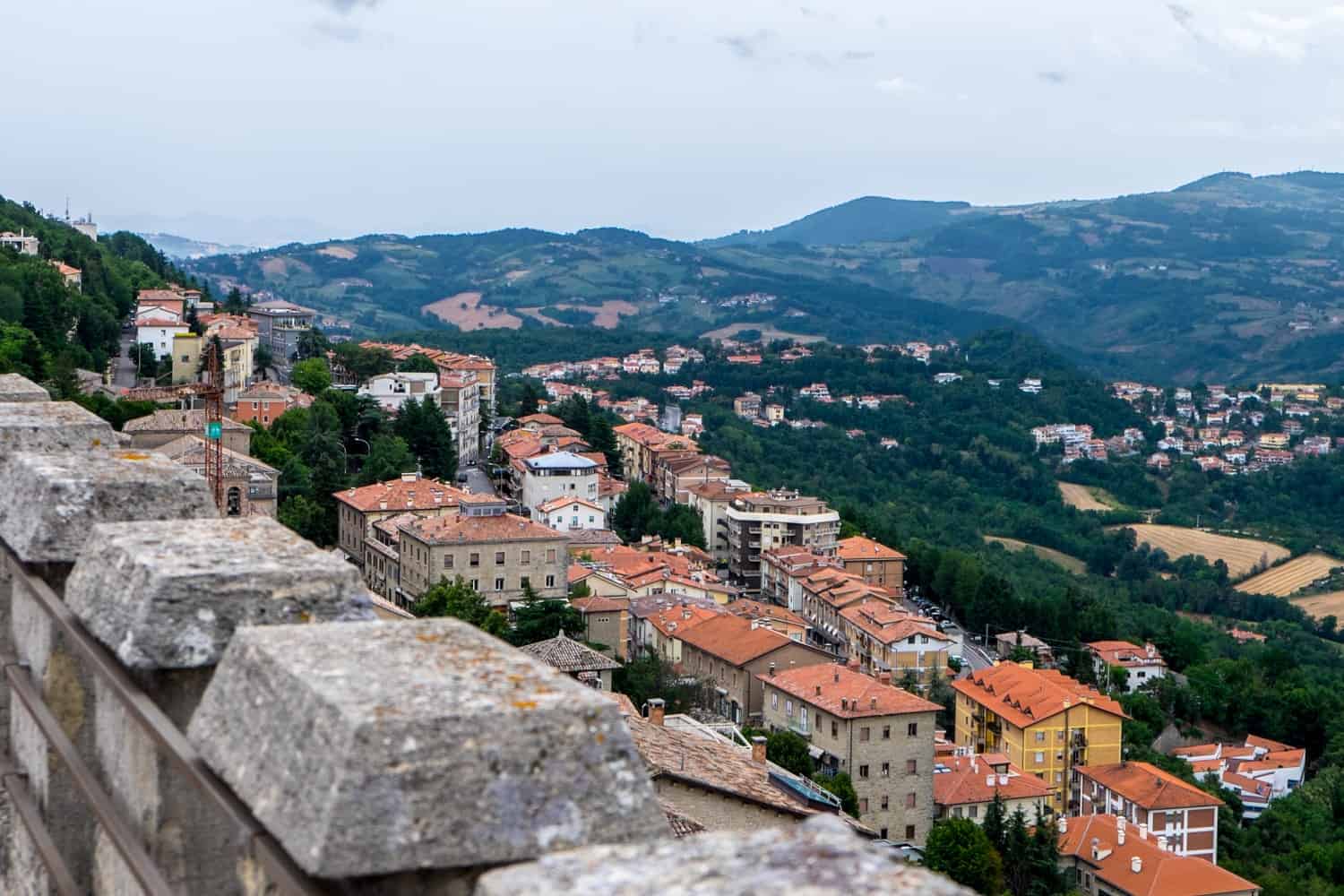 Adventure Activities in San Marino Nature Park
The next day, after a quick catch-up in my old medieval Princess stomping grounds, I got to put on my hiking shoes and undergo a different adventure, spending the day with a great collective of local people who formed E-Bike Experience who have set up everything from climbing and horse riding to high peak climbing.
On my last visit, I did a short hike with friends up through the woodland pathways that curl around the limestone mound of Mount Titano (in the very footsteps of Saint Marino himself). This short Mount Titano hike began in the San Marino territory of Borgo Maggiore – the second largest town of the nine that is visible from the cable car.
Yet, longer hiking and biking adventures await those who inquisitiveness stretches further afield, and who want to get right into the nature and blankets of forest that hugs the Historical Centre mound from below.
The ultimate aim is to take the cable car down, and eventually emerge from the undergrowth and bike all the way to the very top again!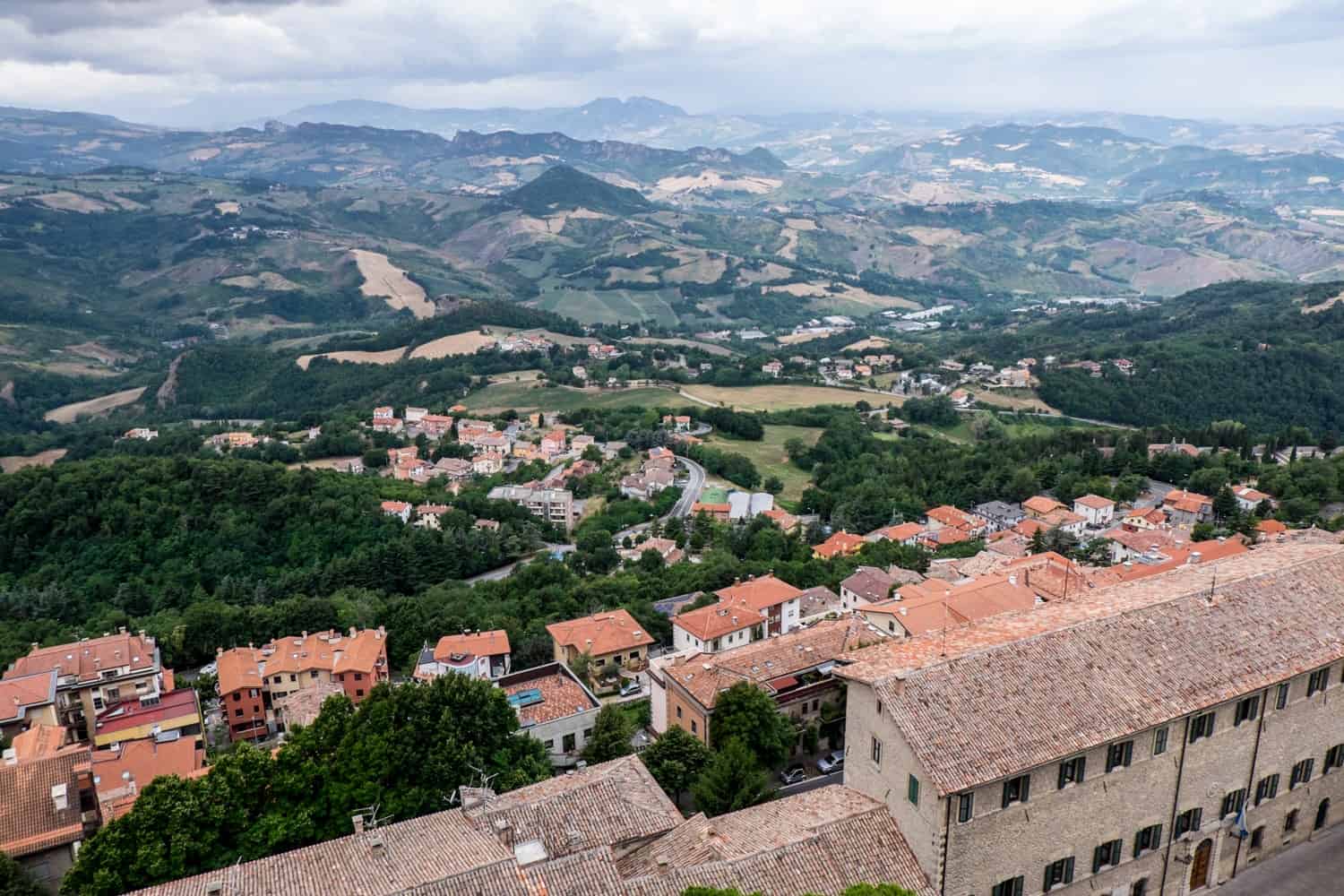 Biking in San Marino
Biking in San Marino is not all steep forest tracks. As it was a Saturday, we started the day at the local weekly food market not far from the bottom cable car station, where locals come together with everything from savoury snacks, sweet treats, cheese and honey to sell. To entice you, each brings a selection of goods to the grand table for everyone to enjoy. It was the perfect fuel for the day ahead.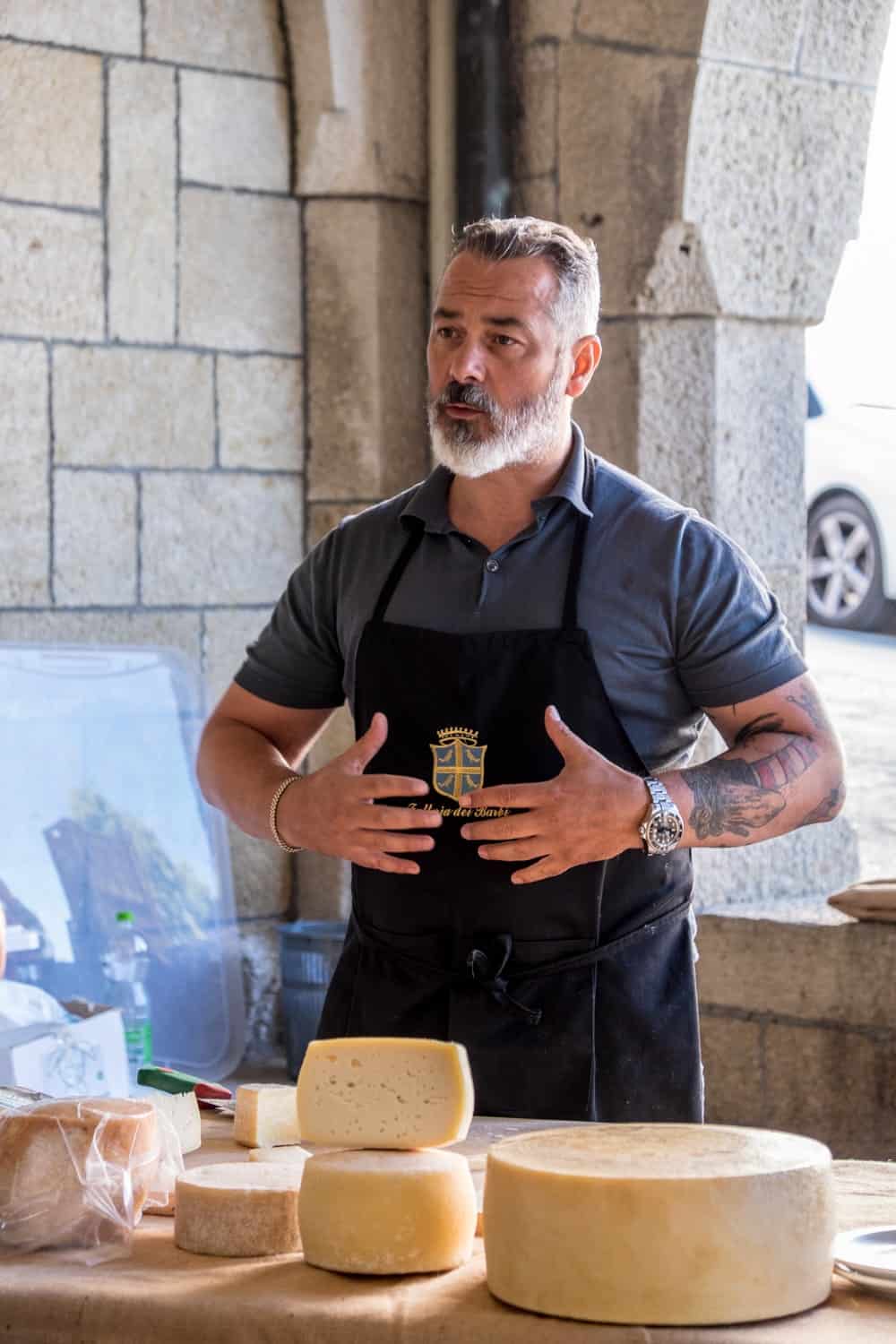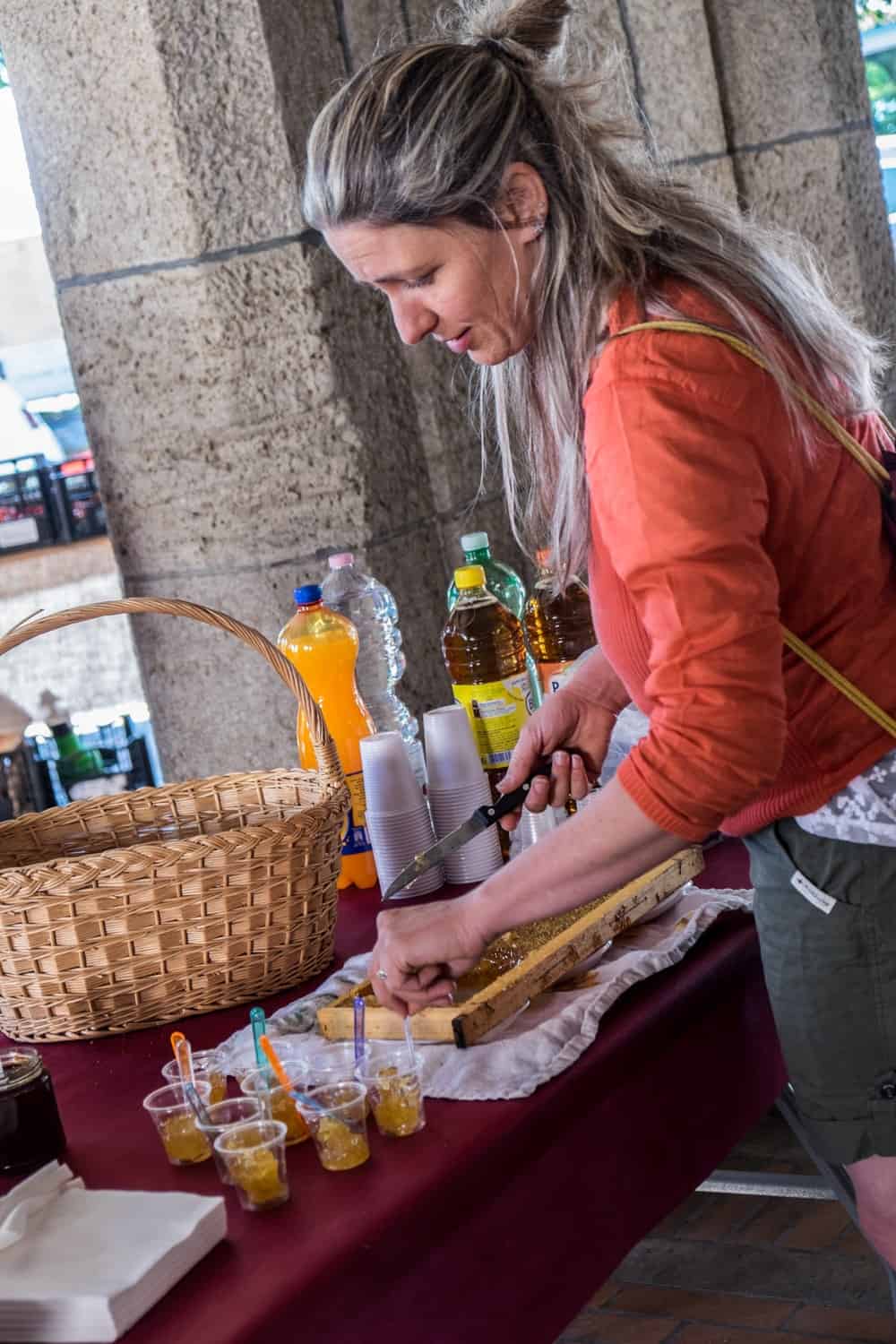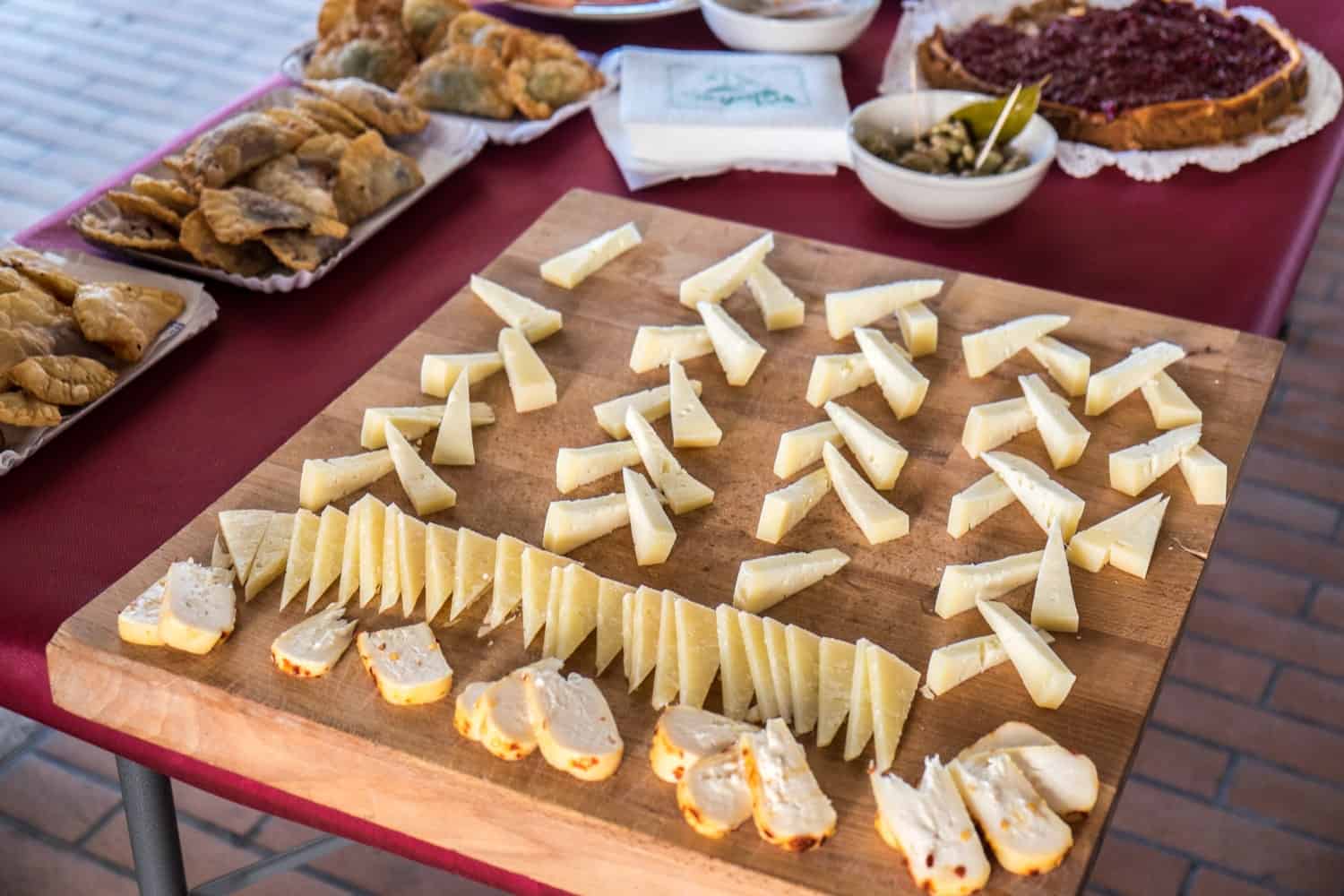 We cycled for an hour or so, which was a good way of getting a sense of the scale of just how much of San Marino rests below its popular heights. While I wasn't too keen on getting deep into the woodland gravel (I'm still working on training my balance), it was great to get more into the green and whizz around the hills and through the former rail tunnels.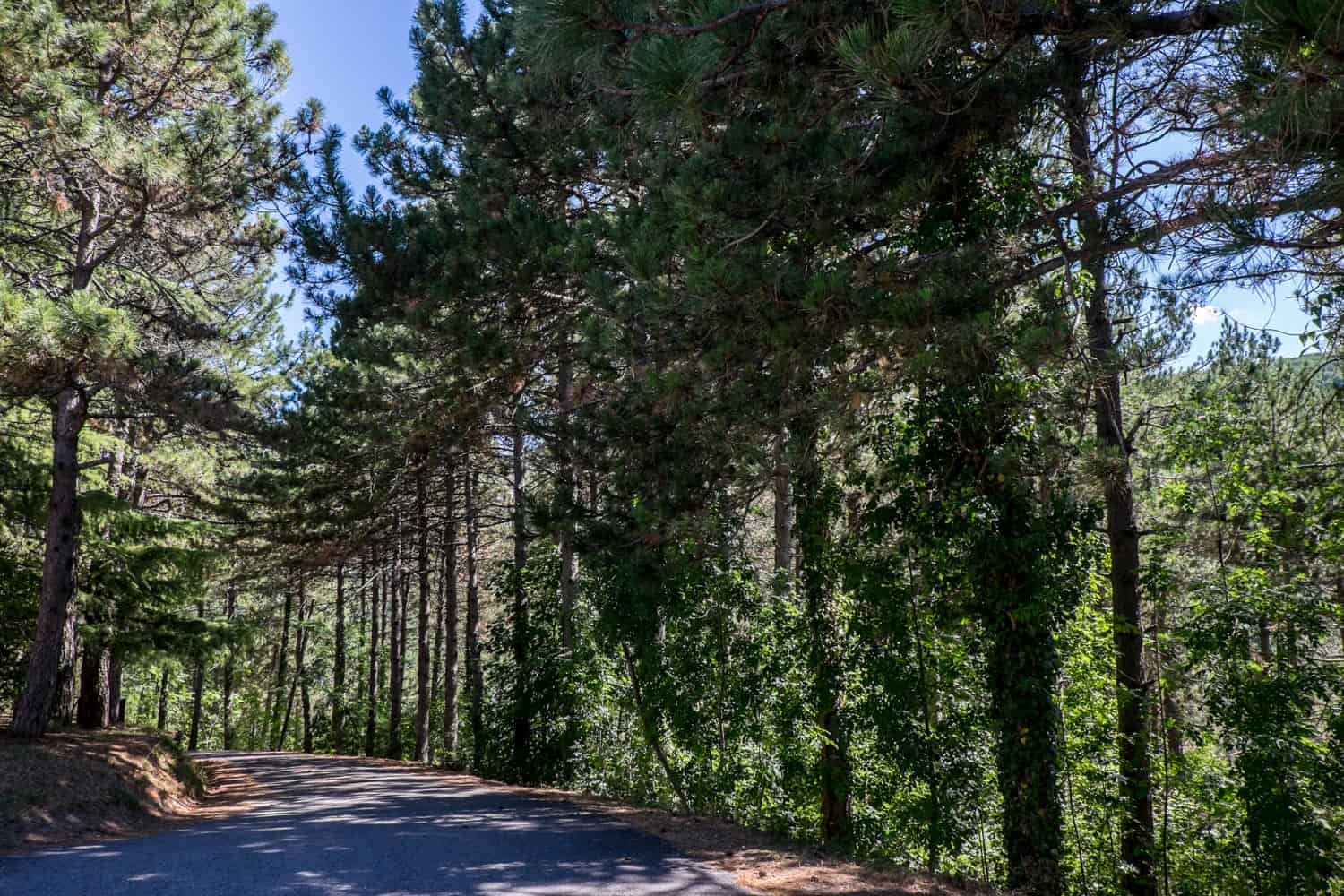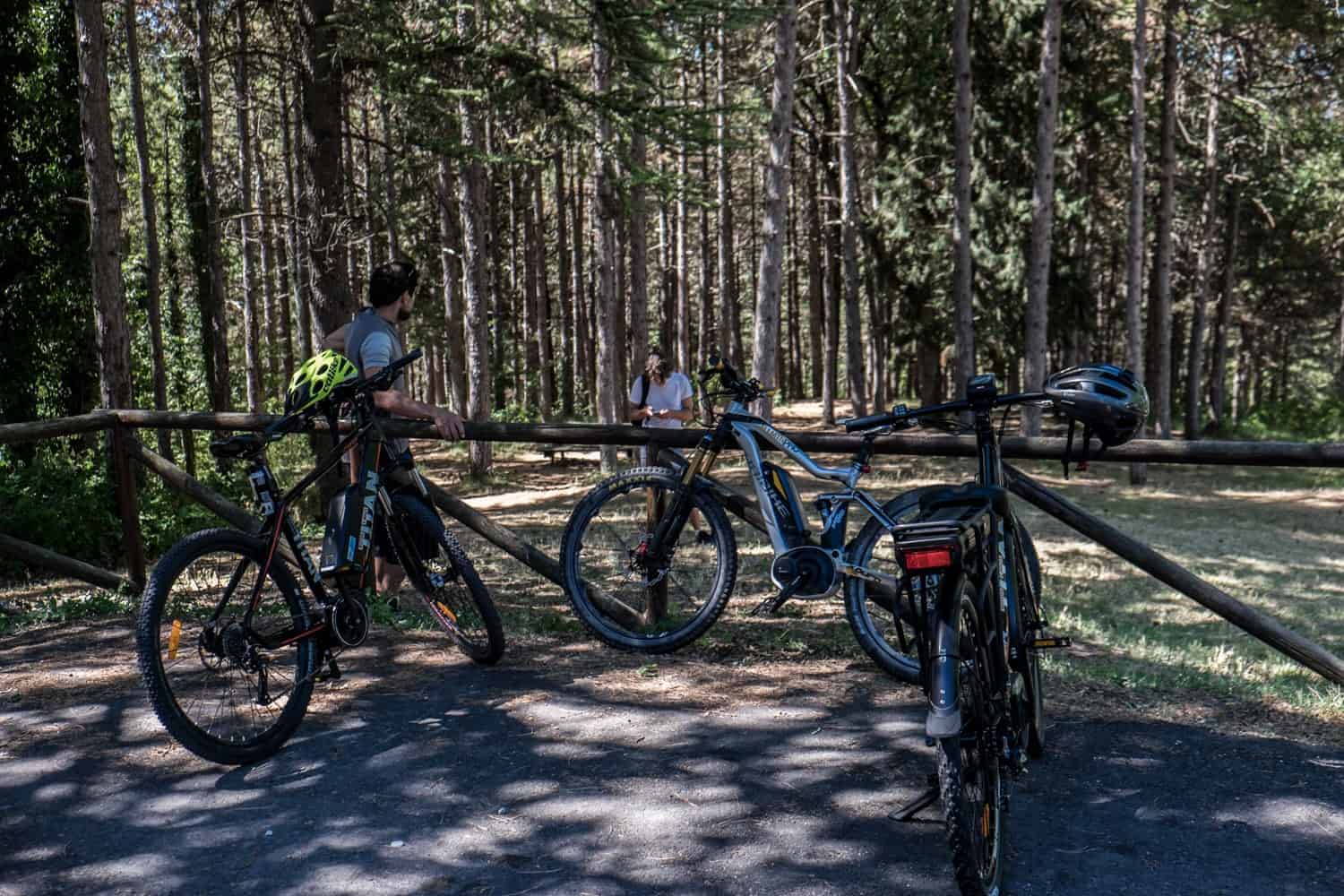 Hiking in San Marino
Dropping the e-mountain bikes off at the farmhouse that is now the museum and home to The Consorzio di San Marino, we then took started the hike on the well sign-posted path 2, which we would traverse for the entire afternoon. It's mostly dense forest, where you are unlikely to see another soul, with fallen tree trunks, and water pools created only by the touch of nature.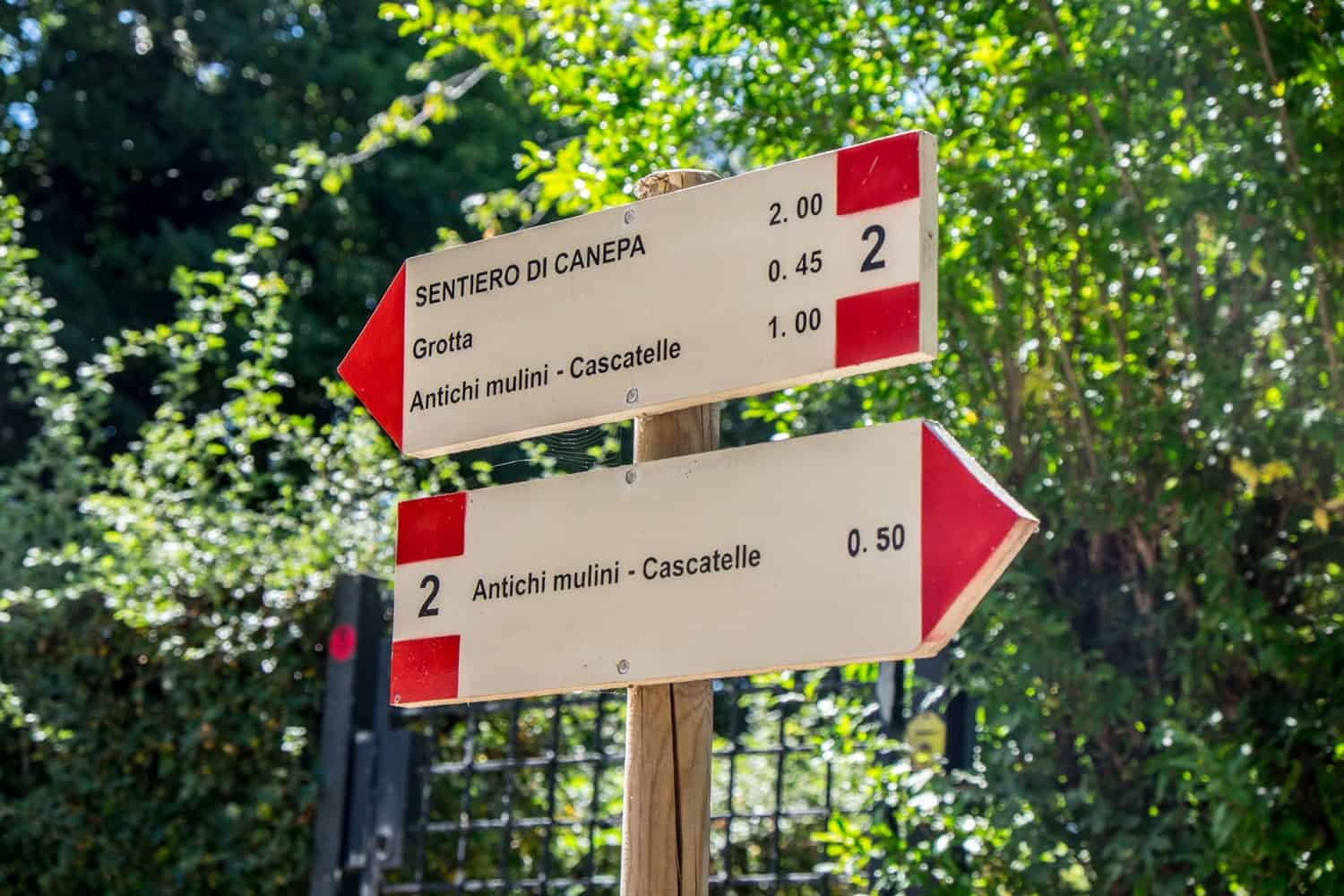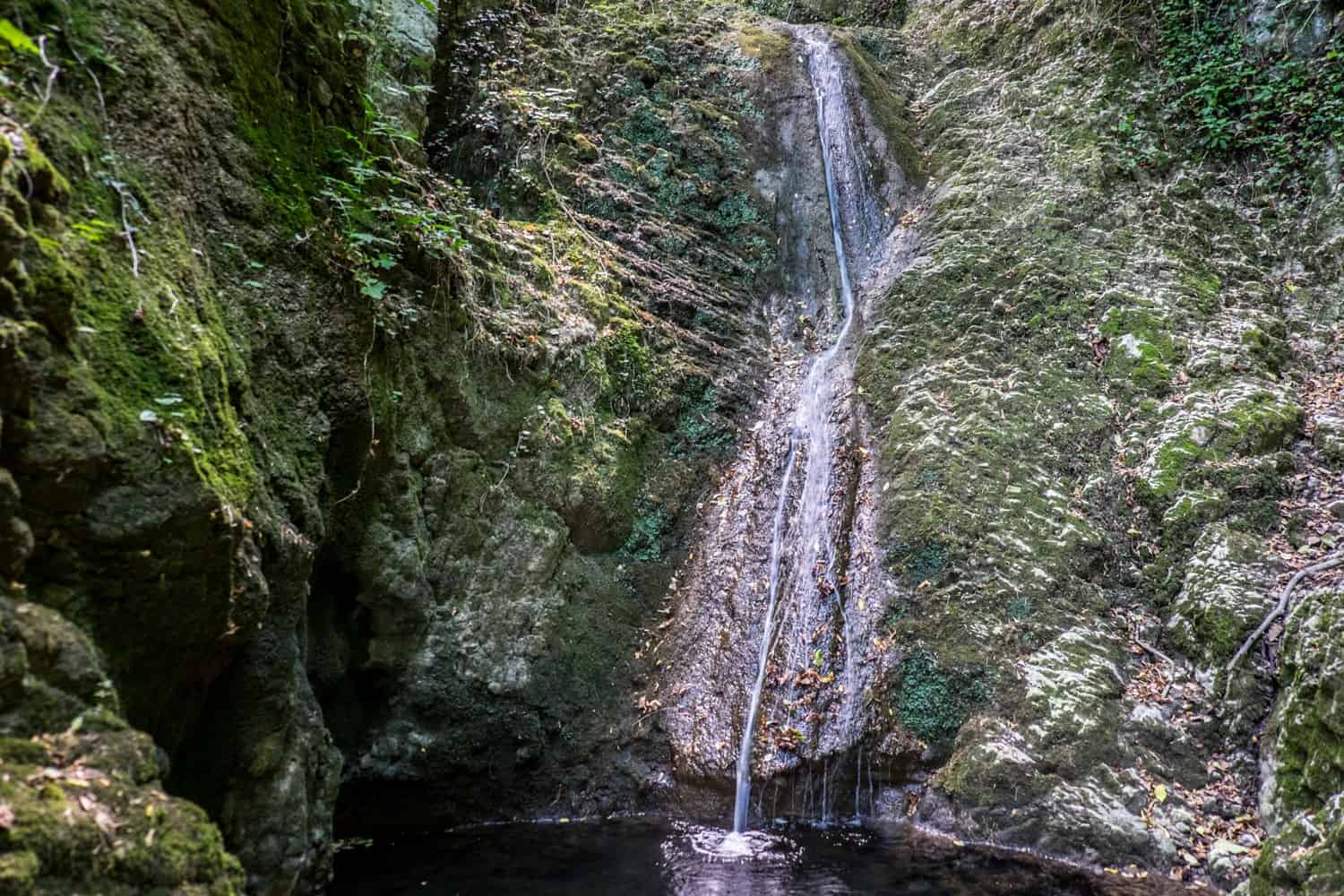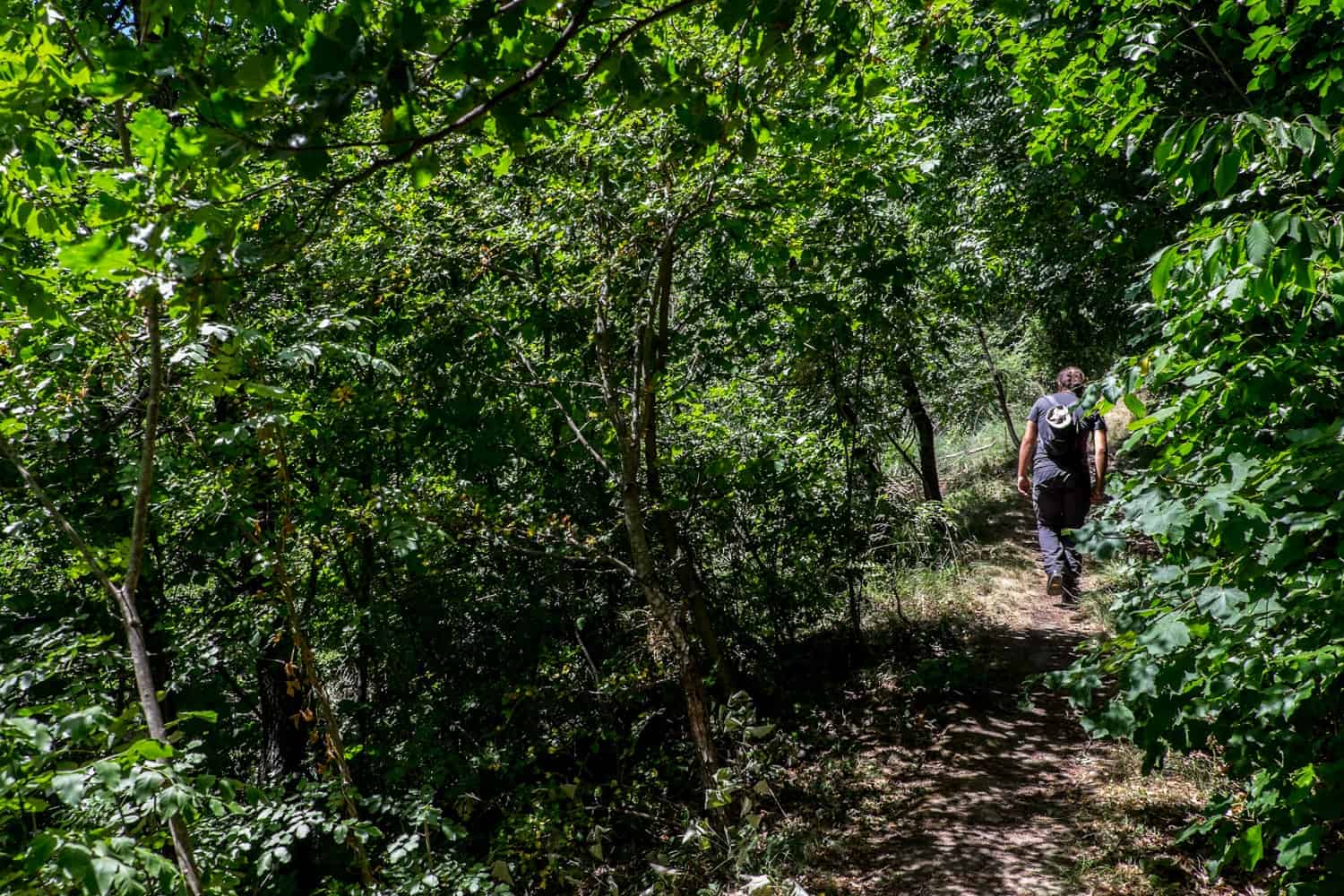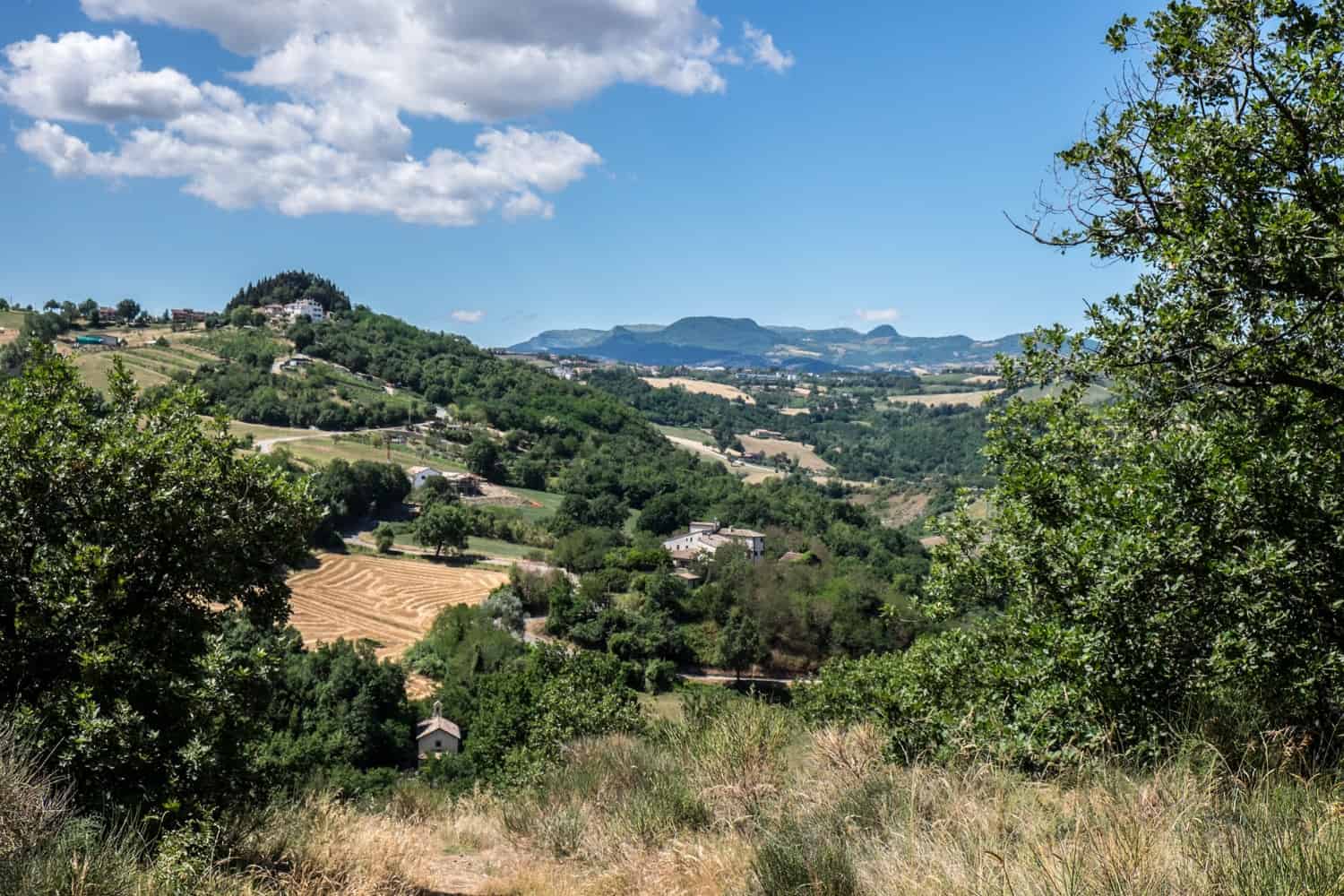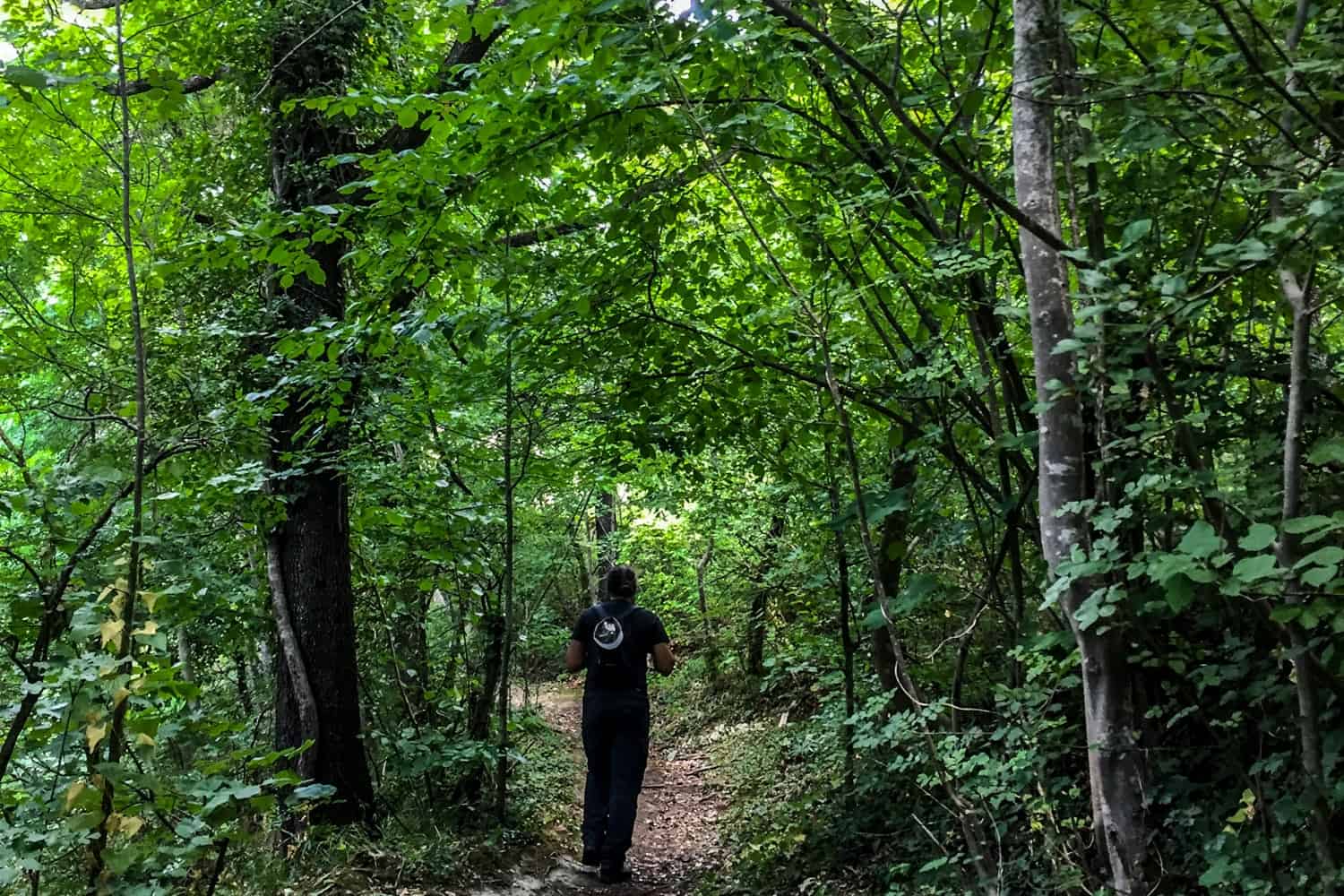 The abandoned water mills are partly covered by overgrown shrubbery and unkempt grass, but it adds to the exploration as you share the space with local wildlife who have taken quiet refuge amongst the decaying wood structures that stand as a testament to the rural life and farming ways that once existed in abundance down here.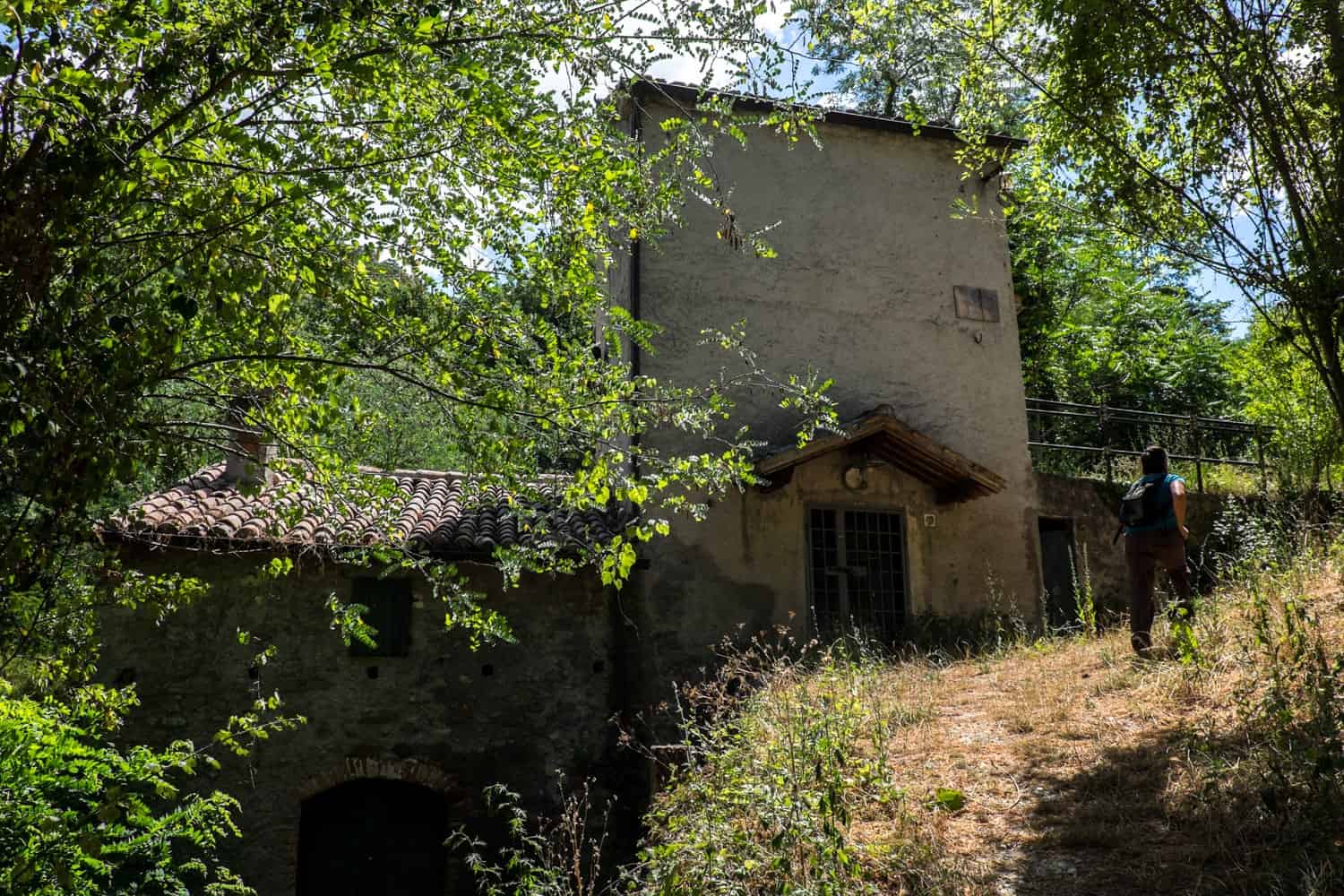 Caving in San Marino
For more off-track exploration we crawled into one of the caves where we pretended we were the "San Marinese Goonies" trying to find old treasure. You get to learn all about the immense underground grotto system of San Marino Nature park that was never fully uncovered.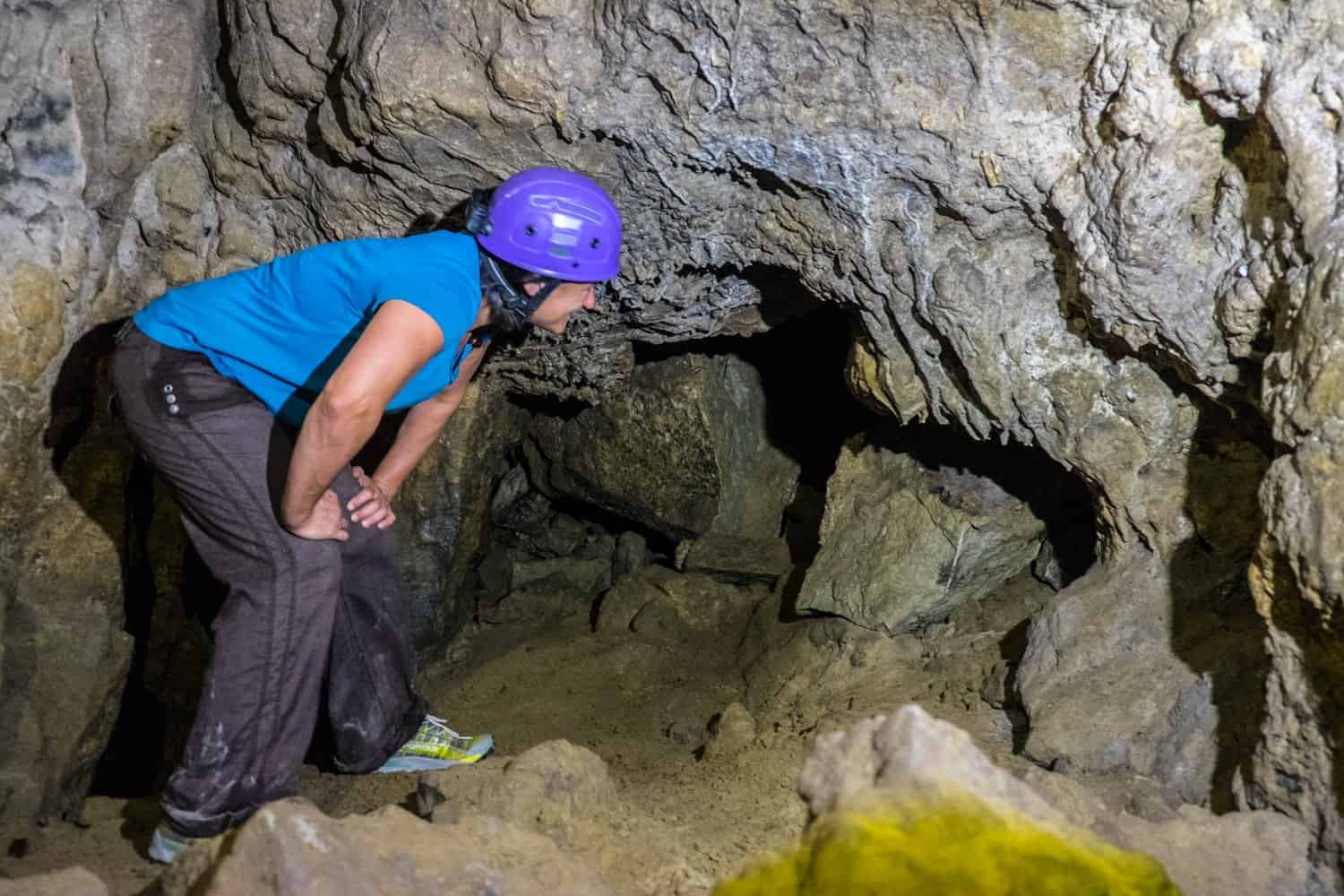 Showcasing the products of The Consorzio di San Marino (that was established in 2003 to preserve the tastes of the territory and continue the production of locally made products), we found a spot in another abandoned mill and indulged in local bread, cheese, honey and, of course, a little Briza. What better way to round off the day before the last chunk of the hike with new knowledge, new sights and new friends.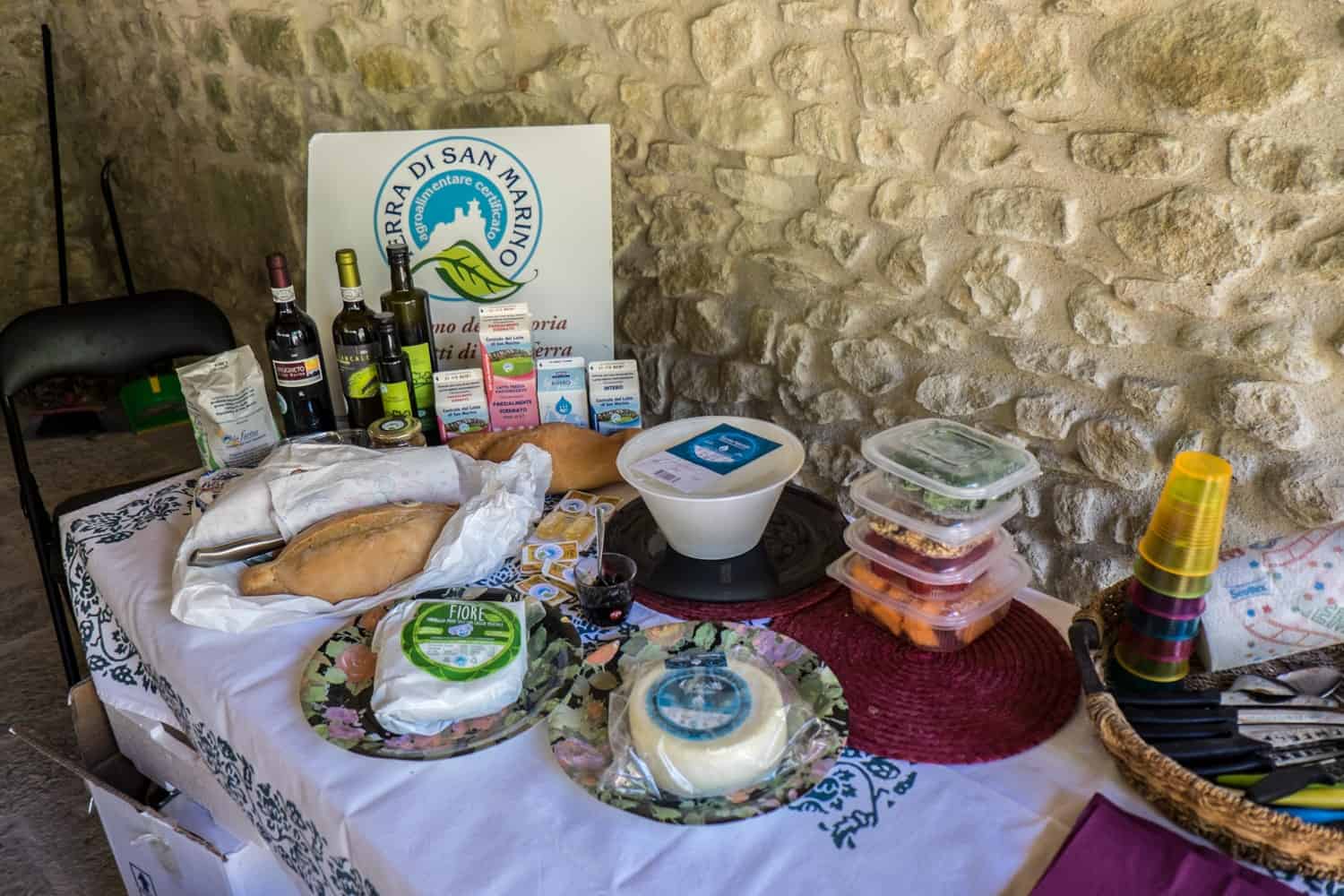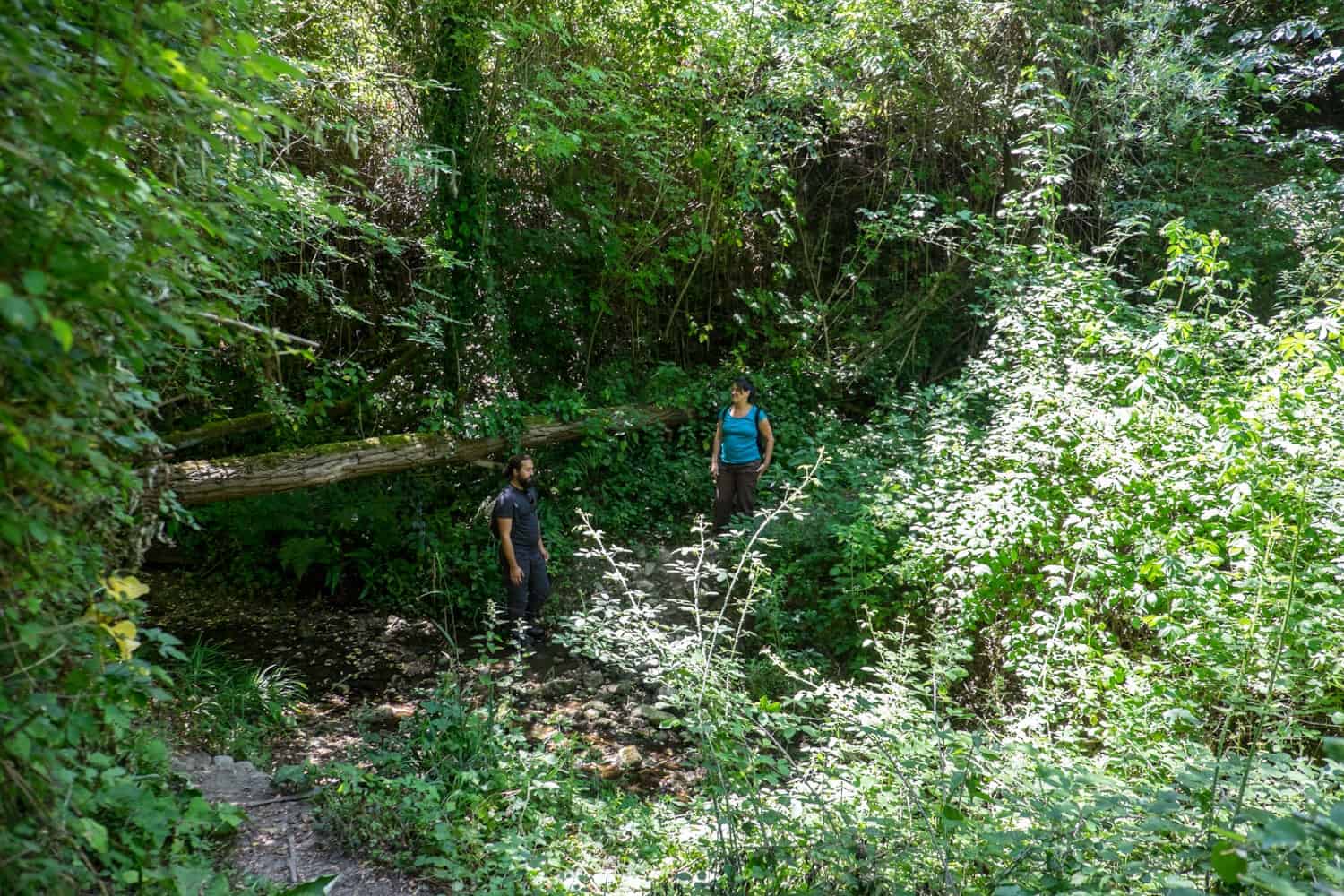 From deserted watermills and cave hideouts, to a woodland and waterfall backdrop hikes, the nature of San Marino is just as commanding as its unique existence. The top of the hill maybe princess pretty, but the world below it paints another picture of this Republic enclave that is little known.
Things to Know About San Marino Nature Park
Travel to San Marino. How do I get there?
Getting to San Marino is a little adventure in itself. San Marino is right next to the Italian seaside town of Rimini and can be assessed by a short 30-minute bus journey, which will drop you off at the cable car stop, or by car where you can access higher levels of the historical centre, with car parks.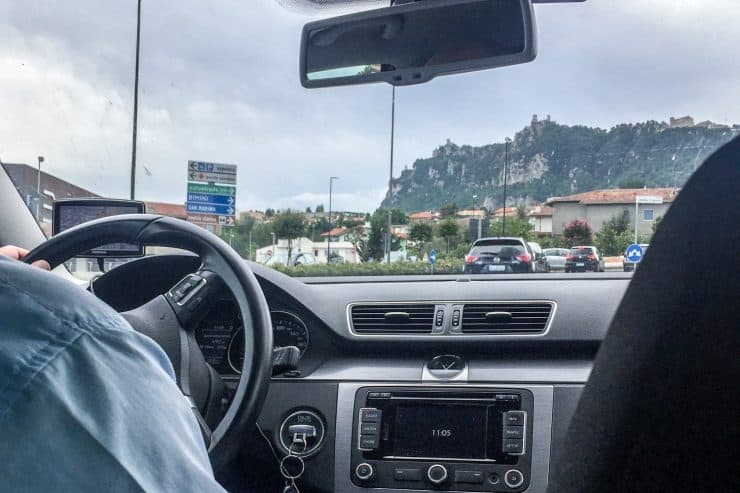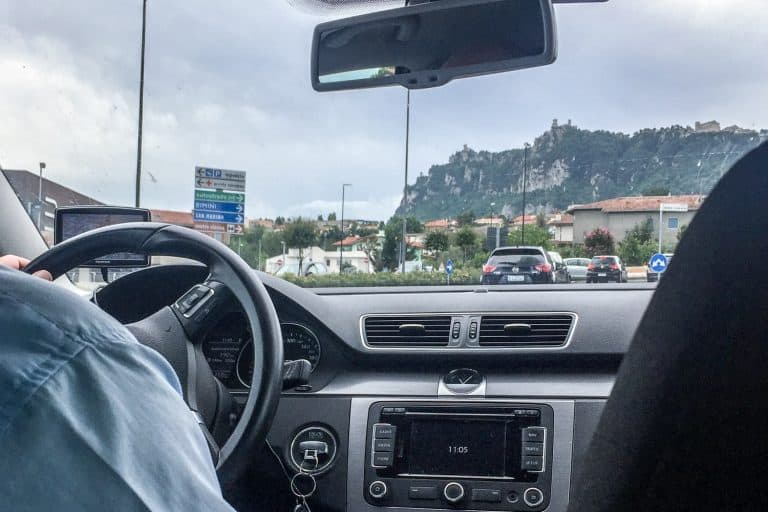 The TuttoSanMarino Card includes a discounted multi-museum ticket to the First and Second Tower, the Public Palace and State Museum, a 50% discount to private museums (including Waxworks, Museum of Curiosity, Torture Museum and the Exhibition of vampires and Werewolves), discount on cable cars rides, guided tours, restaurants, coffee shops and local stores.
Do I need a visa to visit San Marino?
While officially visiting a recognised city-state and separate country, no visa is required for San Marino. Although surrounded by Italy on all sides, there are no official border controls, so anyone with a valid visa to Italy can enter. However, should you wish to have an official passport stamp to recognise your time here, head to the Tourism Office who will stamp a pretty one in your passport for €5.
Where to Stay in San Marino
Looking for something for homely than a hotel? Local house turned B&B called Balsimelli 12 is right in the very heart of the Old Town. This house, built using the stone of Mount Titano and beautifully renovated with a stylish interior has been passed down through generations of the Balsimelli family. The current owner Fabrizio (with his two adorable puppies) keeps the family legacy alive, with a super welcoming and homely space. He also makes great coffee in the morning as part of an incredible breakfast spread. There are two bedrooms, although the bedroom on the top floor has an enviable balcony with views across San Marino.
Further information and reading on San Marino:
Read: Visiting San Marino: The Unique Makeup, History and Political Setup of the Microstate
Read: Attending the San Marino Medieval Days Festival in July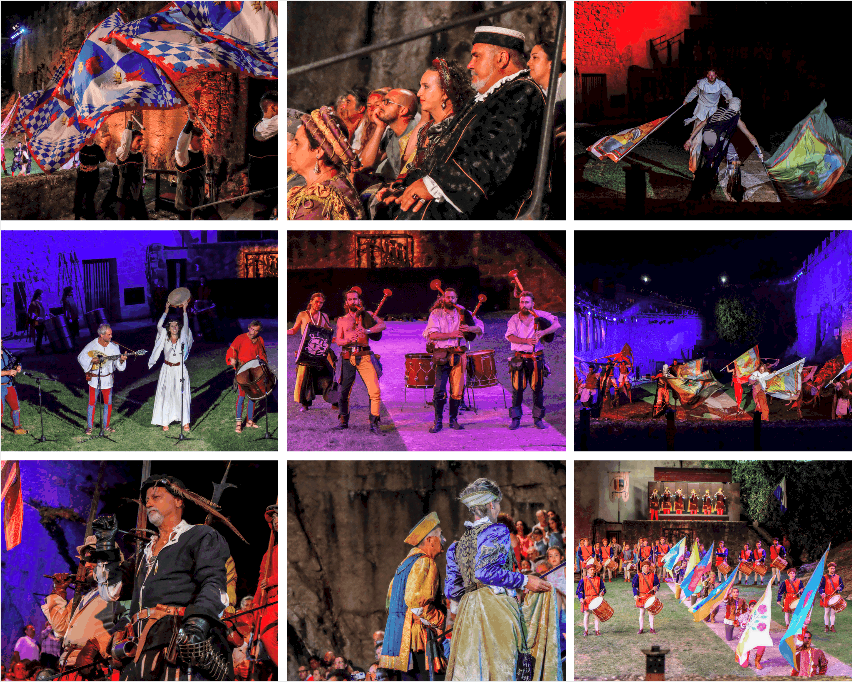 Contact: For those looking for adventure, check out the San Marino E Bike Experience team and contact them about active exploration outside of the Historical Centre. Their aim is to promote sustainable tourism combining sport, nature, tradition, food and wine.