Disclaimer: This post contains affiliate links to handpicked partners, including tours, gear and booking sites. If you click through or buy something via one of them, I may receive a small commission. This is at no extra cost to you and allows this site to keep running.
Travel to Broome, Western Australia to revisit the history of this old pearling town and tour its sacred Aboriginal lands. Here's how.
Broome is described as sleepy and charming. Yet it conceals centuries-old stories and a 22km long peninsula landscape so wild and coated in a spectrum of fierce colours, that you'll be completely sucked into this tiny town instantly.
A two-and-a-half-hour flight brought me straight from Perth to Broome – known more affectionately as the 'pearl of the north'. It was the second stop of my Western Australia 'Just Another Day in WA' experience where I spent one week travelling around this little-known side of Australia.
From city to the wilds, Broome is where nature dominates – in the picturesque curves of its 22km coastline, the rocky peninsula walls and hidden in its tropical outback.
Gantheaume Point in Minyirr Park was our starting point – a collection of fiery ochre orange sands and red rock formations such as 'Anastasia's pool'. At the bottom of the cliff-face are sands that conceal 120 million years old preserved dinosaur footprints said to relate to TREX.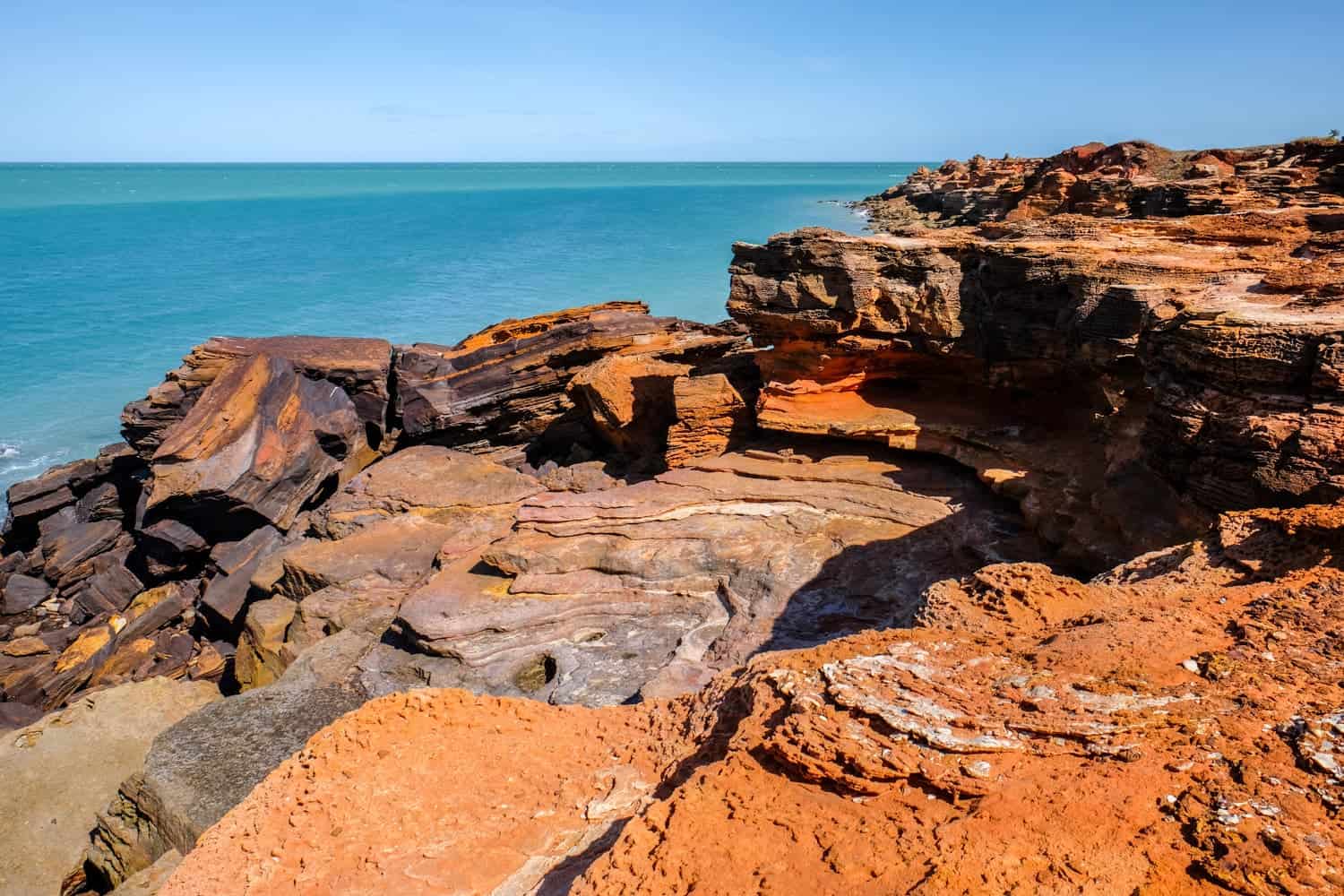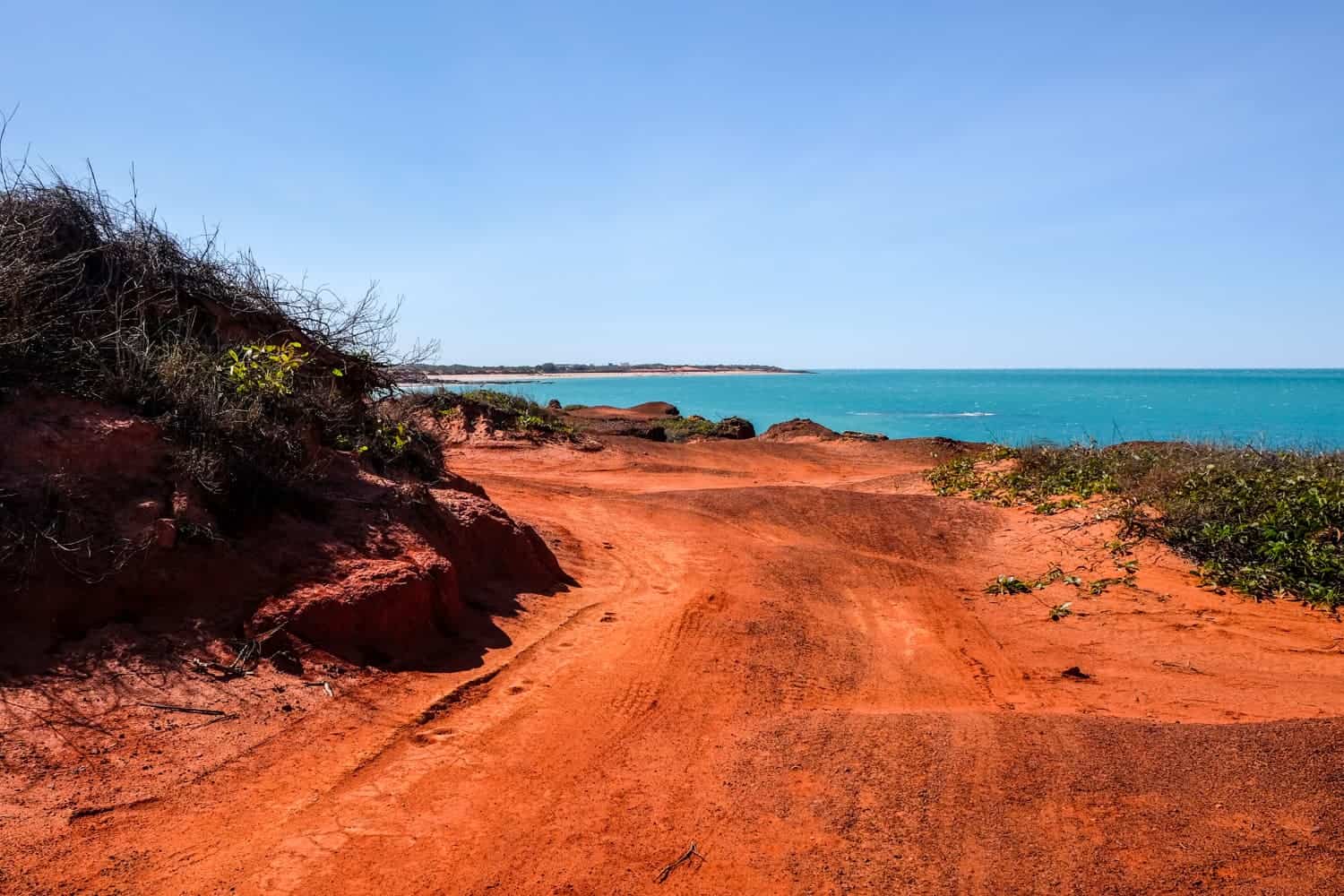 You'll find avid prehistoric buffs out looking for the evidence when the reef is at low tide of 2.16m or less, as well as on the connecting Cable Beach where more footprints were recently discovered. For those, like myself, who are not so lucky to have found the prehistoric markings, a plaster copy is on shown at the top of Gantheaume Point.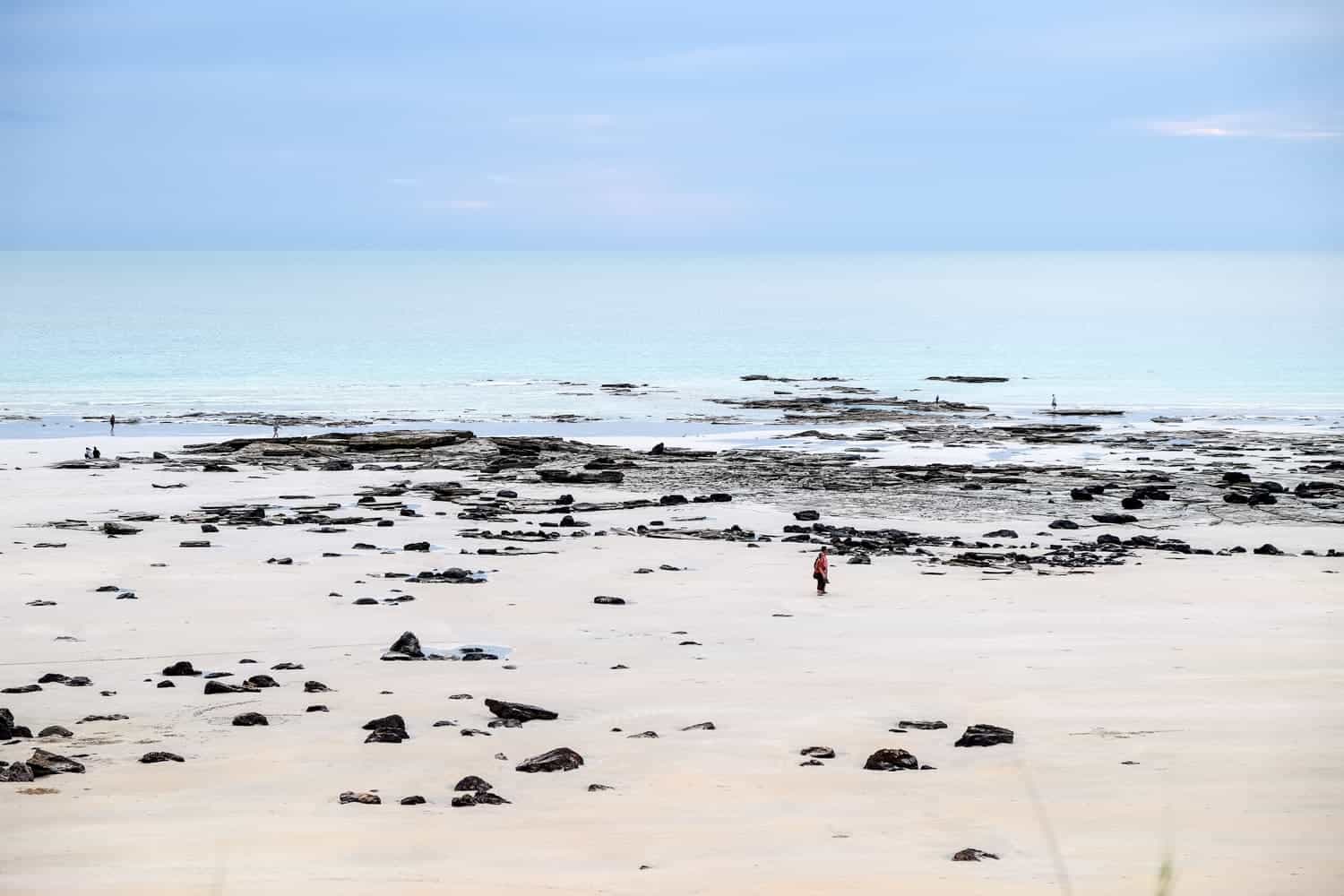 Broome is the beholder of a sunset I consider to be one of the most beautiful I have seen in the world. The sky is alight in majestic reds and purples that repaint the daytime vivid blue skies that watch over a peninsula said to 'move to the rhythm of the tides'.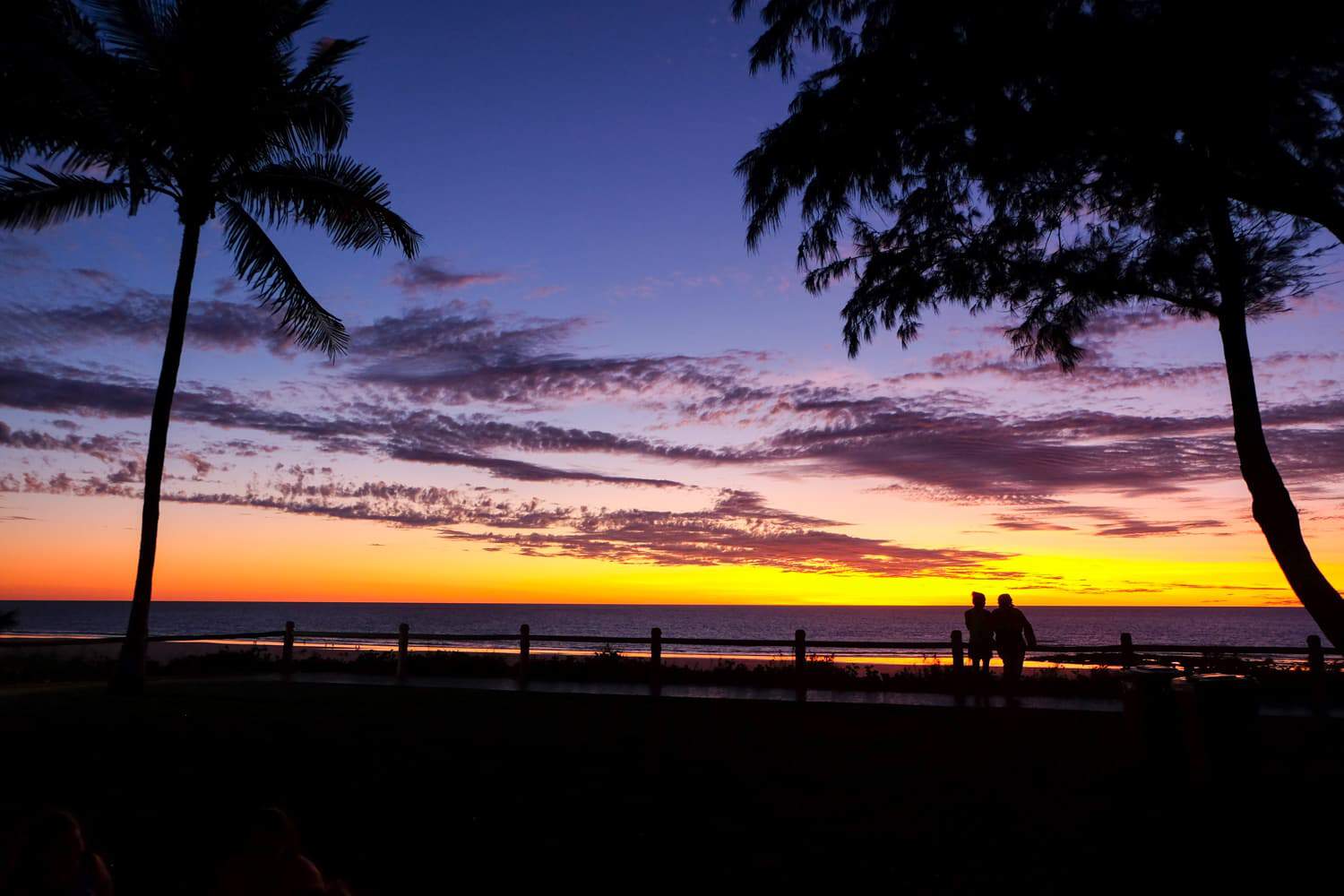 To mark the occasion, the long white sand stretch of Cable Beach plays host to a fleet of camels each evening, who have come to mark the famous picture of the setting of the sun out across the Indian Ocean.
A town where lodgings-turned-retail hubs and old wooden jetty planks lead you to a pearling trade past; Broome is the centre of a significant period of Australian history. Broome is where Malay, Chinese, Japanese, Filipino, European and Aboriginal cultures blended together in the early 1880s, working as pearl luggers who lived in what is now the central Chinatown retail hub.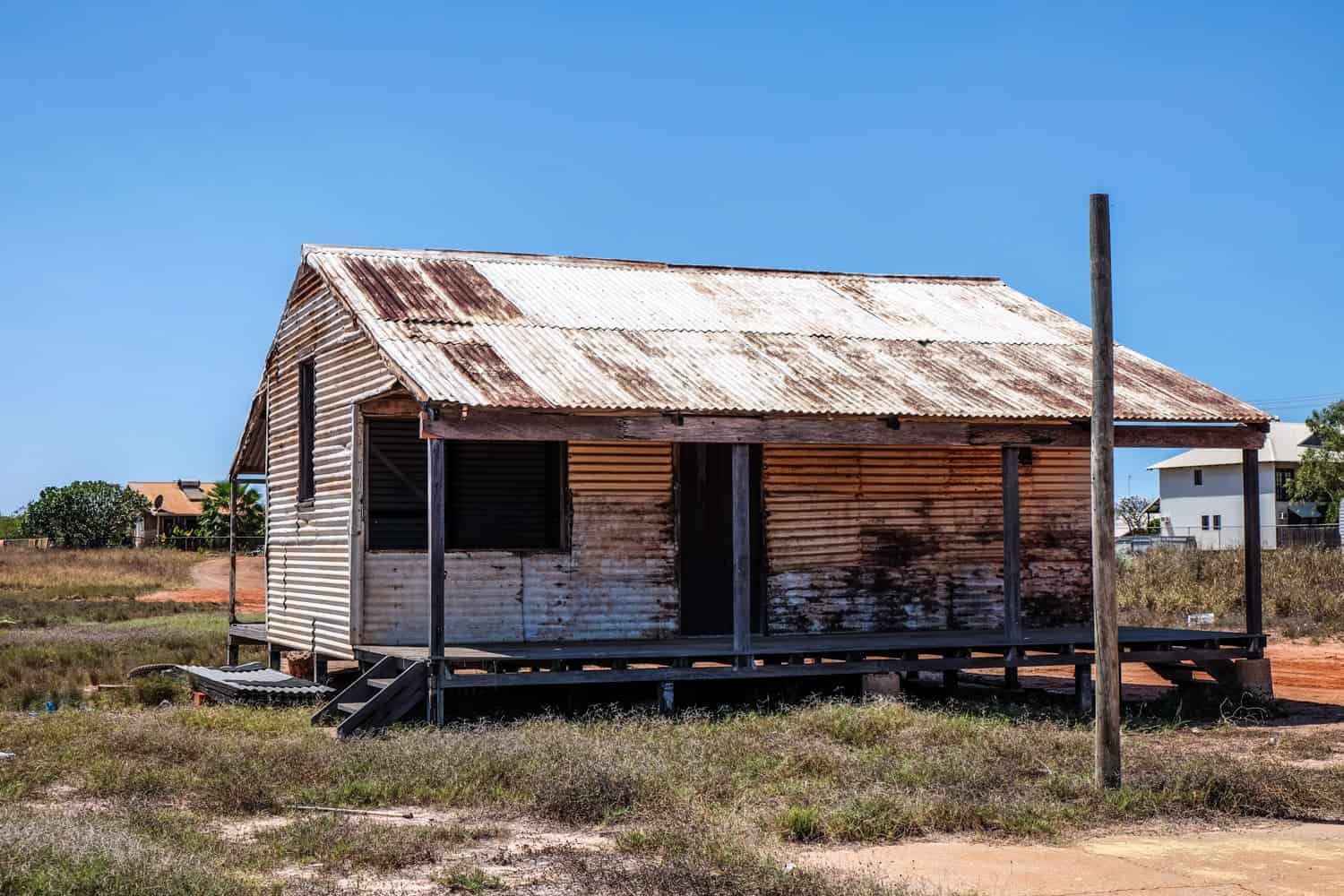 This history is still present. Carnarvon Street's remaining white corrugated iron Pearling Master's houses that now conceal pearl shops, bistros and cafes still bear the distinctive red and green paintwork (the leftover paint from the undercoat of the luggers).
There's also the still operating Sun Pictures, which stands as the oldest outdoor movie theatre in the world, which you can still look around even if you are not planning to watch a movie. You will see old pictures of the time when there was segregated seating and separate entrances for the Aboriginal people.
Just a few metres away is Streeter's Jetty – the pivotal point of the Pearling industry in early 1900's when the luggers dropped off their shells amongst the mangroves. There's something about being on that jetty in solitude that makes you think deeply about such dark days.
Statues and streets are named after places in Asia, like Taiji Road after Taiji in Japan (Broome's sister city). These small touches mark a remembrance of the many people who never made it back home during this dangerous trade known for prolifically hard work. Cable beach is also named because of telegraph cable linking Broome to Java in 1889 where pearling masters would barter the best shell price. History is never forgotten here.
Town Beach is a pocket-sized beach in comparison, where we found a quiet spot with the fisherman and had the chance to chat with the local people.
And while we had a whole host of restaurants at our disposal staying at the Cable Beach Club resort overlooking the infamous sands, we ventured out into town to test some hip culinary hangouts that are popping up.
This included the all-day dining darling that is The Aarli and Matso's Brewery, where award-winning craft beer is produced within one of the oldest heritage buildings in Broome (at over 100 years old). Here you can enjoy my favourite brew – the Matsos Ginger Beer – before viewing the 'Staircase to the Moon' natural illusion that shines down on Roebuck Bay, which the brewery overlooks.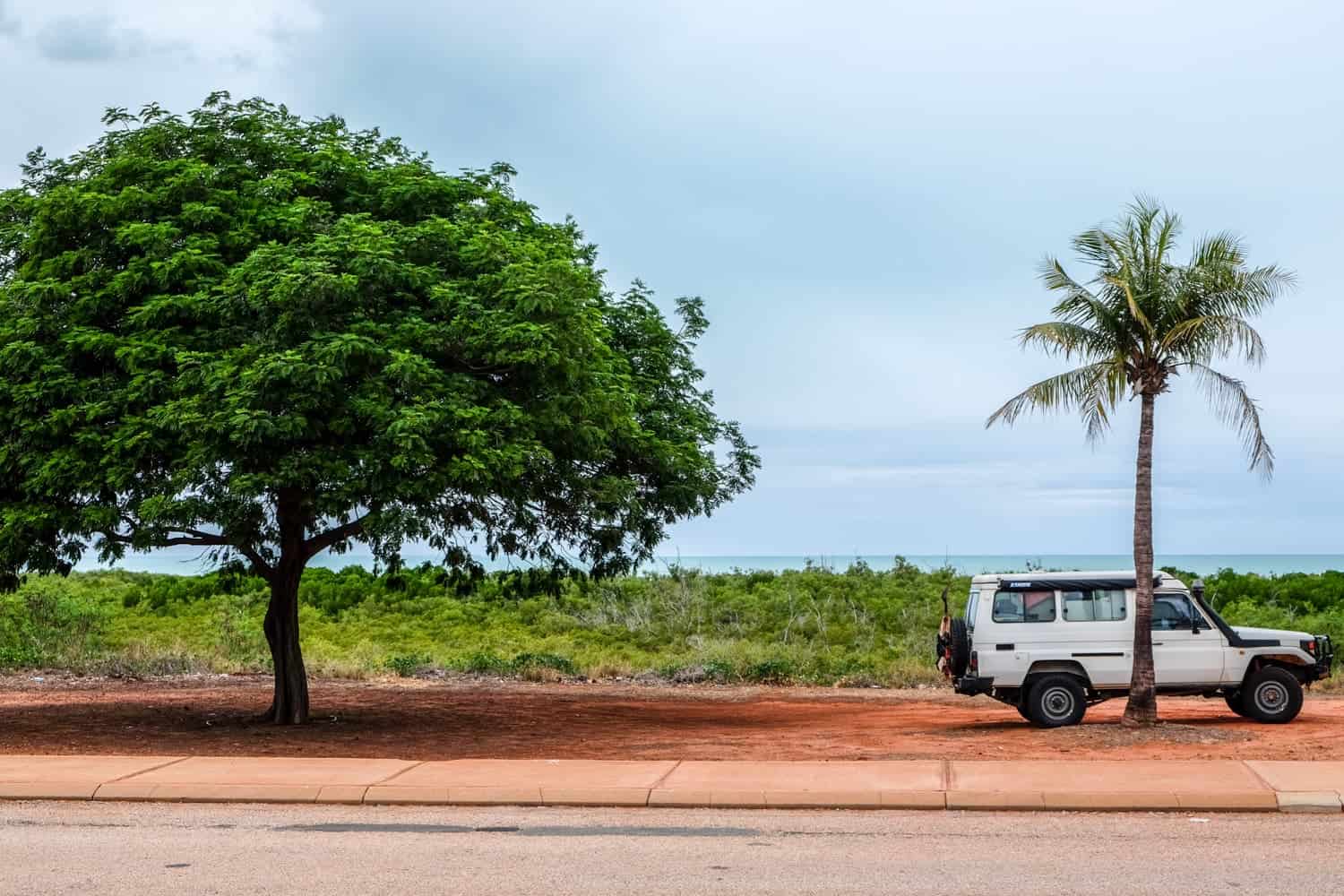 While Broome is becoming a hotspot centrally which a lot to explore, my best memories came from unplanned, off-track exploring. Travel to Broome is not only a gateway to the Kimberly (which I got to explore) but also a window to the wilderness Outback of the northern fringes of Western Australia.
For those who are more curious about getting off track here, you'll need to enlist the help of a true insider of both the land and the culture. We meet Brad – an Aboriginal guide from Narlijia Cultural Tours – and asked him where we should go to make use of our last day with our hired 4×4 and really get off-road. Instead, he offered to take us himself.
Brad is a born-and-bred Broome local who was eager to share the secrets and multi-perspective of the land of his ancestors – the saltwater Yawuru people and later, a long line of pearling workers. It was the chance to dig dipper into a side of Broome that needs to be understood away from its surface-level tourism.
As we began our journey in the very heart of the town, he told the stories of how the pearling trade changed the town significantly in terms of wealth and lawlessness. We touched on the difficult subject of how rapid multi-cultural integration, settlement and modernisation have led to the present-day issues of change and integration for the Aboriginal people. This is something you will see first-hand – a reminder of the current affairs aside from the natural beauty of the destination.
We were then taken on a wild ride out on the orange outback roads whose isolation heightened the senses that you feel when you are in the throes of nature's majestic power. To unmarked points that only someone like Brad would know. First, through the shrubbery of unmarked roads that led to the secluded Bard Creek where Brad fished as we stood in awe of the absolute stillness, before making our way to a huge sand dune mound that is the place of a sacred aboriginal burial site.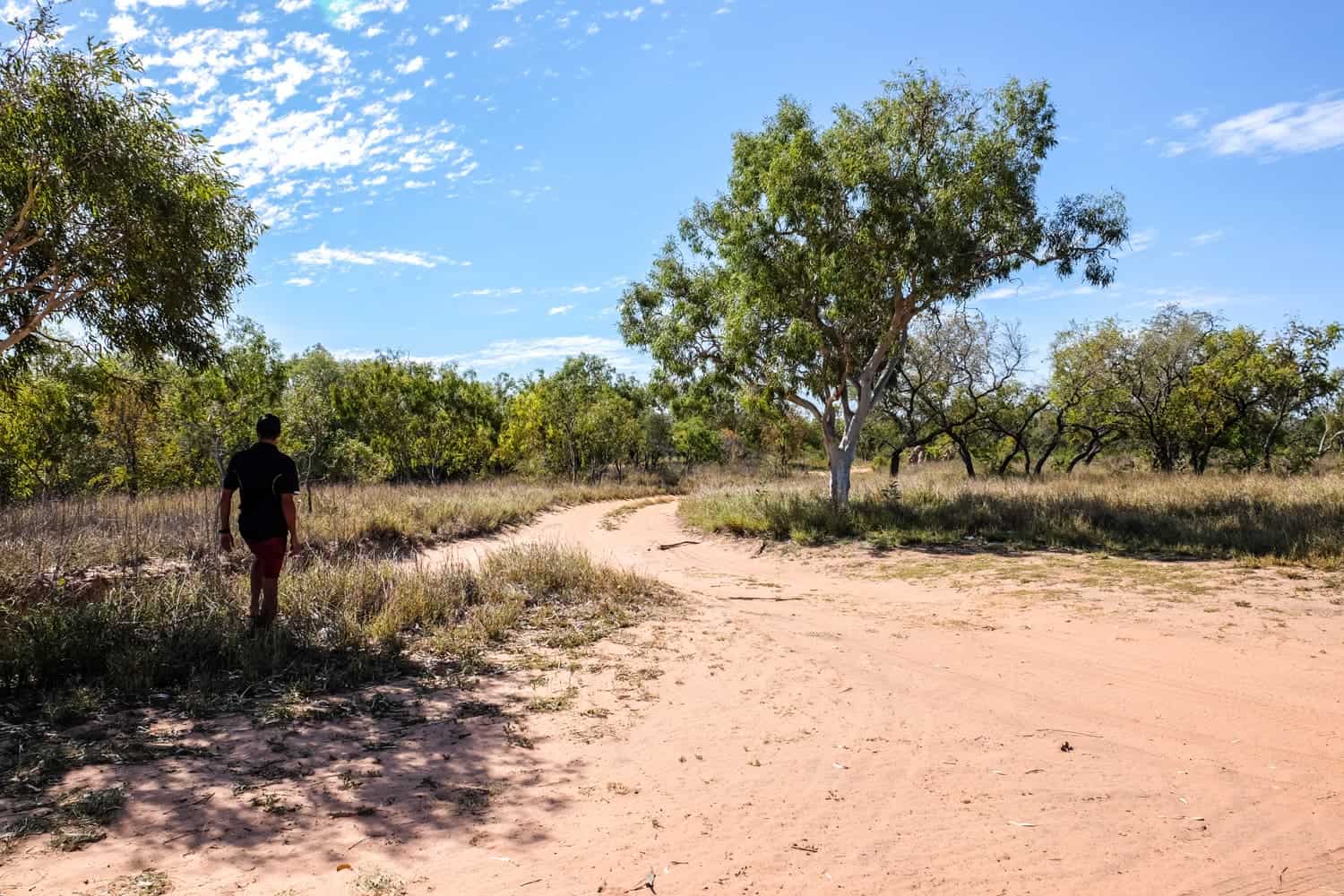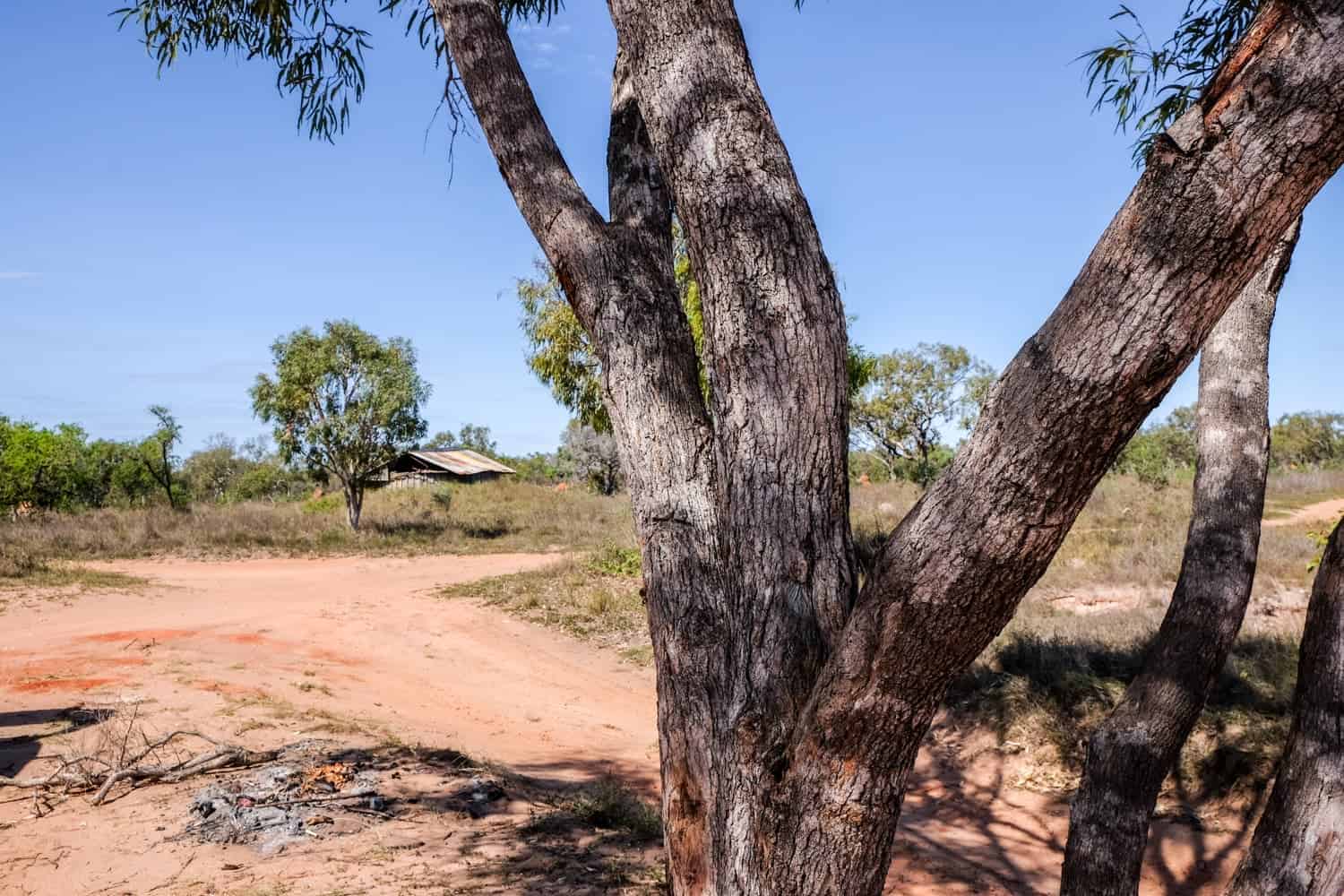 The day ended on the Mars-like landscape of Riddle Beach and the neighbouring James Price Point – the far-stretching and secluded clifftop view to watch the sunset on another day in Western Australia.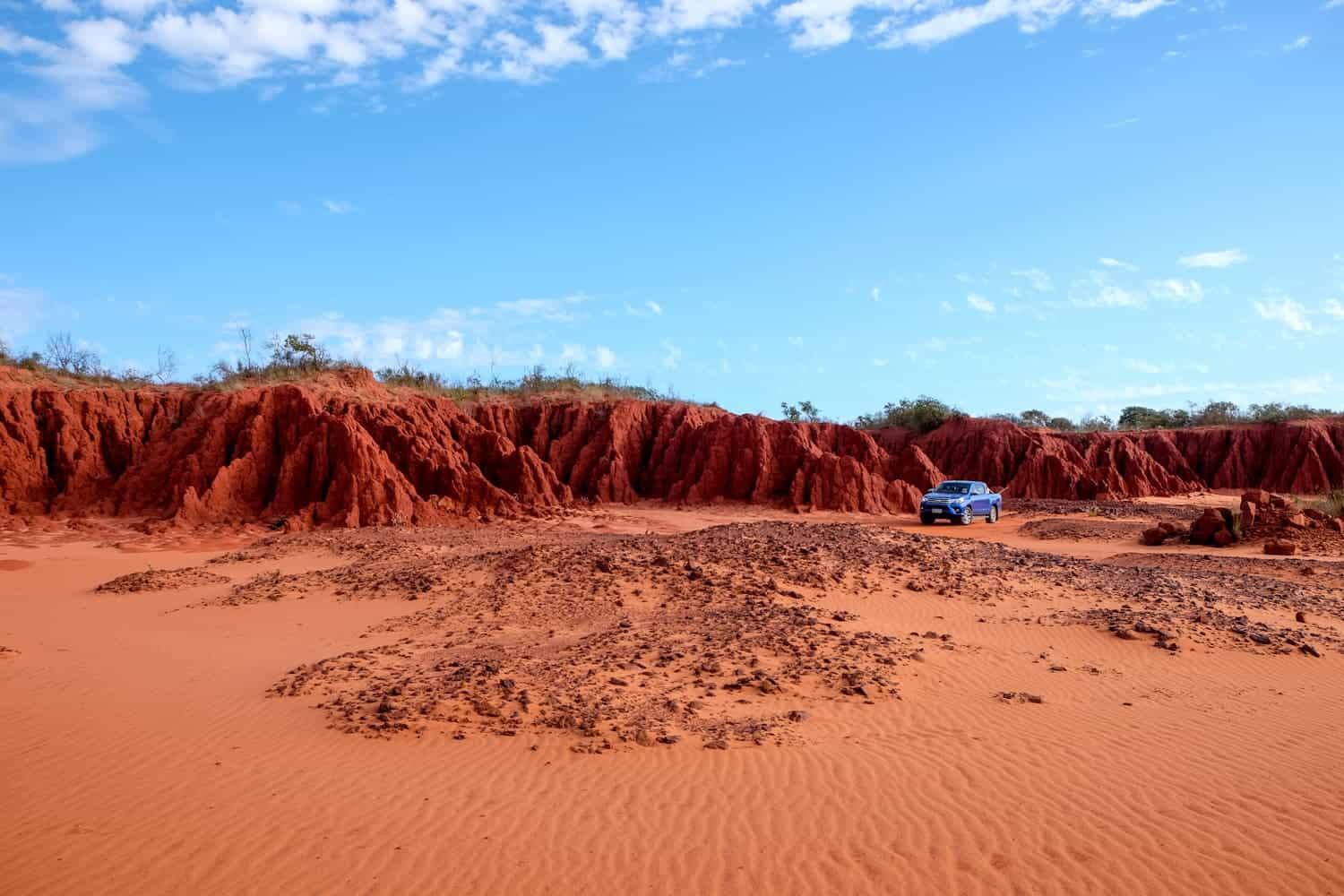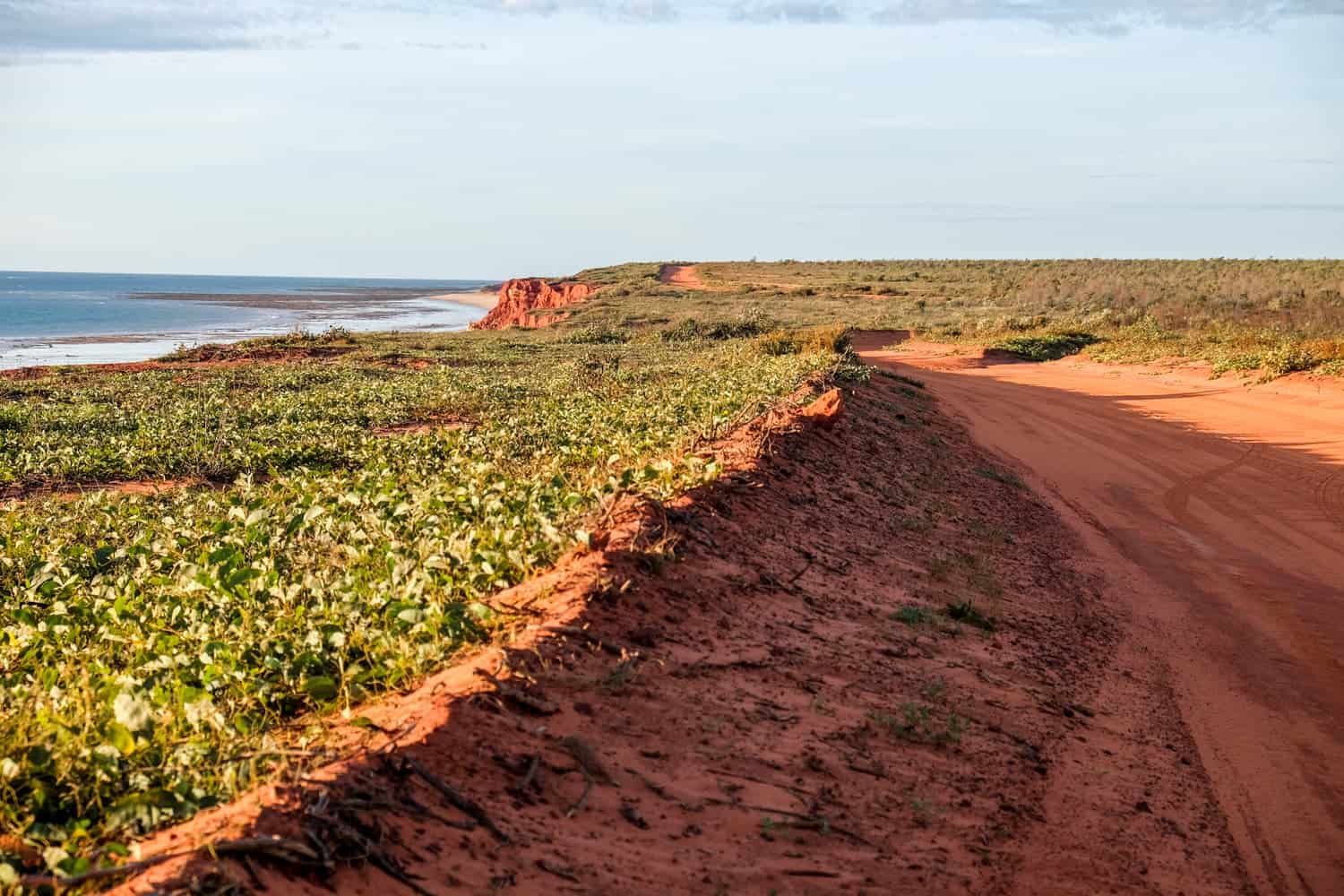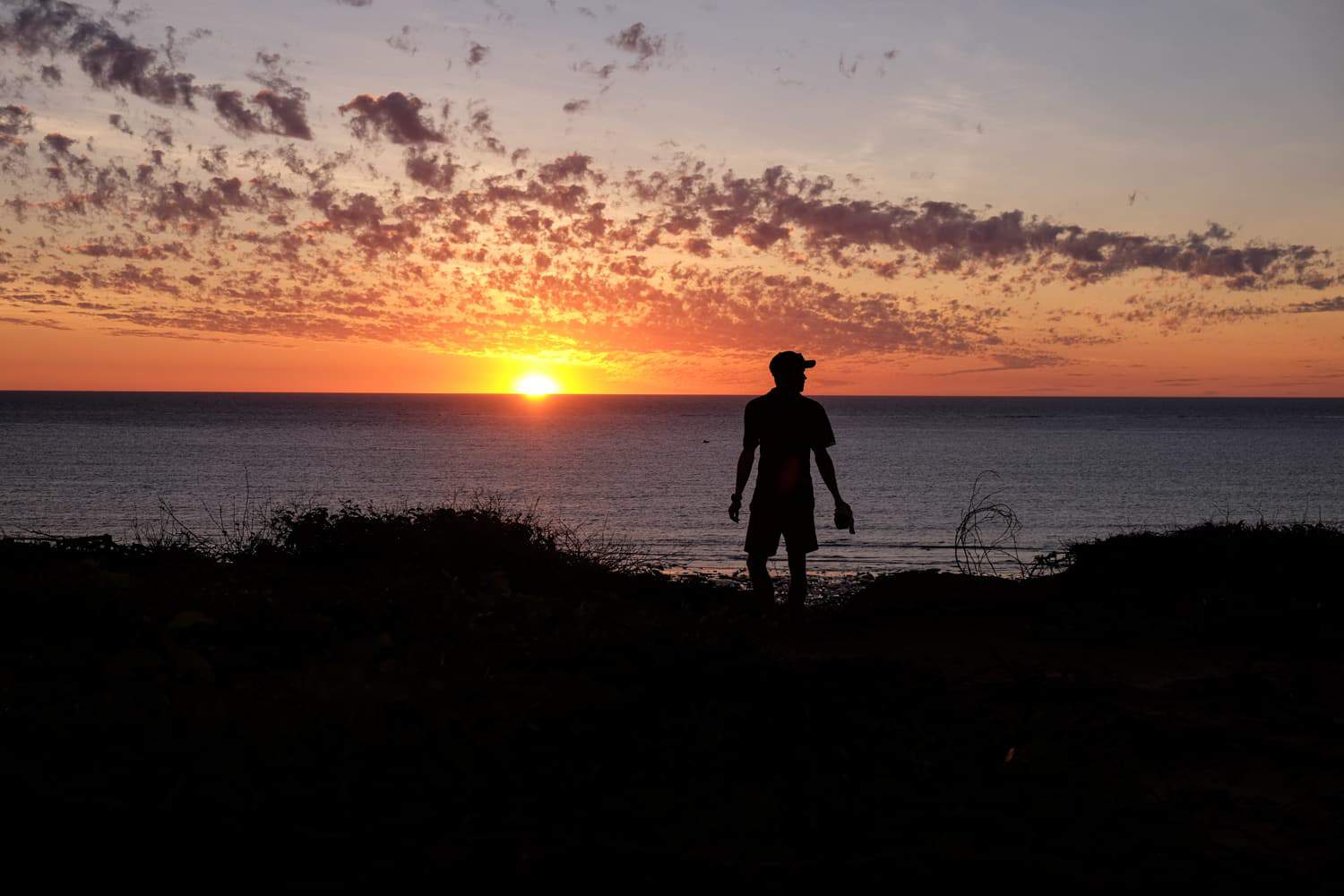 I've never felt so transfixed by a small place. One that on the surface attracts a lot of visitors eager to soak up the sun in resorts and enjoy the endless coastline. The other that sparks curiosity as you venture into the fringes of a still-pristine wilderness area of Western Australia.
While Broome attracts those eager to understand its history, it is not to be easily known by everyone who passes through. You soon learn that you must connect with those at one with the land, in order to find the parts that remain the most sacred and as they have been for millennia.
Things to Know About Visiting Broome, Western Australia:
Introduction to Broome
Brad also helps to run the Nyamba Buru Yawuru language and cultural centre, which aims to spread awareness and keep alive the traditions of this aboriginal Yawuru country. Brad guides visitors to local sites to increase this understanding amongst locals and visitors.
Unique Kimberley pulls together bespoke itineraries of Broome and Kimberly cruises. The owner, Robyn Maher can provide everything from an introduction to Broome's hotspots including Chinatown, Gantheaume Point and Matsos Brewery or trips that cover more of the peninsula, on land and sea.
Booking a Camel Ride on Cable Beach, Broome
The top choice is Broome Camel Safaris, or quite simply remembered as 'the camels in blue'. It is run by Matt Morton-Deakin, a Brit who has been calling Broome home for years and knows all the photogenic spots.
Weather in Broome
The weather in Broome is consistently hot and on average of 30 degrees all year round. The Dry season is May-October and Wet Season (which sees a more tropical climate) is November-April.
It is advised, when sightseeing, to go out early morning or late afternoon to escape the intense heat.
Seasonal Events and Activities in Broome
The Broome Advertiser is one of the main sources of entertainment listings and events if you are in town for a few days.
Turtle nesting season in Broome is between 1st October to 28th The best time for whale spotting in Broome is between June and October.
For further information on planning your trip to Broome