Disclaimer: This post contains affiliate links to handpicked partners, including tours, gear and booking sites. If you click through or buy something via one of them, I may receive a small commission. This is at no extra cost to you and allows this site to keep running.
A state the size of western Europe, it's hard to map out the places to visit in Western Australia, but this guide shows you where to start.
Not many people think about exploring Western Australia (WA), or even think to include it in their plans when first visiting Australia.
As the country's largest state that covers a gigantic 2.5 million square km – equivalent to the size of Western Europe – it also makes it hard to know and plan exactly where to go in Western Australia, especially on a first visit.
As the lesser-known region of Australia, that was exactly its draw for me. Visiting Western Australia was the chance to delve into the other side, home to some of Australia's most iconic natural attractions and underrated cities.
When I was invited to travel to Western Australia to add more stories to their 'Just Another Day in WA' platform, it was an instant yes. Alongside the neighbouring Northern Territory (which I went to after), it was one of the last two states of Australia (and the more remote ones at that) I had yet to visit.
It takes just 18 hours from the UK to travel to Western Australia's up-and-coming Capital of Perth, which is four hours less than the quickest flight to Sydney. That in itself is a reason to jump off here, aside from curiosity. So during September and October, I ventured on a journey during the start of the Australian 'winter' of the tropical north, and it became a trip I can never forget.
What attracted me most to Western Australia was the mix of burgeoning urban cool with untouched, wild, adventurous rural.
Perth, as a landing point, is a city shedding its 'boring' reputation to become one full of hip coffee houses, craft beer breweries and an exploding food scene. It's a gateway to a coastal stretch of 19 white sandy beaches and to the one million square metre expanse of the north-western frontier of canyons, wild rivers, national parks and ochre orange outback roads that lead to tiny aboriginal communities and some of the earth's last remaining untouched wilderness areas.
Outside of the capital are a million and one things to see in Western Australia and exploring Broome and the Kimberley was just a patch on what there is to uncover altogether.
While there's a lifetime of adventures to be had, here is a suggested destination overview on where to go in Western Australia – the main sights, city hubs and attractions as well as off-track adventure spots, which you can easily hop between within one to two weeks.
Visit Perth – The Landing Point and Gateway
Perth is the capital, the gateway and the likely first landing spot. It is also worth a few days of your time. It may have rained for the first few days of my induction to Australia's 'Sunniest City' (so-called as it has more hours of sunshine than any other in the country) but that didn't dampen the enthusiasm for what has come to being listed as one of the world's 'most livable' cities.
Not only do you have a 'Sunset Coast' of 19 beaches including the much-loved Cottesloe and Scarborough, the island getaway of Rottnest and one of the world's largest inner-city parks (the Kings Park and Botanic Garden), but Perth is constantly expanding its urban cool offering.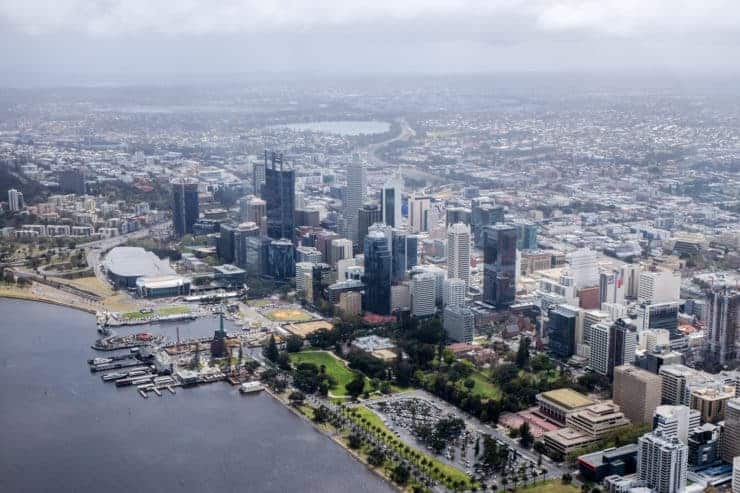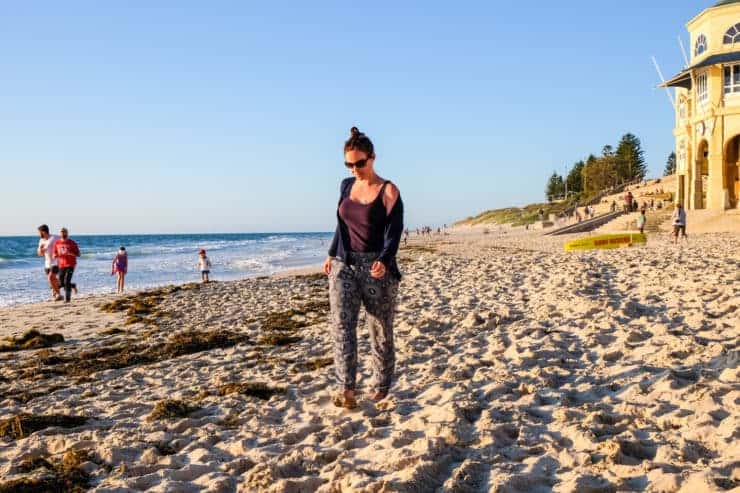 Where to Go in Perth
You'll be surprised at the number of things to do in Perth. You can kick back in the street-art laneways and coffee shop-lined streets of its go-to neighbourhoods because one of the answers to the question of what to do in Western Australia outside of the wilderness is to hone in on its areas of growth and regeneration. In Perth, these areas include Northbridge – the theatre and gallery filled area behind the Central Business District (CBD), full of international food hubs and a miniature Chinatown lined with dumpling stores – and in the younger, design hub of Leederville. 'Leedo' thrives on the artistic regeneration of its self-proclaimed "immigrant nostalgia architecture" built upon layers of Italian, Chinese, Jewish, Greek and Macedonian heritage. There's also the central Perth city State Buildings, whose former government holdings are now an ultra-swanky and fun hub of retail and dining offering from chocolate and coffee to Asian cuisine. The area of Fremantle has its unique offering (see below).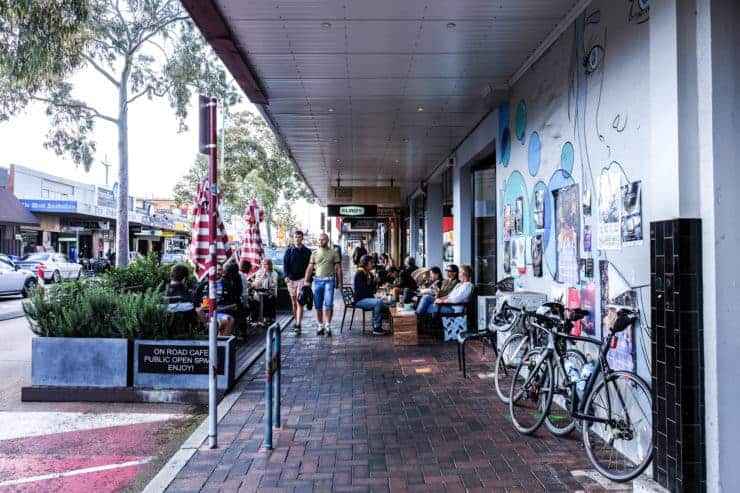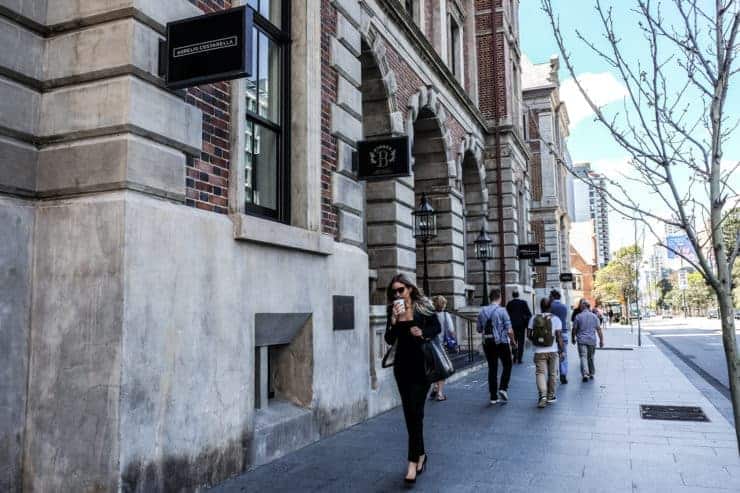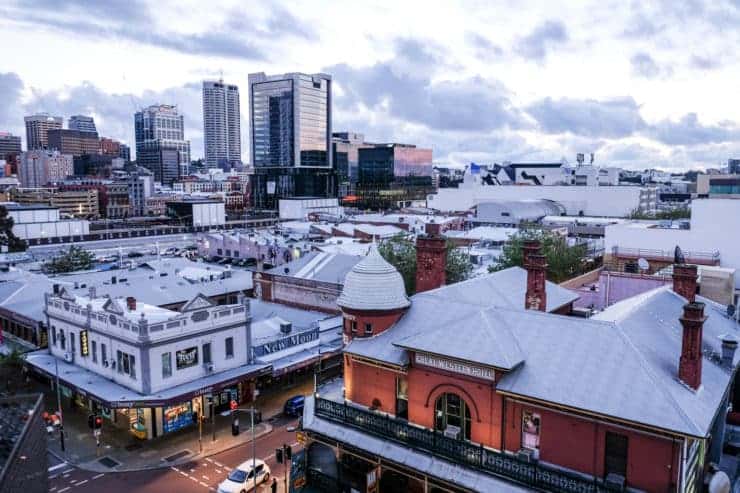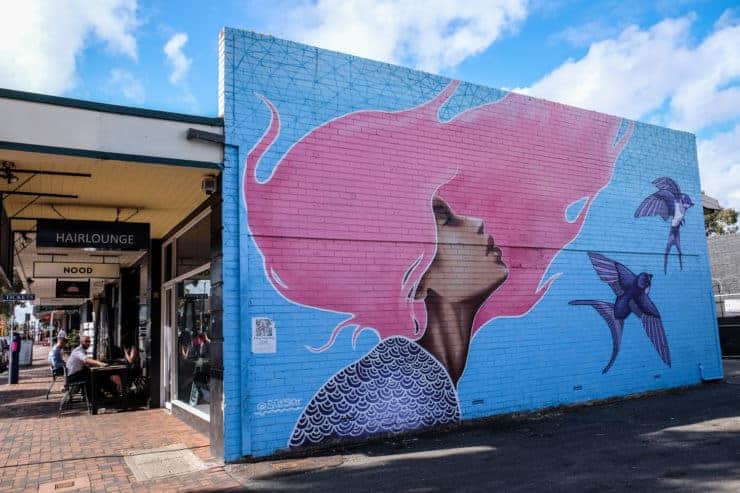 A wander in the very heart of Perth, where you are likely to want to visit the 2.6 billion dollars public space project of Elizabeth Quay, is not without understanding the city's native beginnings and the stories of its true origins begin in this area. An afternoon spent with Walter from Go Cultural Tours – a descendant of several Aboriginal tribal clans of the southwest region of Western Australia – provided a first-hand Aboriginal perspective and insight into the Nyungar people, who are the traditional owners of this land (for over 50,000 years). Old hunting grounds, lakes and sacred sites are now the high-rise CBD, major hotels and beaches; roads and highways cover former tribal trials. Walter highlights how Perth today is trying to reconcile its dark history and modern growth with its social, spiritual, cultural and historical significance in consultation of new offerings and ceremonial activities.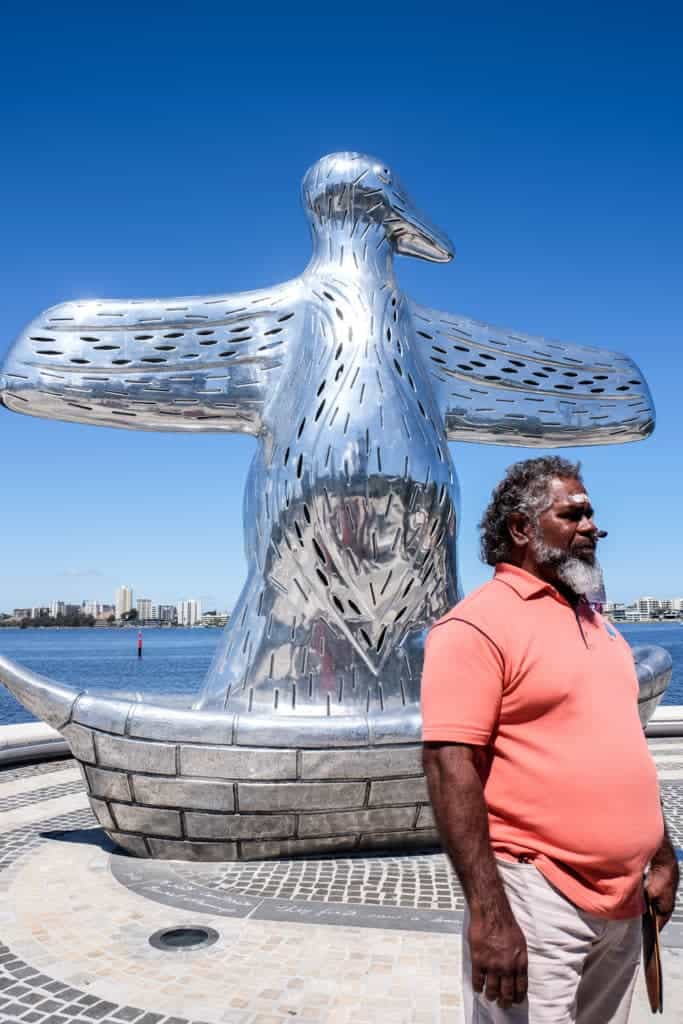 Don't believe what you hear about Perth being 'the boring side of Australia'. It knows it doesn't live up to arty Melbourne or big city Sydney, and it's OK with that. It creates its own edge, and I had so much fun digging that out, which is a part of the experience of Perth.
The city of Perth is fast evolving, and if you don't know where to go in Western Australia you will not be sorry you started here, even if by default of your flight path.
Where to Stay in Perth:
The Alex Hotel – a creative space right in the very heart of the city and in walking distance to the creative highlights and foodie hangouts.
Where to Eat and Drink in Perth:
The Boatshed. Where you can dine in a replica boatshed with views across the Swan River and the Perth Central Business District skyline.
For the ultimate introduction to Perth's evolving food scene, from the up and coming culinary hangouts and local kept secrets to the best ice cream in the city, head out on a crawl of the city's coolest venues you wouldn't otherwise find on your own with a local foodie, Laura Moseley.
Petition Kitchen in the State Buildings. Dine within an iconic landmark while sampling some of the best local produce from seafood to seasoned fresh vegetables. Our share plates were devoured quickly. Be sure to also check out the 'Gin and Tonic on tap' from the adjacent bar.
Odyssea on City Beach. Watch the sunset across the Indian Ocean with a cocktail on the terrace before sampling the gourmet options of the modern-Australian menu.
Go to Freemantle – The Hip Neighbourhood Highlight
A once fledgeling neighbourhood on the Swan River with a 19th Century shipping heritage decided to repurpose all its old spaces and turn itself into a cosmopolitan historical port city. Fremantle, on-trend with mixing the charming Gold Rush-era old with the bohemian attitude new, is the number one local highlight of downtown Perth.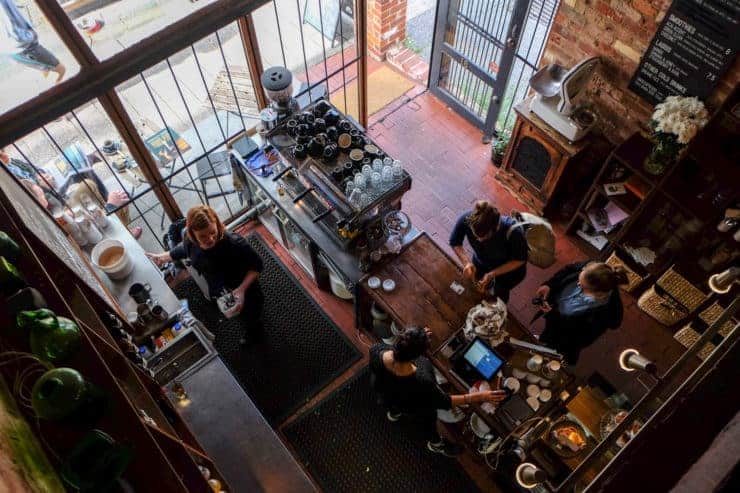 Where to Go in Fremantle:
For me, Fremantle felt like a stand-alone city very separate from Perth (despite being an outer-borough 20km south) and a dedicated stay here means being able to take in everything on offer in such a small space and live locally. A great introduction to the history, culture and quirky corners of the city is with local, Rusty Creighton from Two Feet & a Heartbeat.
You'll soon see that 'Freo' is one of THE places to go in Western Australia for urbanite cool – where you can dine in reformed docks and warehouses, sleep in boutique hotels set in former sea cargo crates and brunch, market stroll and listen to live music in heritage hideouts (the largest collection of such buildings in Western Australia).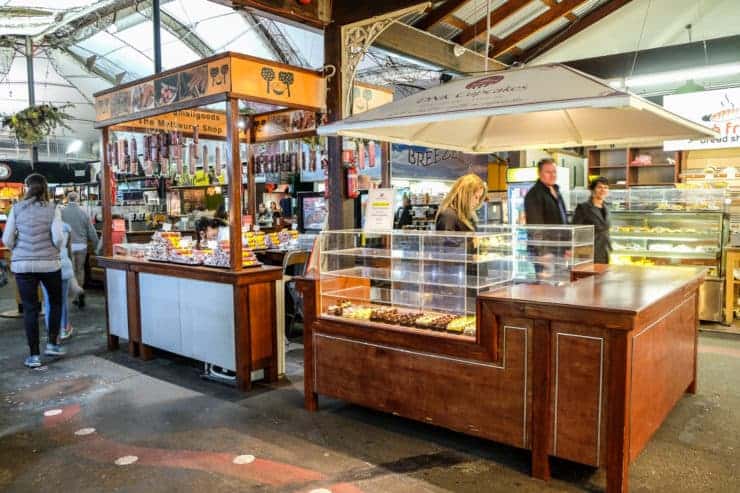 My two favourite staples of local living – craft beer and coffee – are pivotal to the social scene here. The craft beer scene in Fremantle has exploded, with pubs like Sail and Anchor and Monk Kitchen sitting opposite one another. The star of the show is undoubtedly the Little Creatures Brewery at the Fishing Boat Harbour, whose huge converted boat shed interior is pulsing with hop-loving locals sampling their hometown brews.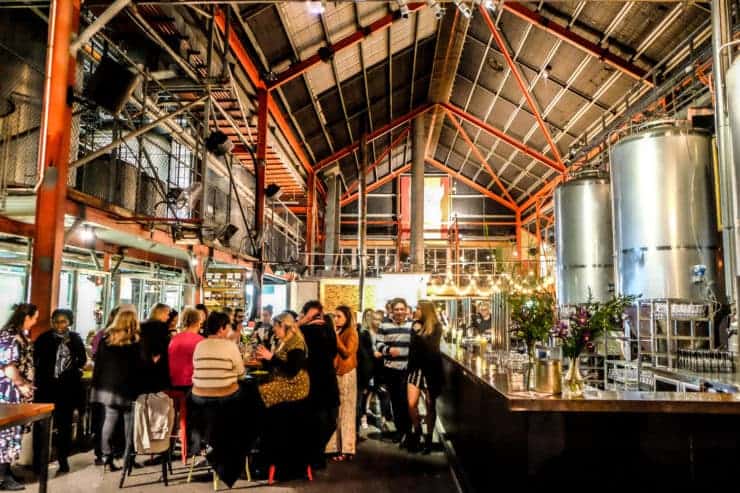 No artistic hub is complete without the staple supply of coffee houses, a varying choice found neatly aligned on the aptly named 'Cappuccino Strip' (South Terrace – from Bannister Street to Fremantle Markets). It's in Fremantle that I learnt of the local order – a 'long mac topped up' – allowing me to gain a true mark of acceptance as a Perth local.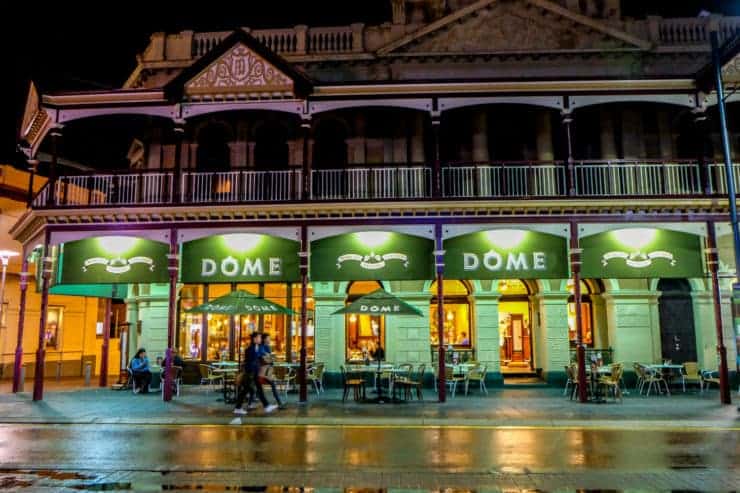 Where to Stay in Fremantle:
Hougoumont Hotel Fremantle. A quirky 'affordable luxury' boutique hotel in the very centre of Fremantle. Named after the last convict ship that transported convicts to Australia and situated on Bannister Street, where those new arrivals began a new journey.
Freemantle YHA Prison. A modern hostel set within the World Heritage-listed former Freemantle Prison built in the 1850s.
Where to Eat and Drink in Fremantle:
The National Hotel. First a shop and then a bank before being turned into a hotel in 1886. After being partially destroyed by fire in 1975, it underwent significant restoration in 2013 and re-opened as a modern bar and restaurant space, retaining its hold as one of the most historically important and most loved buildings in Fremantle.
Little Creatures Brewery. Because craft beer is at the heart of the city and this 'open' brewery with visible cellar door gives it an added touch of cool.
The Attic. For a bohemian coffee space whose hip wooden interior and Instagram' able breakfast and brunch menu perfectly sum up the Fremantle spirit.
Day Trip to Rottnest Island – The Local Getaway
Out of all the day trip options of things to do in Western Australia, choose Rottnest Island – a local getaway that's just 19km off the coast of Perth. Especially since it's just a short ferry ride from Fremantle Port (the shorter distance) and Perth's Barrack Street Jetty. The 11km island is packed full of idyllic scenery including over 60 beaches and 20 bays concealing pristine coral reefs but its main attraction is its chief inhabitants… the Quokkas!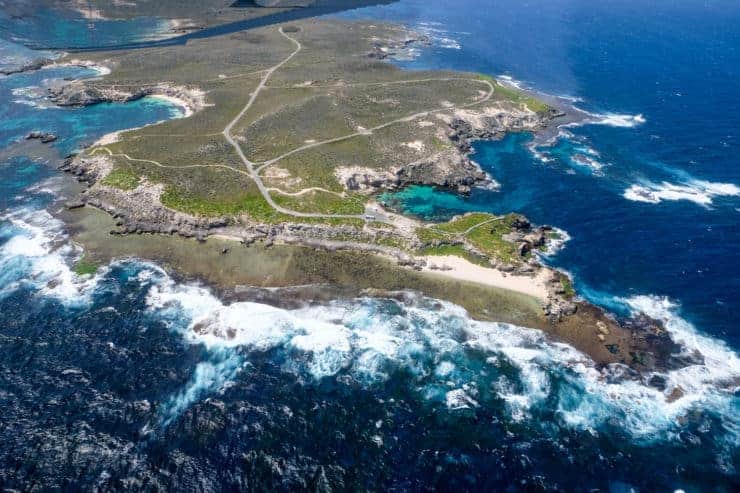 What to Do on Rottnest Island:
There are so many Quokkas on Rottnest Island that it becomes complete cuteness overload to be so close to a distinct animal species native only to Australia. The best thing is, Quokkas know how to work the camera and love being the centre of attention. The rite of traveller passage here is to find the perfect Quokka selfie friend.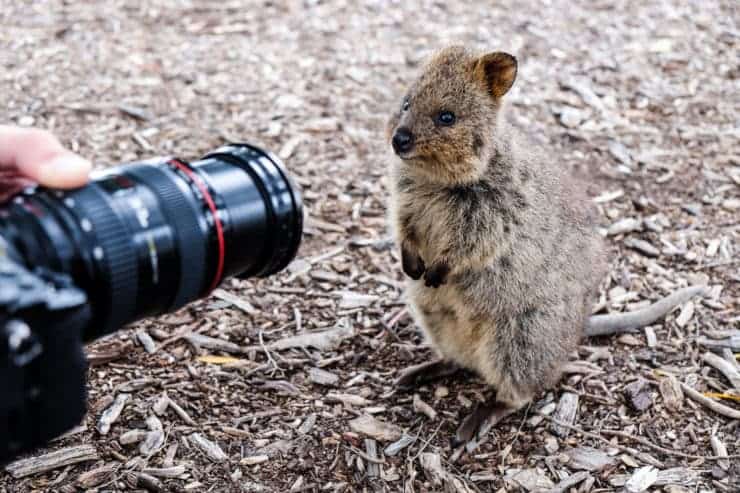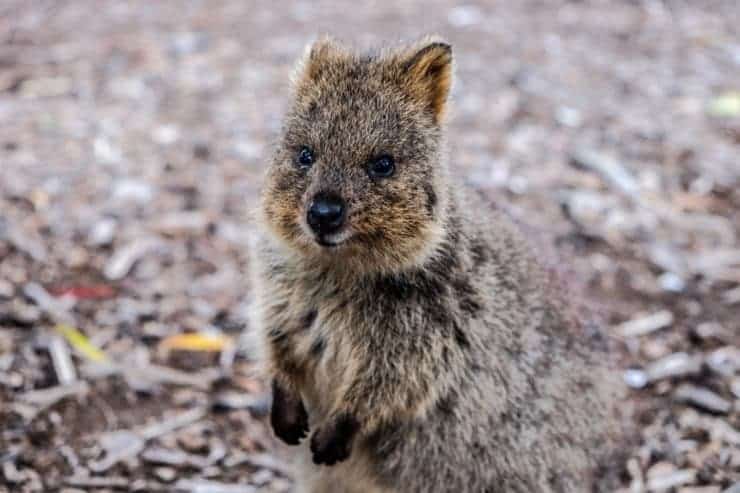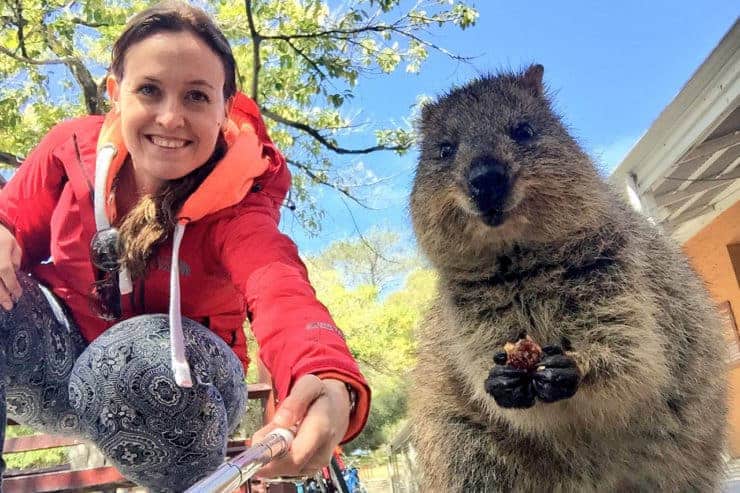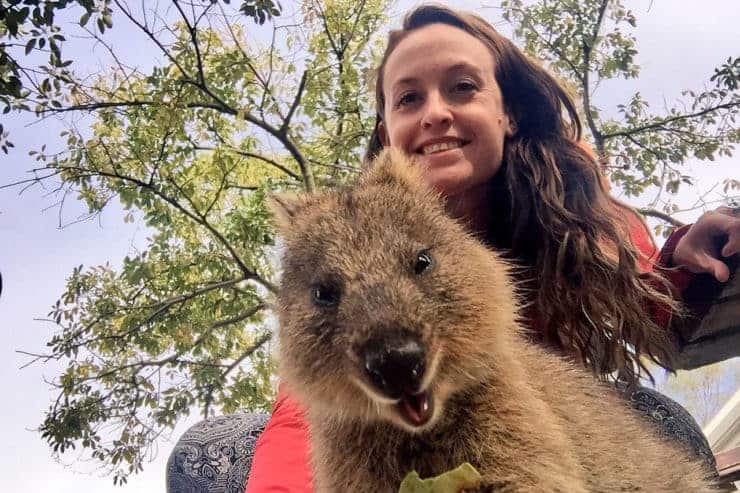 Car-free 'Rotto' (as it is affectionately known by locals) is best explored by bike, which we were able to hire easily as part of a combined ferry-bike hire ticket option, ready and waiting for you when you disembark. With clear blue skies, I also got the chance to take a scenic Rottnest Air Taxi flight which you can book once you are on the ground and have a better idea of weather conditions.
Taking in Fremantle and Perth, it puts into perspective how close the city coastline is to this gorgeous little island.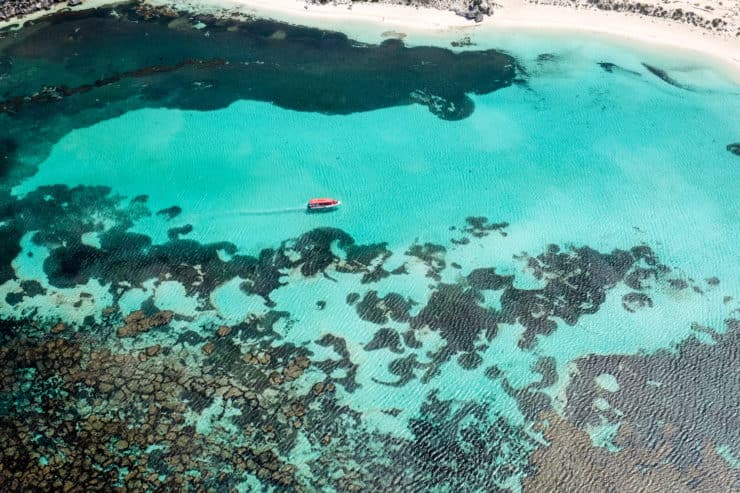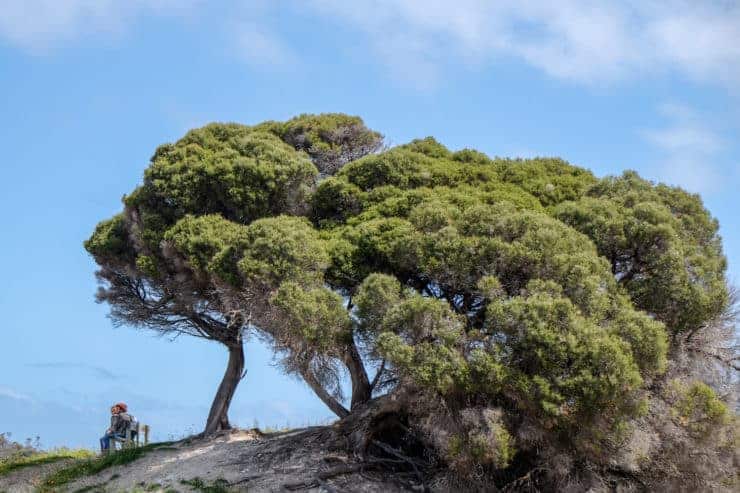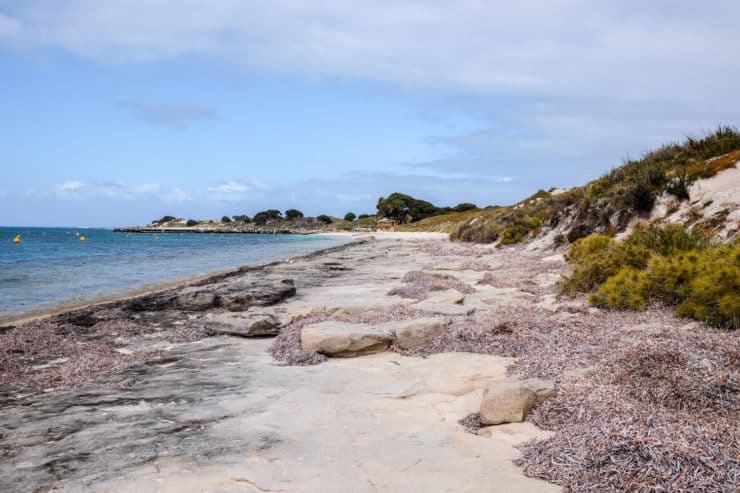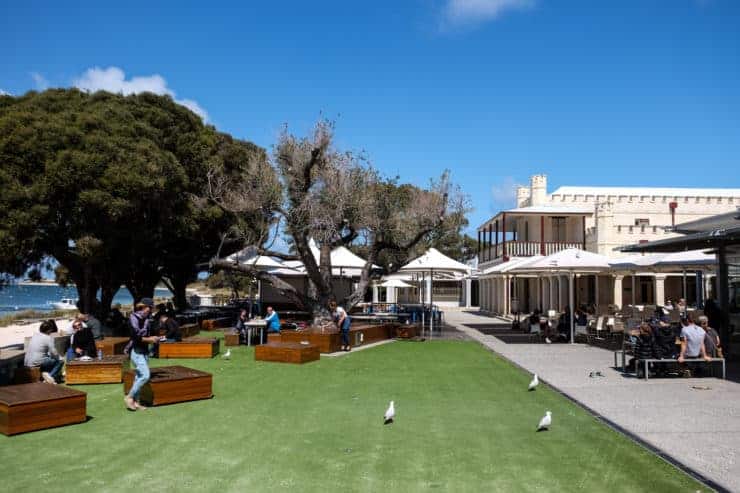 Importantly, take time to visit the Rottnest Island museum, which can be found in the area with a cluster of bakeries, coffee shops and restaurants. The island's past as former Aboriginal prison is sobering, and a reminder of the dark history of Western Australia and the rightful ownership and past of the lands we enjoy today and often take for granted. Rottnest was also used as a military defence system during WWII.
How to Get to Rottnest Island:
The Rottnest Express ferry service runs daily from Perth and Fremantle, and also offers guided tour packages.
Where to Eat and Drink on Rottnest Island:
Hotel Rottnest – For beachside views in an iconic island location.
Rottnest Bakery – For a sweet, sugary fix to help fuel your exploration.
Broome – The Sleepy Pearling Town
There was something so fascinating about the sleepy town of Broome – mainly in that it has a multitude of stories to tell while remaining completely laid back. Like how its spectacular beaches conceal 120 million years old preserved dinosaur footprints and why there are camels in Western Australia – where riding them along the 22km long Cable Beach has come to mark the famous picture of the setting of the sun out across the Indian Ocean.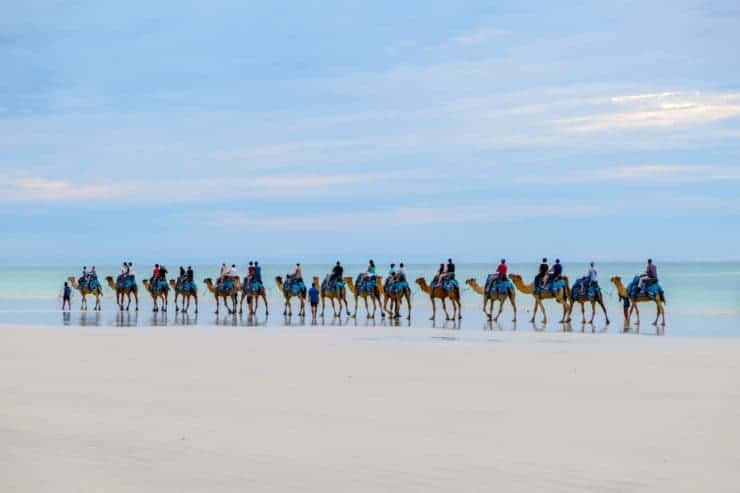 Where to Go in Broome
Namely, Broome was once the very centre of the booming pearling trade where Malay, Chinese, Japanese, Filipino, European and Aboriginal cultures blended in the early 1880s, working as pearl luggers who lived in what is now the Chinatown retail hub. Now it's one of the places to go to in Western Australia where history is still present and remembered.
Travel to Broome and find it in Carnarvon Street's remaining corrugated iron Pearling Master's houses conceal pearl shops, restaurants and cafes. Or in the still operating Sun Pictures (which stands as the oldest outdoor movie theatre in the world), and when you walk along Streeter's Jetty – the pivotal point of the Pearling industry in the early 1900's when the luggers dropped off their shells amongst the mangroves.
Statues and streets are named after places in Asia – marking a remembrance of the many people who never made it back home during this huge trade of dangerous and prolifically hard work.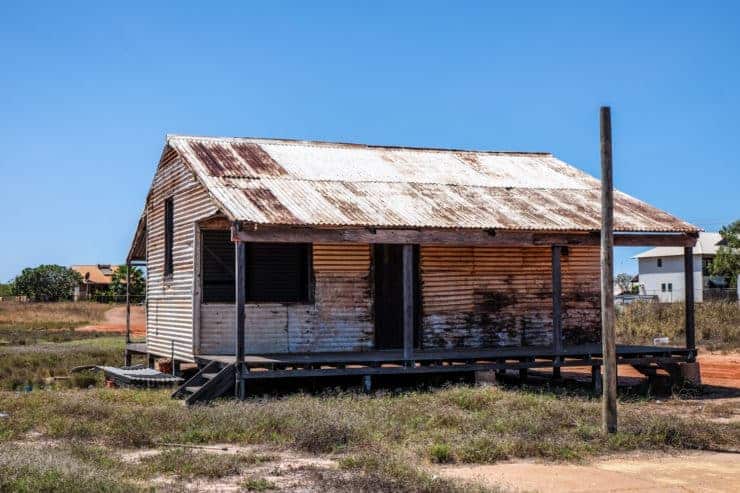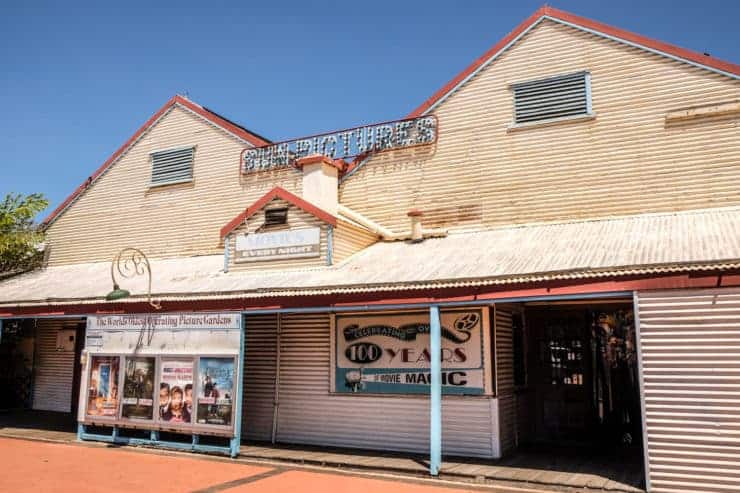 Broome is picturesque on every point of its coastline. Gantheaume Point, in particular, is a collection of fiery orange and red rock formations and cliffs, a one-hour walk from Cable beach. Here lay hidden some the dinosaur footprints invited eager eyes when the reef is at low tide of 2.16m or less. A plaster copy is on shown at the top of the cliffs for those who are not so lucky to find the prehistoric markings.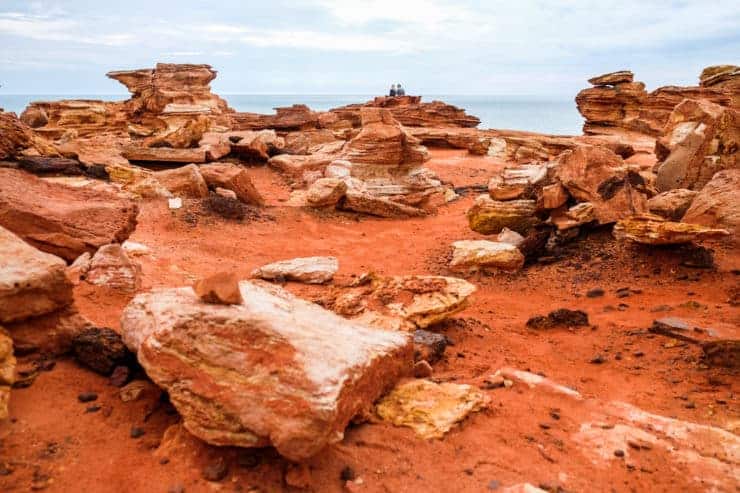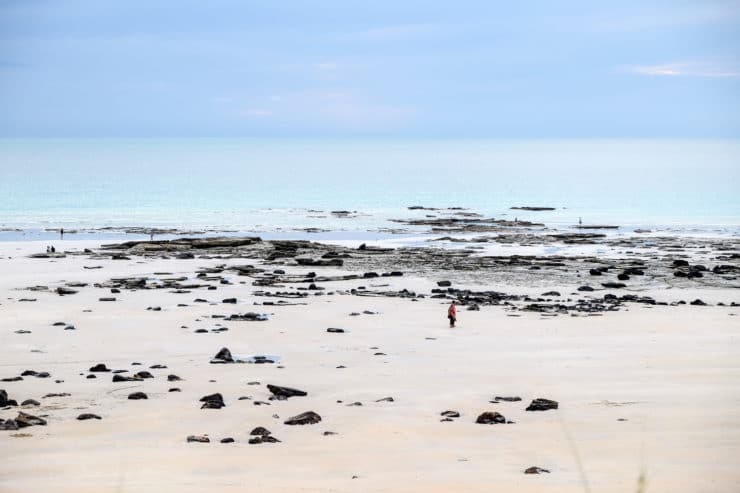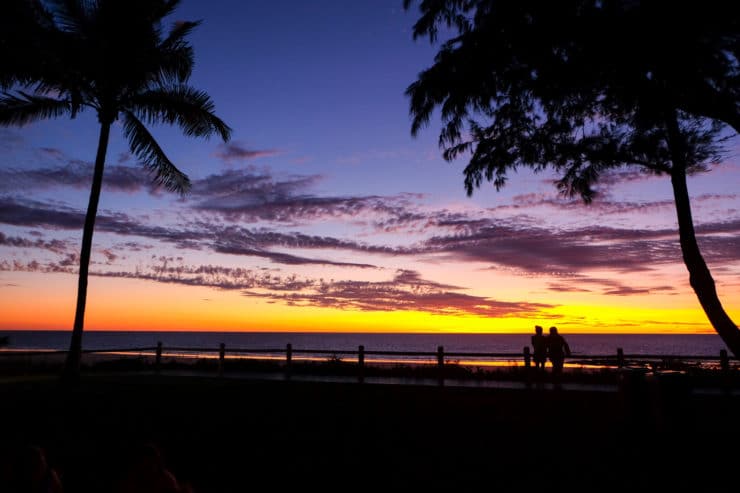 Yet the most memorable scenes came from off-track exploring, which was only possible with the knowledge of Broome born and bred local, Brad – an Aboriginal guide from Narlijia Cultural Tours. Brad tells the stories of his Aboriginal heritage rooted in this area, alongside the modern-day issues of change and integration.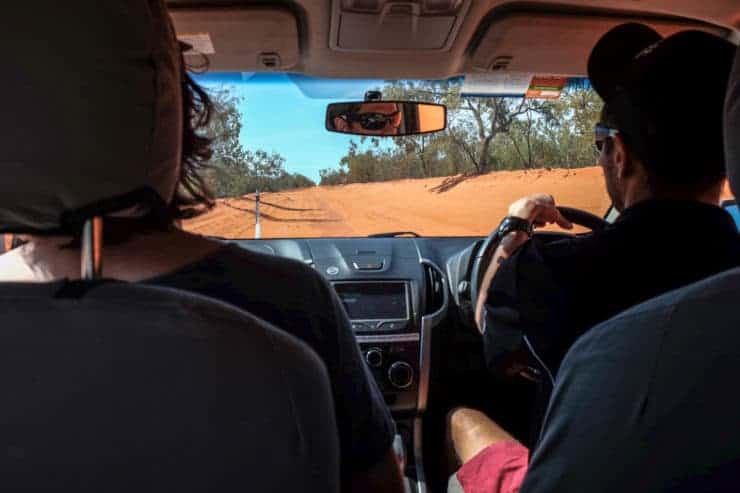 He jumped in our hired 4×4 and drove us to Riddle Beach that resembled a picture of Mars, a huge sand dune mound marking an aboriginal burial site, through the shrubbery of unmarked roads that led to the secluded Bard Creek and to James Price Point – the far-stretching and secluded clifftop view to watch the sunset on another day in Western Australia. We had every site to ourselves, which is exactly the beauty of Broome and its surrounding outback.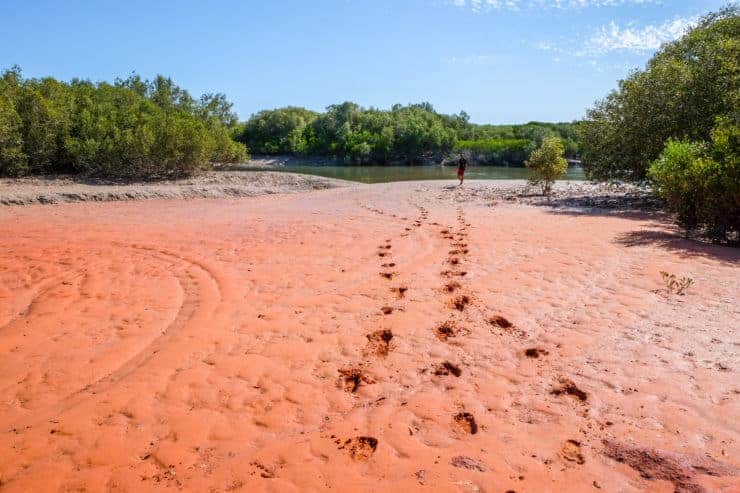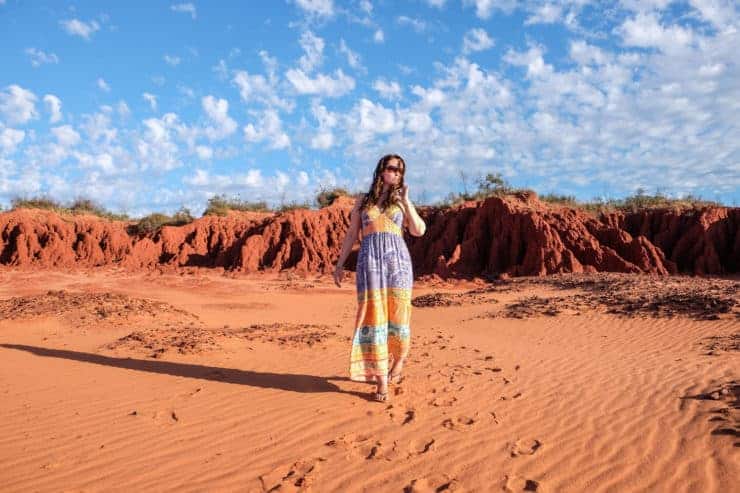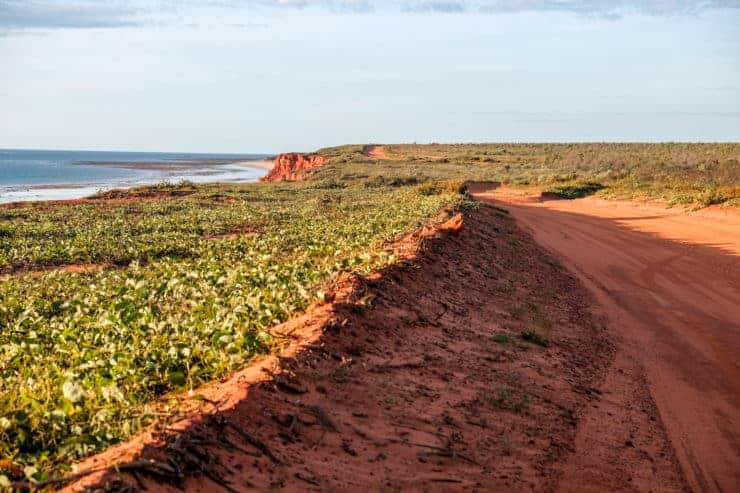 Where to Stay in Broome:
Cable Beach Club. The only resort overlooking the infamous and beautiful Cable Beach, with everything from elegant rooms to deluxe suites and a host of on-site restaurants and bars.
Where to Eat and Drink in Broome:
The Aarli. A young and hip all-day dining hotspot in the heart of Chinatown with a cocktail menu as long as its tasty offering.
Matso's Brewery. An award-winning craft beer brewery that operates from one of the town's oldest buildings standing at over 100 years old. You absolutely must try the Ginger Beer if you only have time for one.
Introduction to Broome:
A local company, Unique Kimberley pulls together bespoke itineraries of Broome and Kimberly cruises. I met with the owner, Robyn Maher who gave us an introduction to Broome's hotspots in one afternoon that included Gantheaume Point and Matsos Brewery – areas of which you can explore in greater detail in your own time.
Booking a Camel Ride on Cable Beach:
Check out Broome Camel Safaris, or quite simply remembered as 'the camels in blue'. Be sure to grab time for a chat with Matt Morton-Deakin, a Brit who has been calling Broome home for many years and who knows some of the best hangouts and photogenic spots (which he compiles on his dedicated Broome Instagram account).
The Kimberly – The Last Wilderness of Western Australia
Broome is the connection to the Indigenous Outback of Western Australia and home to one of the last remaining wilderness areas on Earth known as the Kimberley. This region is the beautifully deserted image of the Australian Outback you've always dreamt about and I was able to explore this 90km stretch of the Peninsula known as 'Dampier Land', in a 21-man overland truck on a day-trip with an adventure company called Kimberly Wild.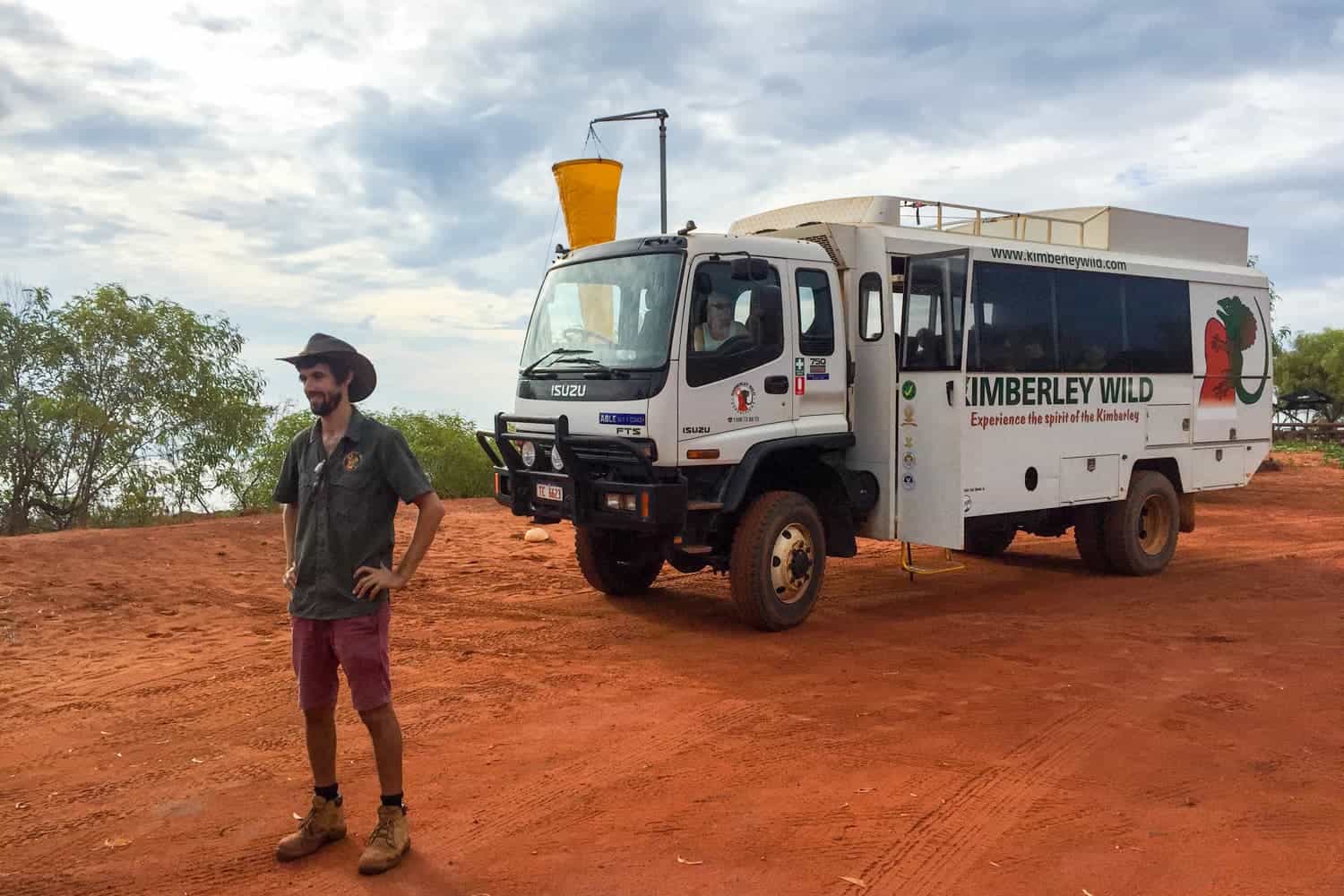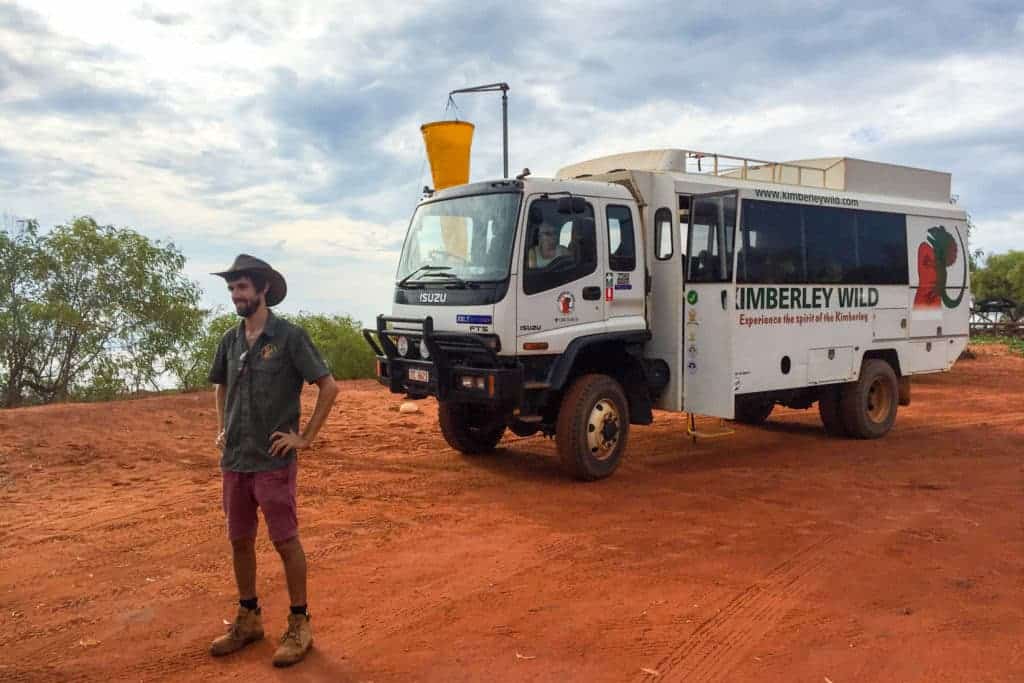 The road takes you through the Beagle Bay Aboriginal Community, whose Sacred Heart Church interior is crafted from pearl shells, is the star attraction and the Ardyaloon (One Arm Point) Aboriginal Community who are known as the saltwater people shell fishing traders. The drive ends at the very north of One Arm Point, home to the world-famous operational pearling farm of Cygnet Bay, where you can also take a speed boat out around the rocky Buccaneer Archipelago.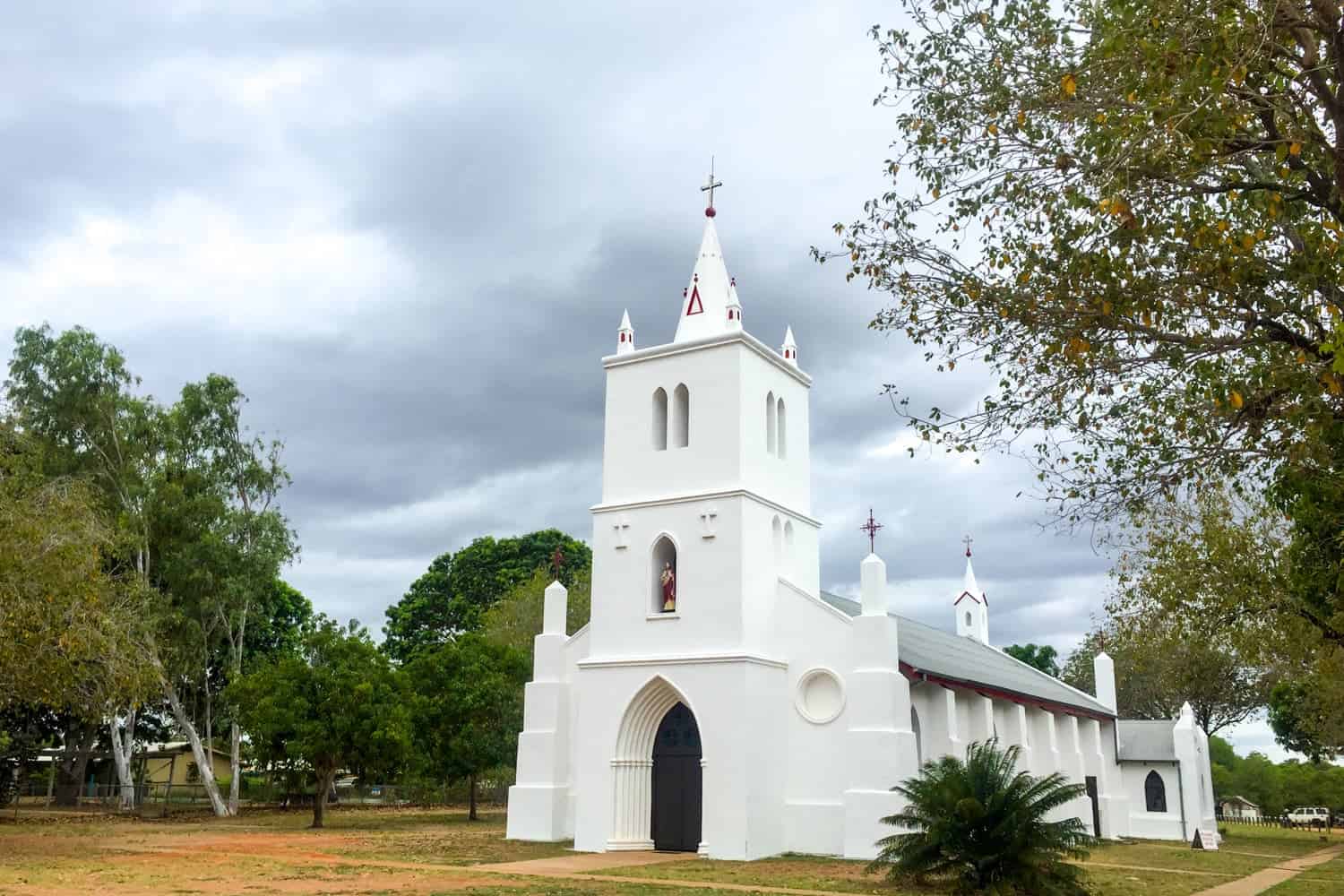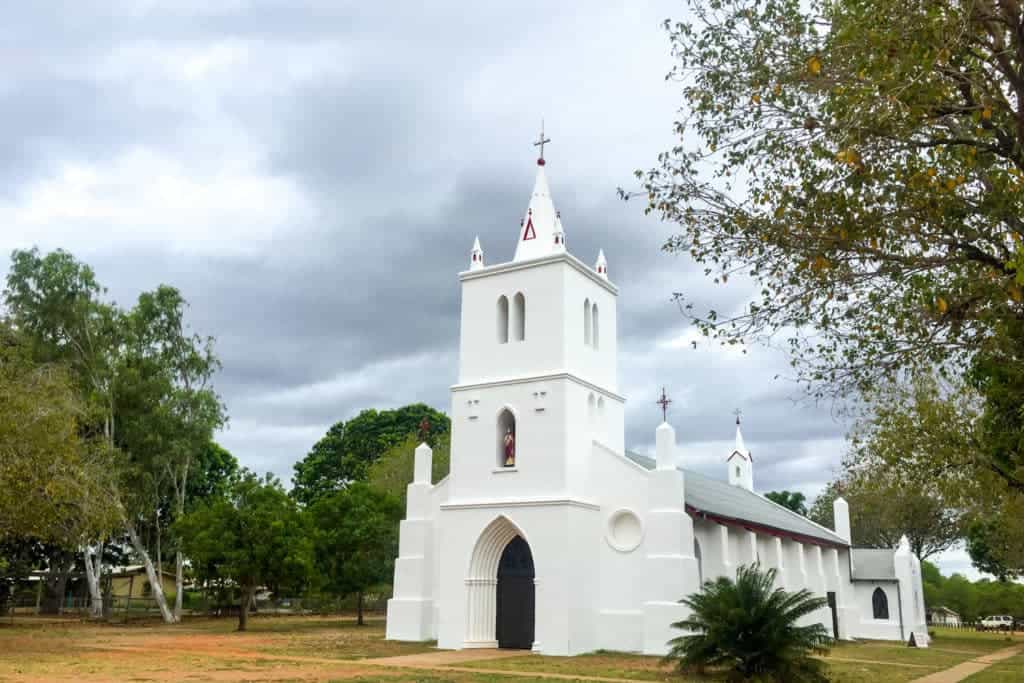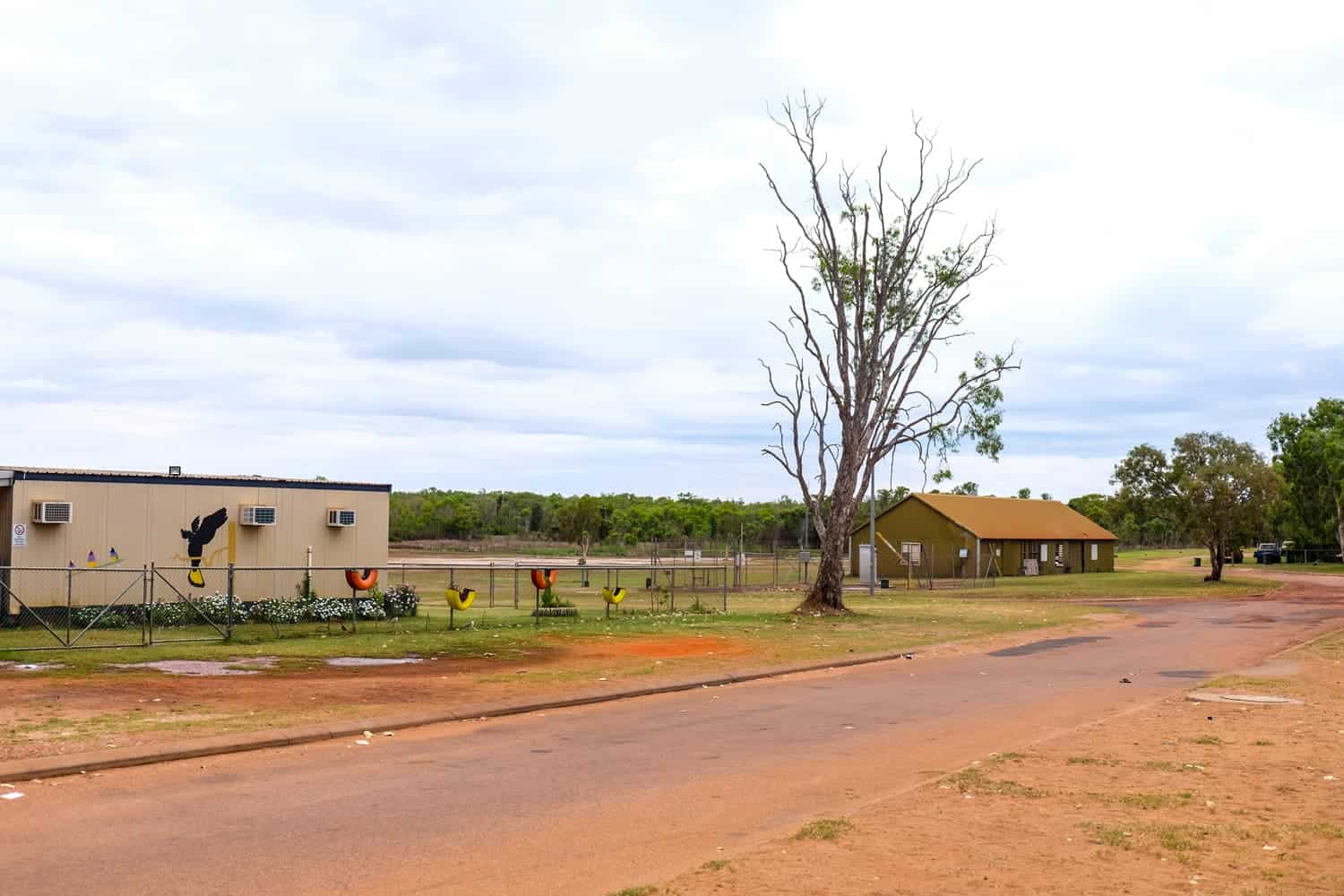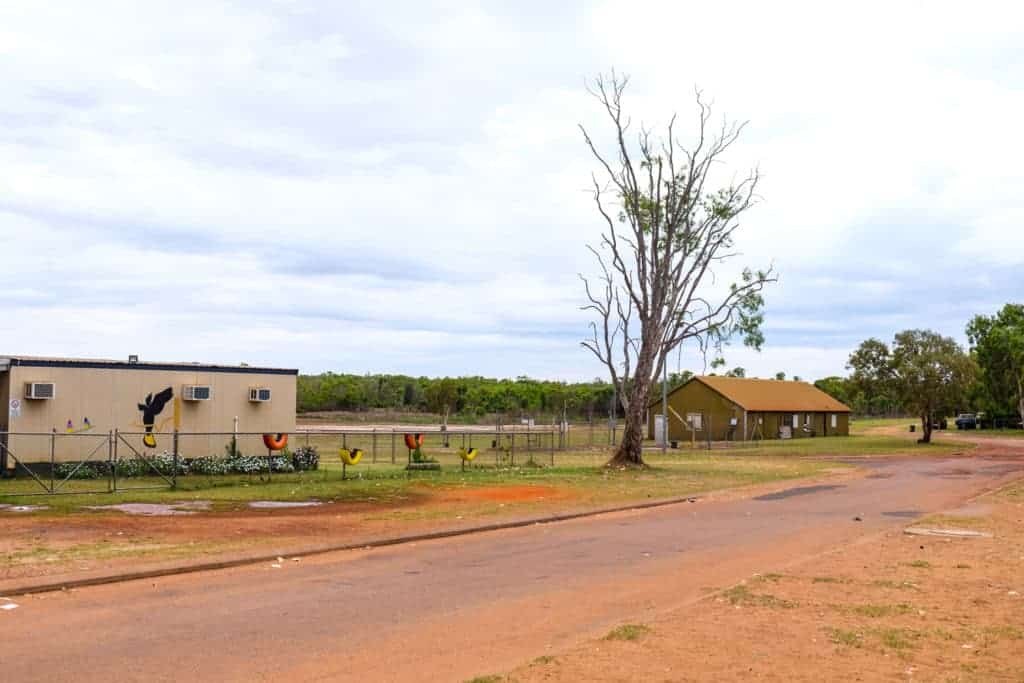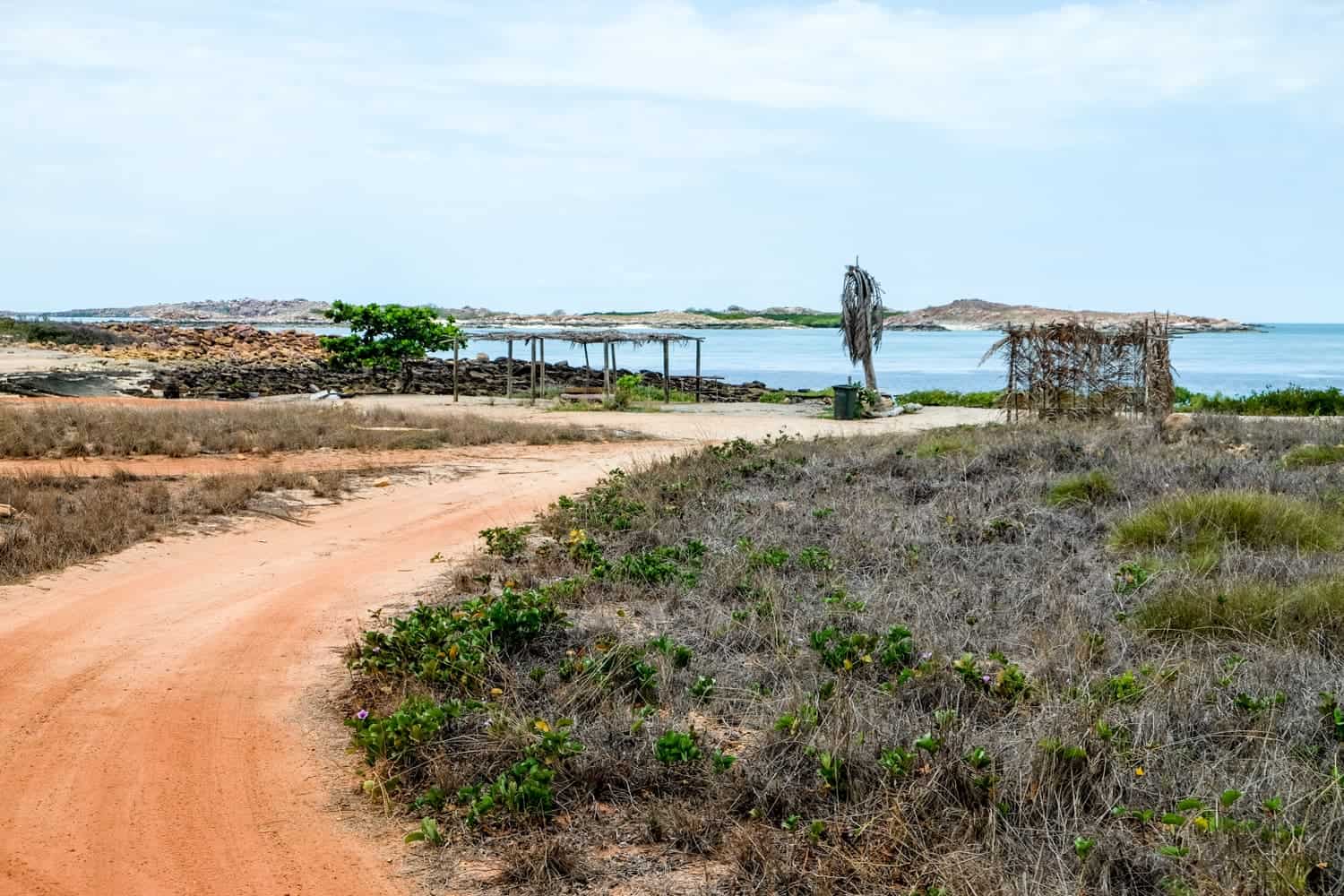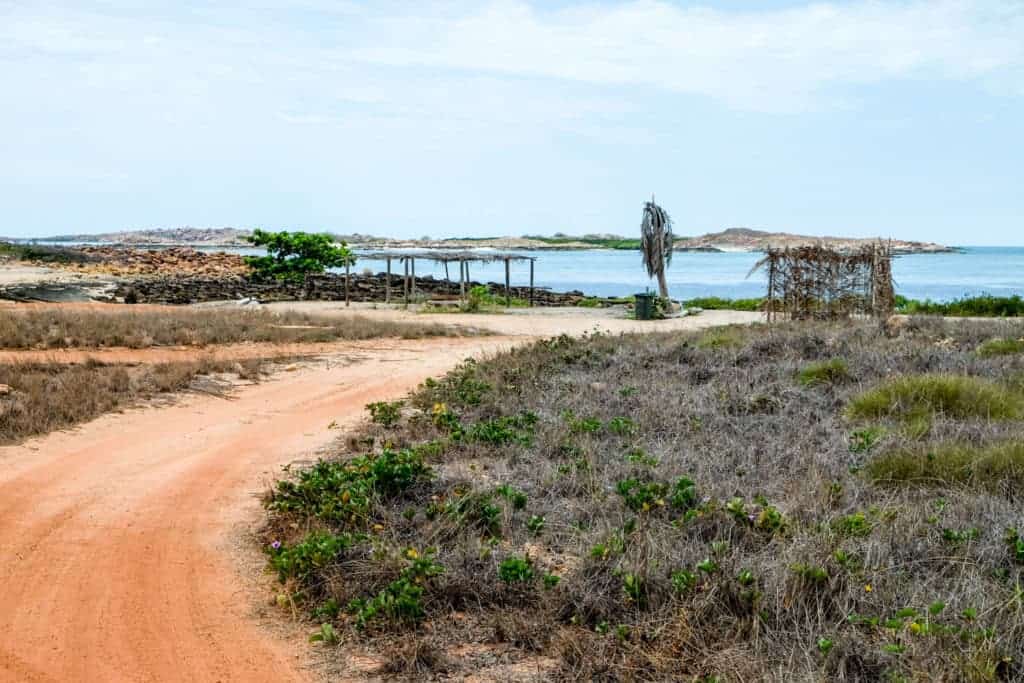 Discussion about travel in Western Australia and the Outback naturally leads to the accessibility of the area, the history of this pristine native wilderness and Aboriginal rights since it is a region cultivated, protected and owned by little more than 1,000 people in tiny clusters of Aboriginal communities.
I explore this in more in my article about paving the roads to The Kimberly and tourist access.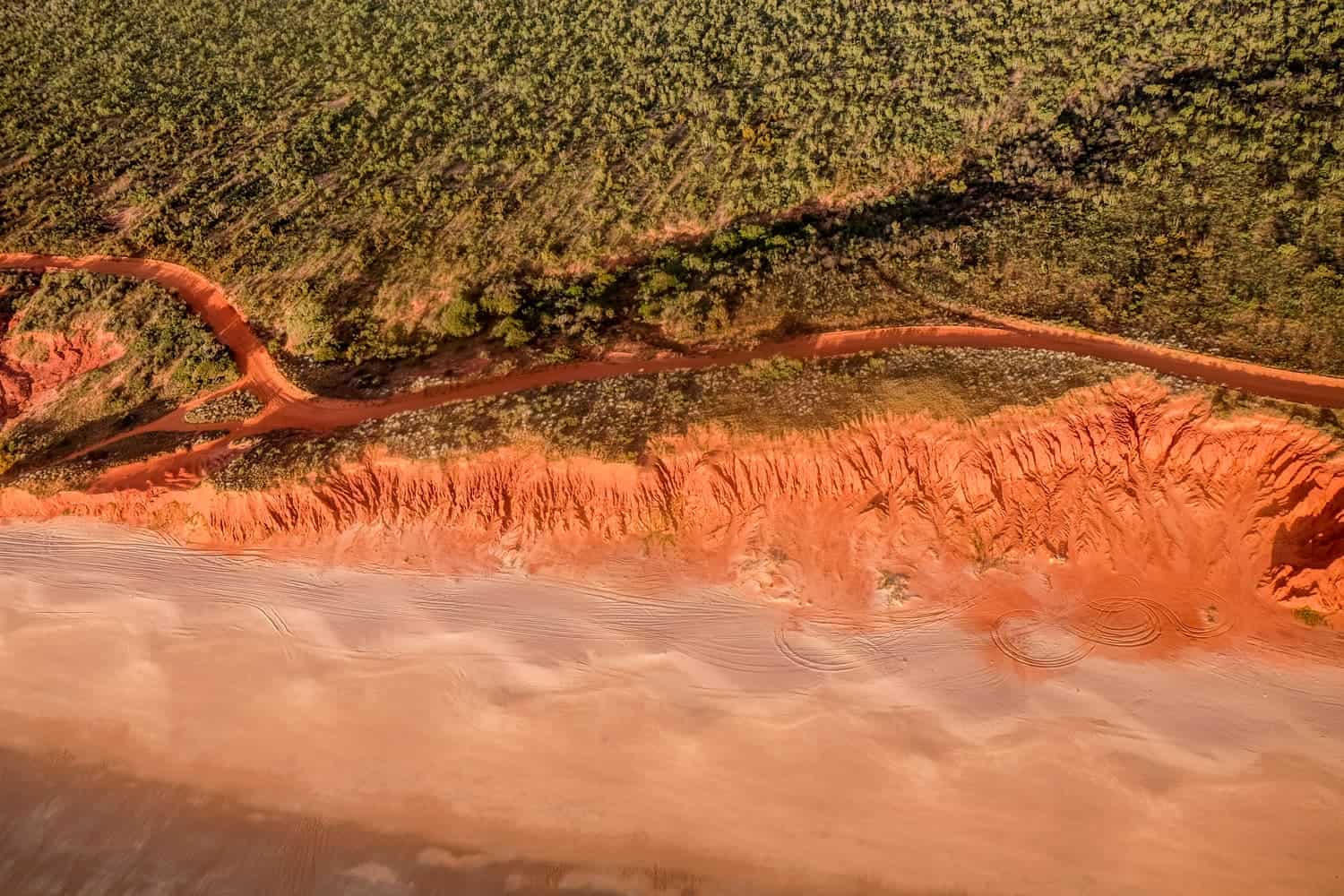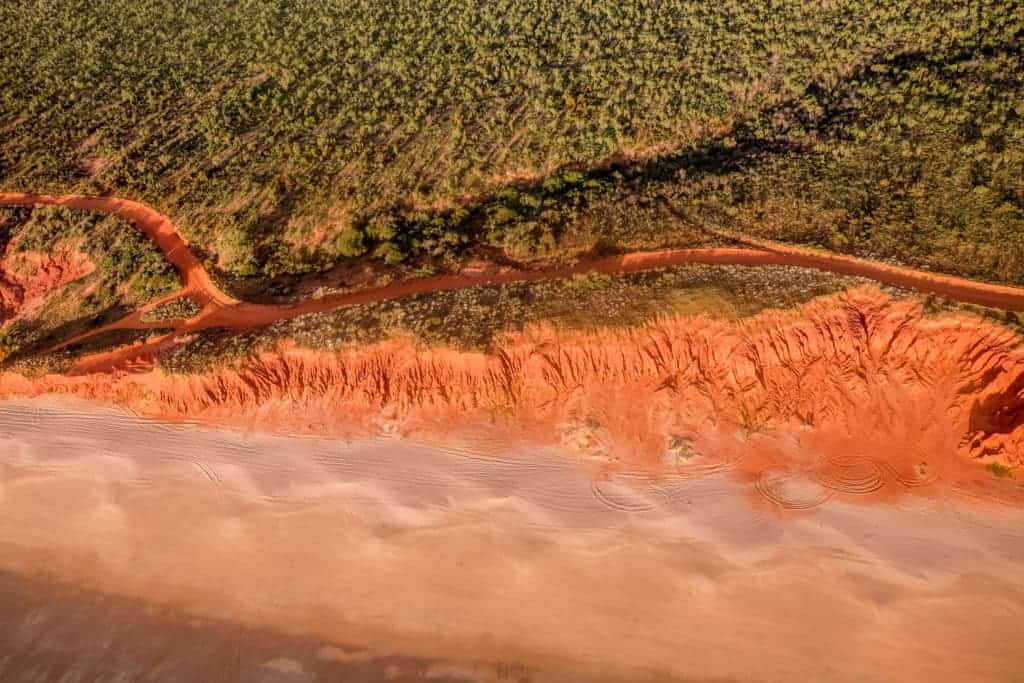 I flew back to Broome in a one-hour scenic Kimberley flight that started the Peninsula tip coastline of Cape Leveque, where you get to the swirls of colour and landscape of Australia's isolated northwest.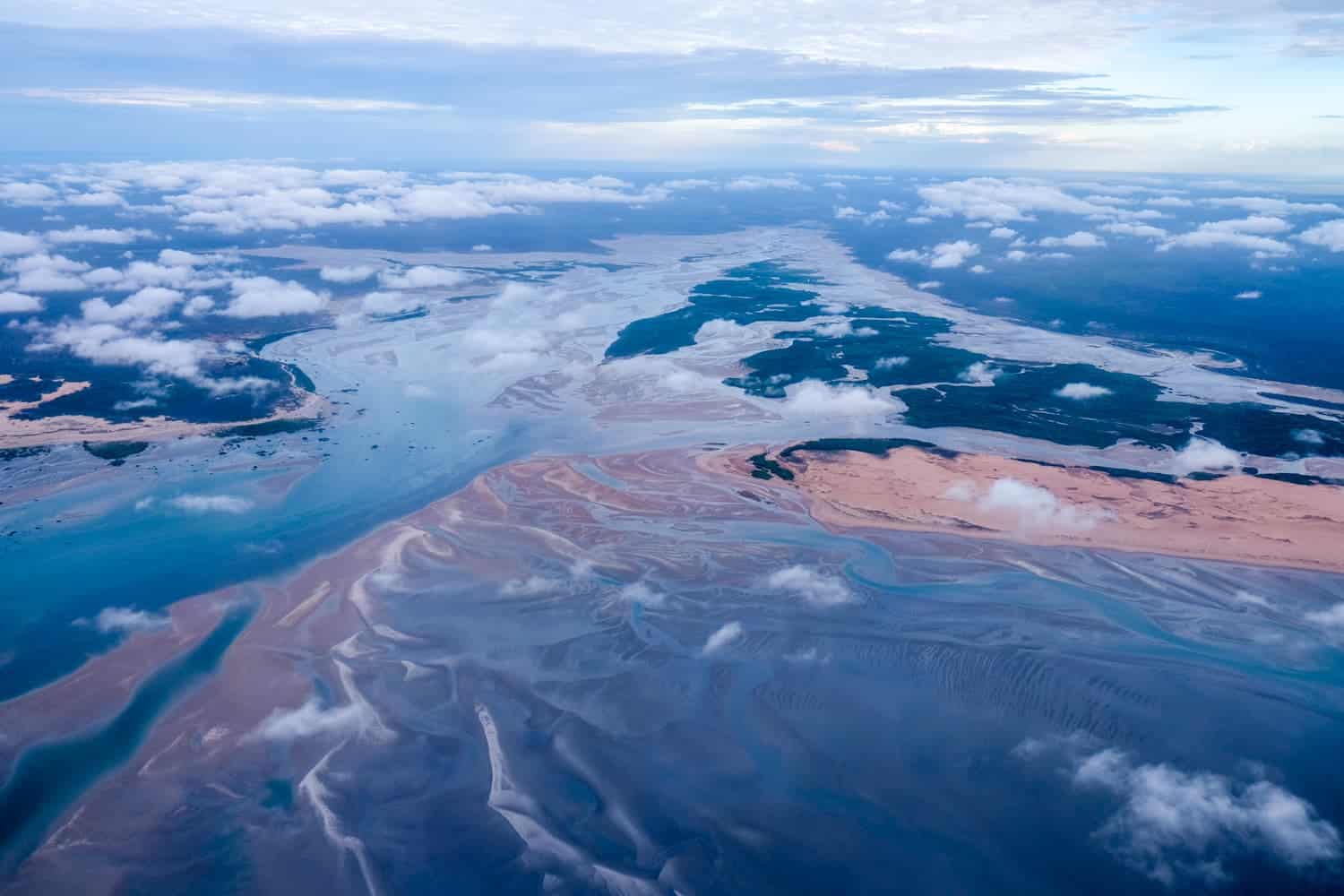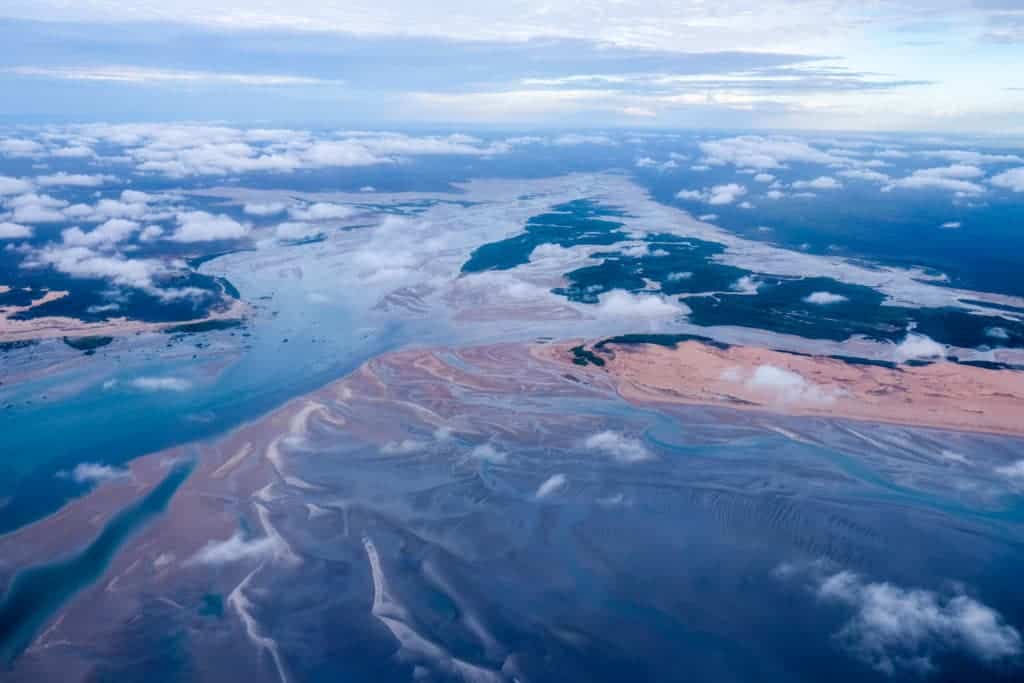 I talk about my time in Western Australia more than any other part of Australia, even though I only skimmed the surface of its continent size landmass. I'm now obsessed with returning to Broome and making inroads eastward through the state on a multi-week road trip.
One trip to Western Australia is just the very beginning, but enough to realise that there is more to this country on the underrated 'other side' than you ever realised.
Things to Know About Western Australia
How to Get to Western Australia
Internal Flights. If you are short on time and not able to embark on a long road trip between Perth and Broome (and the surrounds), then Qantas and Virgin are the go-to airlines that connect the cities. Also, look at Airnorth for deals.
Getting Around Perth and Fremantle: A CAT bus service (visitfremantle.com.au) and 25 minutes train from Perth. Tram tour, or easy to explore by foot.
We used the services of Perth Luxury Tours at some points of our trip, and mostly for transfer services. They also specialise in small, private customized tours, including inner-city, Fremantle, Kings Park, Swan Valley, Pinnacles and Margaret River.
From Perth, there are two sealed roads to the North – The North West Coastal Highway and the inland Great Northern Highway. From Broome, there is http://www.westernaustralia.com/the unsealed Gibb River Road to head east to Kununurra (the Gibb River is the main watercourse that runs through the heart of the Kimberly). There is also the road known as the Kimberley Aerial Highway.
Outback driving is not for the faint-hearted and is only for the most experienced off-roaders. Therefore, you may be better off joining overland tours, ranging from day trips to multi-week itineraries.
Best Time to Go to Western Australia
The seasons in Western Australia are much like the Mediterranean – hot summers and mild, dry winters.
Summer: November to April
Winter: May to October
See More of Western Australia
A state the size of Western Europe is no mean feat, even for the most avid of adventure enthusiasts. Here's what to do in Western Australia to factor into a longer trip or plan for a return.
My first choice is to overland from Derby (in King Sound) to Kununurra following the Gibb River Road – a classic outback drive considered one of the last true Aussie outback adventures. It was constructed in the 1960s to transport cattle and is now a 660km road through the beautifully wild Kimberley Plateau. The unsealed road links Kalumburu Aboriginal Community and Mission on the Northern coast. Derby was the first town settled in Kimberly (22km NE of Broome).
The Pilbara region. Checking out Karijini National Park (which is 2 billion years old), the Eighty Mile Beach Marine Park and following the Warlu Way drive trail following Aboriginal stories.
The Kimberley National Parks – Windjana Gorge, Tunnel Creek (Western Australia's oldest cave system), Wolfe Creek Crater (made frightfully famous by the horror movie of the same name but home to a 300,000-year-old meteorite crater), Geikie Gorge, Mitchell River, and Purnululu (the Bungle Bungle Range)