Disclaimer: This post contains affiliate links to handpicked partners, including tours, gear and booking sites. If you click through or buy something via one of them, I may receive a small commission. This is at no extra cost to you and allows this site to keep running.
Want to get across Canada by train? Here's an insight into the 12,500 km four-day Via Rail Canada train trip from Toronto to Vancouver.
"I used to spend many summers as a child taking the journey from Calgary to Vancouver. I always take this Via Rail train."
The dining car, in one of the many stainless steel rail cars of the Via Rail 'Western Continental Canadian', is where you'll hear the nostalgic tales that this 12,500 km rail journey has created. The four-day journey sweeping Canada, from Toronto to Vancouver transports more than four million passengers a year to various provinces or cross-country in one sitting.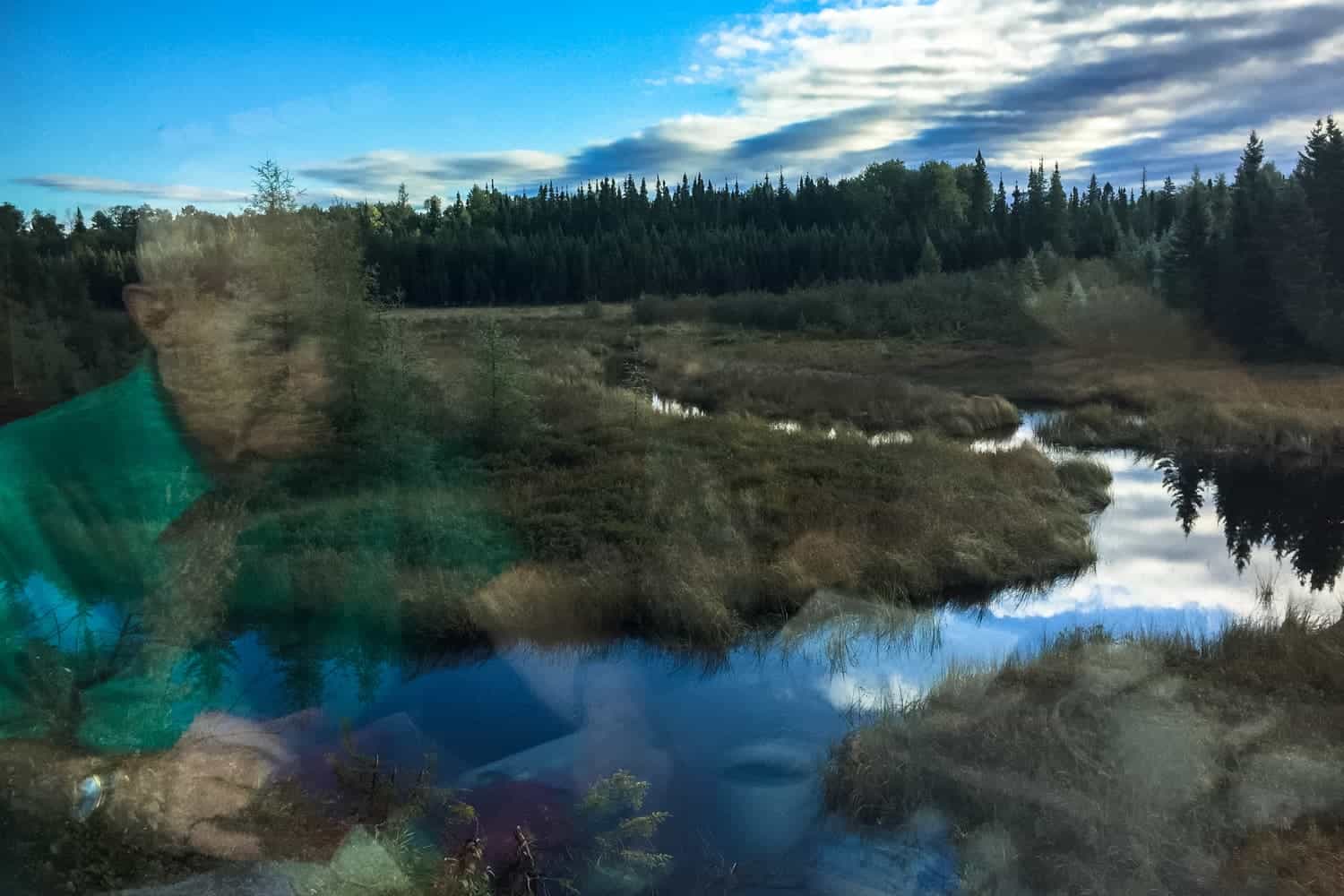 Despite the higher cost association in comparison to internal flights, the Via Rail in Canada has become more about reminiscence, than mere convenience.
From lakes and forests to flat prairies and the revered Canadian Rocky mountains – this is a journey that takes in a spectrum of landscape and adventures, depending on where you choose to disembark.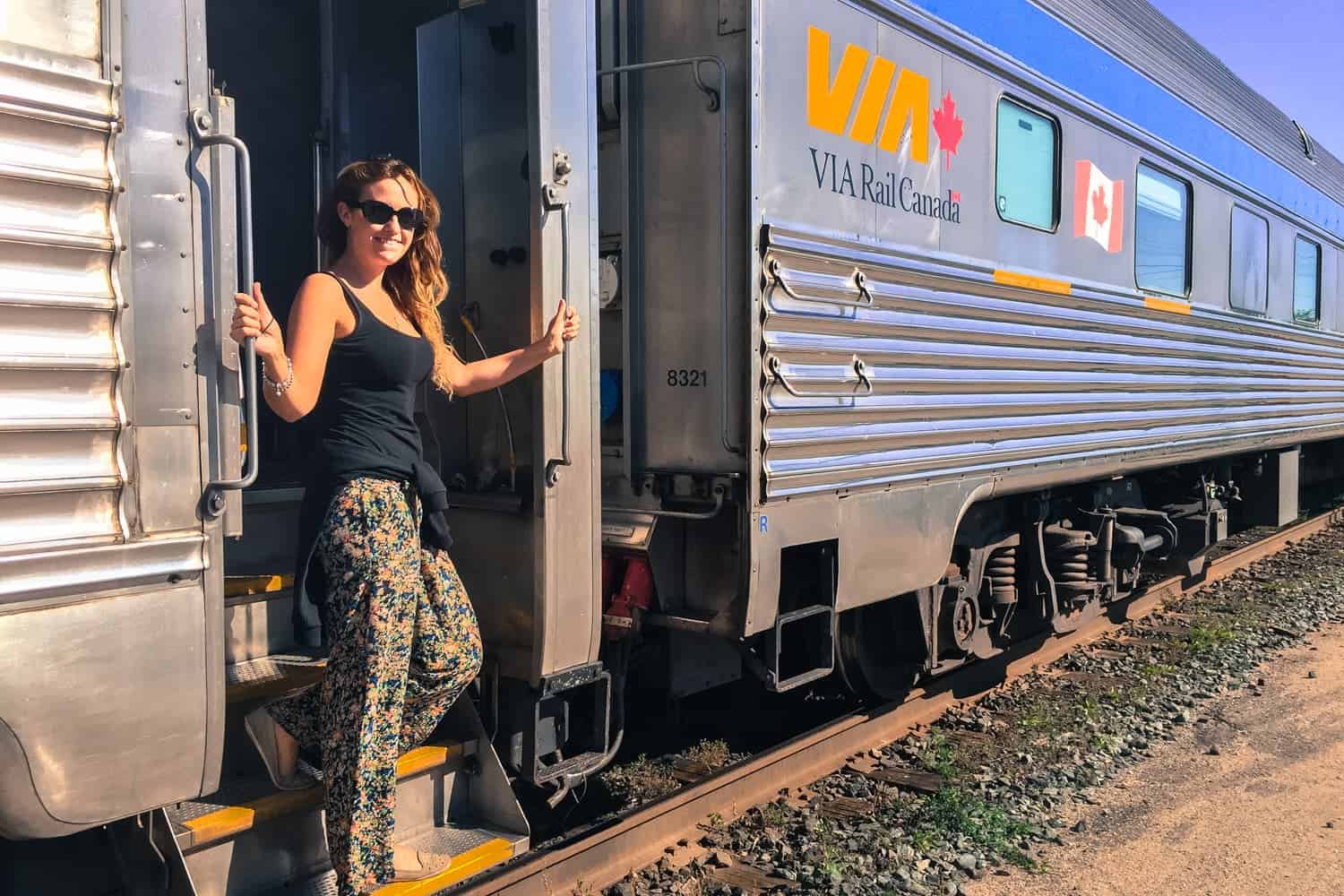 Via Rail Canada Train Trip Journey
The Starting Point of Toronto
I boarded in Toronto, a city that has become my starting point for many expeditions in Canada. With each visit, I uncover a new aspect of the city or see it from the eyes of a different local friend with hearty brunches, long walks, and classic Canadian bars with multiple beer taps and sports on huge TV screens. I walked 22,000 steps in exploration, finding Toronto's inner-city green spaces, and stayed in the city's biggest hotel, The Chelsea – all in preparation for my more leisurely quest and compact train cabin hideaway.
My last visit to the capital marked the start of a road trip to Quebec, and this time I would switch the pace and mode of transport, with the Via Rail starting point at the Grand Union Station, and head in the opposite direction – west.
With a late boarding time of 10 pm (and on time if you are lucky!), the Via Rail train falls silent as everyone is shown to their cabins and settles down to sleep, eager to wake early and open the window blind to the picture-perfect scene.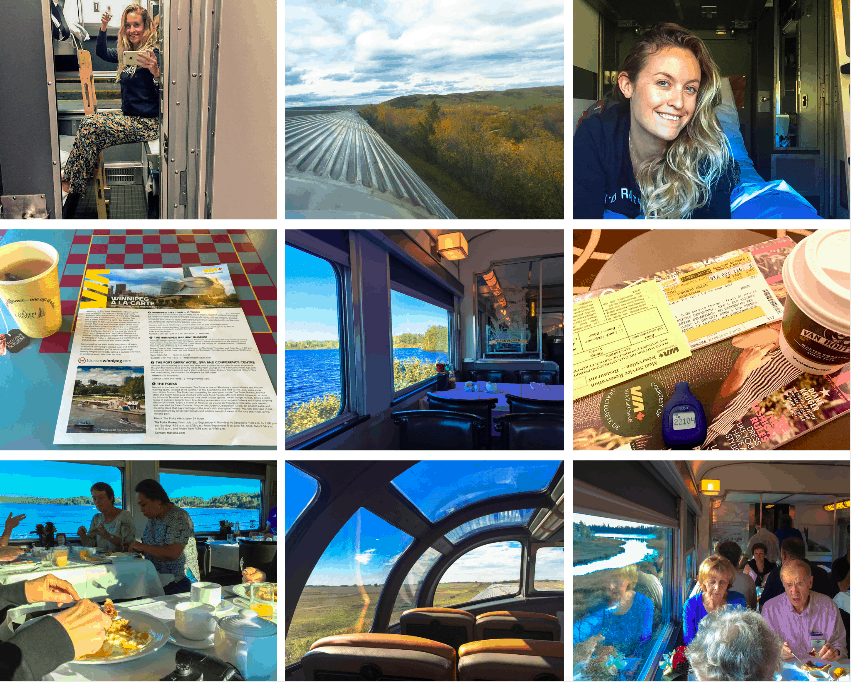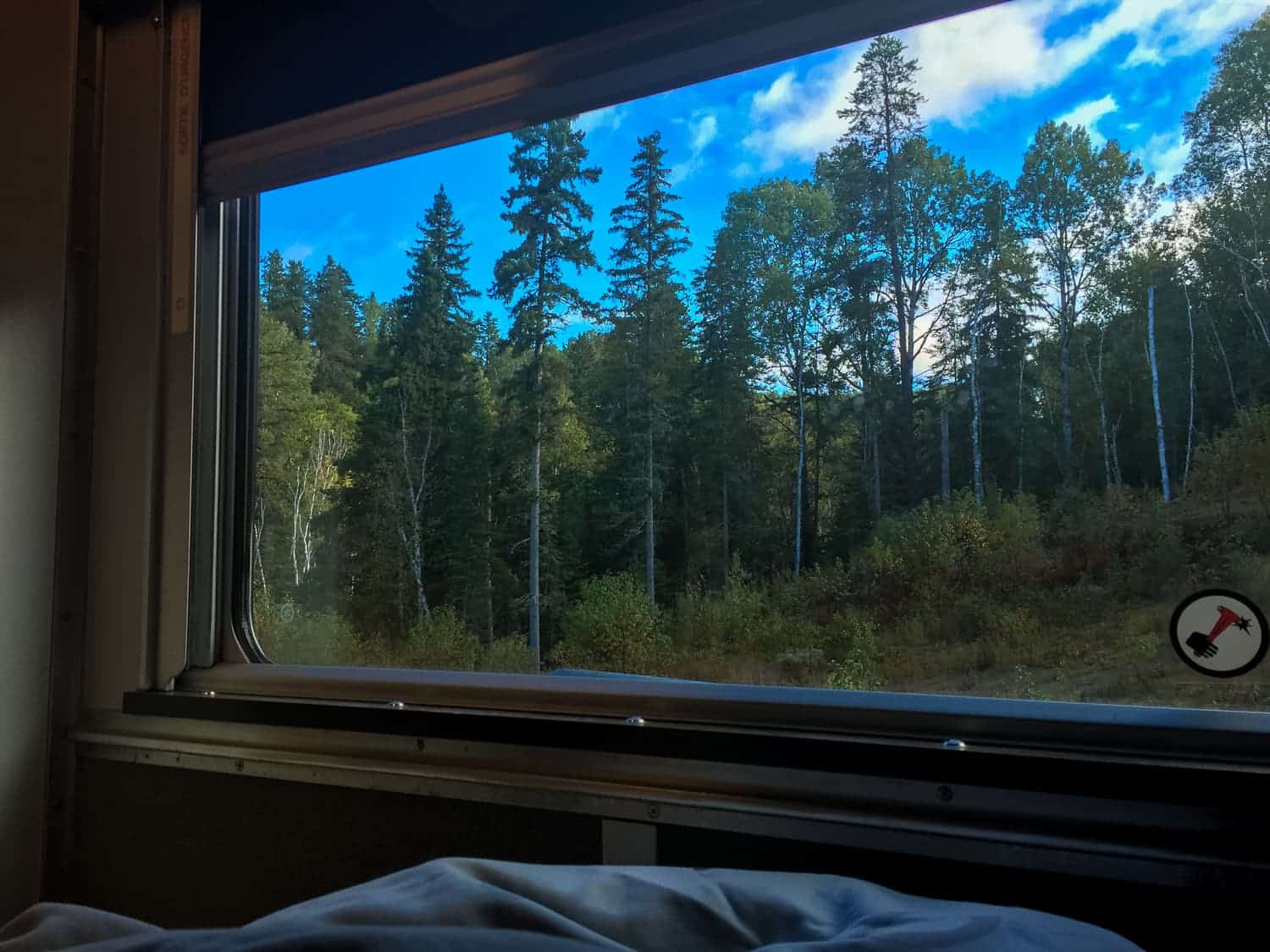 After 24 hours we were still only halfway through the province of Ontario. At times it was a blur of blue and green until the train slowed and you could see an endless plain of lakes and trees and clear skies. Pools of blue would appear, the most saturated of greens would block the view of afar and long trees with narrow white trunks looked like a majestic forest.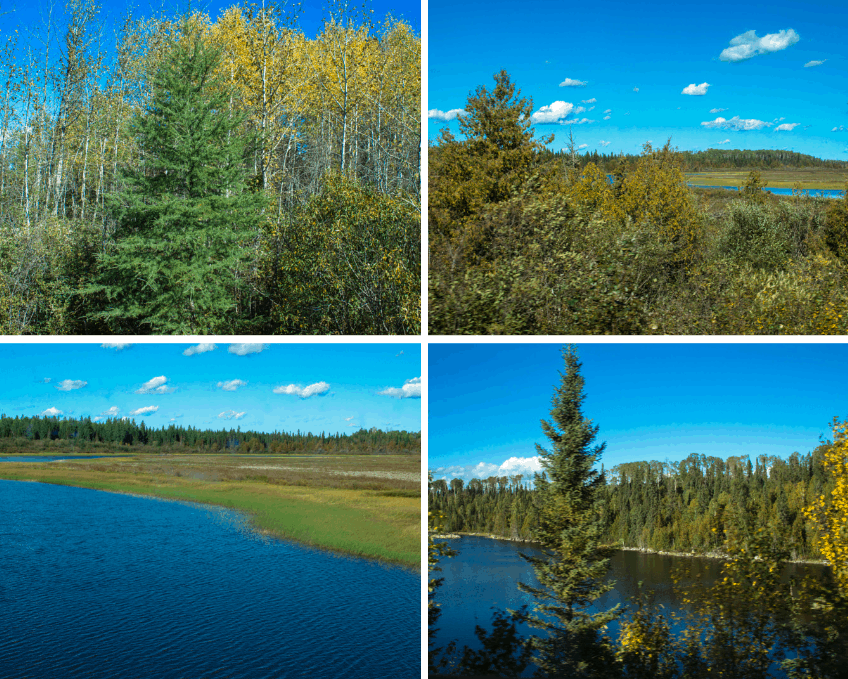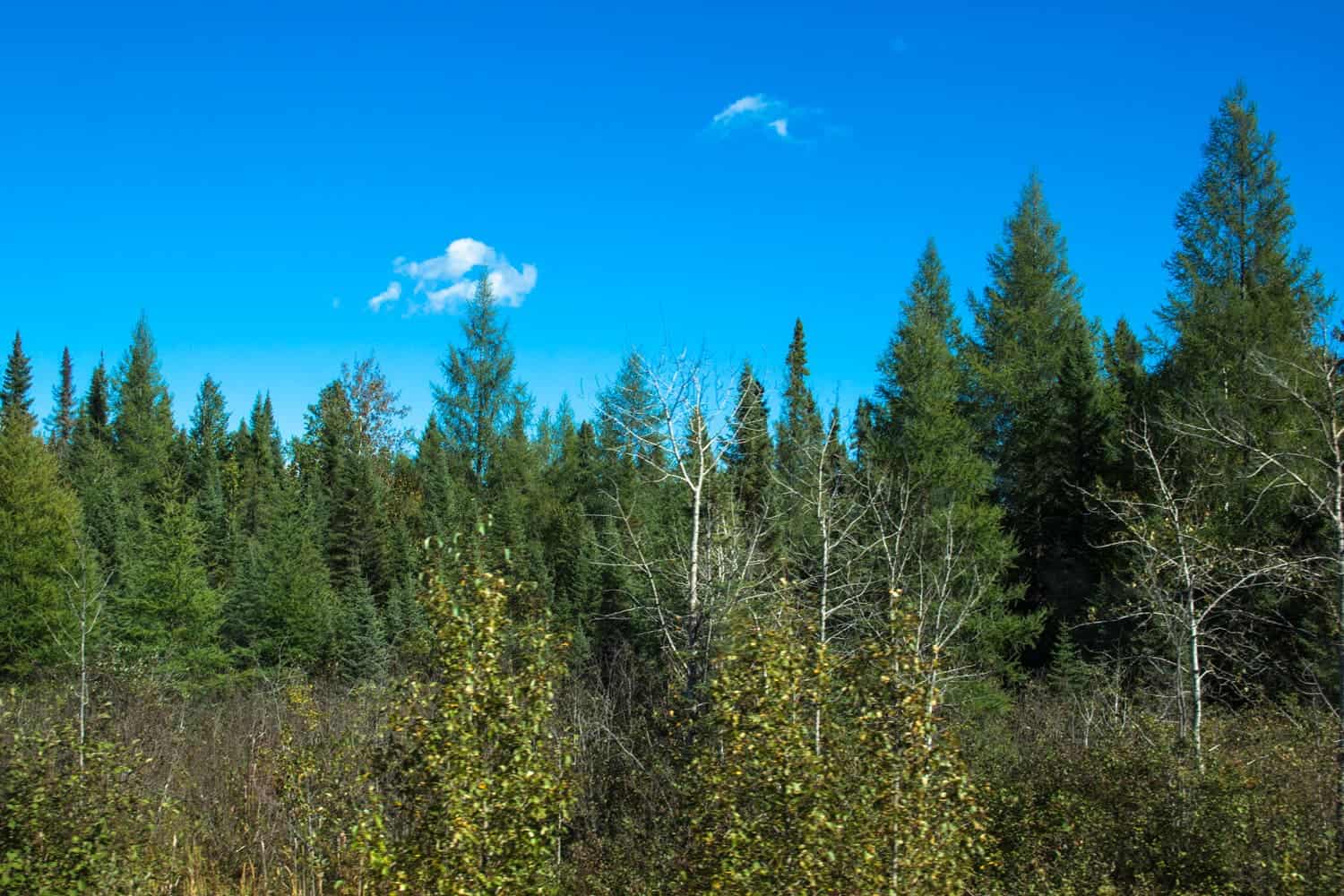 People Make Memories: Via Rail Stories
Each day I was seated with strangers who instantly become friends through the exchange of stories of your journey and why you had chosen to take the Via Rail in Canda. Mostly Canadian passengers, many are visiting friends and loved ones on opposite sides of the country, while others ride it every year (as part of a vacation) and impart knowledge on the best places to stop off.
But mostly, everyone tells the stories of days gone by; of childhood and connections kept alive by these grand journeys. With the first transcontinental train departing Montreal and Toronto for Port Moody on June 28, 1886, there are a lot of stories to be told.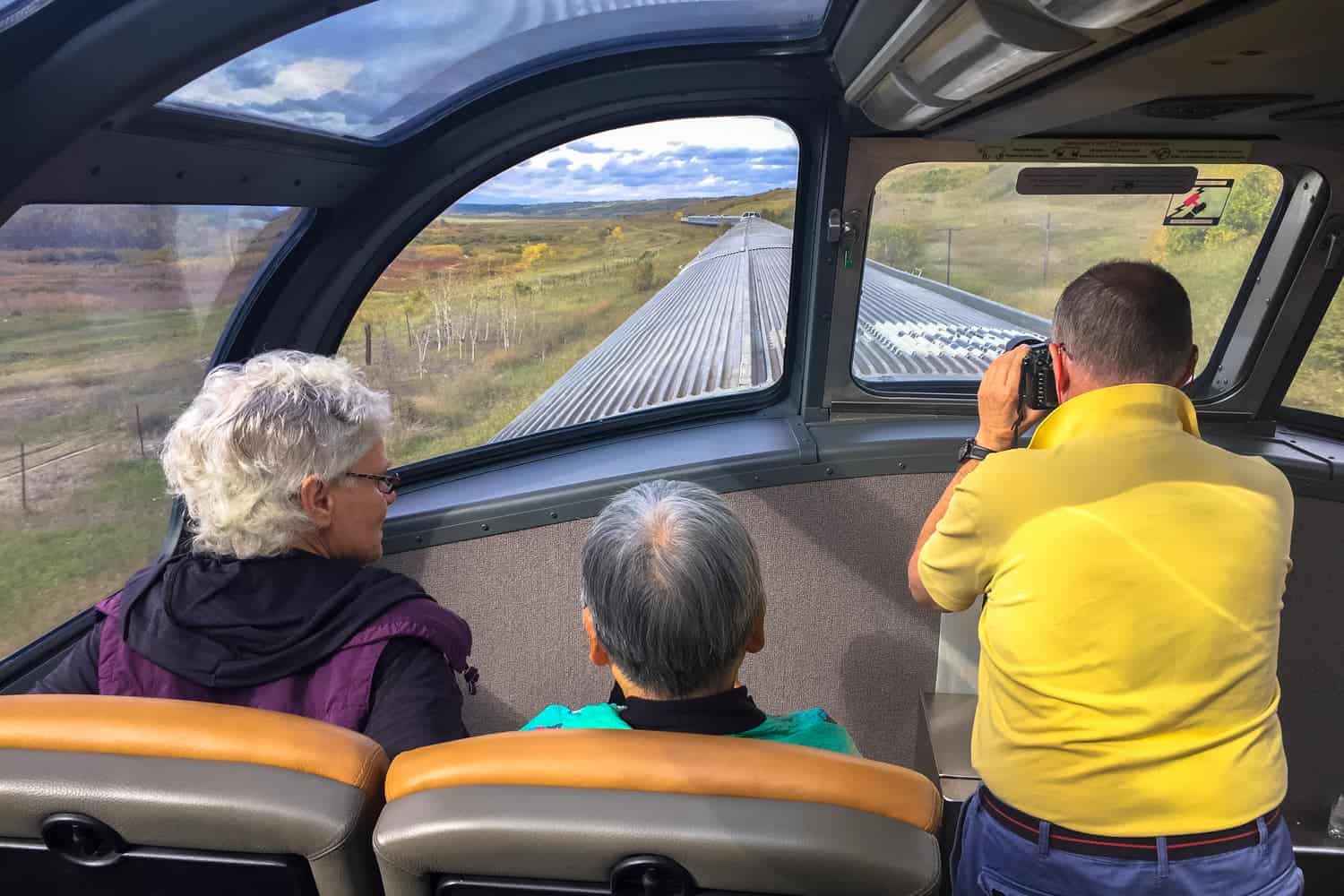 On my second day I was seated with three other women of various ages from 50 to 70 – a lot older than myself. I never left that same table until my very last stop. If a long train journey teaches you one thing, it's how to absorb the wisdom and experience of others.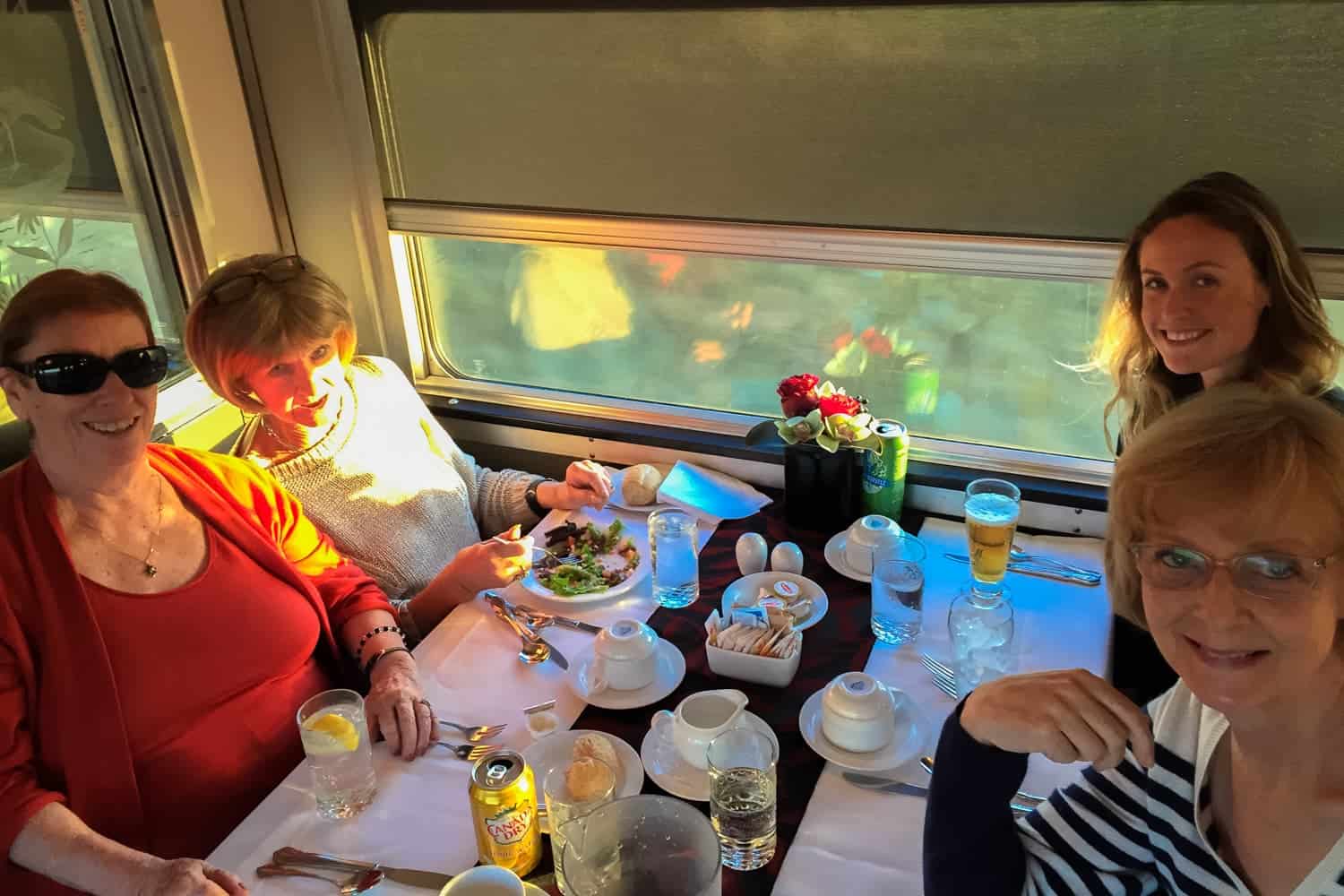 Time forced with people whom you wouldn't necessarily come into contact with on a day-to-day basis teaches you a lot of perspectives. From heartbreak and bereavement to life advice over wine in the viewing cabin and hilarious stories around the dinner table, those three women formed a huge part of my train experience.
While Canada's beloved Via Rail desperately needs a younger injection of adventure seekers in order to compete with the more intrepid Trans Siberian and Eurail, you will still find colourful characters, no matter what their age.
Day Tours with Via Rail: Visiting Winnipeg
The Via Rail journey has a three-hour stopover at Winnipeg to refuel and change staff, there is the option to make the most of it. Tourism Winnipeg offers a two-and-a-half-hour bus tour for $30, to get a taste for the city (whose modern-day wealth is built on its railway heritage) and a brief introduction to the capital of Manitoba. Winnipeg is the geographical centre of North America, not just Canada, so it is fitting to explore a place that lies exactly in the middle of the journey.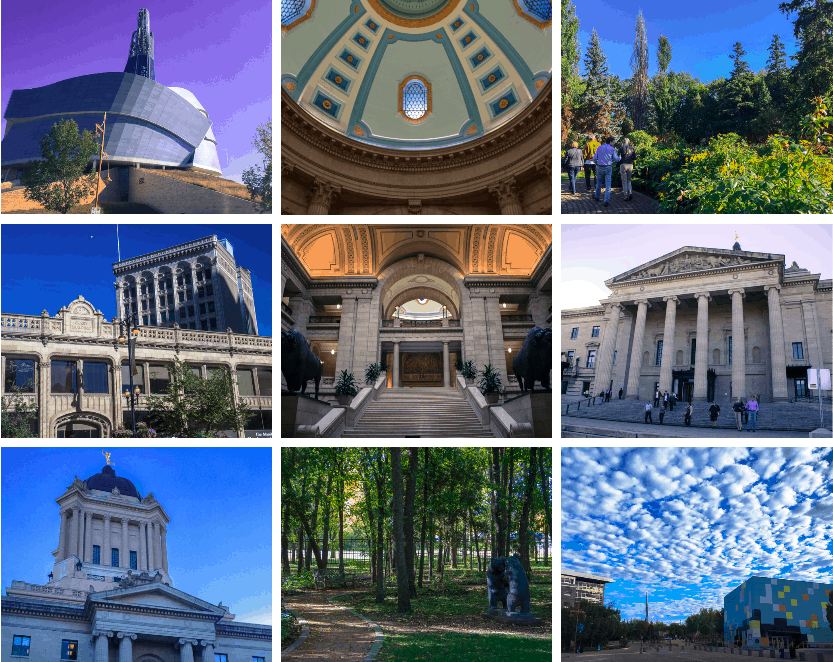 A compact city, with hardly any high rise buildings and crazy city bustle, it is a city that (despite its previously negative reputation) struck me as very neat and ordered, and with a slightly artistic flair.
The bus trip passes the new National Museum of Human Rights and makes its first stop at the Manitoba Legislative Building, which was modelled on the Parthenon in Athens and built with Winnipeg marble.
You also drive through the mansion lined Osborne neighbourhood and the wealthy Wellington and Academy Roads with their trendy cafés. A short glimpse of the French Quarter neighbourhood and a final stretch of the legs wandering Assiniboine Park (the city's largest green space with manicured and sculpture-filled gardens) ends the compact tour.
Visiting Saskatoon, Saschatewan
"My memories of Saskatoon are from my childhood. I would stay with my grandfather. We read by candlelight, milked the cattle and watched the tumbleweed grow over the prairie. I would travel from Ottawa to Saskatchewan by locomotive. Now those are museum pieces, much like me."
I was eagerly awaiting my Via Rail scheduled stop at Saskatoon. Not only was I intrigued by the shock of people when I said I was going to stop there, but I would be met at the station by one of my closest friends – a local. It would be my turn to create memories I would one day pass on to passengers on a future Via Rail journey – of my cowboy experience horse riding out in the river hills of the untouched prairies, to the serene hours-long car drives between the two cities of Saskatoon and Regina.
READ MORE: Places to Visit in Saskatchewan – Canada's Misunderstood Prairie Province.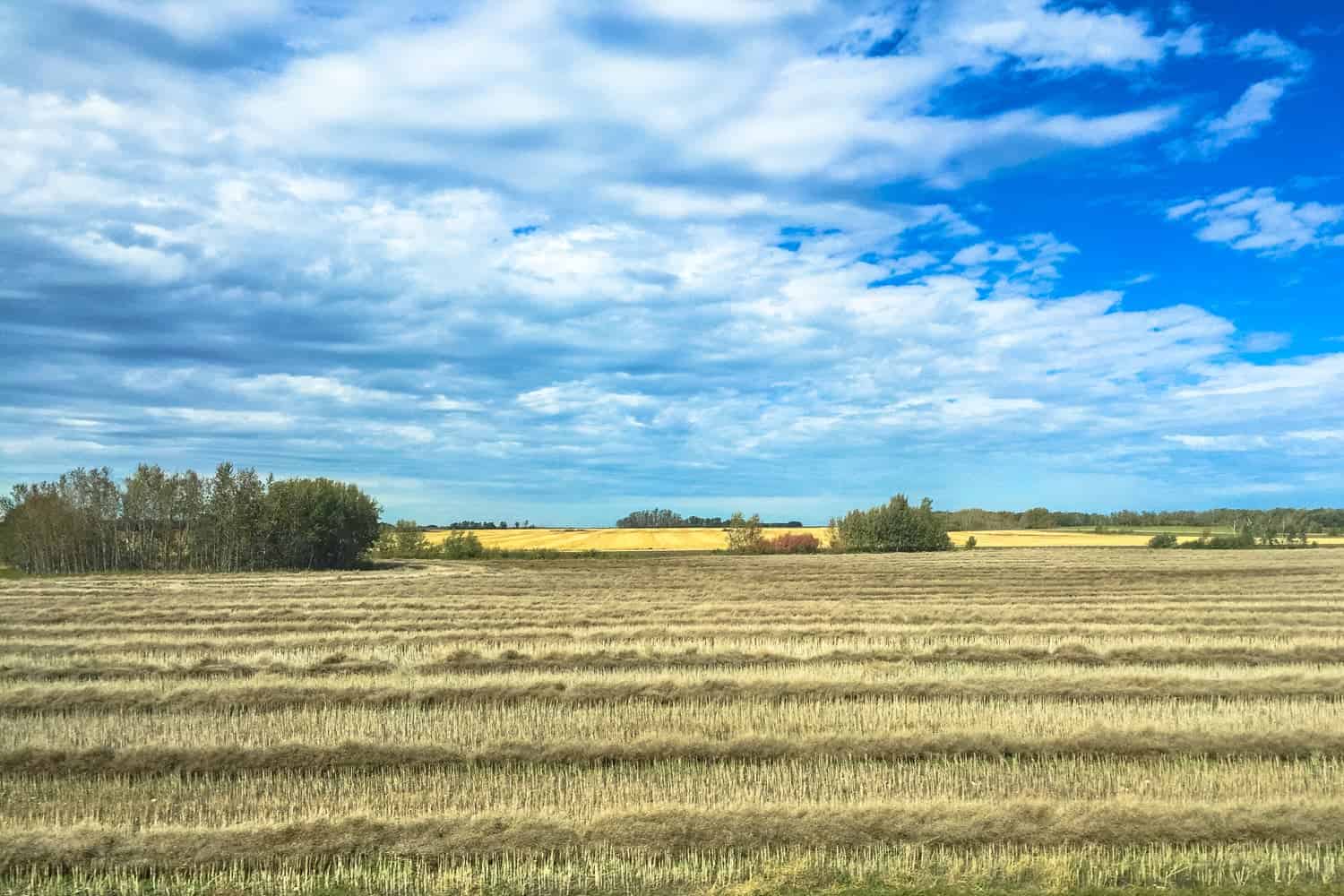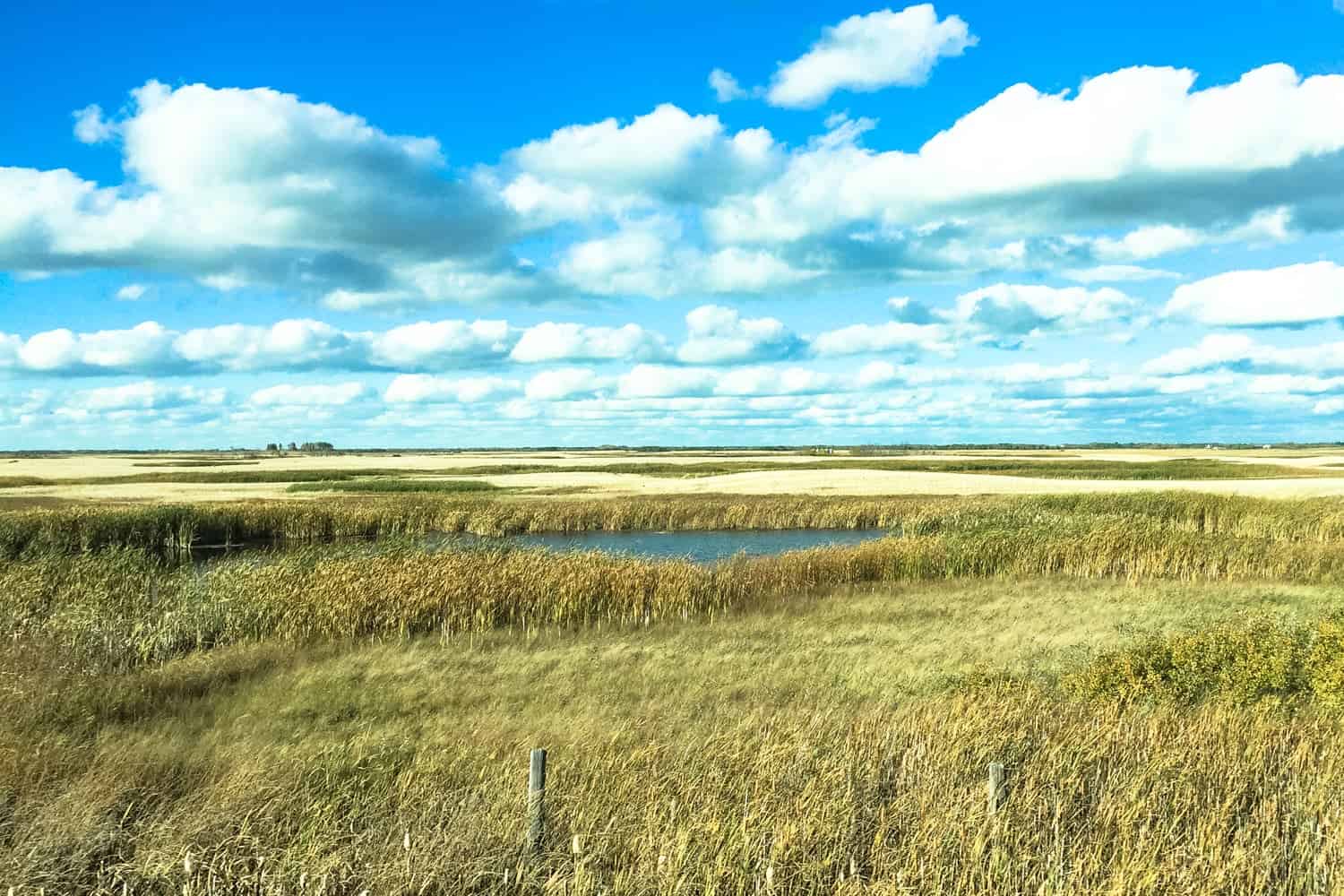 Continuing to Edmonton
Jumping back on two nights later at midnight, to a new Via Rail cabin and a new cabin rep (I missed Claude on my first leg, who was my human alarm clock and gave me extra chocolate), I woke up in a new province – Alberta. A line that cuts through the forest at high-speed, it's hard to imagine the enormity of the ground you are covering, but this was my final scenic picture before alighting at my final station stop of Edmonton – the capital and a quickly emerging city with a young vibe, and a growing artistic and culinary scene.
READ MORE: Things to Do in Edmonton, Alberta – The City of Modern Revival and Living History.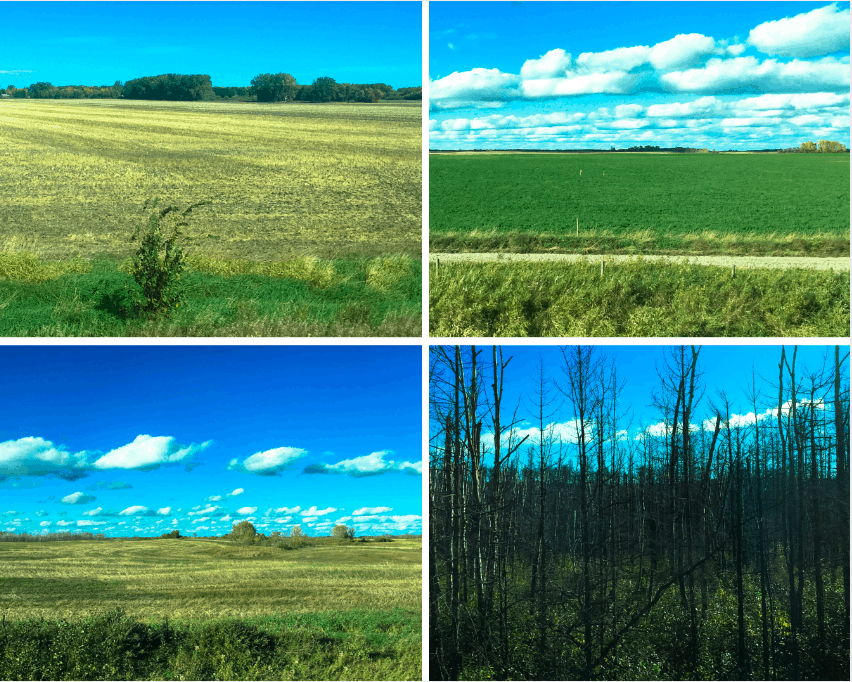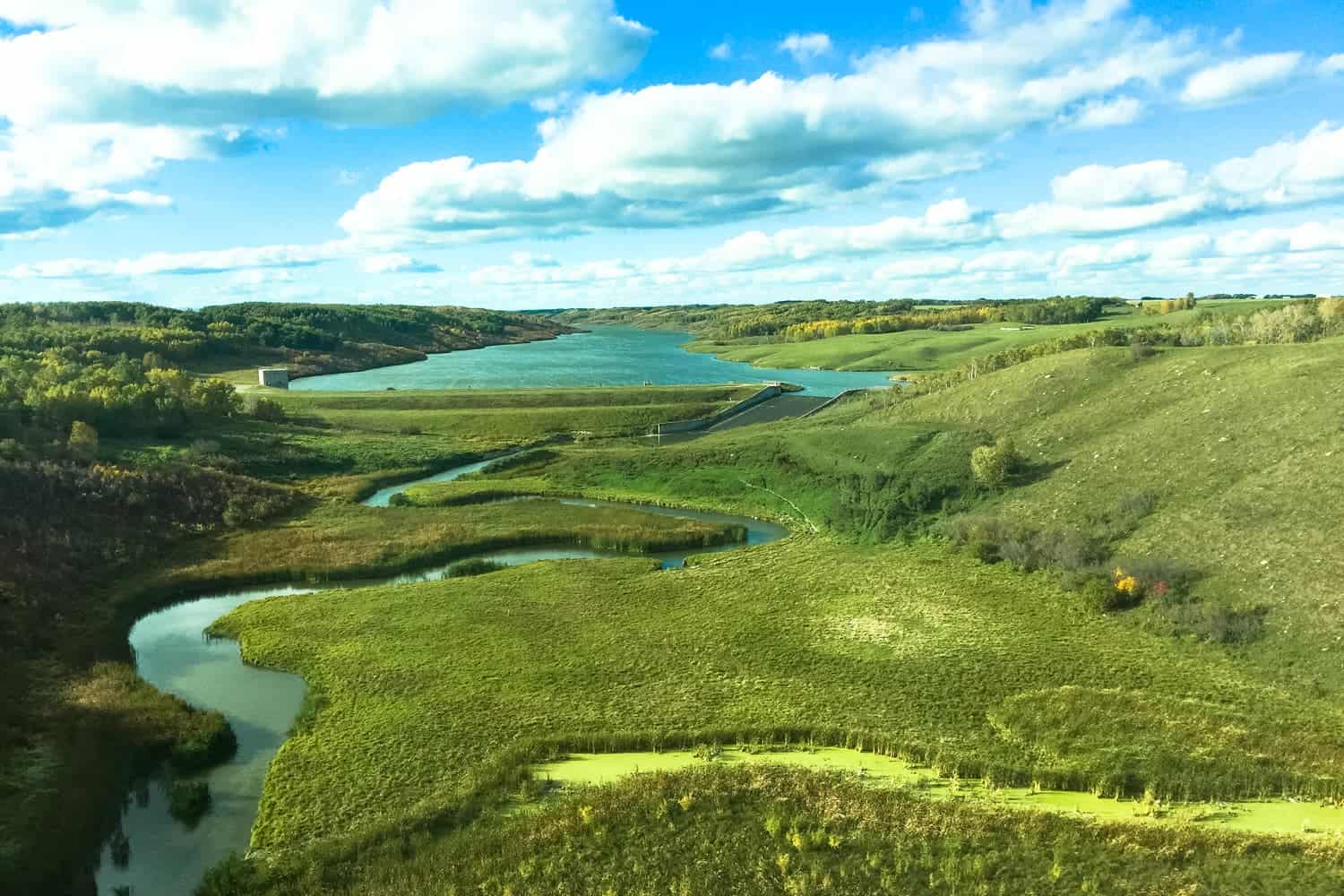 Edmonton to Vancouver Leg
I bid a sad farewell to the Via Rail train as I slowly walked along the platform at Edmonton and into the dawn of a new destination. Sad to say goodbye to new friends, as we all disembarked one by one at different places. A sentimental melancholy as their stories would continue as a whisper in the air while the train would finally curve through the Rockie Mountains and into Vancouver, British Colombia.
I would later end my trip nearby, cycling along the route of a historic cycle trail, a fitting end and a full circle journey along Canada's extensive railway network, with stories that span a timeline of a century.
READ MORE: Cycling the Kettle Valley Railway Trail in British Columbia – A Journey to 1915.
For visitors like me, the Via Rail was a journey across a vast country where I was just starting to create my own stories to last a lifetime. For many, the train was a way home. But we all shared one thing in common.
That we had the chance to ride the infamous Canadian railway.
Things to Know About Train Travel in Canada
The Via Rail train in Canada is officially known as the 'Western Continental' Canadian. The journey from Toronto to Vancouver (if you do not disembark at any station) takes four days.
Prices of Via Rail ticket start from $699.00 (Canadian dollars) for long-distance journeys. A breakdown of prices and how to enquire about specific routes and fares can be found here.
First, you check in your luggage where you are given a tag with a unique number (very much like the bellboy services in hotels). Those with an overnight cabin wait in the business lounge, where your ticket is scanned and you are directed to the staff looking after the 'service seating'.
Food on the Via Rail: On the journey, you have three set time options for breakfast and dinner to choose from, and that remains your sitting for the entire journey. The food onboard is of a high standard, with a three-course dinner meal serving. Alcohol is not included in the price.
My three-day train adventure (split up with my own two chosen destination stopovers) was in conjunction with Via Rail, who kindly provided my ticket and Destination Canada who helped facilitate the partnership. All opinions of a self-confessed train geek remain my own.