Disclaimer: This post contains affiliate links to handpicked partners, including tours, gear and booking sites. If you click through or buy something via one of them, I may receive a small commission. This is at no extra cost to you and allows this site to keep running.
Travel to Athens is about understanding how misunderstood Greece's capital is, in that people cite initial disappointment in finding a city whose grittiness and edginess doesn't live up to the expectation of a city entirely coated in classical Greek architecture. Yet, to visit Athens is to see a reinvented city beyond its ancient and troubled past. That while its classical highlights are a historical must-see, getting to know the city deeper will leave you with a better understanding and overall experience.
Athens is one of the world's oldest cities, steeped in over 3,400 years of history. It's where modern-day life as we know it started – seen as the cradle of civilisation, the birthplace of philosophy and where democracy ignited.
It's a city that has been continuously occupied, destroyed, rebuilt and reinvented.
Athens Travel and the Greek Debt Crisis
More recently, economic turmoil is what has blighted Greece and its capital. It's branded by it. We all heard about it and watched it happen; we wondered if it was ok to visit and if our holiday investment was worth it. In reality, people never gave up on visiting, contrary to what was heard or advised.
Athens remains pivotal to its recovery and with this is home to a start-up generation and artistic regeneration – a space that is changing, thriving and carving its mark as an emerging European hotspot. In 2013, as the 'crisis' was still in flow, nearly 18 million people visited the country, and 2.6 million travellers visited the city of Athens. With a total country population of around 10 million people, that's a lot of visitors to a tiny nation who needed the support.
Just as it has happened many times before, what's happening here now is a revival. Greece is a fighter, and Athens is at the helm.
Athens needs travellers. Greece needs travellers.
Why You Should Visit Athens Now
Not everything is as black and white as we think when we hear something negative about a destination – having the time to dig a little deeper uncovers a whole new side to it.
Athens is quickly moving towards becoming one of Europe's most exciting and lively contemporary cities.
When you are planning Athens travel, factor in more than a 24-hour stay for the desired rush to complete a quick Things to Do list based on some of the ancient sites, it's easy to do that. Still, after living there for two years, I've pulled together this Athens travel guide to encourage more in-depth travel.
It's a checklist of what to see, what to do and how to get around. It's also about how to make the most of the locals who are happy to impart their knowledge so that you can get the most out of a stay here.
With the aid of the distinct hospitality that Greek people are both known for and are very proud of, Athens, and Greece as a whole are more open for your visit than ever before.
How to Get to Athens – Getting There and Away
Flights to Athens
While it's sometimes necessary budget-wise to travel via Europe's budget airlines, I've also flown to and from the UK and within Greece with its national carrier, Aegean Airlines. Price-wise, Aegean is a little more expensive than the budget airlines you love to hate, but you pay for comfort and an overall (much) better service. Aegean also gives you sweets and cookies on board, so it makes it hard not to like them.
Internal flights from Athens to Thessaloniki and nearby islands such as Skyros and Santorini start from around €29 each way, which beats hours on a ferry for a similar price. Of course, use Athens as a city base to visit the hotspots of Greece, as many do, but don't neglect it. Give yourself time on either side of a mainland or island adventure to see the city properly.
Athens Airport to Athens City Centre Transport
The connection to the Athens Metro is well-signposted at the airport and costs €10 (a special airport-travel ticket is required). If you are a curious soul like me, you can people watch on the carriage and stare out the window for over 15 stops – it's the same line (number 3) to the Monastiraki stop.
A taxi to and from the airport to the centre of Athens is €35, which is a handy cost to split if you are sharing, carrying lots of luggage, arriving late at night or are averse to taking metros.
If you want a taxi journey that's a bit more insightful and helpful, you can book a ride with a local with Welcome Pickups. It's the same cost as a standard taxi, but with an Athenian touch – ask questions, get recommendations and make an instant buddy in the city (all drivers are verified). You can download the app here, which makes finding and contacting your driver a little easier.
For a longer and more city-view journey, the X95 bus takes you to Syntagma Square for €6. The bus stop is right outside the arrivals hall – follow the signs.
Transport in Athens
I will get this out in the open now – I'm a metro geek, and any city that has an underground transport system gets my vote, and I always have to try it out. Now, it's not an extensive network like London, Berlin or Tokyo, but it doesn't need to be. Athens has three lines connecting you the far reaches of the city, including the airport at one end and the coastal areas and port of Piraeus (for island ferry connections) at the other. It's one of the cleanest, efficient and easy to use metros I've ever used and it's very cheap – at €1.40 for a single fare, €10 for a five-day unlimited pass and €30 for a month.
The transport network has recently launched an app allowing you to load your phone with pre-paid tickets, saving on paper tickets, and which you activate as and when you need.
Much like every other city I have travelled in, Athens is not devoid of game-playing, rip-off drivers. Most of the time, I have had no issues, and always insist on the use of the metre. However, the introduction of the Beat taxi app (essentially the city's version of Uber) has been very reliable, great value for money and I've always felt safe. Some of my best conversations have come from these drivers, too – some real characters with great stories to tell.
Best Things To Do in Athens – Travel Sightseeing Guide
See Ancient Athens
It would be all to easy to list the classic sites, but they are the must-sees easily found in all guide books, and there is no way you are going to miss the Acropolis, with its stunning modern museum and the surrounding archaeological areas.
The ancient structure of the Parthenon may gloriously sit atop of the hill overlooking the city as a reminder of it. Still, below the layers of myth and legend, history and culture, antiquity and knowledge are intertwined with today's entrepreneurial, cultural and artistic renaissance, which is transforming Athens and the rest of the country.
The charm of this iconic city doesn't only rest in its ancient history, yet, the optimism and passion of the local people to drive it forward as a must-visit European destination. This new generation is helping to rebuild the country, reinvesting their talents in their home country. Through these people, you can visit Athens on a deeper level, and I enjoyed trying out the following walks and experience to uncover more of the local life and perspective here.
Street Art in Athens – The Modern Voice of the City
Athens is said to have the largest collection of city street art in the world, and here it is nearly everywhere you look, emerging in the early 1990s as a social-political voice. And while some unsightly 'tagging' graffiti dons some spaces, there's some spectacular artwork to be found, especially within the Exarchia, Monastiraki and Psirri neighbourhoods.
The most detailed designs and messages are found mainly within the Exarchia, Monastiraki and Psirri neighbourhoods. However, there's a lot to learn about the Greek street art scene and being introduced to the critical artworks on a street art tour, with one of the artists, is the best way to learn the stories behind the movement in the city. It is also an insightful means in understanding the modern face of Athens and its complexities.
READ MORE: Street Art in Athens – Visual Representations of Greece
The Athens Riviera – Live the Island Life
For those who don't have the time to venture out to the famous Greek islands, there is still the chance to live the island life, without boarding a ferry. The 30-mile stretch of scenic coastline along the Saronic Gulf, known as the 'Athens Riviera', is just 25 minutes away from the centre of the city. The coastal areas of Glyfada, Voula, Alimos, Agia Marina and Cape Sounion are towns accessible by metro or car and which teem with life in sea view restaurants, coastal walks and their very own beaches.
Hire your skipper with Incredible, who will take you out on the water and cruise alongside the stunning Athens coastline – a city surrounded by sea.
READ MORE: Athens Riviera – Scenic City Day Trip
Half-Day Trip to The Temple of Poseidon
Athenian history is still present outside of the city centre fringes. If you don't have enough time to travel around neighbouring small towns and villages from Athens, such as Delphi or Nafplio, but want a taste of the stunning coastline and historical monuments not far from the capital, consider a trip the 440 BC hilltop Temple of Poseidon.
Located on Cape Sounion, Poseidon was built by the same Athenian who also rebuilt the Parthenon temple in Athens, so it's a cool way to connect the history of Athenian rulers and architectural feats alongside the coastline. Doable as a half-day trip, it's easiest to travel the coastal road by bus to the Poseidon Temple, as this step by step guide shows.
Food Tour in Athens – Where to Eat Traditional Greek Eats
Even the least discerning of food enthusiasts will quickly fall in love with Greek cuisine. Fresh and straightforward ingredients mark out the Greek favourites everyone knows and loves – Souvlaki, moussaka, Greek salads, feta cheese, yoghurt and honey, olives, Cretan cuisine and sweet treats like the loukoumades Greek doughnuts – the list goes on and on.
In Athens, you can hop between third-generation food stores, restaurants offering traditional foods and cooking methods, and locally recommended eateries and hangouts. With more Tavernas, historical kitchens and food stores than you can even keep up with, it's hard to know where to sample the best of the best, so I turned to global food experts, Culinary Backstreets, for a tour around Athen's much-loved eateries and, as the name suggests, its best-kept secrets.
The local guide, Carolina, is so passionate that she would make even the least discerning of foodies fall in love with the Greek cuisine. The morning started with a breakfast coffee and sweet treats at one of the oldest dairy shops in Greece, once based at the port but relocated to the city centre after being bombed during the war. We then learnt about the production of feta at a family-run cheese shop that's been around since 1916. That was before trying cold cuts from the Armenian restaurants and stores (many Armenians came to Greece during the tragic genocide) and sampling one of the city's best souvlaki at a third-generation family-run stand, established in 1950 and currently run by the original owner's grandson. And if that wasn't enough, you also get to sample olives and meats at the frantic, but fun on the senses, fish-market and sweet honey and cinnamon laden loukoumades doughnuts at one of the oldest local favourites in town.
I sadly am not allowed to list the exact places, but it's all the more reason to join this tour and indulge in areas only the locals know. This tour wasn't just about sampling Greek food, but about learning the stories behind tradition and family business, alongside the cultures behind unique dishes here. Along the way you'll also get to know pockets of history too, so be prepared to leave with a full belly and a new layer of understanding of the city.
Museum of Greek Gastronomy
Rather than just setting up a museum detailing the history of Greek food and cultivation, these guys at the Museum of Greek Gastronomy merge knowledge with entertainment. With means, you can browse the exhibition space before taking some cooking classes or enjoying a feast at the restaurant. They call it social gastronomy, and it's fascinating while being delicious.
Athens Wine Scene – Sample the Local Harvest
While Greece isn't known for its wine, the wine scene in Athens has grown over the past years, in an attempt to highlight homegrown varieties to international wine lovers. Whether you want to savour the finest Greek wines (or try a selection of worldwide finds), the opening of wine bars in the centre of town – mainly in Syntagma – is testament to the growing trend.
The following bars are three of the most well-established bars in town, each with their unique décor, vibe and offering, mixing wine tasting with accompanying savoury Greek snacks. Passing through these establishments to sample the best Greek wines is a must for any wine enthusiast.
By the Glass
This modern bar a swanky vibe, set by the mood of its two-tone red and black décor. As by the name, the vast wine selection is available by the glass and also hosts wine classes and private parties.
Heteroclito
A quiet alley off the busy Ermou shopping street hosts this small and cosy establishment big on the exclusive Greek wine selection. One of the city's most well-known and loved, the two owners and its staff love to impart their wine knowledge and will see you try more than you had initially planned.
Oinoscent
The Guardian named this wine bar as one of 'Athens Best Bites', and it is one of the city's younger establishments. Found on Voulis street, it has a more relaxed atmosphere and attracts the younger crowd. Specifically, Oinoscent is known for having some of the best snacks to accompany your wine, especially the traditional rusk-like bread.
Nightlife in Athens
Athens at night is pumping, and the choice of what bars to visit and in what areas can be overwhelming. In fact, you'll only scratch the surface on a single visit to the city. Here's a pick of my favourite bars to start.
Six Dogs
Enter a basement that turns into a huge bar and outdoor garden space, and you'll find yourself within what has become one of Athens' most popular and much-loved bars and gig spaces. Even busy on Sunday afternoons, where locals congregate for coffee and a chilled hangout.
Drunk Sinatra
60's style class, with a modern and funky vibe, right in the historical centre of Athens. Dine all day and drink all night.
Old Fashioned
Cosy joint, welcoming staff, DJ playing tracks from bygone eras, and a local crowd that really gathers, especially on a Friday night.
Tranzistor
A colourful café bistro by day and a bustling club bar by night, this place draws in the crowds from laid-back socialites to the real party crowd.
Athens Walking Tours – Expert City Insights
I've probably engaged in walking tours in nearly every city I've visited, alongside my general wanderings once I have my bearings.
Walking tours with local experts always give me a good sense of navigation and knowledge beyond the guidebooks, and I've worked with Athens Insiders in particular on many occasions – from orientation walks to an afternoon filled with wine tasting, alongside a tailor-made neighbourhood tour around Kolonaki and Exarchia. You can customise a walking tour based offers your interests, such as food, history, photography or even something specific like yoga or choose from the already extensive portfolio. Natalie, Anthia and Alex are an outstanding and dedicated team of people who love their city, and I can't recommend them enough.
READ MORE: Best Athens Walking Tours With Locals
READ MORE: See Athens Like a Local – Athens Greeter Programme
Active Ways to See Athens
From bike rides and hidden walking tours, Segway and motorised scooter, Athens can be actively seen. Who needs the hop-on-hop-off bus when you can stroll and glide by its back streets, parks and hidden treasures?
Traditional Greek Dancing in Athens and Where to See It
With great food comes the merriment of music and dance – the Greeks are known for it. Most people know the sound of the famous Greek Bouzouki musical guitar-like instrument, and many more are keen to learn the 'Zorbas' dance that accompanies its catchy and well-remembered tunes.
Tavernas are not often found without a traditional musician or a stereo that is blasting old songs that get the Greek people up – during and after dining. Look out for announcements at local eateries for Bouzouki-Zorba nights, and where tourists are welcome to join in and learn with the locals. Or follow the sound.
Beyond the Ancient Ruins – Athens Neighbourhoods
Funky neighbourhoods – merging historic districts and ancient ruins with modern enterprise – are just as interesting. Being a history geek here is all too easy, with the citadel of the Acropolis, ruins of ancient Agora, the theatre of Dionyssos and the Temple of Olympian Zeus surrounding and being scattered amongst the modern fun.
But surrounding them are the pedestrianised areas of Thissio, with its café culture, Monastiraki, known for its flea market and other shopping outlets, and the upmarket and trendy hangouts of Kolonaki and Psiri.
READ MORE: Guide to Athens Neighbourhoods.
Artistic transformations are happening all over the city, not just in street art, and the contemporary art museum is getting a massive facelift.
The 'Re-think' Athens project is transforming the city centre with proposed green spaces, boulevards and urban squares, and revamped hotels with a stamp of ultra-funky design, like the super arty Grecotel Athena Pallas where I stayed.
Greek cuisine is reinvented, or international cuisines added to the mix, to cater to modern tastes. And when the sun goes down, Athens continues its edgy vibe with a bustling nightlife I never expected. Be sure to check out the funky Drunk Sinatra and Six Dogs in the Psiri area to start.
READ MORE: The Creative Transformation of Athens. Rebuilding a City in Crisis.
Where to Stay in Athens
Recommended Athens Hostel
City Circus has been the hostel most recommended to me by traveller friends. A four-story 20th-century mansion turned boutique hostel in the funky Psirri neighbourhood; it's known for its alternative vibe and great views of the city from its balconies and rooftop hangouts. The Hostel Girl blog has an extensive review of it here.
Budget Hotels in Athens
I stayed in the Alexandros Hotel, which is located on a quieter side street right next to all the action of Mavilli Square. For an elegant hotel so centrally located (without being right in the touristic hub), it's excellent value for money with spacious rooms starting from €70 (including an extensive breakfast buffet). It's also only a five-minute walk to the metro station, which is one of the handiest additions for travel here.
Athens Boutique Hotels
I love the Grecotel Pallas Athena hotel not just because I stayed there on my very first visit to Athens with a fantastic group of friends because it's bold and artistic. This art-boutique hotel in the very centre of the city (close to the Monastiraki and Acropolis metro stations), is awash with bold colour, glamorous design features from the flooring patterns to the decor, funky furniture and rooms that each come with their distinct artistic flairs – like wall paintings of smurfs, spiderman, forests and volcanos. It's no wonder it has become a popular setting for fashion shoots and art exhibits. Prices start from €110.
Hotels in Athens With a Classical View
The Athens Gate Hotel is easy to pass by from the outside, shrouded by the traffic of bustling Syngrou Road, but the appeal of the mid-range budget Athens Gate Hotel lies in the concealed panoramic views of the some of the city's most-loved ancient sites. This alone is worthy of a little extra spend.
Located directly opposite the grounds of the Temple of Olympian Zeus, you could say that this hotel is one of the most ideally located to kick start your exploration of the classical highlights that Athens is most known. Pick one of the rooms with a balcony view of Hadrian's Arch and the gleaming temple columns, and awaken to the golden hues of the city that all visitors chase.
The breakfast spread only beats this view on the 8th floor. This sweeping canvas starts with Filopappou Hill, before reaching the Acropolis and Lycabettus Hill, accompanied by a great range of continental morning treats. Whether for dinner or a glass of wine in the lounge area, be sure to head back up here in the evening to see the city's ancient hilltops glow at sundown. The staff are very accommodating to those always wandering the long stretch of glass for pictures and lingering on the outdoor terrace.
Athens Gate is a two-minute walk to the start of the Grand Promenade (Dionysiou Aeropagitou and Apostolou Pavlou streets), which connects all significant sites. This street also leads into old Plaka and a 10-minute walk to Syntagma Square where you can begin your exploration of the modern face of the city. The hotel is an excellent choice for first-time visitors to Greece's capital. Prices start from €95.
Athens Independent Living – Studio Apartments
For those looking for something more homely, open-plan and with more self-catering facilities than a hotel room, check out Athens Backpackers and Studios. I lived here for a month while looking for my rental apartment, and there are a few options to choose from whether you are solo or with the family – the largest studios have enough space for six people.
Not only is the building minutes from the Acropolis metro, the main historical sites, and the old neighbourhood of Plaka, it's part of a more expansive hostel set-up. The neighbouring hostel building just around the corner gives you access to a bar and a cafe, laundry facilities and a run of free weekly events where you can meet other travellers. Prices start from around €55.
Live With Locals in Athens
One of the ways I got to know different neighbourhoods and meet Athenians was by using platforms like Airbnb in Athens, where I could rent a spare room for around 20 Euros a night. Each time I would deliberately pick a new area, since the people you stay with give great local recommendations and tips, or invite you out with their friends.
Towards the end of the summer, I lived with three girlfriends in a shared apartment right on Athens' main shopping street, Ermou and close to the lively bar and restaurant 'squares' in Athens. Our enormous, four-bedroom apartment cost around £1,000 for the entire week, averaging out at £35 a night each – a centrally-located apartment for the same price as a night in a hotel.
Easy to Reach Greek Islands from Athens
Athens isn't just about being locked into a busy metropolis either. You also have the opportunity to hit the beach and enjoy some coastal time closeby in Attica – the broader region surrounding Athens.
For those limited on time to spend cruising to the larger islands that are hours away, you can visit the three Saronic Islands of Hydra, Poros and Egina in a one day tour. The islands – each with their unique architecture, history and microcosm of culture – are a two-three hour ferry ride away from the port of Athens. While each deserves a day or two of your time, to hop between them is an accessible 'Outer Athens' day excursion.
Or, for those looking for an overnight island, you can even overnight on the island of Kea – the Athenian getaway secret.
READ MORE: The Little-Known Greek Island of Kea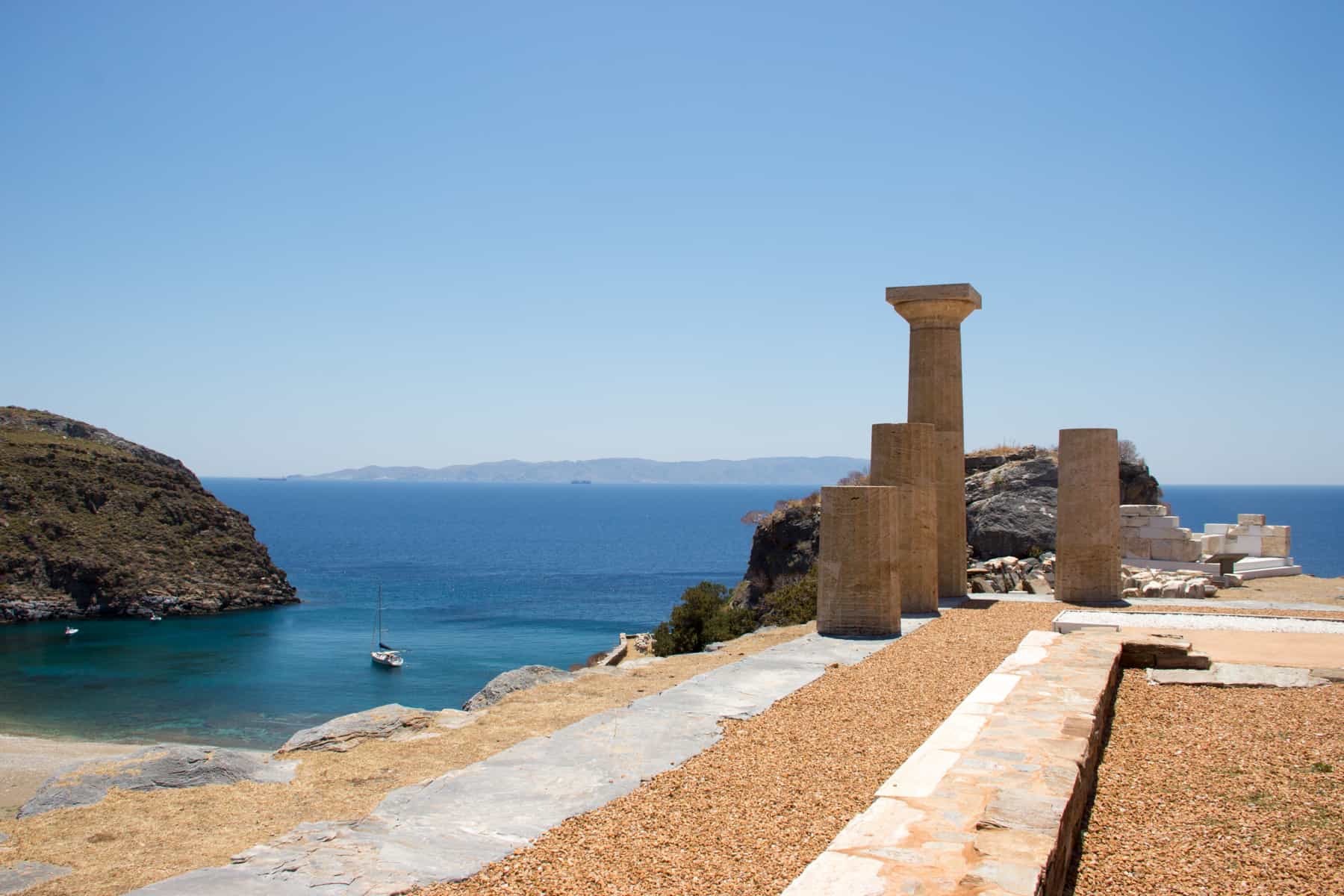 Alternative Athens Itinerary
Confused about where to start in understanding and finding alternative Athens and it multi-layered and convoluted charms outside of its classic fame? If you've already stood atop of the Acropolis and rambled through the ruins trail, and are looking for an insight into the layers of the modern Athens metropolis, here's how you can delve deeper in 72 hours.
Check out this three days in Athens itinerary to get started.
Travel Athens: Inspiration and Further Information
A comprehensive resource for further information on travel in Athens and throughout Greece, you can use its iGreece facility to plan your trips in and around the country.
'This is Athens' is the official site for the city of Athens with event listings, alongside comprehensive travel and accommodation guides. You can also apply online for a "This Is My Athens" personal 'greeter' to show you around town.
Athens on Instagram
I get a lot of inspiration and tips from locals who post on Instagram. In particular, I follow the #igers_Athens hashtag for some alternative finds and urban insights.
Athens Guide – Pin It!